What are the best hiking trails in Arizona? This list covers the best day hikes in Arizona, best hikes in Sedona, best hikes in Phoenix, best waterfall hikes, the best Grand Canyon hikes, best hikes in northern Arizona and best hikes with water!
Arizona is a hiking mecca and arguably one of the best states to hike in all of the country. Year-round amazing weather, waterfalls and vast open space make it a perfect place to get outdoors. If you love waterfalls, who doesn't, then
click here for the 13 best waterfalls in Arizona!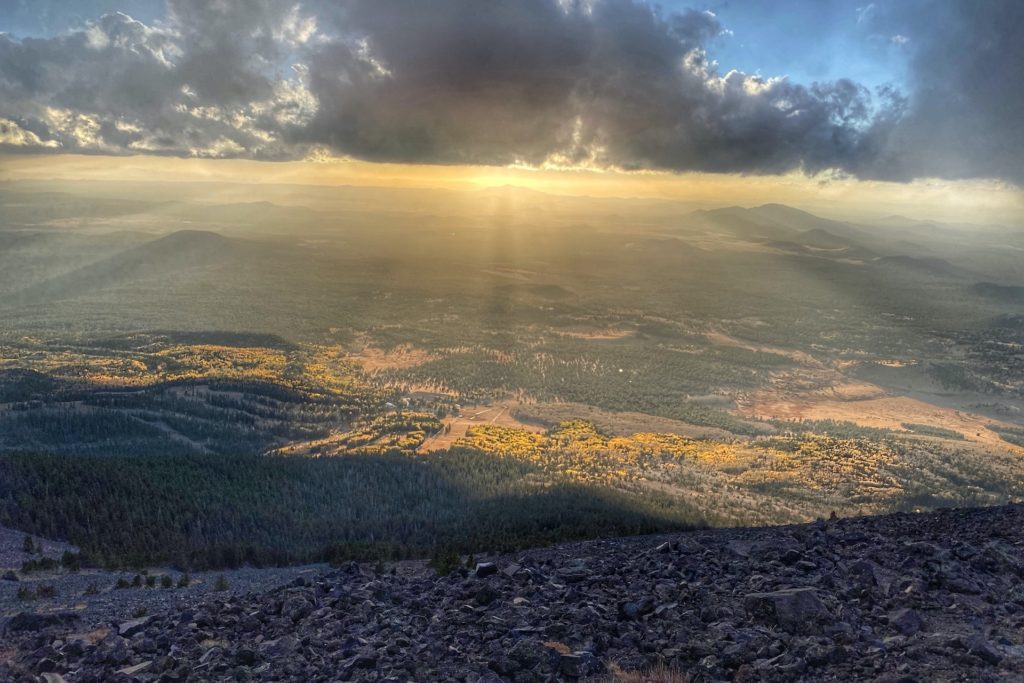 Below we have the best hikes in Arizona grouped into areas of the state but but also with an overall rank for the the best hiking trails in AZ. We also have entire guides for each of the best hikes in Arizona if you click through to the full articles themselves.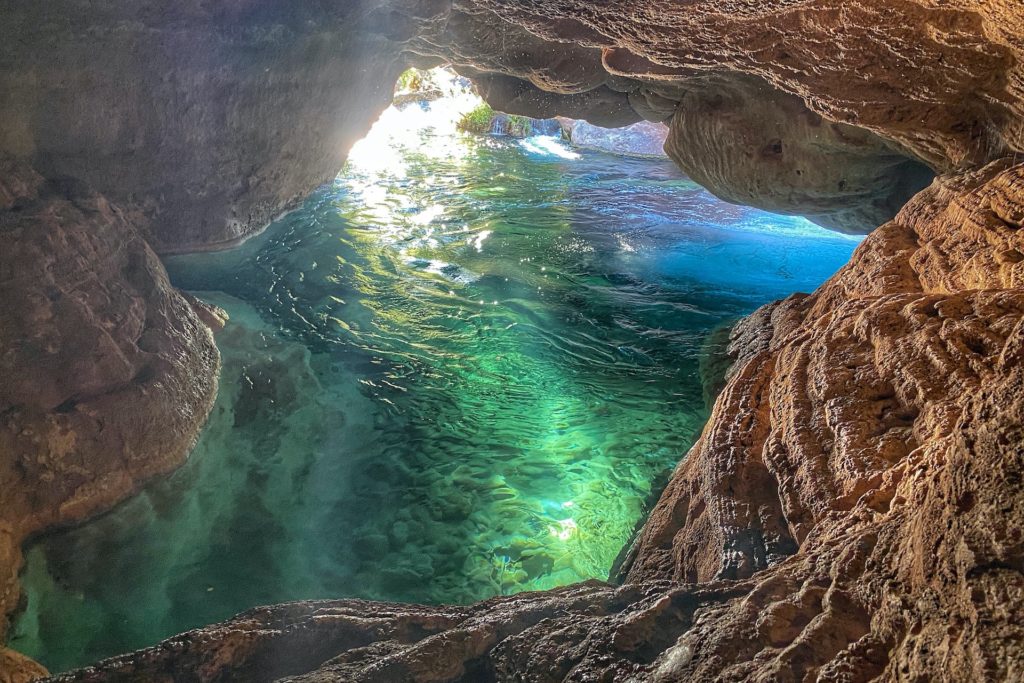 We rank all hikes by region but the two best are at the bottom in their own areas as they are that amazing. The two best hikes are not only the best in Arizona but the entire country. The best hike in Arizona is hands down the best hike in the country and is in the top 3 hikes in the entire world!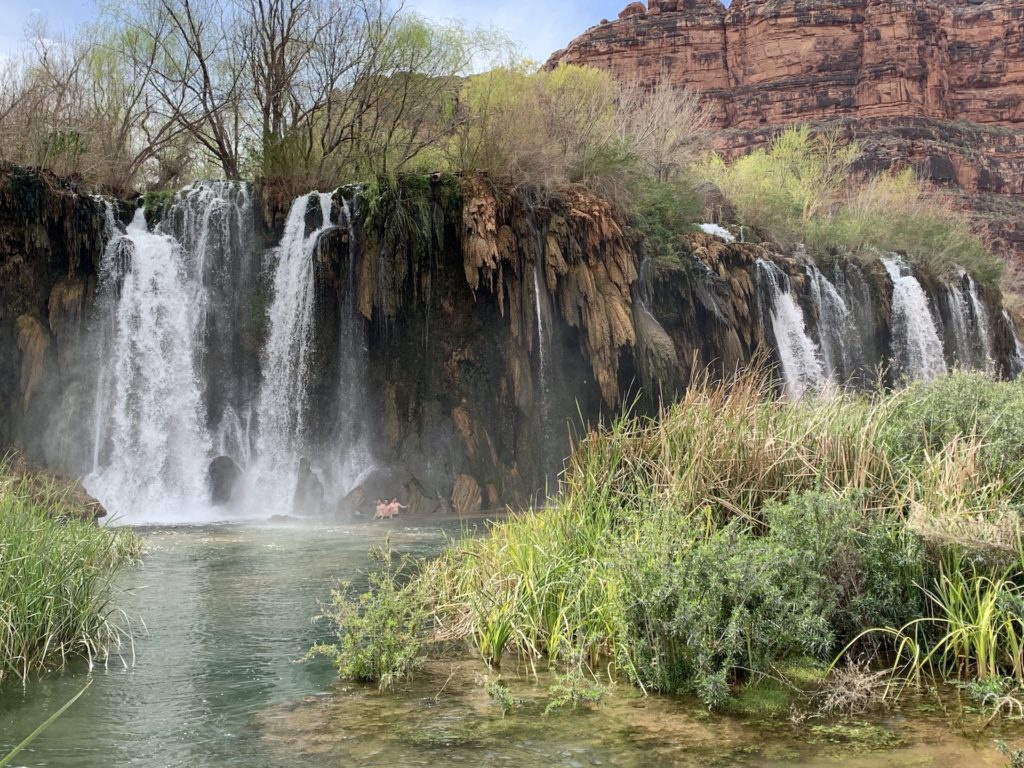 Arizona truly is an wonder and below hikes don't even include the stunning area of Antelope Canyon, which isn't really a hike but is still something you absolutely have to see if you are ever near Page Arizona!
Best Hikes In Phoenix
Camelback Mountain with Secret Cave
#11 Best Hike In Arizona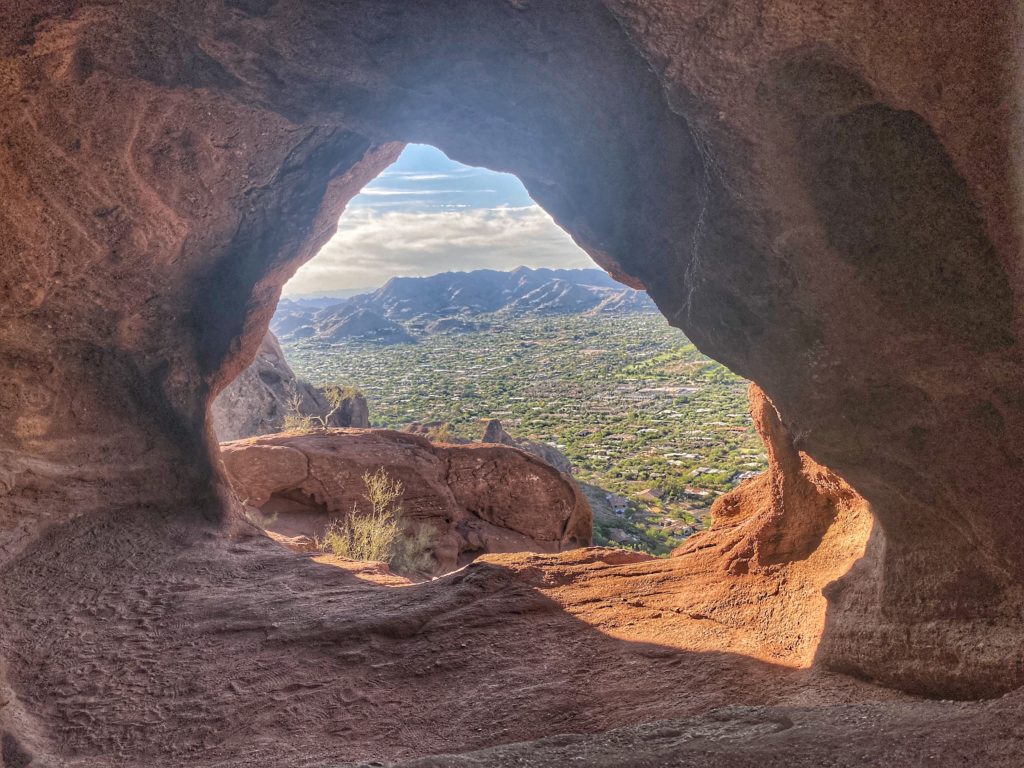 Camelback Mountain is probably the most quintessential hike in Arizona and a Phoenix staple. While it has become a tourist mecca, it is for good reason being an incredible mountain in the middle of one of the most popular towns in the country.
The hike itself is also the perfect workout that will challenge all fitness levels. With two different sides to go up you can decided if you want to do the longer Cholla Trail route or the more direct and more strenuous way via Echo Canyon.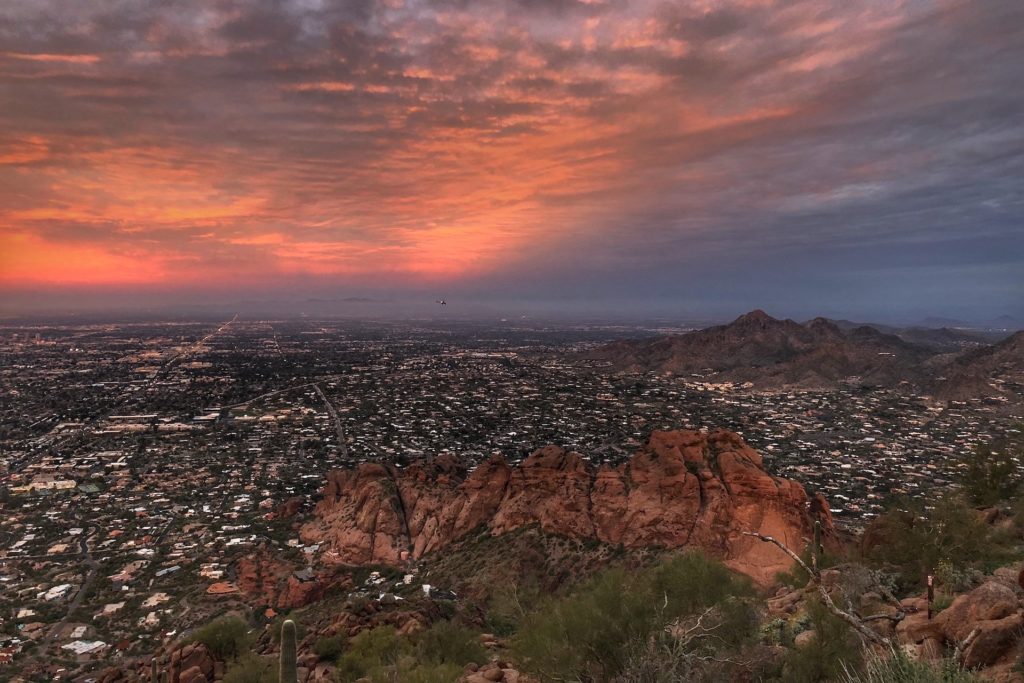 The Hike is 2.8 miles via Cholla Trail and 2.3 miles via Echo Canyon with an elevation gain of 1,280 feet. There is also a hidden cave that only locals about, which you can find along with an entire Camelback Mountain guide here.
Flatiron via Siphon Draw Trail
#9 Best Hike In Arizona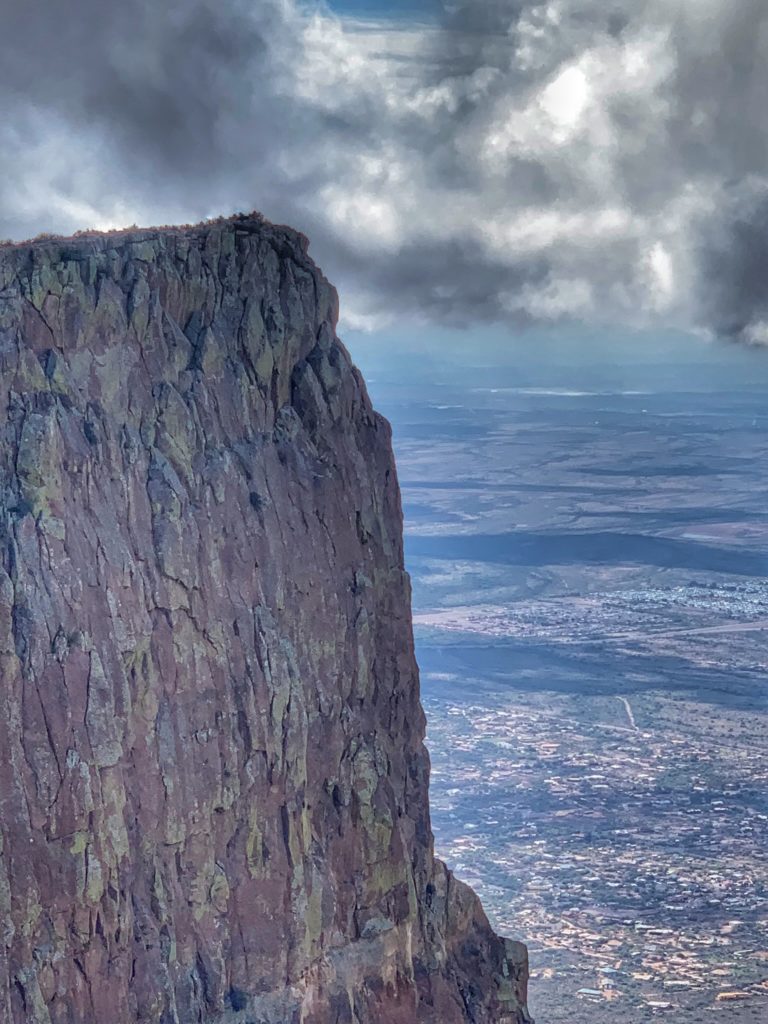 This is the best hike in Phoenix and less than 45 minutes from downtown. Located in the Superstition Mountains Flatiron leads you through multiple unique landscapes and almost separate ecosystems along the way.
You start off in the desert, then you are in Mars on and area of exposed rock, then you are in the rainforest and before you know it you are overlooking the entire city.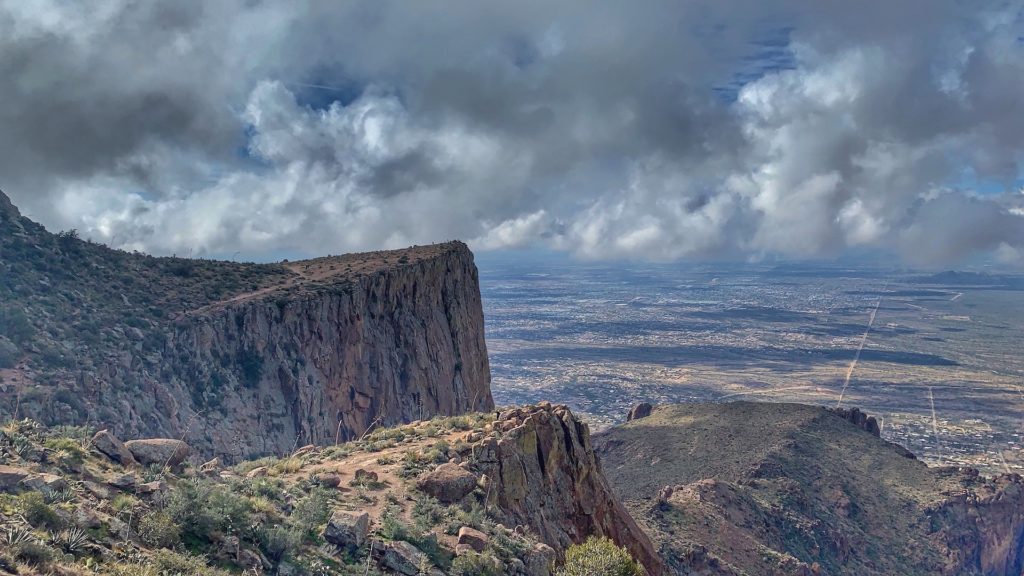 Flatiron via Siphon Draw trail is 6.5 miles round-trip with an elevation gain of 2,900 feet. The hike is strenuous and be very careful hiking it in the Arizona summer. For full info, permit info, parking and tips see the full Flatiron guide here.
Best Hikes In Tucson & In Southern Arizona
#7 Hike In Arizona
Seven Falls trail is the best hike in Southern Arizona and is right in Tucson. It of course is amazing as its namesake with seven falls to see!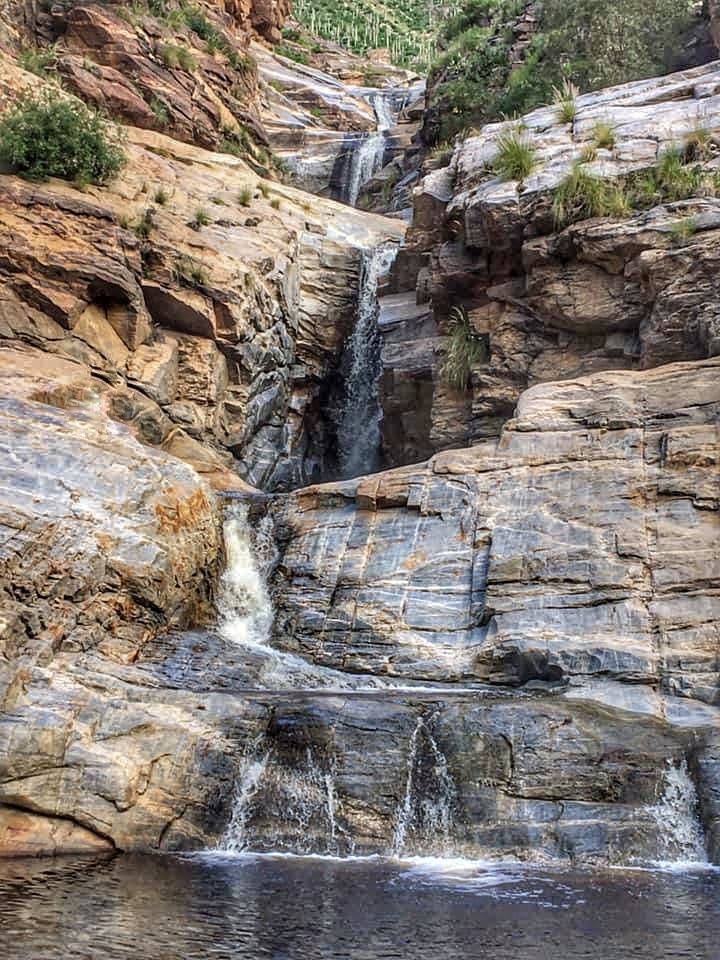 The hike itself is perfect as well because you cross the stream multiple times, hike along the water the entire way and it is just extremely peaceful.
This is a great hike for kids, dogs and families. It is a little long at 6.5 miles but it is relatively flat and not too hard. For the full guide and tips on Seven Falls see our article here.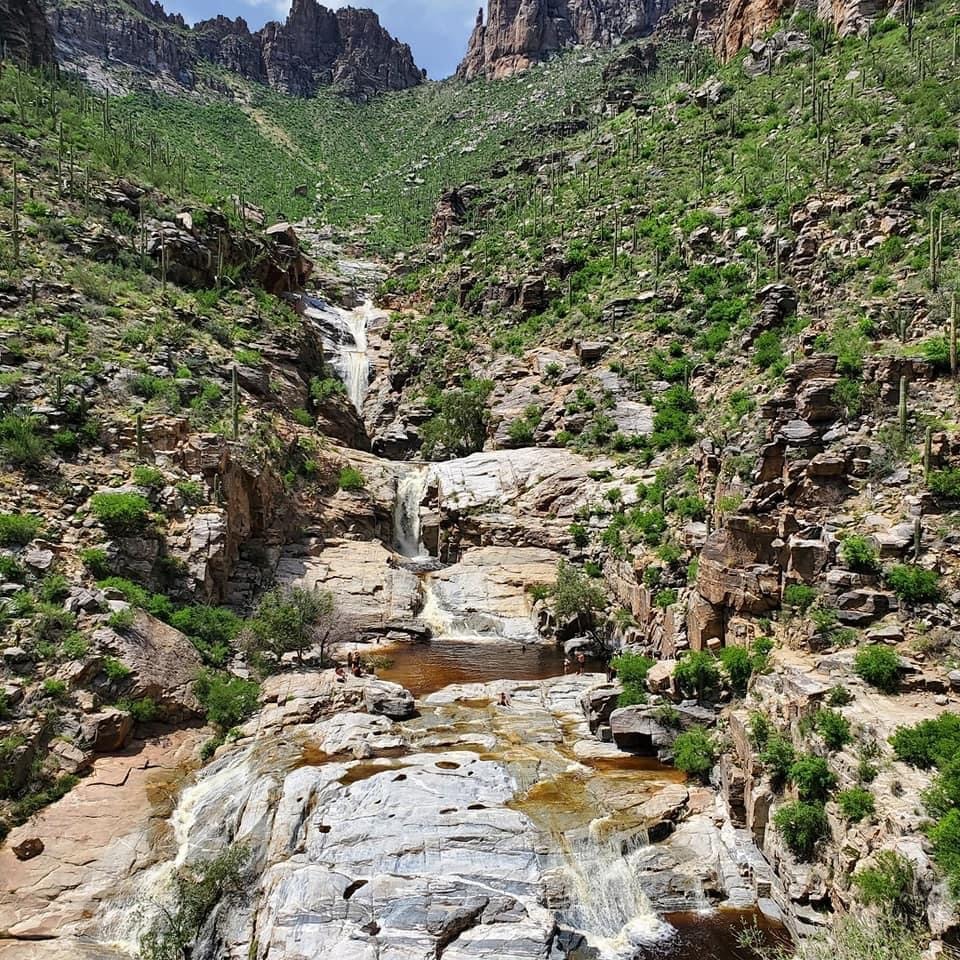 If you have a chance as well checkout Echo Canyon Trail | Chiricahua National Monument. It is a bit off the beaten path being 4 hours SW from Phoenix but many say it is was one of the best hikes in Arizona too.
Best Hike For Dogs In Arizona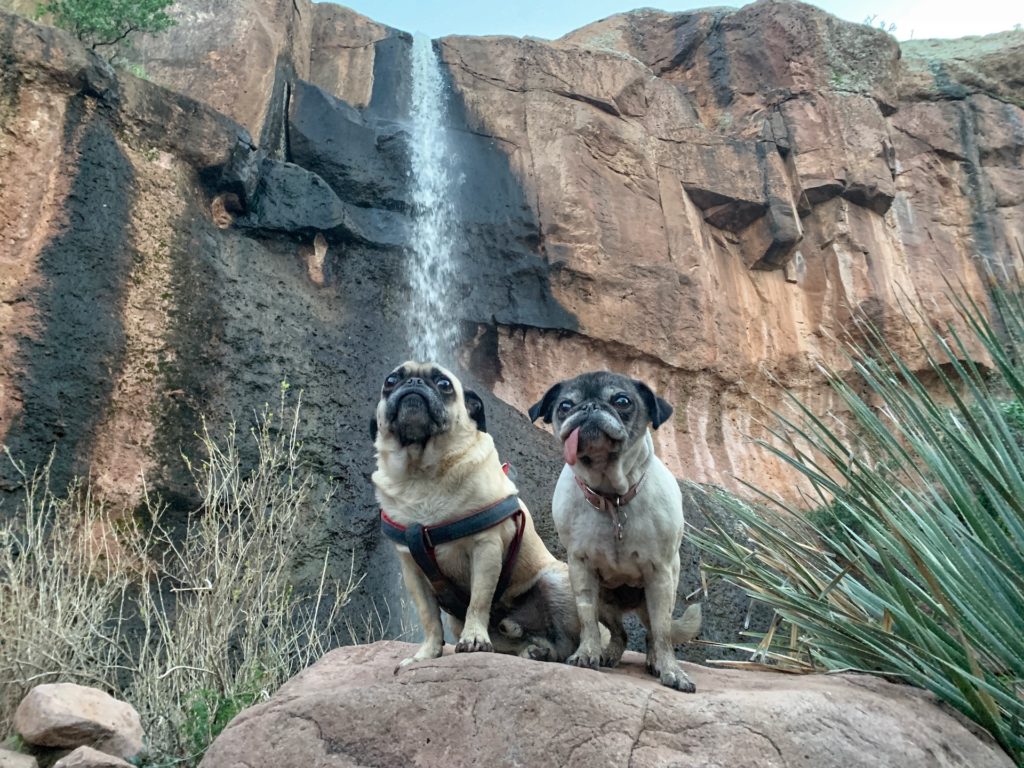 Truly any hike that allows dogs is a great hike for dogs in Arizona depending what breed your dog is. You will want to find the less travelled hikes ideally to avoid people.
From this list Seven Falls Trail, Bear Mountain in Sedona, Flatiron via Siphon Draw Trail, West Fork Trail and Wet Beaver Creek are all great places. Massacre Falls near Phoenix is also a great place for dogs.
Sedona is the best for hikes with dogs on a leash as many of the main hikes in Phoenix have outlawed dogs on hikes. Bob Bear is not recommended for dogs due to the length and being open in the sun most of the way. Cibecue Falls is also not great for dogs as there is a lot of up and down rocks and scrambling here and there.
Best Hikes In Sedona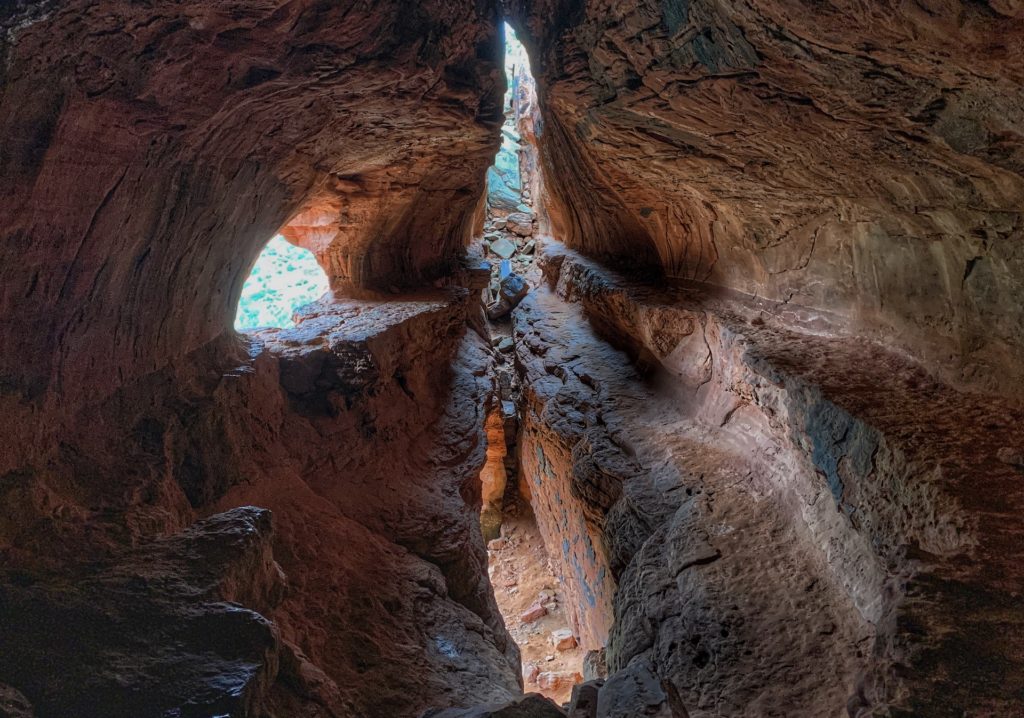 Sedona has a plethora of amazing hikes including some of our favorites in Devil's Bridge, The Birthing Cave and the amazing Soldier's Pass with the secret and absolutely amazing cave, which you can see here!
You can hike forever in Sedona and see absolutely incredible sites like the ones mentioned above. However, there are a few that separate themselves from the others. For the
six best hikes in Sedona see here!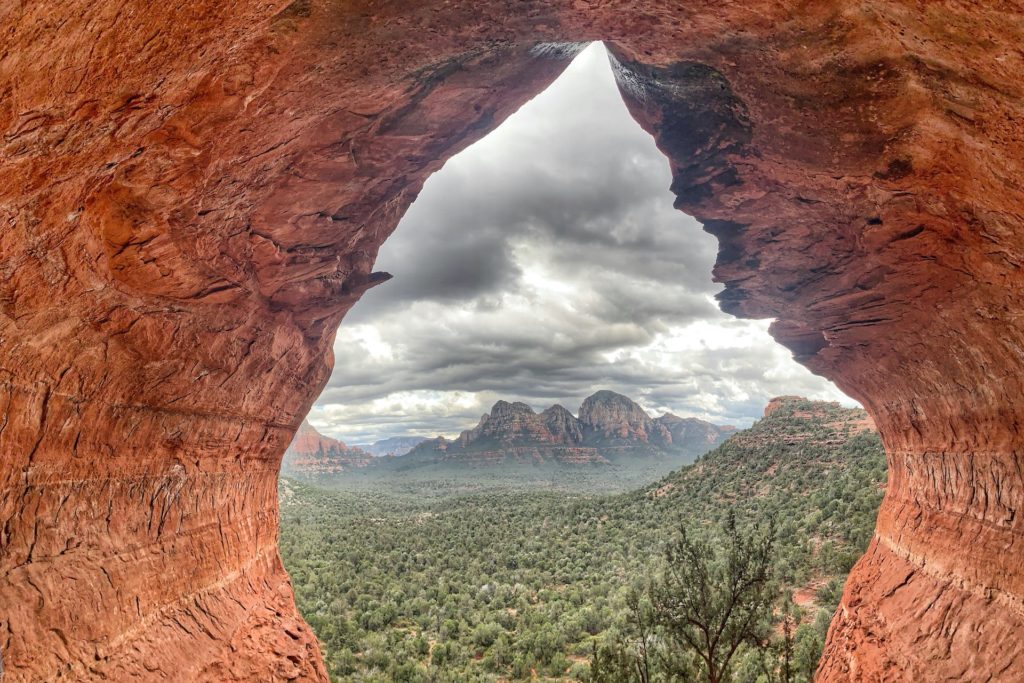 #9 Best Hike In Arizona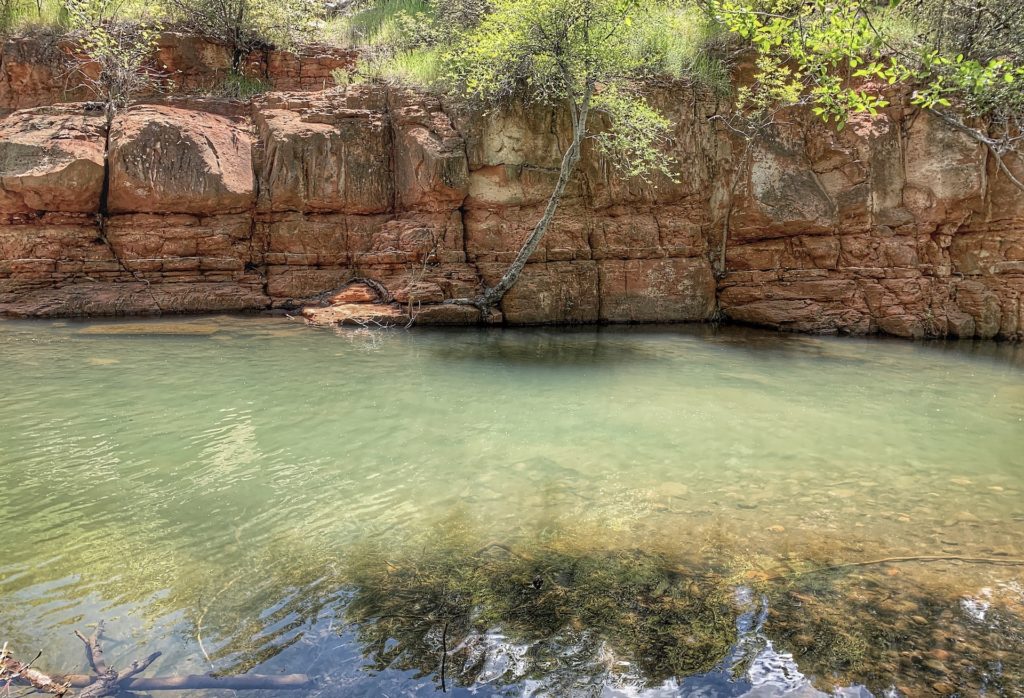 Some may scoff at this being on the list but this just means they don't know the secret. The standard Wet Beaver Creek hike is meh at best until the end. You hike along a hard packed path for miles with no real great scenery along the way… however you can change that.
There is a secret path to Wet Beaver Creek that makes it an incredible adventure and so much more fun than the standard path. It is tougher than the flat path and definitely need to have a sense of adventure but the views and sites you will get from this path is amazing as you can see by the pictures.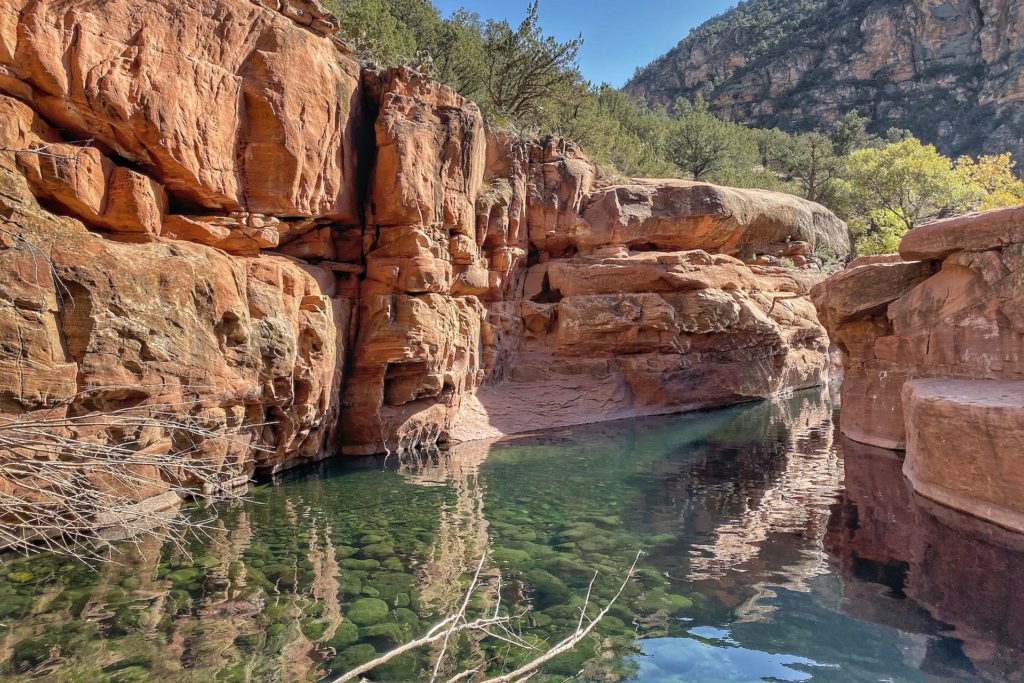 If you want the secret to making it amazing then see our full article guide on Wet Beaver Creek trail here! Wet Beaver Creek is 7 miles long and can be really hot if you stay exposed on the trail the entire way. The Crack at the end can be a party on the weekends as well so be aware it won't be peaceful.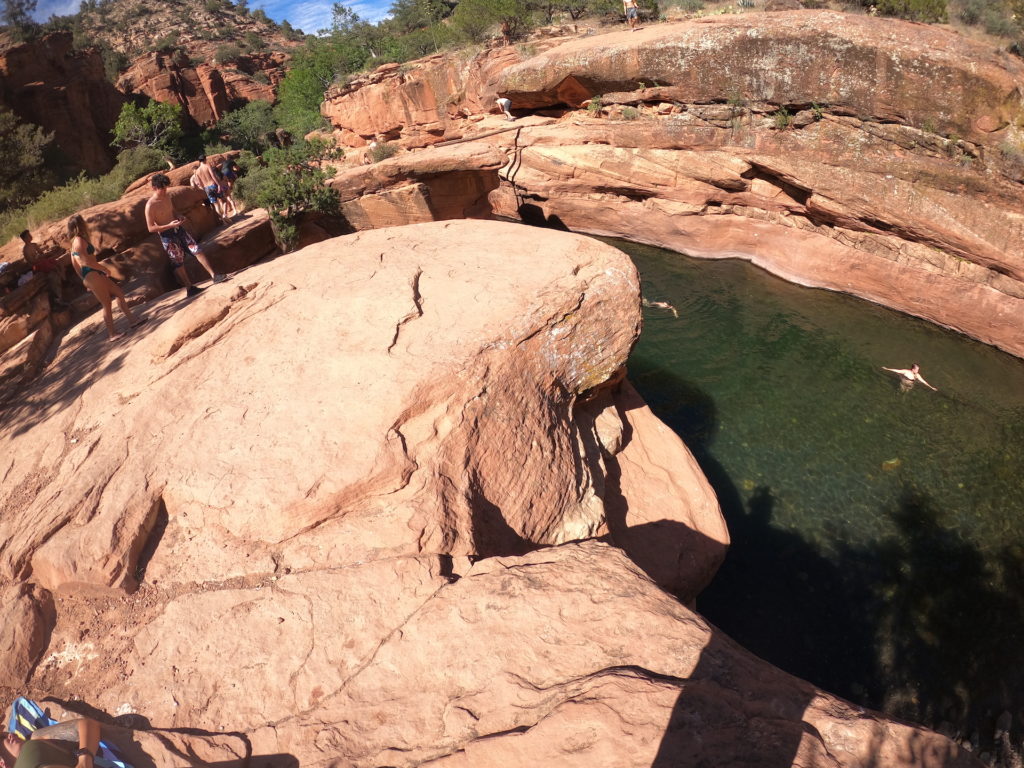 #8 Best Hike In Arizona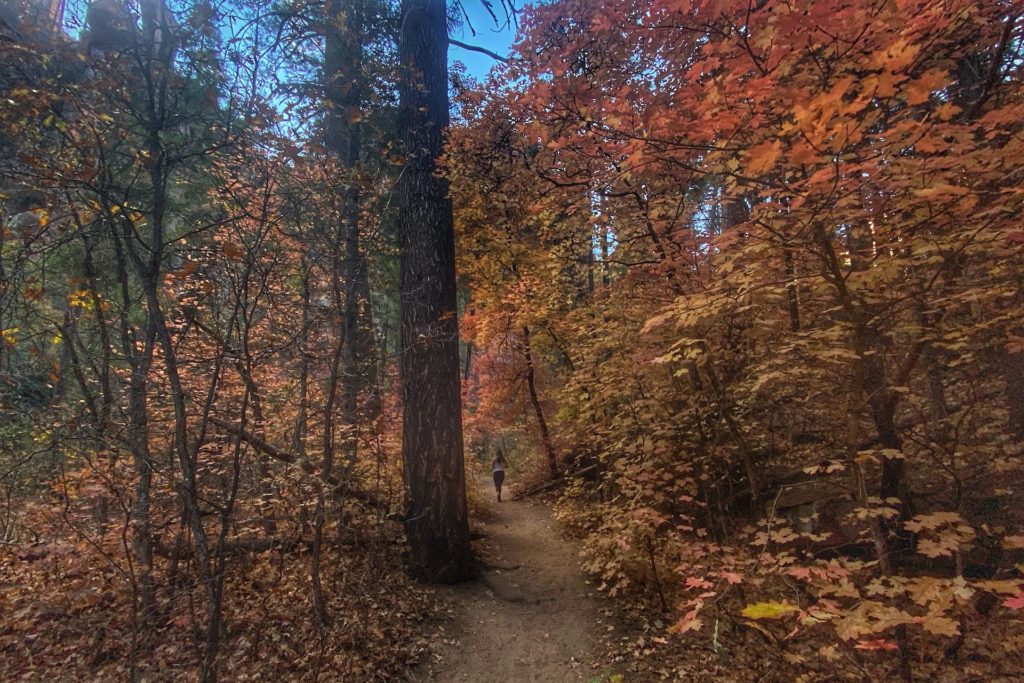 West Fork Trail is one of Sedona's most well known hikes. With its popularity comes it being extremely busy but thankfully the parking lot limits the amount of people who can park and hike.
The hike is also quite long so the further you get down the path the fewer and fewer people there will be as the start can be congested. The hike is stunning during the fall with the changing leaves colors and a major tip is to hike down the creek in the summer or whenever it is manageable.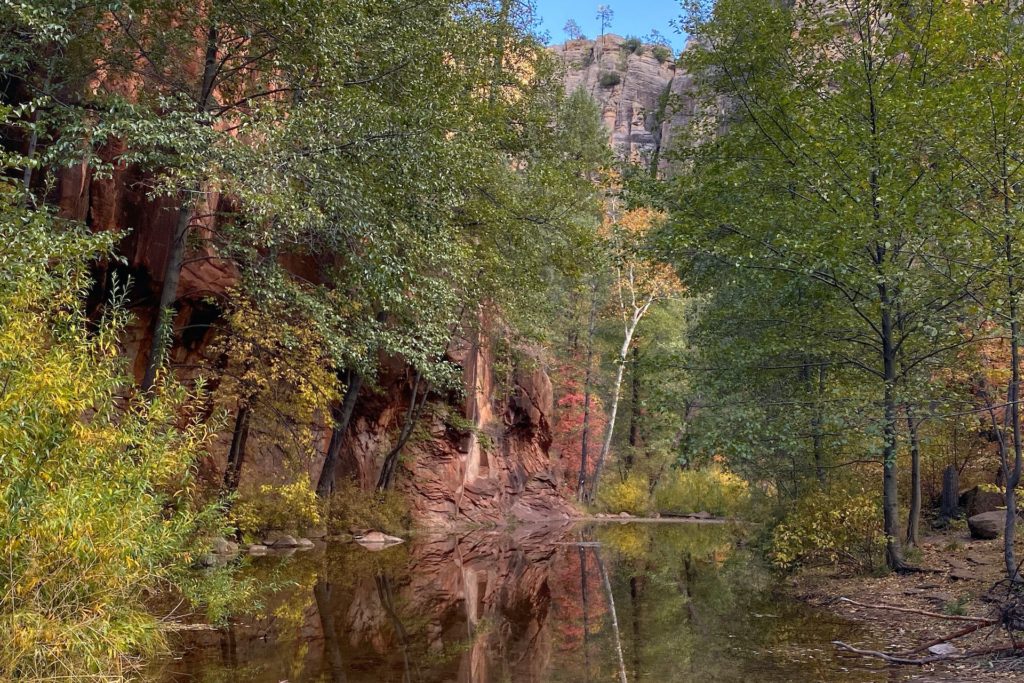 Hiking down the creek offers some amazing unique views along the water as well as escapes a lot of the other hikers. The hike is 7 miles round-trip but you can turn around whenever you have seen enough or are tired.
#6 Best Hike In Arizona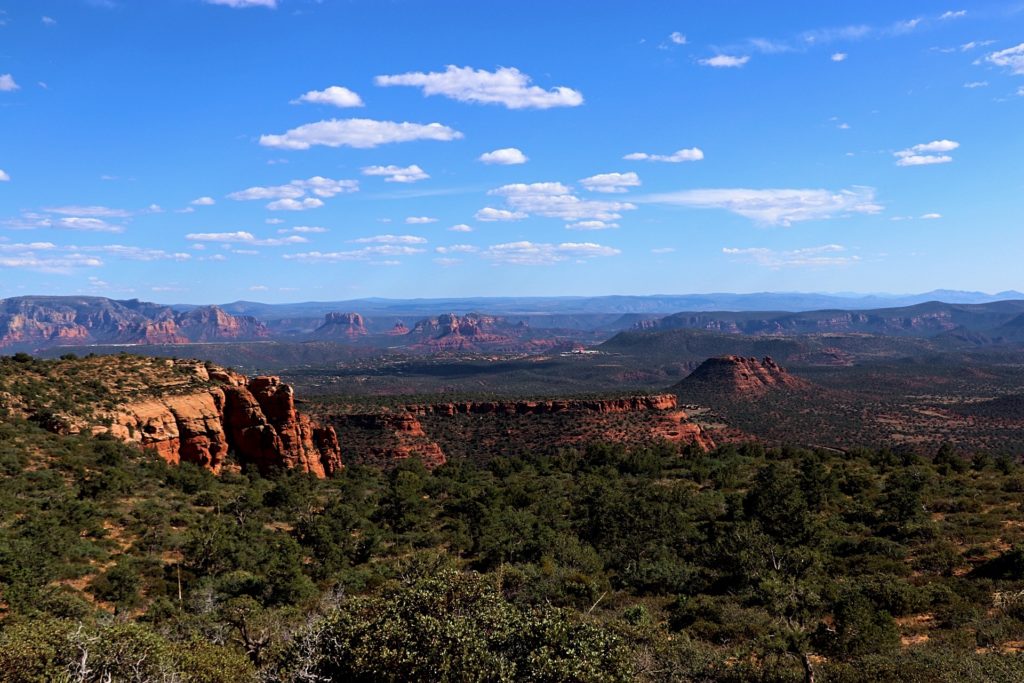 Bear Mountain is the best hike in Sedona but is also one of the hardest hikes in Sedona. This hike offers a new absolutely incredible view with every turn. With different little crevices and 360 views of the entire region you are treated to stunning sites the entire hike.
While it is hard at 4.5 miles round-trip and a 2,000 feet elevation change, the hike is worth it with some of the best views in all of Sedona. For the full Bear Mountain hike guide see here.
There are so many amazing waterfall hikes in Arizona and they are located all over the state. The three best waterfalls hikes in AZ are below in this article but there are so many amazing ones you have to see.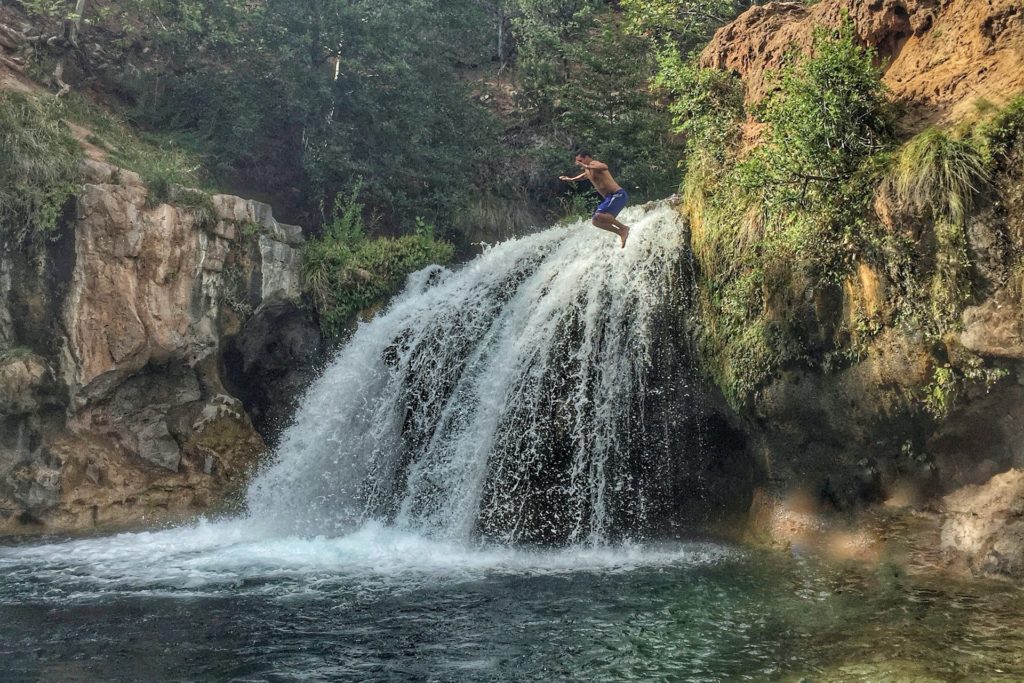 If you want the entire list of the best 13 waterfall hikes in Arizona see the link here. You cannot miss Sycamore Falls during the snow melt as well! Below is one of the best and and all around great summer hike and it is within 2 hours of Phoenix.
#5 Best Hike In Arizona
Cibecue Falls is such a perfect hike for the Arizona summer. You cross the creek seven times, which keeps you nice and cool and you are swallowed in the canyon most of the time keeping you in the shade a lot as well. The hike is also a perfect length at just 4 miles round-trip.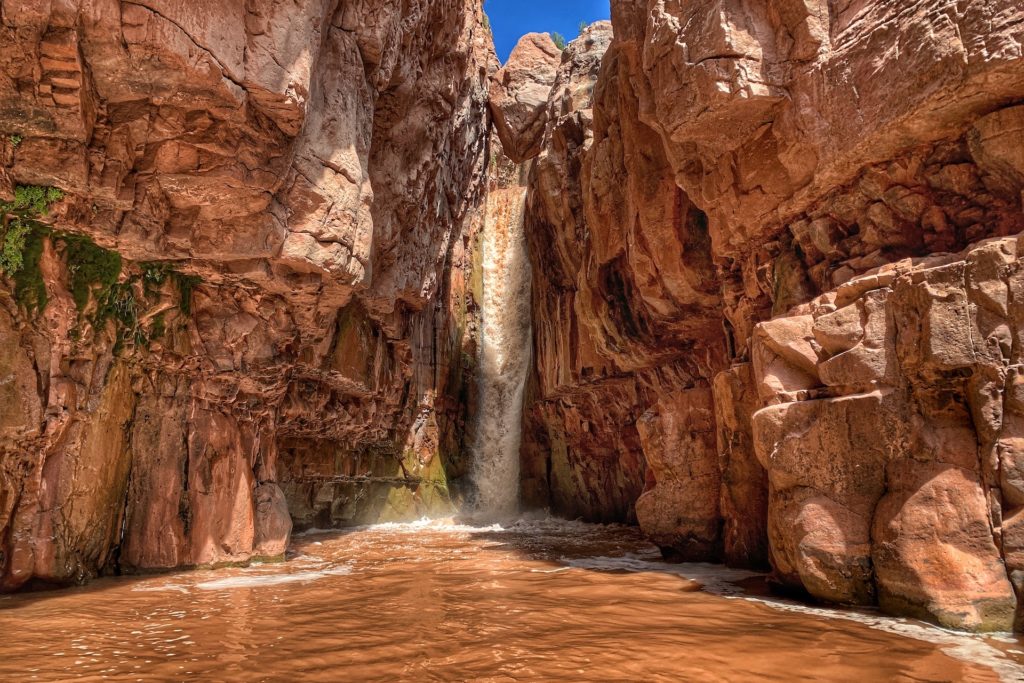 There are a bunch of small swimming holes along the way to wade in and get some great pictures. There is also another set of waterfalls nearby to Cibecue, which is an extra bonus. If you want to see the other falls in the area, which are also top 13 waterfalls in Arizona, see the entire Cibecue Falls guide here.
Best Hike In Flagstaff & Hardest Hike In Arizona
#4 Best Hike In Arizona
Humphreys Peak is the most challenging day hike in Arizona and it isn't really the 10.5 miles of hiking but more the elements. Humphreys weather can change in an instant.
What once is a peaceful hike in the trees turns into Mordor, hail storms, crazy winds and snow as you pass the saddle exposed out of the tree line. The hike is great with stunning 360 views of the entire area but just be prepared.
Many of the best hikers are forced to turn around due to hail storms, extreme wind and lightening storms. You should also not attempt this hike in the Winter without spikes and poles as there is snow at the top.
You definitely need to take this hike very seriously and over-pack, over-layer and over-prepare. The nice weather meadow at the bottom will be a polar opposite 3-4 hours later at the top.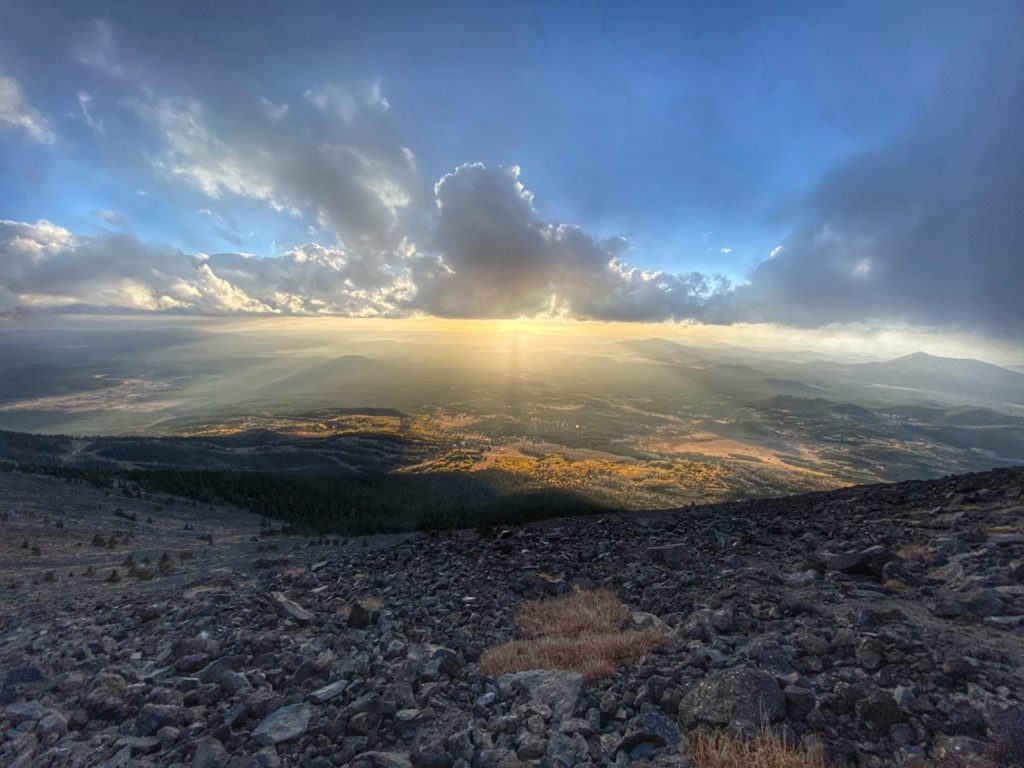 The hike is 10.5 miles and can take from 4-8 hours pending the hiker and weather. Definitely start early to avoid being stuck at night. See here for the full guide & tips article on Humphreys Peak.
Best Easy Hike In Arizona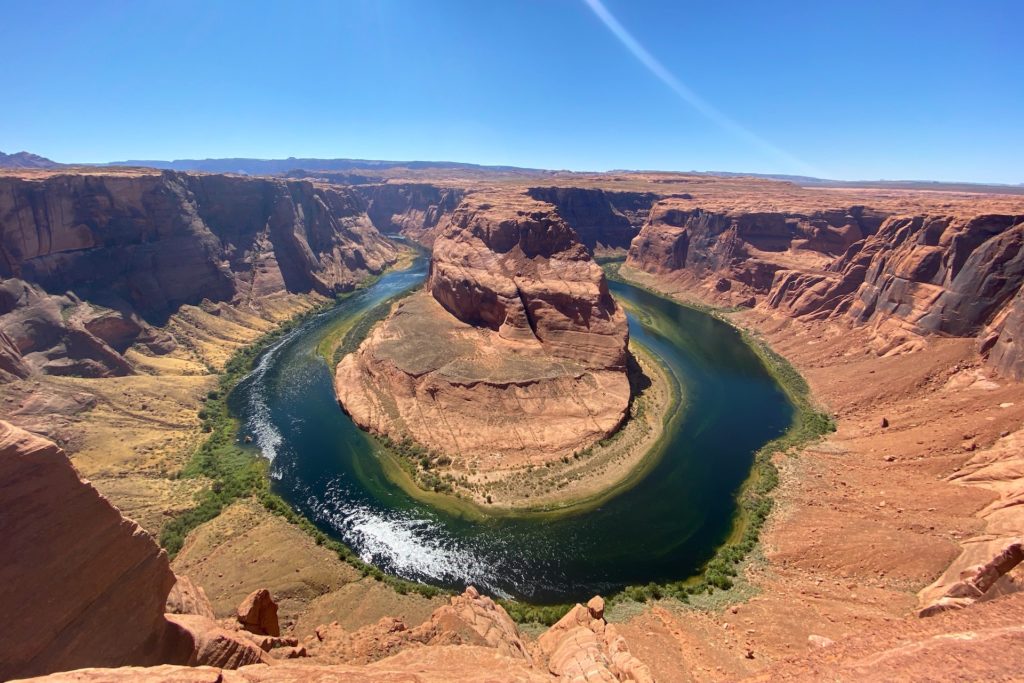 Horseshoe bend doesn't get a ranking as it truly is not a hike as it is a walk along a cement path to one of the prettiest views in the country and even the world. However, we had to include it as some people view it as a hike and it is just another example of another outdoor natural wonder in Arizona.
This incredible place is on every screen saver on earth and cannot be missed if you are ever in Northern Arizona. For the entire area guide as well on other amazing things in the area see our article here for the Horseshoe Bend guide with tips.
Best Grand Canyon Hike
#3 Best Hike In Arizona
South Kaibab Trail edges the higher trafficked Bright Angel Trail due to being less in the canyon and wide open with spectacular views. The quintessential switchbacks are a unique site along the way and you can make it as short or as long as you want.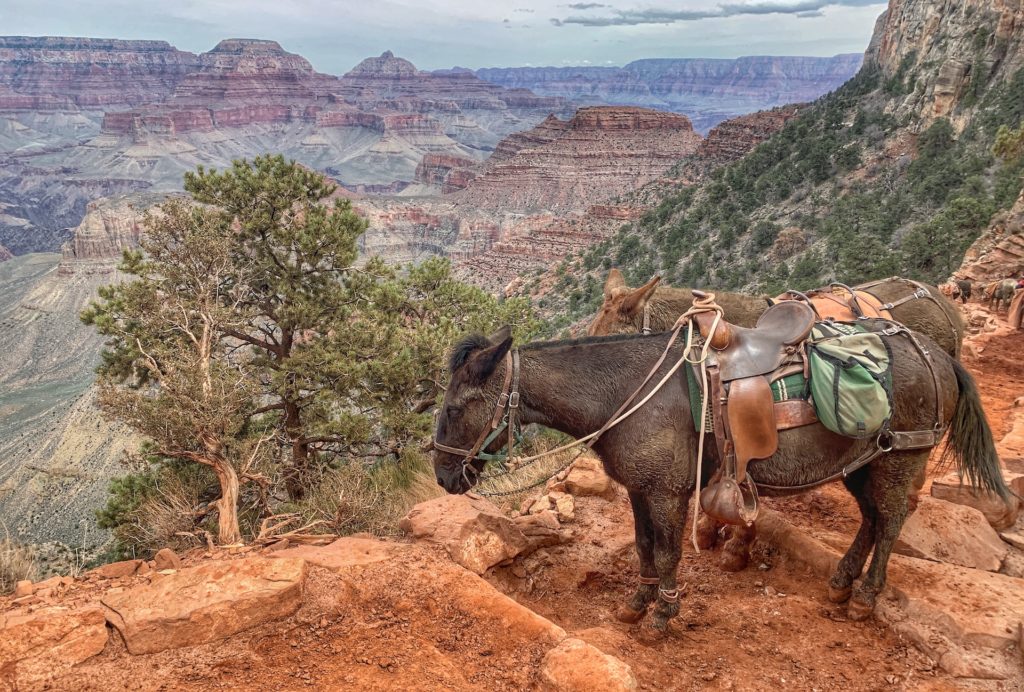 South Kaibab Trail is also a bit more difficult than Bright Angel Trail, which also makes it filled with less tourists and people in the way. As silly as it sounds the Grand Canyon is truly even bigger than you would think and South Kaibab offers it in all its splendor.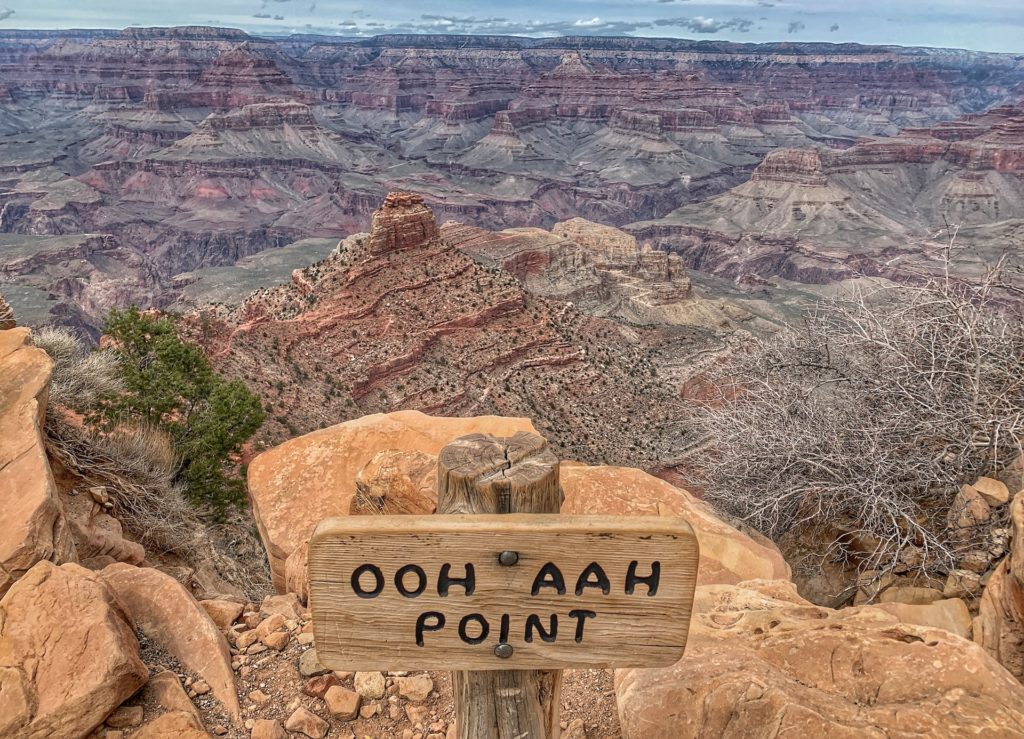 The hike is great as you can turnaround at multiple viewpoints throughout the hike whether you want to go 1.8 or 12.6 miles. Of course remember you are going downhill so don't go too far where you can't make it back up.
Best Day Hike In Arizona
#2 Best Hike In Arizona
Fossil Springs now called Bob Bear Trail is the best day hike in Arizona hands down. While the hike itself only has a few bright spots until the bottom… the bottom is a wonderland of waterfalls, caves, grottos, swimming holes, springs and the infamous toilet bowl.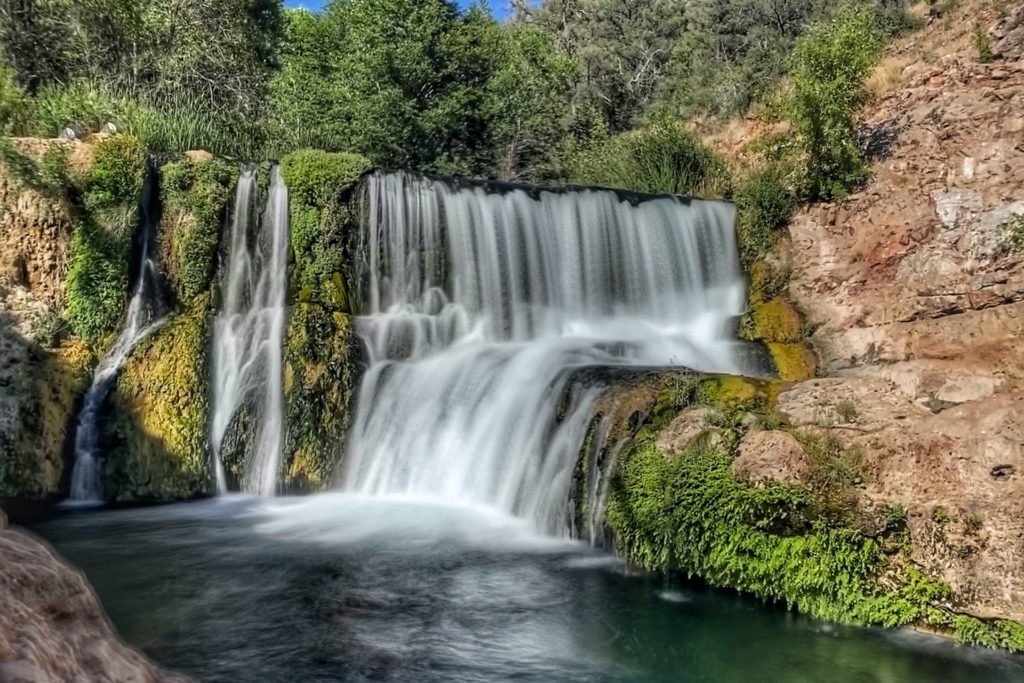 One of the coolest hikes in Arizona and all of the united states this hike has the most payoffs of any day hike I have seen in the world. You can spend an entire day down there frolicking in the incredible oasis in the desert.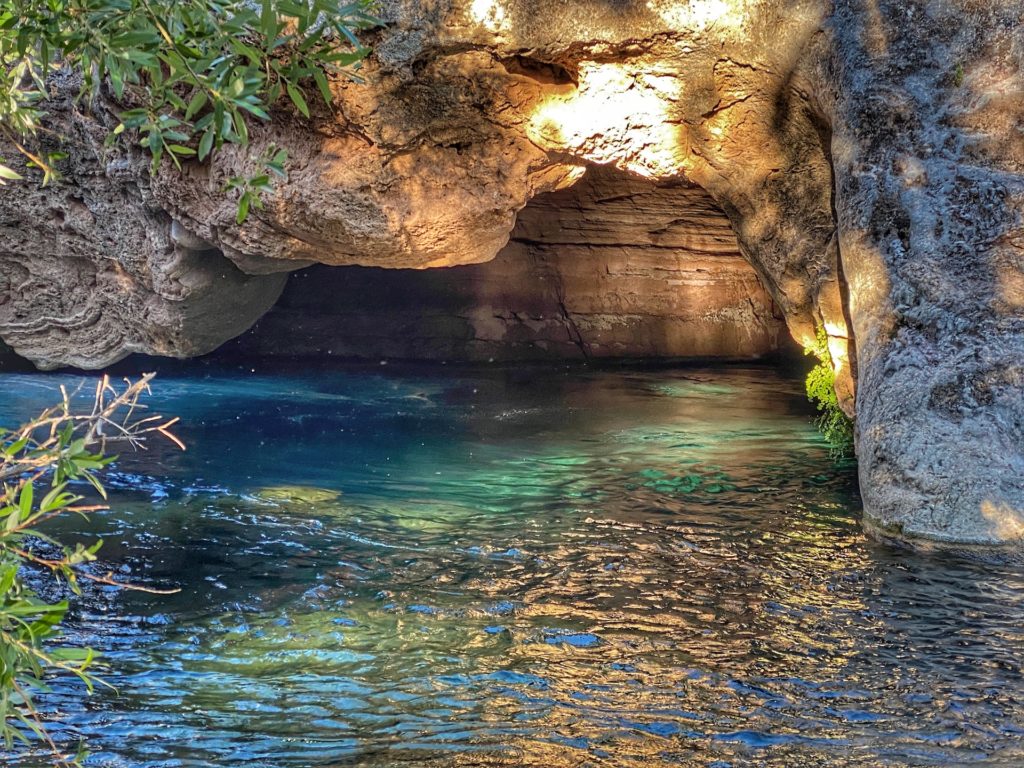 The hike is 9 miles round-trip and definitely take your time enjoying it down there and finding the secret cave! For where to find the cave and a full Bob Bear Trail guide see there article here!
Best Hike In Arizona
#1 Best Hike In Arizona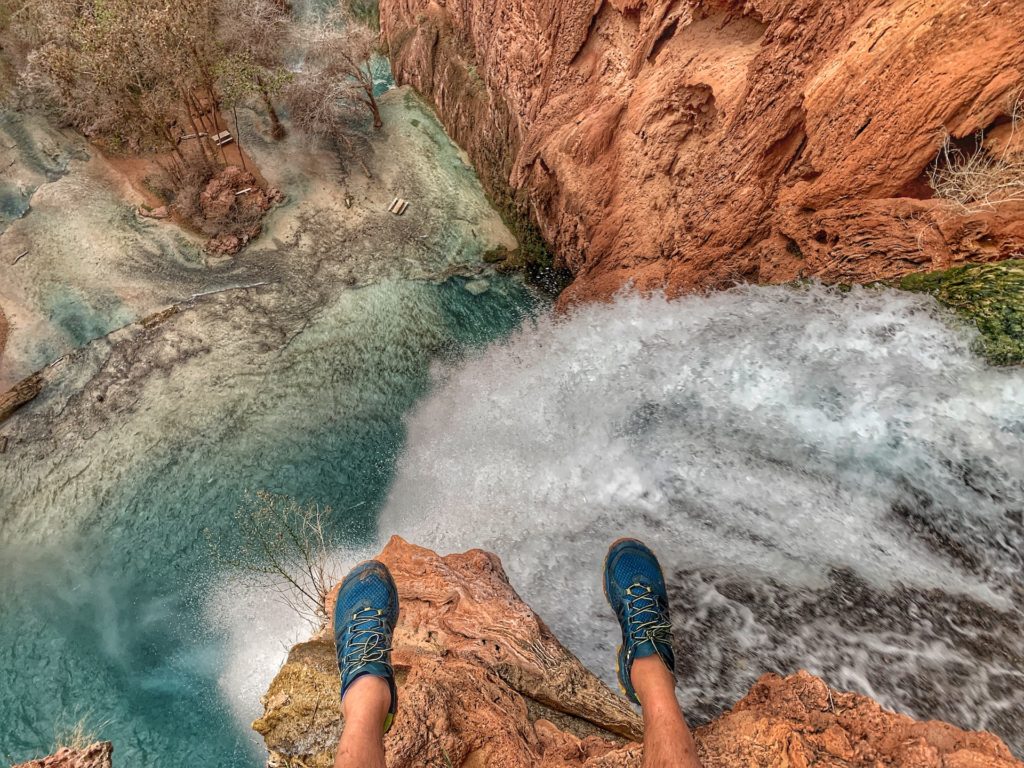 The entire world knows about Havasupai Falls and I have argued it is the best place on earth. Not just hike on earth… place on earth. It the most stunning natural stretch of land I have ever seen.
It isn't just one waterfall like some people may think… there 5 surreal waterfalls and the absolutely amazing confluence, which not many make it to. On top of that you are cut off from civilization, camped next to seemingly fake turquoise water and the sense of accomplishment hiking 30-50 miles over 3-4 days.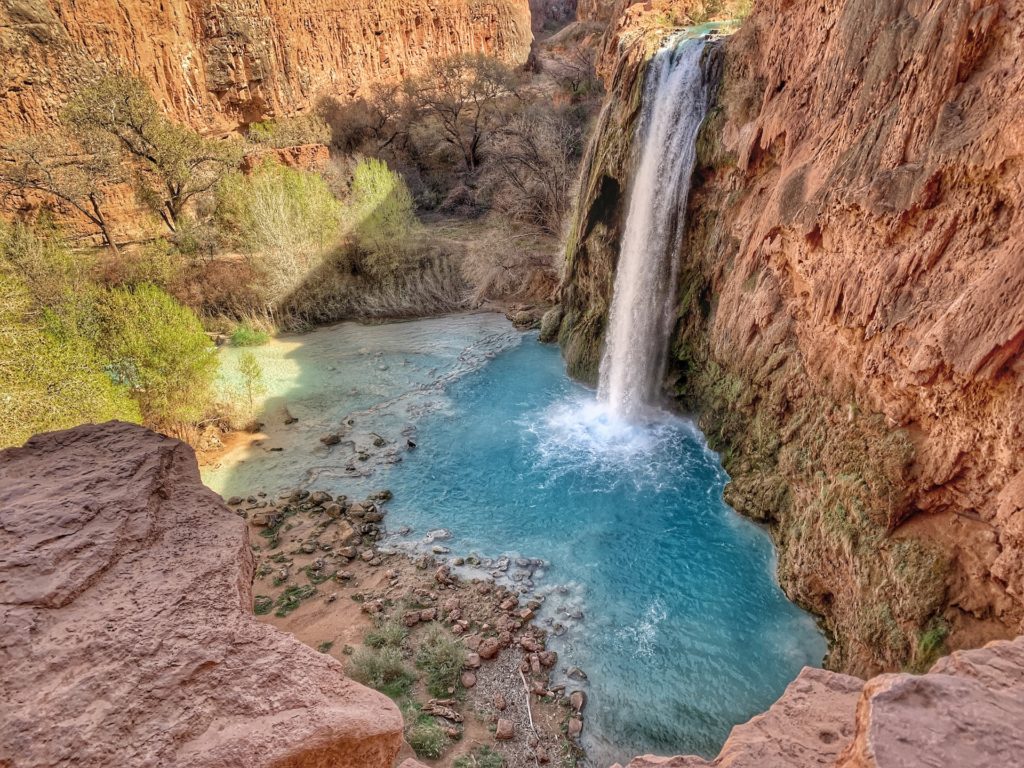 The incredible site of the main Havasu Falls is arguably the 3rd best site on the trip as Mooney Falls are the most jaw dropping falls and standing from the top you truly think you are in Jurassic Park.
The unique confluence where the havasupai waters meet the brown Colorado river is a site to see as well. Even 50 Foot Falls seems like it is out of a story book. There is so much to see and having been there 4 times there is always something more to discover.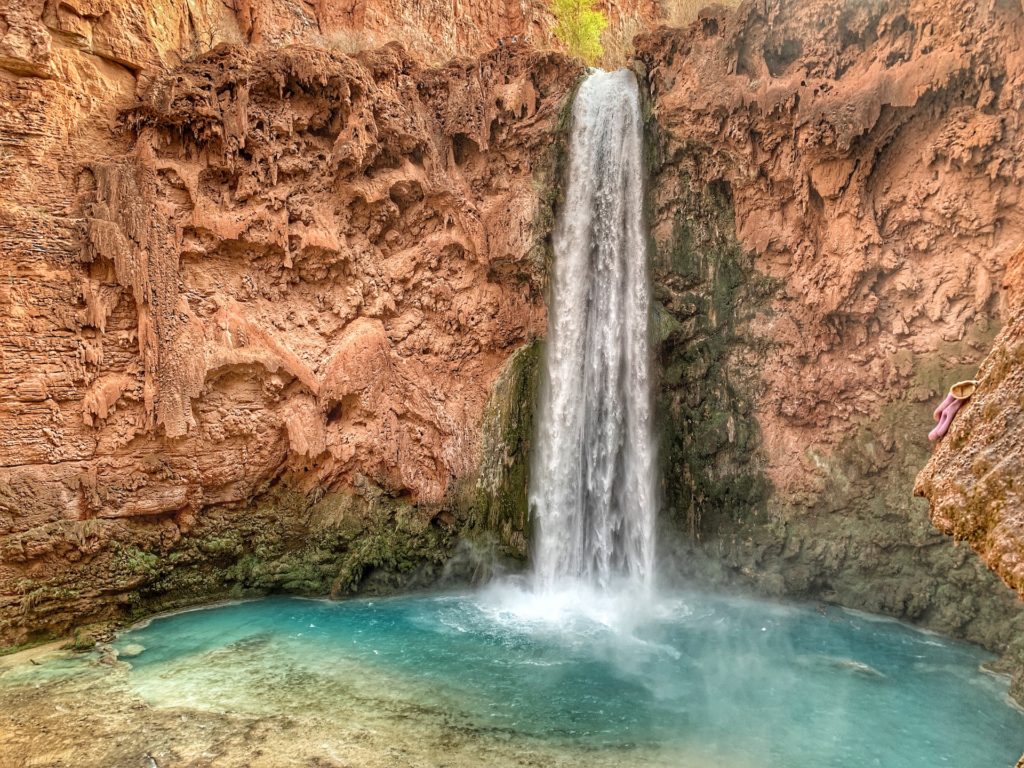 If you are a hiker this has to be your #1 bucket list in the world. See here for a full Havasupai Falls guide with how to get permits, what to pack, secrets, tips and more!