Puerto Penasco, also known as Rocky Point, might be the most underrated place I have ever come across. I would rather go to Puerto Penasco over San Diego or the beach cities in LA, and San Diego is my favorite city in the US.
It is closer, more of a fun cultural experience and literally 5-10x more affordable. If you have never been and are wondering about going there or California or there in general… go now!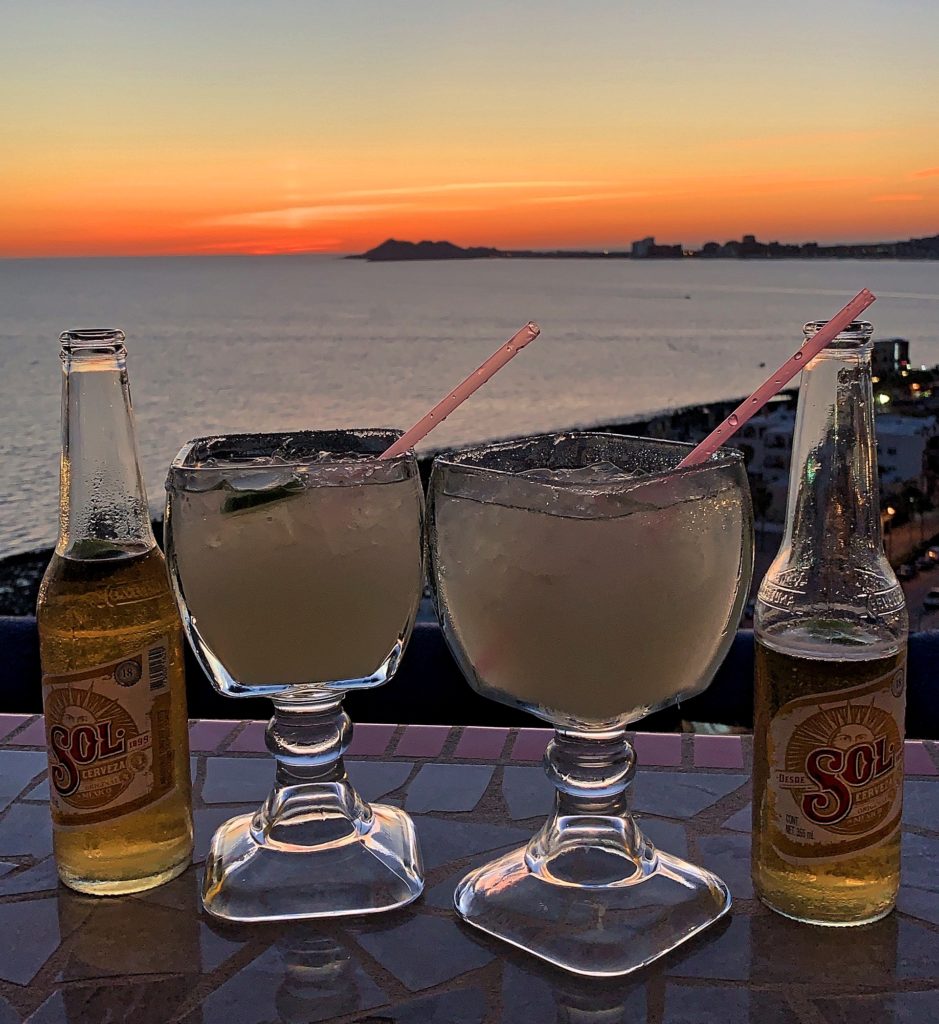 Rocky Point is also nice because you truly feel like you are immersed in a different country and it isn't some overly Americanized city. It has the culture, poverty, hustle and bustle and everything else to make you feel like you are a 5 hour flight over the border not just a one hour drive.
If you live in Arizona, time and cost efficiency are what really set it apart from going to California or flying somewhere else in Mexico. For a perfect 3-4 day itinerary for Puerto Penasco click here!

Taking Puerto Penasco over California you can spend less than 1/4 the amount on your beach vacation rental, 1/2 the cost on drinks, 1/4 the cost on adventures and 1/5th the amount on food.
What separates PP over California even more is the water temperature and cleanliness. The water is often crystal clear blue and nice and warm for a swim, where in California it's often pretty cold that many people never go in. Furthermore, there is so much to do in Rocky Point that you can pack every day if you went for a whole week let alone a weekend.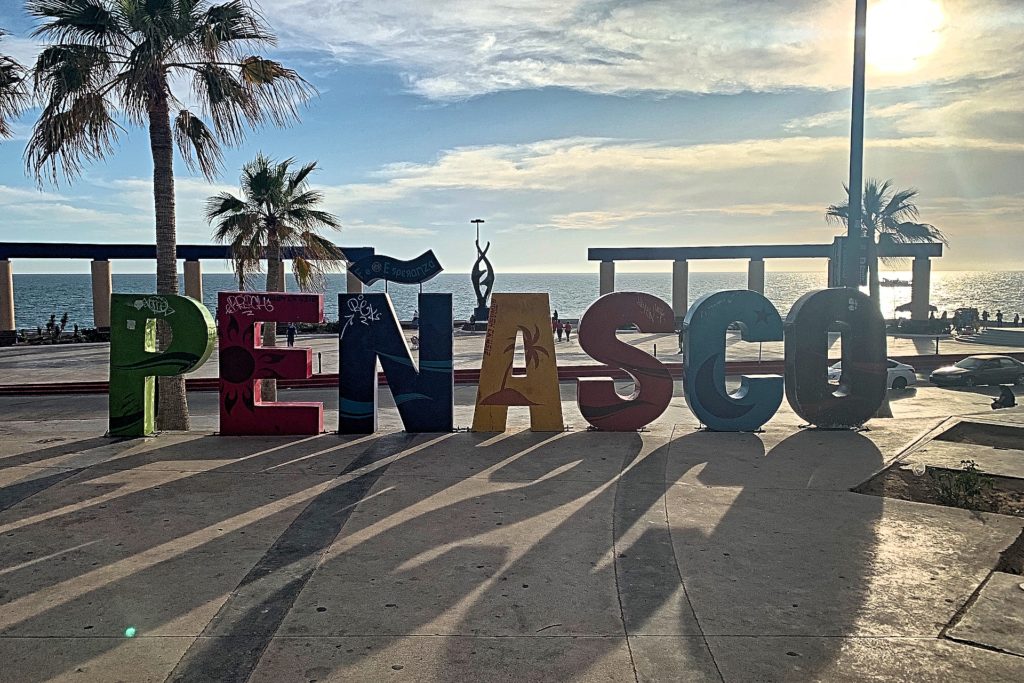 As someone who travels a lot and sometimes takes incredible places for granted, I really enjoy little Puerto Penasco and I wanted to share some of this amazingness with you! If you are from the Phoenix area then check out Top 17 Things To Do in Phoenix or 9 Ways To Escape The Phoenix Summer Heat.
Street Food Road – 1 De Junio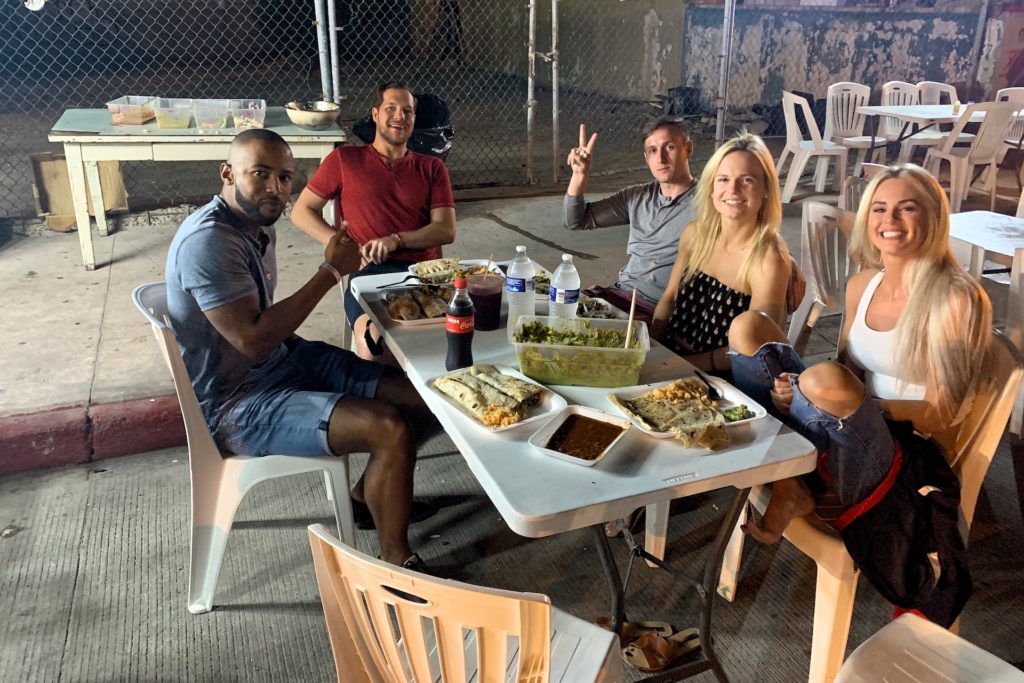 It turns out most places at the downtown port stop serving food at 10pm. We were struggling to find a place to eat until we came across this street meat utopia a block up from the main port road on street 1 De Junio.
The street opens up to 10+ pop-up street vendors with little plastic chairs and tables set-up on the street to give you one of the coolest most authentic dinner settings I've had in some time.

Everyone in our group LOVED the food and had so much fun just sitting down outside with basically an all-you-can-eat feast for about $40 total between the 6+ of us. It was such a great time and cool experience so you absolutely have to go.
Buy Drugs…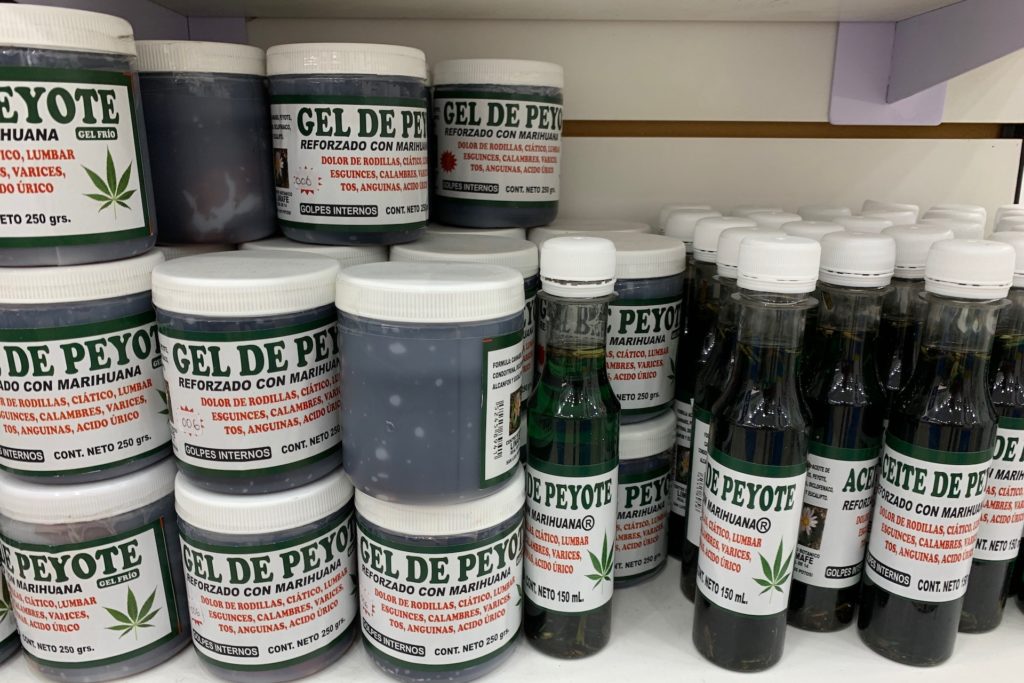 Wait wait… not what you're thinking. If you have been to Mexico you know they have "looser" pharmacy laws and cheaper prices thus there are a plethora of cheaper legal medicines that you can purchase down there.
You know, legal things like 1/4 price allergy medicine and tiger balm etc… there may be prescription medicines down there too but you didn't hear it from me, I just heard it from an older boy… Anyways… I did find this Peyote rub, which is supposed to relieve pain! I'm not sure if it works yet but was worth the $10 to find out.
Go To The Fair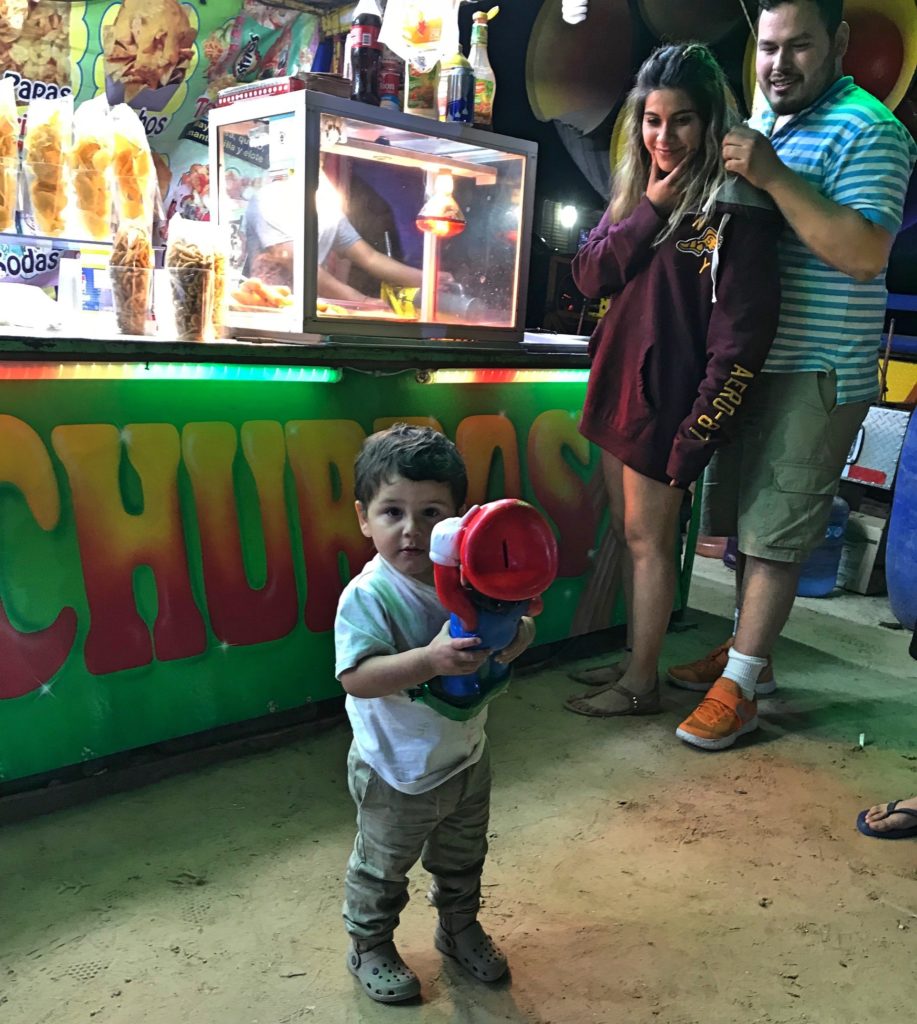 This actually probably is my favorite thing to do in Rocky Point. US State Fairs cost about $200 for two people for the night when you're all said and done. The AZ State Fair has $10 beers, $10 rides and $5-10 to play games.
With that said… you are in luck in Mexico. It isn't near the size of a state fair but I think two of us rode every ride and played every game spending only like $25. The rides were a little sketchy since the clasp on the roller-coaster was self adjustable and cost $.50 but hey… I had fun!
The rides were so cheap we were literally just giving ride tickets to kids who were hanging around. What's more is we were the only non-locals there so it definitely had an awesome authentic vibe and experience. We also played all of the fun games winning a ton of prizes and just giving them to the kids.
Go Grocery Shopping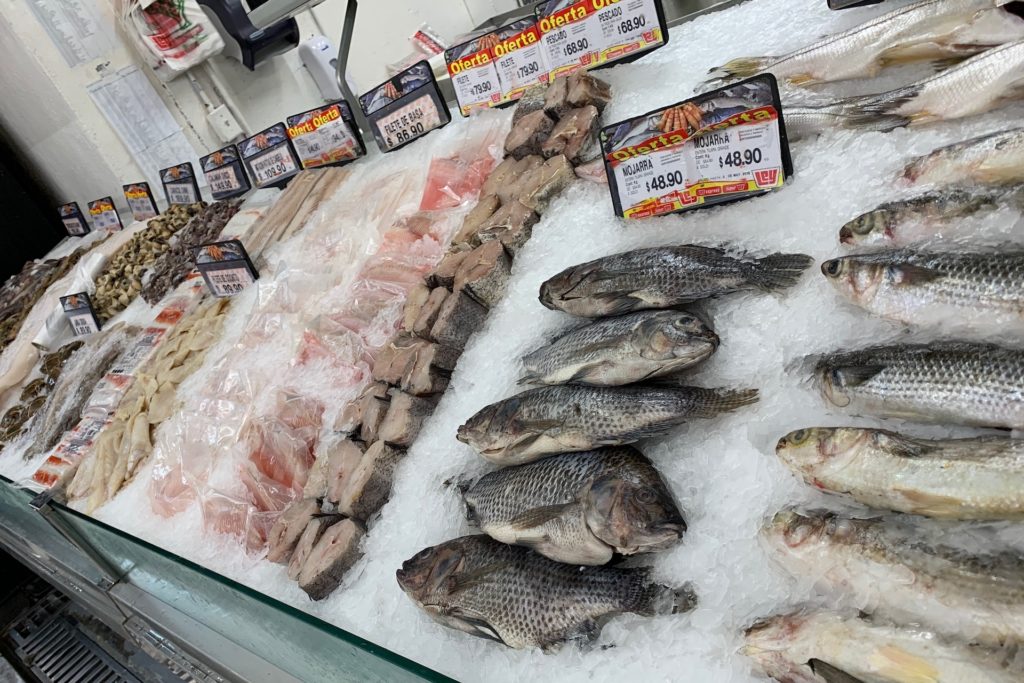 Such a silly thing to mention I know but shopping in other countries is my favorite thing to do. I love seeing the different fruit, food and alcohol options. Furthermore the price of things is always amazing, you go shopping like a king with $50!
The second we get there we go right to the Super Ley to buy tons of goodies that are a fraction of the price that they are in the USA. There is every snack you need as well like sodas, chips, vegetables and more that are all very cheap so that you can stock up on your trip!
A pineapple is $.50 compared to $3 in the US; 1800 Tequila and Kahlua are half price; mangos are 1/4 the price; seafood and meat are less than 1/2 price; mexican beers like Dos Equis or Tecate are cheap; and my favorite Corralejo Reposado is $40 in the US and $7-9 in Puerto Penasco.
Haggle A Speeding Ticket
I'm kidding, kind of. I don't want you to break the law but if you somehow get caught speeding I will share my speeding ticket story. Tip: the main place police are located is when you are coming back from PP into Sonoyta just as you come over the hill within a KM or near the Red Cross stop sign… that's where they got me once but not the last two times… fool me once…
Anyways, here is the story… They pulled me over speeding (it was over a hill and the speed limit sign just came up to reduce speed) and to their benefit they were extremely nice. He said he didn't speak English really and asked if I spoke Spanish, we both were SOL.
His coworker showed me the speedometer and said I had to pay them now or down at the station, $80 or $100 I believe. I said that I would have to go down to the station because I didn't have $80+ cash and would have to pay credit card. He asked how much cash I had… I said I had $40, he said that would work, took my $40 and on I went… best speeding ticket I've ever had!
With all of that said, this is not the way to handle a speeding ticket. You should always go down to the police station and pay there vs. allow police corruption. While I make jest of the situation here, police corruption is no laughing matter so handling things at the police station is always best to end this practice.
Bar Hop The Best Bars In The Southwest…ish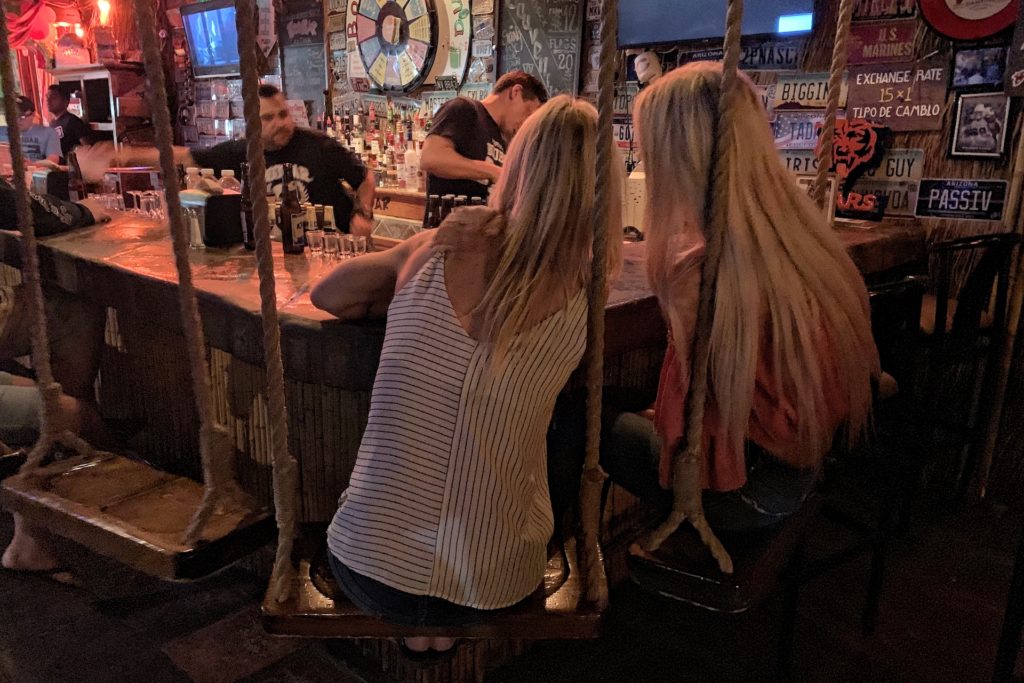 There are the bessssst bars in Rocky Point, especially down in the Old Port. With pretty affordable drinks you can hop around downtown to all the different unique themed bars. They have clubs, gorgeous patios, bars with swings inside, bars with slides and even bars with two-story beer bongs!
If you are ready for a drinking good time this is one of my favorite places to do it! Some of my favorites downtown are Sharkbite, BooBar, Manny's and Tekila Bar. With that said, all of them down there are a good time so just hop around!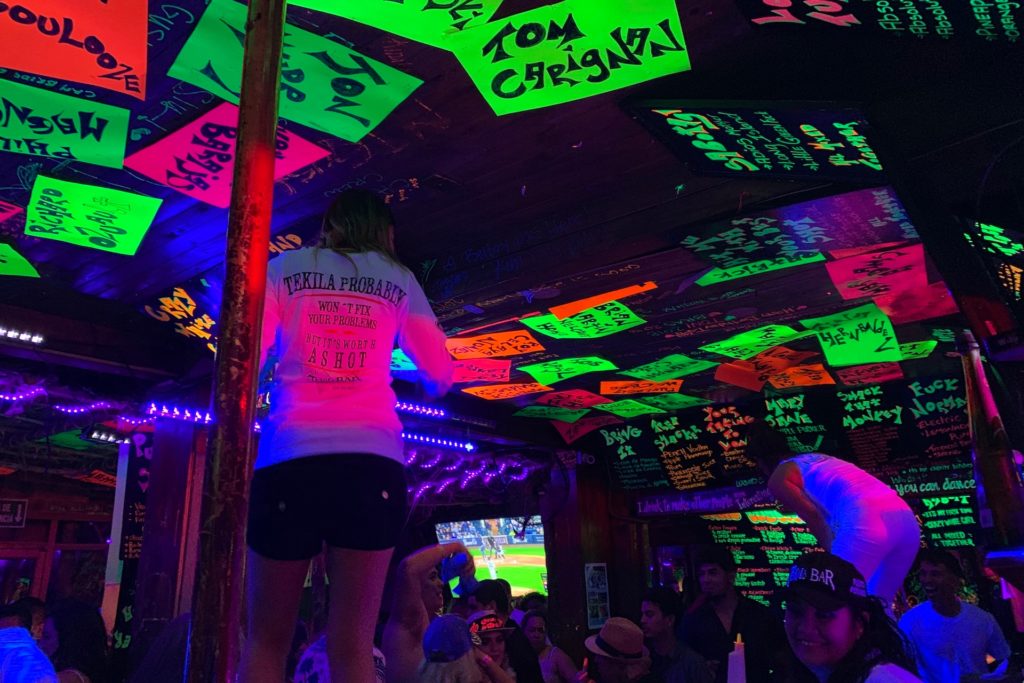 Shopping At the Old Port Downtown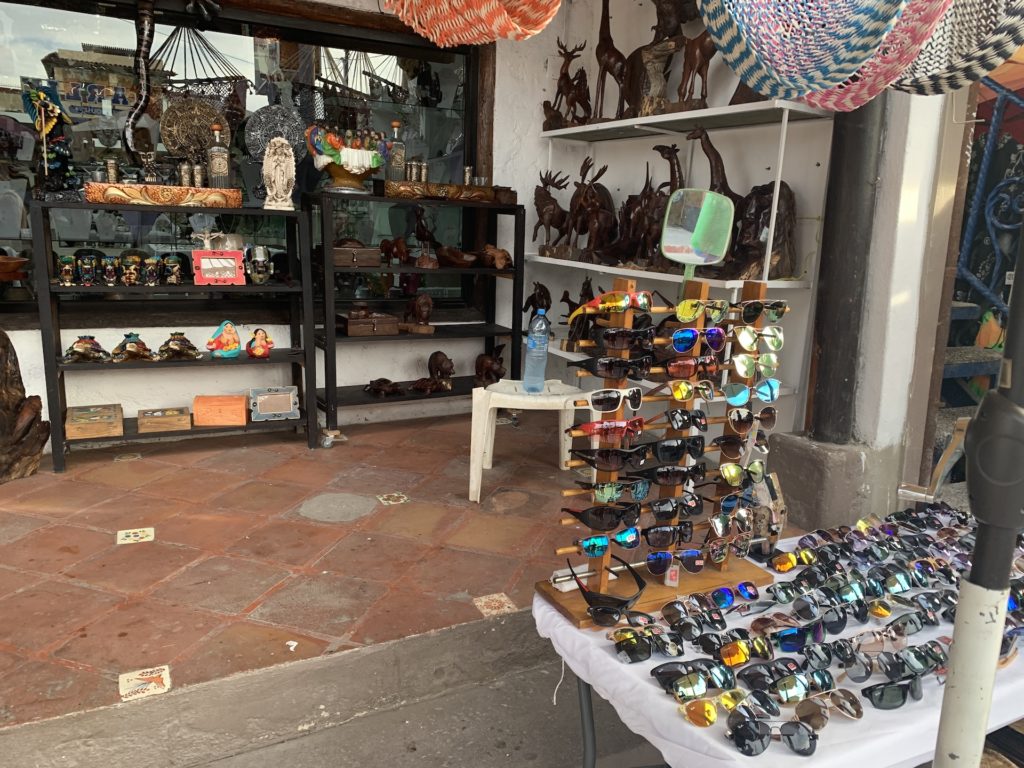 Another great thing about being in a new country is the shopping! If you have been to Mexico you know you can get lots of cheap trinkets like knock-off sunglasses, purses or fun items like things for your bar, t-shirts and other household goods.
Puerto Penasco has a great little street of shopping so be sure to take in the hustle and bustle of the area truly giving you that "wow we are in Mexico" feel. If you are lucky you might be able to find the giant fireworks and firework bombs behind the curtain.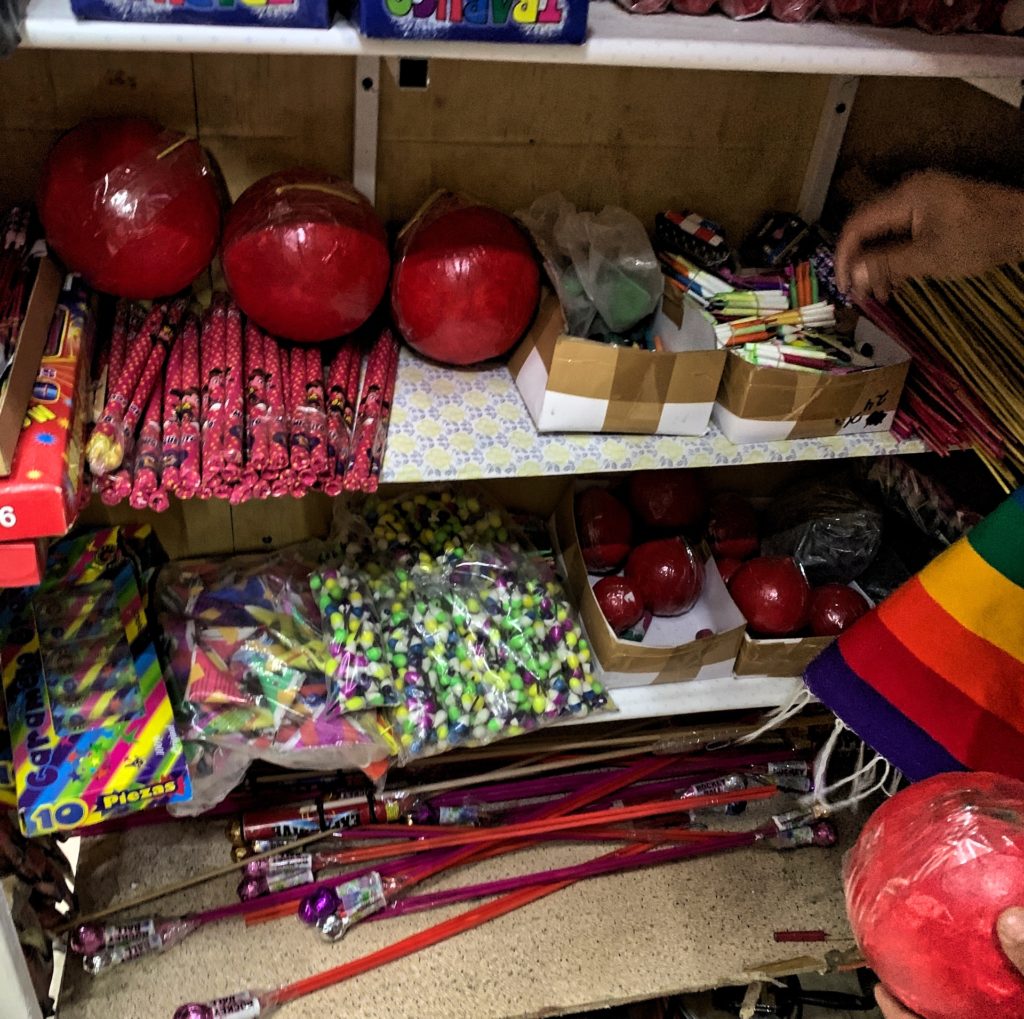 Kayak With Sea Lions At Isla San Jorge or "Bird Island"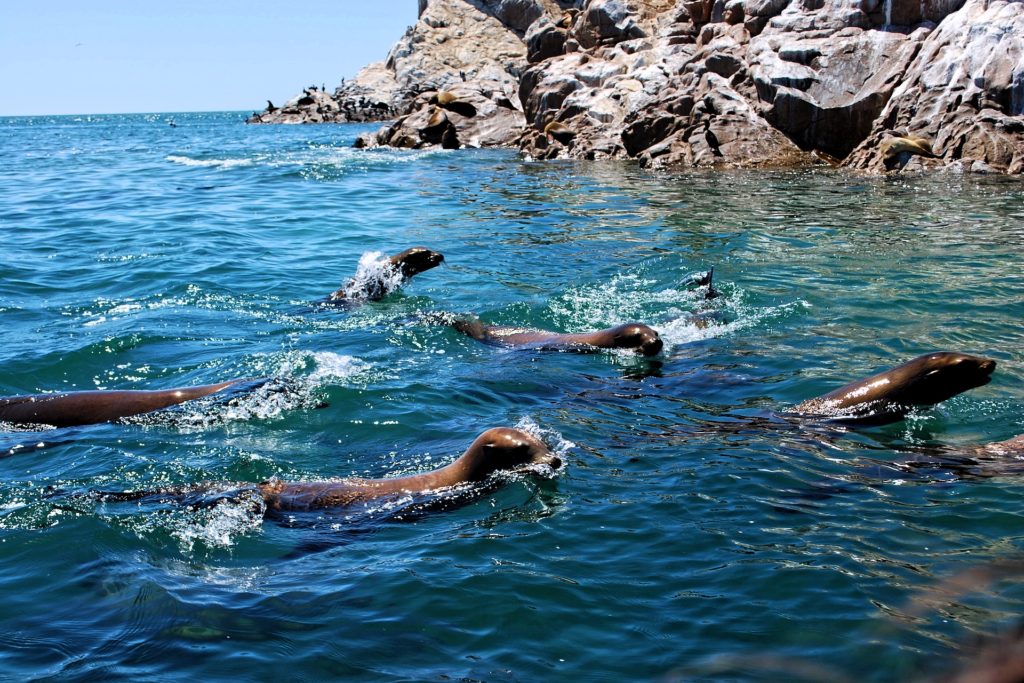 I was blown away that Puerto Penasco has some legit incredible marine tours. Two main companies offer the Bird Island Tour where you go out for 5-6 hours, have drinks, lunch and can kayak around with the sea lions and birds in the area.
If you are lucky you might also get to see some other marine life on the way out there! Costs are $80-100 USD per person. The two main tour companies are Del Mar Charters and Eco Fun Rentals.
The main difference is that Del Mar is a nicer smaller catamaran boat but is a touch more expensive for this reason. There are other companies as well but those are a couple main ones.
Go Fishing, Whale Watching, Dolphin Watching, A Sunset Cruise or All 3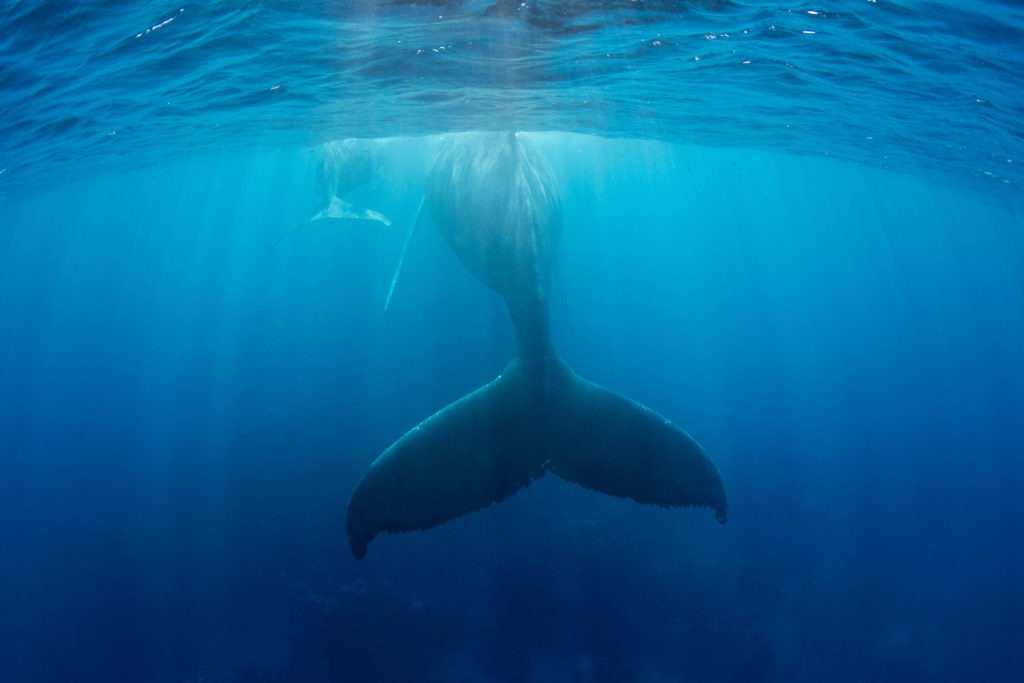 The aforementioned tour companies also offer fishing, whale watching tours, dolphin watching and sunset cruises! Depending how much time you have and your interest levels you should check them out.
The sunset cruises offer an open bar are 3 hours and start at just $30 USD! If you are lucky enough you might even be able to see dolphins from the coast like we did a few times. A "tour operator" from the shore took us out immediately for like $10 each to get a closer look at the beautiful animals.
Get a $40 Massage On The Beach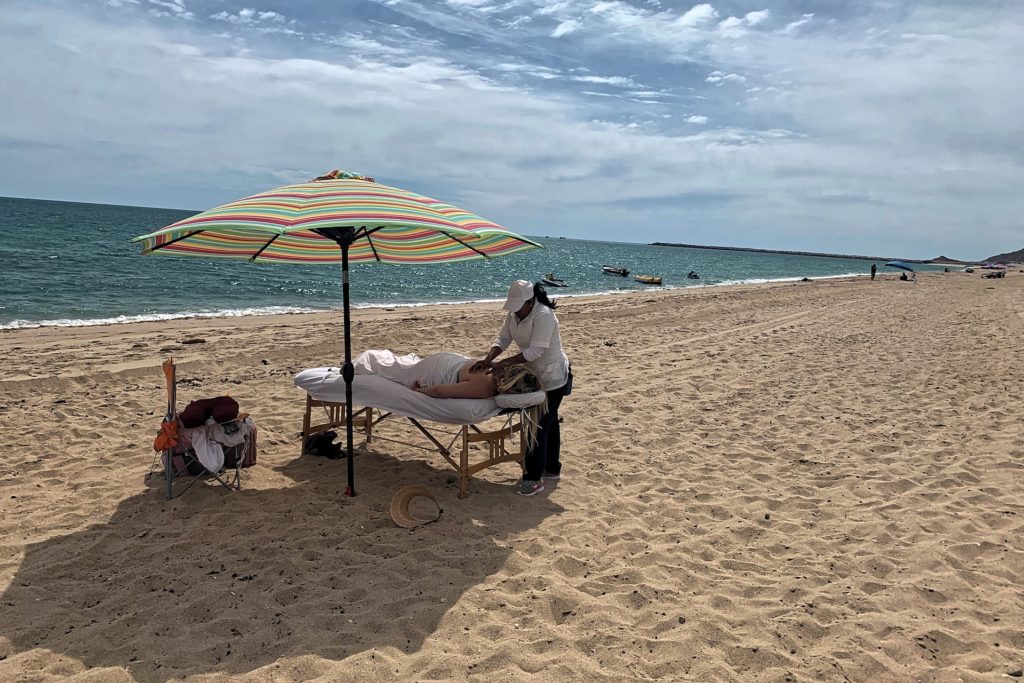 Raise your hand if massages are the sole reason you want to go to Mexico. This was reason enough for me… having a drink in hand on the beach and then walking up to get a $40 massage while the ocean water laps near your feet… perfection.
Pro tip, shower first or try not to be sandy when you get the massage so you don't end up getting rubbed too raw with sand ;). With that said, nothing says vacation and relaxation like beach massages so be sure you get on that.
Water Sports & Activities

Like any vacation spot along the water there are a ton of activities for you to do in Puerto Penasco. Rocky Point offers kayaking, paddleboarding and floating bikes for those wanting a little exercise. If adrenaline is what you seek then hop on a jet-ski or a banana boat for a little more liveliness!
Get Served By The Pool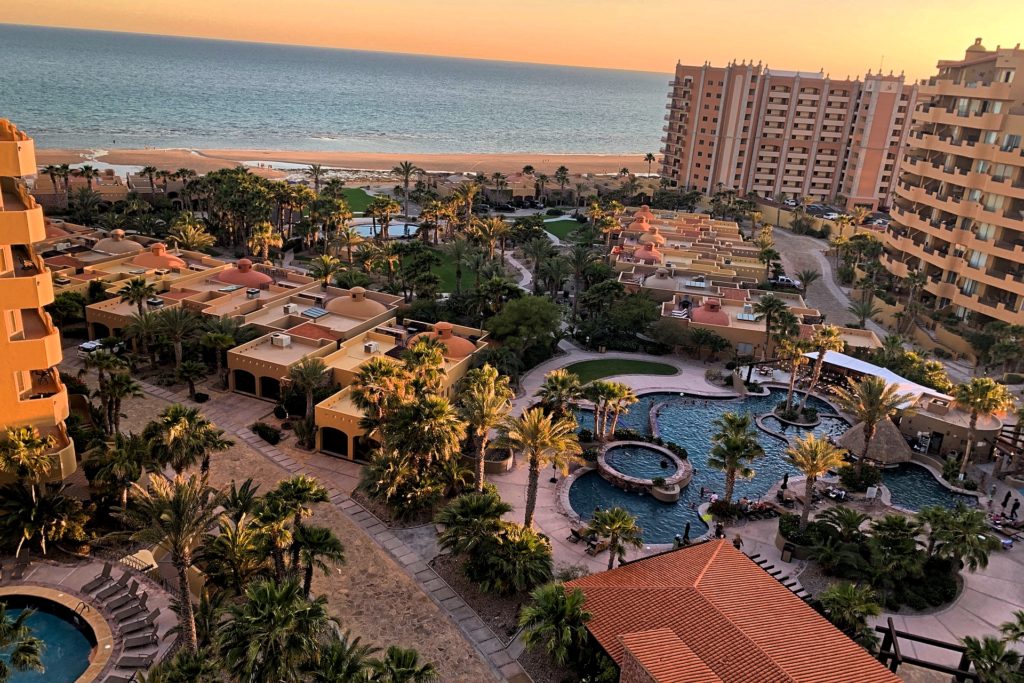 Some people just want to lay in a pool and have a waiter bring them drinks on command… and there is absolutely nothing wrong with that. In fact take up a whole day and maybe just forget every issue you are having back home with the help of margaritas and tequila shots.
Most hotels and resorts have a great pool and if not head to Bella Sirena where they have one of the best ranked restaurants on Yelp! There are multiple pools and the best drink list in Puerto Penasco. While laying by the pool is a great time be sure you get out of the resort and have some unique Mexico experiences!
Sand Dune Adventures Without A Guide!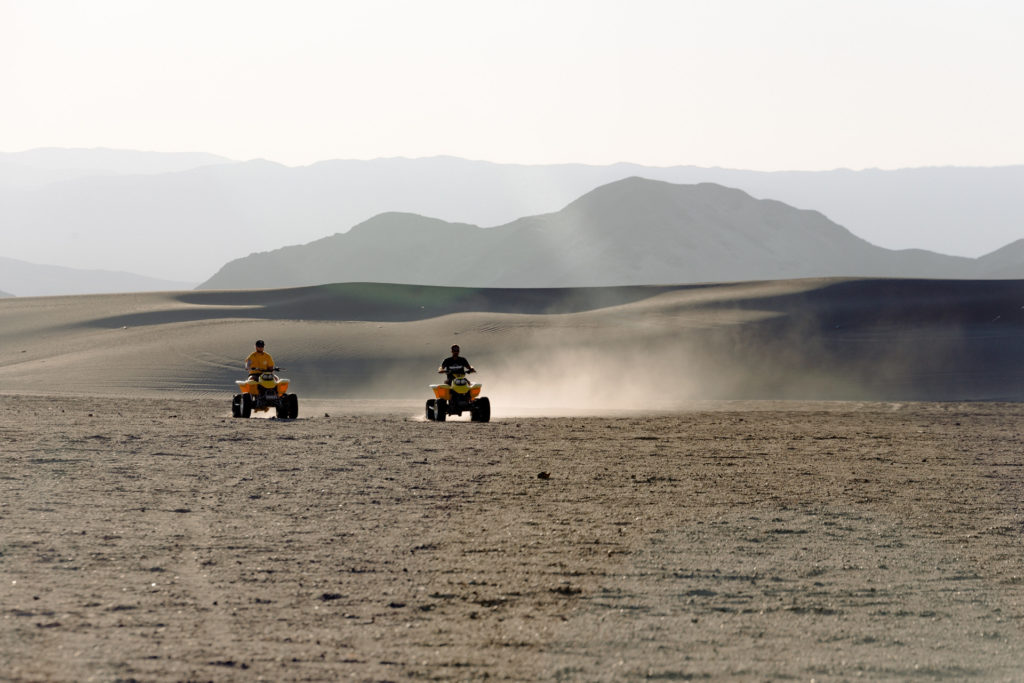 I love to ATV but I hate when you have to be on those guided tours. Rocky Point is an ATV or 4×4 paradise with so many great things to do in the dunes all by yourself. As you will see around town there are plenty of places renting quads and ATVs from $20 an hour or $200 for the top-of-the-line Razors.
Just remember, as with everything in Mexico, prices are always negotiable. Do your price shopping for everything. Furthermore, be careful, those quads will flip on you in an instant.
Fly Above The Beach
I can't say I have seen so many hyperflight two-men mini planes in my entire life. They are constantly flying over the beach just begging you to risk your life in Mexico. I don't know if I would do it but plenty of people are! Surely you will see places to rent them along the beach or just have fun watching them fly overtop.
Beaches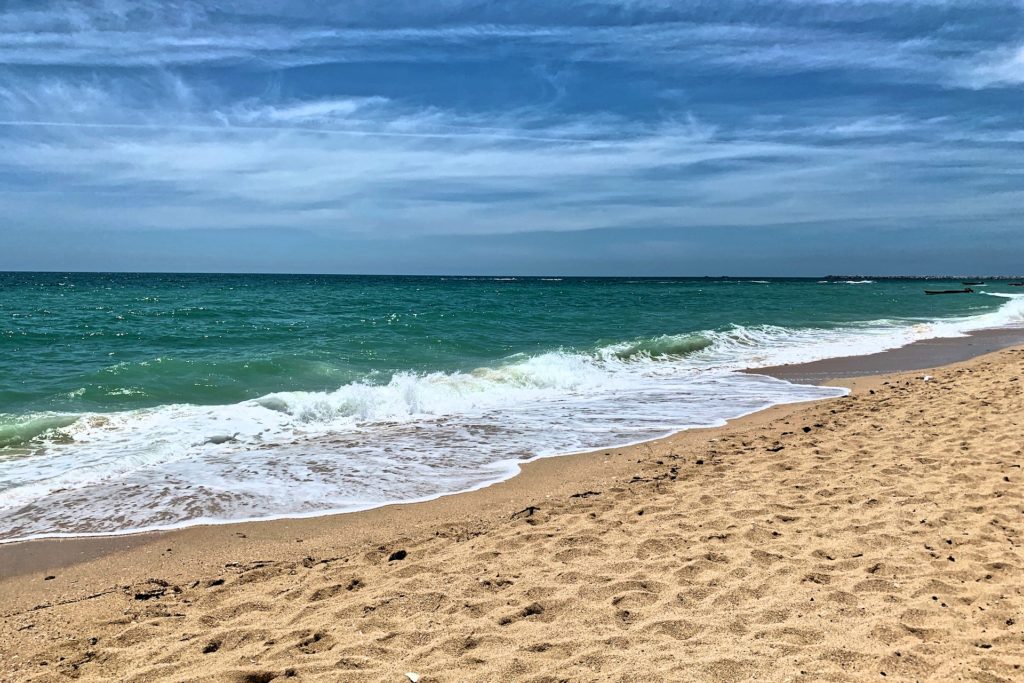 Obviously a no brainer is to go to the beach. The main reason I even listed this was to tell you that the beach is just as good or better than some Cabo and Puerto Vallarta beaches.
It isn't a white sand beach and there are some rocky places however the beach truly gives you anything you'd want in a beach, is very wide and stretches on for miles! If your resort doesn't have its own stretch of beach than public beaches like Playa Hermosa or Sandy Beach is a great spot to go.
If you wait until closer to sunset there are also horseback rides on the beach for you romantics or horse-lovers.
Get A Drink At Infamous Wrecked At The Reef
Wrecked is an absolutely perfect quintessential beach bar. It is inside outside with little cabana style tables outside as well as a bar and sometimes even a stage with live music. It's a must visit when you are in town as most people will tell you.
Restaurants!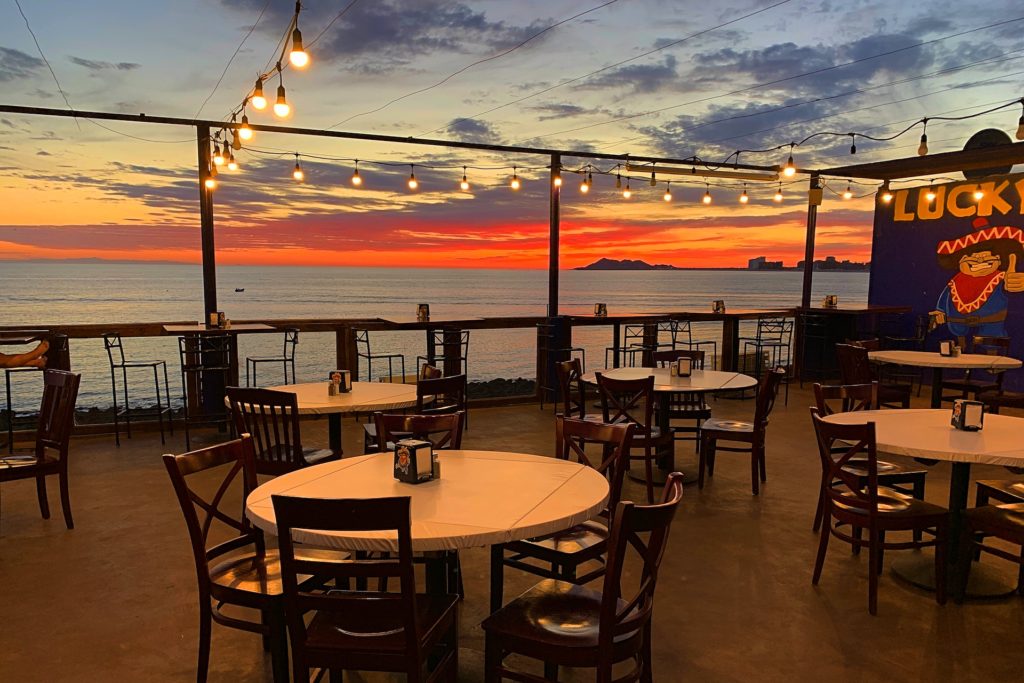 There are so many good places to eat I had to break it down a little into subcategories so that you could see some of my favorites!
Sunset Dinner

There are a few great spots to catch a sunset dinner in Puerto Penasco and you must do this 1-2x at least on your visit, especially if there is a good sunset.
One place literally rises above all the others in Casa Del Capitan. Casa is set on the highest point in Puerto Penasco's Old Port area overlooking the entire downtown, ocean and of course a beautiful view of the sunset. I will warn you to watch out for the Margaritas, they are deadly!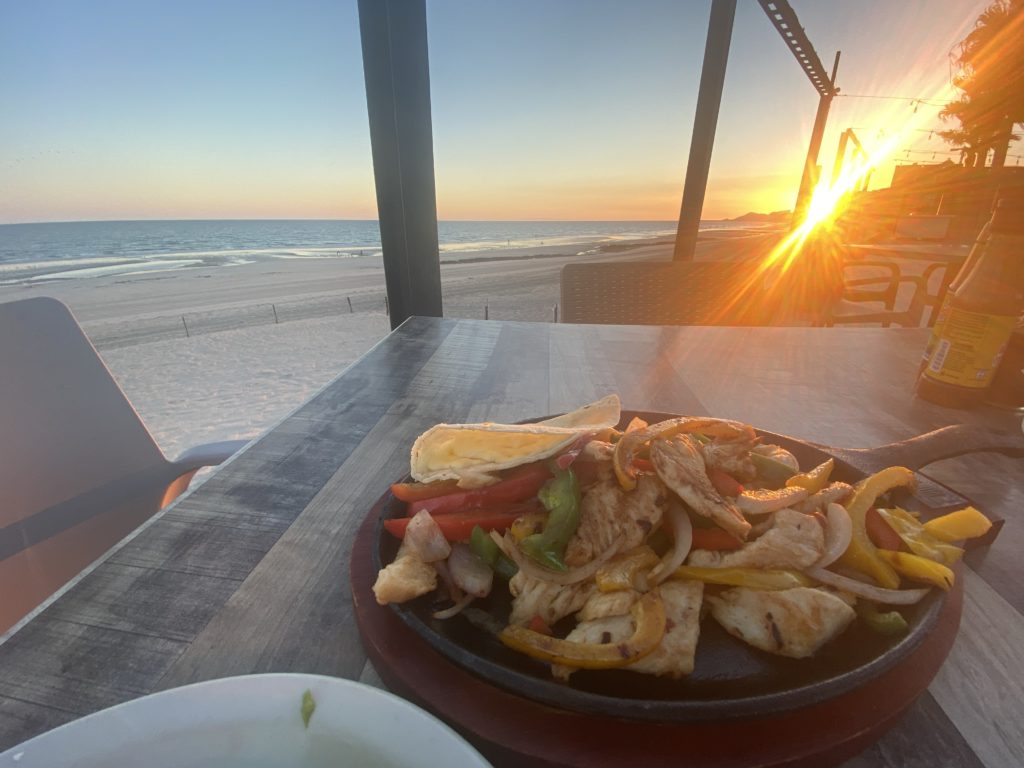 The Point Restaurant is also amazing being ranked near the top. Another good option is Lucky's Cantina among others on the main drag downtown to have some good food and great sunset views.
Brunch At Max's Cafe

Max's seems to be the go to breakfast or brunch spot and with good reason. The food is amazing and the bloody mary's are enormous and absolutely terrific. Be sure to try as much as you can and eat what you normally wouldn't at home!
Eat Chicken And Rice At Pollo Lucas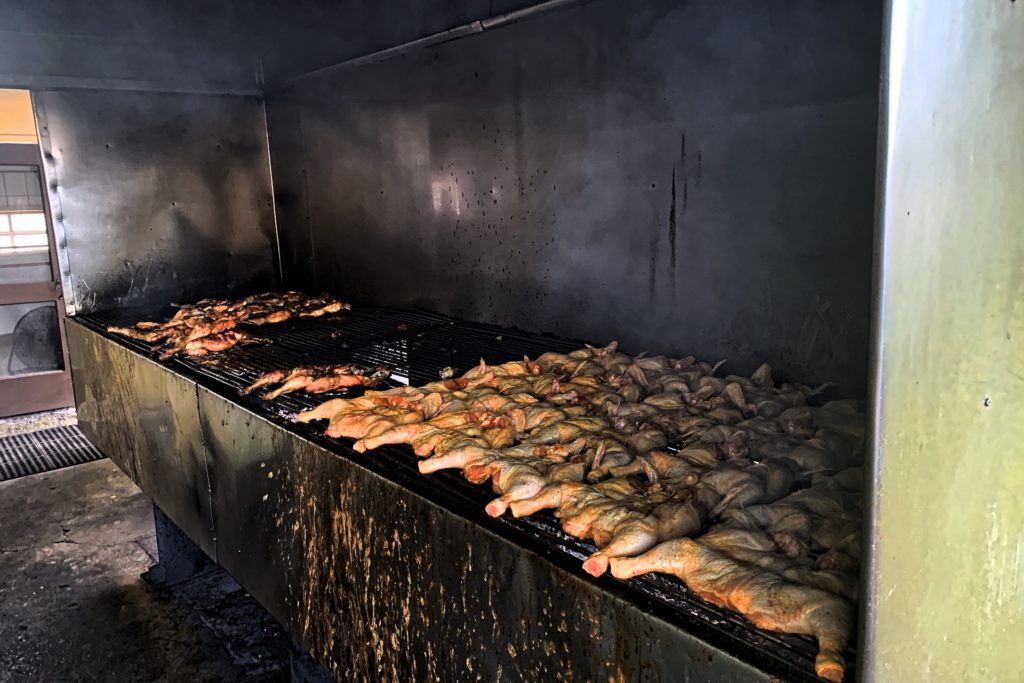 Something about just basic chicken, rice and salsa or hot sauce just gets me excited. It is so basic but when done correctly it is ohhhh so good.
Pollo Lucas is THE spot for chicken and rice and it is like $8 USD or an entire family meal. One whole chicken meal purchase gets you rice, tortillas, beans, cabbage and salsa for literally the cheapest meal around.
Cheap Seafood
As you drive around town you will see a ton of seafood stands and don't hesitate to stock up if you are a seafood lover. As with most everything down in Mexico you will see how cheap it is for some fresh seafood creating another great reason to visit Rocky Point.
Bring Your Dog!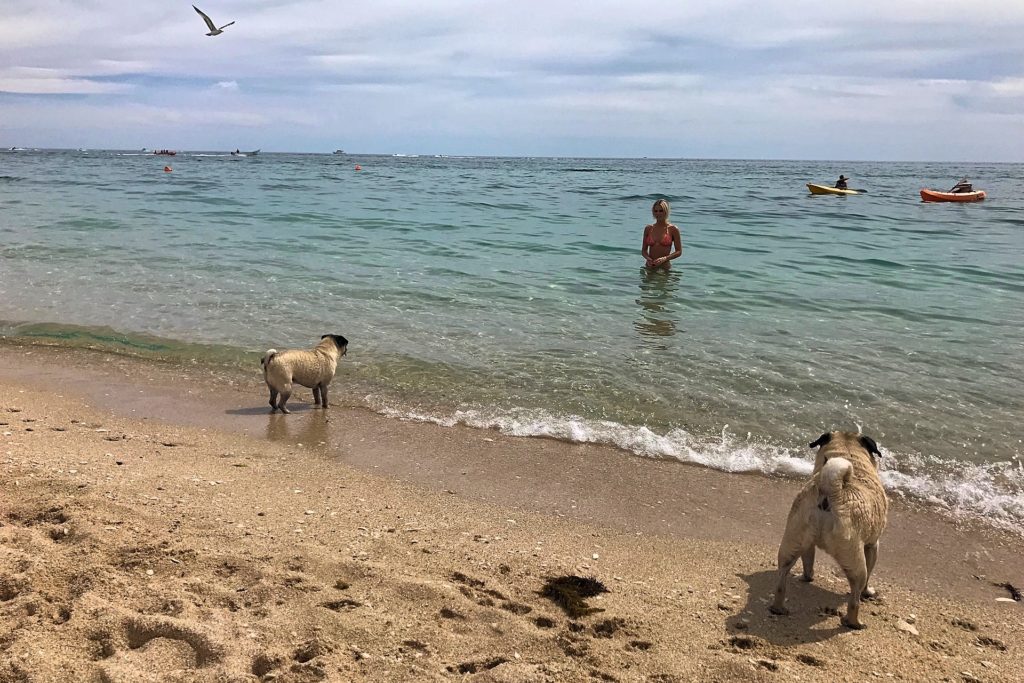 Another amazing thing about Mexico is that the beaches are dog friendly, unlike beaches in California. If you are an Arizona resident it is great to let your pup get out of the heat and play in the water.
It isn't hard to bring your dog down, just be sure that all its health info is up-to-date with shots and and bring your receipts and verifications for when you are returning back to the USA.
Rocky Point Travel TIPS
If coming from Phoenix try to depart Phoenix before 3pm to avoid rush-hour. Going west down the 10 to the 85 is the quickest way unless you are coming from the East side. Use Google maps to see how traffic is.
When going back home try to depart Puerto Penasco early Monday morning and go late into work vs. wait 2-3 hours at the border and the two border patrol lineups on the way home. At minimum you save 2-4 hours with less traffic… it can even be 4-5 hours if it is a holiday weekend.
Get car insurance before you go. Your car insurance probably won't apply in Mexico. It normally runs around $20-25 per day through your insurance carrier or is $25-30 on the side of the road before the border.

I suggest to save time and do it with your own insurance carrier over the phone. Most request you print it out as well to have a hard copy.
You can risk without it and I normally would but… imagine your car gets stolen and you're out the $10,000-$40,000 or whatever your car cost? It's such a racket but better safe than sorry.

Health insurance through Berkshire Hathaway. I mentioned you do a lot of sketchy things… so best be covered and health insurance is like $1-2 day.
Price shop. Don't take the first offer to come your way. Feel free to shop around and make sure you are getting the best value before purchasing.
Negotiate. Remember things are always negotiable when shopping or on the street in Mexico.
Push your comfort level with food and experiences!
Stock up on alcohol and homegoods to bring back home.
Seriously eat at that street meat spot.
Where Is Best To Stay In Rocky Point?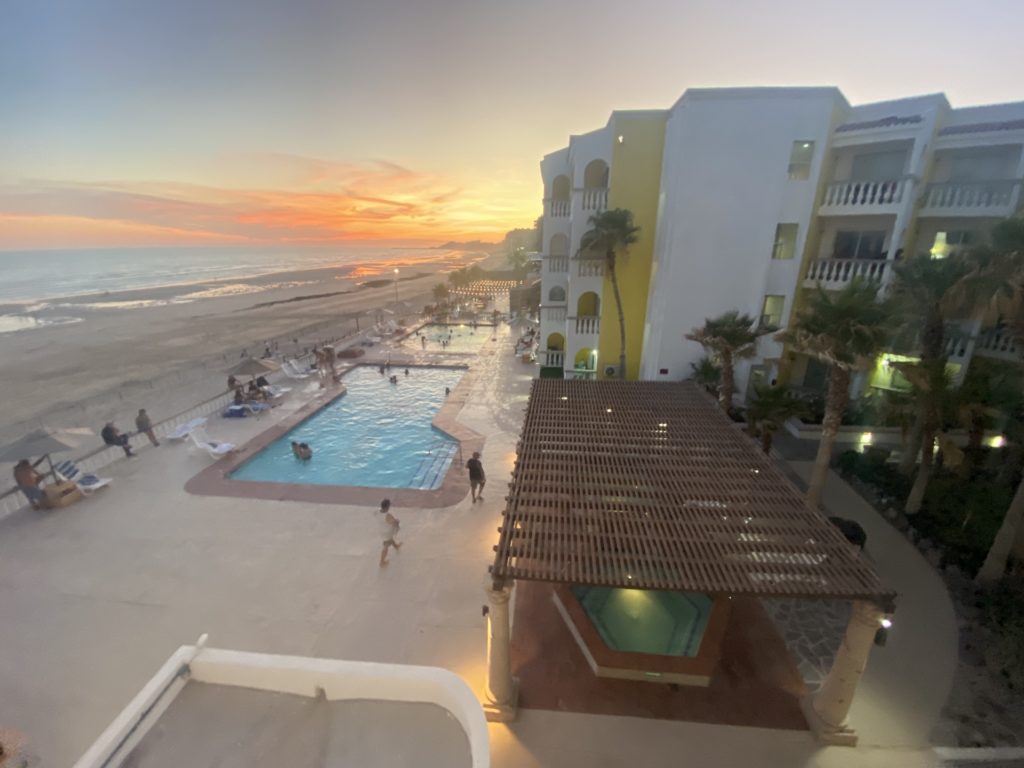 The beach on the North Side of the downtown is littered with a ton of great resorts. There are a few places that separate themselves from others though, see here for the best 3 places to stay in Puerto Penasco.
Las Palomas Beach & Golf Resort
The pricest option on Rocky Point but wow is it worth it! I was a little skeptical when I saw the prices of the resort, especially considering it was in Rocky Point, not Cancun. However, WOW it blew away my expectations and is a true stunning resort.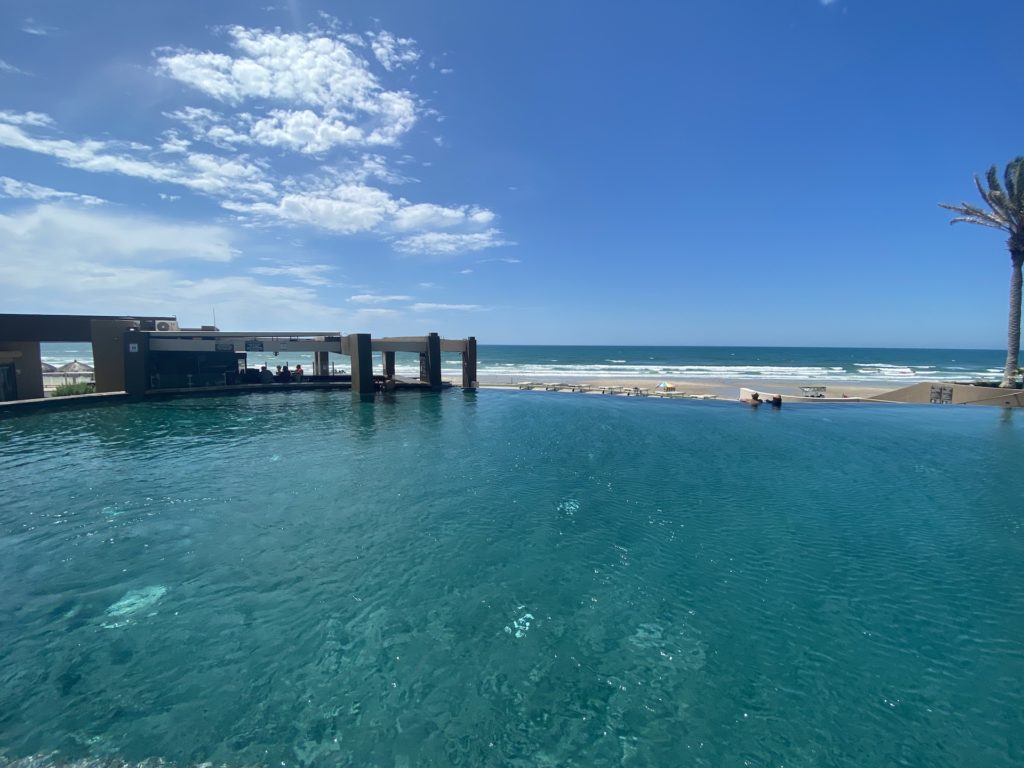 There are multiple incredible infinity pools, amazing beach bars, perfectly groomed grounds, the beach is perfect and the insides of these places are immaculate! Our kitchen, living room and patio were nicer than pretty much every house I have seen.
While it is a little pricier than other options, if you have the money saved up it is definitely worth it! I love Las Palomas and it hands down is the best resort in Rocky Point.
Bella Sirena Resort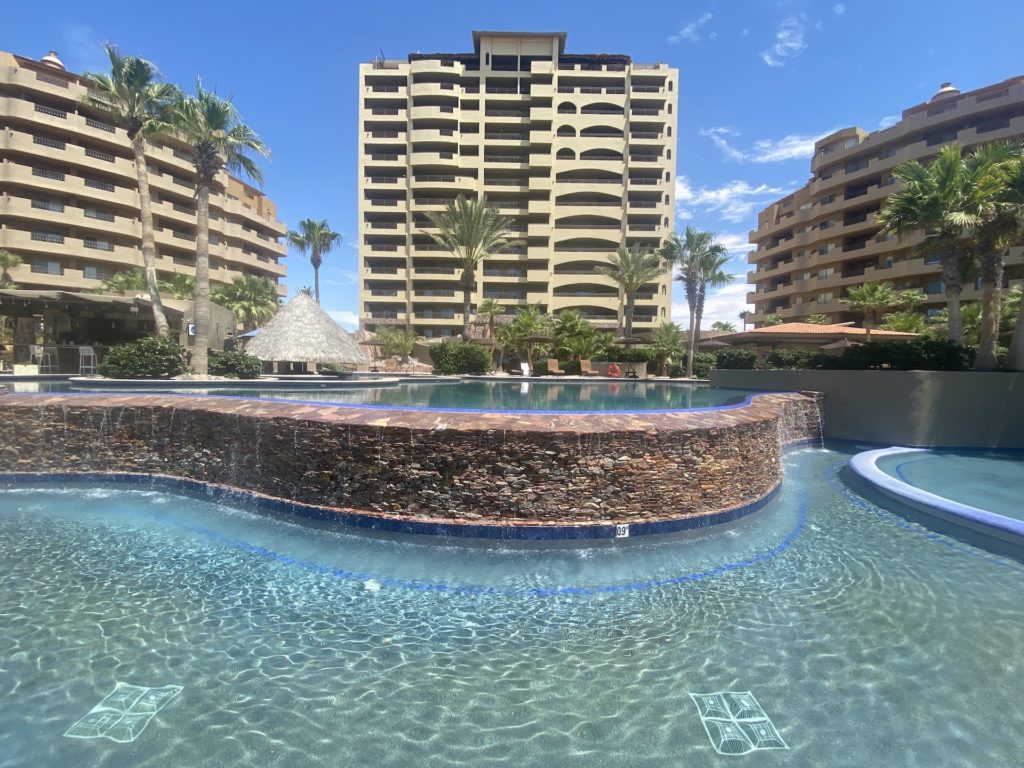 This is the perfect place if you don't have the money to spend at Las Palomas but still want a nice place. They have the perfect quintessential pool bar, perfect beach just like Las Palomas, multiple pools and the rooms are also amazing. If you stay here you won't be disappointed and it is relatively affordable for a great place in Rocky Point.
Playa Bonita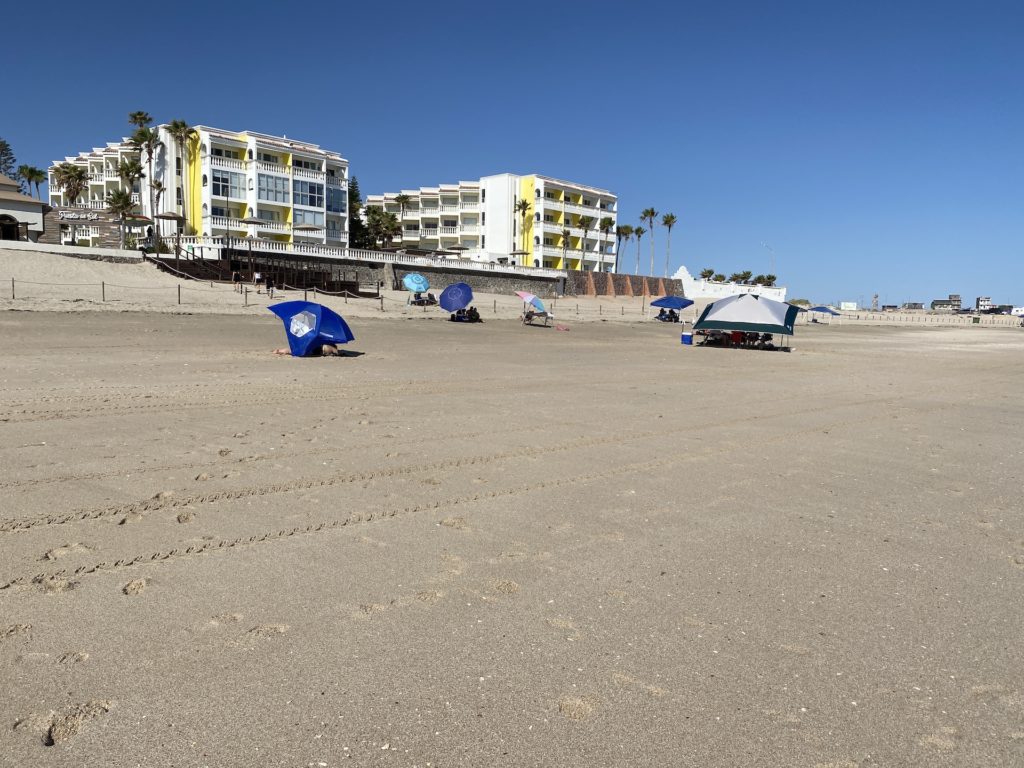 Playa Bonita is a great place to stay when in Puerto Penasco especially if you are looking for something affordable. It has everything you would want for a vacation hotel.
Airbnb
If you don't do any of those then check out airbnb. Often you might be able to score places in both of these resorts for cheaper than their prices on the websites. While I am down on Airbnb lately due to the extreme rise in "fees" the options in Rocky Point are really good. Ideally try to stay on the beach in the resorts vs. in town where your area might be hit and miss.