Siem Reap is one of my favorite 3 cities on earth. I had no idea how much fun I would have and how consistently amazed I would be at this quaint town in Cambodia. Aside from not having a beach it has everything you could want in a foreign destination. If you were planning a vacation to Thailand, Vietnam, Laos or anywhere definitely make it a point to stop in Siem Reap for 3-4 days. Flights are pretty cheap around Asia and Siem Reap is easy enough to get to from multiple countries surrounding it.
Visit The Floating Village Of Kompong Phluk & Tonle Sap

If you've ever wanted to feel like you're in National Geographic this is the tour for you. You'll see see traditional stilt architecture, the floating village, floating rice paddies, crocodiles, fisherman, a treehouse walkway, traditional meals and memories to last forever. This was one of the best cultural things I have experienced as we meandered down the river in a quintessential long-tailed boat, witnessing farmers pick morning-glory, fisherman prepare and witnessing daily life in this incredibly unique village.

It's about a 45 minute tuk-tuk ride to where you will find your boat waiting that will take you for your 3-4 hour trip. I was all along one my tour and on the entire trip I only saw 2 other tour groups. The tour typically takes you down the river stopping at a little restaurant along the river where you can walk down a stilted walkway through the jungle and you might even bump into some unique wildlife!

After the river restaurant stop it is on to Tonle Sap where you will visit the floating village and eat lunch at a floating restaurant in the middle of the lake. My restaurant also had crocodiles that you could feed as well as a giant python! After some terrific local food it's back in the boat to head back down the river before you head home.
Bike Angkor Archaeological Park

Get ready to be transported into history for your entire day.
If you want an adventure, don't get in a taxi or a tuk tuk but rent a $5 mountain bike and create your own incredible tour. There are $2 bikes available too but for my adventure you are going to want more comfort so you can bike around the entire park! I started early in the early morning and ended coming back at dark. If you want to exercise a little while on vacation this is the best way to see the park.

While Angkor Wat is the crown jewel, the entire park is worth and entire day of exploring, eating street food, going for a swim and more! There are so many temples to see, each of them with their own cache and beauty. Some of them were featured in movies, some you can climb to the top of for incredible views, and some are in the jungle where you'll find yourself all alone in a haunting setting. Angkor Wat, Angkor Thom and Ta Prohm are the main big three to see but definitely try to see as much as you can along the way! You can definitely see the big 3 and make it to Phnom Bakeng for an incredible sunset.
Biking is great as you are more inclined to stop at multiple things whether it is for a snack, drink, a unique view, monkeys or to swim with local kids and rope swing into a moat! The best time to go for Angkor Wat is for sunrise but truly anytime you go will be memorable. I highly suggest not just going there to snap a picture and leave… go explore. The artitecture, hallways, unique rooms and more are absolutely incredible.

Eat Scorpion, Snake and More!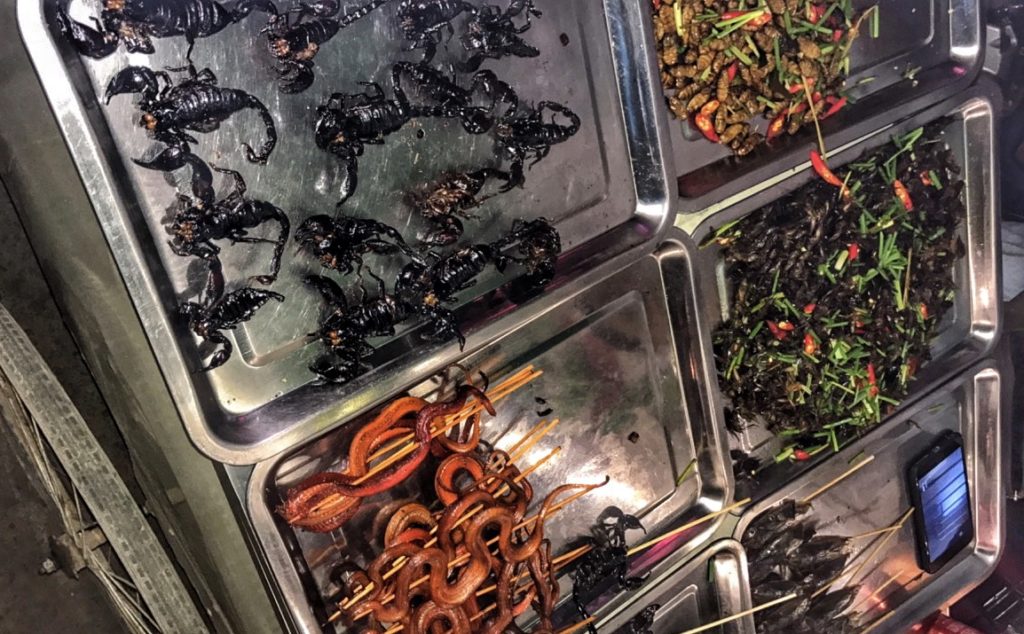 This is why you came to Asia right? To see, do and eat the craziest stuff you might see? Look, it doesn't taste good, it is gross but it only costs $1 and you have to do it! If I had to rank it I would go grasshopper is the best, then snake, then scorpion and larvae ends it off as it is disgusting.

Surround Yourself In Monkeys… Carefully

Who doesn't live monkeys! They are everywhere around Angkor Archaeological Reserve. Most of them are very friendly and will even steal your smoothie! With that said there are some who attack so be very careful when approaching them. I saw one family get very aggressive with some tourists hissing and such… so let them approach you but also make sure you have nothing they can steal!
Go To Pub Street For A Pub Crawl, Street Party & Drinks

Siem reap is a great place for a party as it is a backpackers hub. If you want to drink the pain away from your long bike ride in the park or just let loose here is the spot! There are tons of pubs, street vendors, pub crawls and sometimes an entire street party! Okay… I made a street party but… it can happen.
Stay At A Beautiful Hotel For Less than $50 A Night

One of the best things about Asia is you can stay at 4-5 star resorts for so cheap. Traveling countries like Cambodia offer a ton of great hotels at a fraction of the price you'd find in the US. Really affordability is the best reason to go to Asia where you can live like a king for cheap!
Eat Street Food At The Old Market

Not only are there bugs to eat but there is of course the best asian street meat, noodles, drinks and more. If streat food isn't your thing (it should be) then there are a plethora of restaurants to eat at in the area as well. I kid you not stuffed frog was one of the best tasting things I've ever had!
Get 4 Handed Massages & Spa Day For Cheap
Asia corrupted me as I now only want to do 90 minute massages and ideally 4 handed ones! Imagine the perfect massage for like $25! It's incredible if you want a spa day, massages, pedicures etc… Asia is the place to be pampered!
Go Shopping In the Old Market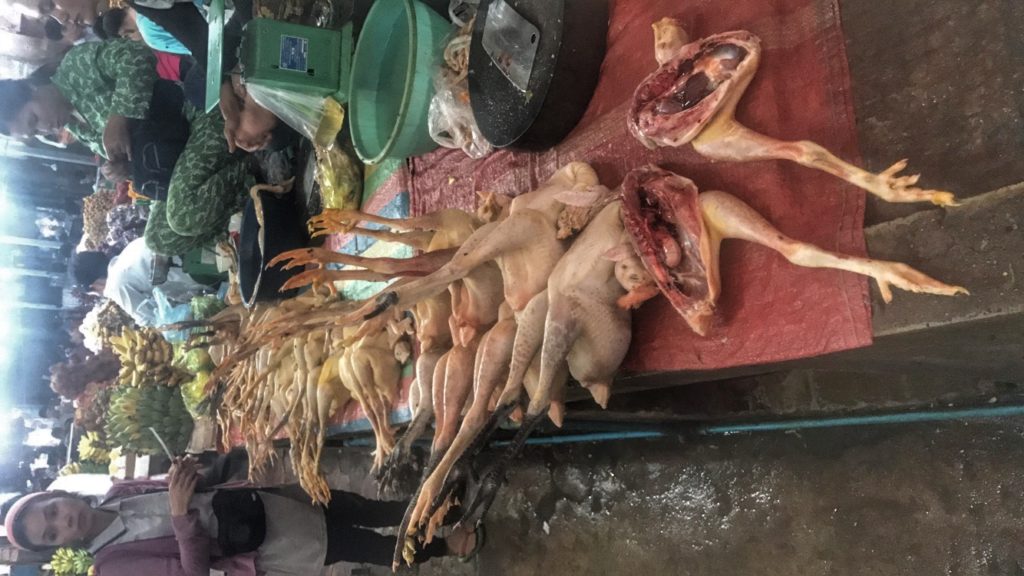 Some of the most beautiful art, cheap clothes, knock off goods, and tons of souvenirs are to be had at the Old Market where you can spend hours meandering through the stalls, window shopping, negotiating and I suggest buying some absolutely stunning paintings for $50. Keep in mind that any paintings you get will have to be re-canvassed back home, which costs $150-200! With that said, still do it as it is completely worth it.
People Watch

There is some unique stuff to see and people to watch in Cambodia. From the traditional ceremonies and dances to the poverty to the chaos you won't be bored while walking the streets of Siem Reap. I felt bad taking a picture here but I just had to share the poverty in Cambodia. There are orphanages abound in Cambodia and the poverty is incredible. In Siem Reap you escape the picturesque beaches and fruity drinks to truly see the Cambodian culture for good and the bad. If you are to travel I always suggest Asia over anywhere else in the world so you can dive in and truly see a whole new world.
Fish Spa Pedicure

You may have seen a fish spa in NYC or an airport in Mexico but they aren't anything like this! Here they have multiple pools with multiple sizes of fish. There are larger ones that literally feel like they are chomping into your feet… it's an awful feeling for some like me but others love it. If the big ones aren't for you, you can do medium, small and tiny ones!
Don't Get Scammed or Pick Pocketed

It isn't overly bad or anything in Siem Reap but always be careful when traveling anywhere. There is a common scam in the area where you'll be approached by a woman with an adorable baby who asks you to buy powdered milk for her baby. You then buy it for $20 and she will give it to a guy who then goes back and sells it back to the store. Hopefully some of the money goes to the family regardless but still sad it has come to that… and how do you say no to that cutie!
Hope you enjoyed what to do in Siem Reap! If you liked it please let me know in the comments or if you have additions write those too so I can include in the next round!