Cancun and the Riviera Maya is probably my favorite suggestion for anyone looking for a time and cost efficient tropical trip from North America. It is arguably the greatest vacation place to go in all of North America.
This area literally checks off every single list of reasons to travel whether you want white sand beaches, gorgeous water, scuba diving, adventure, culture, history, wildlife or nightlife this is the spot to go.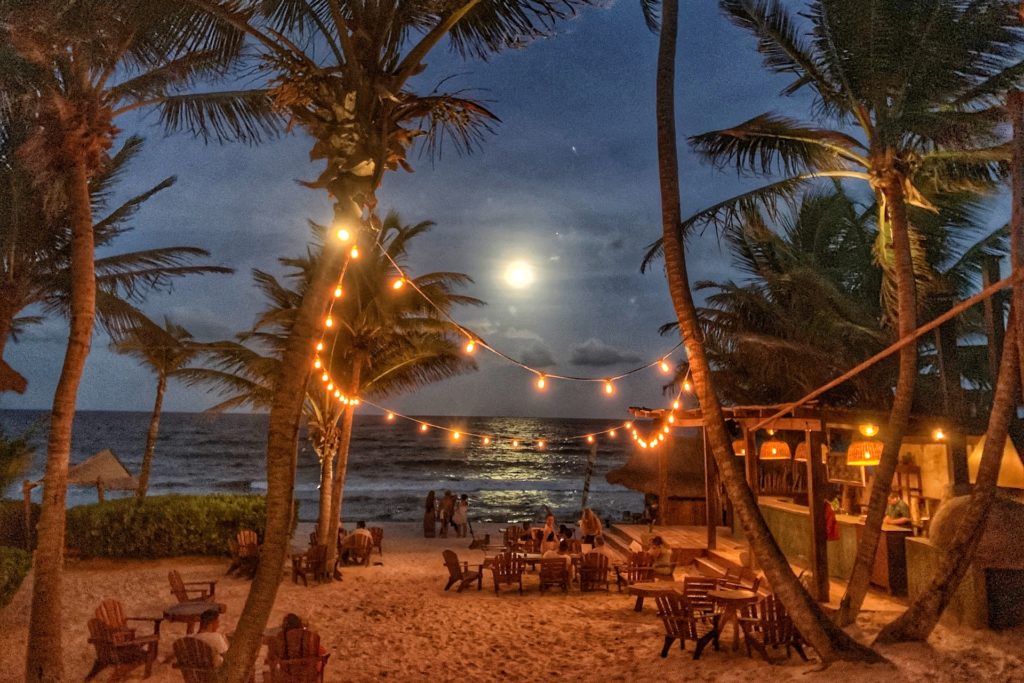 If you want to spend a little more than I do really love Belize and Costa Rica but… the proximity and cost of the Cancun, Mayan Riviera, and Tulum area is terrific. With that said, you can visit this area in Mexico over 3-5 days if you would like where I recommend at least a week or more in Belize and Costa Rica.

As mentioned the best reason to go is that it is only a $300 and 2.5 hour flight from Houston or 4.5 hour flight from LAX to Cancun. If you are debating a weekend in Vegas, San Diego, LA, or Miami I fully recommend going here. Not only will your trip end up being cheaper, it'll be more luxurious and way more fun.
There are plenty of Mexico lists available for you but this list was created to sift through the ton of easy-to-find options and show you some of the more unique and spectacular places the Yucatan Peninsula has to offer. Furthermore, if you do a bachelor or bachelorette party then Tulum, The Mayan Riviera or Cancun have to be the spot!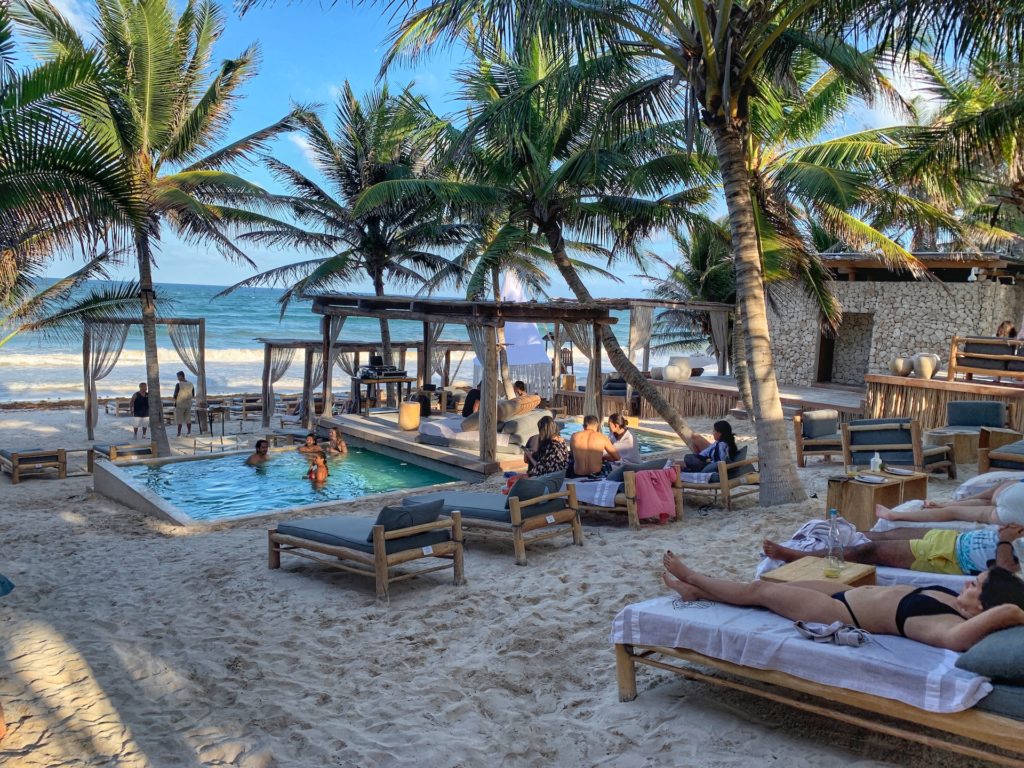 Some people may turn their nose up at Mexico, however keep in mind Tulum is less than 3 hours from the Belize border… the Belize everyone sees as paradise in its own right. Rest assured there are plenty of things to see other than a beach or the hotel pool if you want to make your vacation perfect.
I prefer to make Cancun, Playa Del Carmen or Tulum area my home-base but no matter where you stay you can still take day trips to see all of the breathtaking sites this region has to offer. For more Riviera Maya see here for an amazing 5-10 day trip itinerary or here for 5 full-day trips from Cancun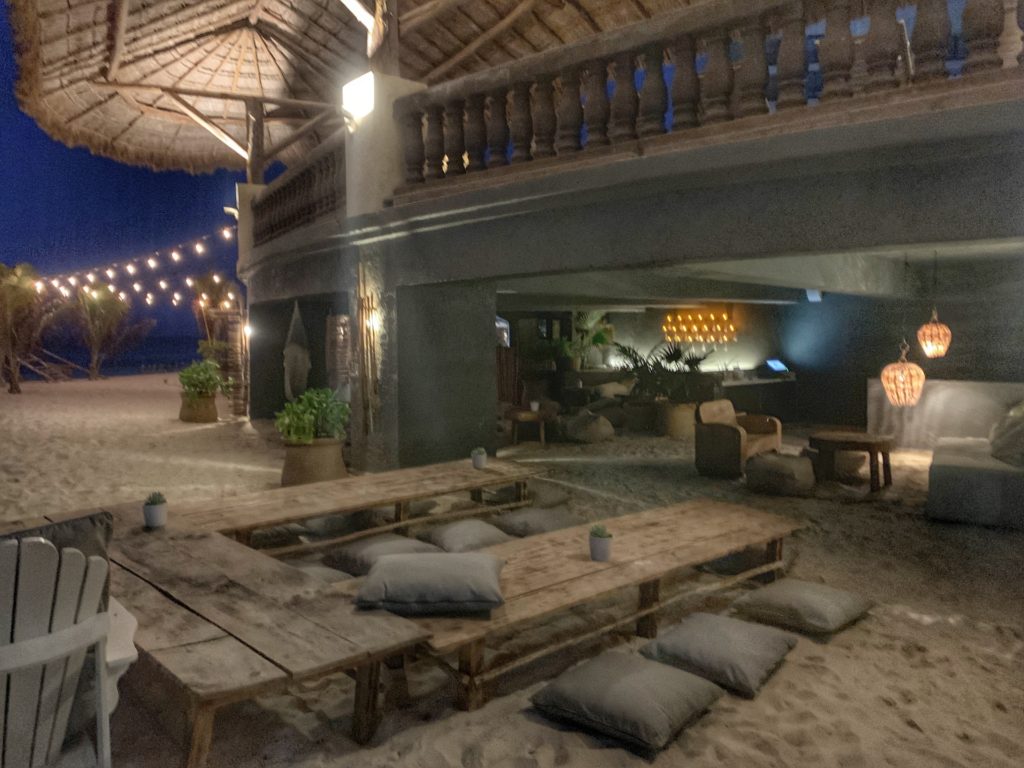 I have not seen much in the world as stunning as these limestone caves and sinkholes turned swimming holes. Not only are you in unreal prehistoric caverns and caves but then they are also filled with the most beautiful water you will find.
The phenomenon is only in this region of Mexico and there are thousands of them throughout the Yucatan Peninsula. These mythical natural swimming holes are rich in history as they were once sacred wells and even were human sacrifice locations for the Mayans.
These Cenotes access networks of unexplored cave systems and are havens for adventurers, snorkelers and scuba divers. Some historians believe they even can be linked to the extinction of dinosaurs. For 6 amazing Cenotes near Cancun see here.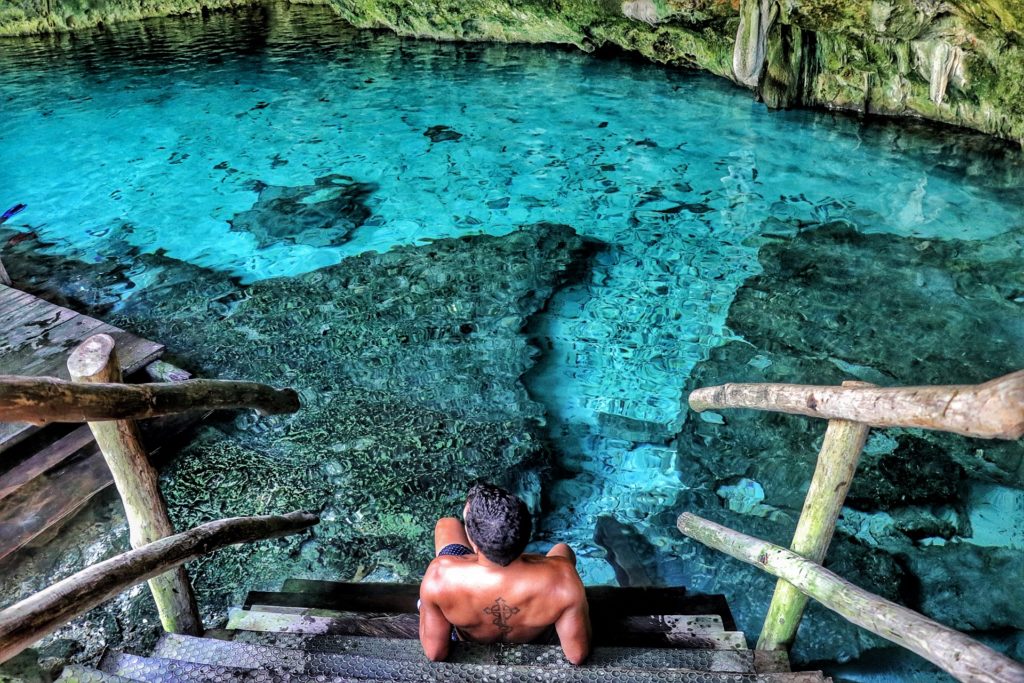 My favorite is a bit far away but it is the most famous in Cenote Ik-Il. This is also only 2 miles from Chichen Itza, which is one of the new 7 Wonders Of The World. It can be a little busy but it is one of the coolest things I have ever seen.
Now when I say visit Cenotes I am not saying pay $80-150 and go to the adventure parks fo Xel-ha, Xcaret, Xplor or Hidden Worlds Cenote Park. I am saying go to the local Cenotes and ones not encompassed in a theme park, which are just as spectacular and $2-10.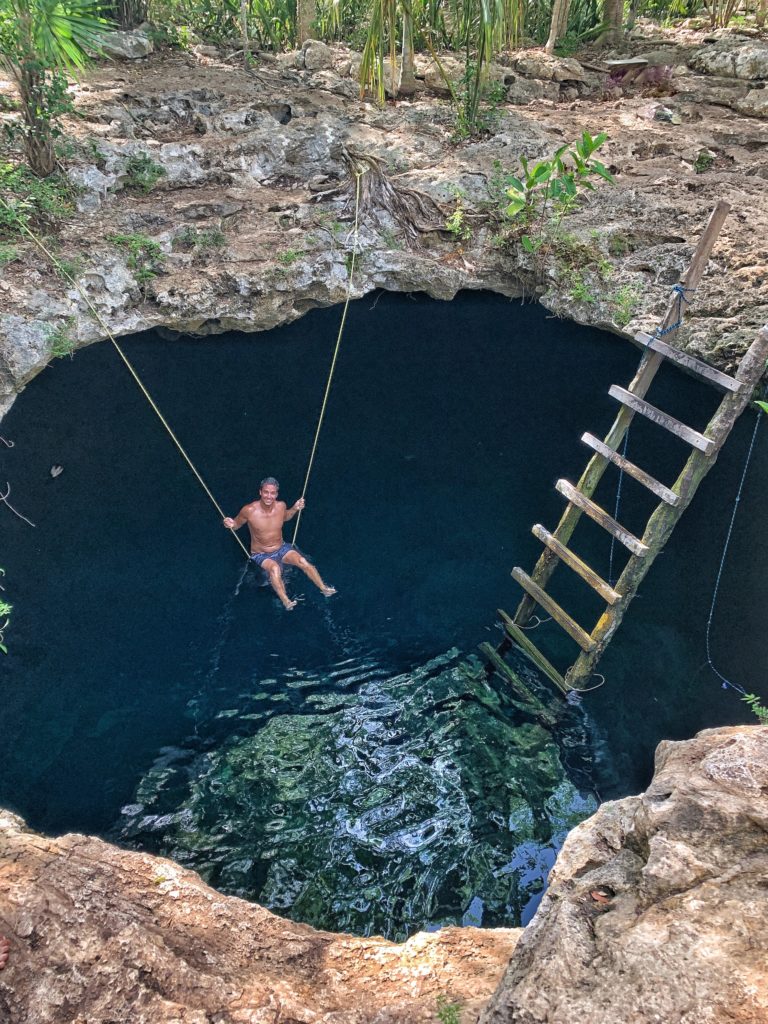 Cenote Labnaha, Grand Cenote and Cenote Dos Ojos are regarded as some of the best Cenotes in the Mayan Riviera. Other favorites to within the Mayan Riviera to look into are Cenote Choo-Ha, Cenote Ponderosa, Cenote Oxmal; not to forget more secret Cenote Azul as well as Tankach-Ha that have cliff jumping. While not for swimmers there is also El Zacaton, which is good for scuba divers but also home to the floating grass island.
2. Be a Human Kite On A Catamaran Sailing & Snorkel Trip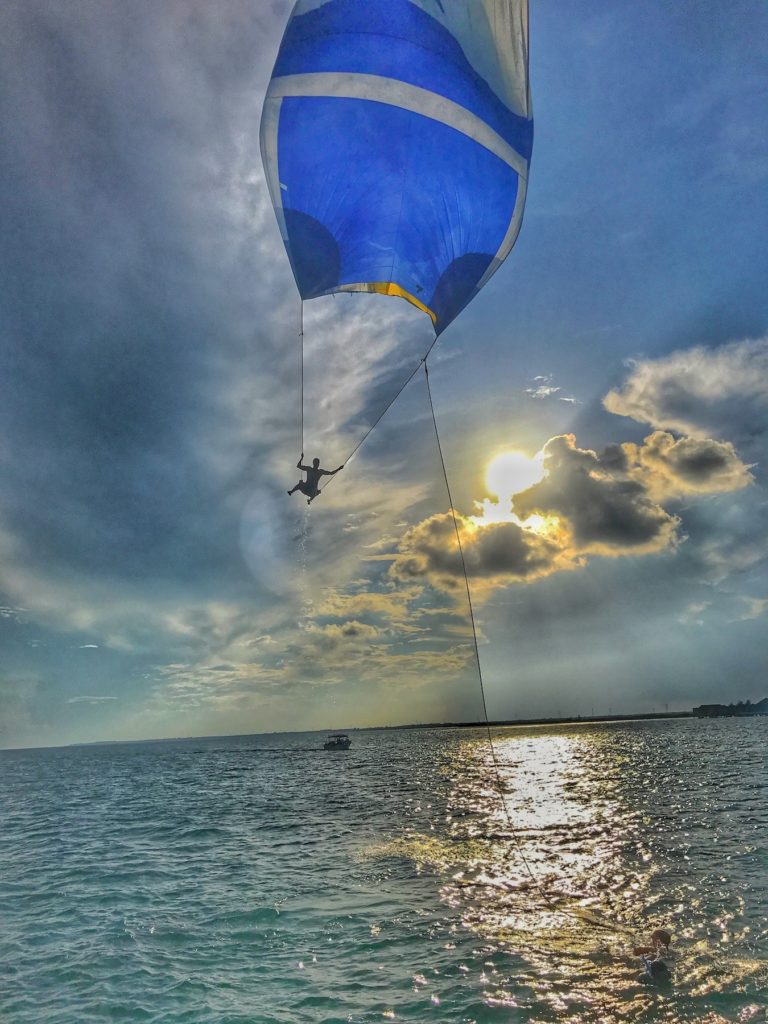 We were on this lovely booze cruise when all of the sudden the captain whipped out a giant kite… and flew us. This was absolutely incredible and similar to parasailing but more unique and the addition of that "my life could be in danger" thrill. It is called a spinnaker sail ride, which is a memory that will stick with me forever.
There are plenty of catamaran companies offering the combo booze cruise, sailing and snorkel trip so just be sure to make sure they have the spinnaker sail option before you go. Hopefully they are still legal as it truly was incredible!
3. Swim Cageless With Giant Sharks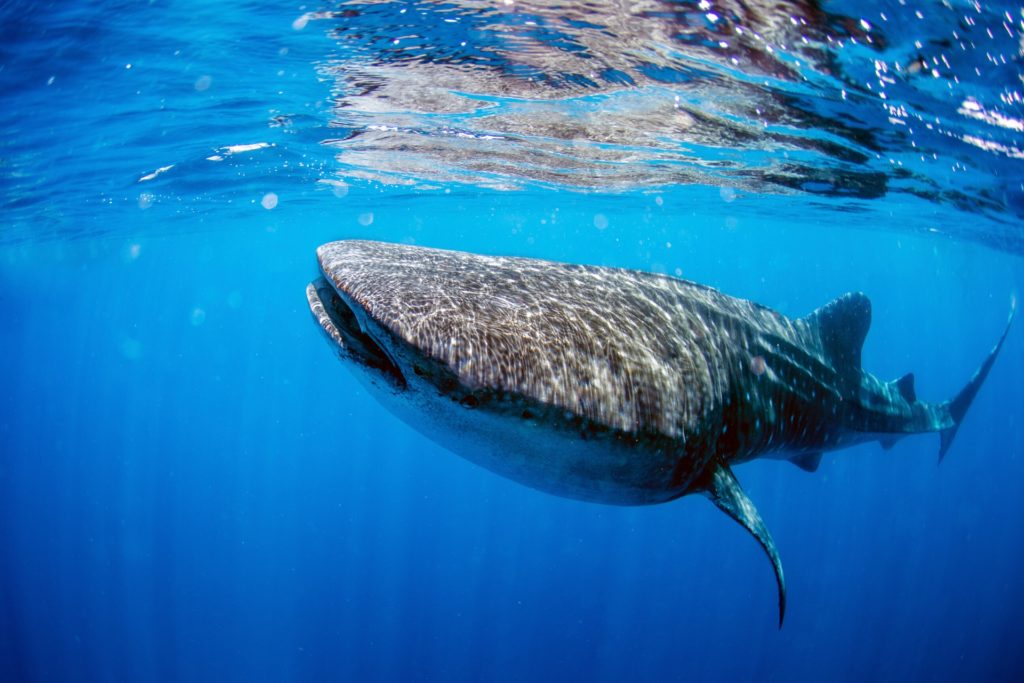 Yes, you can swim outside of a cage with the world's largest fish coming in at 40-65 feet long. Near Cancun it is worth a day trip to check it out.
You can have this breathtaking experience in Isla Contoy and it is absolutely a bucket list item. Whale shark season is mid-May to mid-September with prime time being in June and July. Don't worry, they are whale sharks and completely harmless to humans.
4. Take a Day Trip To One Of The & New Wonders Of The World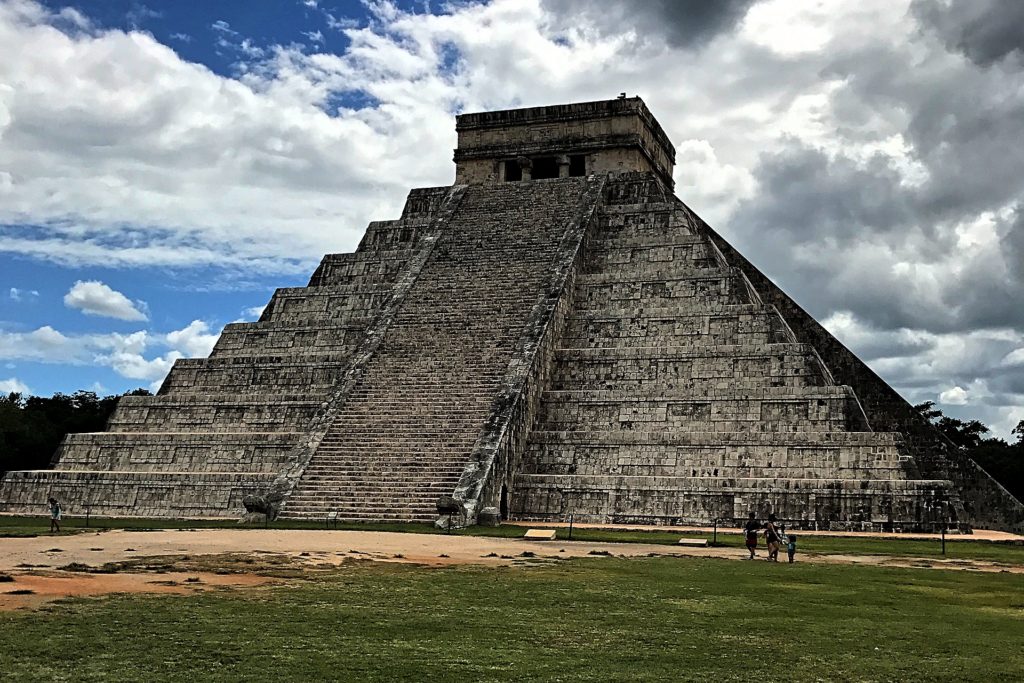 The aforementioned famed Chichen Itza is a little far inland but if you are in this area of Mexico when will you ever be this close to one of the wonders of the world again? An additional bonus is the aforementioned best cenote on earth, Cenote Ik-Il, is just around the corner.
It is just a few minutes away so you are able to see both while you are there! This is a must-do and maybe my favorite thing to see in North America. I only rated it lower in this list since it is pretty well known. If you rent a car you can do the ruins and the cenote in 6 hours vs. 8-9 in a tour.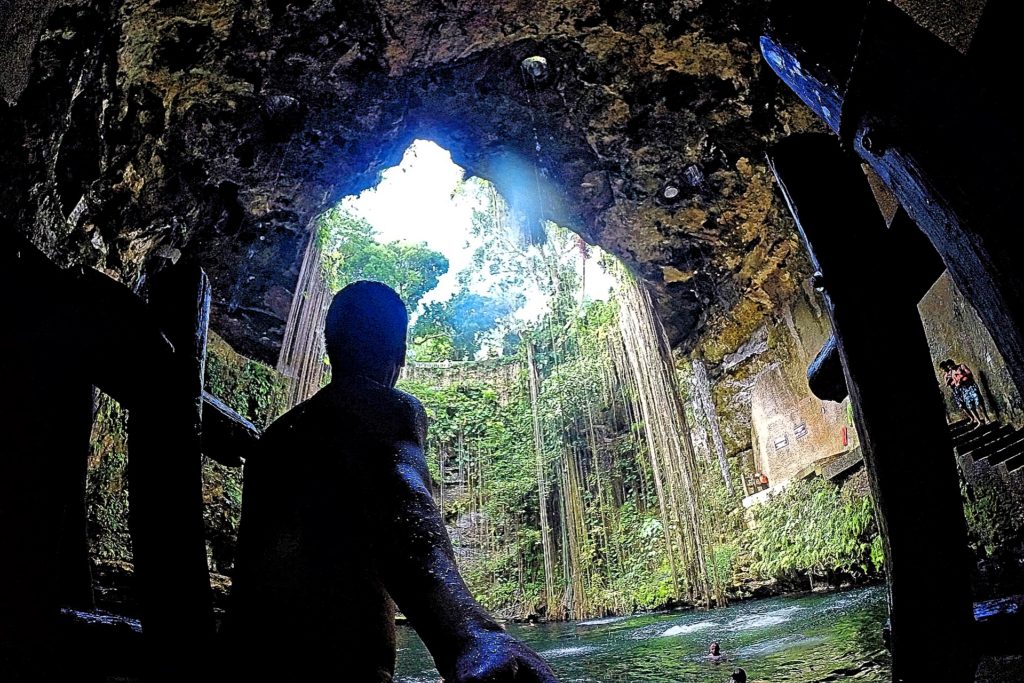 You can even add to this trip by quickly stopping by Ek Balam ruins of which you can climb. There is also a cenote there to check out. There are plenty of tour companies or private shuttles to take you there as well if you go that route.
5. Snorkel Or Scuba With endangered green sea turtles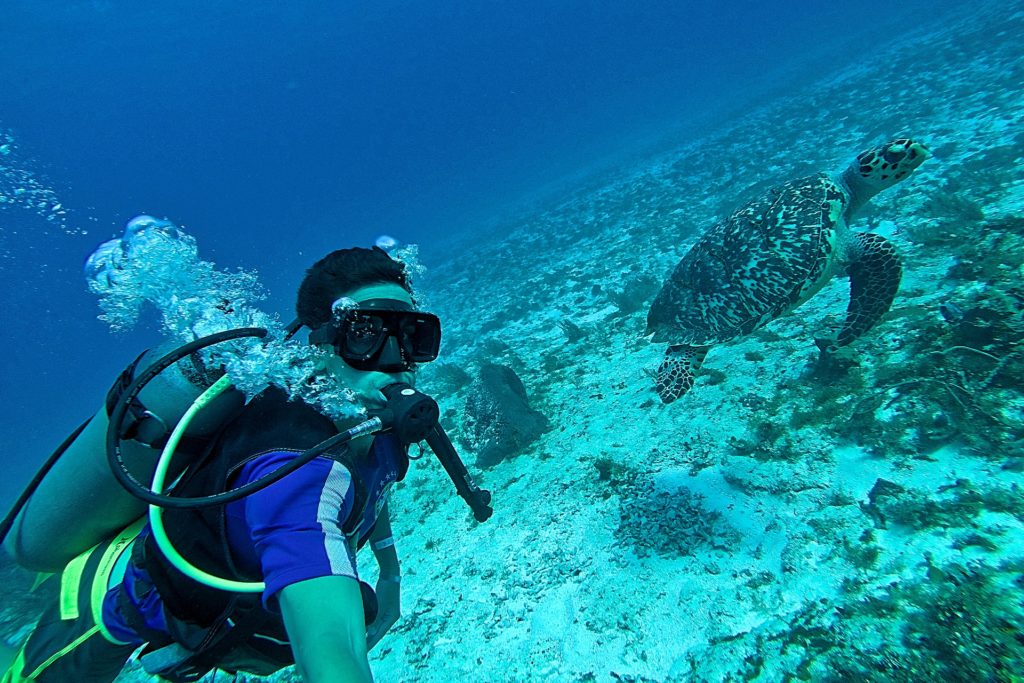 Hands up if you have snorkeled with sea turtles? Probably not a ton of people and now is your chance. Head down to Akumal just outside of Playa Del Carmen rent some snorkel gear and get in the water. The sea turtles are normally quite abundant so barring something crazy you should get a chance to see these beautiful creatures.
Don't get talked into paying for a guide as you can do this by yourself off the beach no problem. Another great option is Isla Mujeres Tortugranja. It is an endangered sea turtle sanctuary. Admission $3 USD.
6. Day Trip To Cozumel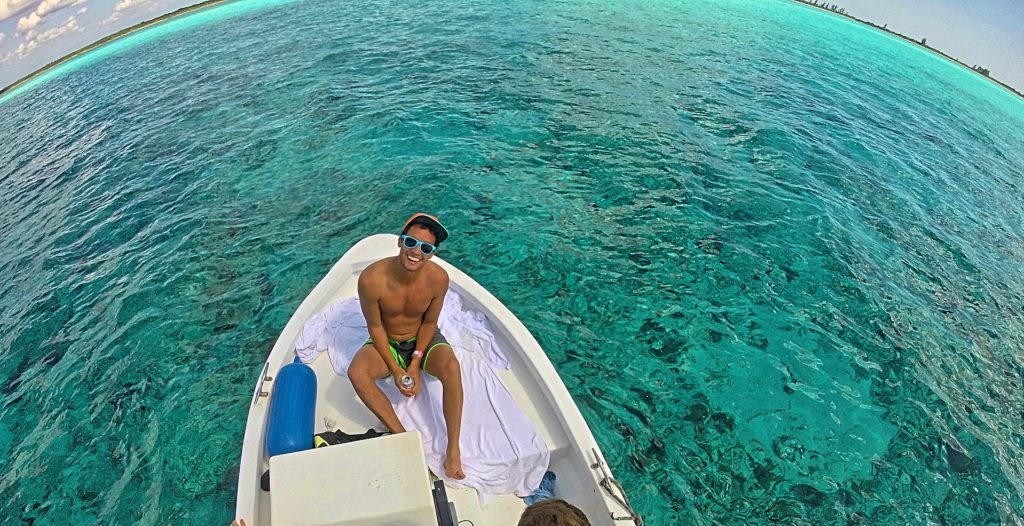 Cozumel truly has some of the nicest water on earth with coral reefs making it a paradise for snorkeling and scuba diving. Just a quick ferry from Playa Del Carmen you can do a day trip renting scooters, take a trip into the rainforest, see cenotes and some of the best diving and snorkeling around.
You don't need to sign up for a tour or need a guide to get there. Just show up to the ferry dock get on the ferry and arrive in Cozumel where there are plenty of shops and vendors to help you find whatever you need to do.
Another option to do is going to to Isla Mujeres, which has similar options of things to do, nice beaches, a turtle sanctuary and lots of fun bars as well.
7. Go Ancient Ruin & Temple Hopping

There are a plethora of incredible Mayan Ruins and you have to visit at least one while you are there. The Tulum Ruins are the easiest to get to from Tulum or Playa Del Carmen but as already mentioned getting to Chichen Itza is unreal if you have the time.
A couple of other good options are El Rey near Cancun, Coba and Ek Balam.
8. Swim in the Kaan Luum Lagoon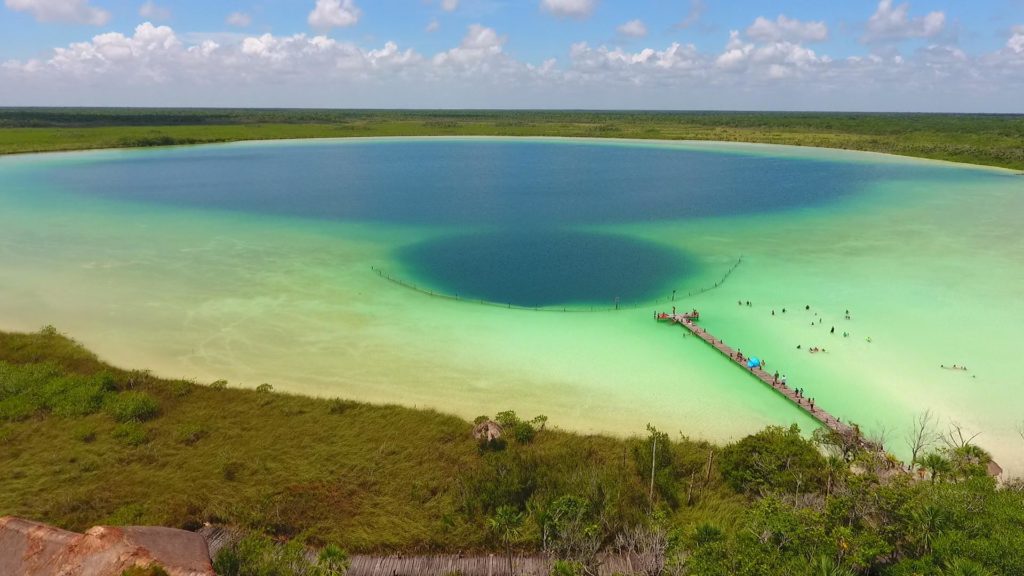 Not well known to tourists yet this place is absolutely incredible boasting beautiful water with two shades of blue due to there being a cenote in the center. If you want a beautiful picture, unique swimming spot or to see a place not many see… this is the place. This is in Tulum but worth a full day Tulum trip or even stay the night down there!
9. Tulum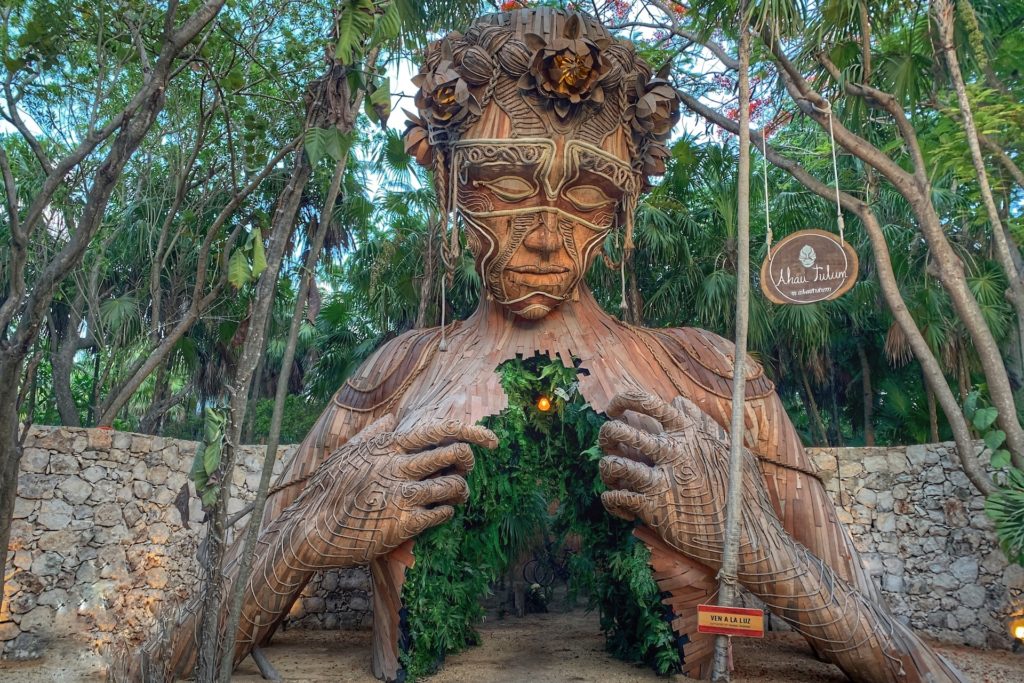 There aren't many locations in the world where you can lay on perfect white sand beach with ancient ruins as your backdrop. Thanks to Instagram this tiny chill beach down is quickly growing in popularity with some exotic unique hotels, pristine beaches, perfect water, culture and nightlife.
Tulum truly is the quintessential beach town with a bohemian touch. Located just 2 houa from Cancun it is worth a day trip if not being your home base for your entire trip.
A couple things to see in Tulum that make it unique are the turtle nesting season from May to October, Ruins, beautiful Paradise Beach and some spectacular cenotes. Depending what you are looking for Tulum has other fun options like renting bikes to explore, monkey spotting, bar hopping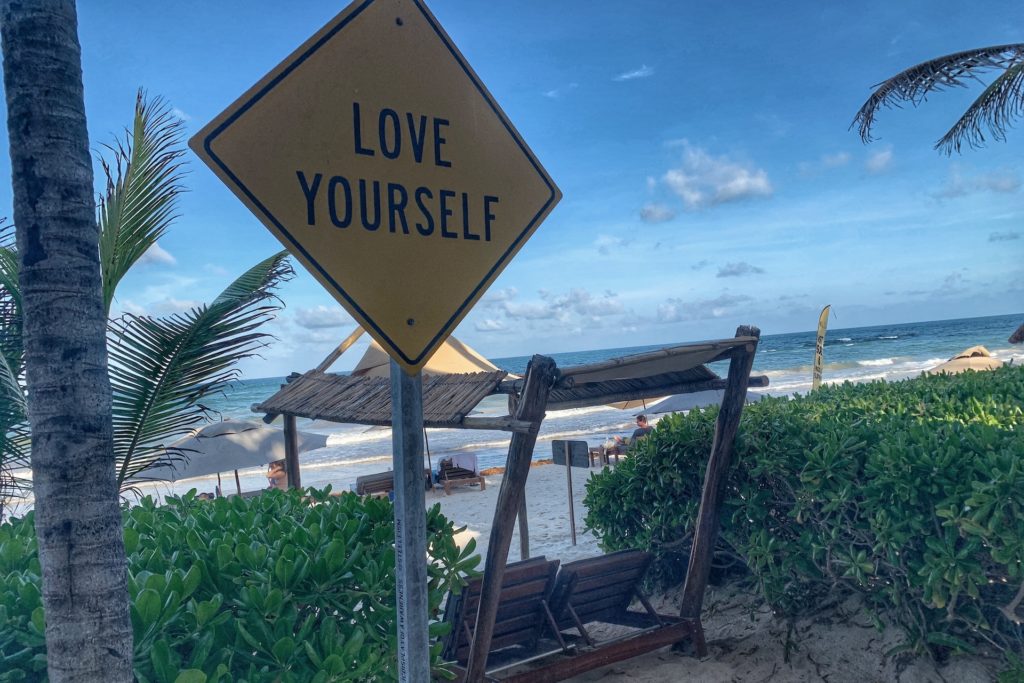 10 . Xel-Ha Aquarium Park or any of adventure theme parks

This is arguably the best park in the region and an amazing place for families and nature lovers. I am not a huge theme park person but this one adds in adventure and animals so it gets a W.
Whether you want to float in a tire, swim or snorkel in crystal clear water with tons of fish; walk or bike through the peaceful jungle, laying a hammock or zip-line there is something for everyone seeking a unique park experience. It does come with a higher cost though starting at $40 USD for kids and $80 USD for adults.
You can also check out Xcaret, Xenotes or Xplor as well.
11. Visit An Underwater Museum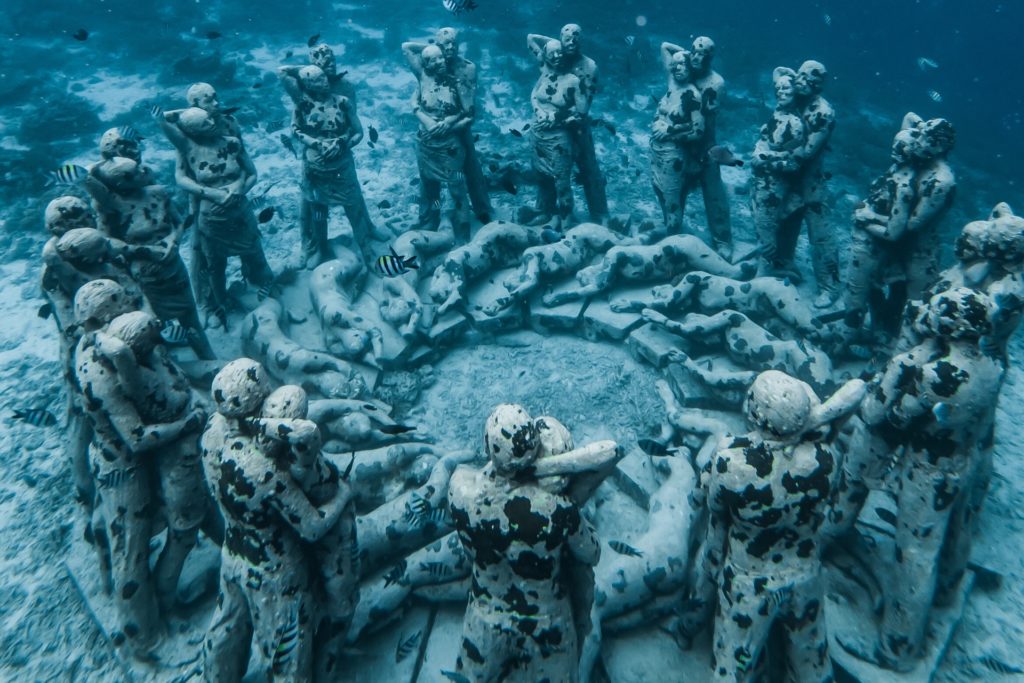 The Museo Subacuatico de Arte is one of its kind formed in the waters surrounding Cancun and Isla Mujeres. If snorkeling or scuba is your thing then this place must be visited.
The statues underwater are some of the most picturesque and stunningly eery things you will see. I am unaware of other museums like this making it potentially a once in a lifetime experience to see and take pictures with truly remarkable art.
12. See Wild Crocodiles or go to Croco Cun Zoo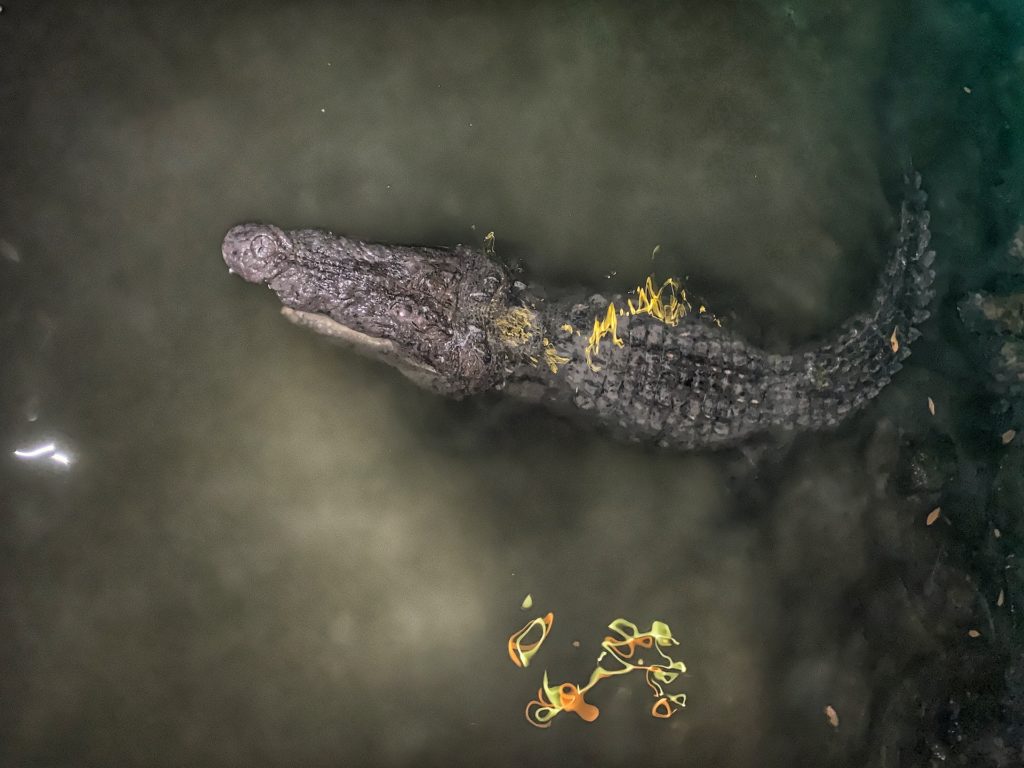 Did you know Cancun is the home to a ton of wild crocodiles? Correct… this picture above is one I took and is in the bay. This might be the most secret thing in Mexico. There have been crocodile attacks with people hanging out or swimming in the bay at night. The Beaches are completely safe but wow, google it! If you would rather see them safely… you are also in luck as you can go to the Croco Cun Zoo!

Have you ever walked among crocodiles or held a snake? Well now is your time. This is a great little pit stop on the way south worth the $30 USD admission for a completely new experience. There are of course other animals like monkeys, turtles, deer, birds and more so if you like wildlife and have a couple hours to spare it is worth a stop in.
13. Visit the Street Party In Playa Del Carmen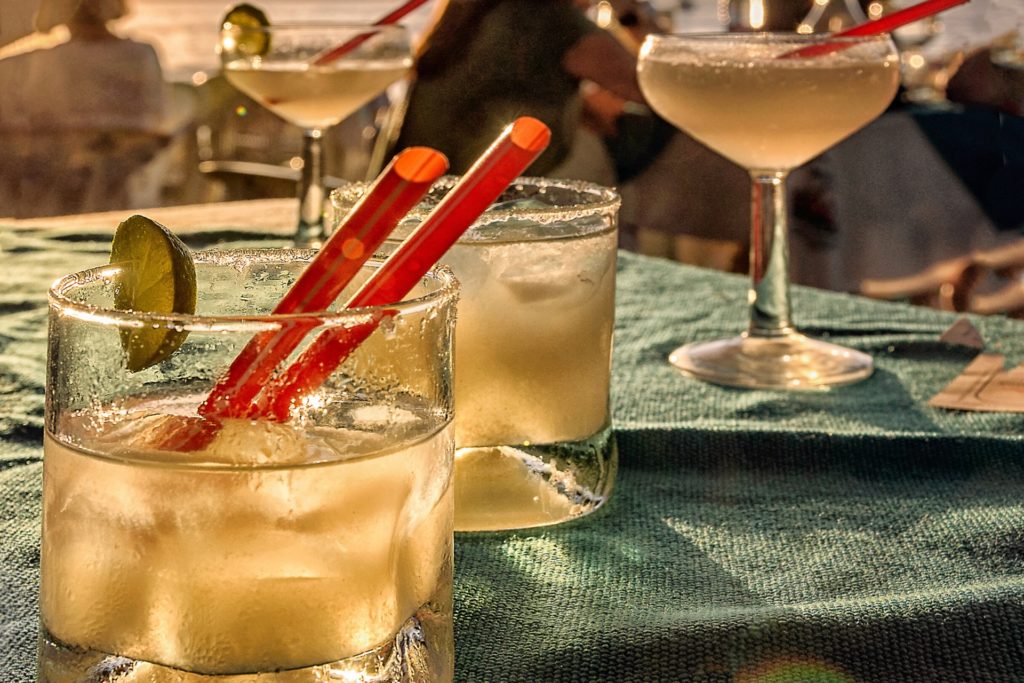 I feel like if you ever are in place that has a legit crazy street fiesta you have to do it right? That's movie or Carnival type stuff that can't be missed. 5th Avenue in downtown Playa often shuts down into an entire street party, which is an amazing experience in its own right.
Visiting Playa on a day trip is a great idea even if not for the street party! There are some of the best shops to see and a great tourism street with restaurants, gift shops and higher end stores.
Cancun Travel Tips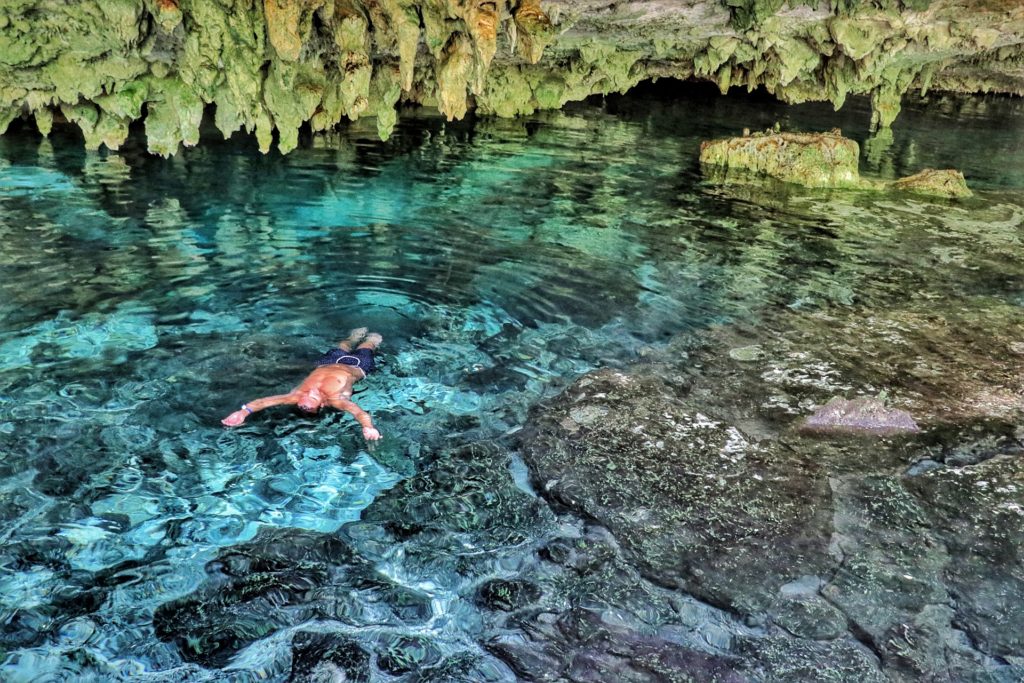 Don't stay in an All-Inclusive, it limits you wanting to go explore.
Don't always go with the first "salesman" who offers you something. Definitely price shop and make sure you aren't getting completely screwed over.
Eat everything! If locals are eating it you're fine, especially if it is cooked. I literally try every street meat around the world. The only thing I often don't eat is pre-peeled fruit as that was a good tip I didn't listen to once… I regretted it.
Get out of your resorts, you can lay in a pool anywhere!
Haggle, everything is negotiable here.
Rent a car. As I have beaten to death, there is so much to see in the area and renting a car lets you go at your own pace, stop where you want to stop and enjoy your own private tour. It can be a little unnerving driving in Mexico but it truly isn't too bad… just drive carefully.
Remember travel insurance! It's like $1 a day through Berkshire Hathaway.
Please leave a comment below and share your thoughts!