Looking for some of the best things to do in Oahu and near Honolulu to check off your bucket list? You have to see these amazing sites in Oahu, best restaurants, amazing beaches, secret Oahu things to see, unreal adventures and more!
You will find things to do in Oahu with kids, free things to do in Oahu & things to do in Oahu with couples or even stuff to do all by yourself!

Below are options for all parts of the island whether you want stuff to do in Honolulu or up in the North Shore of Oahu. You of course need the best places to eat when visiting so see this article for great places in eat in Oahu here.
This article is full of secret things to do in Oahu and unique things to do vs. other articles telling you to visit Waikiki beach, which clearly you know already to do that.

I had heard people say not to go to Oahu as it was so touristy & urban. However, whoever said that must have been doing it wrong. I think it was an amazing mix of a metropolitan area with nature out of Honolulu and then incredible beaches everywhere.
Sure unpopulated destinations are great but it also was just as nice to walk outside your hotel to be in an urban jungle surrounded by shops and restaurants but then just 20-30 minutes from one of my favorite hikes I have ever done!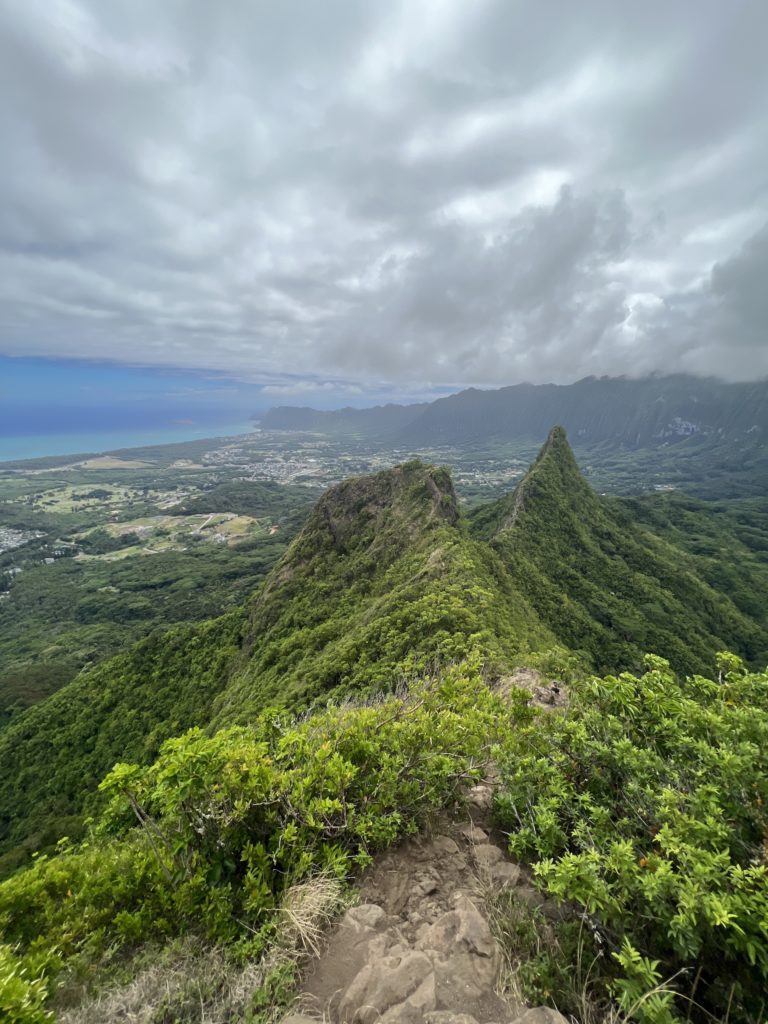 With all of that said, here are some of the best things you have to do for your Oahu bucket list.
Swim with sharks in Oahu
Well… this sounded fine… and then the boat stops and there are countless numbers of large 8-12 feet sharks swimming around the boat and it hits you just how real this is!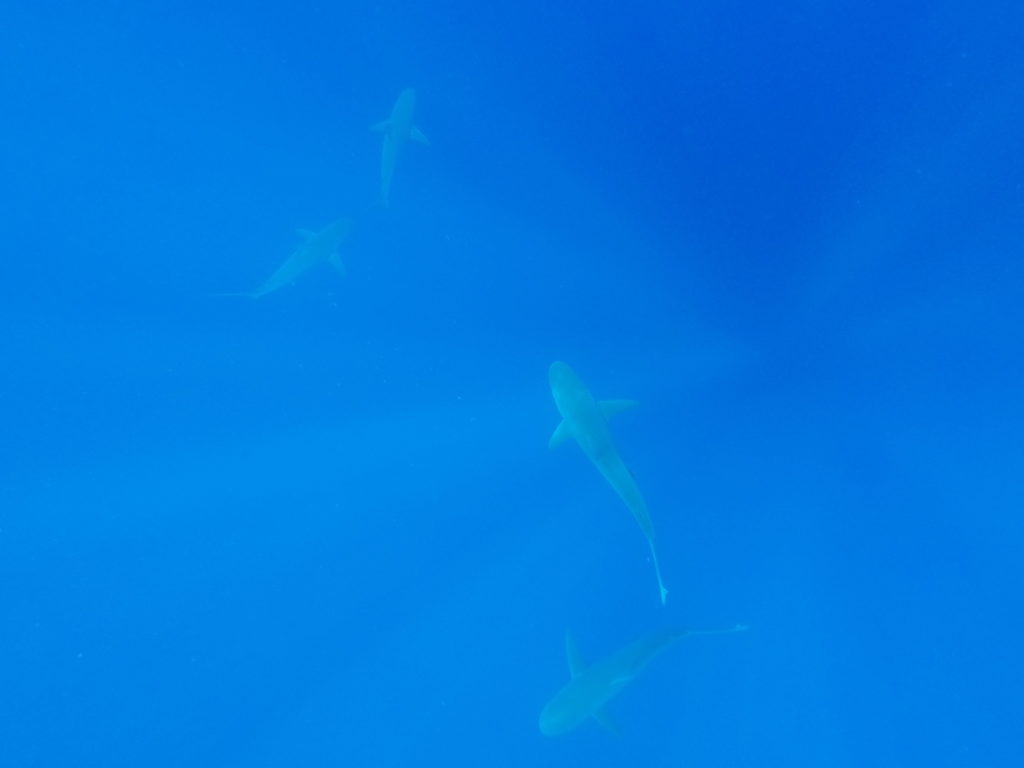 Our tour also had a tiger shark visit just before we got in the water, adding to the intrigue. It truly was an adrenaline rush and then some when a sharks mouth came out of the water biting, knowing you were going in there shortly.
Once they stop the engine the sharks settle down and go further down in the ocean as you get into the water. Apparently as long as you are above them it is fine…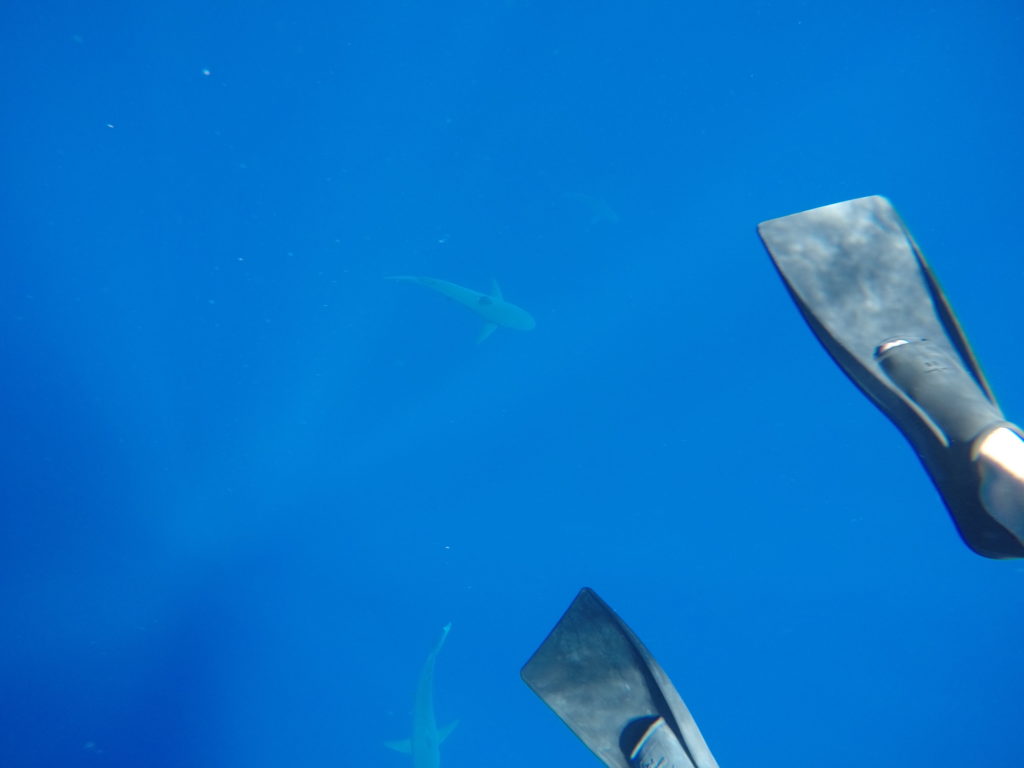 When you are in the water it is a lot less scary as they are so peaceful swimming down below you at a calm pace. Don't let the frantic swarm of sharks scare you off before you start!
The sharks are harmless, barring something crazy, and it truly is a surreal experience to swim around these giant sharks without a cage. I used One Ocean Diving as they seemed reputable and also had a commitment to presevation.
Cocktails & Brunch at Hau Tree Then Chill at Kaimana Beach
This is the quintessential thing you dream about when going on a vacation to Hawaii. Finding that perfect beach bar with cute drinks, good food all while overlooking the ocean with a pristine beach & gorgeous water waiting for you.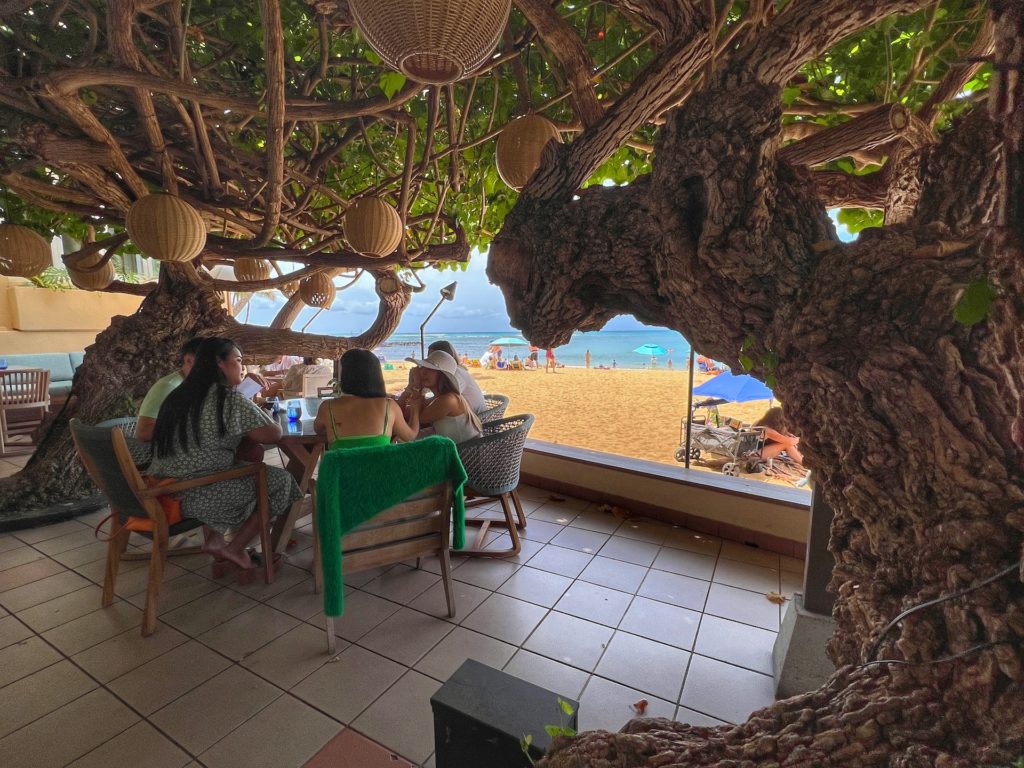 Hau Tree, is a little on the nicer side but it is worth splurging $9 a beer and $15 plus per cocktail for what will be your perfect beach day.
Sure the drinks are pricey but you are in Hawaii and maybe a once in a lifetime vacation so live it up and splurge one day for incredible cocktails and the best vibe you have dreamt for since booking your trip.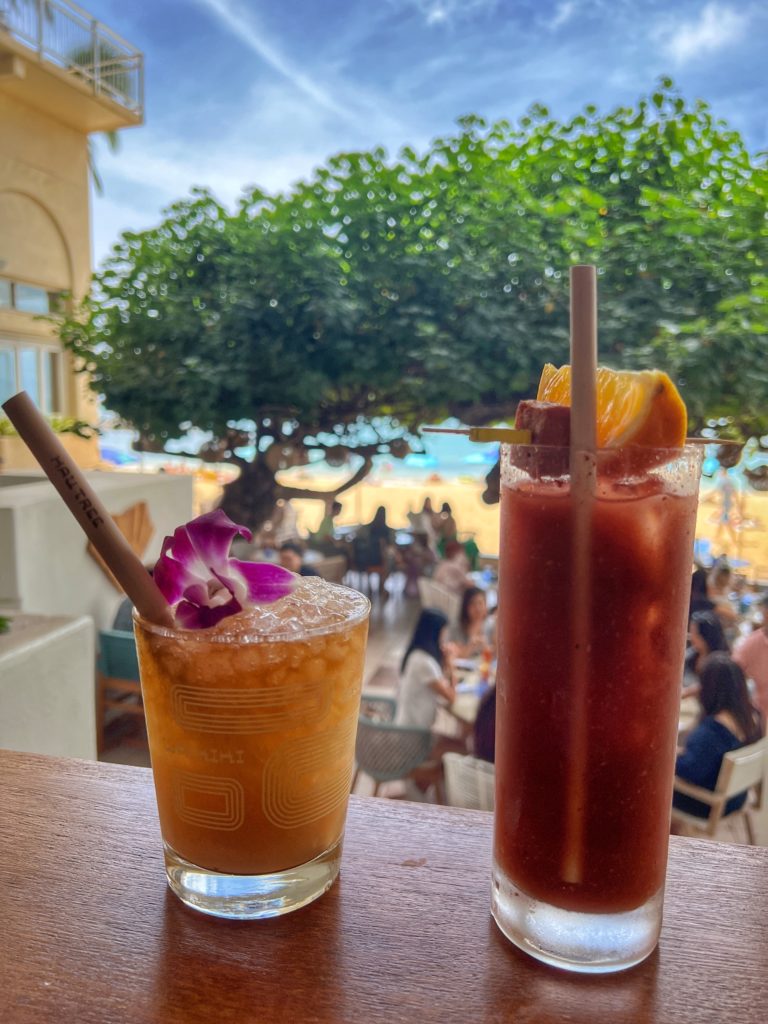 The bartenders are great, the service is amazing and the atmosphere is absolutely perfect.
Do this 10x over going to Duke's in Waikiki where honestly the food is bad, the beach is crowded and Duke's itself has lost its lustre.
There are so many incredible hikes in Oahu but this one is incredible from the aspect of it being a great challenge, having unique obstacles and absolutely stunning views and photo ops the entire hike.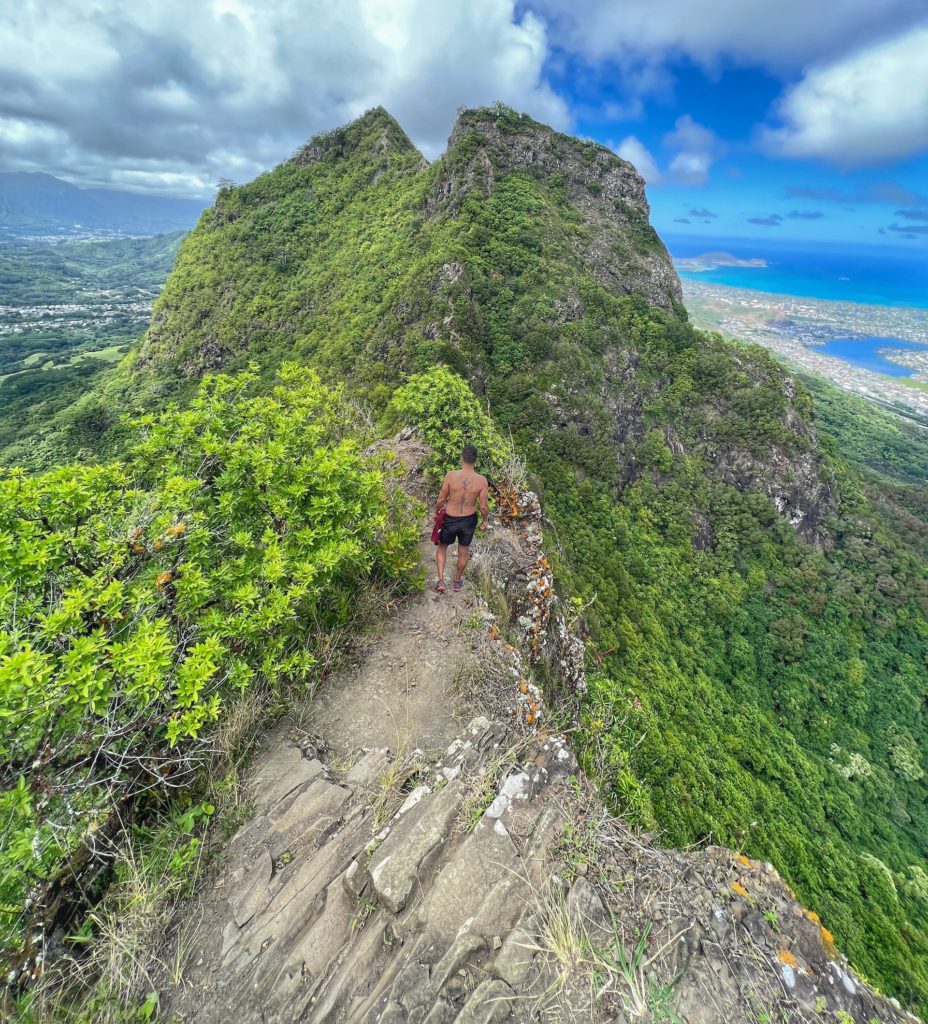 This hike is difficult but I would say most average hiker or fit person can make at least the first peak, which offers some amazing views in its own right.
If you do this in the morning, grab some Zippy's fast food and hit the beach with some drinks… best day ever.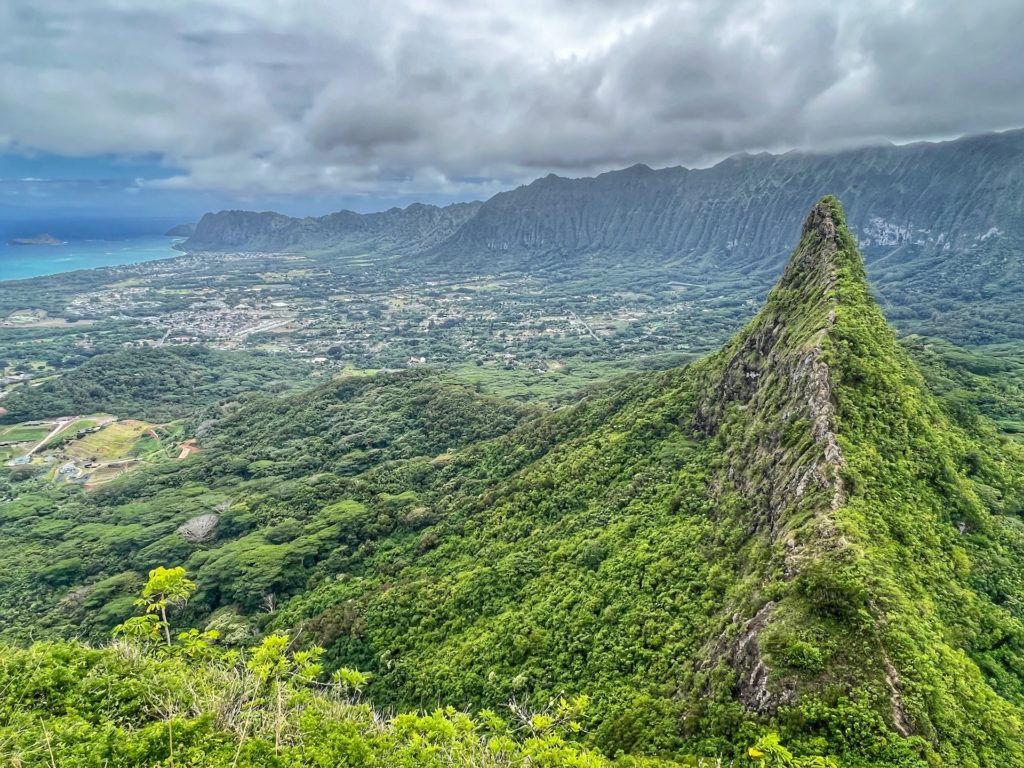 For the full info on this hike read the Olomana Trail article here.
Kayak to your own secret island & chill on the beach | Moku Nui
Imagine being on a beach that you can only reach by kayak with just a few other souls as you lay on an island off the mainland of Oahu.

This is an experience you have to checkout as surely somewhere in your bucket list is "be on a secret island in Hawaii." it is almost 5 miles to the island and back if leaving from Kailua beach park, which is where most kayal rental companies are.
If you want an adventure, pack a lunch and a couple drinks and go sit on your own private island in paradise.
Eat Authentic Hawaiian Food At Helena's
You must try authentic Hawaiian food and no other place to do it than Helena's! It is in a strip mall off the beaten path and the people are as amazing as the food!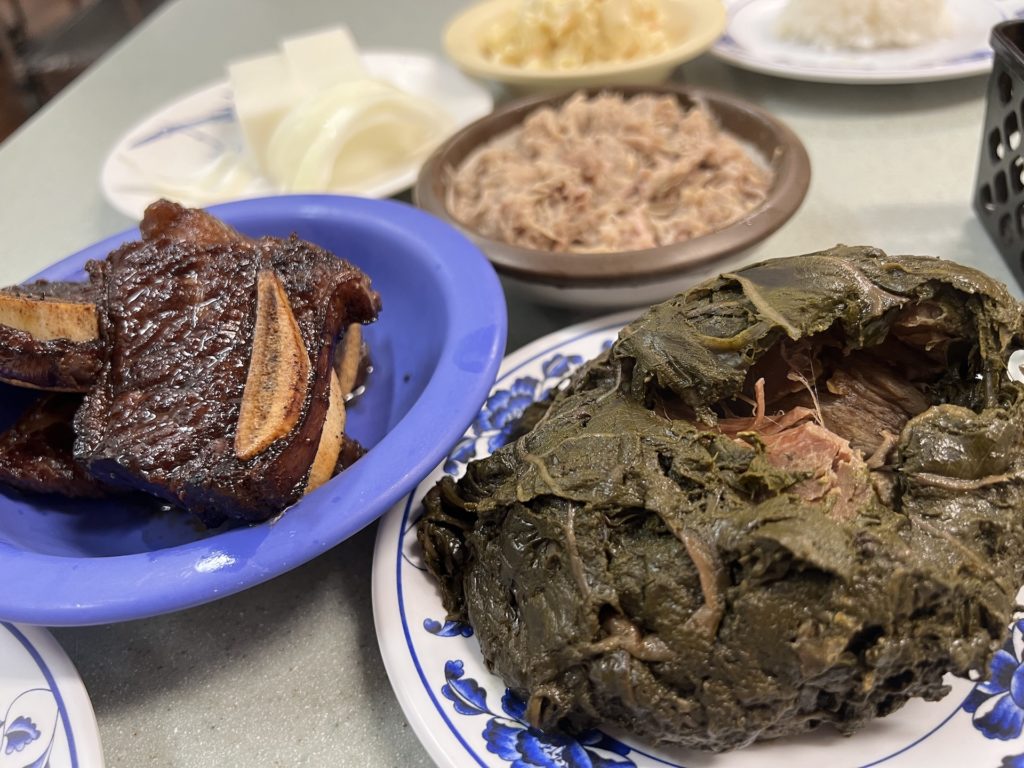 The food is… unique but definitely worth trying and diving into authentic Hawaii! We were also told by locals that Hawaii Inn is another great place for local fare.
See here for the full list of must try places to eat in Oahu!
Visit The North Shore | The Perfect Day Trip Itinerary
If you know anything about surfing then you know the North Shore is the #1 place and pretty much the birthplace of surfing.
Don't just go to watch surfers but of course visit the magical beaches and stroll through Haleiwa shops along the way.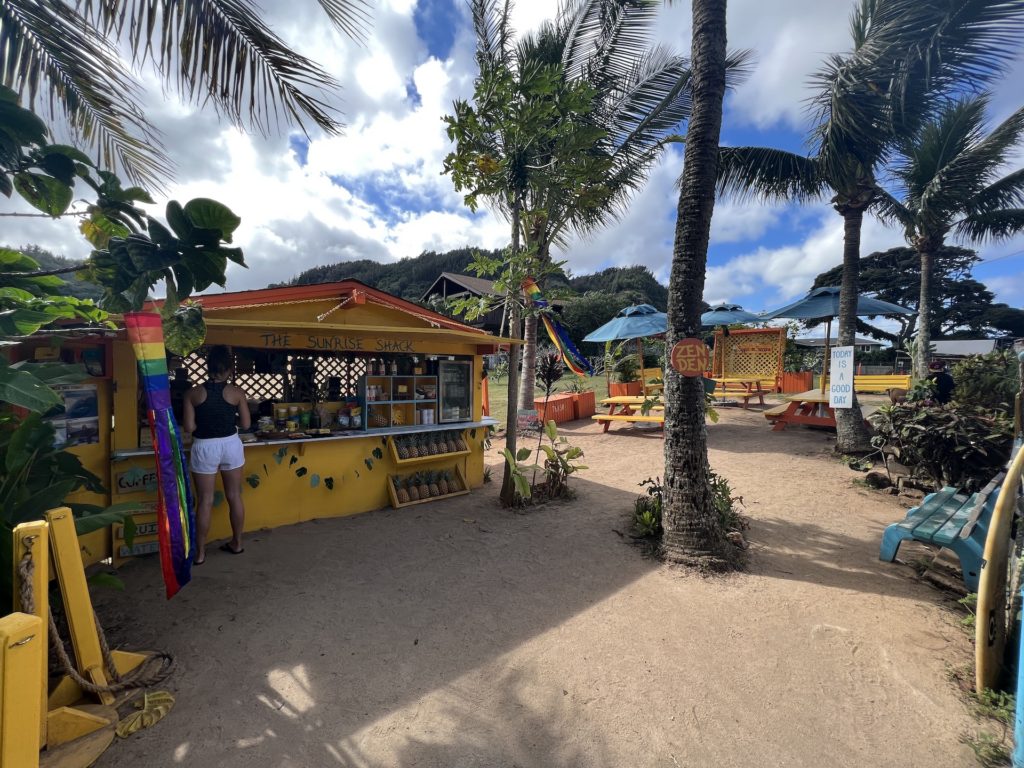 The perfect North Shore day trip… is a start at The Sunrise Shack with a healthy breakfast.
Then head to either get surf lessons nearby, visit Kawela Bay Beach and maybe see turtles, or head to stunning and enormous Waimea Bay Beach with a quick stop at Foodland for some drinks to bring to the beach.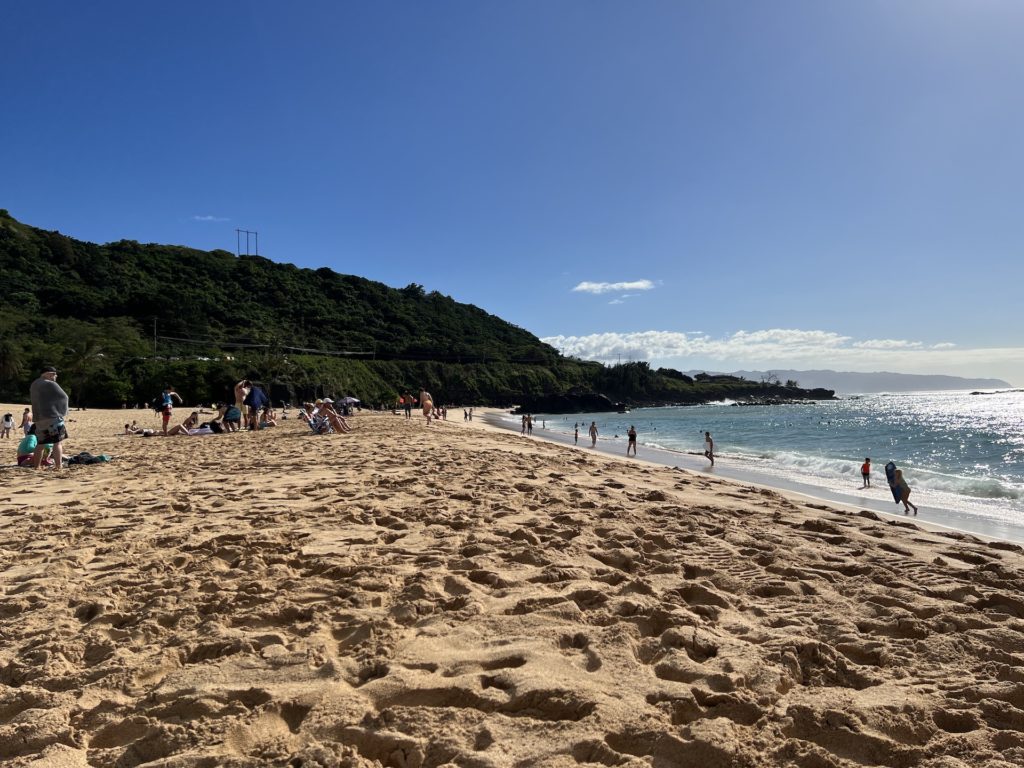 After a day at the beach, head down and walk the shops of Haleiwa and food truck dinner at Honos Shrimp Truck for their spicy shrimp plate (not Giovanni's, trust me). Then saunter back down the road for some shave ice to cap off an incredible day!
Hike Lanikai Pillbox, get Konos & go to the beach
Another perfect day of adventures, eating and relaxation. Call me crazy but to me a perfect day is a little exercise so I feel better about what the rest of the day is going to bring.

Lanikai is the perfect place for all of this. Start your day with the drive to a moderate hike with stunning views of Lanikai Pillbox, then on your way down call in or order online food from the famous konos and head to the beach!
If you want to even pack a lunch that works as well as you will park in the same area for the hike that you will to go to the beach and finding parking can be a little hard.

Another amazing option nearby is kayaking out to Moku Nui, which was mentioned above. Grab some Konos, rent a kayak and head on out to the island.
Best Place to Watch Sunset in Oahu | China Walls

If you are looking for one of the best places to watch sunset then you need to go visit China Walls. A stunning place and even just amazing to visit if not there for sunset.
Visit Pearl Harbor, Museums, Attractions & Memorials
Oahu is absolutely stocked with museums and of course famous Pearl Harbor. There is a ton of amazing history in Oahu so if that is your thing you could be entertained for days!
USS Missouri Memorial deck is where the Japanese surrendered ending World War 2. It is also the last battleship built by the USA and last to be decommissioned.

Iolani Palace is the only royal palace in North America and was home to the Hawaiian king Kalakuau. Here you can learn more about the history of hawaii in this National Historic Landmark while touring the magnificent four story royal palace.
There are a ton of other museums, memorials, attractions, monuments and historical places to see as well if that is your cup of tea.
You can check out the Hoomaluhia Botanical Gardens, Honolulu Aquarium; Byodo-In Temple, Honolulu Zoo, Hawaii Plantation Village; Honolulu Museum of Art; USS Bowfin Submarine Museum & Park; US Army Museum of Oahu; Pacific Aviation Museum
Drink something from the local breweries
When on your trip of course buy Hawaiian! There are many Oahu breweries and of course tons of breweries across Hawaii itself!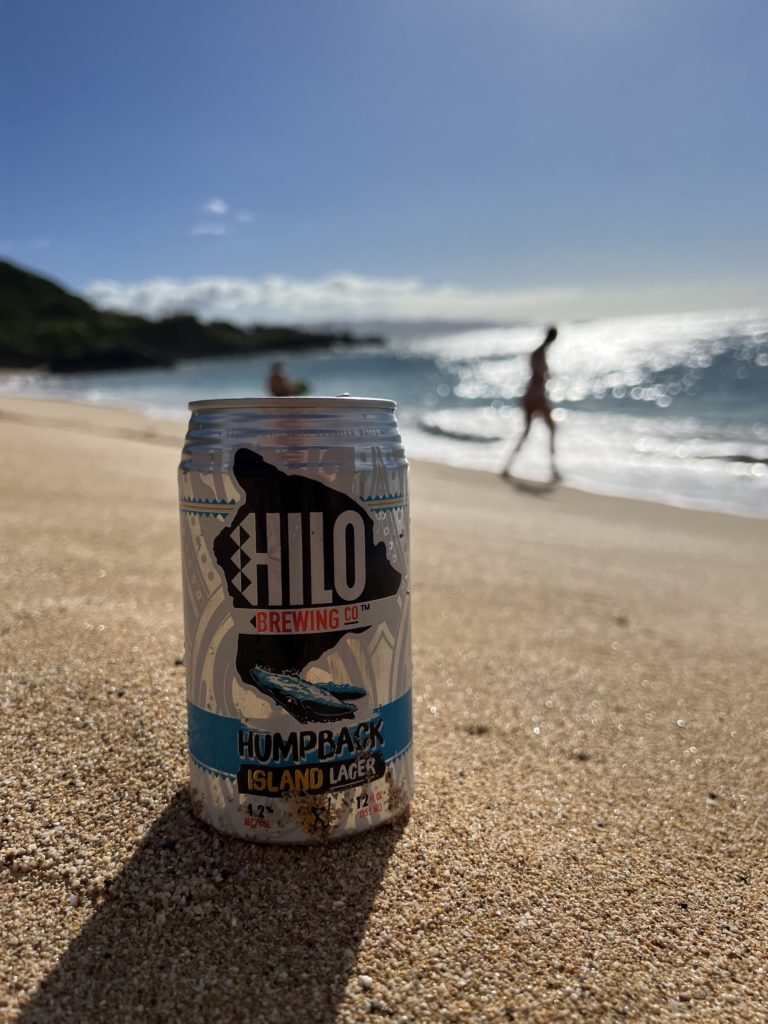 Whether you go visit a brewery like Honolulu Beerworks or just grab something from the local grocery store, they have a ton of amazing types of beer for any level of drinker.
Food Trucks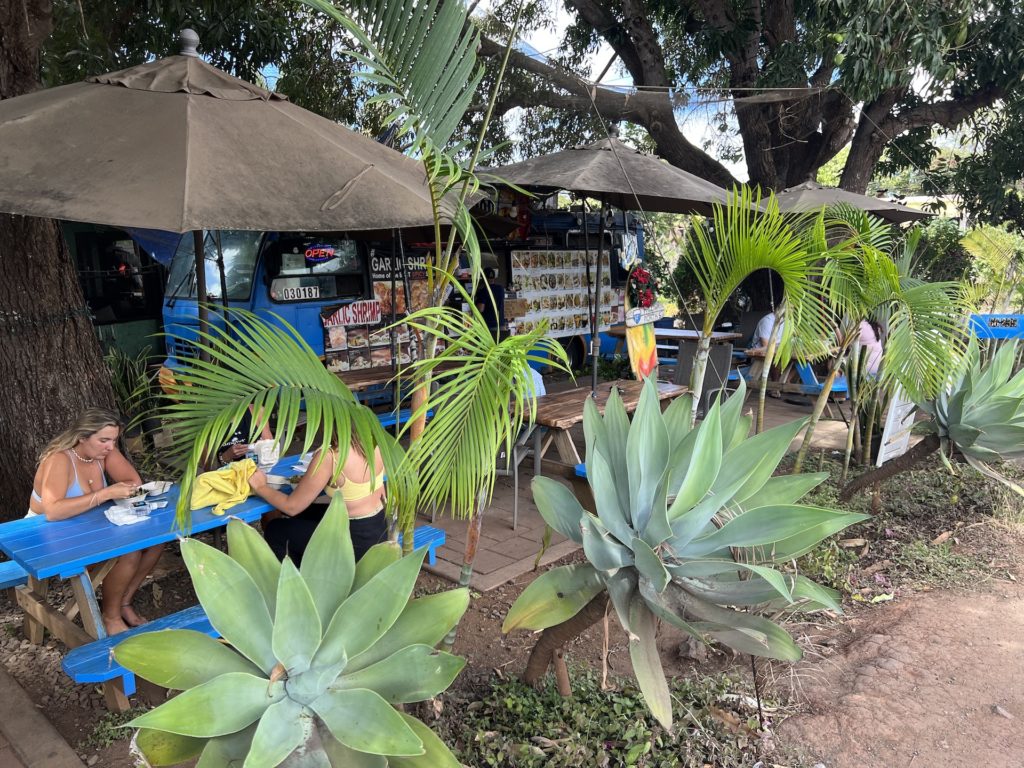 Oahu is a food truck paradise! There are so many amazing ones to checkout across the island. The North Shore in Haleiwa is one of those places you must go for some incredible food at local food trucks.
Pool Party At Swell

If you are looking for a great pool party then you will want to head to Swell in Waikiki. It is as great a spot at night as it is during the day and if you just want some cocktails by the pool, this is the place for you.
Hike the Diamond Head State Monument for the best views of Honolulu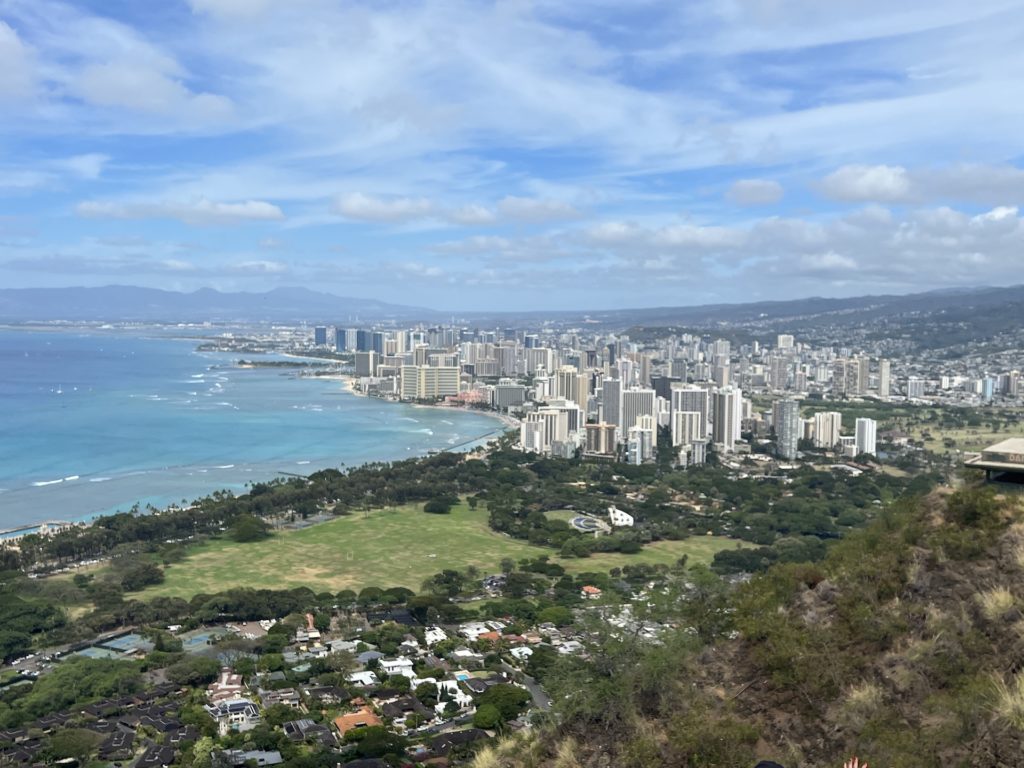 This hike is relatively easy and is extremely close to Honolulu so it serves as a great spot for anyone who wants to earn the best view of Honolulu.
The hike is extremely busy and it is a paved walkway with a steady grade the whole way you go. It can be difficult for people who are not in shape at all but most everyone should be able to do it even with stops along the way.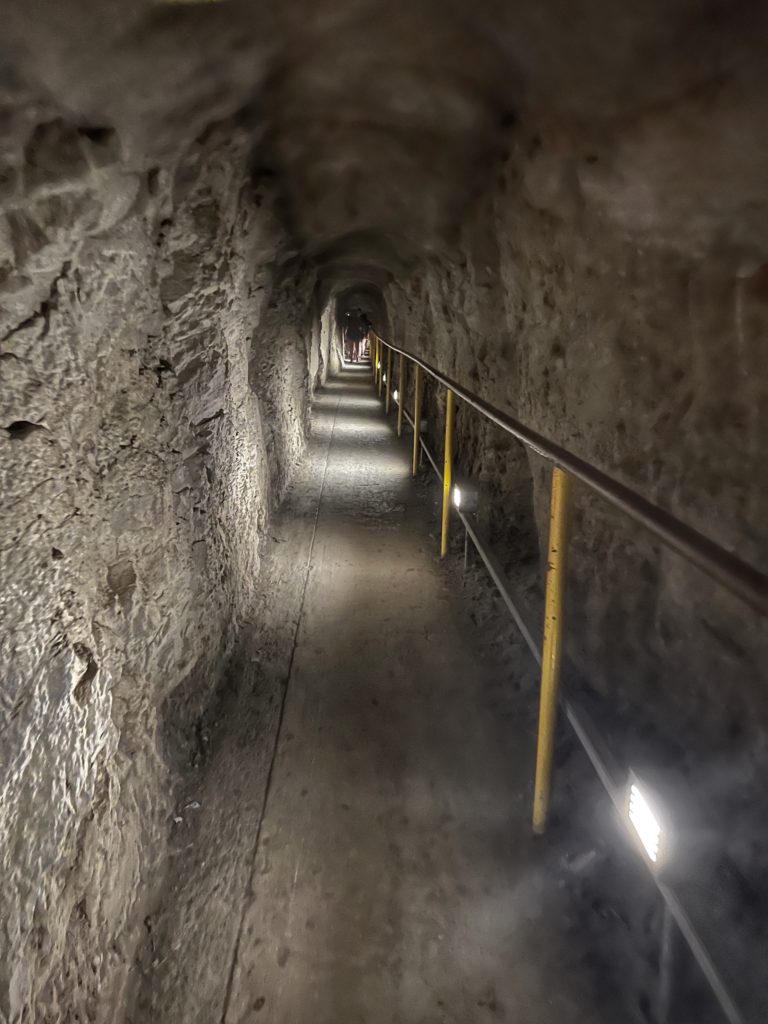 It is really cool as well as you get to walk through history as you go through the tunnels, the pillboxes, lookouts and spiral staircases into the base.
Stroll and shop in Waikiki
While Waikiki is extremely busy, some can look at it negatively as it doesn't really say a typical beach vacation.

However, the positive spin is that it truly is pretty cool to be in some giant skyscraper metropolis steps to the beach. Like a mini Manhattan along a beach in Costa Rica… it is awesome.
I love the contrast of walking past shops and expensive stores only to be able to walk into the stunning blue water. It is incredibly unique and I think is a positive vs. a negative.