What are the best things to see in Cusco? There is so much to do in Cusco so book your flight now!
If you are on the fence, you must absolutely go to Cusco and experience some of the best things to do in Peru and the world!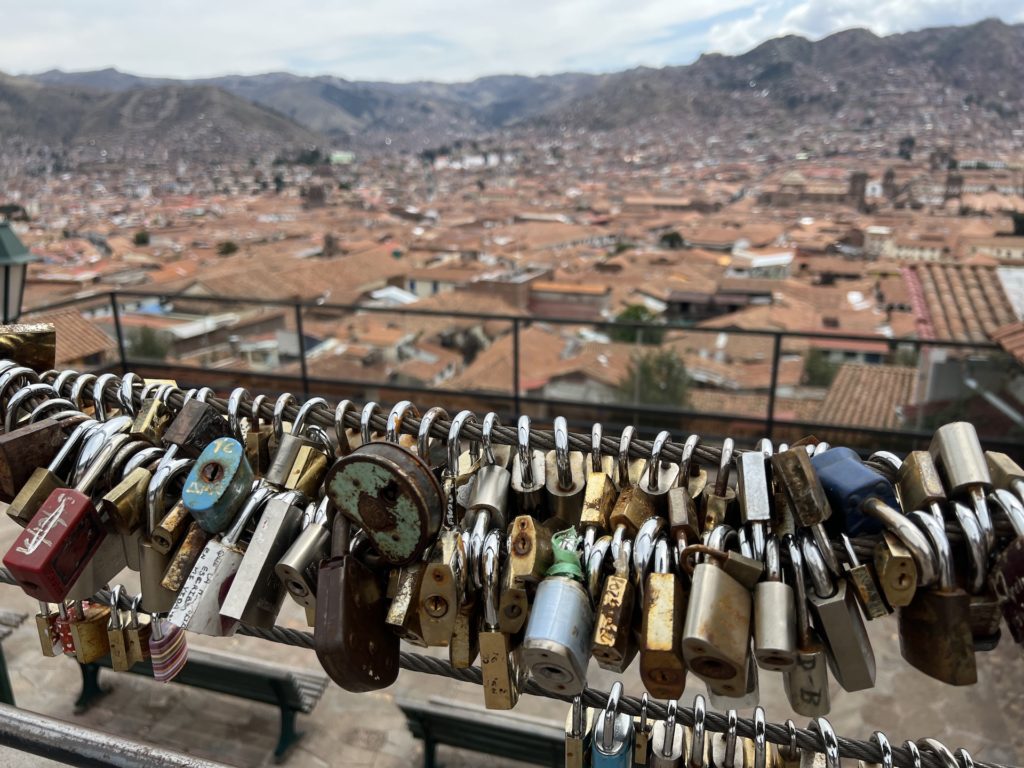 Cusco is an enchanting and beautiful city! It seems out of a fairytale, this stunning city perched on a hillside surrounded by mountains.
The cobblestone streets, the wooden patios hanging off the colonial buildings, the history… it's truly a majestic place.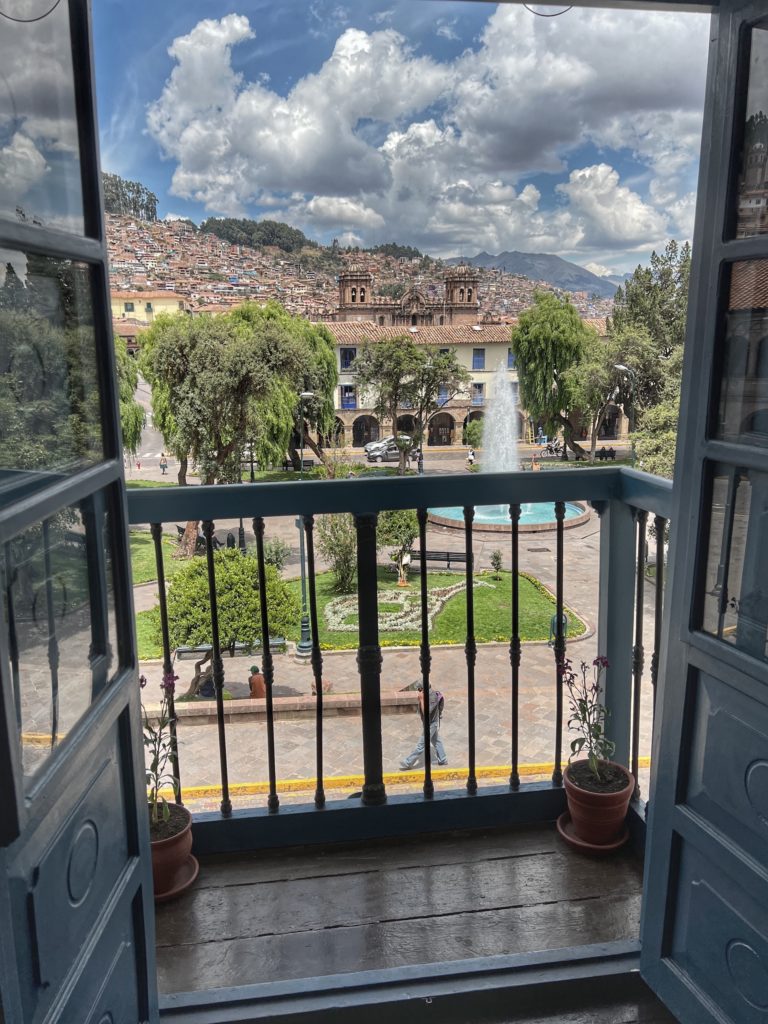 While Cusco the city is one of my favorite places it is also the gateway to some of the most amazing places on earth, including one of the seven new wonders of the world!
It truly is one of the best places to visit and has all of the tourist things you want to do but seems less busy and hectic as typical touristic places.

The people are amazing, the food is unreal and vendors don't typically pester you a ton like you would find in Mexico or similar places.
Peru is also the cheapest Latin American place I've ever been, with prices similar to Southeast Asia. $40 USD entrees are $10-12 in Cusco. You can taxi anywhere is $1-1.25 USD or $5 soles.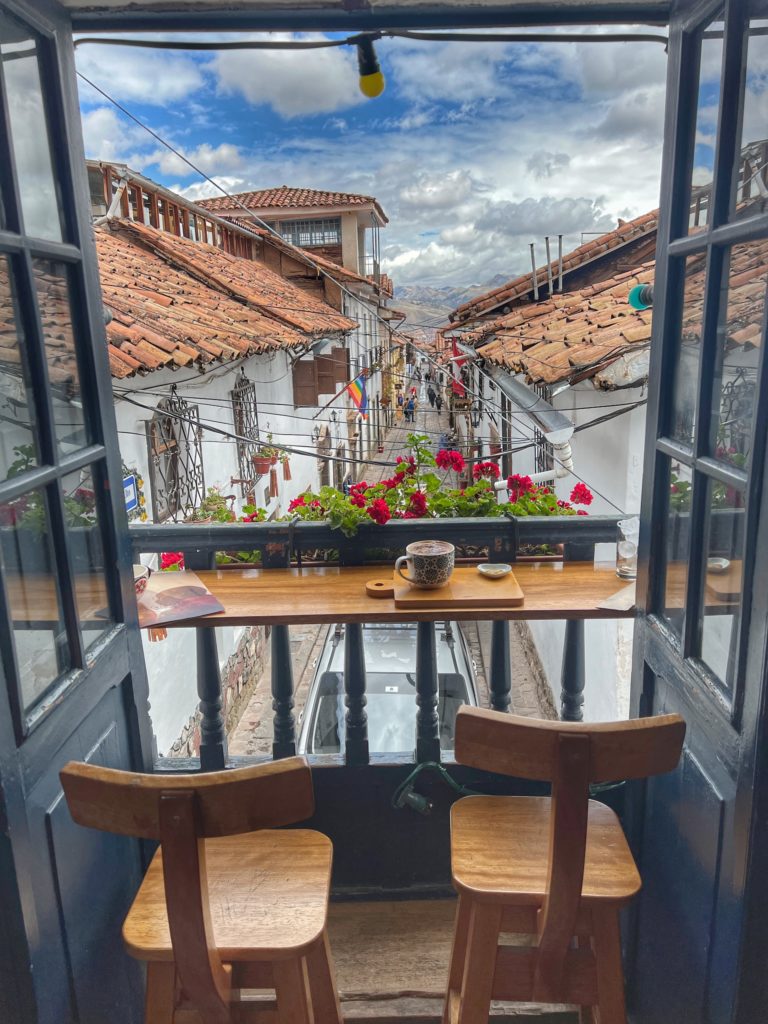 Drinks are almost always 2-for-1 in the bar area and you can get amazing cocktails for like $2.50 USD. You can even get massages for less than $10 USD!
If you are into adventure travel, hiking and R&R then Cusco is the place for you. Cusco is also the perfect place for home-base for a ton of day-trips!
Hike Sacsayhuaman & Cristo Blanco
If you are in Cusco you may immediately notice the giant Christ statue overlooking the city! Right next to it is Sacsayhuaman, breathtaking ruins that were an old Fortress built in the 15th Century.

This area is a must-visit and you can either hike up to it or take a taxi to the top. The hike isn't too bad at all, aside from the elevation of course.
If you have multiple days in Cusco maybe wait a couple before doing the hike as the elevation doesn't mess around! I am in pretty good shape and was huffing and puffing all around Cusco for what felt like the entire week.

Cristo Blanco is adjacent to Sacsayhuaman so you can visit both on the same little trip. You must buy a ticket in advance for Sacsayhuaman so be sure to do that before the ticket office closes.
Sacsayhuaman is open 7am to 6pm however the ticket office sometimes closes before 6pm.
To visit you will need the Cusco Tourist Ticket. There are single & multiple day options and the ticket provides entrance to many different tourist areas pending how many days you want.

You can purchase it at the entrance to Sacsayhuaman or at many Cusco tourist areas. Costs range from 70 soles to 140 soles pending how many days you want it for.
You may want to plan your Sacred Valley trip (info mentioned below) around this as well so you purchase one ticket to get you into everything vs. multiple one-day passes.
Visit The San Pedro Market & Surrounding Shops
Pretty much every article I write includes the local market and this one is the best market in Peru!

Not only is the San Pedro Market itself a cool experience but then there are so manys other shops all around the outside you could spend hours meandering around the area!
You will see so much in the San Pedro Market like a ton of amazing food stalls, clothes, cow heads, fresh squeezed juice, alpaca fleece bags, coffee, fake Nike's and more!

I highly suggest getting lunch there at one of the stalls for a unique authentic experience as well as some fresh juice at the opposite end from the food stalls.
Visit The Sacred Valley Of The Incas
The sacred valley of the Incas is a beautiful valley strewn with small villages and tons of Inca ruins. You can go through it for a day-trip or I suggest even stayed there for a few days.

It is also of course a gateway to Machu Picchu and is worth staying 2-3 days at a resort there if you have the time. If you only have a week in the Cusco area then maybe just do a day trip to see some of what it has to offer.
If you are able to stay a couple days in the Sacred Valley there are also a ton of miscellaneous hikes in and around the mountains! See this amazing one in Urubamba to the monument of the Cross.

The aforementioned Cusco Tourist Ticket will also admit you to these places as long as you purchase the longer term ticket,
Ollantaytambo, Moray & Maras Salt Mines | Northwest of Cusco
Depending on the time you have you can go Northwest to Ollantaytambo, Moray, & Maras Salt Mines.
Ollantaytambo is definitely worth visiting as it is a gorgeous little town with some breathtaking ruins overlooking the village. It is also where you take the train to Machu Picchu.

If you have time maybe stay there for a day and night before heading to Machu Picchu the next day.
If doing Moray & Salt Mines you can also combine Chinchero as it is 40 minutes away. However, if you're not a huge history buff you can safely skip seeing this one as it is nothing even close to what you see in Cusco at Sacsayhuaman or anything on the Inca Trail.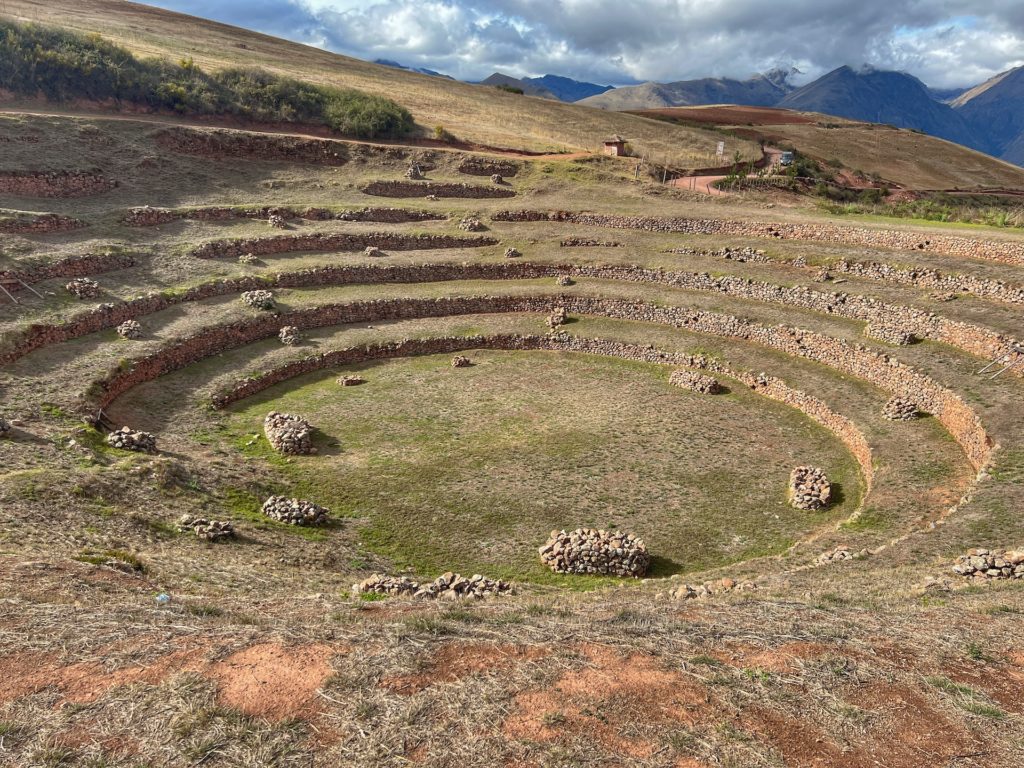 Pisac
Pisac is Northeast of Cusco and is another must-visit for a day-trip. There you will find some spectacular ruins as well as the iconic Pisac Market!
It will make for a very long day but you could try to combine a bunch of these areas in one day. You can book a tour or even reach out to Alpaca Tours and ask about a driver. Mine for 5 hours was 150 Soles.
This way with your own driver you don't have to wait around and make an entire day of it and can go at your own pace.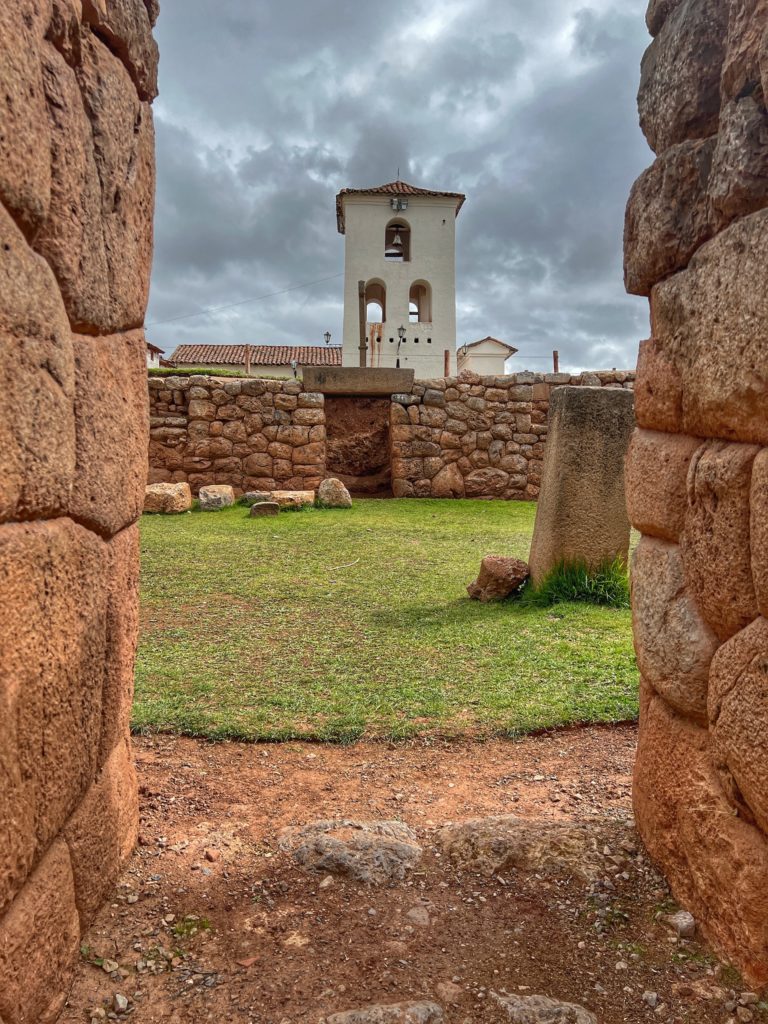 Eat Guinea Pig & Alpaca
When in Rome… and Peru… You must try to the local delicacies and dive into your cultural experience! Guinea pig is actually a dish used for major celebrations like weddings, festivals, birthdays and is very common.

What does guinea pig taste like? Well, like a more herbish chicken. It isn't bad but it is hard to eat due to the little bones. You definitely must try it though!
What does Alpaca taste like? It actually reminded me a lot of bison. The alpaca steak I had was pretty tough but the alpaca burger I had was on of the most amazing burgers I have ever had!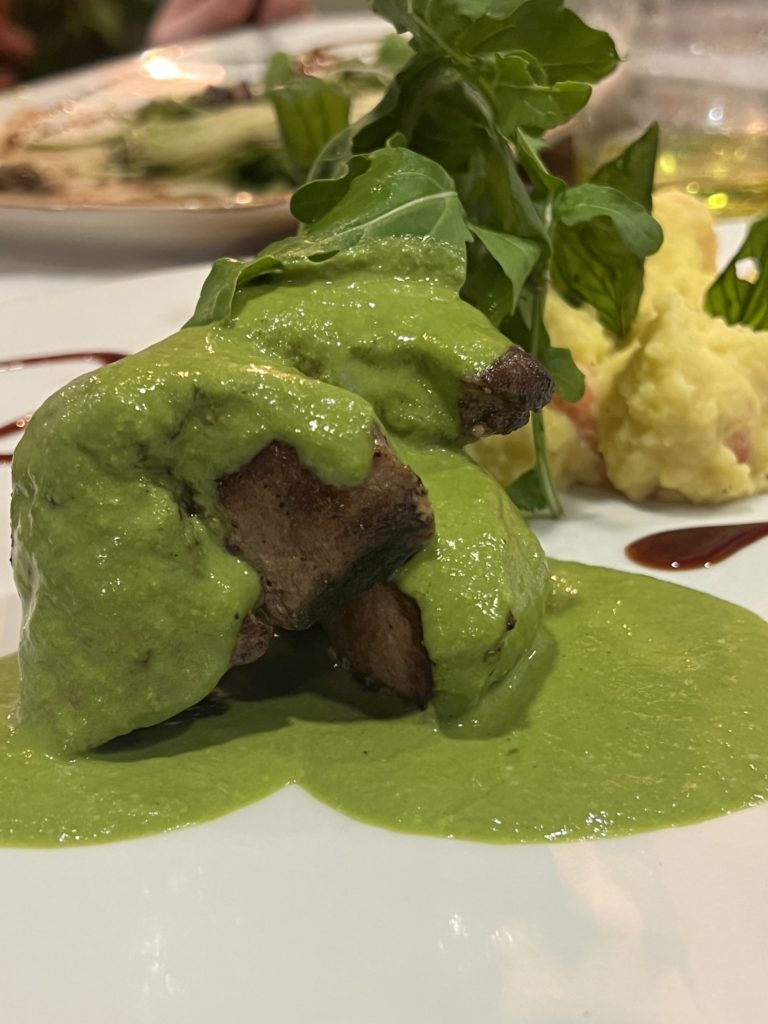 Either way, most restaurants have these on their menu so be sure to order and dive into something new!
Visit The ChocoMuseo | Chocolate Museum
Of course this is a no brainer as you have to visit a chocolate museum right!?

With that said it is a ton smaller than I was expecting, there was no edible foliage and the workers were a lot taller and danced less than oompa loompas.
With that said, it is free, there are samples, you can sign-up for chocolate making classes and they sell 42% chocolate flavored pisco (Peruvian liquor) which is absolutely worth it!

I definitely took 4 bottles of coffee & chocolate Pisco back home with me for myself and gifts. It is a real quick central place to walk into and take a little tour as you do your window shopping in and around the Plaza de Armas.
Volunteer!
If you have some time in Cusco you absolutely need to volunteer! I spent a week with Maximo Nivel where I volunteered in a village 30 minutes from Cusco.

It was this great little after-school program where we helped teach english and I actually built a soccer court there for the kids. It was one of my favorite travel experiences ever.
Read more about how to do this and help in my article here on how to volunteer abroad.

Soak in Plaza de Armas
Plaza de Armes is out of a book with the beautiful cathedral, surrounding shops, garden and restaurants with overhanging patios that have views of the entire plaza.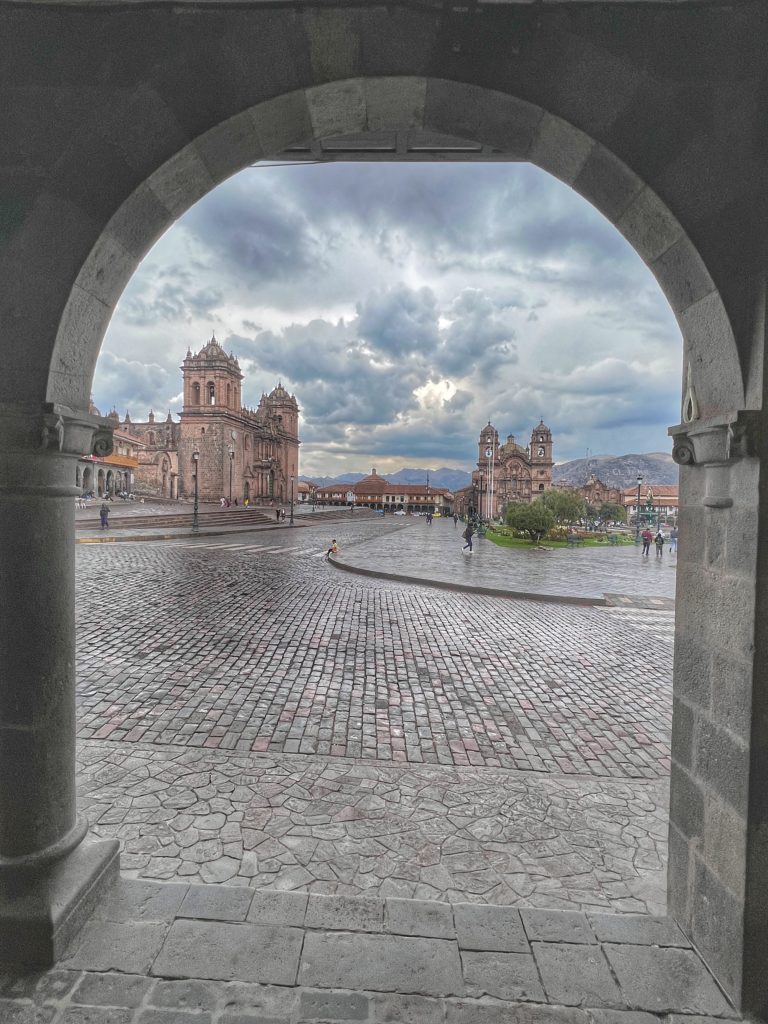 It is a great place for people watching, listening to street performers play music and just the image alone makes you feel back in time. If you want an incredible view with lunch or dinner than try to book at window seat at Morena.

Drink Chicha de Jora | Peruvian traditional homemade beer
Just like eating guinea pig you should try Chicha de jora, which is a traditional Andean beverage that goes back thousands of years.

Often this is just called chicha but there is another type of chicha, which is chicha morada. Chicha de jora is the beer and alcoholic version, which is yellow and made by fermenting corn.
What is unique about chicha is that it traditionally made with the drink maker actually chewing the corn to start the process. Chicha de Jora can be 1-4% in alcohol and often you will find it in an old large plastic bucket.

Chicha morada is purple in color, non-alcoholic and more of a fruity almost sangria taste… but without the alcohol content so where is the fun in that? Still give it a try though, it can be very refreshing.
Visit The Coricancha | Golden Temple Of The Sun
The Coricancha or Qorikancha was the most important Inca Empire temple and is in Cusco since Cusco was the capital of the empire.

The Incas had very strong beliefs with regards to the astronomy. When you visit Machu Picchu you will also learn a ton about the Incas major site locations based on celestial synchronicity.
I was always in awe of how so much of the Inca buildings were built with unreal precision to align with so many things to do with nature, space and time.
Hike The Inca Trail to Machu Picchu
This is a no-brainer! 90%+ of the people reading this probably already had this on their Peru to-do list. Obviously this is the first thing you see when planning your Peru trip and if not, add it now.

I won't go into too much detail but ANYONE can hike the 2-day Inca Trail trek so don't be worried and do the hike! It is tough and long but you stop a ton so don't worry too much.
The hike is so worth it with some of the most incredible views ever, ruins, waterfalls as well as flora & fauna.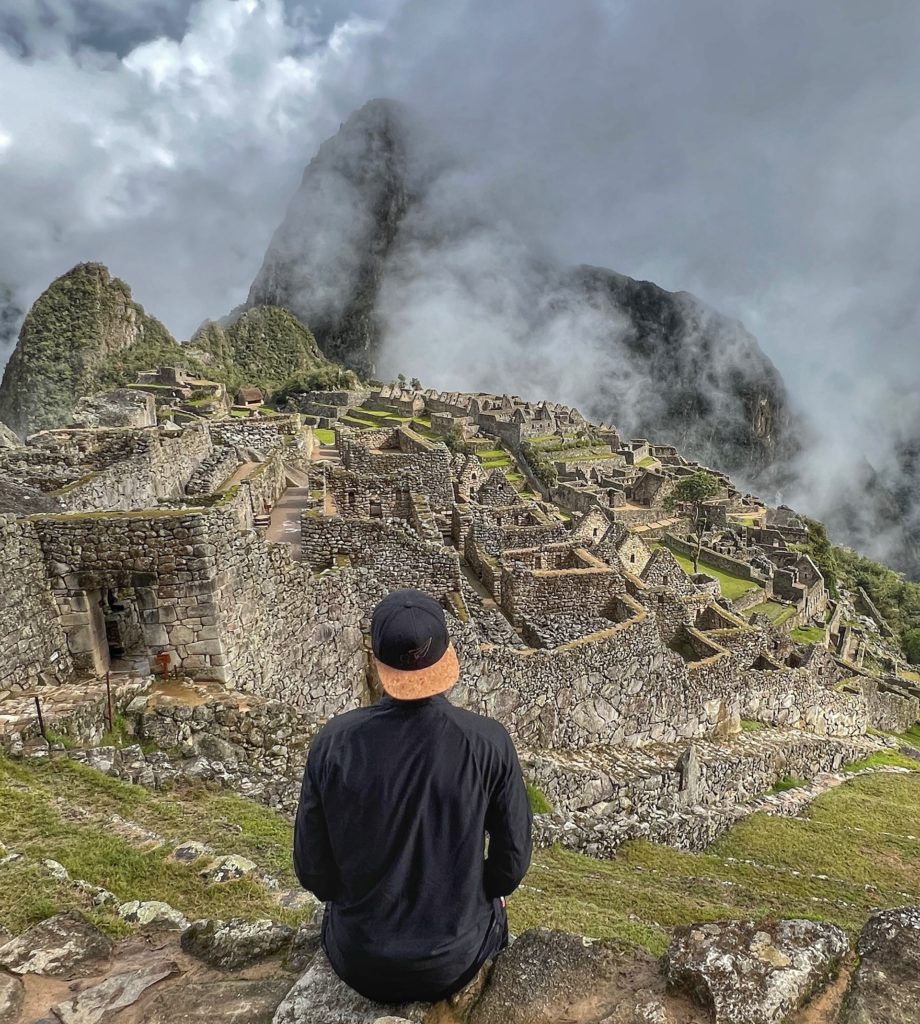 The 2-day trek is also one day of hiking with day 2 just being a bus ride up to Machu Picchu. See here for the full guide on this unreal experience!
Stroll San Blas & Get Coffee With A View!
San Blas is a fancier and art district of Cusco. The streets are lined with art galleries, shops, restaurants and my favorite coffee shop (pictured).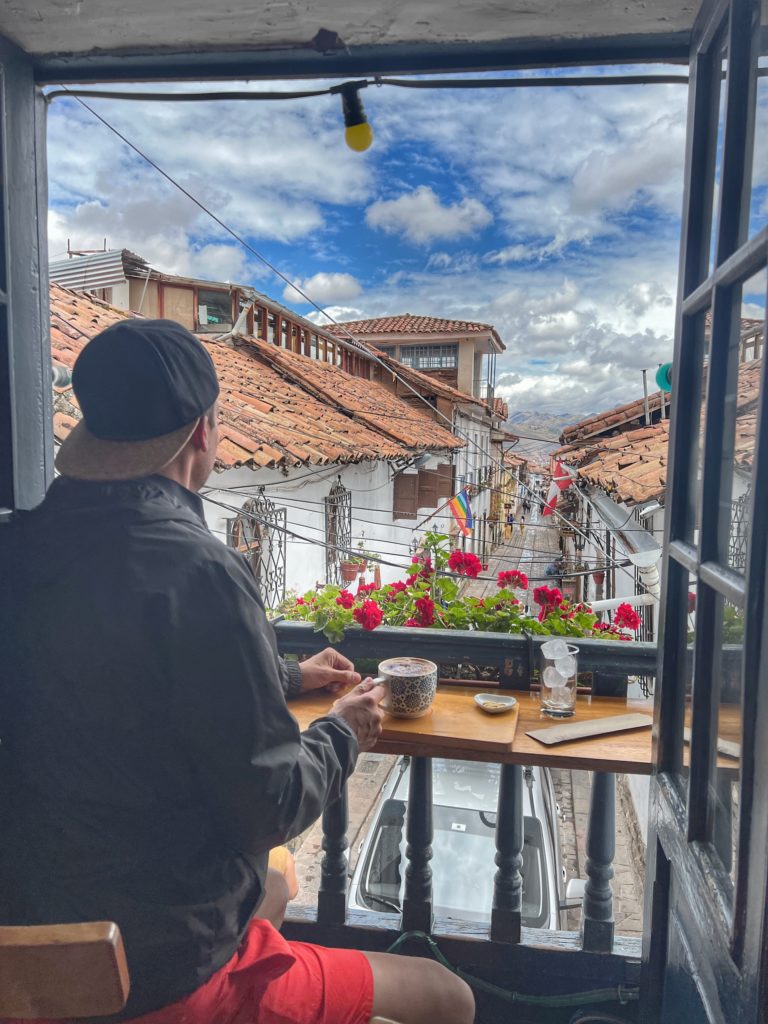 The cobblestone streets, the bakeries, the art… well it just is an amazing feel to soak in! Up at the top you will find some of my favorite restaurants & views in Limbus & Aura. You can see more about them in my top places to eat article here!
Eat Like Royalty
One of the best things about Cusco is the food! Not only is there so much delightful cuisine but the prices are some of the cheapest on earth.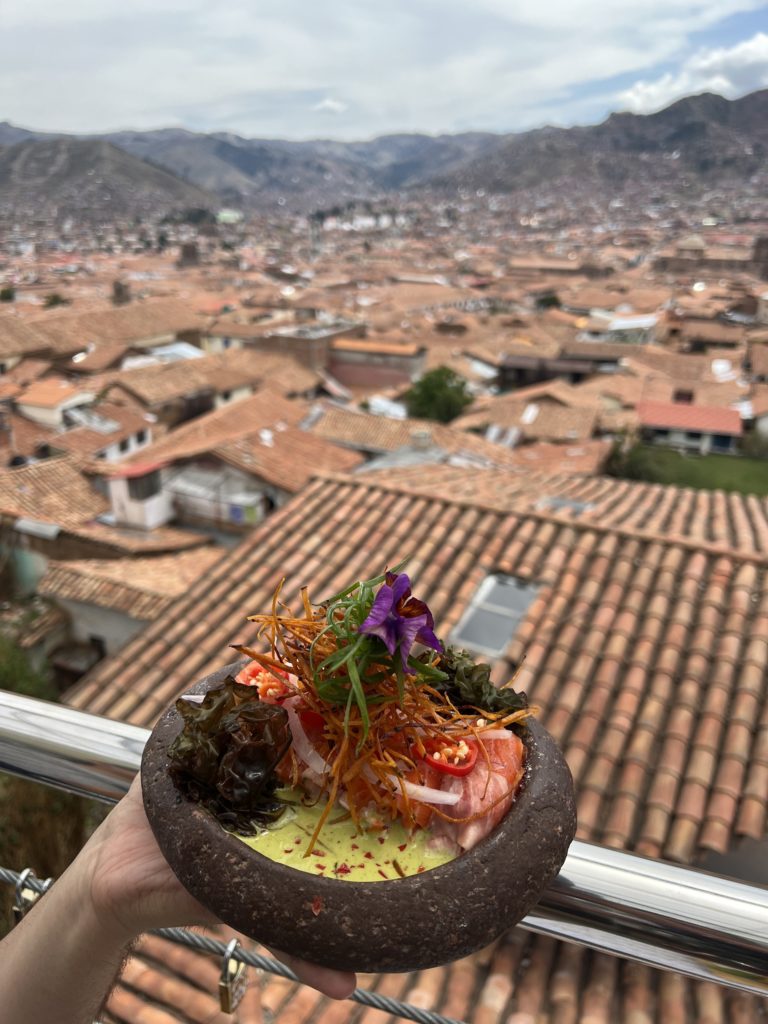 I had a tomahawk steak overlooking the entire city for $25 USD. This exact dish is $125+ anywhere in the USA and without a view of an entire gorgeous city.
See here for the 13 best places to eat in Cusco and go eat as much as you can like I did!

Stay at one of the best hotels in Peru!
Sol Y Luna is not only one of the most beautiful hotels in Peru but it also has an amazing philanthropic side. This hotel is stunning and spares no expense in making you feel like royalty.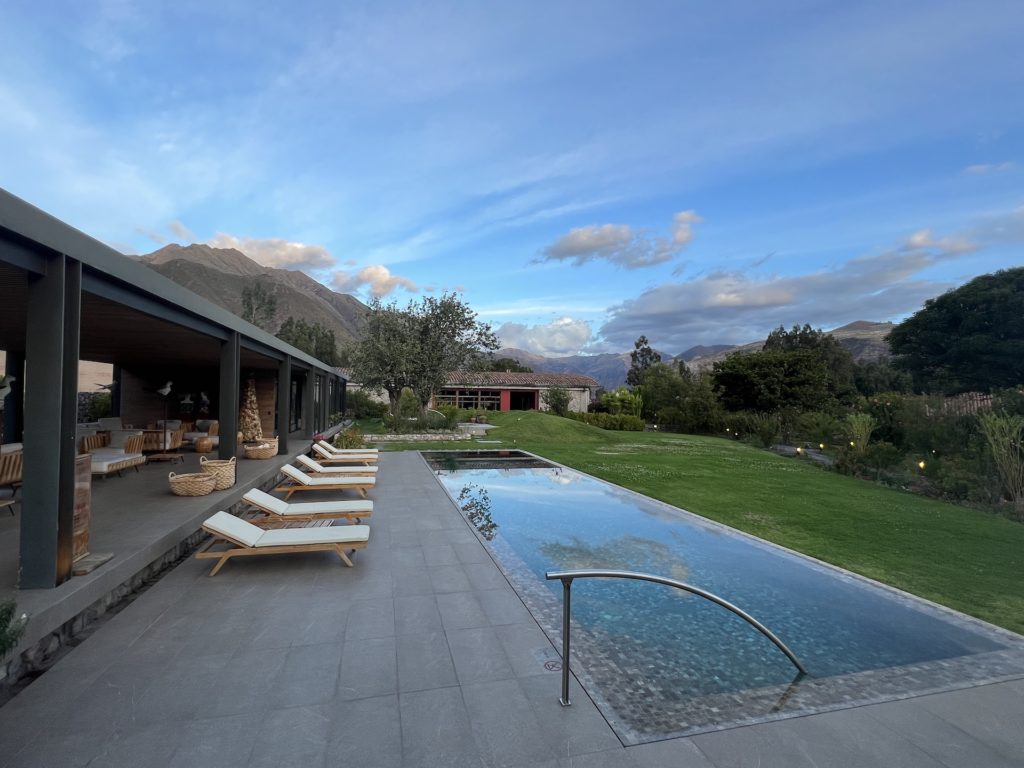 However it isn't the stunning grounds, huge private casitas, pool area or backdrop that sets it apart but it's dedication to the community that makes it special.
I always try to stay in places or do things with companies that give back and this company takes it to the next level. They have built a school and a foster home to take of the kids in need in the sacred valley.

See this article to read more about the amazing hotel and their philanthropic work.
Find Views Of The City Like This!

There are so many unreal views of the city and be sure to take them in at night and during the day!
I just happened to come across this court and it was one of my favorite pictures I have ever taken! You can hike Sacsayhuaman, eat at Limbus, or taxi up past San Blas to witness some of the best views ever!

Try a Pisco Sour & other Peruvian drinks
I mentioned chicha already but you need to make sure you try it all! The pisco sour is arguably the most iconic drink and has to be the first thing you try on your trip.

It is is pretty sweet & sour so 1-2 might be good before moving on. As mentioned you can also find chocolate pisco, coffee pisco and many restaurants will have pisco infused with miscellaneous ingredients in jars at the bar.
One hotel I was had even had larvae pisco, hornet pisco and other unique things to try.

If you like wine I actually really liked the Peru wine I had. They also have a ton of chocolate liqueurs similar to Baileys or Kahlua type stuff.
Shop til you drop | Malls & Tourist Shops
With how cheap Cusco is you need to take advantage and splurge a little! Sure you may be on a budget for this trip but how far your dollar goes it is worth stocking up on unique clothes and getting some amazing gifts!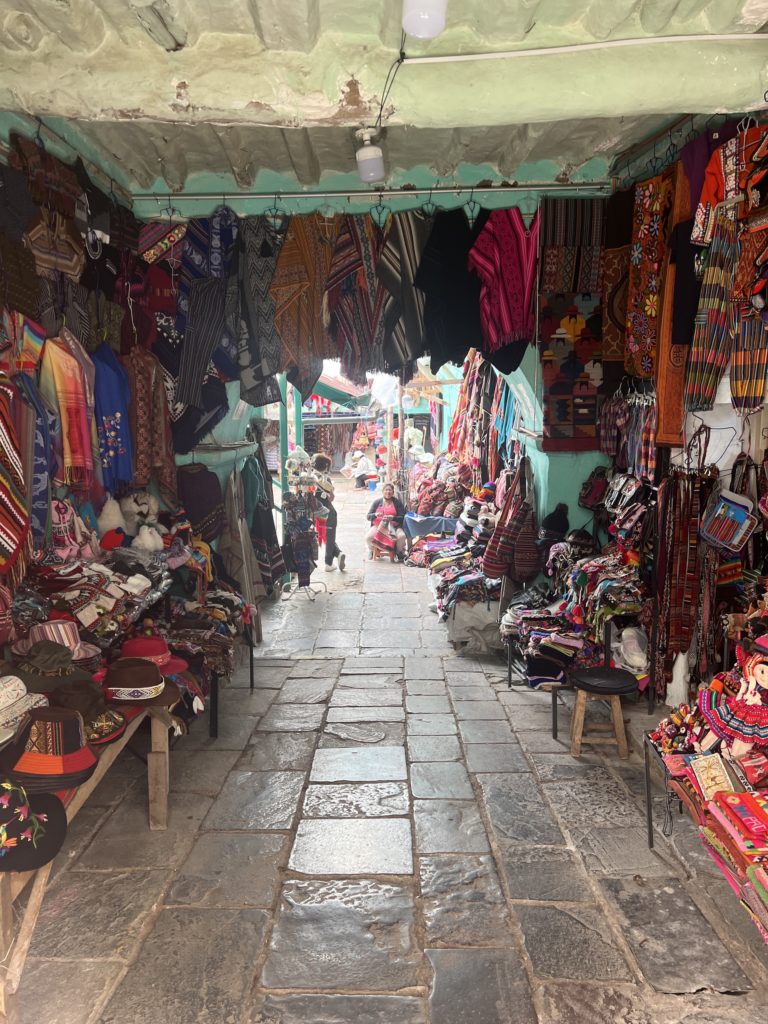 I did Christmas shopping for everyone in my family in Cusco, so much so I had to buy another bag to go back home with.
There are a couple of great places to shop as well. Real Plaza is a mall just off the main strip but is totally safe and a really modern mall. It has a lot American type brands as well as more local things.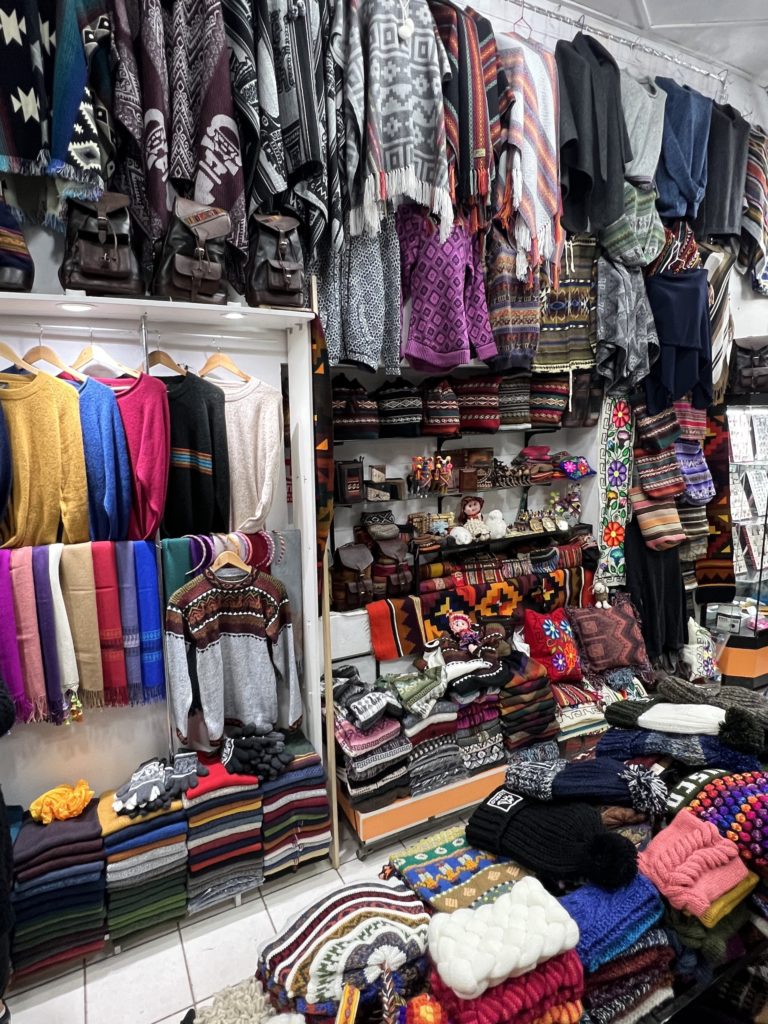 Of course around Plaza de Armes there are little shops everywhere in the area as well as visiting the aforementioned San Pedro Market.
Pamper Yourself!
You will be doing a ton of walking & hiking in around Cusco so with that said, get your recovery in as well!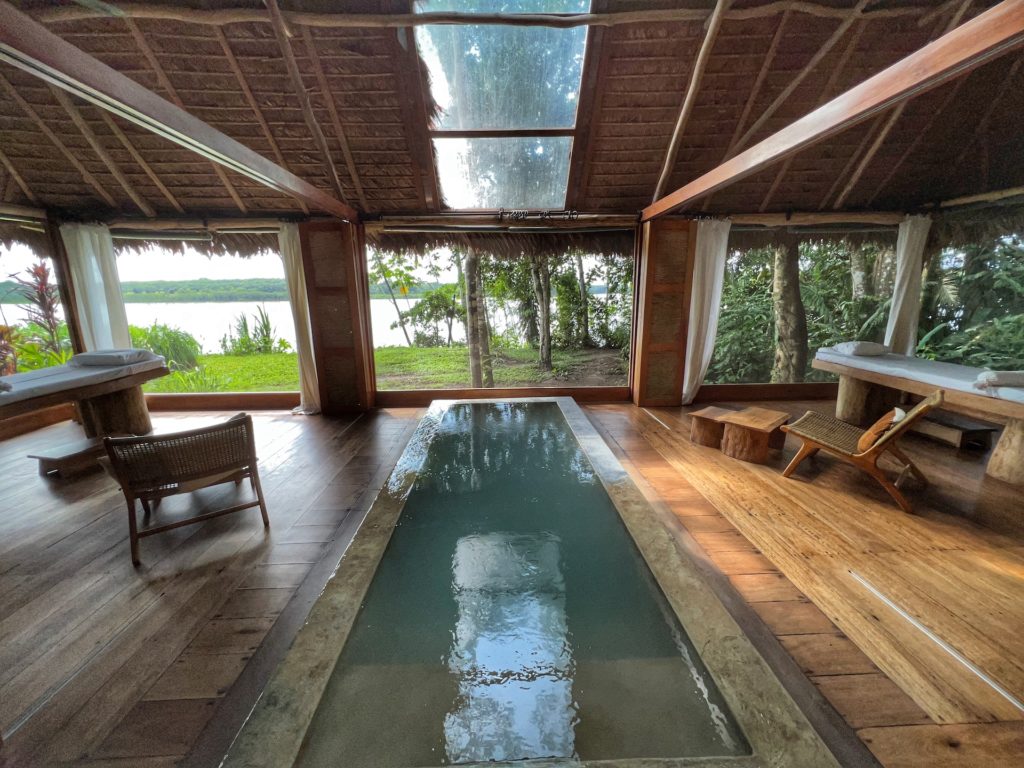 The picture above is from the Amazon but, there are lots of spas in Cusco :).
You absolutely need to pamper yourself with massages starting at $10 USD for an hour! I almost got a massage every day, it was incredible!
Visit The Church of San Cristobal
This church is in between Plaza de Armes and Sacsayhuaman making it a great stop on your walk up to Cristo Blanco & Sacsayhuaman.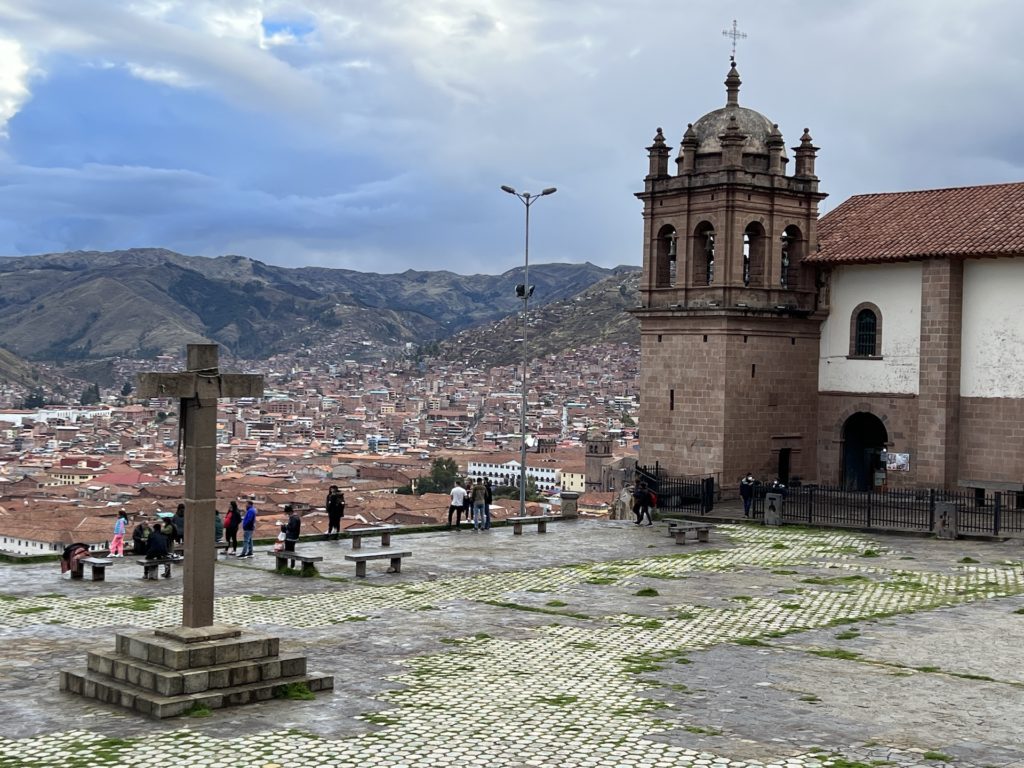 The views are incredible and you can even get your picture up in the bell tower, which is an incredible shot!
Watch a professional soccer game
If you have never been to Latin America you must take in a soccer game. Even if you are not a huge sports lover, the passion and excitement of the stadium is incredible!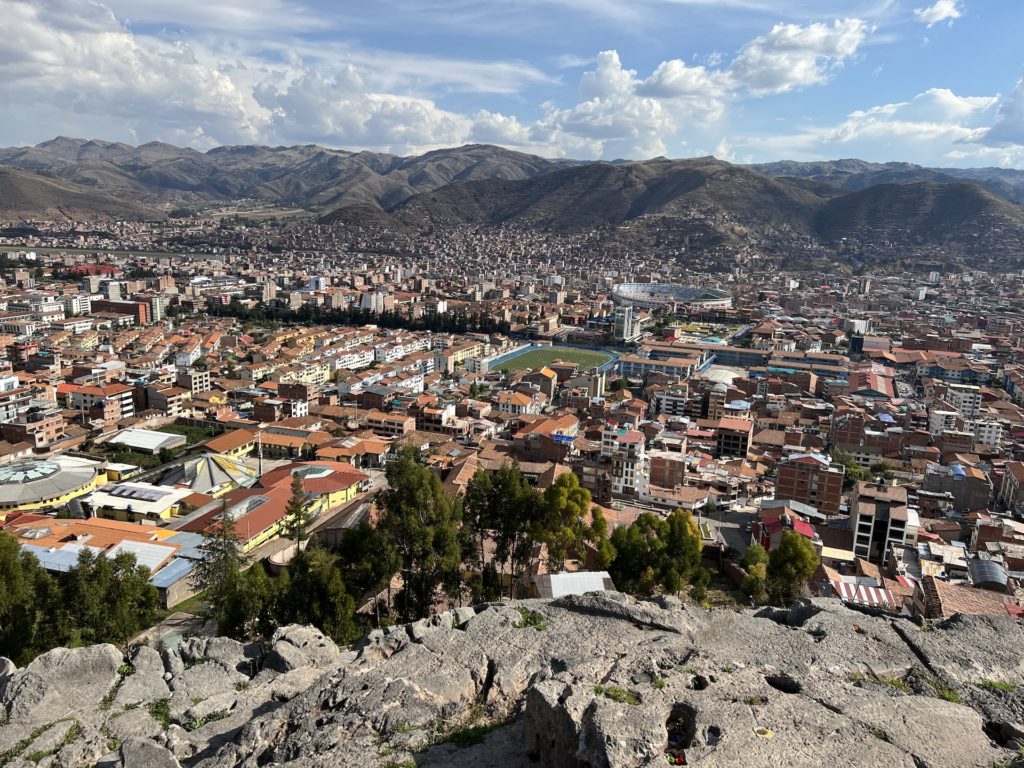 Cusco has two 1st division teams, FC Cusco & Cienciano. Definitely get to one of their games at Estadio Garcilaso de la Vega if you can!
Tickets are dirt cheap and it is a great place to grab a beer and soak in some Latin American spirit & passion.
Take An Authentic Peruvian Cooking Class!
There are a ton of great places to try your hand at making a ton of Peru specialties from roasted guinea pig to pisco sours, to ceviche to chocolate-making and more!

A quick google search will give you a ton of options depending how long you want to do it and what dishes you would like to cook!
Drink all the fresh exotic juice and smoothies
If you love fresh squeezed juice, who doesn't, you will be in heaving in Cusco. You can go pretty much everywhere and get fresh juice from a ton of different exotic fruits.

Not to sound like a broken record but… of course it is so cheap! What is $5-8 USD a glass in the US is $1 or less in Cusco.
Ride a tuk tuk
If you have ever seen pictures of Asia you surely have always wanted to ride in a tuk-tuk! These are more prevalently found in the sacred valley due to less hills but definitely a unique, fun and cheap way to get around!

Try Inca Kola
Inca Cola is a unique soft drink native to Peru and actually is a source of national pride. It went from solely made in Lima in 1910 to now being sold worldwide.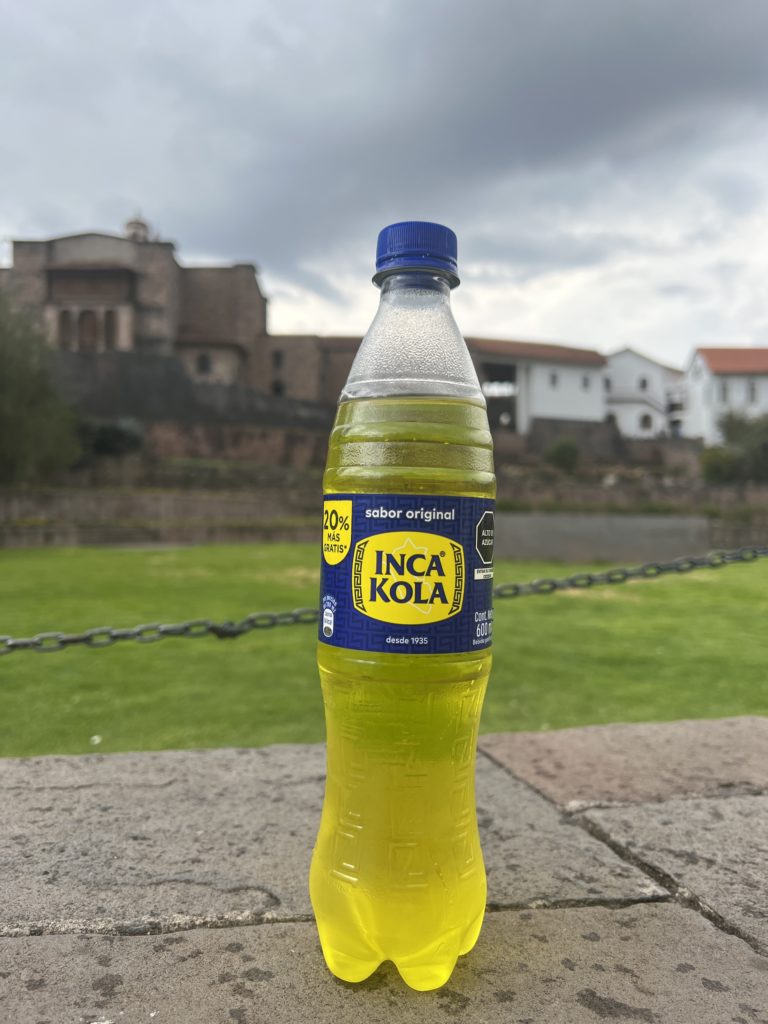 It tastes pretty similar to cream soda mixed with bubble gum. If you have never had cream soda then it tastes maybe like a bubble gum flavored ginger-ale.
Get tipsy at Procuradores or "Gringo Alley"
Calle Procuradores aka Gringo Alley is actually one of the cooler bar areas I have ever come across. It is this little narrow street jam packet with a ton of amazing bars and street food!

It is safe but make sure to stay safer with a buddy system and watch your glasses. Roofies aren't common but it does happen here.
Should You Visit the Rainbow Mountains & Humantay Lake
These are both beautiful sites but do a time-benefit analysis on these. I tend to not do things where I sit in a car or boat for 3-4 hours, get out and take a picture, then drive back 3-4 home.
See a picture of my friend at Rainbow Mountain and ask yourself if that's worth waking up at 5am crammed in a van\bus for 6-7 hours round trip and then see this then get back home at 6/7pm exhausted…. Especially if you only have 4-7 days in the area.

Yes there's obviously more to these places but if you are short on time I'd rather spend an extra relaxing day in the Sacred Valley or Cusco or Aguas Calientes.
For examples I stayed in the sacred valley and I just did a 3-4 hour trip to see Chinchero, Moray and the Salt Mines… and wasn't stuck in a car the entire day.
Should to Visit Lima?
If you were thinking about going to Lima read my article here on probably just spending a couple of days there vs. too much time. Spend it all in Cusco and the Amazon!

Should You visit the Amazon?
Yes, 1,000x yes! My trip to the Peru Amazon was right out of National Geographic and everything I could ever dream!

Read my guide to the Amazon here and get to Puerto Maldonado asap!
Should You Do an ATV Tour?
Some people will say to ATV but those tours look miserable as you basically stay in a line formation going slow as heck along dirt road for hours, no thanks.
I am all for ATVing but at my own pace and off-roading. I watched people ATVing along the same vehicle road going 1/4 as fast and just eating the dirt from the ATVs in front of them.
Where To Stay In Cusco | Ananay Hotels
I love a couple of hotels in Cusco both owned by the same company Ananay Hotels! Ananay Hotels are amazing as they are far from a typical hotel.

Ananay takes pride in recreating buildings into gorgeous places to stay that also fit within the perfect setting and look of a city! Their hotel in Lima, which you can read more about here, is one of the best hotels I have ever seen!
In Cusco if you want something more moderately priced then stay at their Quinta San Blas. The hotel is in the perfect location in the middle of San Blas and just a block away from my favorite coffee place!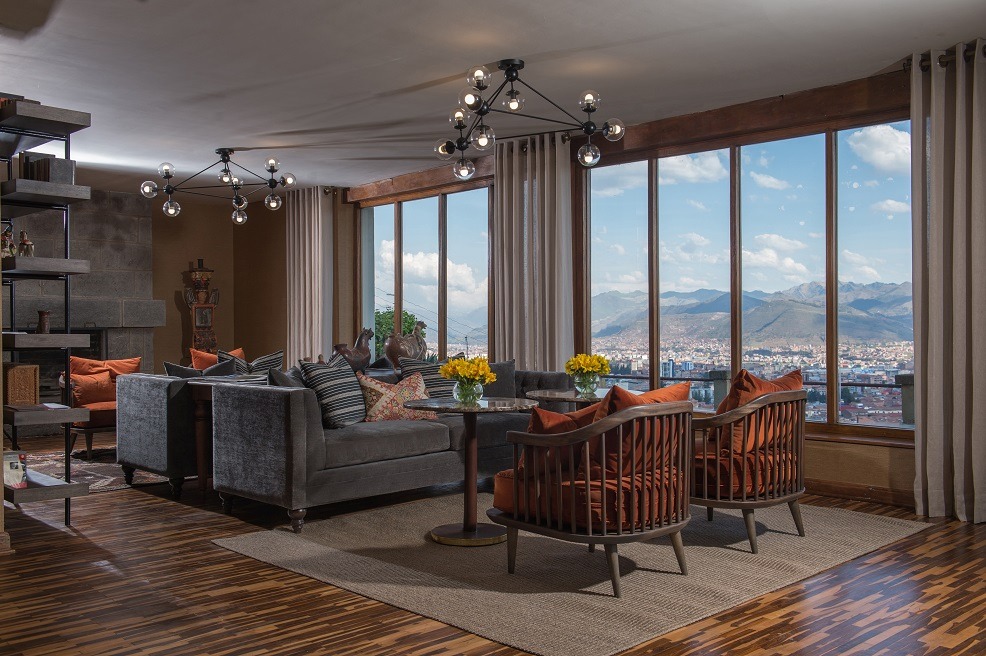 It is also just 5 easy & beautiful minutes from Plaza de Armes. I say beautiful as the the walk meandering through the cobblestone streets and art shops is one of the best!
If you want to splurge more than stay at their Palacio Manco Capac. Wow, what a stunning place as you can see!