What are some must do best oahu hikes in Honolulu and nearby?
Here you will find 3 of the best hikes in Oahu for all levels of hiker including the best view of Honolulu, a walk through history and the absolute best hike in Oahu!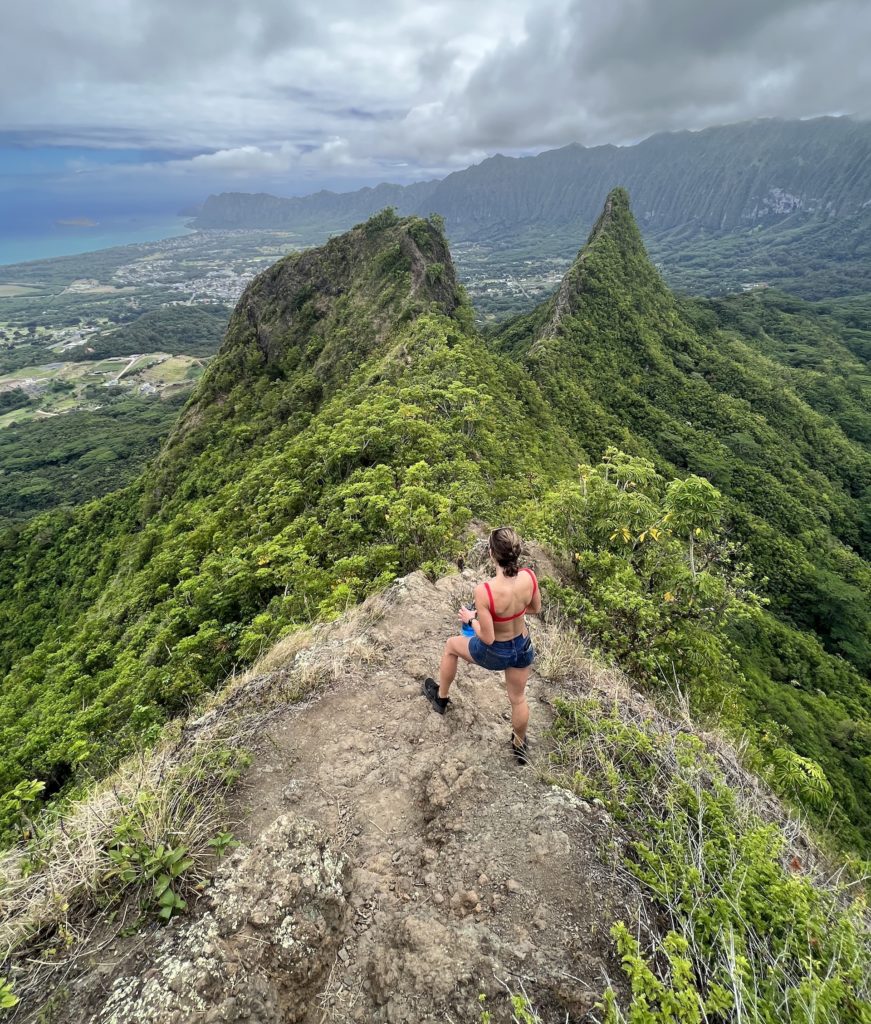 From pillbox hikes, to easy Oahu hikes to a challenging but rewarding hikes. You are sure to absolutely love some of the best hikes in Honolulu and the surrounding area, which almost all levels of hiker can do!
If you are staying in Waikiki then these hikes are the best hikes in Waikiki and the area as well you need to try!

Oahu has some absolutely stunning hikes throughout the beautiful hawaii mountains, craters all while overlooking the ocean.
A lot of people look at Honolulu and Waikiki as just an urban city but if you have never just rented a car and gone 15-20 minutes out of town you are surrounded by some of the most incredible natural beauty.
Even just 20-30 minutes from Honolulu & Waikiki is one of my top 5 favorite half-day hikes in the USA!

If you want some places to eat after hiking then definitely see our article on 9 Amazing Restaurants in Oahu here! From food trucks, to authentic Hawaiian, to fine dining and more!
When I look for hikes, I want a challenge, beauty, something unique, a workout and of course some great payoff at the end.
All three of these hikes have bits of that even although Diamond Head Crater trail is relatively easy and busy, but great option for those at the beginner hiking or fitness levels.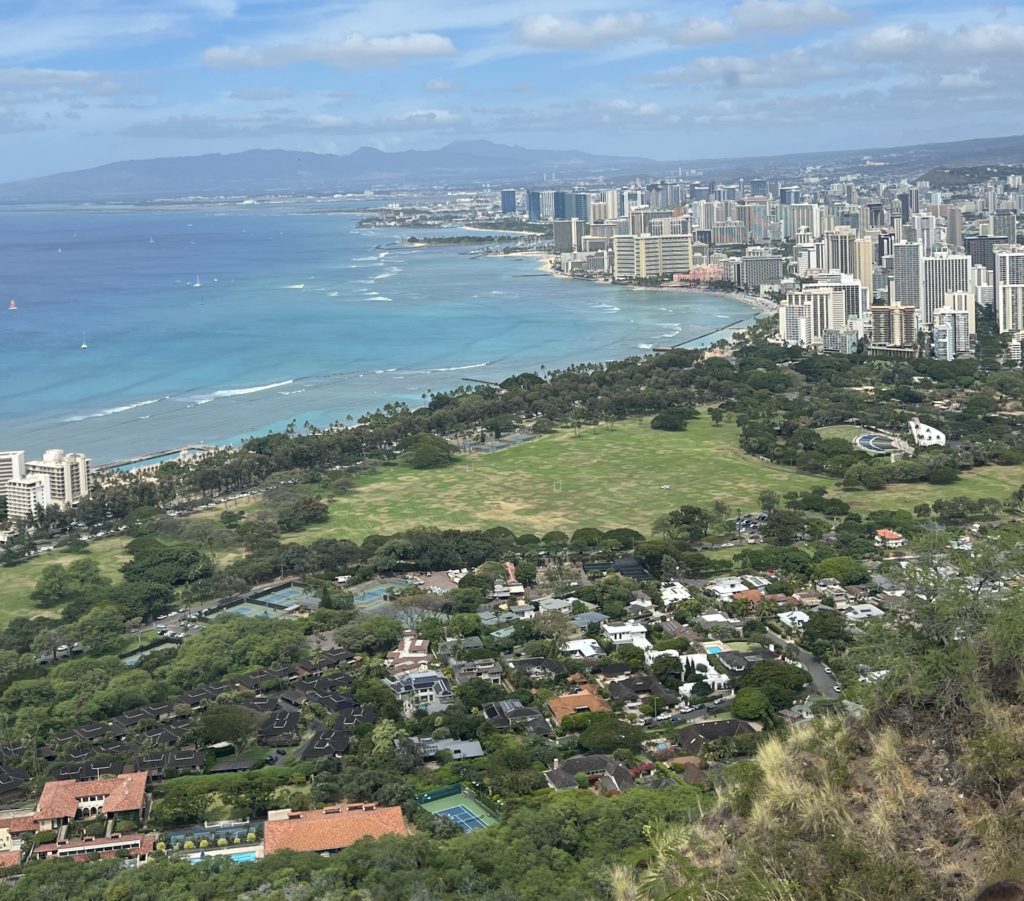 Difficulty | Strenuous
Length | 4.36 miles total round-trip (6.02 from parking area) (Out & Back)
Elevation Gain | 2,500 feet
Time Needed | 3.5-4.5 hours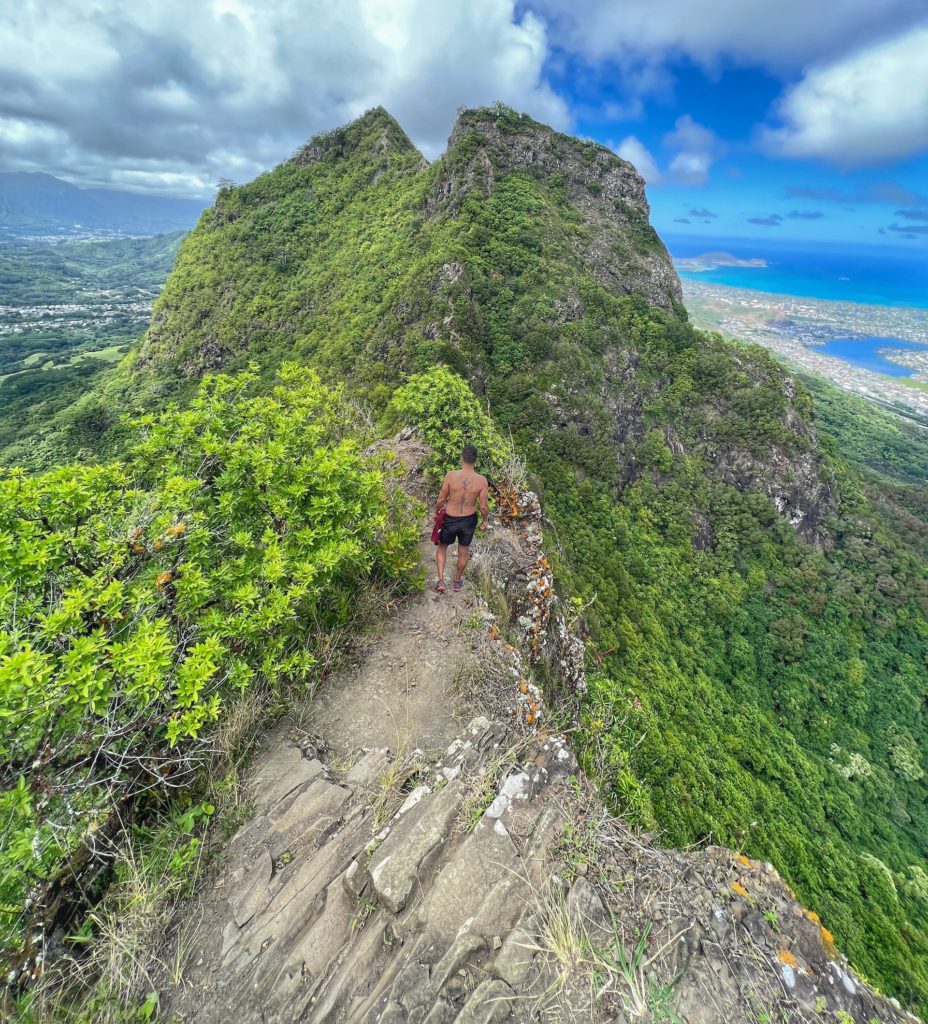 I absolutely love Olomana Trail and it is one of my favorite hikes! The challenge, the views, the hiking through the jungle, the flora & fauna and then the payoff!
Wow, the scenery you get from each of the three peaks is incredible. The hike to all three peaks is very difficult, most people just do to the first peak and that is okay!

Honestly the first peak probably has one of the cooler views of the mountains, ocean and two remaining peaks altogether, it is one of the best "pictures" if you will.
However, there are some other unreal views as you go to the second peak and the third. On top of the views, the challenge, the obstacles you overcome (rope rappelling) and the satisfaction of completing such a difficult hike is worth pushing it to the end.
For more details on this hike you can see it in this article here.

Definitely bring 64 ounces of water per person if doing the full hike and a snack or packed lunch. The heat, elevation, length and difficulty is a lot…
I am a higher level hiker, packed 32 ounces of water and no snack… it was fine but it beat me up no doubt and wish I had more water and food.
There are no parking fees and there are no bathrooms.

Lanikai Pillbox Hike
Difficulty | Moderate
Length | 1.8 miles total round-trip (out & back)
Elevation gain | 650 feet
Time Needed | 1 hour

This Pillbox Hike in Lanikai is a great moderate hike with stunning views of the ocean, little islands offshore and the mainland of Oahu.
This is a great hike for all levels of hikers as aside from a little slippery steeper area, it is a relative easier incline the entire way up. People of all ages are doing it and is great even for beginner hikers or fitness levels.
One of the best parts of this hike is its proximity to Lanikai Beach. Hiking & beach days, it doesn't get any better.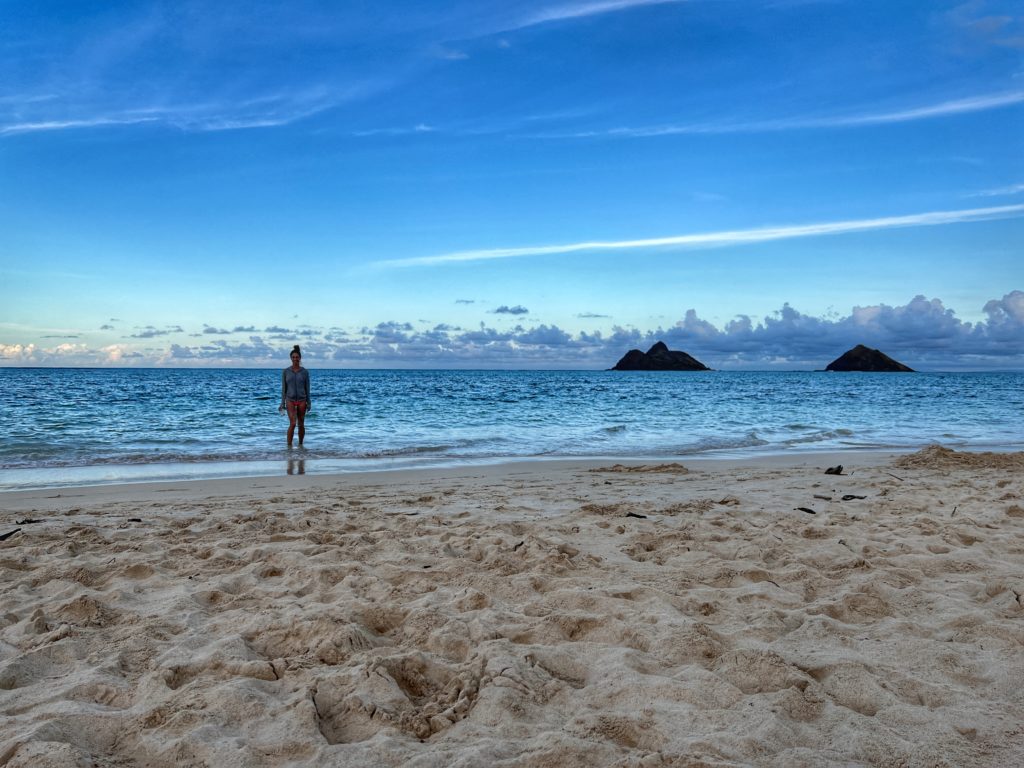 I love to hike before I relax to get a sense of accomplishment for my day. There is no better way then to pack some food & drinks for the beach, go to Lanikai, park, hike and then stop by at the car to grab your stuff and head to the beach!
We even went into town quickly after the hike, ordered some food to go and then went back to the beach, which works great too.
The hike is really straightforward, you can map search the trailhead, which is in a residential area on Kaelepulu Dr next to Mid-Pacific Country Club.

The entry is well marked and the beginning is really the only steep part so don't get discouraged as the rest is pretty low grade the rest of the way.
It is .37 miles to the first pillbox, which is a great little photo spot. This should take you 10-15 minutes if not stopping.
it is .46 miles to the second Pillbox, so just .09 from the first one and then total .86 from the start to the third pillbox, which is off to the left when the trail forks.

It is .97 to the end of the hike and from there you can look back over the other pillboxes and views of Lanikai, the beaches and surrounding vistas.
Parking can be tough as it is the same parking lot as Lanikai Beach but you should be able to find parking along Aalapapa Dr or the streets in between it and Mokulua. Just be sure when you park you are off the road completely or will get ticketed.
There is no parking fees and there are no bathrooms.
What is a Pillbox?
As you will see there are a lot of hikes and places with "pillbox" in the name when you are in Oahu. A pillbox is basically a raised war bunker that is a concrete dug-in guard area with loopholes so weapons can be fired.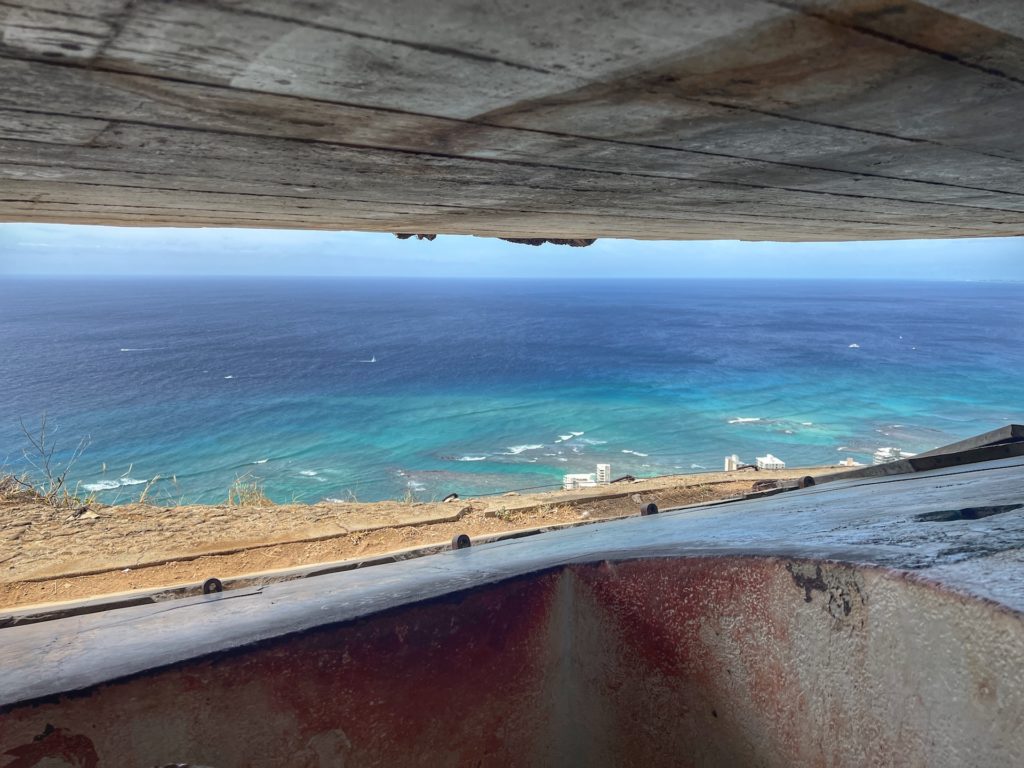 It truly is an interesting step back in time to be inside and around these war remnants and honestly is an incredible time for reflection going back thinking about how in our grandparents lifetime people our age had bombers coming at them as they fired from these pillboxes.
Diamond Head (Le'ahi) Crater Trail | Easy Hike In Near Waikiki
Difficulty | Easy
Length | 1.9 miles total round-trip (out & back)
Elevation Gain | 450 feet
Time Needed | 1 hour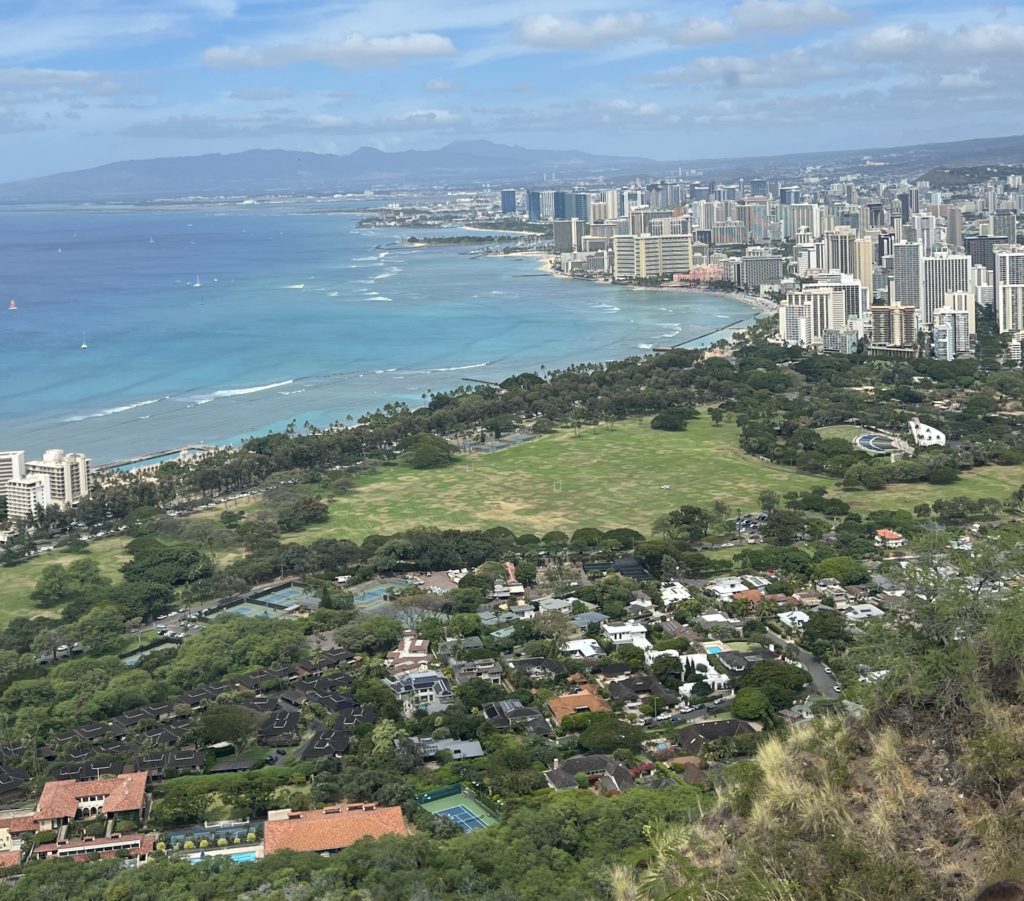 Diamond Head Crater Trail offers the best view of Waikiki & Honolulu!
It is a great trail for beginners or anyone who doesn't have much time but wants to get a little exercise and be treated to an incredible view!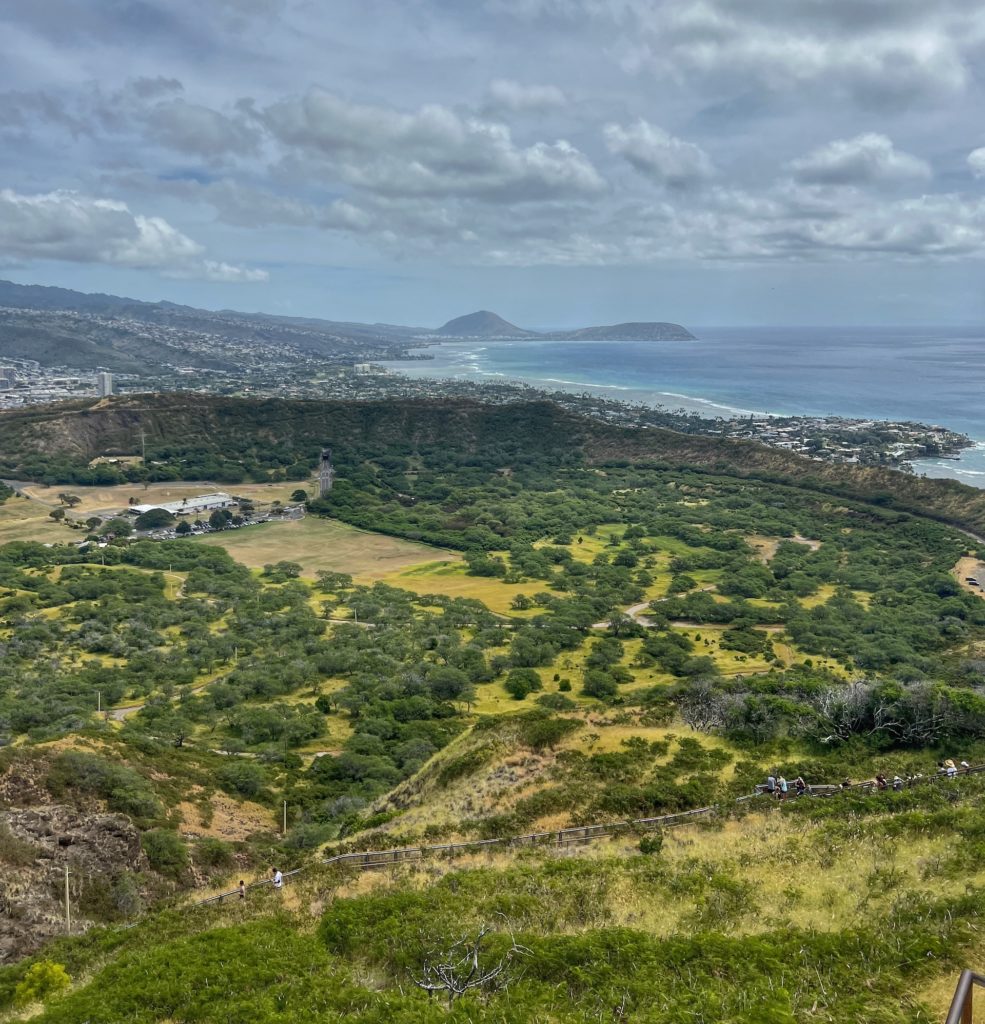 It also is really cool as not only are you treated to gorgeous sites of the ocean, mountains and all of Waikiki and Honolulu but you also get to go through pillboxes, bunkers and through the war tunnels!
It really is a unique feeling to go through such walk back through time as you stroll through history. It gives me shivers up my spine just reminiscing that feeling of going through such an important part of the past.

Be warned it is extremely busy as it is one of the only hikes you could really just uber, scooter, bike to or quick drive from Waikiki. It probably is the most touristy hike on the island but it honestly is still worth it.
If you plan to do multiple hikes on your trip you can always skip this one as it is by far the busiest but it still is a cool hike nonetheless as it truly gives you such a cool view of Honolulu.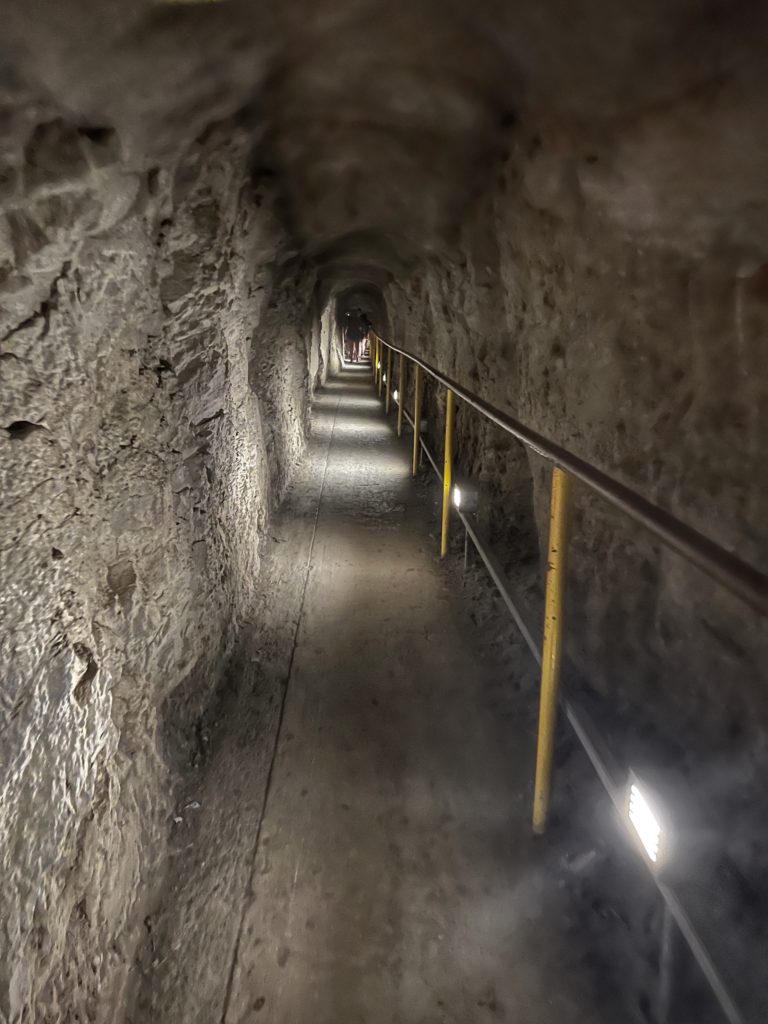 Misc Info: It is $10 per car or $5 per hiker, it is cashless. There also is food trucks, and snacks for purchase as well as soda & snack dispensers. They also have nice clean bathrooms and shaded picnic tables.