Want to know the best places to eat in Zion National Park? Well plot twist, truly everywhere in zion with a view is a great place to eat. With that said, I honestly had the best breakfast I have ever had, and it was in Zion!
You also have to checkout the ultimate Zion Bucket list | 27 things you must do! There is so much to see and do in Zion and there are here!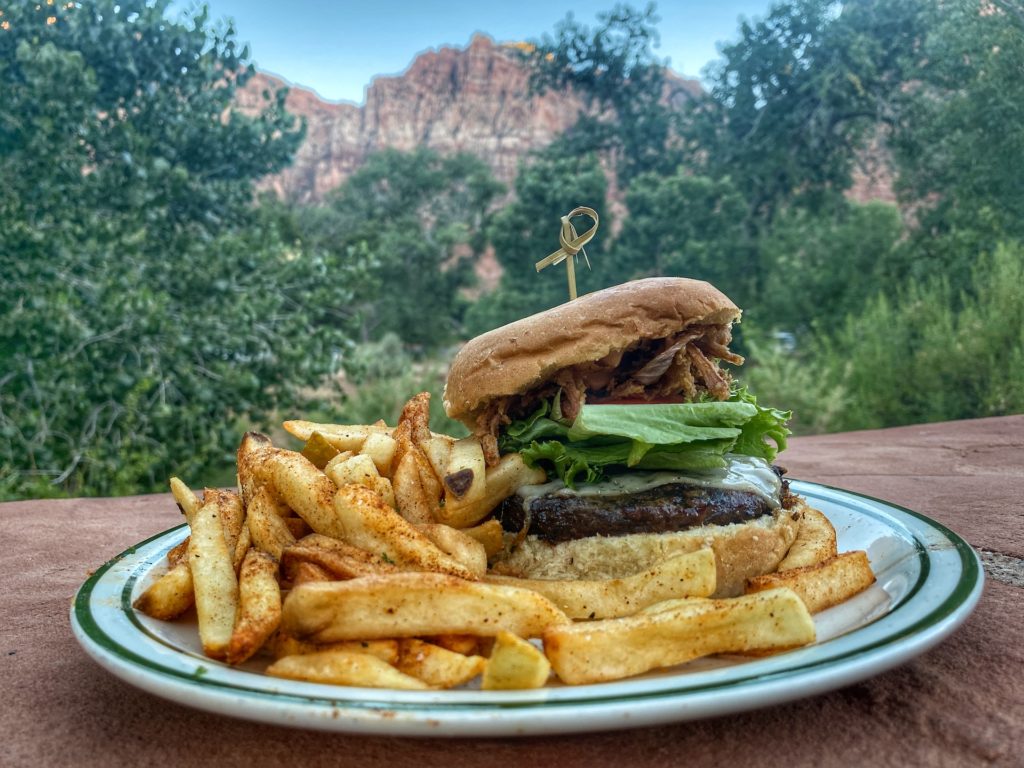 I don't necessarily care about the food as much but the ambiance and being surrounded by the red rock canyon walls it really what will make your meal memorable.
I would much rather have an 8/10 meal with a view than some perfect amazing meal inside somewhere. Of course both is perfect but take what we can get! Zion definitely has some great places to eat while also soaking in the stunning beauty around you.
Best Breakfast in Zion and the world!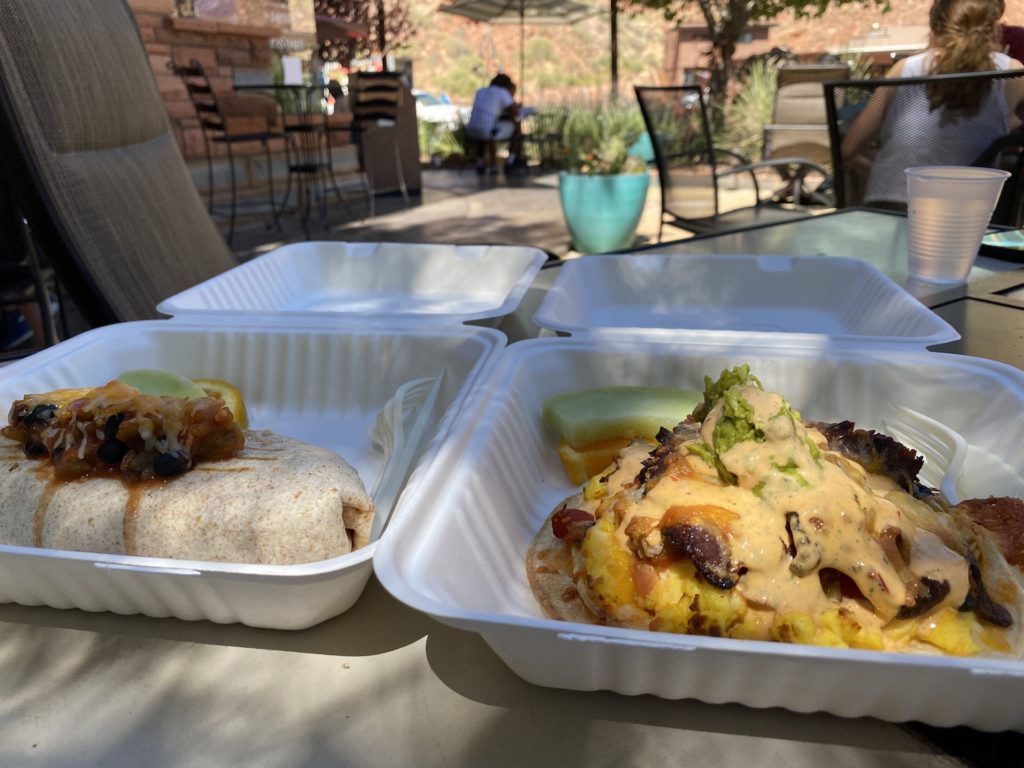 No joke, I think Cafe Soleil had the best breakfast I have ever had in my life. I am a pretty basic breakfast eater but sometimes order new stuff here and there and I am so glad I did here.
The huevos rancheros was literally mind-blowing! I kept eating them saying… I think this is the best breakfast I have ever had… I have had time to think about it and it is definitely top 3 ever and I think it is actually the best!

Not only does this place have the best breakfast in Zion it also has the best coffee in Zion as well. You would be surprised how hard it is to find anything but just standard black coffee in the Zion so if you want something special, come this way.
I still have a child's palate and just started drinking coffee type stuff a year ago, thus… I need an iced mocha latte cause it tastes like chocolate milk. With that said, they have all specialty coffees and is definitely a must stop for your morning or afternoon pick-me-up.
Best Dessert in Zion
If you don't know what bumbleberry pie is then you are about to get a one way ticket to flavortown. If you have never had bumbleberry pie, it is time to start by having the best dessert in Zion!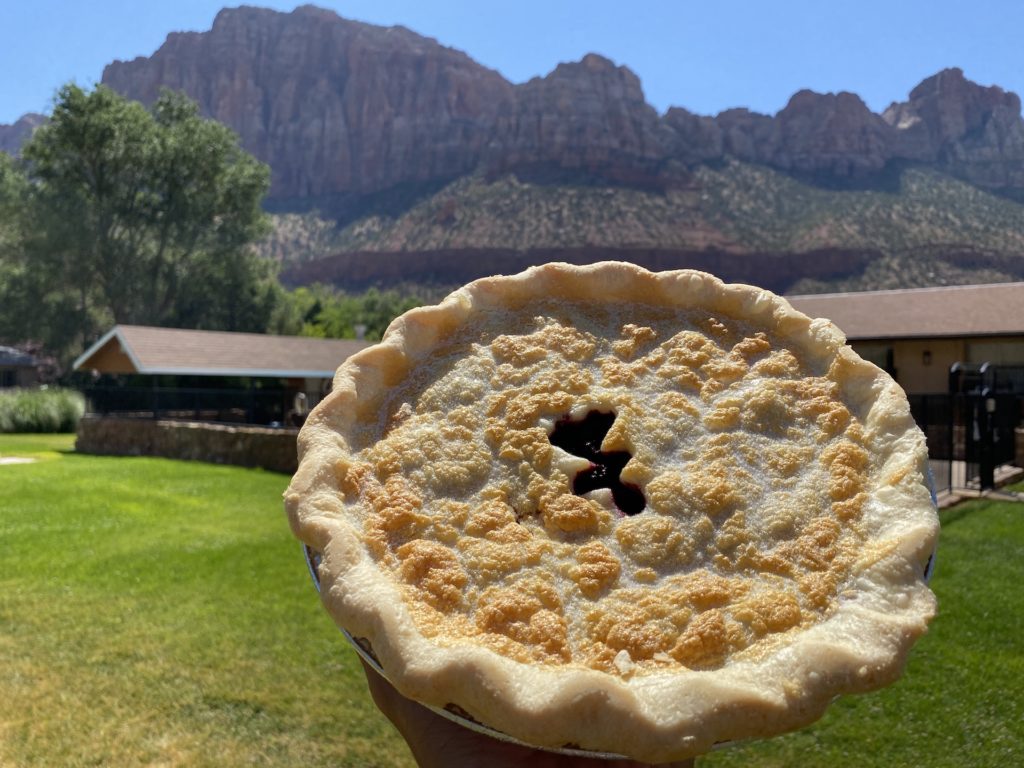 I am not a huge dessert person and it is one of the only things I will always have if it is on a menu… and it is never on a menu. What are the others you didn't ask? Well, lava cake with ice cream, a pizookie and my grandma's grasshopper pie, made with real bits of grasshopper of course.
What is bumbleberry pie? Bumbleberry pie is a pie with at least three kinds of berries and can even contain rhubarb. Please don't ruin it with apples thanks, although sometimes it can have apples.
The bumbleberry pie is my favorite as I love fruit. It is a pie overflowing with all of the best sour berries exploding in your mouth with every warm bite! It's almost like the fruit version of a chocolate lava cake, which is my other favorite dessert.

Where is the best dessert in Zion? Well, it is located at the Bumbleberry Inn of course! Go by the gift shop next to their restaurant Porter's Smokehouse & Grill to get your warm pie topped with ice cream!
Porter's Smokehouse & Grill is also a nice place to grab some food or even drink at their bar with lots of TVs to watch the games. The staff at Porter's are amazing and so helpful and accomodating.

If you are looking for an affordable place to stay, the Bumbleberry Inn is also a perfect spot to stay as well with nice views in every direction. It is also located right in the heart of Springdale with everything you need in walking distance.
Eat In An Old Texaco station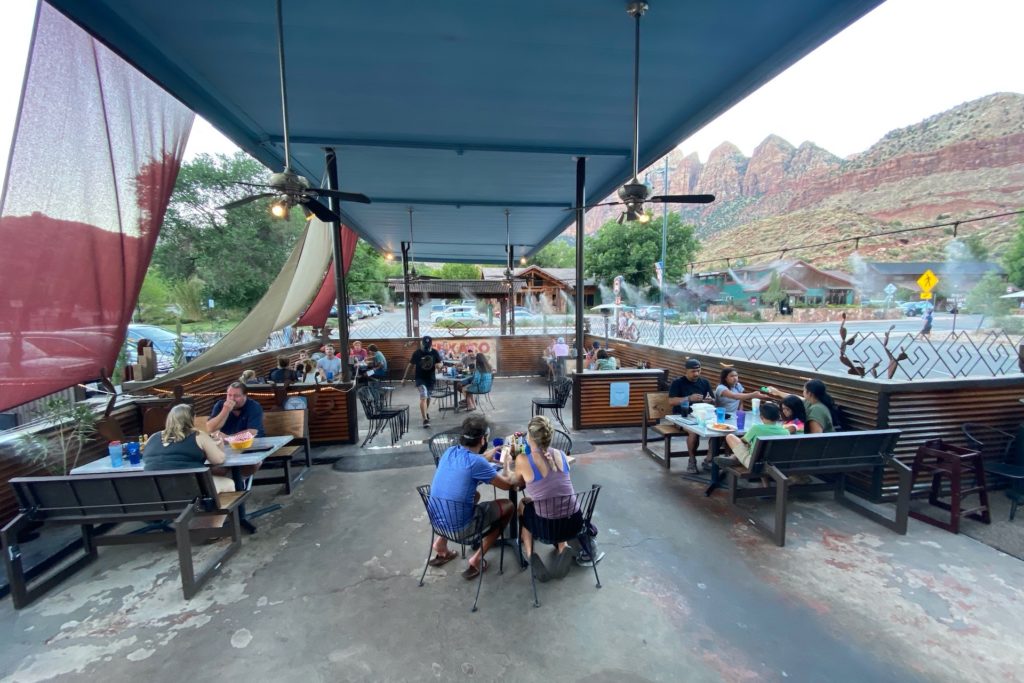 Another fun place I loved was Whiptail Grill. It is an old gas station that has been transformed over the years but has always kept it's Route 66 style charm.
If just looking for some great comfort food with an old school and chill vibe then definitely swing by here. It has a nice ambiance, amazing service and just something unique and cool to try.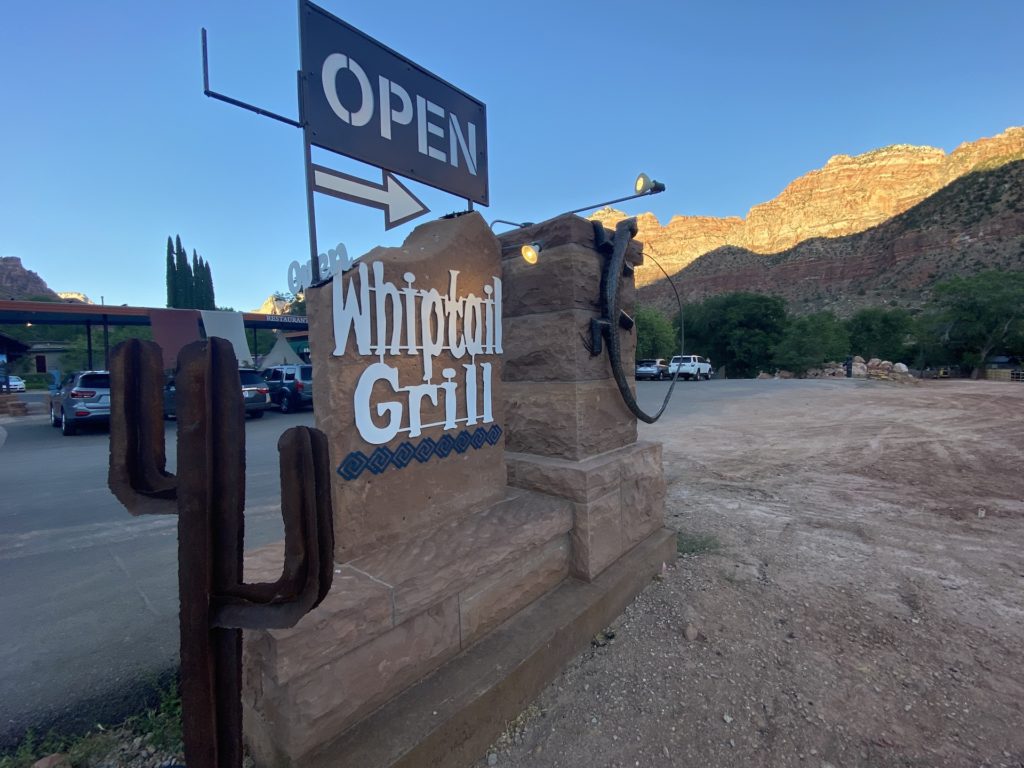 It also has good views from the patio and serves a lot of local brews. They have daily specials and a huge menu so it is perfect place for the family as well!
Thai Food With A View
It is always nice to switch food options up and with most of Zion being very American tpe restaurant heavy, it is great to have something unique to try and the thai food here is pretty good.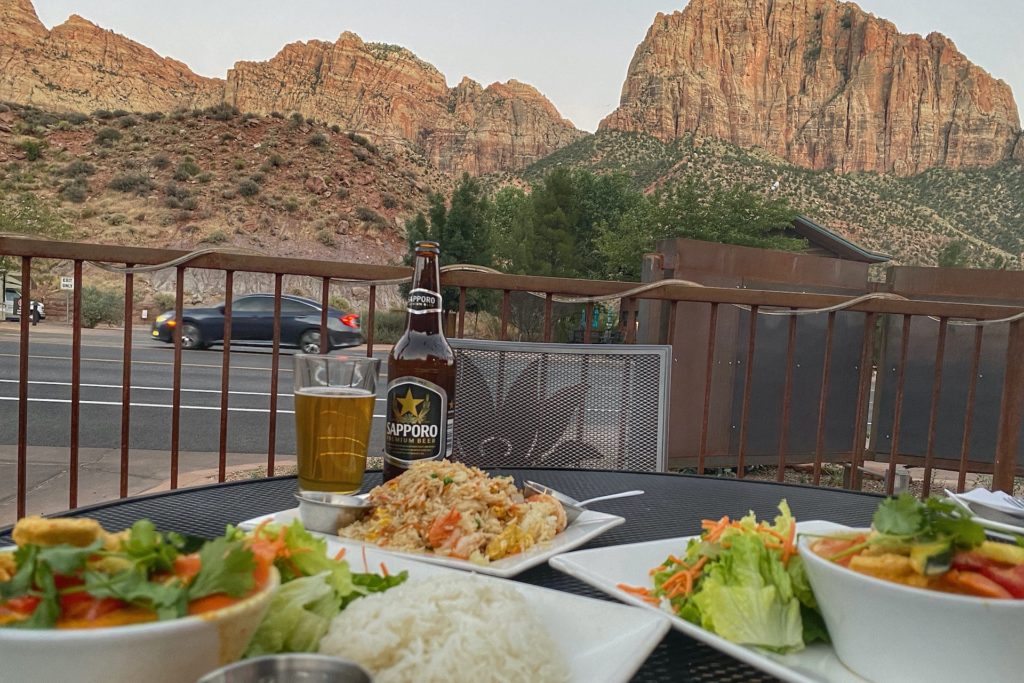 As mentioned earlier it really doesn't matter how amazing the food is but more the ambiance of enjoying a good lunch or dinner with one of the most incredible views. If you haven't eaten much thai food or you only ever get phad thai, expand your horizon and get the panang curry, that is one of my favorite meals on the planet.
This is the best Asian restaurant in Zion and maybe the only one, however definitely try it. It has American food on the kids menu as well for any picky eaters. Word of advice, don't go here the night before a long hike… just don't.
Honorable Mentions of Other Good Places to Eat In Zion
Oscar's & The Best Place to Stay Zion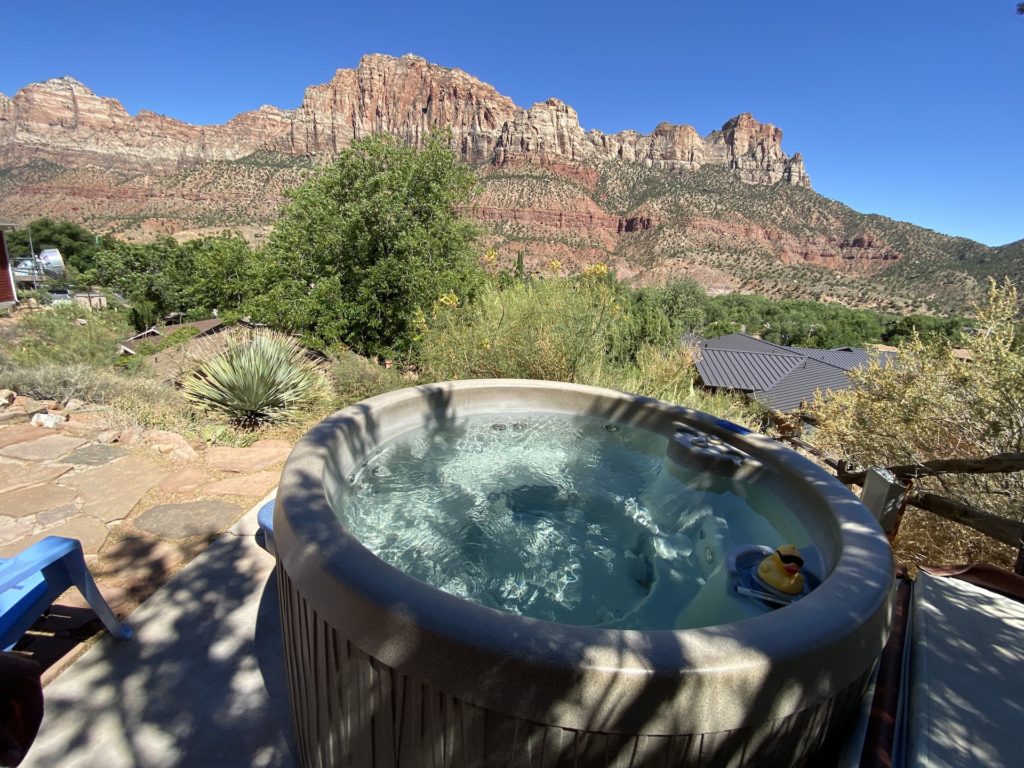 Oscar's is a well known spot for breakfast and I would have mentioned it more but truly Cafe Soleil just blew me away with the food and multiple coffee options.
What I love about Oscar's is that it is also partnered with Zion Red Rock Inn as their Bed & Breakfast, which was rated best B&B in Zion!
If you are looking for a place to stay in Zion then look no further than Zion Red Rock Inn, they have super-mansions and they also have their own personal little lodges. If you have a huge group or just a couple getaway, Zion Red Rock has the best spots for ya!
Zion Brew Pub

I think I just had a bad experience here but overall it is a cool spot with a solid menu & they brew their own beers. Their patio is terrific with views of the red rocks and the virgin river flowing just outside the patio walls.
I only mention I had a bad experience just so you don't come back at me if you have one too and think my recommendation was bad. I think I just got unlucky (nothing sickness wise) cause overall it seemed like a great spot.