Nestled in the heart of Costa Rica, the charming town of La Fortuna is a haven for nature enthusiasts, adventure seekers and is arguably one of my favorite places on earth.
With its lush rainforests, cascading waterfalls, and imposing volcanoes, La Fortuna offers a plethora of hiking trails that showcase the region's natural wonders like not many other places can.

Whether you're an avid hiker or simply seeking an unforgettable outdoor experience, hiking in La Fortuna promises to take you on a journey of awe-inspiring beauty and exploration with views you might never see again.
Costa Rica is the birthplace of eco-tourism and La Fortuna is clearly one of the main reasons for this with all of the adventures it offers.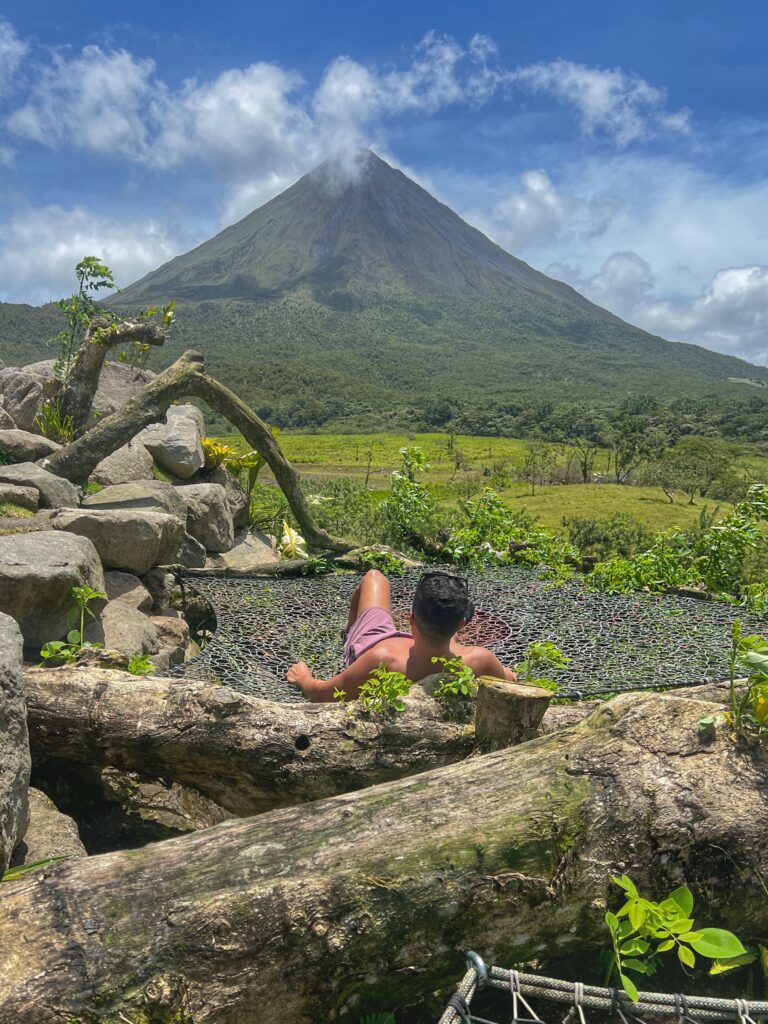 From the captivating trails that wind through Arenal Volcano National Park to the breathtaking suspended bridges to unforgettable waterfalls, this article explores the best hikes that La Fortuna has to offer.
La Fortuna's hiking trails are a gateway to breathtaking landscapes and an up-close encounter with the region's rich biodiversity.

As you explore the trails, you'll find yourself surrounded by vibrant flora, the songs of tropical birds, and the soothing sounds of cascading waterfalls.

With options for both beginners and experienced hikers, there is a trail for every adventurer, allowing you to tailor your hiking experience to your fitness level while also enjoying jaw-dropping views.
The Best Hike Near La Fortuna: Rio Celeste Waterfall and Tenorio Volcano National Park
While this hike is not located in La Fortuna, it is my #1 must-see thing in the La Fortuna region. It is just 1.5 hours away from La Fortuna and is well worth the easy trip!

You can rent a car or go with a tour to get there. If you rent a car even the drive through the mountainside and rural towns is charming and worth it in its own right.
When you arrive to the Tenorio Volcano National Park the trail offers a mix of lush rainforest, volcanic formations, and the iconic turquoise-blue Rio Celeste.

The trail is approximately 3.7 miles long (out & back total) and rewards hikers with stunning vistas and of course the breathtaking waterfall.
The hike is moderate as there are some steeper parts, however most everyone should be able to do it. Pretty much the entire hike is in shade and plenty of places to stop and recoup.

Aside from the magnificent waterfall you will come across gurgling sulfur outlets, a viewpoint of the jungle, the gorgeous blue lagoon, an adorable little bridge with a blue stream going underneath, as well as where the clear Rio Buenavista hits the mineral sediment and changes color into the exquisite blue of Rio Celeste.
Google maps will easily take you here and there is a modest fee to get in. The last time you can enter is 2pm so be sure to get there before that. There are also a ton of restaurants and great street food near the entrance.

Arenal Observatory Trails
The Arenal Observatory trails offer 11km of trails with treetop viewpoints, waterfalls, ponds and one of the best views of the volcano in town!
The trails provide opportunities to explore the rainforest, witness wildlife, and enjoy panoramic views of the Arenal Volcano and Lake Arenal.

There are 5 trails in total and all have their own allure whether you want to climb to the top of the observation tower, go down to the stream, see the waterfall, cross the spider bridge or snap a picture from the frog pond!
You can spend all day here or just a few hours but it is definitely worth going around the entire area to see all of the different unique sites and sounds.

I suggest if short on time you can probably skip the River Trail or keep it until the end.
It is the hardest of the hikes and also just goes to the small river, which you can do at a different part of the hike near/underneath the spider bridge for some nice views of the stream.

I also suggest keeping the waterfall until the end so you can jump on it for a well-deserved refreshing swim after your hikes through a mostly unshaded countryside.
There is a $15 USD per person entrance fee and $32 USD if you want to include lunch. It is just 30 minutes from downtown La Fortuna and you don't have to hike all 11 KMs, even just 6km or so will get you all of the main sites.

Arenal 1968 Volcano View & Trails
Another can't-miss hike is Arenal 1968, which is home to the closest views of the Arenal Volcano where you actually walk lava fields as part of the trek.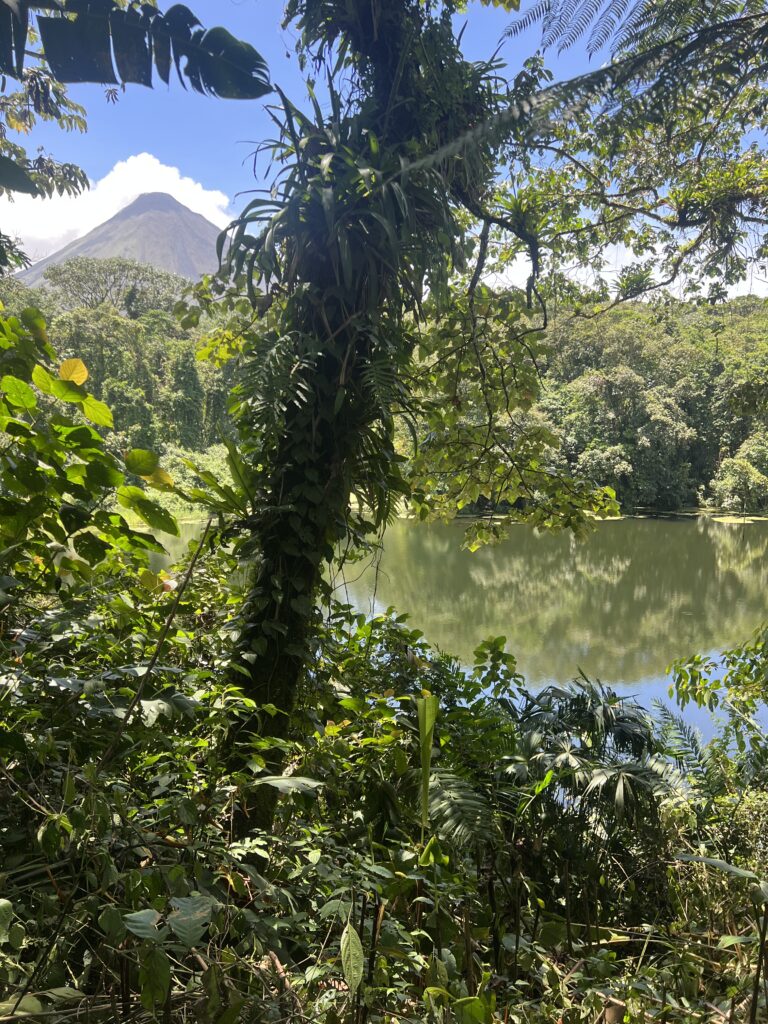 It offers two trails, the shorter Colada 1968 trail is 4km and the longer Bosque 1968 trail is 4.7km. They both reach the main viewpoint of the volcano and the Arenal lake before branching off separately.
It is definitely worth it to go to the longer route as you go through the jungle a little and also see the amazing view from Lago Los Patos.

After all is is expensive to enter so you might as well do the full hike. It is a hefty $25 USD per person, which is way too much but when are you going to be back here again.
There is a really cool restaurant perched up on the hillside overlooking the volcano and there are even cool hammocks to relax in with also steam from the volcano escaping holes in the rock around the patio.

Is this a must-do if you are short on time and money… no… but it is cool if you can fit it in.
Mistico Hanging Bridges Trails
The Mistico Hanging Bridges trail takes you through the treetops of the rainforest, allowing you to traverse a series of suspended bridges.

With a distance 1.9km for the shorter trail or 3.2km for the longer trail, this enchanting hike provides stunning views of the rainforest canopy, wildlife spotting opportunities, and glimpses of the magnificent La Fortuna Waterfall.
I was lucky enough to see monkeys and if you hire a guide they will be able to spot a lot more flora & fauna along the route as well.

The hike is pretty flat and easy aside from if you go down to the waterfall. This is about 20 minutes from La Fortuna and you should buy tickets in advance to make sure you get a time slot.
Cerro Chato (Closed)
Cerro Chato once was one of the prettiest hikes in La Fortuna but it was officially closed in 2017.
What Footwear Do You Need For The La Fortuna Hikes
None of these hikes require hiking shoes. You will be more than fine in trail-runners or sneakers with some decent grip.
You could honest do these in sandals if you wanted but more comfortable in shoes of course. If it does rain probably best to have something like trail runners but not the end of the world if you don't have them.
Overall La Fortuna's hiking trails offer an incredible opportunity to explore the region's natural wonders. Whether you're seeking cascading waterfalls, volcanic vistas, or immersive rainforest experiences, these hikes cater to a variety of interests and fitness levels.