Where are the best places to eat if you are visiting the Sacred Valley and staying in Urubamba? Well there is no shortage of amazing spots to eat at throughout the small town!

There is some of the best fish and Peruvian dishes here all for some of the cheapest prices I have ever experienced around the world!
You can have fine dining for $10 USD plates & freshly squeezed juices for $1-2 USD! No matter what you are in the mood for you can find it here!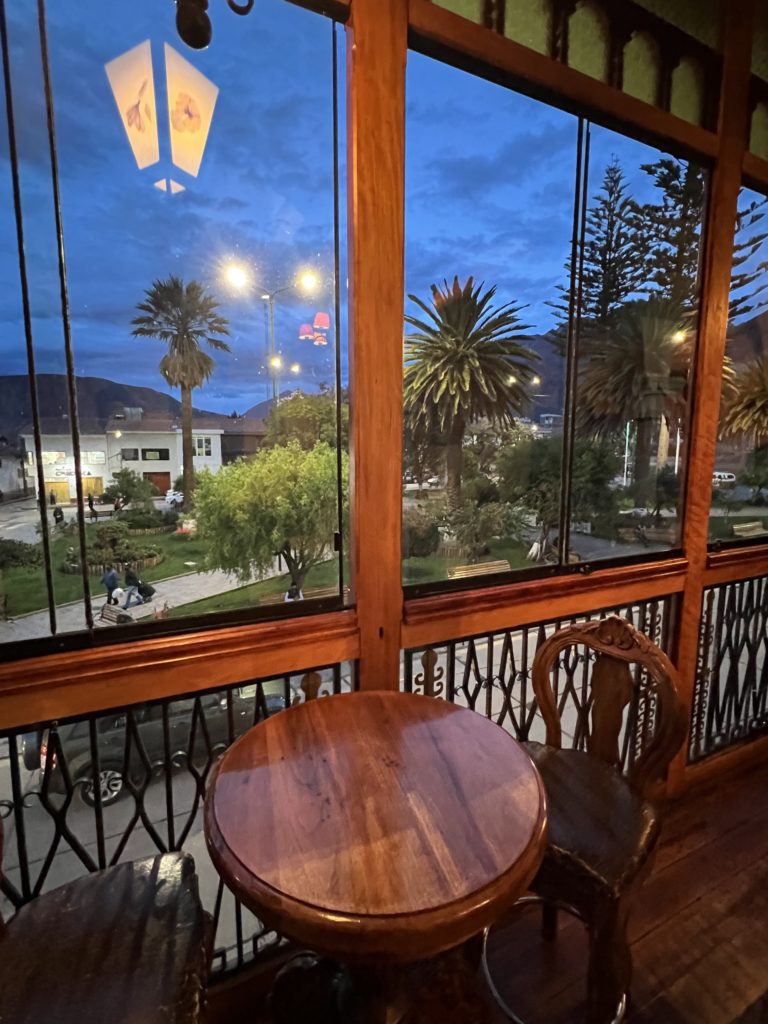 There are a couple other amazing restaurants in Urubamba that unfortunately have been closed for over two years due to COVID. However, the ones below are all open and ready for you to help them thrive!
Best Place in Urubamba for lunch – El Huacatay
El Huacatay is set in this incredible little garden and the decor is out of a fairytale! The flowers, the gardens, the tables, there is even a seesaw!

The place is tucked away down a sidestreet in Urubamba, which even adds more to the ambiance! It is still a great place for dinner as well as it lights up with all the great colors!
The food is incredibly gourmet and is some incredible fine dining at a fraction of the cost you would find in Europe or the USA. Enjoy handmade sodas, fresh squeezed juice and some of the best food in the city!

Best Place For Dinner in Urubamba – Casa Colonial
If you want a romantic place and dinner with a view then come to Casa Colonial! Casa Colonial is a must for dinner as it has giant windows sitting alongside the Plaza De Armes.
Go a little early or stop in to ask about a reservation so you can have a seat right up next to the window with the views outside. The decor inside without the windows is worth it with a colonial vibe and terrific ambiance.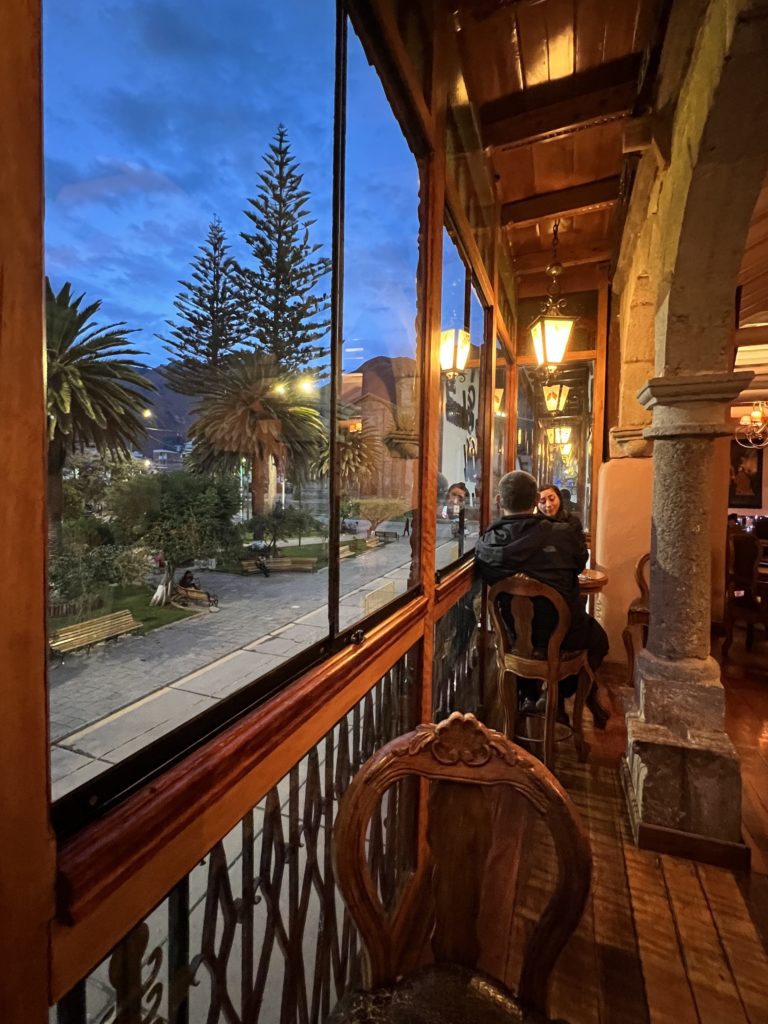 While it resembles fine dining & they have a full menu, they actually specialize in the Peru staple Pollo A La Brasa! Pollo A La Brasa is roasted chicken and theirs is delicious!
Not only is the chicken amazing but they even have a couple of sauces that come with it and one tastes like Chik-Fil-A sauce! The chicken comes with a big plate of fries and salad. For two splitting the 1/2 chicken meal is perfect.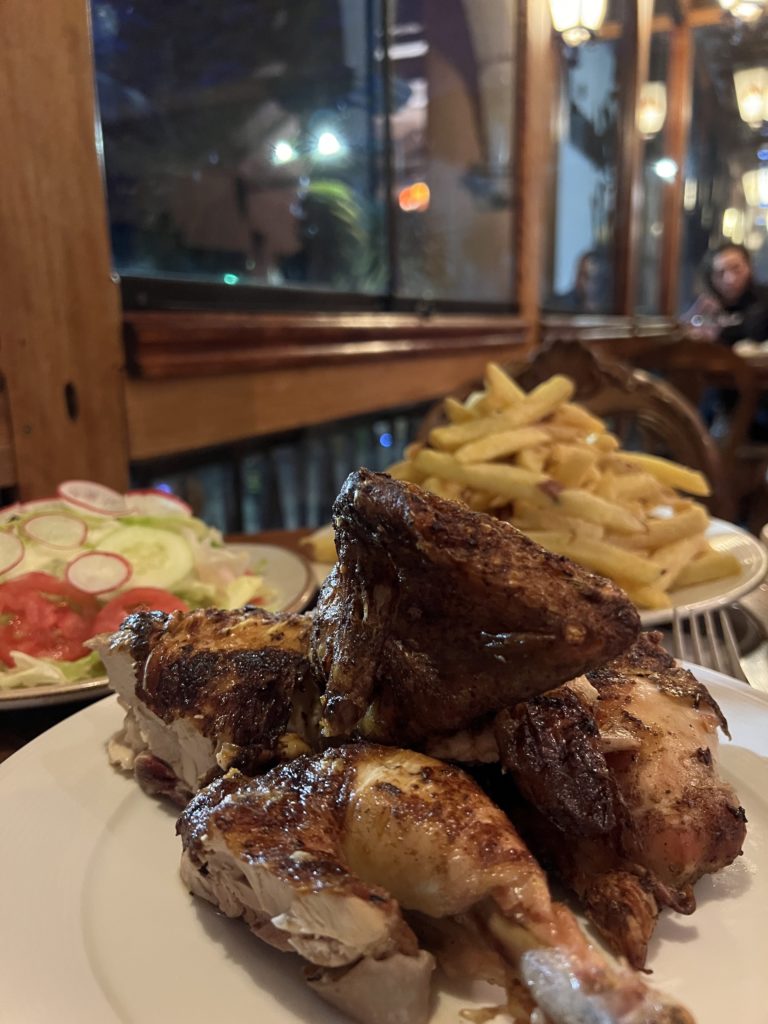 I had their pizza as well and it is really good for Latin American pizza, I would not expect the saucy pizza you may get in a the USA but it is still tasty and at just $10 for a giant family size, you can't really go wrong.
As is Peru the cost of the food is peanuts and you can have dinner for two stuffed with two drinks for less than $20!
Amazing Outdoor Restaurant – Pakakuna Restaurant

Another amazing little garden restaurant with a very ecocentric & organic vibe! Not only that, it has one of the best burgers I have ever had, no lie!
The restaurant recognized for its gastronomy, awareness of the environment and society, in an artistic and cultural space. It is great for lunch or dinner and just down the road from the Urubamba town.

Best Coffee Shop – Monkey Coffee Urubamba
If you are looking for a quaint little coffee shop serving anything you could want, head to Monkey Coffee! There is some nice street seating and also a cute indoor space with strong wifi if you want a spot to sit down and get some work done.

As with many places in the Sacred Valley it is very eco-conscious and takes pride in taking care of the environment & community.
Best Place To Give Back! – Sol y Luna's KillaWasi
Sol Y Luna is maybe the fanciest restaurant in the town and takes fine dining to the extreme. The ambiance is great with fire pits, giant windows and amazing ambiance.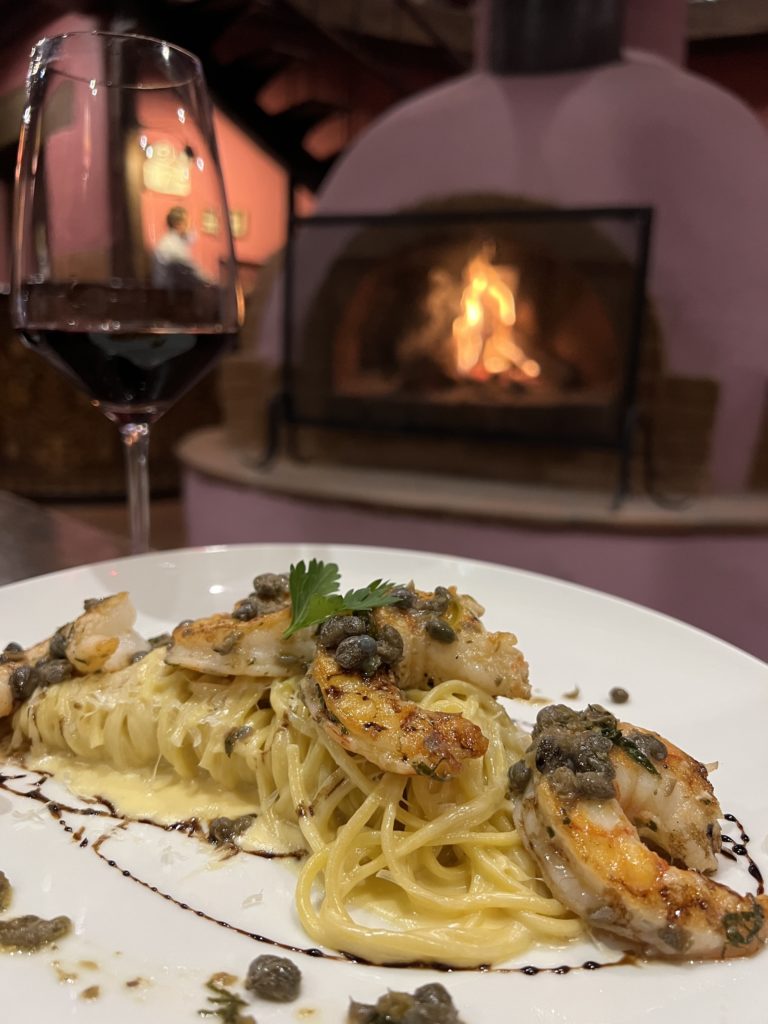 The prices are quite high though but the good news is that Sol y Luna uses lots of their income to fund the school and foster home they have created in the community.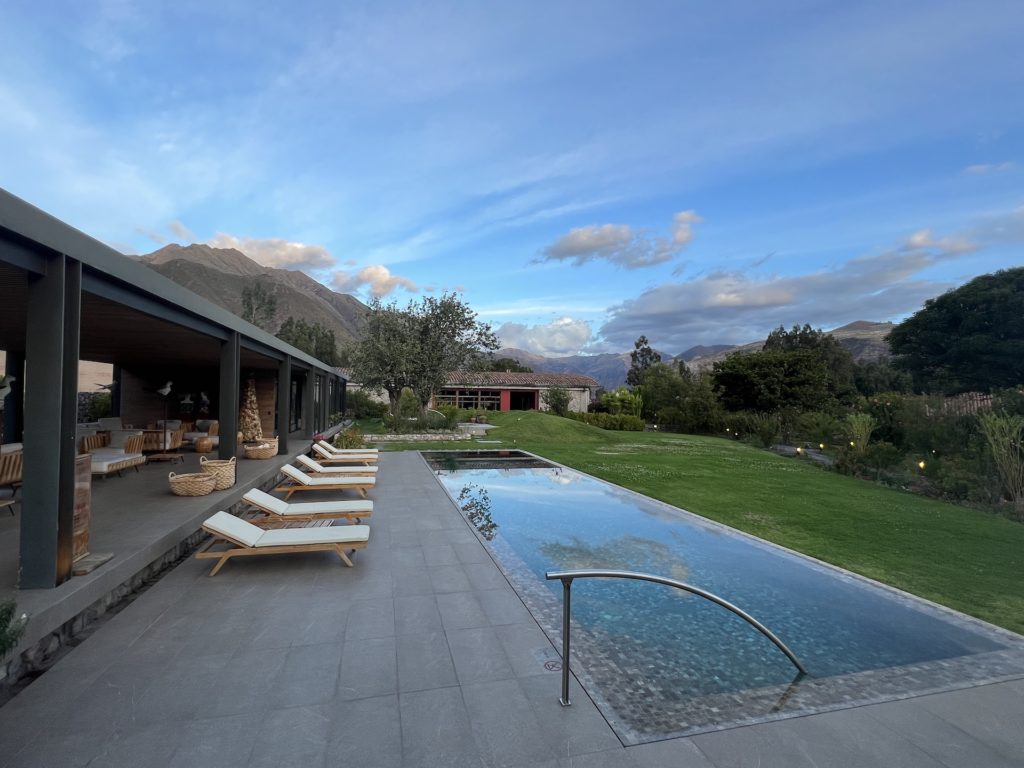 It is also one of the best resorts in the world and a place you must stay if you are visiting! It is unreal and not only is it as pretty as any other resort in the Sacred Valley, it also gives back so much to the community.
Read here all about Sol y Luna from the amazing hotel to the incredible philanthropic work they do! If you are in the sacred valley you definitely have to stay here!