If you are wanting to know the best places to eat in Holbox than you came to the right place! Holbox is a foodie paradise and these are restaurants you have to eat at in Holbox!
Eating in Holbox is incredible. It's as if there is a restaurant in every second building… which I think because there is. I've never seen so many food places and I could have eaten five meals a day.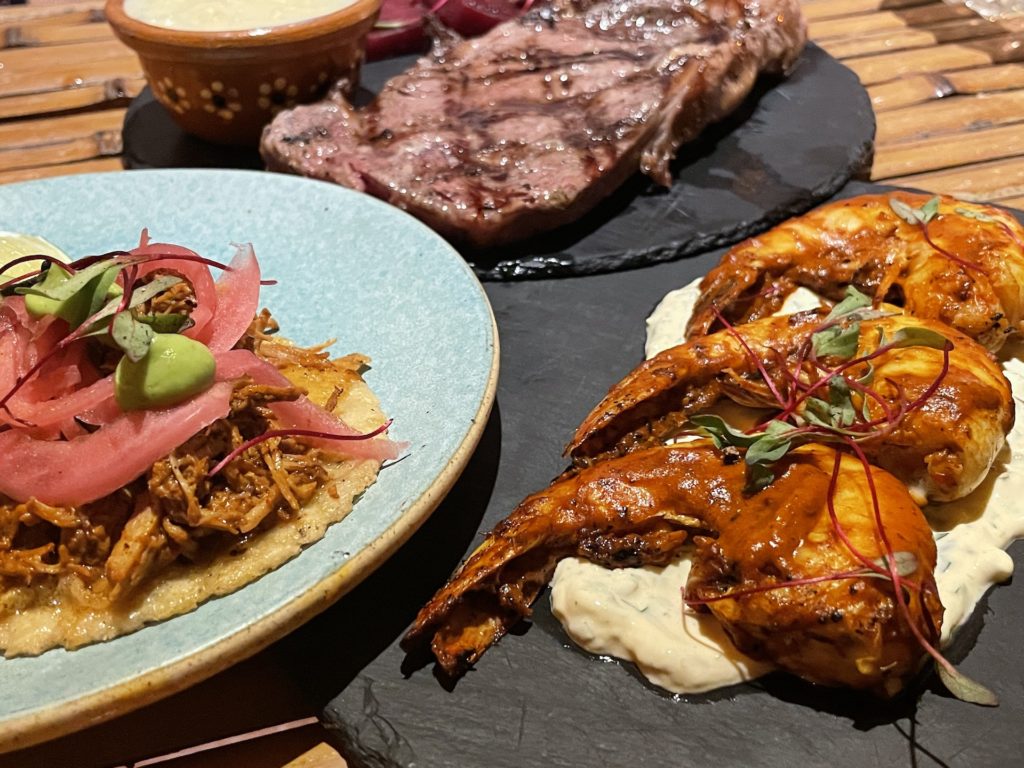 Below you will find best dinner in Holbox, best brunch in Holbox, best beach dinner, best tacos, best authentic food and more!
There's everything from tons of street food vendors to high-end beautiful fine dining restaurants. You'll come here after working out on a beach diet for a month in advance and it'll be ruined in two days.
Whatever your taste or your budget, there is something delightful for you here. What is also nice is that even the fine dining places, while more expensive, are still half the price or less of the same meal you'd get back home and in a less amazing setting.

While you may be on a budget for your trip, definitely recommend splurging for at least one dinner on the beach as it could be an experience you never might have again. What's $50-70 USD per person on one perfect meal for the rest of your life?
While this lists some amazing places to eat in Holbox, there are definitely more than just these places. However, I had some hit and miss places on the beach so below are verified really good!

Holbox in general at this stage is definitely a romantic getaway vs. the more party centric Cancun and Tulum to the South. Would definitely take your loved on to Holbox and enjoy countless amazing meals together.
With all of that said, here are the best restaurants and places you have to eat in Holbox! Whether you want to eat cheap and local or fine dining in a beautiful place and setting, there are options below for you.
Best dinner on the beach in Holbox | Restaurante Amailite

Always a crowd favorite and perfect setting for the quintessential vacation meal is eating dinner on the beach. Nothing is better than eating in the sand, with the sounds of the ocean, sun going down and with the waves lapping at your feet.
We all want the perfect romantic dinner and add in string lights, palapas and seating on the dock for the most picturesque amazing dinner spot you could ask for!

Amailite also provides some relaxed live music to heighten the mood even more. If you want an amazing romantic dinner experience in paradise, this is it.
We didn't even mention the food, well the menu is robust with something for every taste and of course fresh amazing seafood, which is ever abundant in Holbox. You cannot leave Holbox without multiple fresh seafood meals.
Best fine dining in Holbox | Basico & Luuma
Both of these places have amazing vibes and both are great trendy places for pictures and Instagram worthy food and drinks.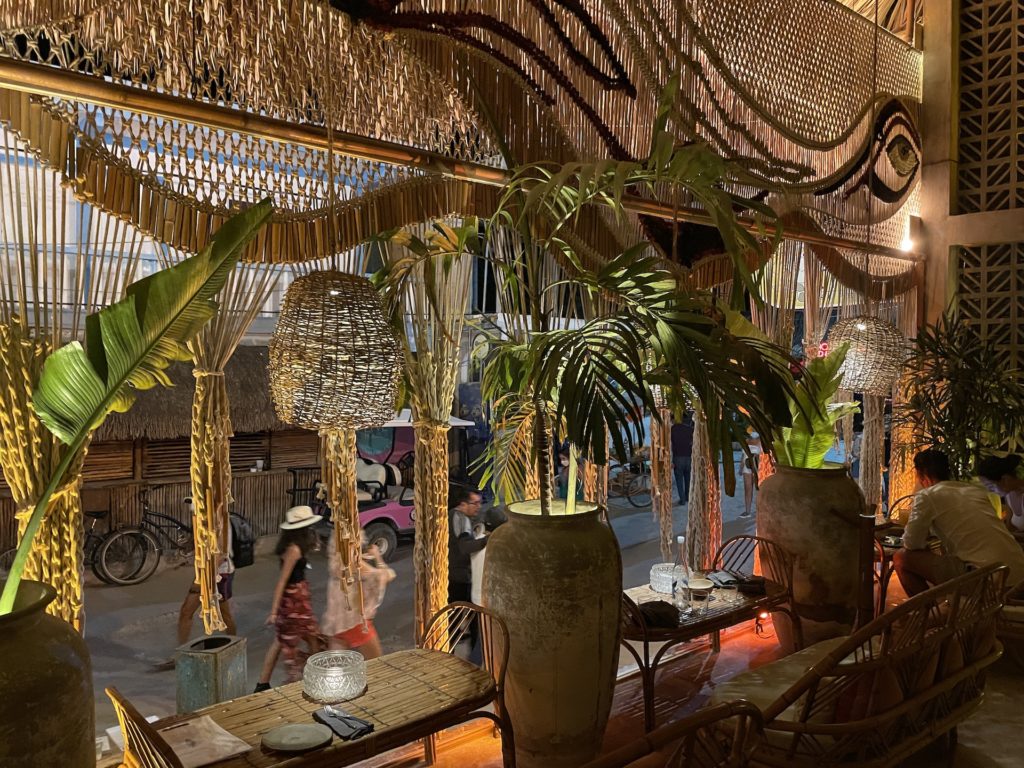 Basico and Luuma are also perfect date night spots whether you want dinner or even just a perfect craft cocktail for two served in amazing artsy cups.
The food at both places is a little on the extra side so if you're a picky eater it might be a little tough to find something. However, there should be at least a few menu items for everyone.

Even if you can't find exactly what you are looking for you can just order some appetizers, some great drinks and then saunter down the street for some street tacos!
What's great about both is while it is expensive relative to Holbox, they are still 1/2 or 1/3 the price for the same meal and craft cocktails in the USA/Europe/Canada.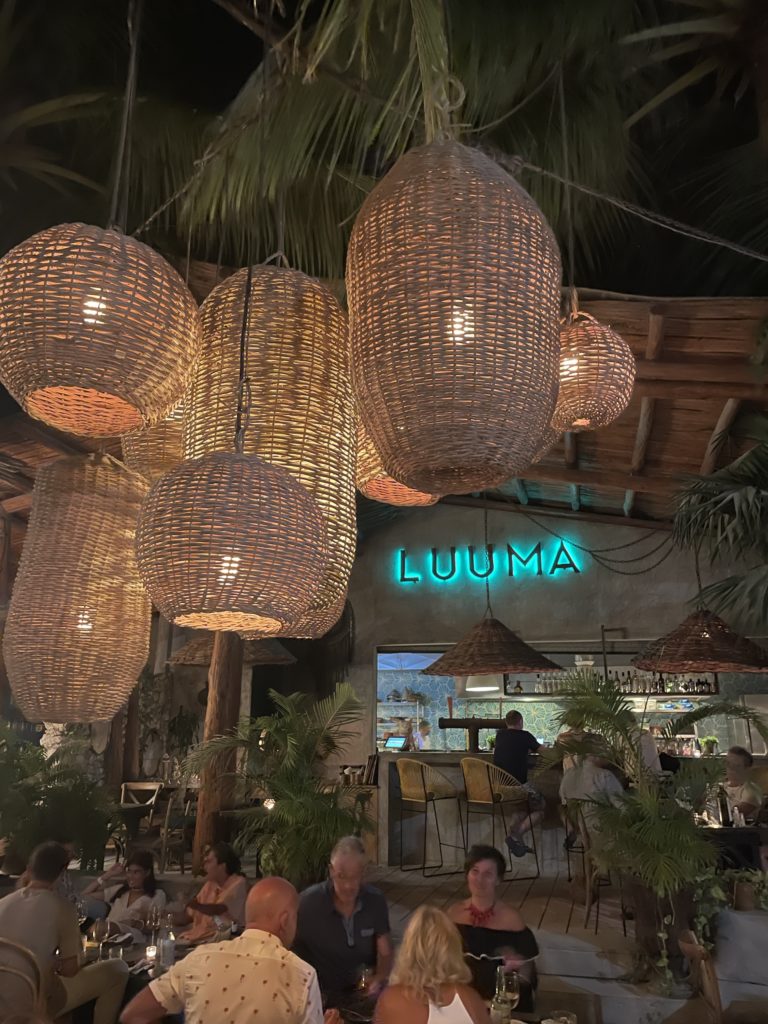 Best authentic food in Holbox | La Panchas
This place might be the favorite spot to eat in Holbox. It has a line out the door often as it is known as the best authentic spot on the island.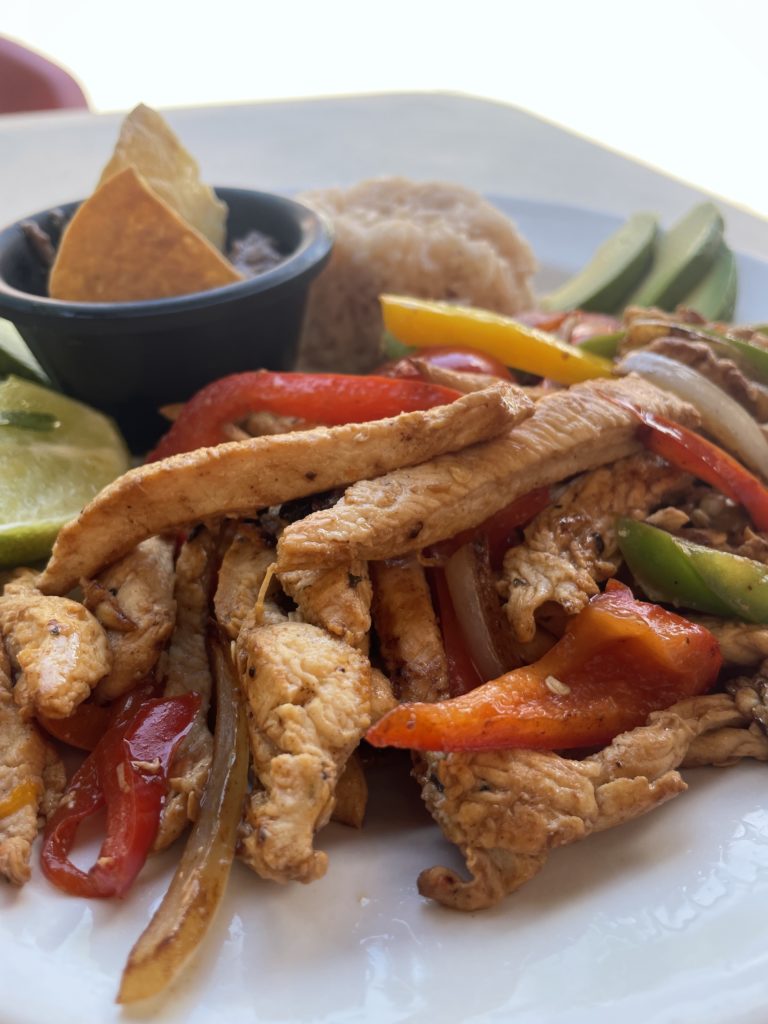 I went a few times and each time was a 30-60 minute wait. I went at an off-time to get seated and was some of the tastiest food I had all trip.
It is just off the beach and offers everything you'd want from a restaurant in Holbox with amazing seafood to tacos and fajitas. They have an amazing lobster dinner for $600 pesos as well.

Best Tacos & Quesadillas | Taco Queto

Wow, sooo good. Some of the best tacos ever had and you absolutely have to get their tacos pastor!
I also love quesadillas and their quesadilla supreme is unbelievable. The menu is perfect too, you get to select your meat, tortilla type and for tacos if you want cheese or not.
If you came to Mexico for amazing tacos, quesadillas and burritos, this is the place you have to go to! This place is also always busy so it might be hard to get a spot!

The restaurant is so good they don't even serve alcohol as keep it just about the food. Although you of course have to get a Mexican coke, made with the pure cane sugar and one of the best tasting drinks on earth.
It is als so cheap! I ate enough food for two for just $10. They also have these pastor sandwiches…. unreal! You have to order one even if you won't eat it all!
Best breakfast and brunch in Holbox | Naranjas
Naranja is the best breakfast or brunch in Holbox and the best place to start your day!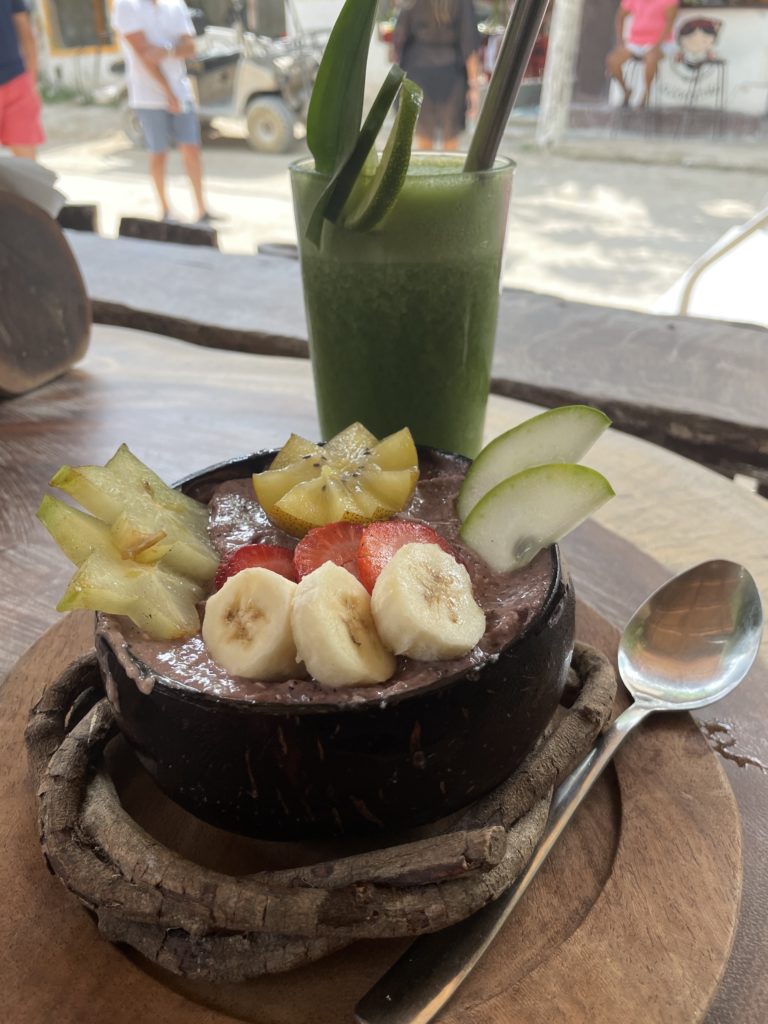 Their menu has everything you'd want in a brunch restaurant. Their stacked toasts, açaí bowls, fresh juices, smoothies, chilaquiles and everything else!
It also has the best ambiance too with cute wood tables and upbeat but chill music playing while you enjoy one of the best meals on the island. Truly I ordered everything on the menu and all was soooo perfect and good.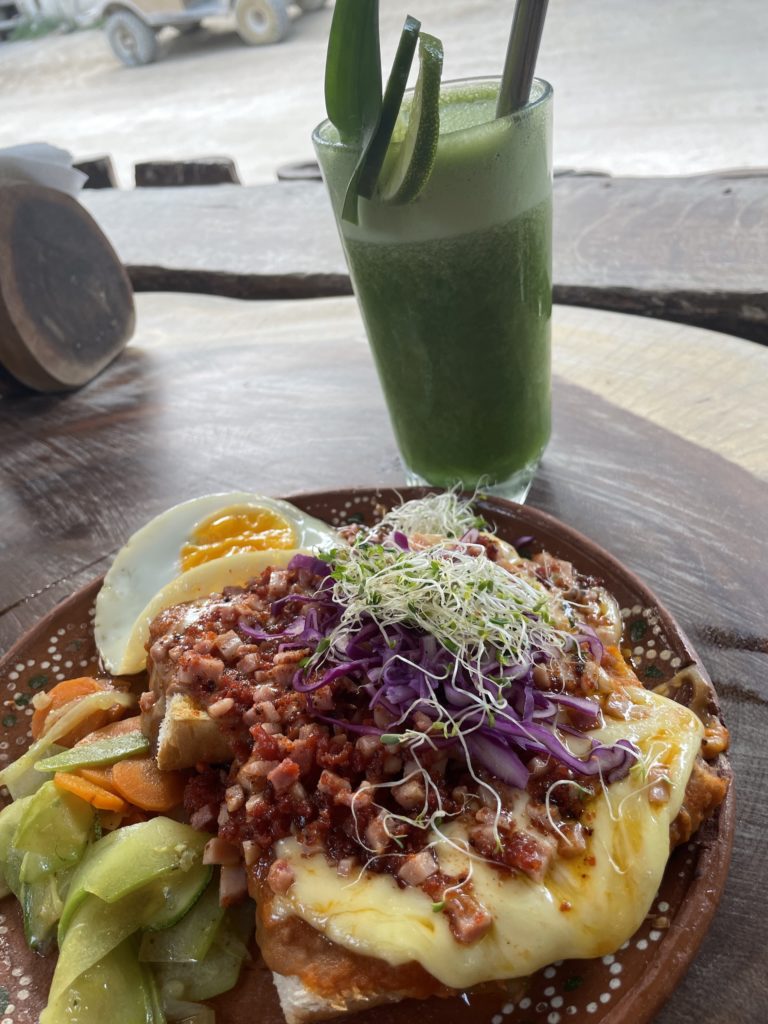 If you want healthy, this has it, if you want something for your hangover or comfort food, this is it. If you want an amazing smoothie or fresh squeezed juices… my mouth is watering just thinking about it!
Best cheap food in Holbox | Street Food Around Park
You of course have to eat street food when visiting! Come around 6/7pm street food stands start popping up around the park and they offer so much food and one of the cheapest meals you might ever have!

If you've read any of this sites other articles you know we love street food. It's delicious, it's cheap and it just feels like vacation.
There have to be about 25 street vendors in a square block offering every kind of taco, amazing crepes, fresh fruit, fresh juice, the tastiest hamburgers and more.

It sounds weird but those who know, know… hamburgers in Mexico are amazing. The meat itself is so much more fresh than of course mass processed meat if you live in the USA for example.
Make sure at least one night you save for a street food sampling night! Or if you have a little too much to drink… it just gets better to eat at after.
Extra Recommendations For Restaurants In Holbox
A couple places I didn't try but heard great things about were Painapol for a great brunch place and also the Holbox Foodie Market.