South Lake Tahoe Is a picture takers paradise, especially in the winter. There are not many places and none that I have seen where you are on the top of a ski hill and there is a giant lake right below you.
The amount of lakes, the snow, hikes, ski lodges and more offer so many perfect places to sightsee and take that perfect picture. If you are a social media person then here are the best Instagram spots in South Lake Tahoe.
If you just want them for memories than that is perfect too! There is a ton of beauty in South Lake Tahoe and it is so accessible for everyone! So where are the best places to take pictures in Lake Tahoe? Let's find out below!

Secret Spot At The Top Of The Sky Express Through The Trees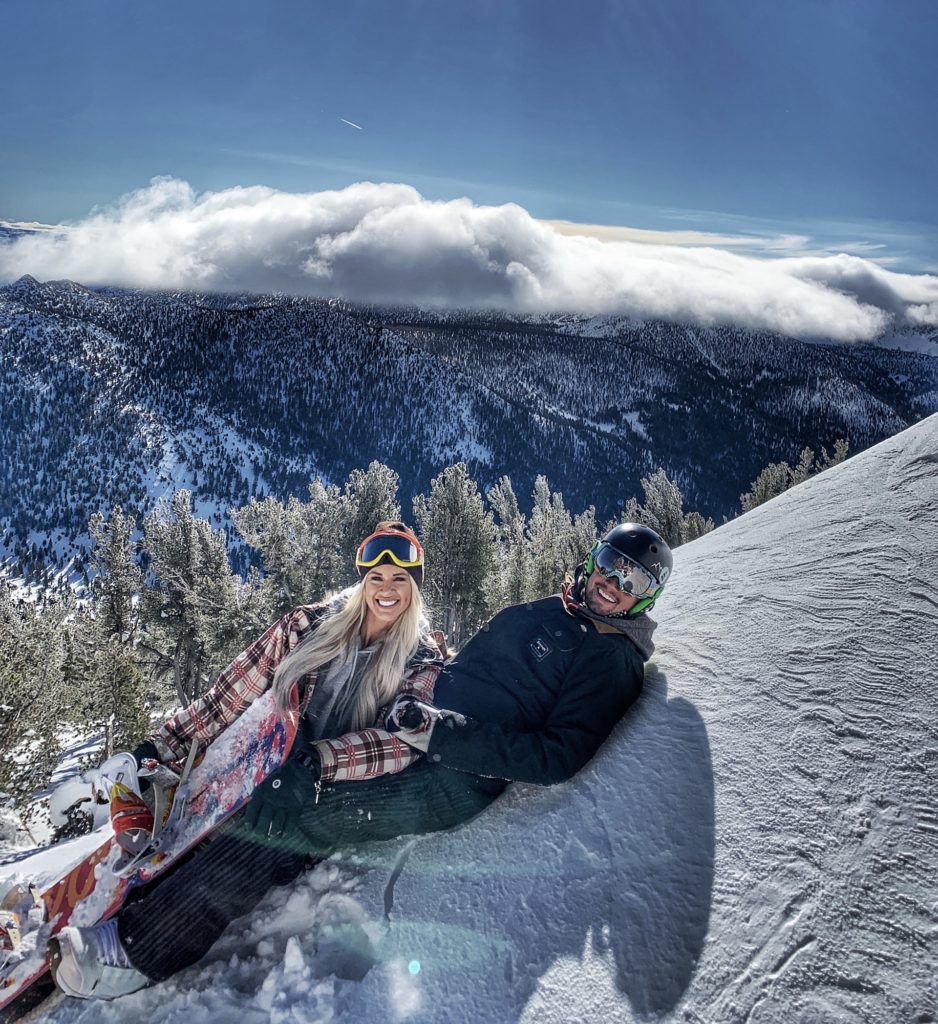 This isn't really a huge secret as you can see there will be a little path to go through the trees and it is a 5 second walk to the other side. On the other side you will have an incredibly unique view of the potentially brown Nevada city below as well as snow covered California mountains to your right! There are a few cool pictures you can do in there or even just in trees!

The Black Bear Lodge

As you may know if you read by Top 2 Affordable Places To Stay in South Lake Tahoe article, I LOVE the Black Bear Lodge. It truly is the most quintessential ski lodge and please even just go by there for a drink if you have the time. They have a little bar there, tons of board and card games as well as the giant ceilings with beautiful fireplace.

There are a couple of places to take a picture like outside with their stone walls and huge red door. Then of course inside by the fire is absolutely amazing. Try to stay there if you can and if not swing in for a drink and tell them Inspire Travel Eat sent ya :).
On a dock on Lake Tahoe

On our first day we had some daylight so took a drive to sightsee and WOW. I can't get over how pretty Lake Tahoe is. This view is top 3 in the area as there is this beautiful lake surrounded by snow covered mountains.
It is also so unique to see the snow on the beach and then into the water. It is such a pretty place. Lots of docks are private but there are some you can walk out to, near Camp Richardson… or just sneak on one.
Emerald Bay

This is clearly a no brainer. If you are unaware then glad I could help and it is just 45 minutes from Heavenly Village. This cove is stunning and there will be a ton of cars pulled over to take the perfect picture. The sun wasn't out when we were there and if you have the option, definitely go when the sun is out. The water will be absolutely stunning and will give you one of the prettiest pictures ever. There is also a road that goes down to the bay but it is closed most often.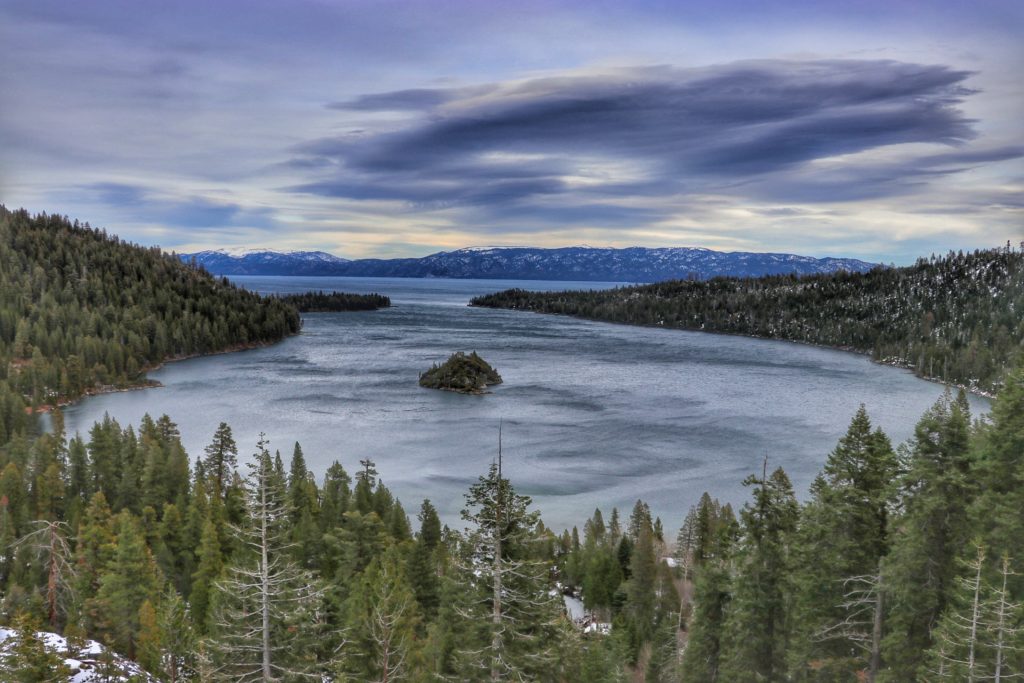 The Top Of Tamarack Express Ski Lift

This is personally my 2nd favorite place to take a picture and it is maybe the prettiest view from a ski hill in North America, it surely is #1 from any I have seen. You will get off the lift and go back under the lift to the left (when facing the lake) and you will come up to it in 30 seconds. Surely you will see a lot of people taking pictures as it is maybe the most iconic in South Lake Tahoe.
Walking Trail Along Taylor Creek

Running from Lake Tahoe to Fallen Leaf Lake (which is another perfect picture spot) is Taylor Creek and there is a great little walking path that meanders through the woods. Even if you aren't a hiker this is the trail for you as there is no elevation and it is such a pretty walk!
Mt. Tallac

I just told you my #2 favorite picture in Lake Tahoe… so what is my #1? Hiking Mt. Tallac gave me one of the most amazing views I have ever seen as you can tell. This picture is from 2011 or something with an iphone 4 so know that while this picture is pretty, it still doesn't do it as much justice as it could.
This hike is one of my favorites in the world and easily top 5 favorite in North America. It is normally closed in the winter but you may get lucky and lots of tracks up there making it doable. People may try and snowshoe it however that would be a tough one. The hike is no joke so definitely pack snacks, dress in layers (even not in winter) and lots of water.
Eagle Falls Hike & Walkway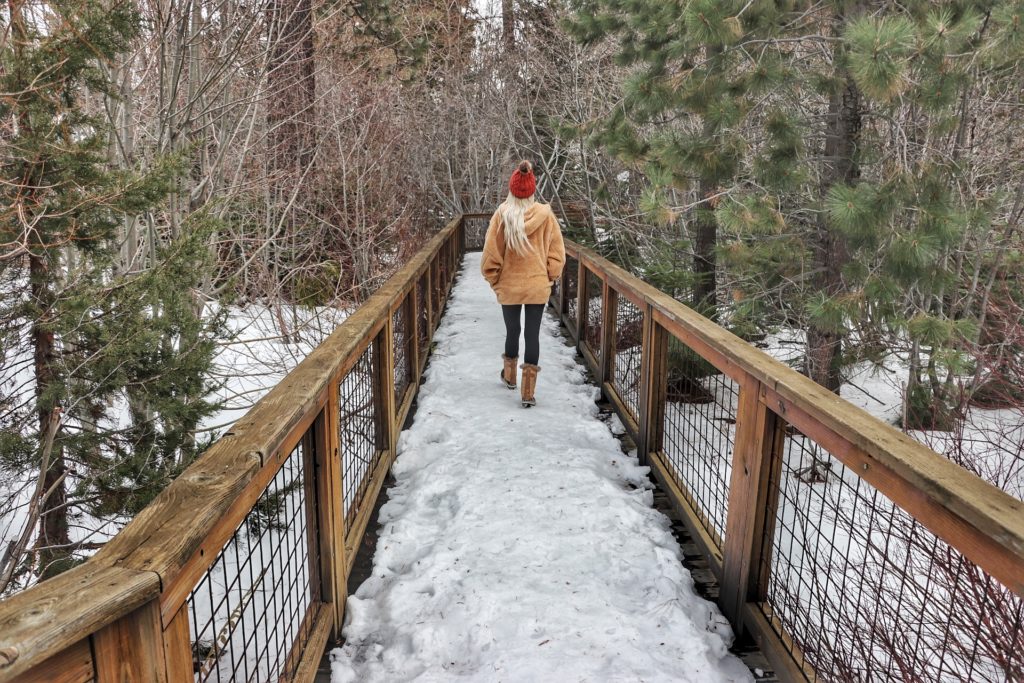 Everyone likes pictures on bridges or little walkways. Here is a cool little spot to snap one and it is right at the trailhead so no need to even hike if it isn't your thing! There is a nice little hike up to the falls offering plenty of picture options with the bridges, falls and tons of pretty nature areas.

Hope you liked all these places! Please give a comment below if you did and if you have any other favorites.