Best Hike In Zion | Angel's Landing Guide
Angel's landing is a bucket list and must do hike if there ever was one. The Angel's Landing hike is a must do hike in Zion National park if you ever are going to visit.
Zion in general is one of the prettiest places I have ever seen and you absolutely need to go. If you have ever been to Sedona, Zion is like Sedona on steroids.
Angel's landing is arguably one of the prettiest hikes I have ever done and definitely is in the top 5. The scenery and giant cliffs surrounding you, the mix of colors from the trees to the red rock… it is truly stunning.
Angel's landing is one of the crown jewels of Zion and arguably the best hike to do in the area. The Narrows and Observation point are a couple of the other main hike attractions but Angel's Landing carries some cache, for good reason.
The Angel's Landing hike has beauty around every corner. While the top of Angel's Landing and the hike is unreal, the entire hike itself offers a ton of gorgeous views and unique sites along the way.
Whether it is caves overhanging, switchbacks, walkways with canyons on one side and huge green trees on the other, Angel's Landing doesn't stop giving sites to see. From the beginning walking crossing the bridge and walking along the Virgin River, while giant red canyon walls tower over you… you know you are in for a treat.
If you have never been to Zion make sure you add it to your list right now and get there soon. It is one of the most unreal places I have ever seen and can't believe it took me so long to get here!
Has anyone died hiking Angel's Landing?
Unfortunately 8 people have passed since 2004, which obviously goes to show that this hike is no joke and to be very careful when hiking here. Be sure to be very courteous to everyone who is hiking when you walk across the spine.
Better to wait for someone to get to a proper place to pass than try to squeeze past at one of the tighter places. While 8 have died to not be afraid though as millions of people have hiked here since 2004 and there are much higher death tolls from car accidents than this hike. Just be safe, respect the hike and do it carefully, you won't have any problem.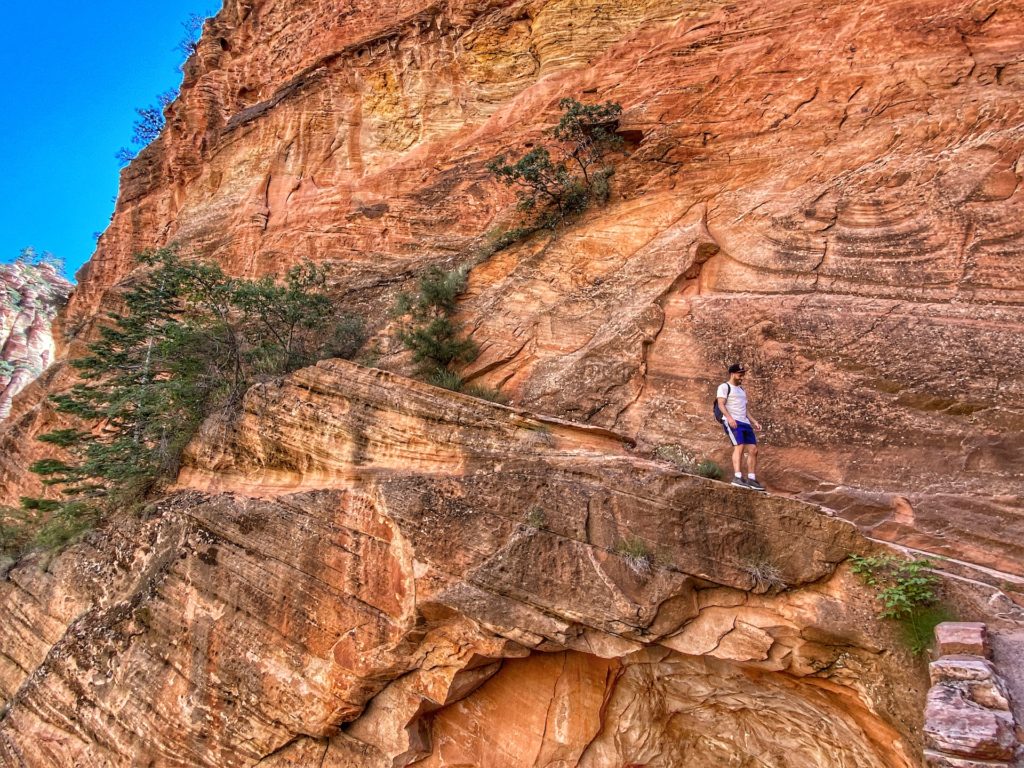 How Long is the Angel's Landing hike?
The hike to the top of Angel's Landing is 4.8 miles round trip. It will take 3-5+ hours depending your speed as well as the amount of people who are hiking. It is best to get as early a start as possible to avoid the crowds.
Should you Do Angel's Landing If You Have a Fear of Heights?
Honestly, no you should not do Angel's Landing if you have a fear of heights. It is one of the scarier hikes you could ever do and I have seen a lot of hikes. While it is easily doable for most I would definitely think twice before doing it if scared of heights.
The good news, you can still hike to Scout Landing for great views and to get nearish the top without going the full distance and getting terrified on the spine. You can even give it a quick try if you want and if it isn't for you, then come back and hangout at Scout Landing.
There are also two amazing views if you go left of Scout Landing up .2 miles and then another .2 miles. Going up that way gives you an incredible view of the valley and Angel's Canyon that you don't want to miss!
What Hike is Good To Do The Same Day As Angel's Landing?
Lower and Upper Emerald Pools pair perfectly with this hike. The two hikes split off right after the bridge at the start of the hike. When you come back down, go to Emerald Pools as it is a pretty easy hike and it is a great spot to have lunch.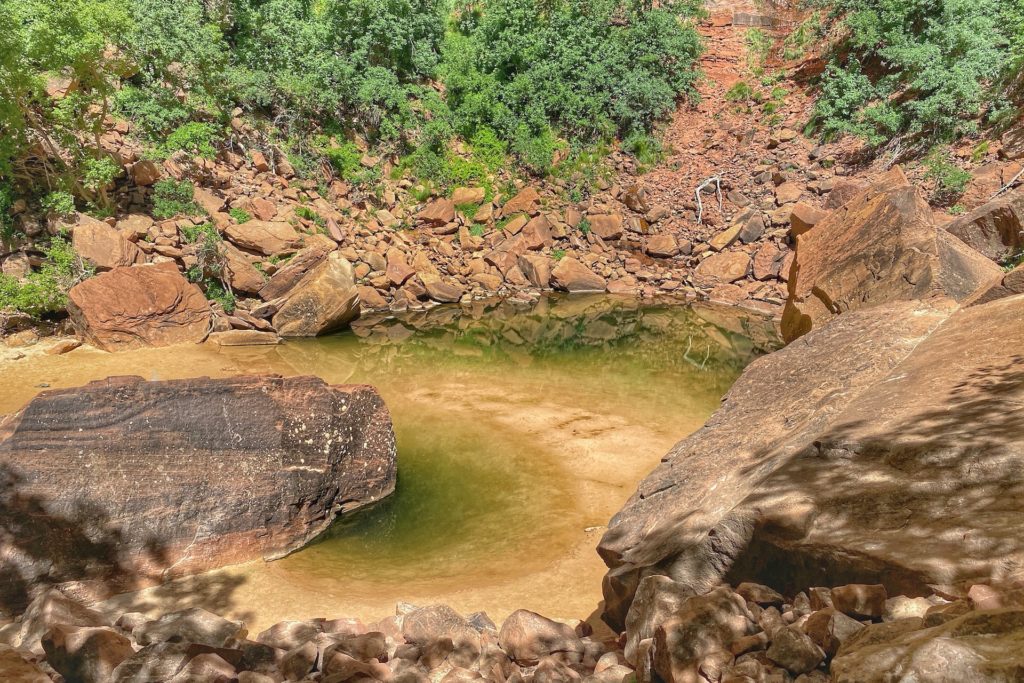 How Do You Get To Angel's Landing?
Angel's Landing is located at shuttle stop number 6th, which is called The Grotto. You can get here via the Zion Shuttle, private shuttle or if you rent bikes and bike from town. Biking is fun but it is a tough one if it is hot day and you are also hiking one of the major hikes in one day.
Is there water or bathrooms at Angel's Landing?
Yes, there is water and bathrooms at the bottom so definitely drink your water down and refill it to make sure you are well hydrated before starting the hike. At Scout Landing there are bathrooms as well 2.2 miles up the hike.
Where to Stay In Zion National Park?
You absolutely have to stay in one of the nicest places I have ever seen! Zion Red Rock has multiple properties, which are good for groups of 2 to 58! You can stay in cute little private cabins or you can stay in their enormous and beautiful mansions! If you want the most luxurious place to stay in Zion or an affordable place that fits the whole family, this is it!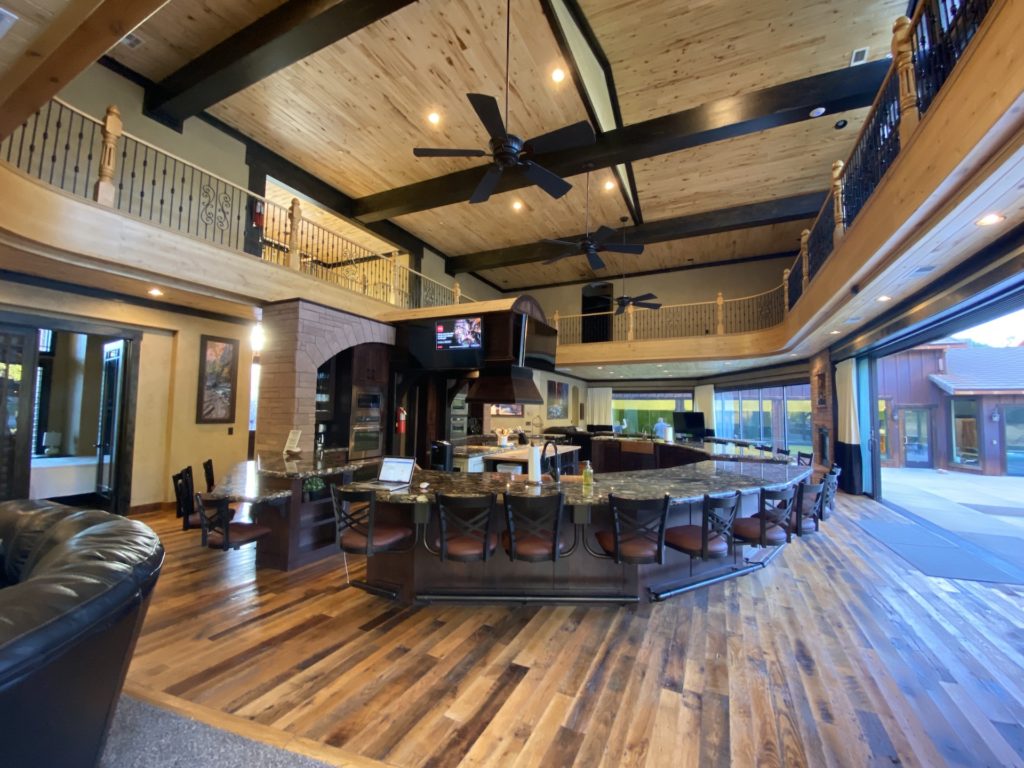 Their Zion Red Rock Oasis and Zion Red Rock Villa are two of the most luxurious and huge rental homes I have ever seen. They are enormous and no expense was spared. Check out their website as they have places to stay for all size groups and all budgets. One even has its own indoor soccer court!
They have more affordable smaller options as well in the Zion Red Rock Inn, which are a bunch of cute little one bed cabins that are right in Springdale. While smaller, they still have carry a lot of the same beauty and design as their larger homes!
If you are more of a budget and looking for something modest but still a great place to stay, check out the Bumbleberry Inn and you have to try their Zion Bucket List bumbleberry pie! Bumbleberry Inn is more of a traditional hotel, has a pool and stunning views of Zion as well from any angle!
Should You Do An Organized Zion Tour?
Yes and use Zion Jeep Tour! I am normally not a "take a tour" person as I like to do everything on my own but Zion Jeep Tour takes you to some more secret places and offers a ton of choose your own adventures!
Zion Jeep offers you private jeep tour, group safari, a 9 hour Grand Canyon tour and jeep/helicopter tour combos. If you were thinking of doing a tour definitely go with them, they were amazing hosts and so helpful with giving ideas on more things to do.
Angel's Landing Hike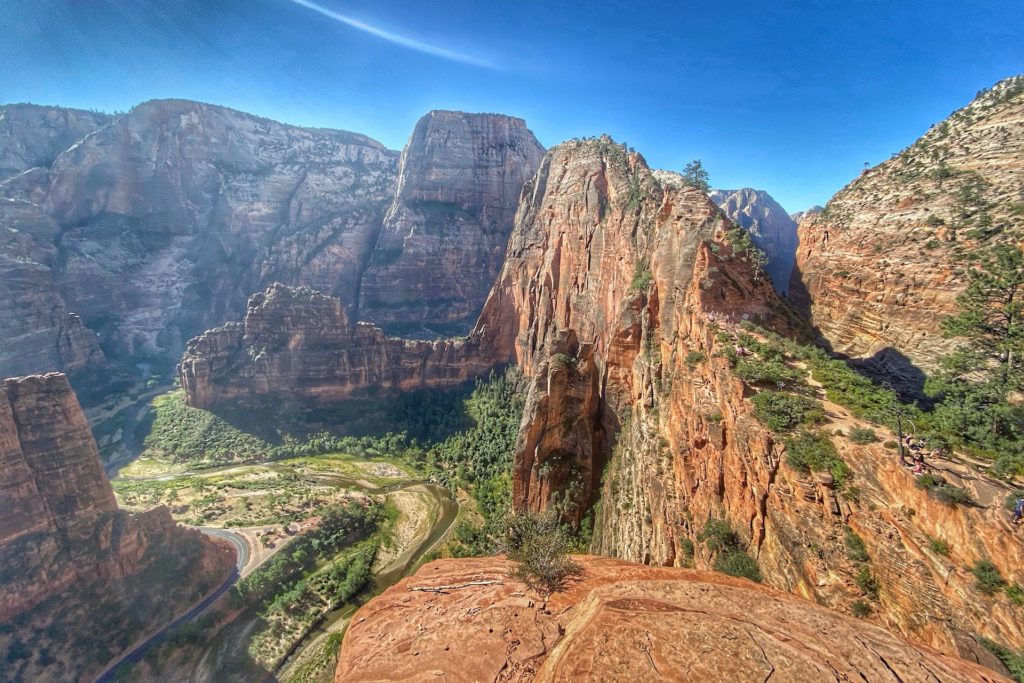 Length:
5 miles round-trip | 3-5+ hours | Out & Back
Angel's Landing starts across the street from The Grotto, which is shuttle stop #6. From the stop you walk across the street and then across the bridge that goes over the Virgin River.
Already you are met with stunning views with the body of water going beneath you while the canyon surrounds you. The walk starts out flat through a sort of meadow and there are views for days even just from the ground.
Don't get too comfortable with the flat ground and soon you will be met with a slow start to the incline before you really hit some uphill with the switch backs. The switchbacks themselves are a site, after you get finished with them of course.
From there you just keep going up and around each corner is a new view. Some parts are easier than others with slight inclines while there are also more switchbacks to come.
Definitely take your time and take a ton of pictures while soaking it all in, when will you be here again? 2.5 miles is how long it is to the top so that can give you a frame of how close you are to getting there.
Scout landing is 2.2 miles up and it gives you your first site of the nerve-racking beast that is Angel's Landing. Scout Landing is a great place to grab some pictures as well and take a little break if you need. There is also a bathroom there.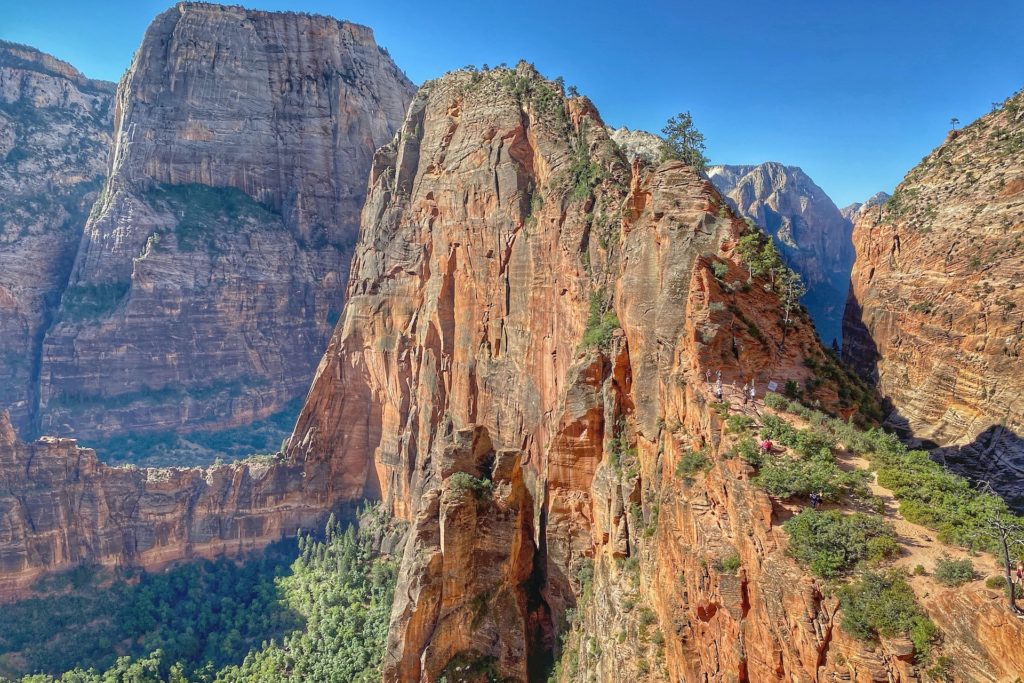 Don't take too long of a break, especially if there isn't a wait at the start of the hike from there as sometimes there can be long lines.
From there it is time to take the leap and get going along one of the more breathtaking, literally and figuratively, hikes in the USA and maybe the world.
On you return, when you get back to Scout Landing I suggest you go up to the left of Scout landing for .2 miles and .4 miles to see some even more epic views of the canyon and Angel's Landing from afar, it is unreal.
Then it is on the way back down and there will be some views you missed on your way up that you never saw! Take your time and soak it all in.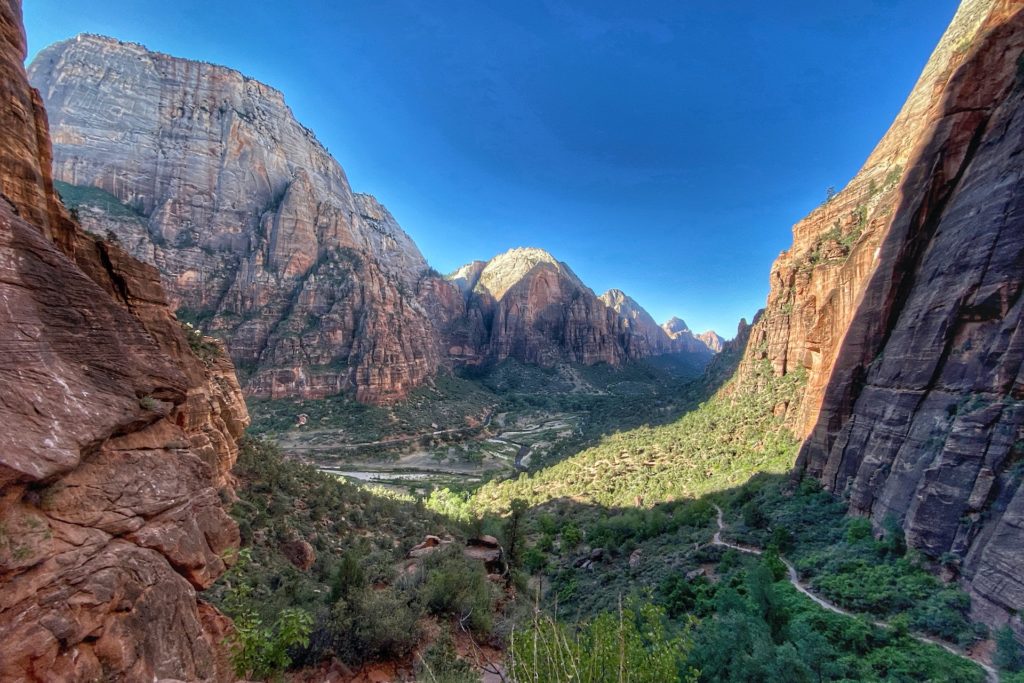 Once you get to the bottom I highly suggest you go to Emerald Pools for a pretty short hike that goes perfectly with Angel's Landing. It is only 1 mile to Upper Emerald Pools from there.
Pros
One of the best hikes you can do on earth
Face your fear of heights
A perfect length for a really good workout but not too long
Incredible views and sites along the entire hike
The contrast between the green trees and red rock is unparalleled
Cons
If you are scared of heights you should not do this hike.
It can be extremely crowded. It is best to go as early as you can to avoid the crowds.
Tips
Be extremely cautious and courteous of others along the narrow parts of the hike
Bring lunch, extra water and sunscreen
This hike pairs perfectly with Lower & Upper Emerald Pools after you are done
Take your picture and move on as there will be plenty of people waiting to check certain places out
---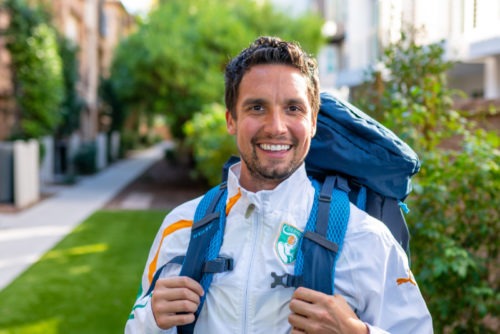 Hey I'm Fraser. My site is dedicated to the 22nd century person with a lust for travel and adventure, need for time efficient recipe ideas as well as anyone in need of self-help or a pick-me up! Thanks for visiting Inspire Travel Eat!