Bear Mountain Trail Hike | Best Hike In Sedona
Bear Mountain Trail is the best hike in Sedona. Bear Mountain in Sedona couples stunning views with an incredible challenge. The Bear Mountain hike will give you some of the best sights in Arizona along with the pay off in an amazing feeling of accomplishment because this hike is no easy feat.
It truly is the perfect all around hike in Sedona with multiple breathtaking views. If you want a challenge and a top 3 view of Sedona then this is the one. See here for The Sedona Bucket List: 13 Things You Must Do.
If you are looking for a great hike in Sedona but much less strenuous than I suggest West Fork Trail. For my top 5 hikes in Sedona you can also click here!
Located just 20 minutes from downtown Sedona off of Boynton Pass Rd you will find a beast of a hike but one of the best hikes you might do all year. Parking is a little tricky as you park on the opposite side of the road from the trailhead and some people will get confused and start up the wrong trail.
Be sure to cross the road from the parking lot for Bear Mountain! There is a small cost for parking and the meter accepts credit cards.
To get there from Sedona you will head N on State Rte 89A (the main road through Sedona) for 3.5 miles and then take a right onto Dry Creek Rd, which turns into Boynton Pass Rd for 6.3 miles. Then take a right on Forest Service 152C Rd for .7 miles and you are there.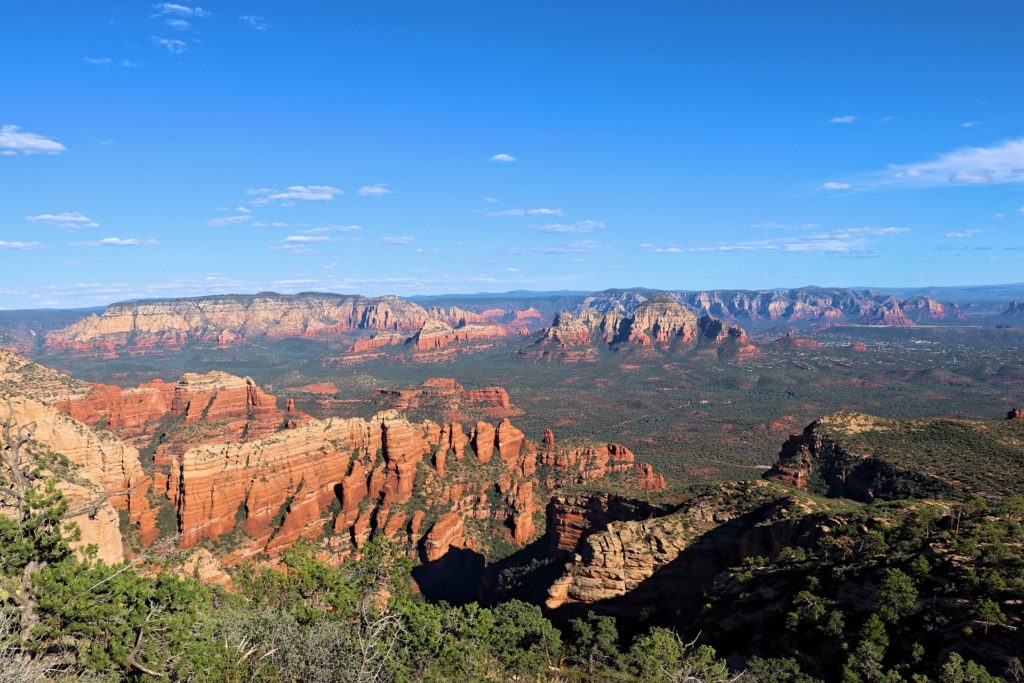 What's a nice addition is that it is very close to the Enchantment Resort. Enchantment is my favorite place for dinner or a sunset drink if you want to swing by for a quick one before the sun goes down.
If looking for the best place to eat in Sedona check out here for the best 8 restaurants in Sedona.
Bear Mountain Trail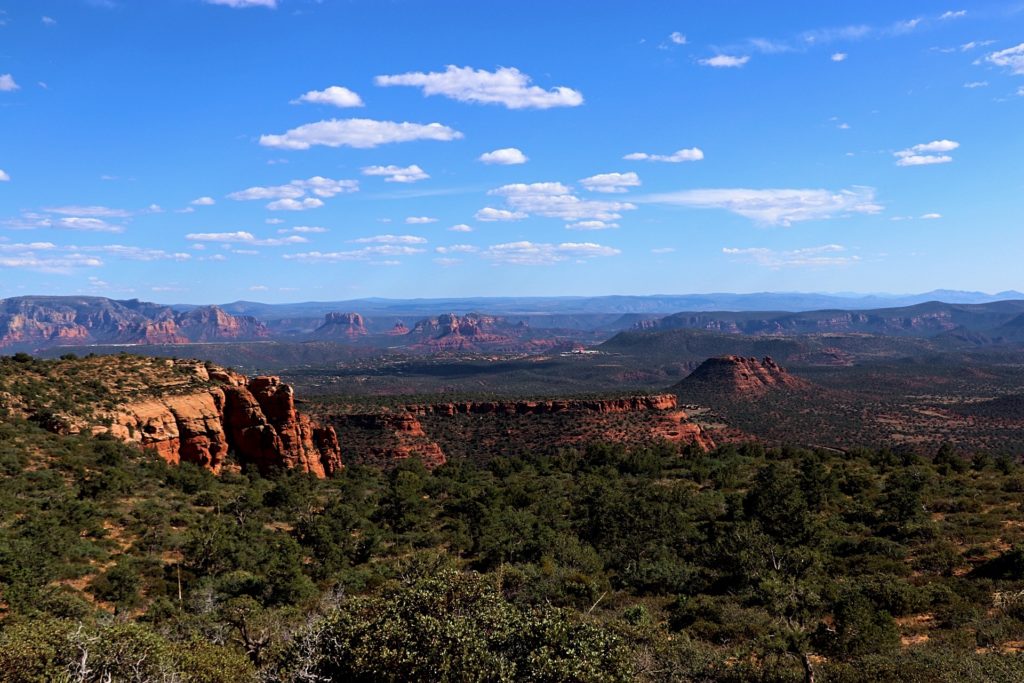 Elevation Gain:
2,000 Feet
Length:
4.5 Miles - 2.5-4.5 Hours - Out & Back.
This hike is a beast, however, it is stunning and every turn of the trip brings a new view more beautiful than the one prior.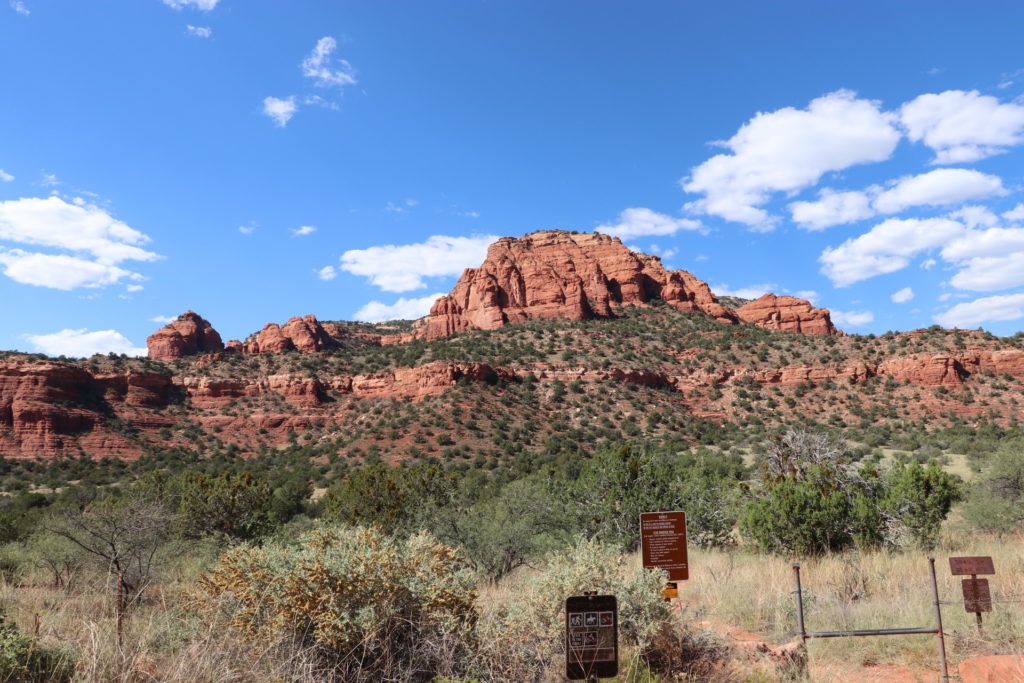 You will start off in the parking lot and then walking across the road to begin your trail. It starts off going past a couple of washes, of which I have never seen with water in them, with a gradual beginning. After about 30 minutes it will get gradually tougher with switchbacks, however you also will instantly start to see some incredible views.
The trail is fairly gradual as there isn't many parts that are straight up and try to knock you off your feet like some of the more direct portions of a hike like Camelback in Phoenix. There will be portions of flat walking and gradual inclines but overall it won't surprise you too much. Definitely keep your eyes open and take the time to look around as every 20-30 minutes it seems like there is a new beautiful view that is more pretty than the one before it.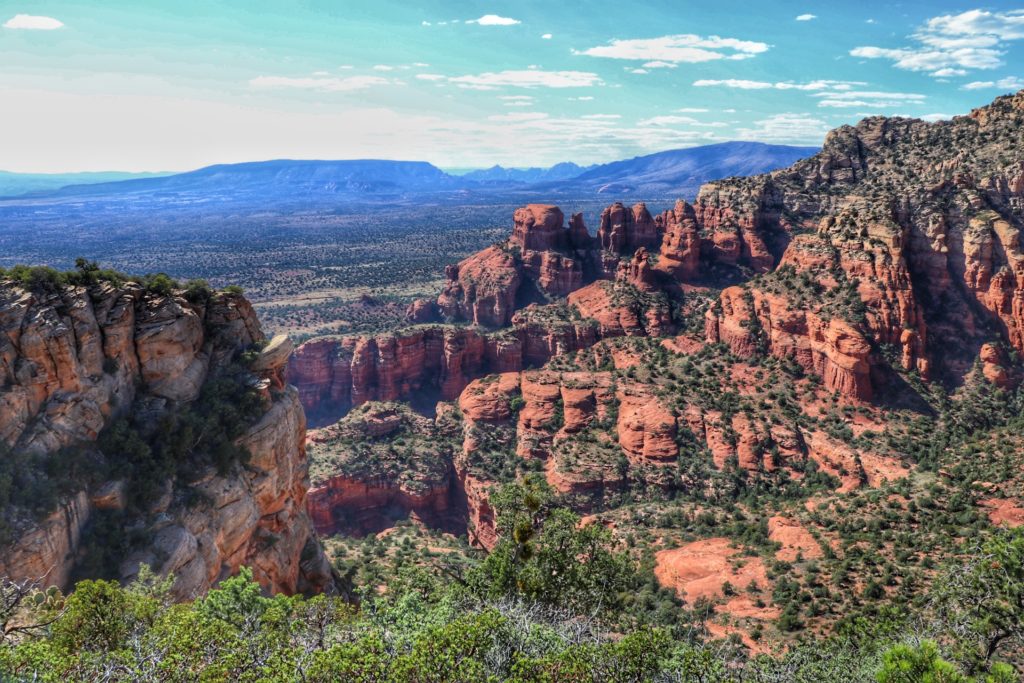 I suggest packing a lunch and having a picnic overlooking one of the amazing views. My 55+ year-old parents who are in good shape made it so it is possible for all ages but be prepared that it isn't easy.
Pros
If you can't make it to the top there are plenty of payoff views prior so don't feel bad!
Dog Friendly (On a leash).
Amazing unique views throughout the hike.
Top 3 views of Sedona.
You get a serious workout so can splurge at the wineries and restaurants after.
Cons
You have to pay $5 for parking. Credit cards accepted.
It is pretty hard.
Not a con but the only thing that could get this hike ranked 5 stars would be if there was a waterfall or swimming hole at the end.
Tips
Watch the weather, might be worth bringing a light jacket as it can be much cooler at the top if the weather is turning at all.
As mentioned parking is on the opposite side of the road from the Bear Mountain Trailhead so don't start up the wrong trail!
There is a but of a false summit so don't be let down when you have more to go once you think you make it to the top.
Bring extra water as even if you don't need it maybe another hiker will be struggling.
Pack a snack just in case and even have lunch at the top.
This is a pretty hard hike so don't take it too lightly.
---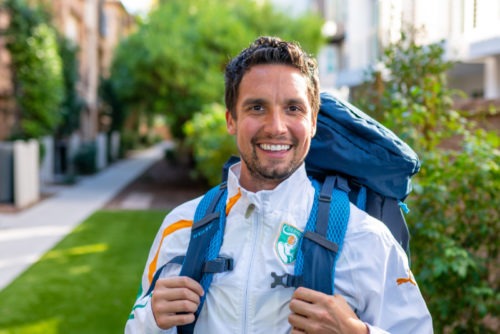 Hey I'm Fraser. My site is dedicated to the 22nd century person with a lust for travel and adventure, need for time efficient recipe ideas as well as anyone in need of self-help or a pick-me up! Thanks for visiting Inspire Travel Eat!