You're adventuring through New Zealand and you've only got a couple of days to enjoy Auckland before you head off to discover the rest of this beautiful country… what do you do?

New Zealand is one of the more perfect countries in the world if you are looking for natural beauty and adventure tourism… and there is a ton of that to see near Auckland.Below you will find the top must-dos in Auckland when time efficiency is of utmost importance.
I have a 1a option and 1b day trip depending what you are into. With only one day to do a full-day trip I suggest picking either the adventure or the relaxation between 1a and 1b pending your taste.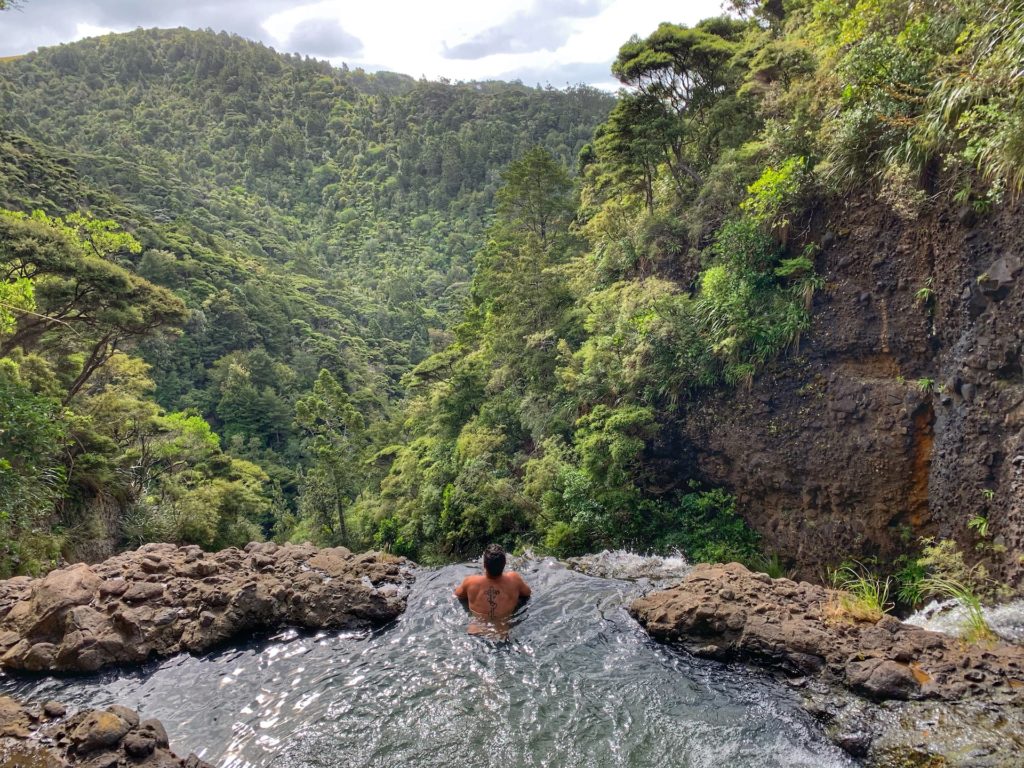 As you may know from other articles of mine, I emphasize doing things you can't do or sites you potentially can't see in your home country so with that said, here are some ideas! For a perfect 7-10 itinerary of NZ's North Island click here or for 12 Must do things on NZ's North Island Click here.
1a. Waitakere Ranges For The Day (For the adventurer)

Just 35 minutes from downtown Auckland is one of the prettier areas I have ever come across. If you like the outdoors then this is for you. There are countless hikes, waterfalls and beautiful black sand beaches.
You literally should and can spend an entire day or more running around this area. One of my favorite walks on earth is Kitekite falls. It is amazing and you can hike to the very top for some unreal views and bath at the top.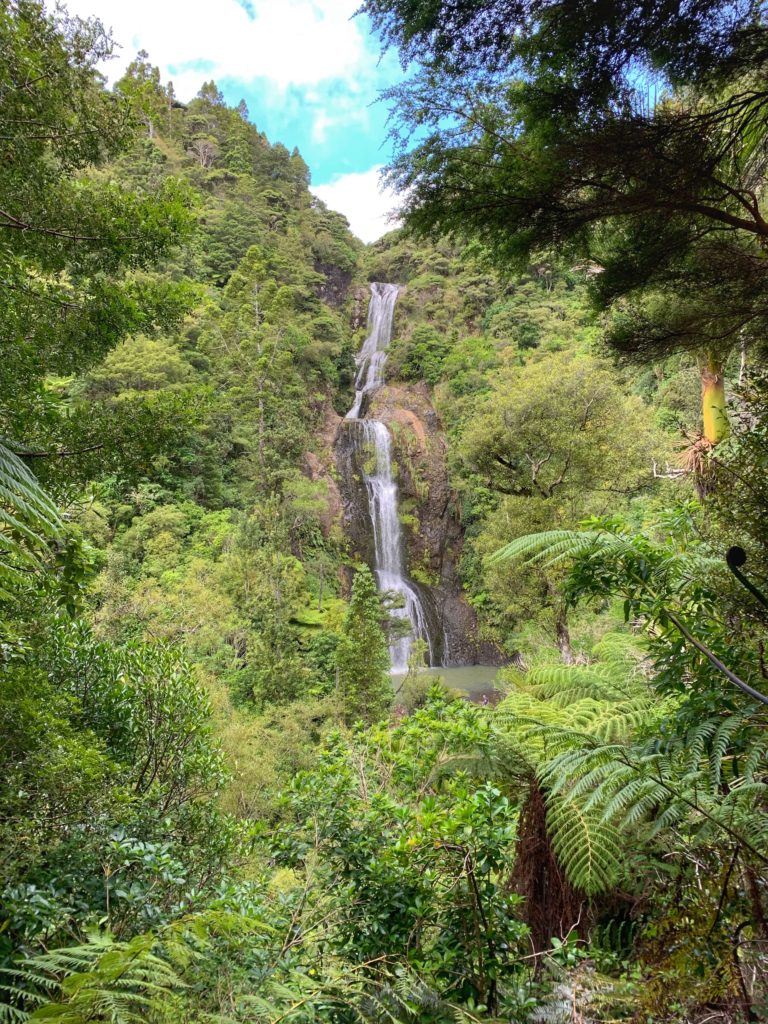 Goldie's Bush is a beautiful hike to Mokorua Falls or you can even just short-cut it and do the 30 minute walk directly to the two beautiful falls. Lake Wainamu has a great spot for kids with a giant sand dune.

This random huge dune stretches forever before you get to the lake. What's also cool about the dunes is that people sled and board down it! There is also Wainamu Falls if you want to hike around the lake.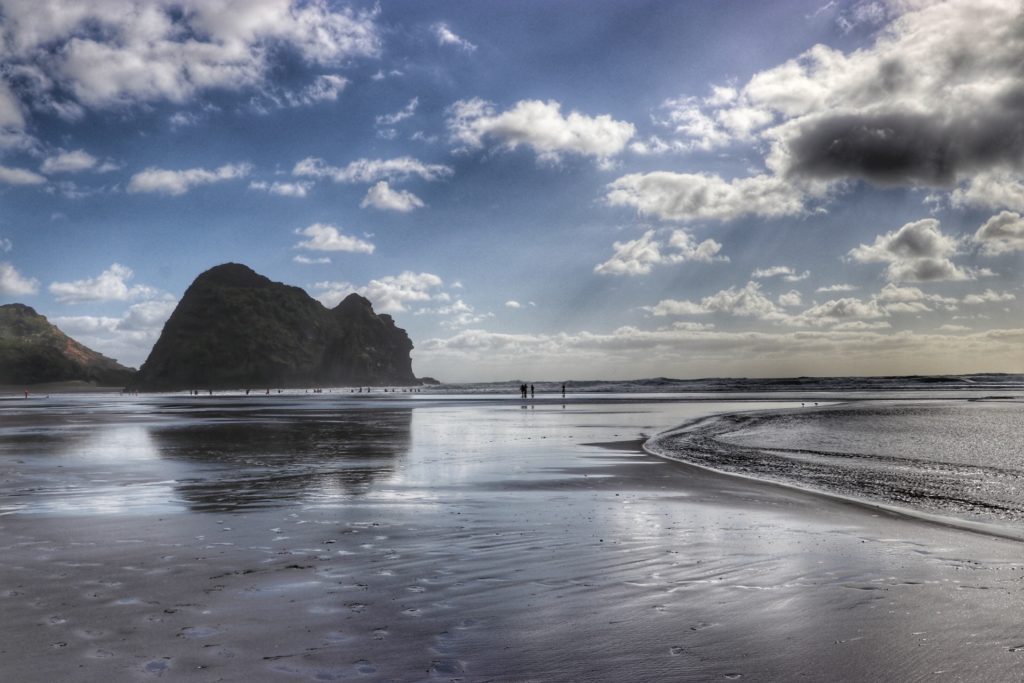 Bethel's Beach is a great spot to relax as well but if you want the best beach definitely go to Piha. It will be crowded surely but such an amazing setting with giant rock formations scattered throughout and it is a surfing hot-spot.
1b. Waiheke Island For The Day (For a beautiful island of wineries and views)

Imagine a beautiful island, beaches and sightseeing walks with incredible views of gorgeous blue water… then add 25+ wineries.
This truly could be your paradise if it's what you're into, which it should be if you read this blog. If it is then you are in luck and get on that short ferry ride from Auckland. You can probably get away with doing a 1/2 or 3/4 day there as well.
This is great if time is short and you wanted to end the day back with dinner in Auckland along the harbor. On top of the wineries there is so much to do on the island thus definitely take your time if you aren't on a time crunch.
2. Walk Around Downtown or the CBD (Central Business District)

I love to walk around any city I am in and feel the vibe, stop in shops, grab some food or drinks and just people watch. Auckland reminds me a lot of Vancouver, Canada with its melting pot feel, cleanliness and setting along the water.
You could spend all day walking around and soaking up this beautiful contemporary city. Downtown there are a plethora of tourist things to do such as museums, the harbor, Sky Tower, Cathedrals, bungee jumping and more.

If you are looking for a drink go to Headquarters patio right on the harbor or get on the rooftop of Dr. Rudi's Rooftop Brewing Co. You can't go wrong with anything in that area even if just hopping in and out of places since there are so many terrific spots.
In terms of food there are a ton of seafood options as well as Middle Eastern and Asian cuisines. If you go there and eat McDonald's over a Middle Eastern Kebob or an Asian restaurant please stop reading this blog now 😉 but seriously. I suggest try and do or eat everything you can't see at home!
3. Mt Eden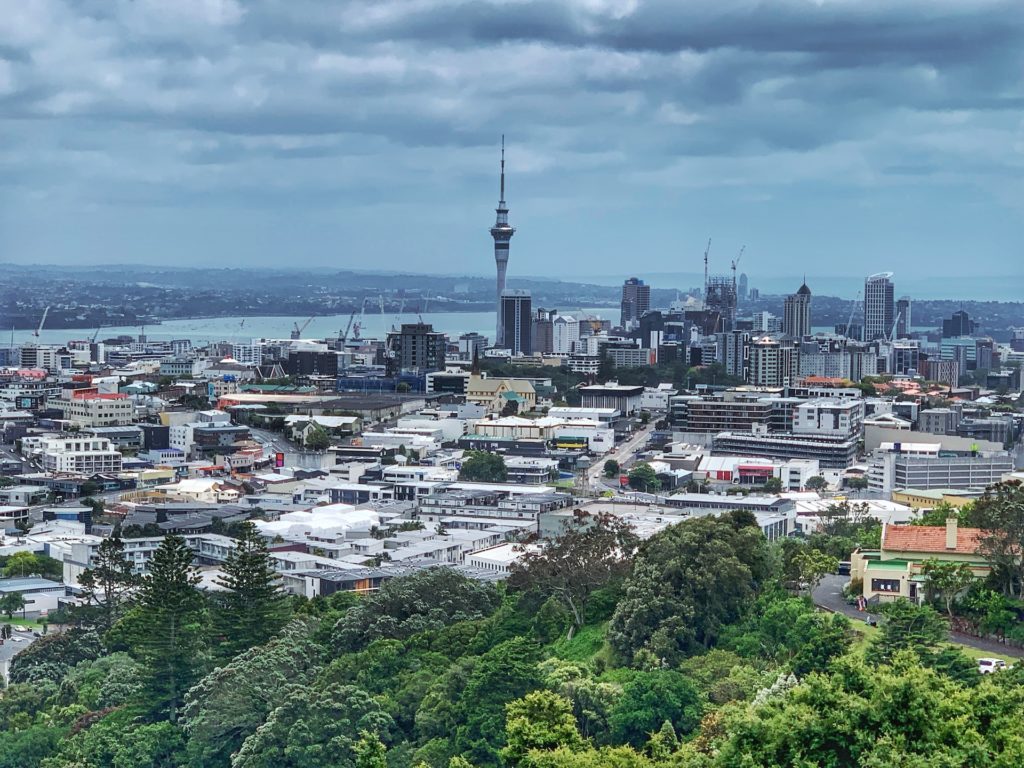 This is great as it is quick and gives you a little exercise while also a perfect 360 degree view of Auckland. It is also a dormant volcano with a 50 meter wide crater making it quite a unique place to checkout.
You can walk there from downtown if you like as it is only a 30-45 minute walk, or you can take a bus/uber fairly cheaply as well. Those are my top 3 must-dos since you are there for such a short time and Waitakere Ranges or Waiheke Island will take up an entire day but they are worth the entire day.

I also research the heck out of every place I go so I have other options I would have gone to had I had more time.
If I had more time I would have seen…
1. Rangitoto Island
You can take a ferry there or even kayak, then walk up lava flows and have incredible views of the whole city.
2. Honua Ranges
This is almost twice as far as Waitakere Ranges and not as much to do but still some impressive waterfalls. Definitely a fun option if you have the time.
Nightlife
Essentially there are three main tourist options for nightlife pending your price points. It is normally pricier but the great stuff is in Auckland's downtown. There are tons of clubs and bars to checkout down there but also normally a bit more upscale aside from some divier bars here or there.
Ponsonby, just a 5 minute ride from downtown with a ton of bars and clubs as well and a touch more casual.
K Road… let's just say it is the dive bar backpacker side of Auckland.
Travel From The Airport
There are a couple of main ways to get to downtown from the airport with one being the bus, which is about $19NZD.
However, if you want to be efficient with your time I say get an uber for about $40NZD and get where you want to go quickly and dropped off right at your door. Furthermore, if there are two+ of you than really it is the same cost as two bus tickets.
Where to Stay
I would suggest staying as close to downtown as possible or within 20 mins of walking is fine as well.
There are hotels with budgets for all types but with only a couple of days in Auckland it seems better to be right in the heart of it all vs. waste time having to bus back and forth. With that said, downtown is very safe thus even staying a 10-20 minute walk from being right downtown is great as well, if that helps you find something a touch cheaper.
New Zealand Tips

Restaurant Sticker Shock
If you are coming from a place where there is tax and tipping included on top of the price of food or drinks then don't get sticker shock when you go to restaurants.
For instance you may see a $20 burger; if coming from British Columbia note that there is an 8% currency conversion in your favor, 14% tax and 20% tip, which is 40%ish of that $20, taking your burger down to a menu price of $12 in Canada.
If from the USA the same thing but 30% currency, 8-10% tax and 20% tip making your burger pretty much half price. It is easy to think things are very expensive but not if you break it down and take out the tax/tip/currency exchange.
Adventure

NZ is truly an adventure lovers paradise so be sure to do and see as much as you can. It may be exhausting but if it is the only time you make it here then it is worth it.
Maps
Download Google Maps and download the entire region off-line so that you aren't at the mercy of a rental vehicle GPS or other options. Always trust Google :).
Snap Rental Cars
I have never had a better experience renting a car, it was quick and painless and their insurance was great as well as pretty affordable at the office.
Wine
New Zealand is arguably top 3 regions in the world… so drink it.
Food
NZ is a great place for seafood, fresh meat, Asian and Middle-eastern cuisine so be sure to take advantage of it. If dining out isn't your thing there are multitudes of kebab shops, bakeries and meat pies for a quick delicious bite to eat.

Places I wish I visited if I had time
Bay Of Islands
You could spend your entire trip in this region.
Whangarei Falls & Mermaid Pools
I wish I had 2-3 more days in Auckland so I could have made it up here for these incredible places.
Coromandel Peninsula
I have heard great things and looks perfect for a romantic trip or for anyone as it is beautiful.
Taupo
I had to make the choice of Rotorua or Taupo and hands down Rotorua is the move.
If you liked this article please let me know in the comments :)… or if you have any suggestions.