Out of any drink recipe on this site, this berry Moscow mule might be my favorite tasting drink of them all. It is the perfect mix of fruit, touch of sweet and sour tastes as well as the refreshing ginger kick. Moscow mules in general make one of the more perfect drinks as they bridge the gap of not sweet and not a basic vodka soda plus they come in a fancy cup so it's a win.
See the video on how to make this video here!
I have must-use tips below to not only making Moscow mules but drinks in general. Hopefully this one article can change not only how you make drinks but also host people and make sure everyone enjoys your creation to the fullest. Furthermore, when I can make something a touch more healthy I try to. Thus there are tips below on how to make your mule a bit healthier and less sweet so that you can run a marathon after drinking 7 of course ;).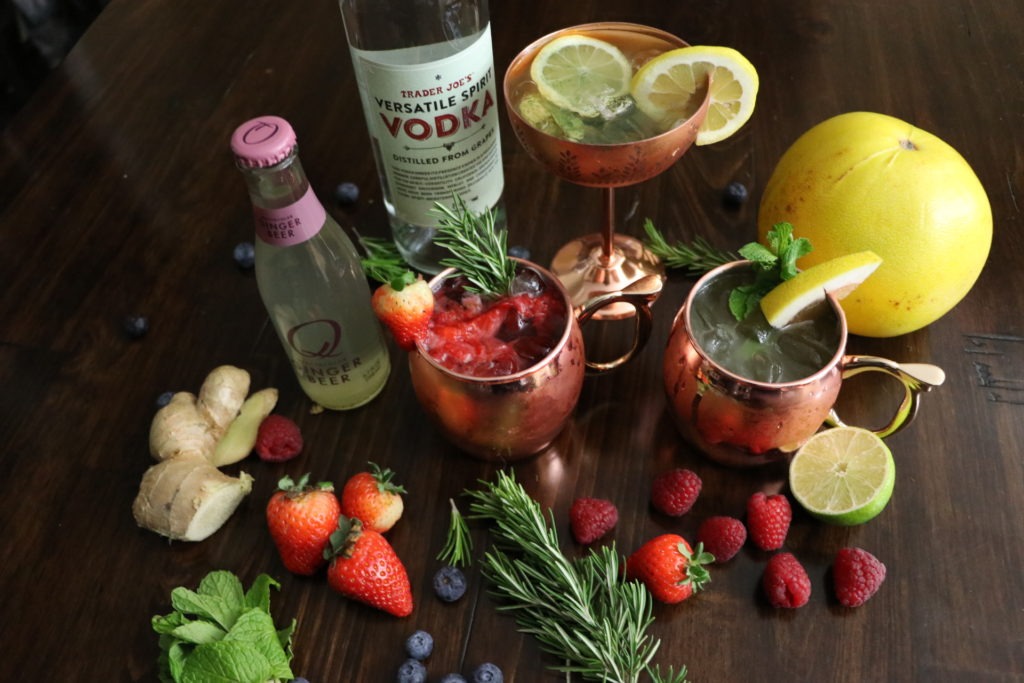 Moscow mules are great as they let you switch up from the standard vodka soda or juice, they're refreshing and best of all I make them healthy-ish. With that said, here are the tips and recipe you need to put some smiles on faces.
THERE ARE A FEW IMPORTANT TAKEAWAYS OR RULES YOU NEED TO KNOW WHEN MAKING MOSCOW MULES!
When making a drink for people and you want them to love the experience you need to appeal to 4 senses. You must make it taste good of course, it needs to have a pleasant aroma thus sometimes adding a herb garnish helps, it should look beautiful clearly and then they must feel a nice ambiance and setting when trying the drink. I can help you with the first 3 but the ambiance is on you… music, clean up, give them a shot so they are already getting drunk and everything is fun… up to you :).
One AMAZING way to add to your drink ambiance and appeal to all senses is infuse your liquor. Infusing liquor is the greatest lie in drink creation as what sounds extremely impressive is really just you pouring liquor into a jar and adding 1-2 ingredients then letting it sit for 1-7 days… or even 1 hour and just lying to your guests. Infused liquor makes you look like some planned, smart super-hero that would do anything to host people. It will impress them and has you already 5 steps ahead on appealing to all of the senses.
Ginger beer is the key… at the end of the day the only thing that matters is the ginger beer as some will just have it tasting flat and meh… I love Q Spectacular Ginger Beer and Trader Joe's Triple Ginger Brew especially because it comes in a cool bottle that adds to the cache. I really dislike the stuff the bronze can Gosling's Ginger Beer as it literally has no taste or much if any of that nice ginger kick.
Follow my instructions below as you want to make sure you do things in the correct order as well as not do a couple screw ups some people out there tell you to do.

Here is an Amazon link for a 12-pack of my favorite ginger  beer!
Want to make your Moscow mules healthier?
Overall one major thing I do to cut out some sweetness and sugar is use just straight lime juice vs. lime cordial or syrup but will share my recipes below.
If I have time and am hosting people I will get fresh ginger to add in there as well to not only to add a nice kick but also for the health benefits. Fresh ginger has a plethora of added health benefits such as it boosts immunity, fights infection, soothes the stomach, counters acid reflux and is an anti inflammatory.
Gluten free vodka is another healthy alternative.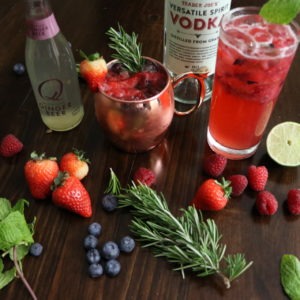 Amazing Berry Moscow Mule
Out of any drink recipe on this site, this berry Moscow mule might be my favorite tasting drink of them all. It is the perfect mix of fruit, touch of sweet and sour tastes as well as the refreshing ginger kick.
Print
Pin
Rate
Ingredients
4-6

fresh berries per drink

ginger beer

2

oz

vodka

1

tsp

lime juice

fresh is best but lime cordial works too

ice

berry & mint garnish
Optional
1/4

tsp

grated ginger

use up to 1/2 tsp
Instructions
Add fruit to your shaker or mixing cup and muddle

If you add mint to your recipe then add it after muddling the berries so that you gently muddle and more press the mint to release the juices vs. tear up the mint and it ends up like grass clippings in your drink

Add vodka & ice into your shaker

DO NOT add ginger beer into shaker as you don't want to lose carbonation

Add ginger beer to cup & stir then add garnish.
Print Recipe

Just a heads up, as an Amazon Associate I earn from qualifying purchases. However, I love every product I share with you and fully stand by it!