If you have never been to Mexico before… go to Cancun and the Riviera Maya area first, no questions asked. If on a budget and want to check out Costa Rica, Belize or the Caribbean but cost is holding you back… go here.
If you have read any of my other posts about Cancun, Tulum, the Riviera Maya and Yucatan Peninsula then you know I say it is the most underrated and possibly the best region to visit in North America. People rave about how amazing and exotic Belize is… this region is a 3 hour drive from the Belize border… and cheaper.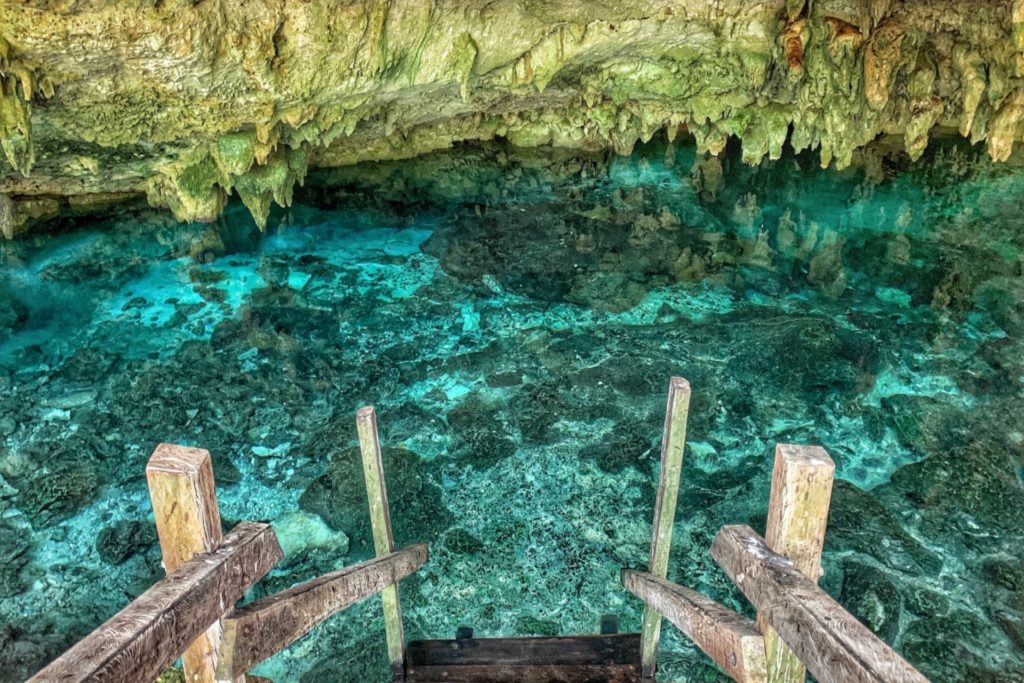 Lots of people may visit the area, stay at their resort, go on a tour or visit a theme park and then call it a trip thinking it is the same as any other beach vacation… well they're vastly wrong.
My goal is to get you to this relatively inexpensive/cost efficient tropical destination and have one of the best trips you have ever had. If you keep reading I also have some secret lesser known spots that you have to visit.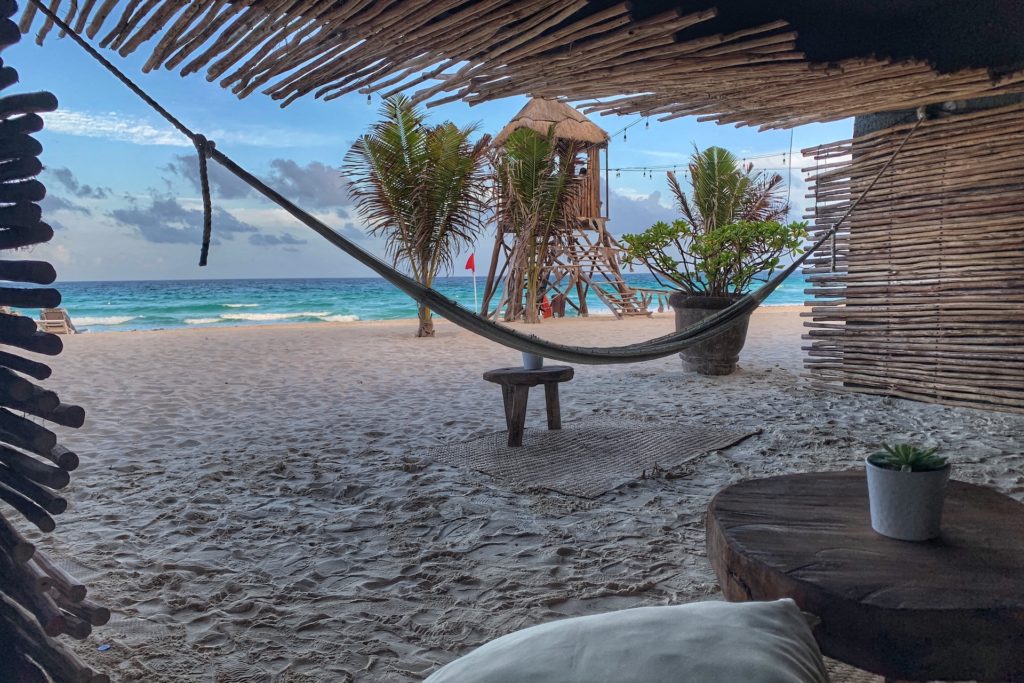 Depending on what you enjoy doing on vacation, the Yucatan Peninsula has something for everyone. Whether you are there for a romantic getaway, family trip, bachelor or bachelorette party, wedding or a friends trip this is the place for anyone.
What makes it even better is that it is only a $300 and 2 hour flight from Houston or 4.5 hour flight from LAX to Cancun.
My biggest suggestion if you want to have the best time is to get out of your resort and go see all the area has to offer. I say even go a step further and don't stay in an All-Inclusive resort so you don't feel obliged to stay where you paid for all your food and drinks.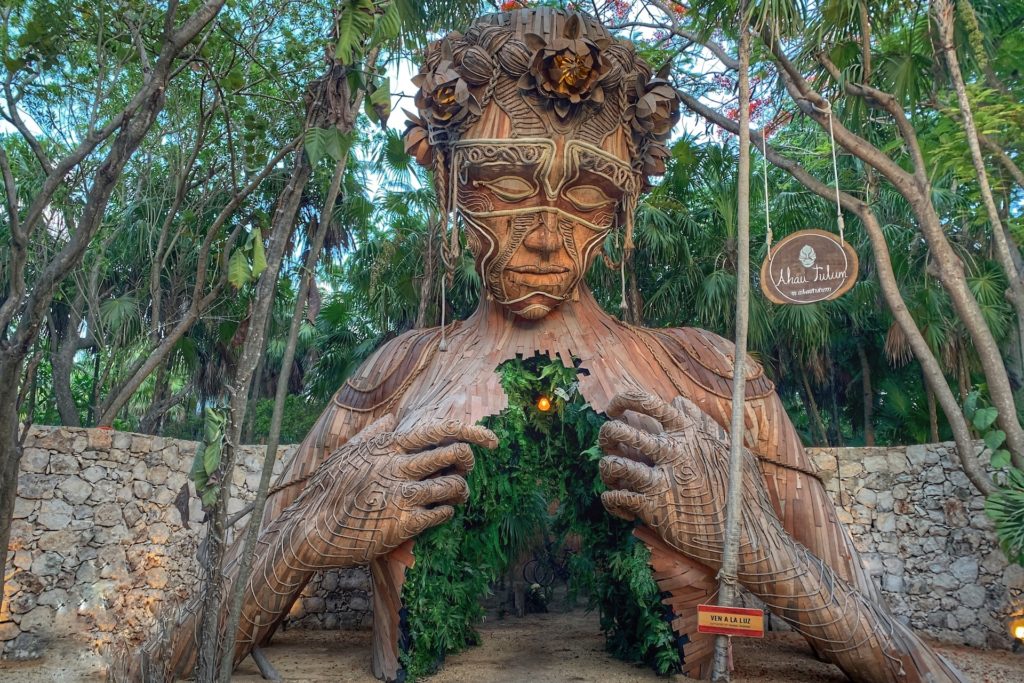 If you are coming to Cancun and the Riviera Maya I would suggest at least going for 4-7 days. While a week long trip to the Mayan Riviera is ideal, depending your travel duration you could get away with going for 4-5 days. However, Cancun is just a starting point and gateway to so much of the Riviera Maya region to see!
Day 1 – Travel, Get Adjusted & Relax Day
Landing in Cancun, customs lineups, waiting for bags and getting to your hotel will take you into the afternoon or night depending when you get in. Thus, Day 1 is a good get adjusted, have some drinks and relax day.
Everything is slower here so when you land feel free to grab a drink from the outside bar while you wait for your transportation to get figured out, maybe even grab a roadie or two as it's Mexico and most anything goes.

I always suggest getting a rental car but depending your budget you may only want to do that for the couple days you plan to explore vs. the entire trip. If on a budget then take a bus or shuttle to your resort (private taxi is pretty expensive if just a couple of you) and rent a car for a day or two in the middle of your trip to explore.
Day 1 may be a little uneventful, some regular traveling hiccups but get to your place, enjoy cheap drinks, dip your feet in the sand then leave all of your work and stress at home.
Day 2 – Relax & Plan Day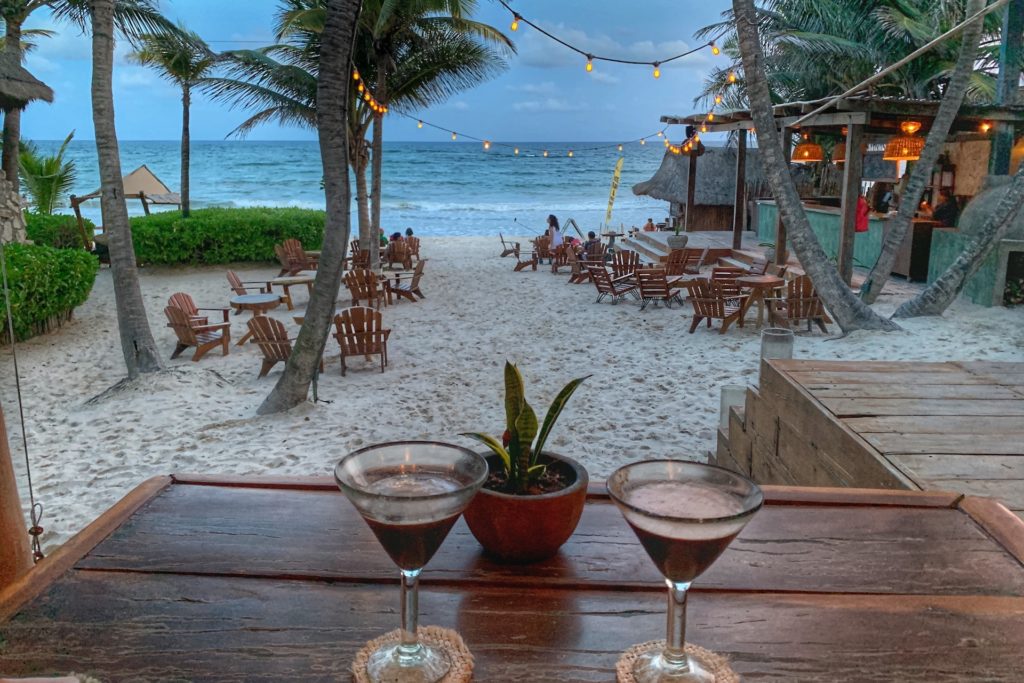 Day 1 was a travel day and personally I don't like feeling rushed or waking up early for an excursion the next day since you just travelled all yesterday. With that said, Day 2 should be for relaxing, feeling un-rushed having drinks on the beach or chilling at the pool.
Depending where you are staying you could relax through the afternoon then walk, bike or cab into whatever town you are near such as Tulum, Playa Del Carmen or Cancun. Check out the sites, visit some tour operators, shop and get some great drinks and cheap food.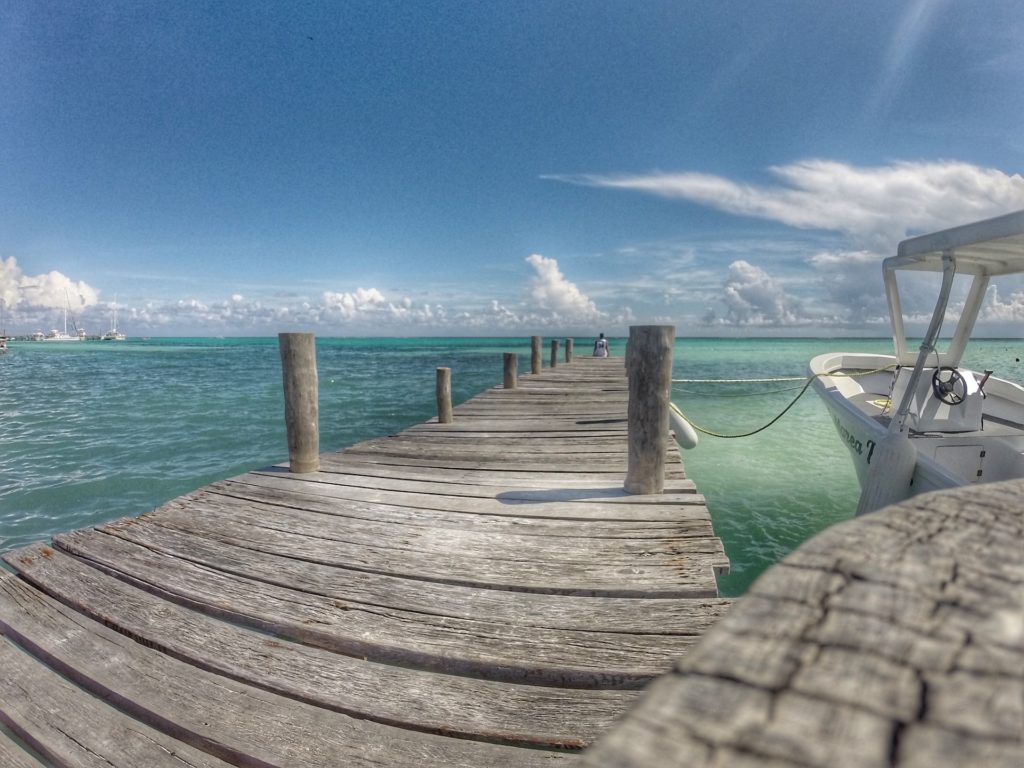 Day 2 can also be used to plan out what activities you want to do, figure out what is in your budget and make your plan for the next few days. If you are already stir-crazy and want to see some sites then pull out some ideas from Day 3-6 below from my list here.
Days 3-6 – Adventure Days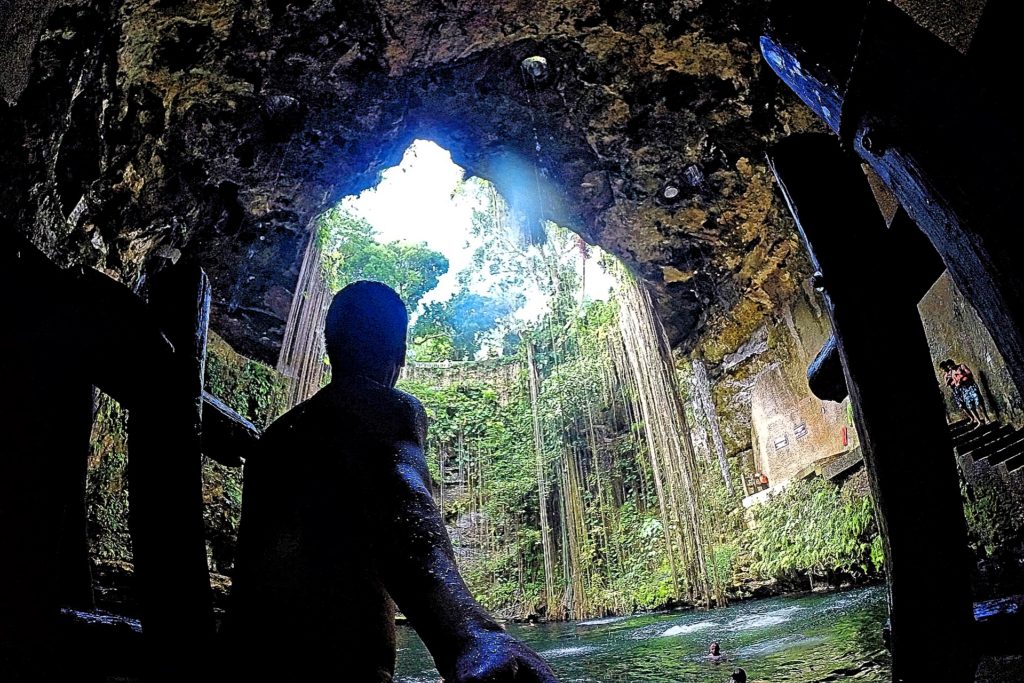 I suggest at minimum doing 1 full day driving around site-seeing and a full day out on the water. If you are like me, than do a minimum of 2 days driving around, as there is so much to do and see! I laid out a few of the best land and sea options as well as some "wildcards" at the bottom of which you can sprinkle in throughout any trip.
Land Option A – Chichen Itza, Cenote Ik-Il & Ek Balam
Have you ever wanted to see one of the New 7 Wonders Of The World as well as arguably the prettiest cenote in the world then climb on ancient ruins? Well… this is your chance.
Chichen Itza is about 2 hours from Cancun, Tulum and Playa Del Carmen but absolutely worth it. I would price shop whether to go on a tour, a private shuttle or renting a car. I always rent a car but pending your comfortably with driving or budget it may not workout.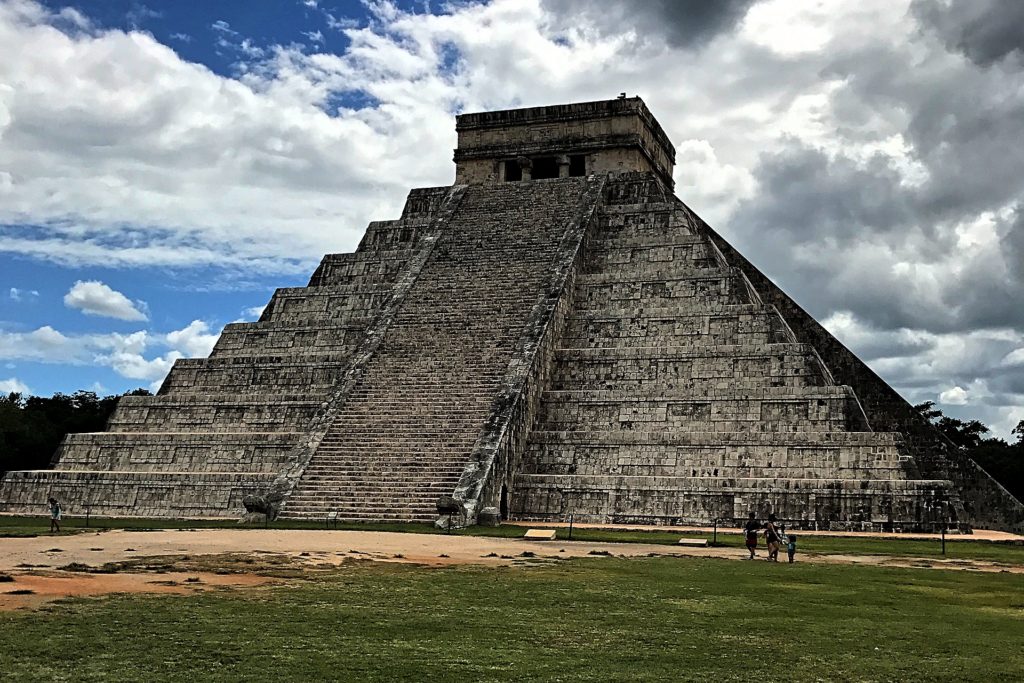 Chichen Itza is rich with history, culture and is breathtaking to see. An additional bonus is that the best cenote on earth, Cenote Ik-Il, is just a few minutes away allowing you to see both while you are there!
This is a must do and maybe my favorite thing to see in North America. You can even add to this trip by quickly stopping by Ek Balam ruins of which you can climb! There is also a cenote there to checkout at Ek Balam.
Land Option B – Coastal Ruins, Cenote & Lagoon Hopping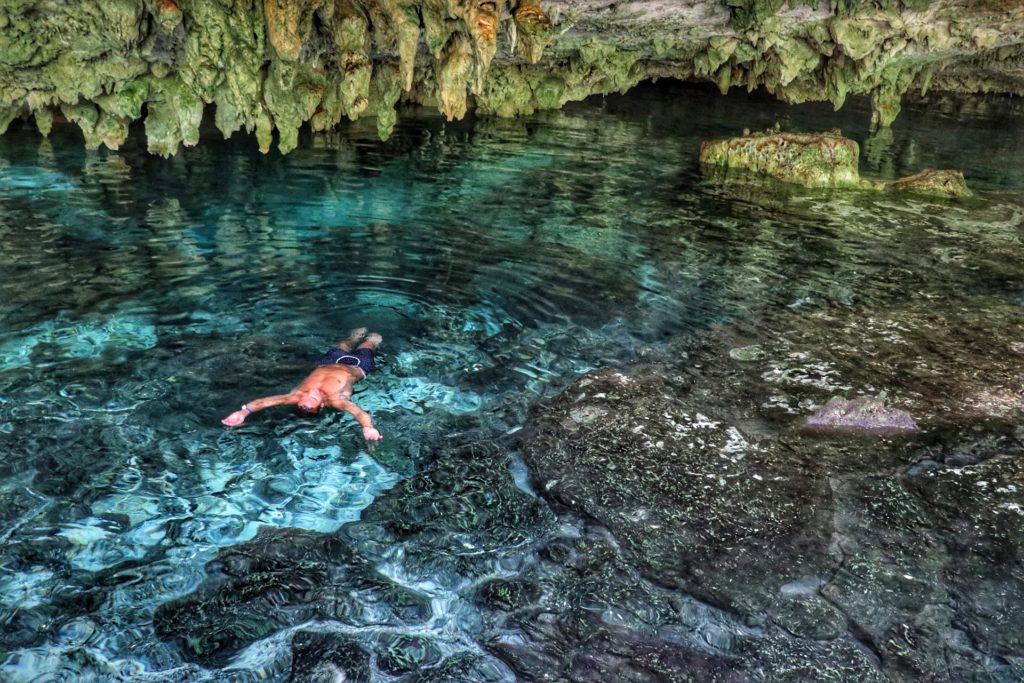 If you aren't interested in a 4 hour round-trip with Chichen Itza or you just want to see more of the incredible ruins and Cenotes closer to the coast then this is a great option.
I highly suggest going to see more cenotes and going for a swim regardless if you went out to Chichen Itza or not. Overall I would try to do 2-3 cenotes and at least 1 ruin as well as the wildcards I will mention below. FYI when I say cenote hopping I don't mean the $80+ USD adventure parks, I mean the local Free-$15 USD entry local cenotes.

Before you start your adventure, map out locations from the following and go see a few of these spots with stops in town or for lunch and drinks along the way.
Cenotes – Gran Cenote and Cenote Dos Ojos are the more well known, expensive and busier with about a $10-15 USD entry. From there other great options are Cenote Labnaha, Cenote Choo-Ha, Cenote Ponderosa, Cenote Oxmal; and even cliff jumping at Cenote Azul or Tankach-Ha. While not for swimmers there is also El Zacaton, which is good for scuba divers but also home to the floating grass island.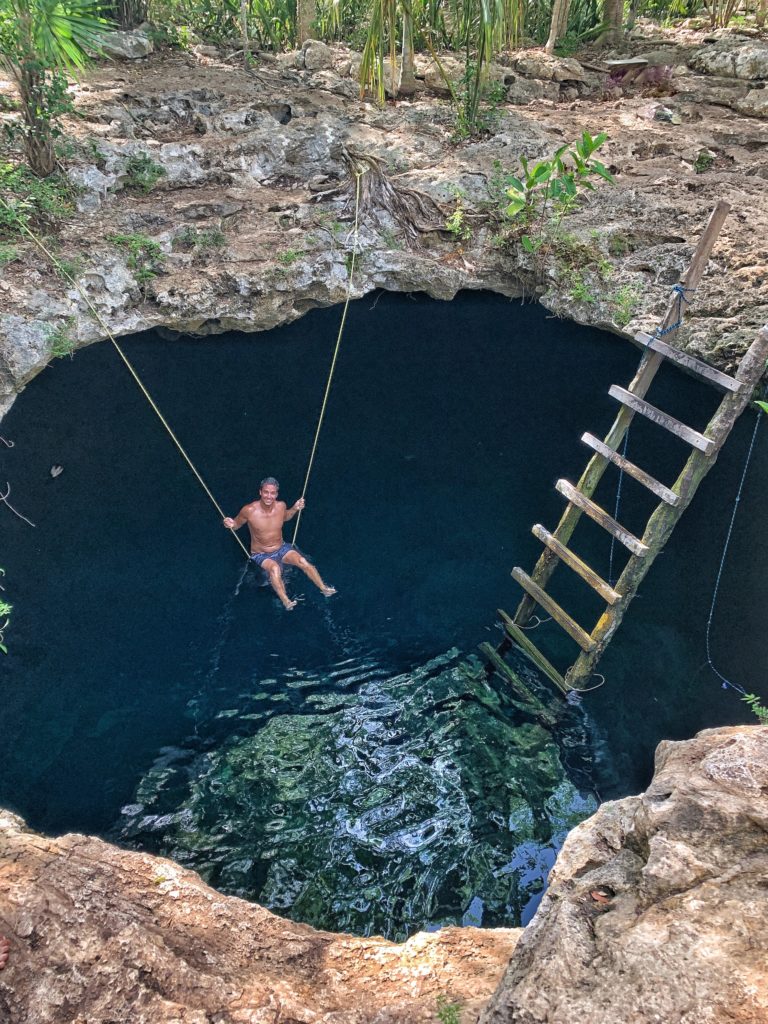 The phenomenon is only in this region of Mexico and there are thousands of them throughout the Yucatan Peninsula. These mythical natural swimming holes are rich in history as they were once sacred wells and even were human sacrifice locations for the Mayans.
These Cenotes access networks of unexplored cave systems and are havens for adventurers, snorkelers and scuba divers. Some historians believe they can be linked to the extinction of dinosaurs.
Sea Option A – Sail, Snorkel & Flying Booze Cruise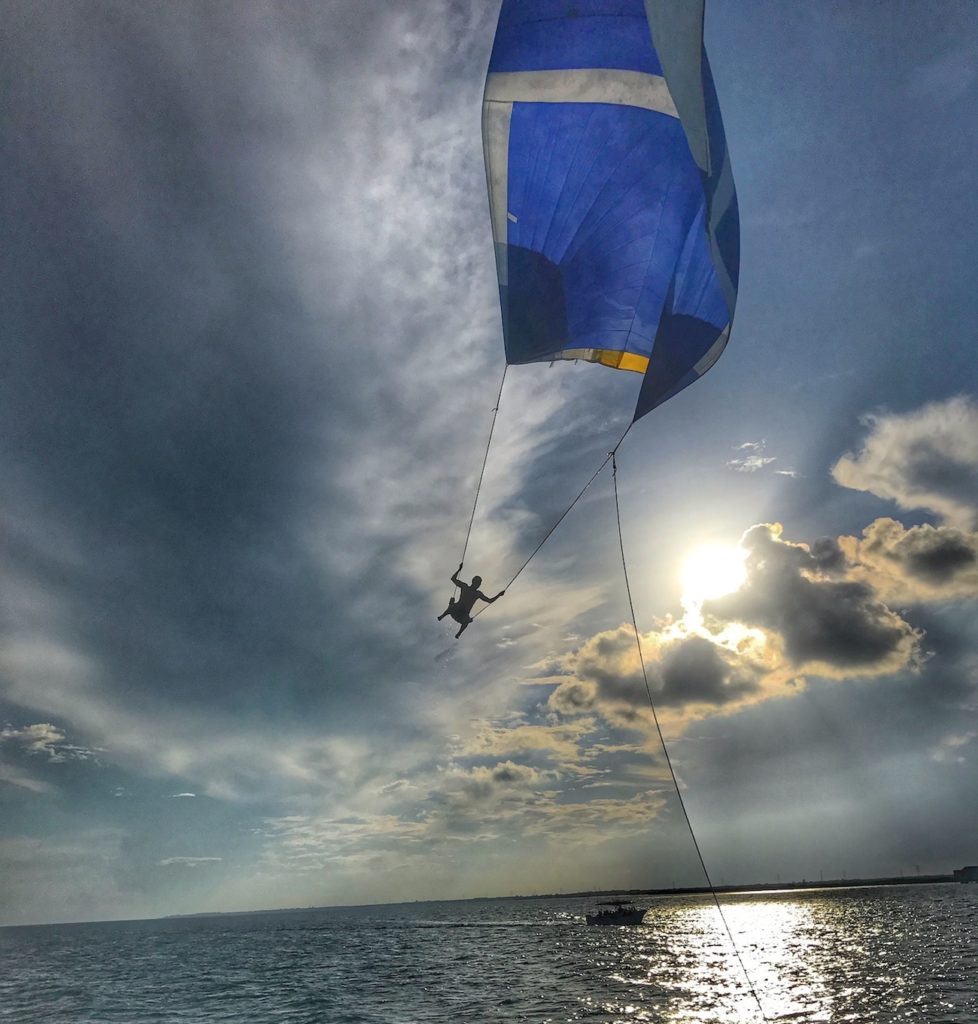 Hopefully you are puzzled by the flying part because the first time I saw it I was too. How could you improve a day out on a gorgeous catamaran, snorkeling in coral reefs and drinking? Well, "checkmate" says some tour operators who offer the opportunity to be a human kite.
It's called a spinnaker sail ride and essentially you are a human kite behind a catamaran in what is one of the best thrills you could imagine. Always check and see what boat you are going to be on for your trip, and then make sure to ask if they have this option as it is incredible.
Sea Option B – Swim Cageless With Giant Sharks, Turtles & Visit An Underwater Museum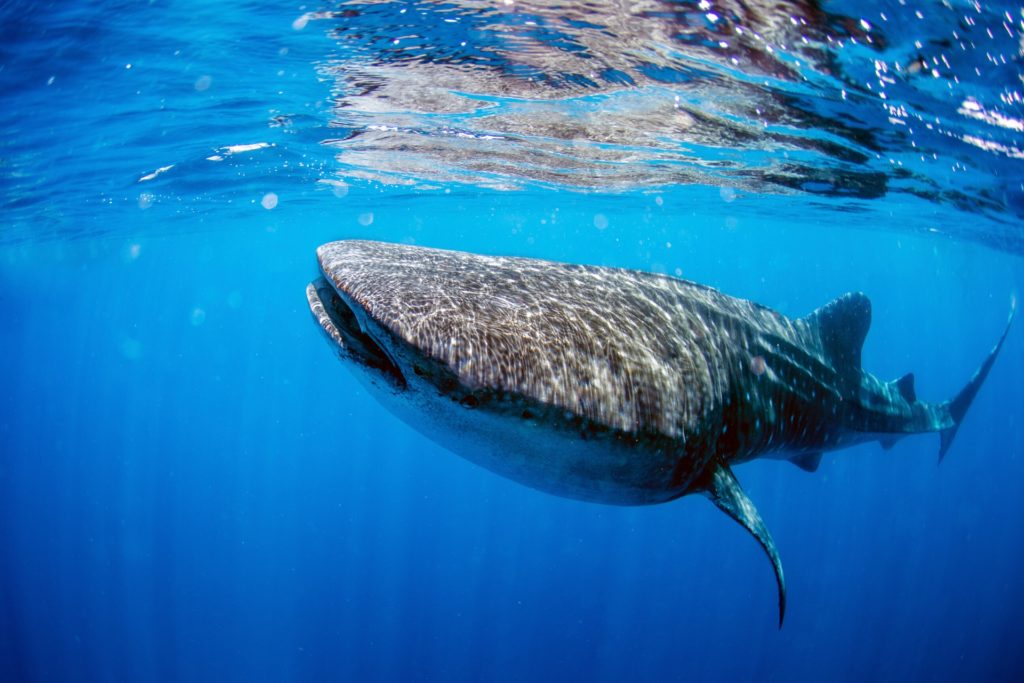 I am not sure where else you could do anything like this in a morning or afternoon on vacation. This is all near Cancun so you can make it a full Cancun day-trip if you wanted.
I'm sure you wondering why I waited two sentences to talk about the sharks and leave you hanging. Yes, you read that right you can swim with 40-65 foot whale sharks, which are completely harmless to humans.
While in the area visit The Museo Subacuatico de Arte. This museum is one of its kind formed in the waters surrounding Cancun and Isla Mujeres.The statues underwater are some of the most picturesque and stunningly eery things you will see.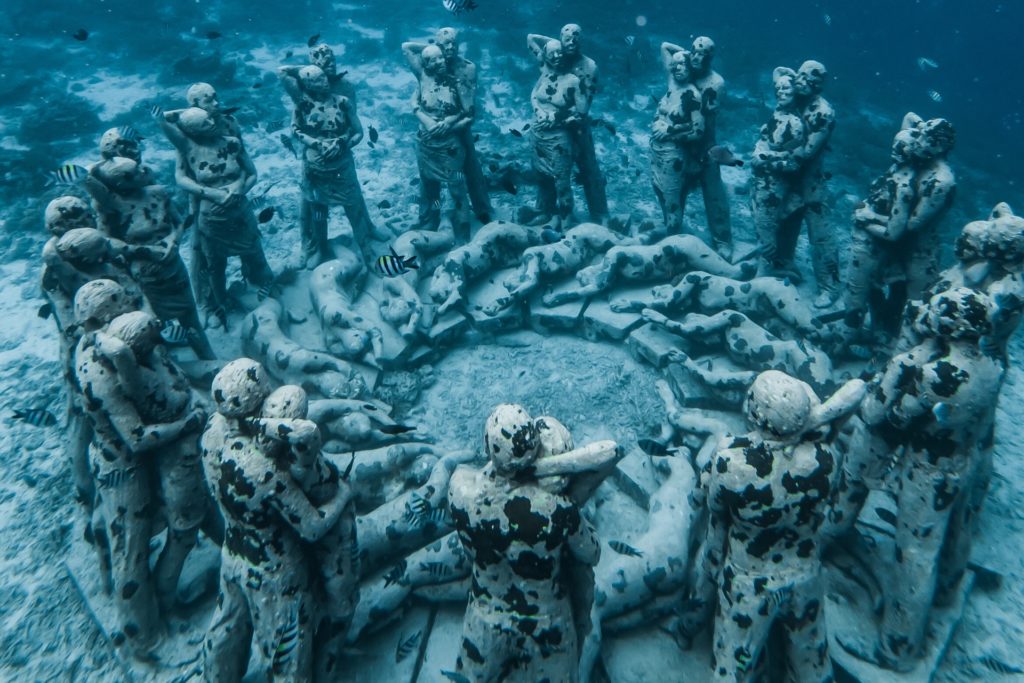 I am unaware of other museums like this making it potentially a once in a lifetime experience to see and take pictures with truly remarkable art. Another great option is Isla Mujeres Tortugranja. It is an endangered sea turtle sanctuary. Admission is $3 USD.
Since you are near Cancun you can stop in for dinner, walk the fascinating streets or visit the nearby ruins to complete your day trip.
Sea Option C – Ferry to Cozumel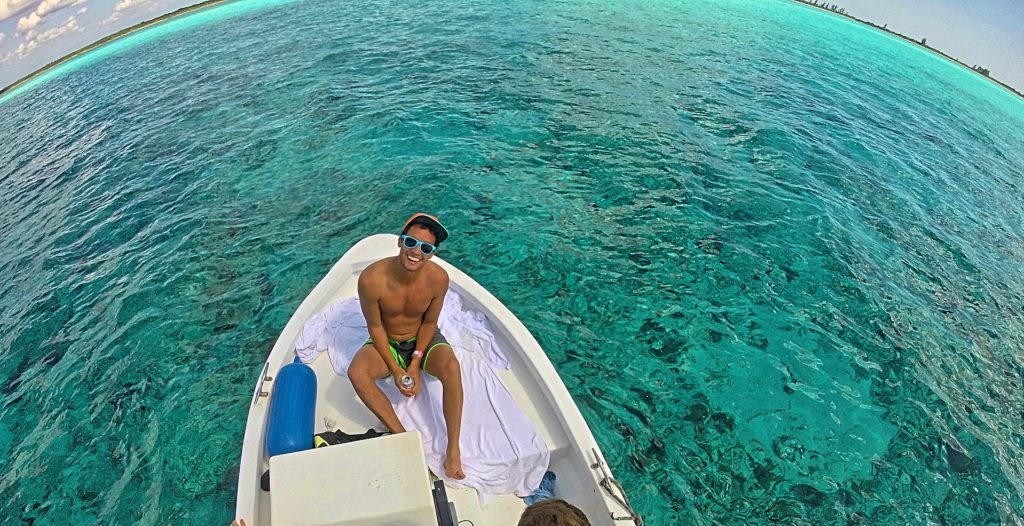 Cozumel truly has some of the nicest water on earth. With the giant coral reefs it makes a paradise for snorkeling and scuba diving. Just a quick ferry from Playa Del Carmen you can do a day trip renting scooters, trip into the rainforest, see Cenotes and of course some of the best diving and snorkeling around.
You don't need to sign up for a tour or need a guide to get to Cozumel. Just show up to the dock get on the ferry and arrive in Cozumel where there are plenty of shops and vendors to help you find whatever you need to do.
"Wildcard" Ideas to Add To Any Day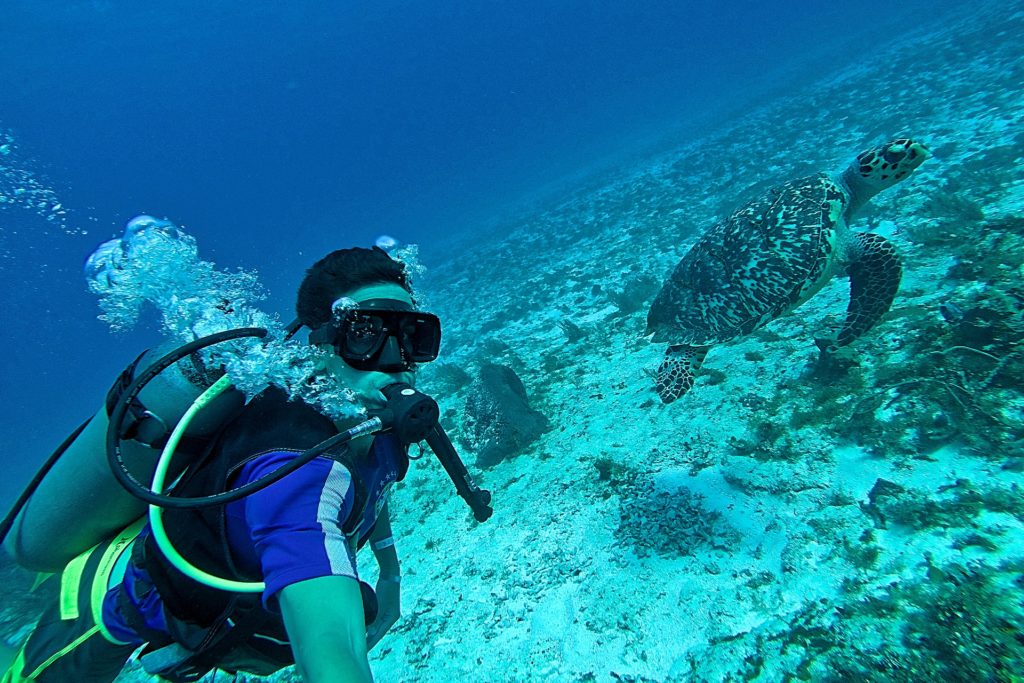 Snorkel with endangered green sea turtles. Head to Akumal, just outside of Playa Del Carmen, rent some snorkel gear and get in the water. The sea turtles are normally quit abundant so barring something crazy you should get a chance to see these beautiful creatures.
Swim in the Kaan Luum Lagoon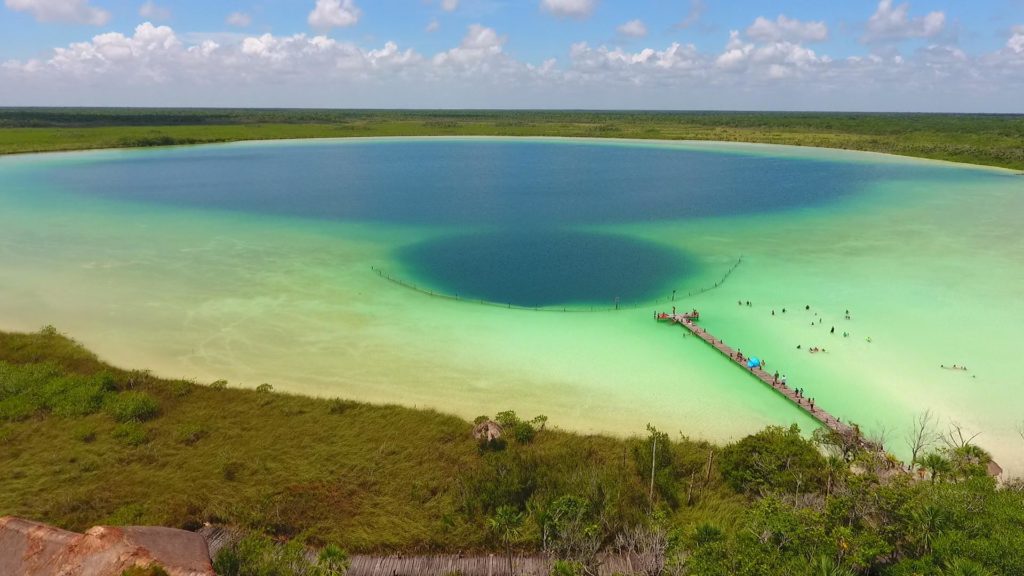 Not well known to tourists yet, this place is absolutely incredible boasting incredible water with two shades of blue due to there being a cenote in the center. If you want a beautiful picture, unique swimming spot or to see a place not many see… this is the place.
Croco Cun Zoo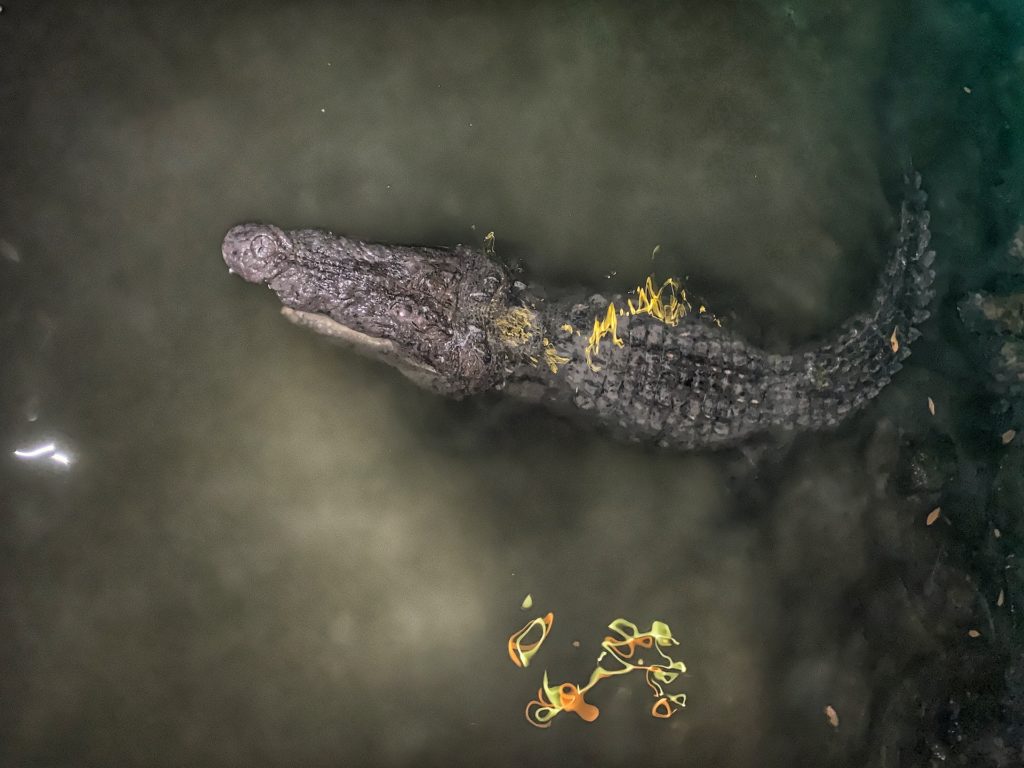 Did you know Cancun is the home to a ton of wild crocodiles!?!? This picture is one I took! This is the most secretive thing in Mexico. There have been a few infrequent crocodile attacks over the years with people hanging out or swimming in the bay at night. The Beaches are completely safe but wow, google it! If you would rather see them safely… you are also in luck as you can go to the Croco Cun Zoo!

Have you ever walked among crocodiles or hold a snake??? Well now is your time. This is a great little pit stop on the way south worth the $32 USD admission for a completely new experience. There are of course other animals like monkeys, turtles, deer, birds and more so if you like wildlife and have a couple hours to spare it is worth a stop in.
Street Party In Playa Del Carmen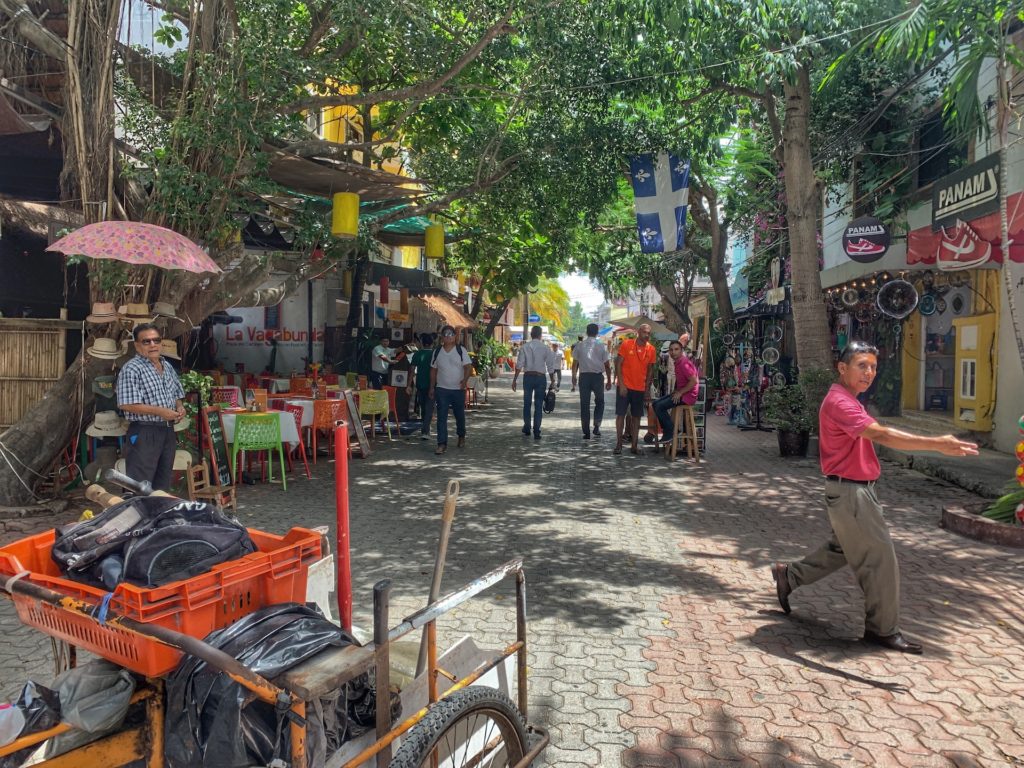 If you ever are in a place that has a legit packed crazy street fiesta you have to do it right? Like it's movie scene or Carnival type stuff that can't be missed. 5th Avenue in downtown Playa often shuts down turning into an entire street party, which is an amazing experience in its own right.
Adventure Theme Parks

While I mention often that you can make your adventure in the Yucatan Peninsula without spending theme park prices, the adventure parks here are still something millions go see as they are quite unique and a great time.
Xel-Ha is arguably the best park in the region and an amazing place for families and nature lovers. I am not a huge theme park person as I like to do it myself but this one adds in adventure and animals so it gets a bigger W.
Whether you want to float in a tire, swim or snorkel in crystal clear water with tons of fish; walk or bike through the peaceful jungle, lay in a hammock or zip-line there is something for everyone seeking a unique park experience.
It does come with a higher cost though starting at $40 for kids and $80 for adults. You can also check out Xcaret, Xenotes or Xplor as well.
Day 7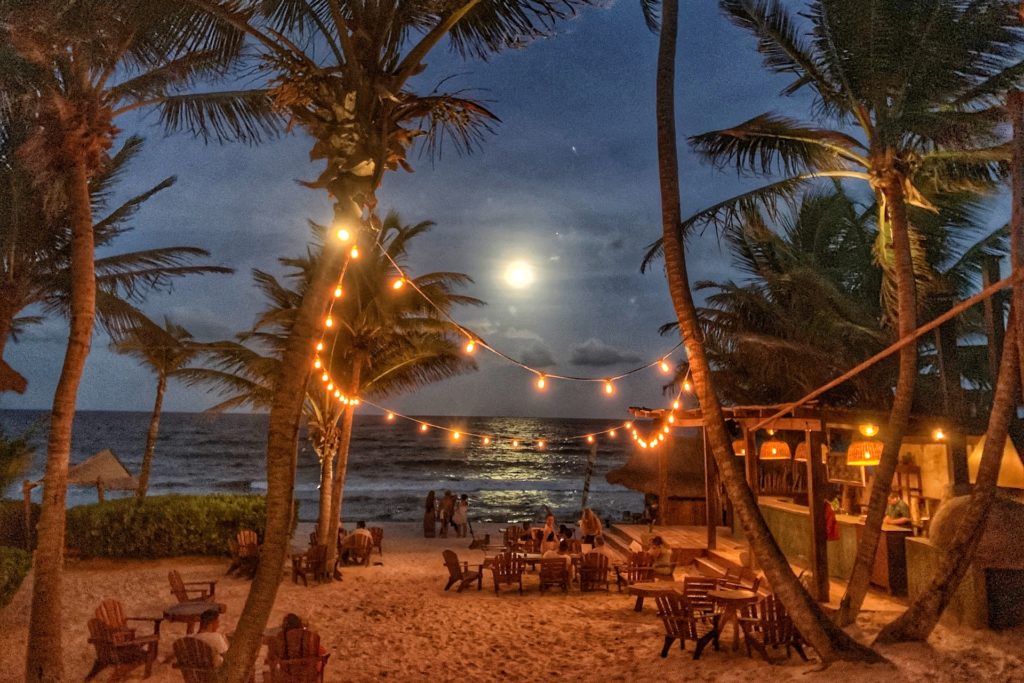 It feels like forever since we started talking about Days 3-6 and here we are. Hopefully you at least did a few things and had an amazing time on your trip.
My last travel day I like to do some last minute shopping, $30-40 massages to get the knots out before the flight and relax on the last day in paradise. If you don't have a flight until the night then maybe you can sneak away to see something you missed or just wanted one last swim in the ocean… ideally with sharks or turtles of course.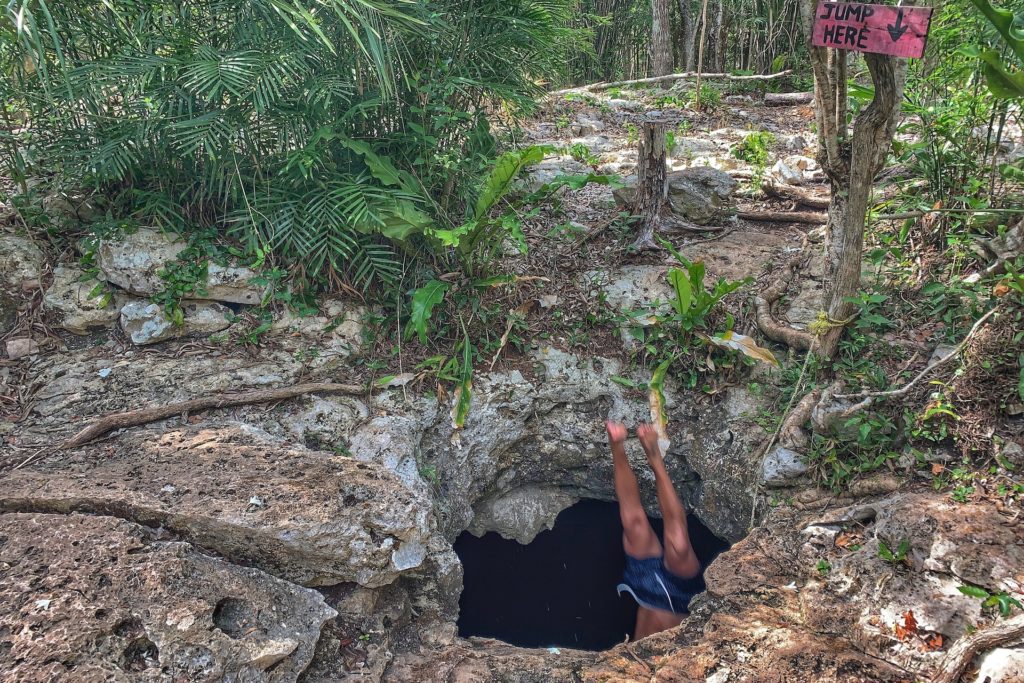 Tips
Don't stay in an All-Inclusive, it limits you wanting to go explore and try new places and things.
Don't always go with the first "salesman" who offers you something. Definitely price shop and make sure you aren't getting completely screwed over.
Eat everything! If locals are eating it you're fine, especially if it is cooked. I literally try every street meat around the world. The only thing I often don't eat is pre-peeled fruit as that was a good tip I didn't listen to once… I regretted it.
Get out of your resorts, you can lay in a pool anywhere!
Haggle, everything is negotiable here.
Rent a car. As I have beaten to death, there is so much to see in the area and renting a car lets you go at your own pace, stop where you want to stop and enjoy your own private tour. It can be a little unnerving driving in Mexico but it truly isn't too bad… just drive carefully.
Remember travel insurance! It's like $1 a day through Berkshire Hathaway.
I truly hope you had as good of a time as I advertised and please share any comments, tips, reviews or ideas you had that I can add to trip suggestions 2.0.