This breakfast casserole is one of my favorite things on earth and it is so easy a college freshman could do it. This dish is literally the best thing if you are hosting for the holidays or just having a boys weekend and want something there for the hangover… which is clearly when I make it.

Breakfast casserole is so simple and is the best breakfast to make for a group. It is just a handful of ingredients and filled with everything you would want for a breakfast! What is great is that you actually make it and prep it the night before, so in the morning you simply just put it in the oven and it is ready!
I also apologize for my awful pictures… by far my most terrible pictures of anything I have ever done… but it isn't the prettiest of dishes however it is the tastiest! DON'T FORGET: Buy all the ingredients and create it the day before you are serving!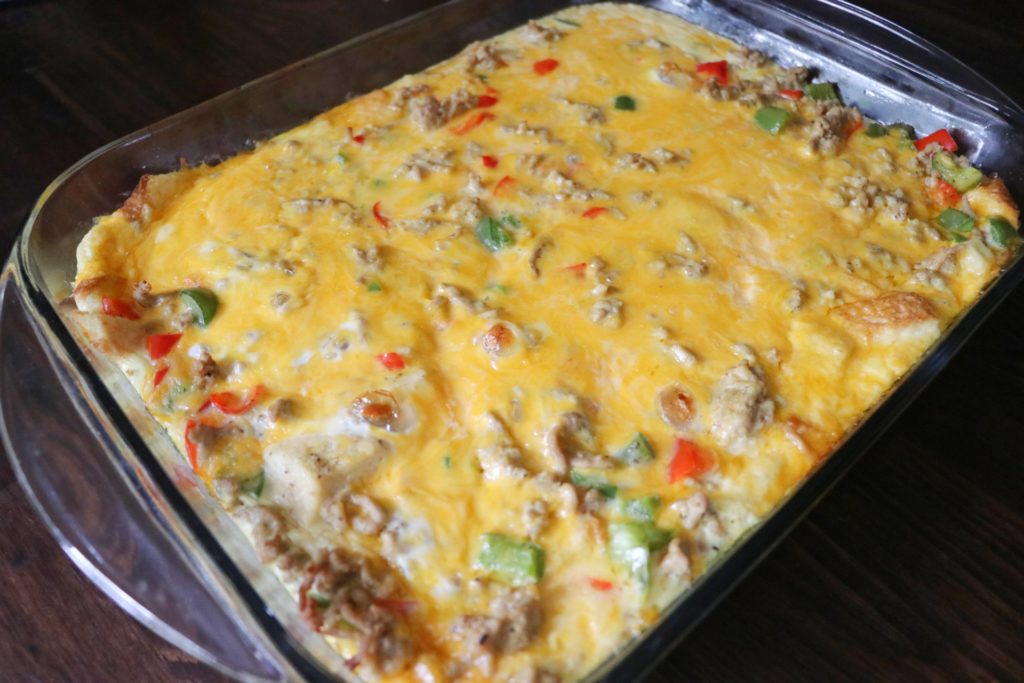 This dish looks like it takes a long time and is a little daunting but honestly it is just mixing together a few ingredients, letting it sit over night and throwing in the oven the next day.
How to Make a Healthier Breakfast Casserole?
There are a lot of recipes that add extra salts and mustards etc but I honestly don't think you need it as there is so much salt and flavors in the meat, cheese, onions and garlic etc.
I am by no means a health-nut but I do like to try and make it a touch healthier and natural where it makes sense and it doesn't affect the taste. I also recommend using turkey sausage vs. pork sausage as people will never know the difference and is a touch on the healthier side.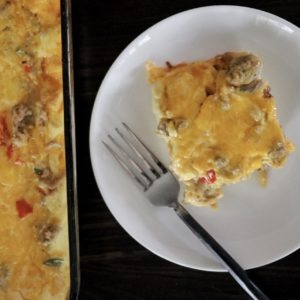 Simple Breakfast Casserole For Hosting
This simple sausage and egg breakfast casserole is so easy and the perfect meal to make when hosting a party.
Print
Pin
Rate
Ingredients
10

large

eggs

1/2

loaf

whole wheat bread cut into 1/2 inch cubes

Optional: white bread

2

cups

2% milk

Any dairy milk works but fat free makes it a little runny and more bland.

1 1/2

cups

shredded cheddar cheese

1

lb

bulk turkey sausage

Optional: bulk pork sausage

1/2

green pepper diced

1/2

red pepper diced

1/2

a white onion minced

Optional: no onion as it isn't necessary if you don't like them.

1

tsp

garlic minced

1/2

tsp

all-spice or italian seasoning mix

1/2

tsp

pepper
Some people will add salt but the flavor and salt from the meat, eggs, garlic and cheese etc is enough for me.
Instructions
Brown the turkey or pork over medium heat and drain.

Remember to dice your bread 1/2 - 1 inch cubes.

Dice green peppers, mince onions and garlic. Sautee them in large skillet for 2 minutes. Add in sausage with the vegetable mix.

Whisk eggs, milk & seasonings together in a separate bowl.
Toss Together Method
Here is where some recipes differ. As a messy bachelor with little patience... I will take all of my ingredients and mix them together in a bowl and then pour into a medium sized greased baking dish... simple enough. I will normally do 2/3rds of the cheese in the mixture and then sprinkle the other 1/3 on the top at the end.
Layer Method
Other people will layer it like so: layer the bread on the bottom of the greased baking dish; layer the meat & vegetable mix on top of the bread; layer half the cheese on top of that; then pour the milk & egg mixture softly on top of that and then top with rest of the cheese.
Prep & Baking
Let sit in the fridge overnight for at least 8-10 hours or more.

Next day preheat the oven to 350 and bake the uncovered casserole for 45 minutes until it is golden on top and the egg mixture is set. Cut into the casserole to check and make sure it isn't runny (but don't let it get dry).

Let it set for 10 minutes.
Print Recipe