A Nashville hot chicken sandwich is one of my favorite things on earth. No joke, I made the greatest tasting sandwich I have ever had! Better than any restaurant I have had, it was absolutely incredible. I hope you love this recipe as much as I loved making it because it was next level good. Top 3 chicken I have ever had next to my Pho recipe and Jamaican Brown Stewed Chicken recipe.
I lived in Nashville at one point and picked up some tips, as well as had some ideas that I thought could really help the taste, and it did! I have some great secrets to make sure you make this recipe has perfect as it can be!
What are the secrets to making the best Nashville Chicken Sandwich? First you have to make sure you get some quality chicken. A nice thick piece is great and I even splured at Whole Foods to make sure I got the best of the best. Whatever you do, don't skimp on the chicken quality, if you can at least. Second, I used pickle juice everywhere, in the coleslaw, in the wet chicken bowl, it was amazing.
Third, make sure you make the hot chicken sauce rub and apply it to the chicken. Fourth, making your own coleslaw is so easy with just a couple of ingredients, per below, and it is so good! I don't ever eat coleslaw and it is necessary for the best sandwich.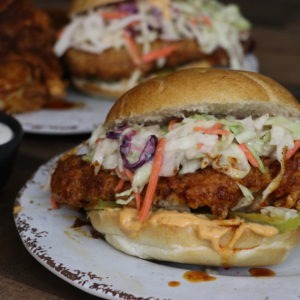 Ingredients
For Chicken
4

medium to large sized chicken breasts

or 2-3 lbs of wings, thighs & drumsticks if not making sandwich

3-4

cups

vegetable oil

pending size of cooking pot/pan - enough to cover half the chicken

1 3/4

cups

buttermilk

sub whole milk

1/4

cup

pickle brine

optional

4

large

eggs

2

cups

flour

2

tbsp

hot sauce

Franks Red Hot or similar

1

tbsp

cayenne pepper

1

tbsp

pepper

1

tbsp

salt

2

tsp

chili powder

Sub Tajin powder

1

tsp

garlic powder
Spicy Oil Rub
1/2

cup

leftover oil from cooking pot

2

tbsp

cayenne pepper

2

tbsp

brown sugar

2

tbsp

chili powder

1

tsp

salt

1

tbsp

honey

Optional
Sandwich Toppings
Buns, pickles, coleslaw, chipotle or spicy mayo, ranch.
Easy Coleslaw
12-14

oz

bag of coleslaw mix

2/3

cup

mayonnaise

2

tbsp

white sugar

2

tbsp

lemon juice

2

tbsp

white vinegar

sub pickle juice

Salt & pepper to taste

1/2-1/4 tsp
Instructions
2-12 hour marinating
Pat dry chicken and generously season chicken with salt & pepper. Cover the chicken and let it sit for 2-12 hours in fridge (longer the better).
Chicken Prep - Need 2 Bowls
Bowl 1 - mix together, eggs, pickle brine, milk & hot sauce.

Bowl 2 - Mix together flour, chilli pepper, cayenne pepper.

Take out chicken and bread it like so:

1. Put chicken into milk mixture.

2. Then flour mixture.

3. Back into milk mixture.

4. Back into flour mixture so all is thoroughly breaded.

5. Place chicken in separate bowl or plate.
Cooking Chicken
Put oil into pot and turn up to medium heat. Cook chicken breast for 8-9 minutes per side with 1-2 pieces of chicken at a time.
Spicy Oil
In a medium-large bowl that won't melt...

Mix together hot oil, cayenne pepper, brown sugar chili pepper, honey, garlic powder and salt.

Brush over chicken prior to serving.
Print Recipe