What is the best way to cook salmon? How long do you cook salmon? There are so many different ways to cook salmon and it can be extremely intimidating. Do you cook it on the grill, in a saucepan, in the oven or how do you cook it the easiest?
Cooking it on the stove is an amazing way to cook salmon but it can be pretty difficult to do it perfectly and it is best to leave that to the professionals. Cooking salmon on the grill can be good but it often is hard to cook salmon evenly on the stove and you want to make sure it does not get dry.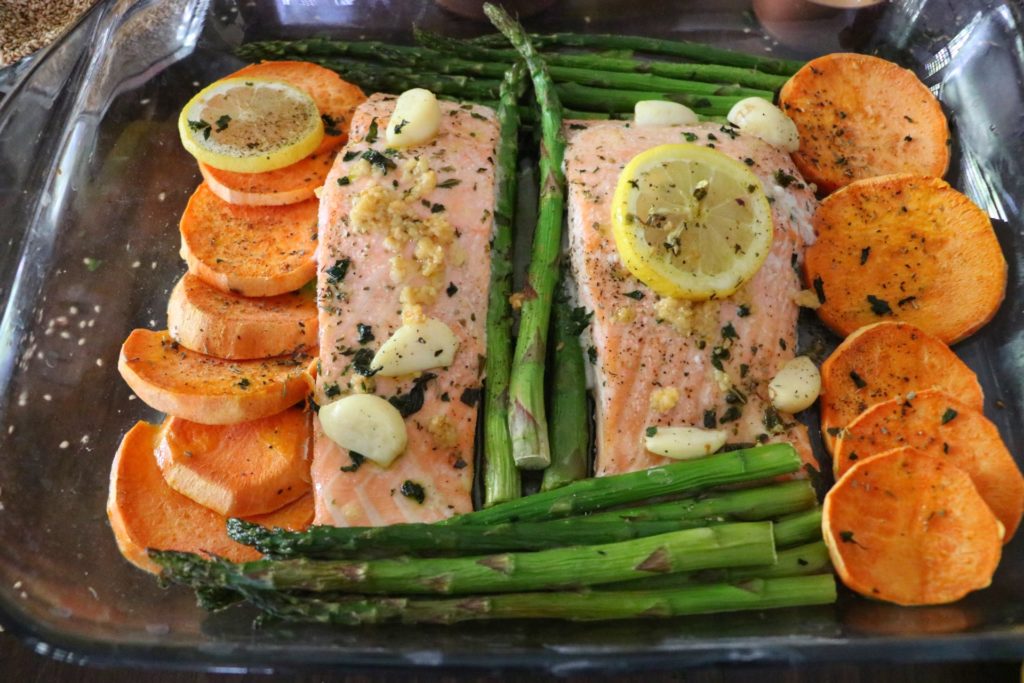 So what is the best way to cook salmon? That leaves us with the best easy way to cook salmon and that is in the oven. You can cook it perfectly and it is so easy as you just set it and forget it!
Salmon is so versatile and arguably the healthiest meat on the planet. It is great to make for your own dinner, a date or hosting. It can be presented beautifully, is cheap for a group and the sides are extremely easy.
I like to go one of two routes with my salmon or sometimes do both! I either go the asian teriyaki version or the lemon & herb version, both of which taste great depending what you're serving.
Great Salmon Baking Tips
When putting salmon in oven you can put it on a dish or line a baking sheet with foil. However I hate doing dishes so I just use foil only and place directly in the oven without the pan.

Before applying seasoning

I like to cut slits or poke fork holes into my salmon so that all of the ingredients can penetrate the salmon a little. However, do this at your own discretion as it isn't necessary but I like to do it and you're reading what I like to do so there's that… You'd think it could dry out the salmon a little but it doesn't seem to as I wouldn't eat dry salmon.

Great Side Options For Baked Salmon
Some great sides options I suggest you can find here: click here for stir fried green beans or click here for a quick tasty asparagus recipe and brown rice.
To go even cheaper and easier then you can buy frozen rice and frozen vegetables then just toss them in the microwave. I suggest hiding the bags though and pretending you did it all of course.

How long do you bake salmon for?
This is a common question searched on the internet. If I had one tip it would be to undercook vs. overcook for my preference as I like a medium-rare beef steak. Thus, how long to cook salmon is depending if you want it well done, medium or medium rare.
Salmon medium-rare and medium is so tasty and don't be fooled into thinking you need to cook a salmon to well-done especially since that risks drying it out.
My recipe below is for medium to medium-well but as mentioned my how long to bake salmon personal thoughts are shorter than longer as nothing is worse than dry salmon. This is especially true if you are having it for leftovers and will be re-heating it a day later.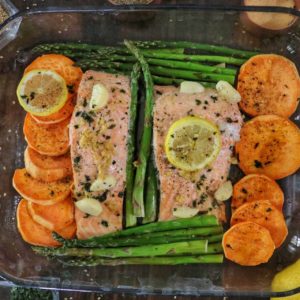 Quick & Delicious Baked Salmon Recipe In 15 Minutes
Salmon is so versatile and arguably the healthiest meat on the planet.
Print
Pin
Rate
Ingredients
Lemon & Herb Version
3

tbsp

extra virgin olive oil

or butter for a less healthy version.

1

tsp

salt.

1

tsp

black pepper.

3

cloves

garlic

or 2 tablespoons of pre-minced garlic

1

lemon

1

tbsp

Italian seasoning.

From scratch you can just use 1 tsp. of thyme and dried oregano).
Teriyaki Version
1

tsp

extra virgin olive oil

4

tbsp

teriyaki marinade

Teriyaki sauce works too but marinade is thicker and better.

2

cloves

garlic

1

lemon

1 tbsp. of pre-minced garlic
Optional Additions
1

tbsp

dill

1

tsp

chopped parsley for garnish & presentation.
Instructions
Preheat oven to 375 degrees.

Put the salmon on the dish/pan/foil while the oven preheats.

Marinades & sauce mixtures, You can either whisk all the ingredients together (except the salmon and lemon) in a bowl then apply. Or I like to just apply myself directly onto the salmon with my hands so again I don't need to do more dishes. If doing this add the spices at the end.

Sprinkle some parsley and add slices of lemon overtop.

Bake the salmon for approximately 15-25 minutes depending on size so that it is completely cooked through in the thickest part. If your salmon is much thinner than 1 inch then I would check at 15 minutes, if it is just over 1 inch then 20 minutes and 1 1/2 inches+ then 25 minutes. You can always pull it out and check without ruining the dish so feel free to do that 1-2x if you need as that is better than over-cooking the salmon.

Time to cut and serve! It should lift off the skin perfectly after cooking as well.
Print Recipe

If you liked this article please let me know in the comments.
Want to improve this list for version 2.0?
Let me know in the comments and can improve for next time!
For another great seafood recipe go check out the Seafood Boil in a Bag Recipe. It is super easy and delicious!