Hangovers are maybe the worst consistent thing in my life. I honestly lose 24-72 hours of my life depending what friends I was hanging out with. They are getting so bad I literally researched them to death to create a Complete Hangover Guide that goes over what causes a hangover and how to help it.
As I went down this rabbit hole I was able to get some great ideas on the best recipes to help and get me back on my feet asap. I will quickly touch on what causes a hangover and from all of that, some of my best recipes that will bring you back to life!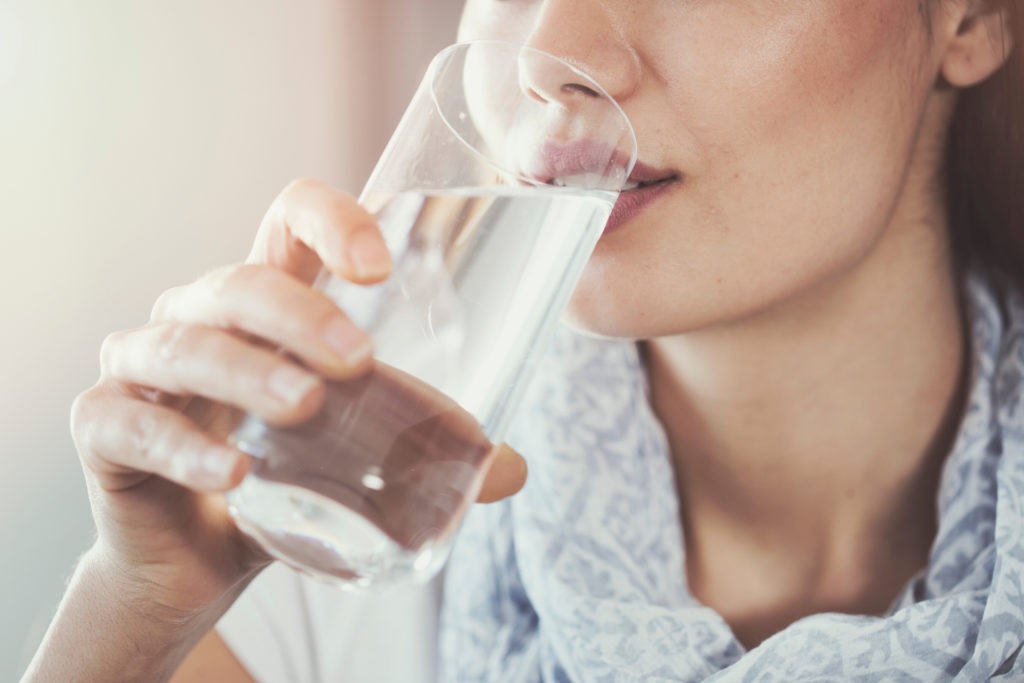 According to healthline.com the main causes of hangovers are dehydration, gastrointestinal issues, electrolyte imbalance, low blood sugar, immune system effects, headaches from vasodilation (expanding blood vessels), poor sleep and adding in carbonated drinks speeds up the rate of alcohol going into your bloodstream.
Thus, we need to do a few things to slow the issues above as well as recovery. Slowing them means eat more carbs, drink more water, drink less carbonated drinks and ideally drink on a day where you can sleep lots the next day. Also drinking clear liquor with less congeners helps as congeners are chemical by-products found in darker alcohol like bourbon/whiskey and red wine.
Overall the eating carbs sounds amazing, win/win! But aside from that you definitely need to rehydrate and add electrolytes; B6 vitamins; stabilize blood sugar with carbs; use natural antacids like ginger; caffeine is said to help and good sleep. With that said, I have compiled some great recipes that will help you back on your feet.
Scroll down to see all of my best 11 Hangover Cure Recipes
The Hangover Cure Smoothie
This smoothie is one of my favorite things on earth. It is a copycat recipe from this healthy quick-food spot in Phoenix called D-Lite, which is a local favorite. This is great for hangovers as it checks off a ton of boxes on the cure list.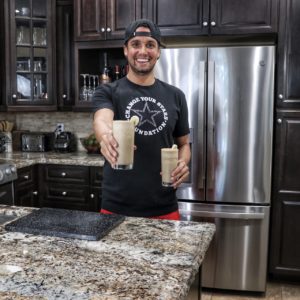 Best Espresso, Chocolate, Peanut Butter & Banana Protein Smoothie
This copycat D-Lite Breakfast Buzz recipe version is full of amazing flavor and that perfect smoothie texture. There also is one secret for making the best version of this smoothie that adds a creamy texture and really makes it taste more like dessert than breakfast!
Print
Pin
Rate
Ingredients
1

frozen banana

Tip: peel your bananas that are getting old and put them in the freezer

1

cup

almond milk

or milk of your choice. Silk milk with protein is great for macro lovers.

1

6.5oz

Starbucks doubleshot espresso can

1/2

cup

ice

1-2

tbsp

heaping scoop of peanut butter

Can use powdered PB to cut down on calories

1

scoop

chocolate protein powder

vanilla, banana or coffee flavor also work. Be sure to add more cocoa powder or chocolate syrup to makeup for loss of chocolate taste
Starbucks Doubleshot Substitutes
Or
4-6

oz

strong coffee

cooled (ideally 2-3 scoops if instant coffee)

1

tbsp

cocoa powder

or chocolate syrup
Options
2-4

tbsp

oats

if wanting to add complex carbs
Instructions
Mix all of your ingredients in the blender... and blend!

Taste it while still in the blender to see if you want more chocolate or peanut butter flavor.
Print Recipe
The Hangover Cure Sandwich
Oh my word… much like the smoothie, this is an idea I took from my travels as it was a game changer! This is a copycat recipe from Sessions Taphouse at Big White Ski Resort in British Columbia. I was on a guys snowboard and on day 2 or 3 of feeling like death I stepped into this amazing dish. Carbs, vitamins, grease and everything else you want and your body needs!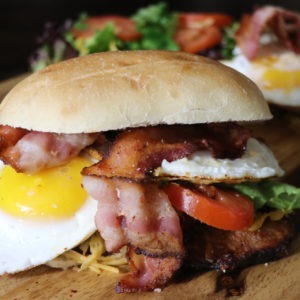 The Best Hangover Cure Sandwich Recipe On Earth
This recipe is extremely simple and the easiest way to do it is just to buy some premade brisket or even pulled pork and you are already off to the races. As mentioned I am always a pork person only for breakfast but this brisket addition is next level. It truly is a hangover helper and if you want more info on everything hangovers as well as hangover recipes then checkout my Ultimate Hangover Guide here!
Print
Pin
Rate
Ingredients
Toasted bun

now's the time to splurge on your favorite fresh deli buns. I love telera buns for this one.

4

slices

brisket

heated and smothered in BBQ sauce

3

strips

bacon

2

eggs

sunny side up or over-easy

Shredded cheese

to your taste

Aioli or some sort of chipotle/spicy mayo
Optional Additional Toppings
Caramelized onions

Lettuce

Tomatoes
Instructions
Cook bacon, cook eggs, heat brisket, toast bun, shred cheese and cut up fixins.

Go right to heaven, collect $200.
Print Recipe
Carrot Apple Cider Vinegar Ginger Turmeric Detox Drink
It's a mouthful but it really is so easy to make. This is a great way to get your B6 vitamins, detox, calm your stomach and hydrate.
Quick Carrot Apple Ginger Turmeric Juicing Recipe
The great news is this recipe is great tasting, so good for you, takes minutes to make and is extremely cheap. You can of course juice the carrots yourself but if on a time crunch like the most of us just buy the juice.
Print
Pin
Rate
Ingredients
1

cup

carrot juice

3/4

cup

apple juice

1

tbsp

lemon juice

1/4

tsp

raw, unfiltered apple cider vinegar

1/4

tsp

ground turmeric
Optional
1/2

tsp

shredded ginger

1/2

tsp

spirulina

Read my other juice recipes to see the incredible benefits of spirulina.
Instructions
If you want to be a hero and juice your own carrots and apples go ahead… the rest of us…

Mix all in a glass and stir.

As mentioned I like to make this x 6-10+ and store in a jar in the fridge for the week.
Notes
Read my other juice recipes to see the incredible benefits of spirulina.
Print Recipe
Bloody Mary Grilled Cheese Sandwich!
Now this is an absolute game changed! One of the most innovative and best sandwiches ever created! If you like grilled cheese, bloody marys or caesars, and bacon… then you are about to go to heaven!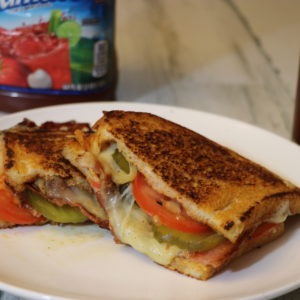 Caesar or Bloody Mary Grilled Cheese Sandwich Recipe
Caesar grilled cheese or bloody mary grilled cheese, this is the greatest thing on earth!
Print
Pin
Rate
Ingredients
Sandwich Ingredients
6-8

strips

bacon

Cheddar cheese

Enough for two layers in each sandwich.

Pickle slices

enough for one layer in each sandwich

Sliced roma tomatoes

enough for one layer in each sandwich

4

slices

sourdough bready

need sourdough so break doesn't fall apart
Bread Soak Ingredients
2/3

cup

clamato juice

sub tomato juice for bloody mary version

3

large eggs

3

oz

vodka

2

tbsp

butter

sub cooking oil

1

tbsp

Tabasco

1

tbsp

hot sauce

Tapatio, Cholula etc. Or just 2 tbsp Tabasco

1

tbsp

Worcestershire sauce

1/2

tsp

black pepper
Instructions
In a shallow bowl, mix together bread soaking ingredients. Soak both sides of break for 3-5 seconds on each side.

Brown both sides of bread per below;

On a large frying pan over low-medium heat, place two pieces of soaked bread onto pan and cook the side for 2-4 minutes until golden brown.

Flip one piece and then place down half the cheese, then tomato, pickles, bacon and then the rest of the cheese. Cheese both ends so it sticks to the bread on both sides.

Place the other piece of bread (cooked side down) on top of the sandwich.

Lower heat to low-medium so it heats up the inside of the sandwich without burning the outside instantly. Cook for 3-5 minutes on each side until bread golden brown.
Print Recipe
Hair Of The Dog – Canadian Caesar
A caesar is Canada and Mexico's version of the Bloody Mary. It is MUCH better than a bloody mary as the secret ingredient is Clamato juice, which is thinner and saltier than Bloody Mary mix. 100% of friends who have tried a caesar have moved on from Bloody Marys and you will too. They say drinking to help a hangover just delays the hangover but it definitely can dissipate the pain over time vs. the pain all at once. The salt from the drink also will help you replenish electrolytes.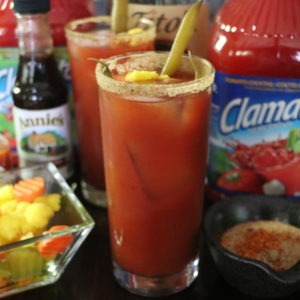 The Best Simple Caesar Drink Recipe
Great tasting bloody mary, the Canadian version called a Caesar. Perfect for brunches, breakfast, hangovers or post sporting events.
Print
Pin
Rate
Ingredients
2

ounces

Vodka

1-2

tbsp

pickled juice

whether this be from pickles, spicy beans etc.

2

tbsp

Worcestershire sauce

I like mine extra muddy and do 4-5 shakes.

1

tbsp

Tabasco sauce

I like mine extra spicy and do 3-4 shakes.

1

tbsp

Cholula or Tapatio

Since this isn't spicy and more for flavor you can do 2-3 shakes.

Clamato juice

Don't even think about the "clam" part as all it does is add some amazing salt taste and thins out the tomato juice, which is a necessity.

Celery salt seasoning or Tajin for the rim

I actually mix both together.

Pickled spicy beans

Or pepperoncini or pickled spicy vegetables or pickles.

Ice filled cup
Optional
Squeeze of lime juice.

1

tbsp

A1 or steak sauce.
Instructions
Spicy salt rim. Most important start… I already have my celery salt & Tajin mix in a wide Tupperware container to stay ready, sort of like an alcoholic linebacker, always be prepared.

Put a little water on the glass from the tap letting the water flow around the top edges of the glass. Dip the wet (not dripping) edges of the glass into the salt and get a nice thick rim around the edge.

Add in the vodka and ice cubes.

Fill the glass with Clamato juice about 1-2 inches from the top and add pickled juice.

Shake in sauces to taste & lime juice then stir.

Add your ideal pickled garnish... not celery.
Print Recipe
Stupid Fries! – The Best Loaded French Fry Recipe
Another one of my favorite things to eat. This is a copycat recipe from Lolo's Chicken & Waffles, which you have to go to when visiting Phoenix or Scottsdale. This recipe is similar to Poutine but adds some extra ingredients, which makes it absolutely amazing.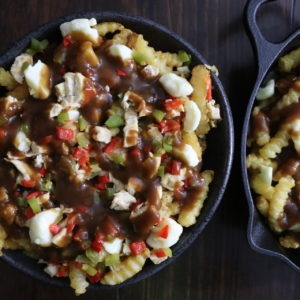 Loaded Stupid Fries
This recipe below is a copycat version of the famous Lolo's Chicken & Waffles Stupid Fries. These fries are incredible and if you have never been to Lolo's Chicken & Waffles then you need to go to Phoenix, Arizona now!
Print
Pin
Rate
Ingredients
4-5

russet potatoes

or a bag of store bought french fries

1

cup

white cheddar cheese curds

torn mozzarella chunks work as well.

1

packet

brown gravy mix

or make your own gravy

1/2

a green pepper

1/2

a red pepper

1/4

a white onion
Instructions
Make french fries via cooking method in our recipe above.

Cook chicken, make gravy & dice up peppers & onions.

Lay french fries on plate, cover with chicken, vegetables, cheese and then gravy.
Print Recipe
Charcoal Lemonade Detox
Another great detox drink. This is good to drink before you go out as well due to charcoal or immediately after drinking. You want to drink this before or right after as once the alcohol goes into your bloodstream, it is said that it is more unlikely the charcoal can do its work against the alcohol.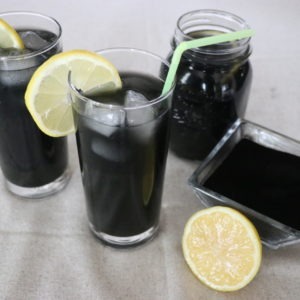 DIY Charcoal Black Lemonade Recipe Detox & Hangover Cure
Activated charcoal is another one of those incredible "superfoods" and was once considered an antidote for everything.
Print
Pin
Rate
Ingredients
3

cups

water

4

lemons juiced

or 1/2 cup of lemon juice. I like to over lemon so adjust it to your taste.

1

tbsp

activated charcoal

1

tbsp

raw honey

Add in more honey if you want it sweeter but don't get carried away.
Instructions
In a pitcher or ideally a mason jar, mix together water, lemon juice & honey. Mason jars are great so you can shake it well and mix before each serving.

Add charcoal. Shake or stir well.
Print Recipe
Easy Chicken Pho Recipe
Pho is many people's favorite hangover food due to the salt of course and how you can add lots of vegetables and other ingredients to get vitamins and nutrients from the dish. Pho is one of the most intimidating dishes to make and you typically need a ton of ingredients that aren't in your cupboards at home. Thankfully, I created a recipe where you can sub a lot of ingredients that may not be commonly in your household. I dumbed the recipe steps down as well to try and make it easy enough that anyone can do it! It was also some of the best chicken I have EVER had.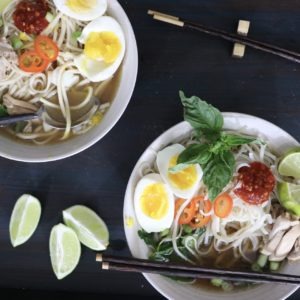 Quick and Easy Chicken Pho Recipe
Pho has been sweeping the US for the last couple of years and it might be the most photographed food on Instagram. What is great about pho is that you really can make it however you would like because it is extremely versatile. I was taught some great Pho recipes when traveling through Vietnam with some tips and tricks along the way! Unfortunately it is near impossible to make it as good as the real thing you'd get in Vietnam, especially when you want something quick... however this recipe is still great and will satisfy that craving!
Print
Pin
Rate
Ingredients
Pho Broth
1

lb

chicken thighs or breast

4

cups

chicken broth

3

green onions

1

whole

yellow or white onion quartered

2-3

inch

piece of ginger

2-4

cloves

garlic - lightly crushed

I always extra garlic. I will add 2 full crushed to make broth, which I remove and also 2 minced into broth.

2

whole

cloves

Do double cloves or star anise and don't buy the other if tight on cash

2

whole

star anise

Do double cloves or star anise and don't buy the other if tight on cash

3

tbsp

fish sauce

See fish sauce substitutes in body of article

1

tbsp

coriander seed

See body of article for substitute

1

cinnamon stick broken in half

optional, skip if tight on cash and don't have

1

tbsp

sesame oil

sub olive oil
Pho Toppings
8

oz

rice noodles

1

cup

bean sprouts

1

handful

thai basil

Sub regular basil if needed.

1

handful

cilantro

I don't like cilantro so I leave this out...

1/2

lime

cut into wedges

salt & pepper to taste
Optional Toppings
Few

sprigs

fresh mint

1

fried or soft boiled egg

Sriracha to taste

1/2

jalapeno thinly sliced

2-3

shiitake mushrooms

1

chile pepper

1

shredded carrot
Instructions
Broth Creation
Heat oil in a large soup pot to medium-high heat.

Peel and cut ginger into 2-3 pieces. Cut off 3-4 inch white stems of green onion to use now, save the rest for later. Add both to pot and press/crush both to express juices.

Add quartered white/yellow onion. Cook 2 more minutes.

Add in star anise, cinnamon stick, clover and coriander seeds and cook for 2-3 more minutes. Then add in broth, fish sauce and garlic and bring to a boil then reduce heat to low. Season with salt & pepper to taste.

Add in chicken. If using chicken breast then cut it in half to help shorten cooking time. Cook chicken for 5-8 minutes. Broth will Simmer for a total of 25 minutes. After the 25 minutes remove onions, ginger and spices from the broth before serving.
Toppings
Cut chicken into thin slices or tear it. If chicken is not fully cooked you can add it back into broth at the end of simmering for the last 1-3 minutes to finish cooking.

If soft boiling an egg cook it in broth for 5-7 minutes.

Cook the rice noodles according to package directions.

Prep toppings & garnish. Cut/trim lime, basil, green onions, mushrooms, bean sprouts, cilantro, peppers and mint.
Serving
Divide noodles between bowls & top with chicken. Ladle hot broth over noodles & chicken. Finish by adding your favorite toppings and garnish.
Print Recipe
Simple Panang Curry Recipe
Similar to Pho this one is so salty and a taste quencher! You will also eat it with rice so those carbs are another thing that will help you get back to feeling better. The heat is another nice addition to get your blood going and help you sweat it out a little!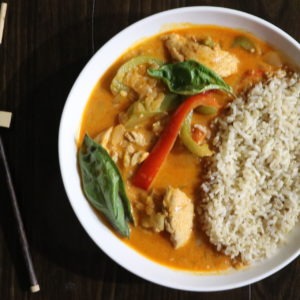 Simple & Quick Panang Curry Recipe in 20 Minutes
A perfect easy recipe to make authentic Thai panang curry at home in no time at all!
Print
Pin
Rate
Ingredients
1 1/2

lbs

chicken thigh or breast

Cut into 2-3 inch pieces

1 1/2

can (14 ounce)

coconut milk (not boxed coconut milk)

Do not shake, you will see why

1

4oz jar

Thai Panang curry paste

Substitute red curry paste

1

red bell pepper chopped

1

green bell pepper chopped

1

white onion chopped

6

cloves of garlic minced

1/4

cup

fresh basil leaves

1

inch

lemongrass finely chopped

3

kefir lime, leaves

Substitute 1 bay leaf and 1/4 tsp of lime zest. Or not 100% necessary if in a pinch.

2

tbsp

brown sugar or palm sugar

1

tbsp

Galangal grated or minced

Substitute ginger

1

tbsp

creamy peanut butter

Ideally unsweetened

1

tbsp

fish sauce

Substitute 1 tbsp soy sauce & 1 tbsp worcestershire sauce

1

tsp

tamarind paste

Substitute 1 tsp lime juice
Instructions
Chicken, Paste and Secret Tip
Heat up the curry paste at a medium heat for 2-3 minutes.

If you notice there was no oil in the ingredient list. That's because you will scoop 2 tbsp of the oily cream from the top of the can to use for cooking oil. Add chicken & garlic then cook for 3-4 minutes until chicken is almost cooked through.
The Rest
Add in 1 cup of coconut milk, all other ingredients, and let come to a simmer
The Finish
Lower the heat to simmer and let simmer for 3-4 minutes until chicken is cooked and peppers are tender.

Taste the curry and here is where you add more of the coconut milk if needed; to add more salt add more fish sauce (worcestershire & soy sauce); to add a little more citrus you can do a little more of the tamarind or lime juice if you wanted.
Serve
Serve with any of your favorite rice. Of course sticky rice, basmati or white rice are ideal. I used whole wheat rice to add a touch of healthiness to the meal.
Print Recipe
Mermaid Apple Cider Vinegar Lemonade Detox
Another simple easy detox drink that helps hydration, your belly and helps you detoxify your liver and the rest of your body!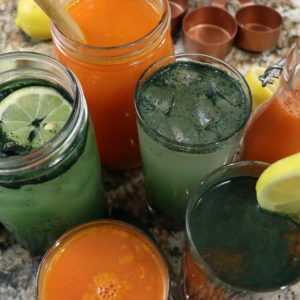 Mermaid Apple Cider Vinegar Lemonade Juice Detox
What's great about this is that it combines the amazing benefits of the trendy ACV drink but adds in the unreal super duper food of spirulina.
Print
Pin
Rate
Ingredients
3/4

cup

water

1/4

cup

lemon juice

1

tbsp

raw, unfiltered apple cider vinegar

use 2 tbsp if wanted

1

tbsp

raw honey

use 2 tbsp if wanted

1/8

tsp

raw honey.

use up to 1/4 tsp
Instructions
Mix all in a glass and stir.

As mentioned I like to make this x 6-10+ and store in a jar in the fridge for the week.
Print Recipe
Poutine 4 Ways
Like the stupid fries above, this is a crowd favorite! Poutine is another great Canadian invention and has the carbs, salts and fats to give you the comfort you need at this time! Little wins along the way, eat this, take some tylenol and go for a nap!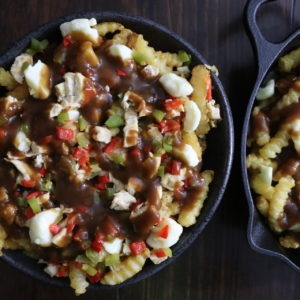 Quick & Easy Poutine Recipe 4 Ways!
Poutine is as Canadian as Wayne Gretzky and Basketball… yes James Naismith was a Canadian, look it up. The first time I saw it I thought it was the most disgusting thing I have ever seen but once I tried it... Dios mio it is delicious. It is the best comfort food, perfect for hosting people or if you just are hungover and want to be your best self.
Print
Pin
Rate
Ingredients
4-5

russet potatoes

or a bag of store bought french fries.

1

pack

brown gravy mix

1.5

cups

white cheddar cheese curds

torn mozzarella is a good substitute.
Make Them Lolo's Stupid Fries
1

cup

cooked chicken

1/2

a red pepper

1/2

a green pepper

1/4

a white onion
Make them Holiday Style
1

cup

turkey

Substitute in sweet potato fries & turkey gravy

Optional: add cranberry sauce
Cheeseburger & Egg Poutine
1

cup

cooked ground beef

2

fried

eggs
Breakfast Poutine
1

cup

scrambled eggs

or two fried eggs

1

cup

favorite breakfast meat

Ham, bacon, sausage, chorizo etc
Instructions
Cook your french fries via recipe in article to make the best french fries.

Make gravy according to packet but only use 3/4 of the suggested water to make sure it is nice and thick.

Put french fries in bowl, top with cheese curds and then pour gravy over top.

If making the additional methods then of course cook all your fixins and add over top of fries before pouring the gravy.
Print Recipe
Nashville Hot Chicken Sandwich
This no joke is top 1-3 meals of mine. Truly one of the best things on earth and I surprisingly perfected it and no joke made the best Nashville hot chicken sandwich I have ever had! It is pretty simple as well and you don't even need a deep fryer!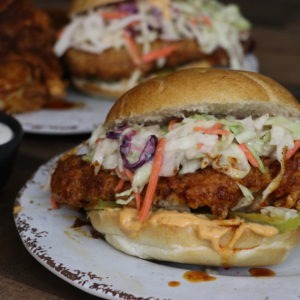 Ingredients
For Chicken
4

thicker chicken thighs or medium chicken breasts

or 2-3 lbs of wings, thighs & drumsticks if not making sandwich

3-4

cups

vegetable oil

pending size of cooking pot/pan - enough to cover half the chicken

1 3/4

cups

buttermilk

sub whole milk

1/4

cup

pickle brine

optional

4

large

eggs

2

cups

flour

2

tbsp

hot sauce

Franks Red Hot or similar

1

tbsp

cayenne pepper

1

tbsp

pepper

1

tbsp

salt

2

tsp

chili powder

Sub Tajin powder

1

tsp

garlic powder
Spicy Oil Rub
1/2

cup

leftover oil from cooking pot

2

tbsp

cayenne pepper

2

tbsp

brown sugar

2

tbsp

chili powder

1

tsp

salt

1

tbsp

honey

Optional
Sandwich Toppings
Buns, pickles, coleslaw, chipotle or spicy mayo, ranch.
Easy Coleslaw
12-14

oz

bag of coleslaw mix

2/3

cup

mayonnaise

2

tbsp

white sugar

2

tbsp

lemon juice

2

tbsp

white vinegar

sub pickle juice

Salt & pepper to taste

1/2-1/4 tsp
Instructions
2-12 hour chicken brining
Brine the chicken in a mixture of half pickle juice and half water with 1/4 cup of extra salt in the container. If not enough pickle juice you can just do salt and water.
Chicken Prep - Need 2 Bowls
Bowl 1 - mix together, eggs, pickle brine, milk & hot sauce.

Bowl 2 - Mix together flour, chilli pepper, cayenne pepper.

Take out chicken and bread it like so:

1. Put chicken into milk mixture.

2. Then flour mixture.

3. Back into milk mixture.

4. Back into flour mixture so all is thoroughly breaded.

5. Place chicken in separate bowl or plate.
Cooking Chicken
Put oil into pot and turn up to medium heat. Cook chicken breast for 8-9 minutes per side with 1-2 pieces of chicken at a time.
Spicy Oil
In a medium-large bowl that won't melt...

Mix together hot oil, cayenne pepper, brown sugar chili pepper, honey, garlic powder and salt.

Brush over chicken prior to serving.
Print Recipe