Arguably the best hike Oahu Hawaii offers is Three Peaks, also known as Olomana Trail. If you are in town on vacation it is definitely the best hike near Honolulu and Waikiki.
While there are a ton of great Oahu hikes this one is the best mix of views, challenges, excitement and just overall experience. While it is quite difficult it still can be done by most hikers but do not take it lightly.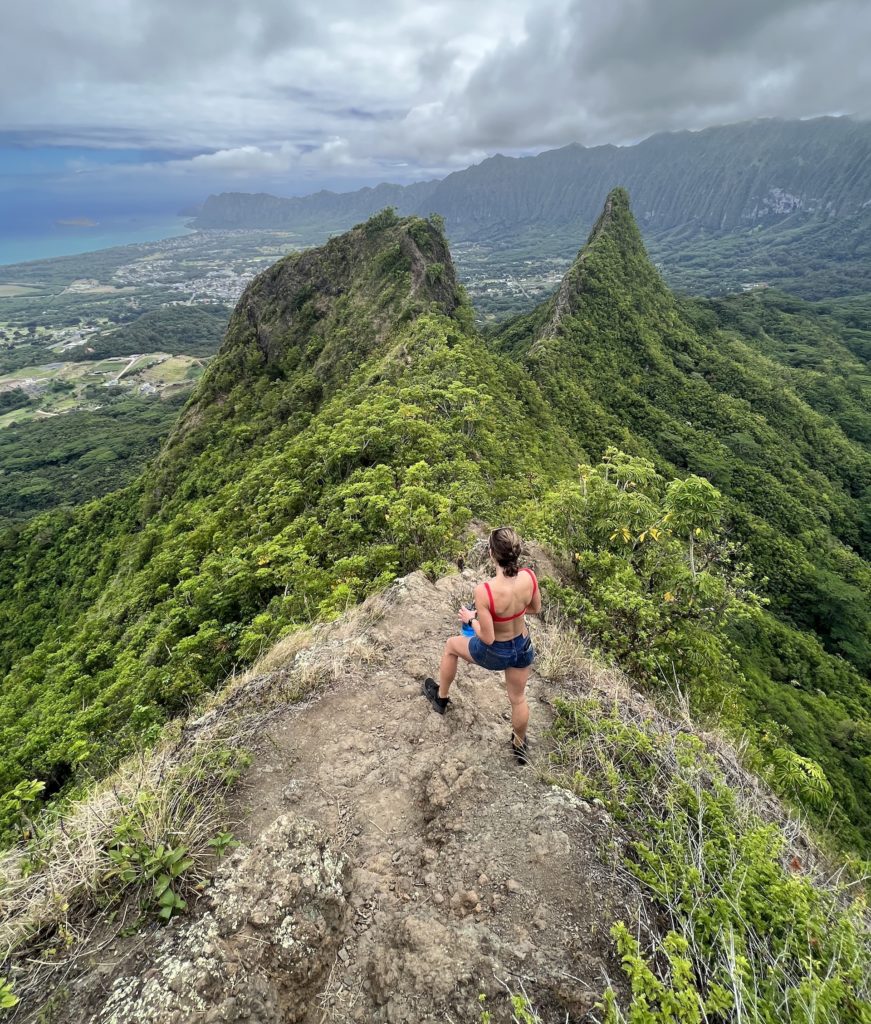 The hike itself is set in a tropical paradise. The entire hike is so stunning with going through a jungle, overlooking mountain ranges, and of course panoramic views of the ocean.
This is easily in my top three favorite day-hikes I have ever done. Being a perfect 3.5-4 hours long it is an incredible workout and offers some of the best views you can imagine!

While it is quite hard, the good news is that you can turn around at the first peak where you get that amazing view of the entire area as well as the other two peaks.
This hike trailhead is just 20-30 minutes from Waikiki and Honolulu and is a beautiful drive as you get closer to the trail.
Even if you are scared of heights, I suggest pushing through to at least the first peak. There is one hard ropes area before the first peak but take your time, use help from friends and it will be worth it!

The hike is rough and involves repelling along the way! While the use of the ropes seems overwhelming, once you do it once you will feel so much better and get more confident for the others along the way.
There is only one of the more… scary rope areas leading up to the first peak but on the way to the third peak you will encounter a few pretty incredible rope areas.

What makes this hike so amazing is that it truly challenges you, helps you overcome your fears and by the time you go back to the first peak, the other rope areas are simple your second time around.
It is the perfect length as well as you don't want something short, easy and overpopulated like Diamondhead Crater and it also isn't something that takes up a full day.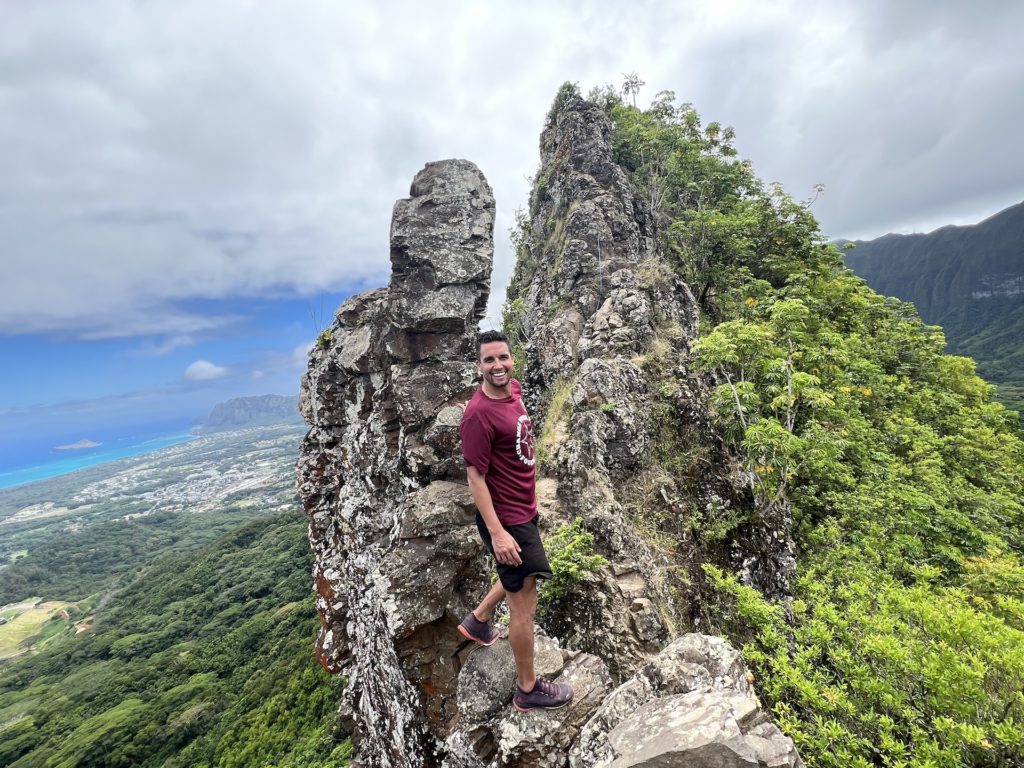 In a hike I always want a big challenge, a workout, unique experiences and of course a payoff. This is all of these things and more!
How Long Is Olomana Trail in Oahu?
Olomana Trail is 4.36 total miles from the start of the trail round-trip. You will also walk 0.83 miles from where you park to the trailhead along a road.
If you include walking from the parking spot the Three Peaks hike is 6.02 miles total round-trip.
How long does it take to hike Olomana Trail?
It will take 3-4.5 hours pending your speed. A comfortable pace with some water breaks would take about 3.5-4 hours.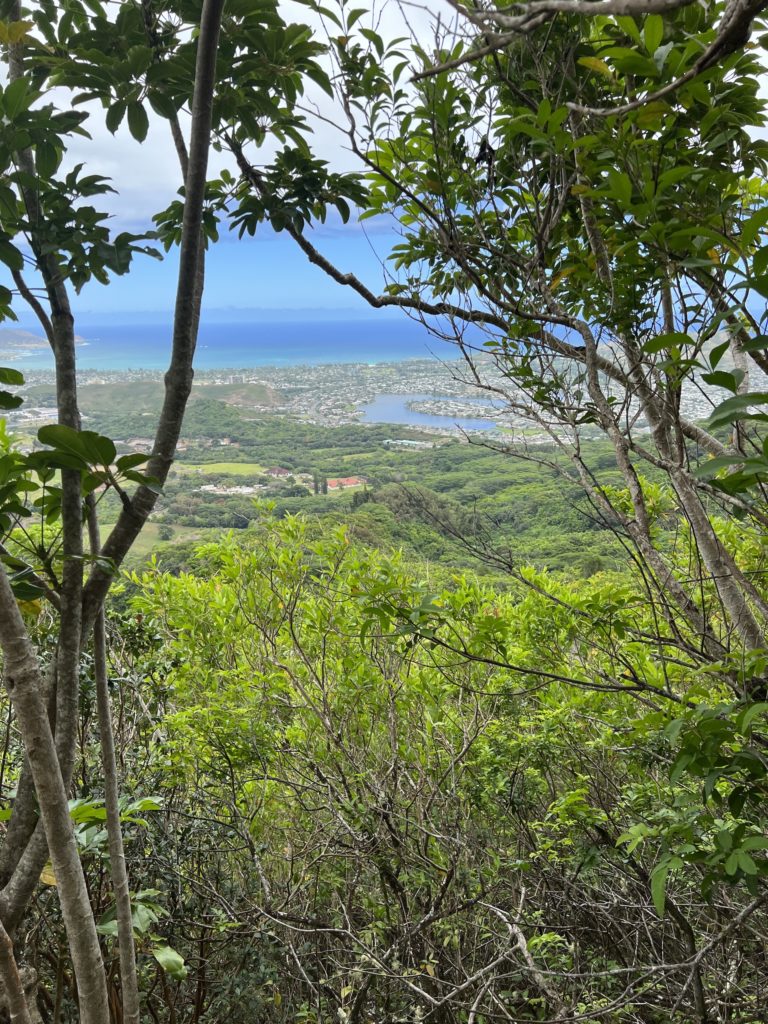 What to Expect On The Hike
This hike is difficult on any scale. It is a pretty intense hike and is hard enough even if you just get to the first peak.
You start from where you park .83 miles away from the trailhead (or can uber right up to it). Then you will see the marked trailhead and start off a pretty moderate hike through the forest.

It is nice as the entire hike is covered and you are shaded until the first peak. It is a pretty steady incline and simple enough up until you start to hit the ropes areas.
There are rope areas there more for balance but as you get closer to the first peak, you will hit the first more challenging rope section where you go up a pretty steep part.

Once you get past that, you are almost at the top of the first peak. From Peak 1-2 it isn't too bad but there are a couple rope areas that are a little scarier than the one you did before the first peak.
With that said, once you make it to the second peak you are given more great views and a hammock at the top just waiting for ya!

If it wasn't serious enough… it gets more rough. Instantly off the second peak is probably the second hardest rope area as you go down the saddle between the two peaks.
Take your time and just know there is no hurry and you can do it!

Once you start going up again… it gets more intense. However, you already did the ropes down from the second peak so you can do this next rope area going up and you are almost there!
This hike is so incredible and with the satisfaction of your incredible accomplishment at the end it just makes the view so much better!

How Far Is It to the first peak of Olomana Trail?
It is 1.43 miles to first peak
How Far is it to the second peak of Olomana Trail?
1.61 to 2nd peak (.5 miles to 3rd peak)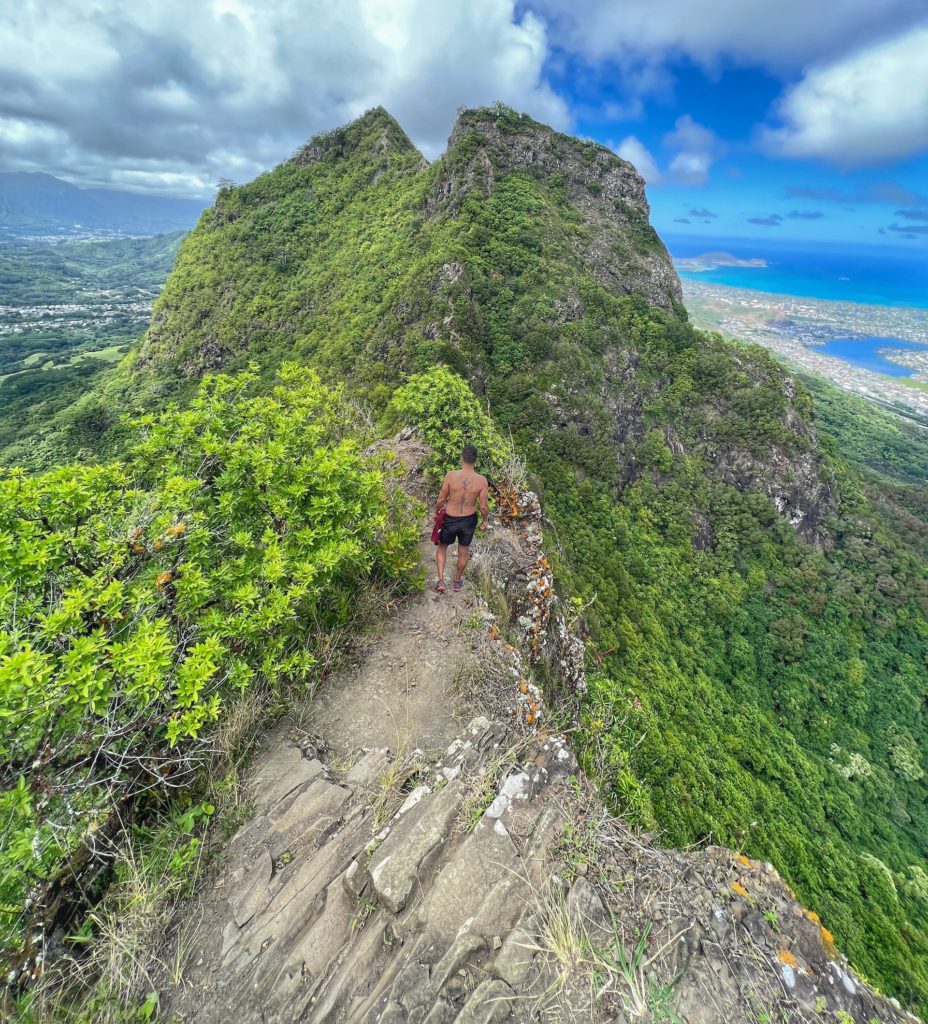 How Far Is it to the third peak of Olomana Trail?
It is 2.12 miles to the third peak of Olomana Trail.
What is the elevation you climb for Olomana Trail?
You will hike 2,500 feet in elevation when hiking Olomana Trail.
Where do you Park to Hike Olomana Trail?
You hike 0.83 miles from the parking lot at Auloa just down from loop road on the way to the golf course. You will see other cars parked alongside the road.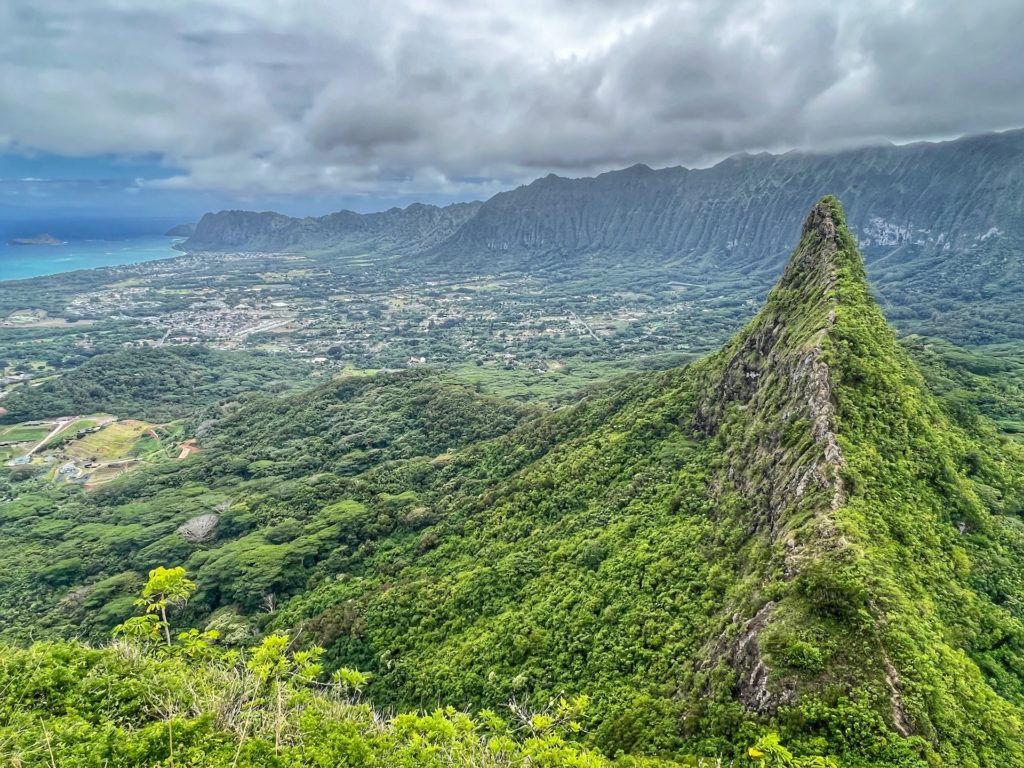 What should I pack for Olomana Trail?
You will want to bring a lot of water, at least 64 ounces per person. Also bring a lunch or at least a couple granola bars or a lunch because it can be a very rough hike.
Also bring a backpack or something to allow your hands to be free as there are a bunch of ropes areas you will want to use both hands for.

If you just plan on doing the first peak then you are fine with 32 ounces of water and won't need any food, but better to always pack extra water and a snack just in case!