Chicken… we love it yet it is hard to get that perfect juicy, tender and flavorful chicken breast or thigh which is why this recipe exists. The beautiful thing about this recipe and chicken in general is that it is so versatile and completely customizable.
Whether you are looking for something asian, greek, used for pasta or salads this recipe has you covered. If you want to marinate the chicken for your style of meal then here are some terrific easy chicken marinades to use to make your chicken stand out even more!
How long does it take to bake chicken?
How long to bake chicken is always a common search as baking chicken times and temperatures are all over the map. I love to cook at high heat and seal all the juices in. I have how long to bake chicken below in the recipe section.
Chicken can be cooked multiple ways and I have a few options like a recipe for grilled chicken here or recipe to saute chicken here. What's great about this recipe is it is so simple and anyone do it quickly and easily. Not only that, while it is baking you can use that 15-18+ minutes to prepare your sides such as the asparagus or szechuan stir fried green beans.

Most Important Tip For Cooking Chicken
Brine the chicken if you didn't marinate it. This is a game changer even if you can just do it for 15-30 minutes it will make your chicken 25% more juicy and cook more even.
To brine just fill a bowl with lukewarm water (not hot), put in a handful of salt and let it sit for 15-20 minutes with a maximum of 12 hours. If brining for longer than 15-30 mins I suggest covering it with plastic wrap or do in tupperware.
After brining give it a quick rinse in cold water to get the salt off and dry it with paper towels. I also like to brine it in 50%+ pickle juice depending what I am using the chicken for. If you are doing anything greek, italian, garlic or even deep frying, this is a great idea.
Great Recipes & Sides For Baked Chicken
Some great recipe options for this chicken include this chopped salad recipe or served with rice and this simple asparagus recipe or my favorite szechuan stir fried green beans recipe.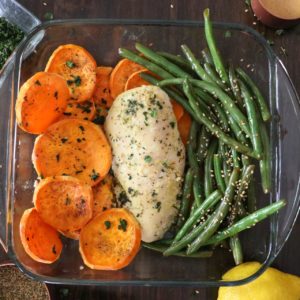 Easy, Juicy Baked Chicken Breast Recipe
Chicken… we love it yet it is hard to get that perfect juicy, tender and flavorful chicken breast, which is why this recipe exists.
Print
Pin
Rate
Ingredients
Boneless, skinless chicken breast. Chicken thigh works too but would be lesser time.

The preference is fresh chicken or you can purchase frozen of which you will have to completely thaw before using.

Olive oil or butter.

Olive oil is healthier but butter is tastier of course.

All-purpose seasoning

or the seasoning for the taste you are going for whether it is garlic, BBQ, Italian/Greek, Asian, Mexican, Cajun etc.
Optional
Brine or marinate... not really optional, do it!
Instructions
Prepare. If you marinated then just add some extra spices and oil you cooking platform so it doesn't stick. If you didn't marinate toss and rub your chicken in 2-3 tbsps. of olive oil (or butter) and add your spices and/or sauces. If doing it plain you can just do salt & pepper but ideally add a little chicken or all-purpose type seasoning.

Place your chicken either in a large baking dish or to save dishes I often just use foil and place directly in the oven.

Bake. Baking anything tough as really everyone has their own ideas whether it is slower longer or hotter faster. I prefer to bake at high heat at 450 degrees for 15-18 minutes pending the size of breast or thigh. This seals in all the juices of the breast and gives you the most tender juiciest chicken!

If you have a meat thermometer then you will want the internal temperature at 165F (74C).

Rest. I prefer to rest any meat I cook as cutting into it right away will release all of the juices vs. locking all the juices within.

You can cover your chicken with tinfoil or just use the tinfoil it was cooking in and wrap overtop. Do this for about 5 minutes before serving. This also helps you prep any final things you wanted to do.
Print Recipe
If you liked this article please let me know in the comments.
Want to improve this list for version 2.0?
Let me know in the comments and can improve for next time!