Where are the best places to eat & drink in tulum? What is the best bar, the best beach club or the best party?
If you are looking for must visit restaurants & bars then read below for thing you cannot miss!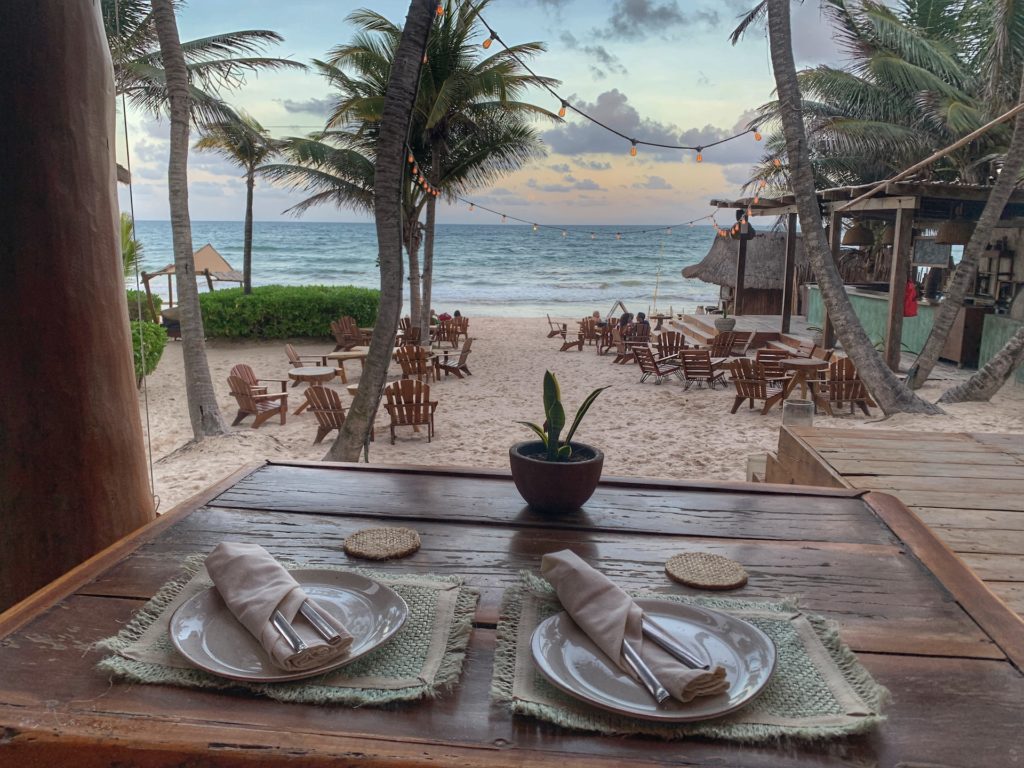 Tulum beach and the tulum centro itself are littered with amazing places to eat with some of the most delicious food you will ever have!
Whether you want fine dining in upscale restaurants, a restobar, street tacos, a restaurant that turns into a bar, the best tacos al pastor or even pizza, Tulum has it for you!

If you are looking for amazing cocktails Tulum bars and restaurants will also make some of the best tasting drinks you have ever had as well!
You can find a ton of great restaurants, bars and beach clubs scattered along Tulum Beach Road.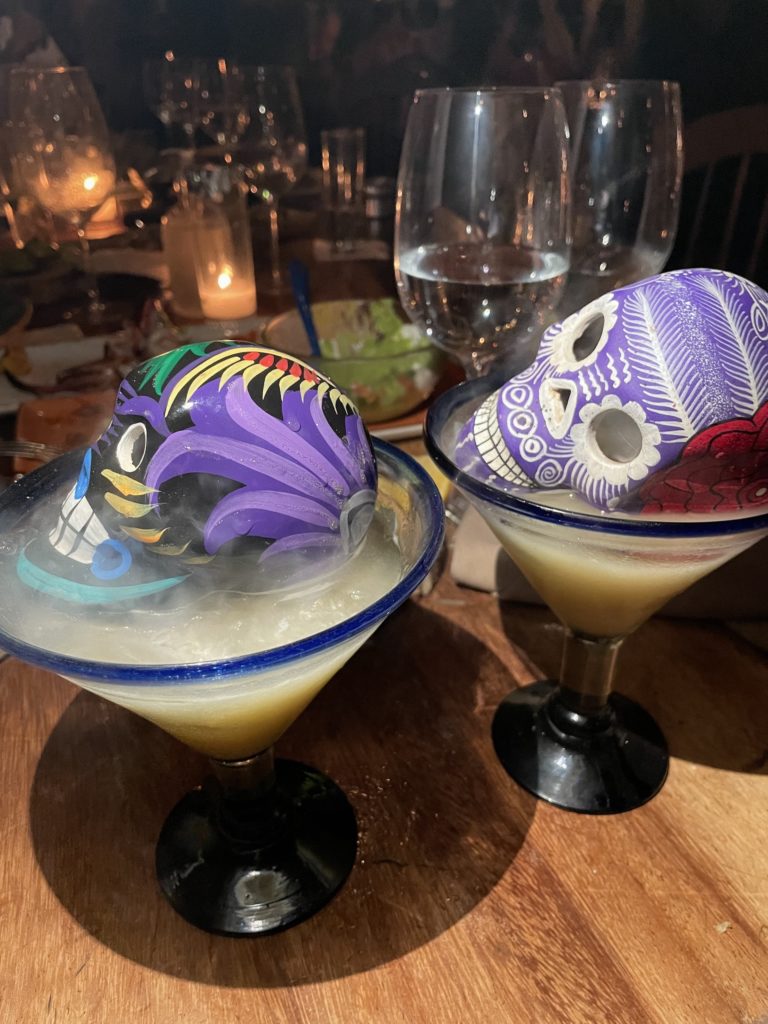 Whether you came to Tulum to eat all the Mexican food possible, to drink all day and night or to grab a coffee and read a book on the beach, the guide below is here for ya!
If you want a romantic dinner, to eat in the jungle or a crazy party after you eat, Tulum offers everything you could want for a vacation!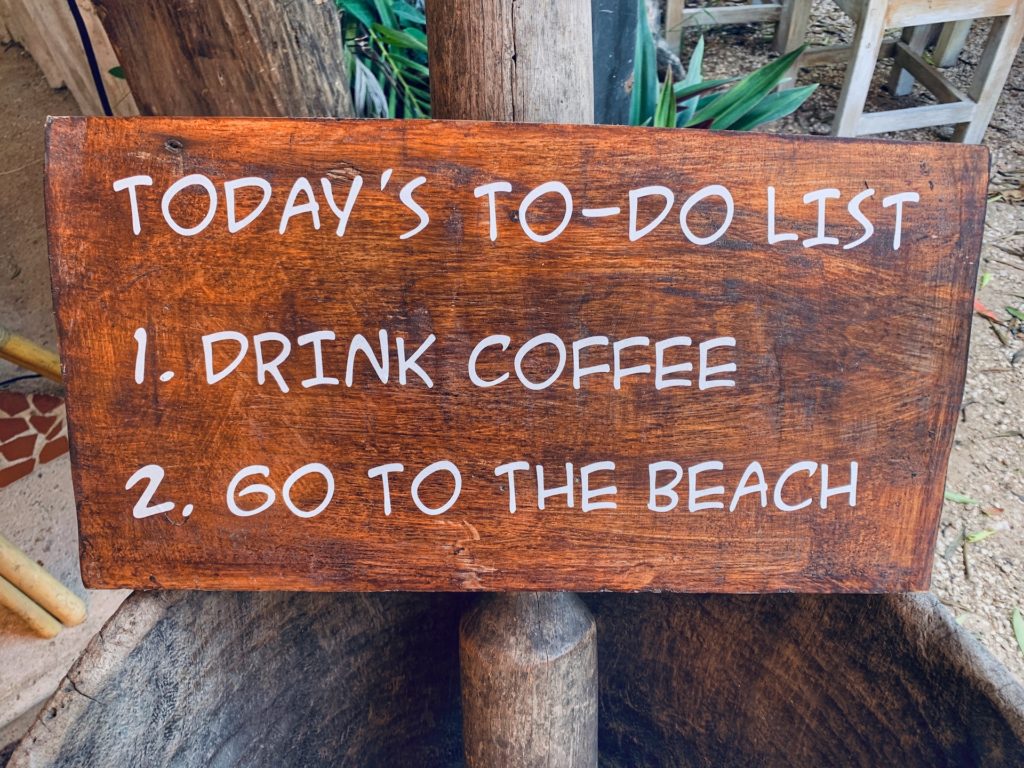 Rosa Negra | Best Overall Experience
Rosa Negra has it all, some of the best food in Tulum, the best ambiance and when everyone is done eating is when Rosa Negra takes things to the next level!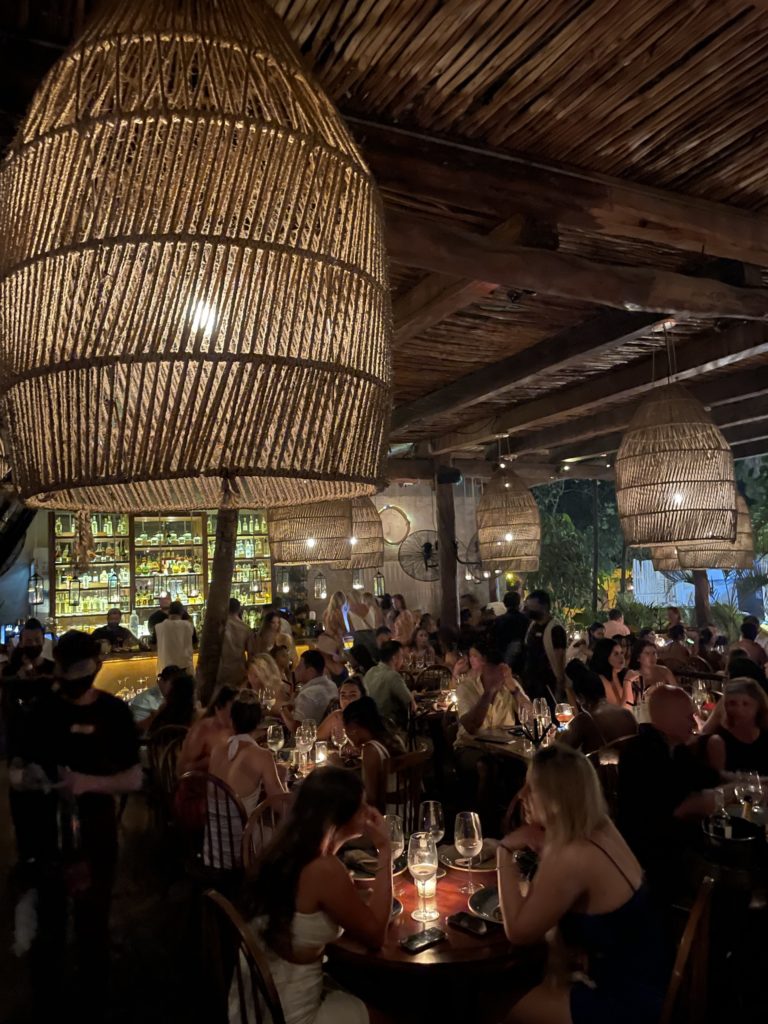 Rosa Negra is a Mexico staple with now 5 locations scattered throughout Mexico and it literally screams Tulum.
If one place encapsulated Tulum and why you would want to visit Mexico if you love to eat and party Rosa Negra is that.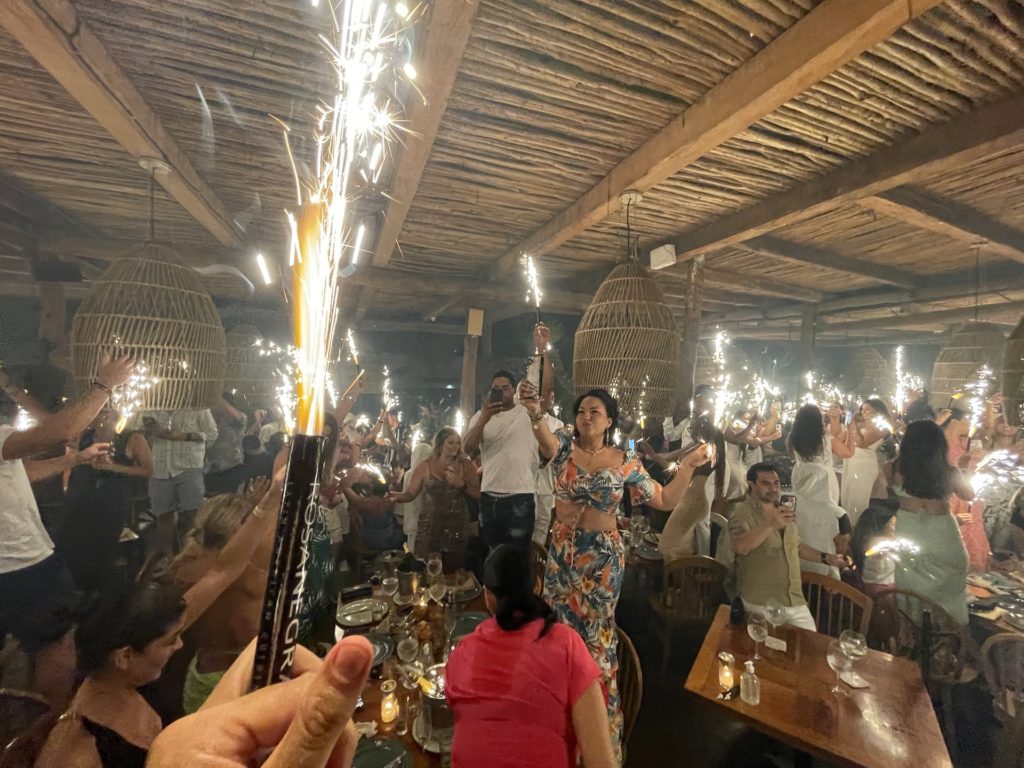 Not only is their food exquisite with tastes and concepts from all over Latin America but their presentation, exotic flavors, food quality and the overall aura in Rosa Negra is such an experience!
If you had your fill of the food well then their artisan cocktails presented in various amazing ways, giant wine lists, DJs and atmosphere will have you partying well into the night!

Make this a must visit on your next visit to Tulum! Funky Geisha is also another great place to visit if you can't get into Rosa Negra and want a similar experience.
Taqueria La Chiapaneca | Best Authentic Mexican Food & Tacos Al Pastor
When you visit Mexico you absolutely have to get tacos al pastor, which is a traditional Mexican dish made with marinated pork cooked on rotating spit.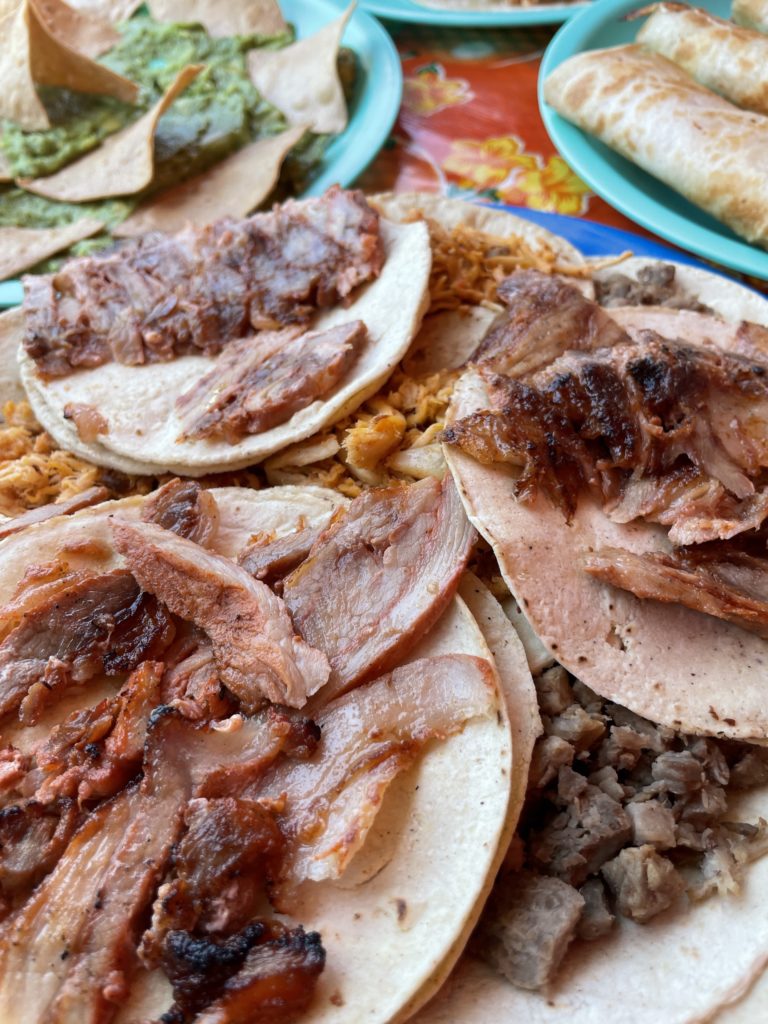 If you want the best authentic Mexican food or the best tacos al pastor you must visit Taqueria La Chiapaneca!
While the food tastes are amazing, with fresh made tortillas & chips, the price cannot be beaten! You can eat like a king for so cheap!

It is located in the Tulum Centro area so when you visit town be sure to save this spot for lunch or dinner.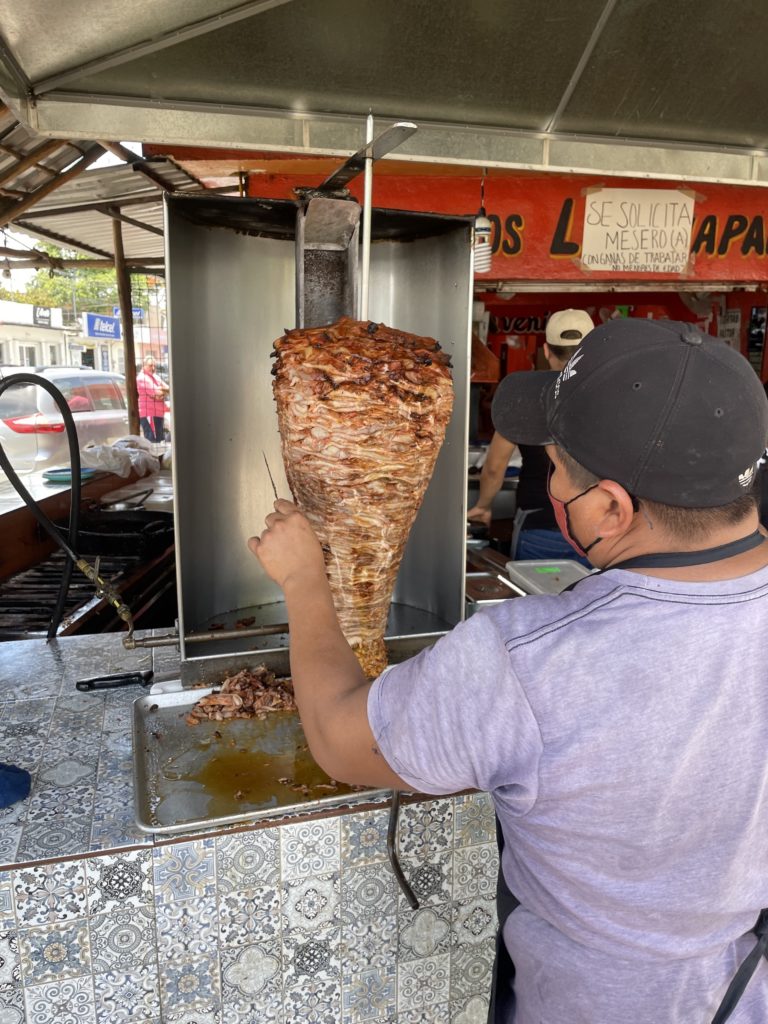 Papaya Playa Project | Best Party In Tulum
If you are looking for arguably the best party in North America, you have to go to the Full Moon Party at the Papaya Playa Project.
Wow… wow. Easily in the best three parties I have ever been to on earth with one of the coolest settings you will ever come across.

It starts with multi-security checkpoints and a rule that you can't bring your phone into the party.
While it is moderately annoying that quickly fades as it instantly sets a mysterious mood and allows you to just soak in the event without every thinking about anything outside the party.
As you enter there are aerialists and you walk into string-lights & fluorescent lit bohemian pop-up area with a welcome drink, food made to order, little shops setting the stage for an incredible night.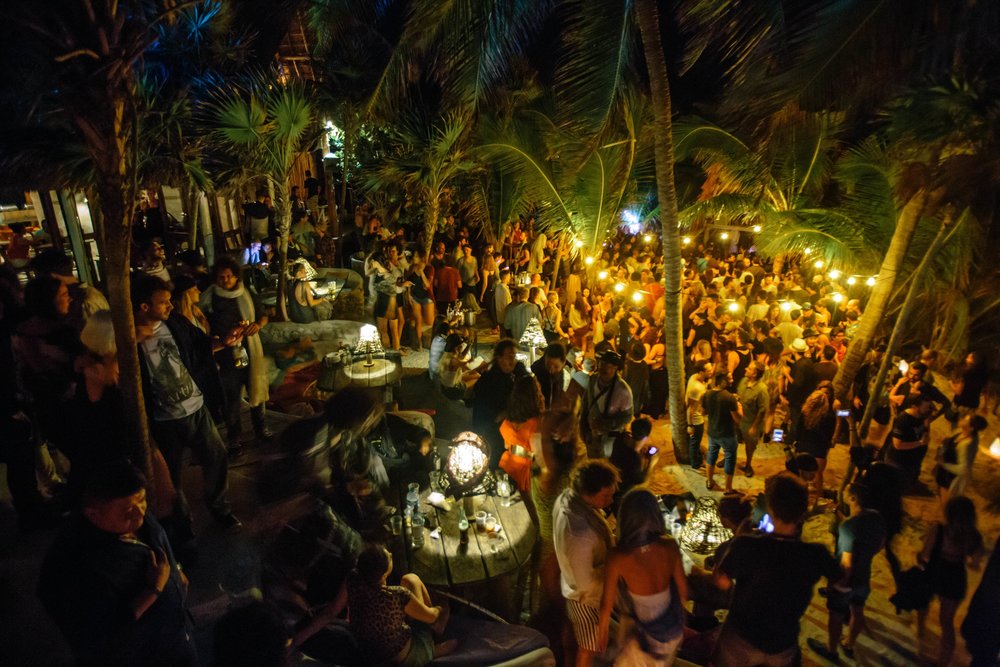 The beach club is almost set in like a mini-half coliseum area on one side the the ocean with the full-moon on the other.
There are tables on every one of the many levels you walk down to get to the main dance floor and area.
The music, the setting, the feels, the aura and just everything about the Full Moon Party at the Papaya Playa Project makes it something you definitely must do on your trip to Tulum!
Bagatelle | Best Beach Club in Tulum
Bagatelle being the best beach bar in Tulum is truly a toss-up. You can go to Taboo or Tantra and definitely have the same amazing time!

Each of the main beach bars have the days where the pop-off more so I would just ask around and see which one is the bigger party currently for Saturday vs. Sunday and such.
Bagatelle has some amazing food, a pool, is right on the water and really just is the quintessential beach club you would want on a visit to Tulum.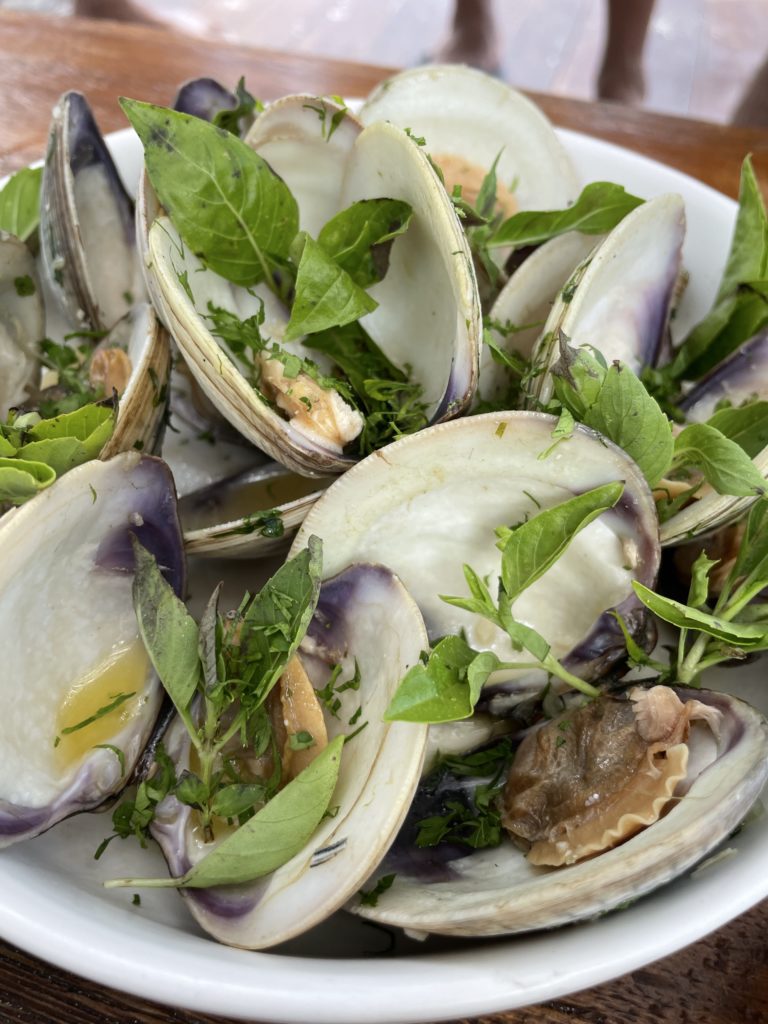 Burrito Amor | Best Burritos in Tulum Centro
Burrito Amor is where authentic meets clean eating meets trendy, unique & fresh.
Burrito Amor is a favorite spot in Tulum and while not truly authentic eats, it is absolutely amazing with 15+ delightful burritos you must try!

You can't go by Burrito Amor without it being full as people come from all over for breakfast, lunch and dinner!
They have burritos of course but also offer salads, healthy options as well as incredible fresh smoothies and juices.
It is the perfect place to bike to on your way too or from the beach and enjoy one of the tastiest meals in Tulum!
Cafe Bonjour | Great Coffee & Juice Shop
If you are looking for coffee, light fare and some detox or healthy juices Cafe Bonjour is a great little spot on Tulum Beach Road.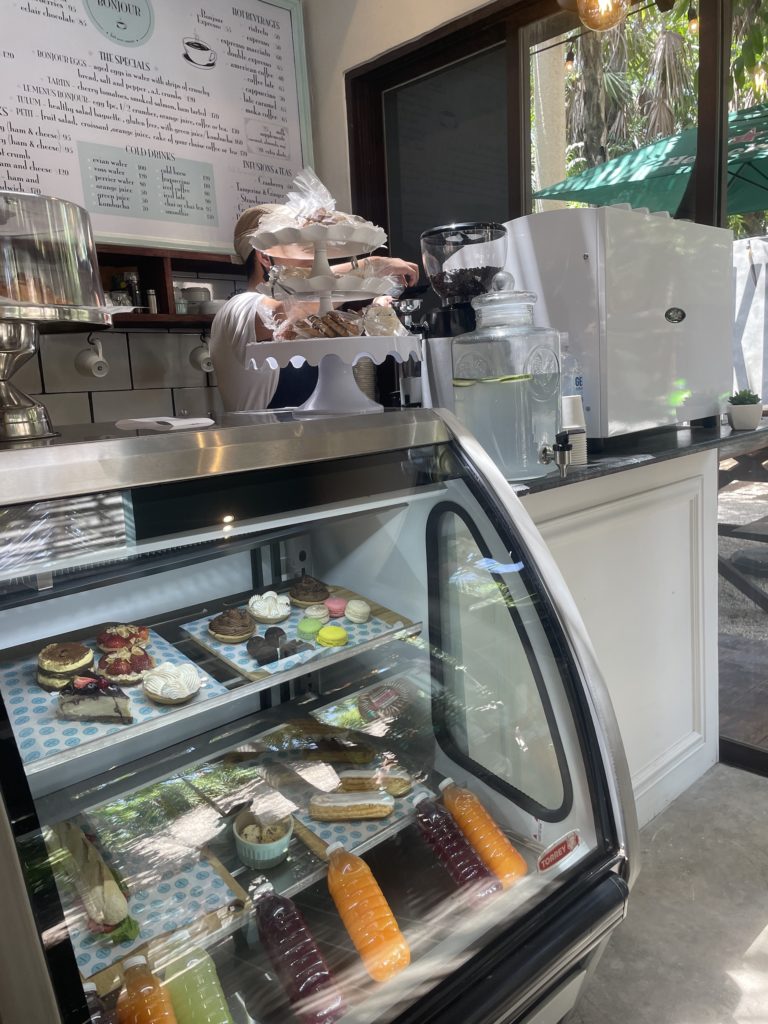 If you are hungover then hop in here for that caffeine pick-me-up and a nice little juice to recharge your batteries and get back out there!
If not terribly hungry but need something in your stomach they offer some great little options from sandwiches to sweet treats, muffins and more!
Where to Find Street Food In Tulum?
There is a ton of street food vendors in the Tulum Centro area but you can find a ton of them just north at the corner of the main 307 Chetumal-Cancun highway & Av. Coba coming up from the beach.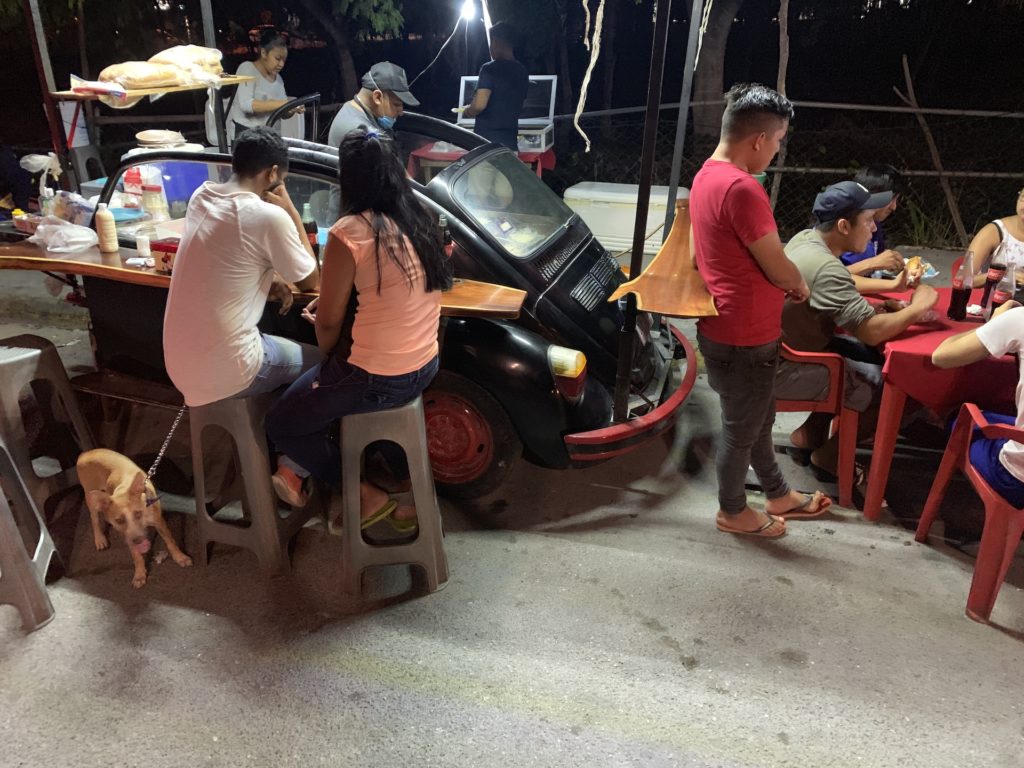 Don't be nervous as you will find a ton of locals eating there as well as people just visiting. The Mexican burgers are some of the most fresh burgers on earth and I never miss getting one when visiting!
Arca | Great Relaxed Fine Dining Restaurant
Surely you don't just want a party and loud music with dinner so in comes Arca which is a great quieter spot for a romantic and chill dinner in a gorgeous jungle setting vibe.

The food and cocktails are just as good as anywhere else in the city and they aim to represent the culture, flora and fauna of the jungle surrounding Tulum,
Illios Restaurante | Best Mediterranean Restaurant
One of the best non-Mexican food dinners in Tulum is by far llios. The flavors and passion of the mediterranean come out along with lives shows during dinner!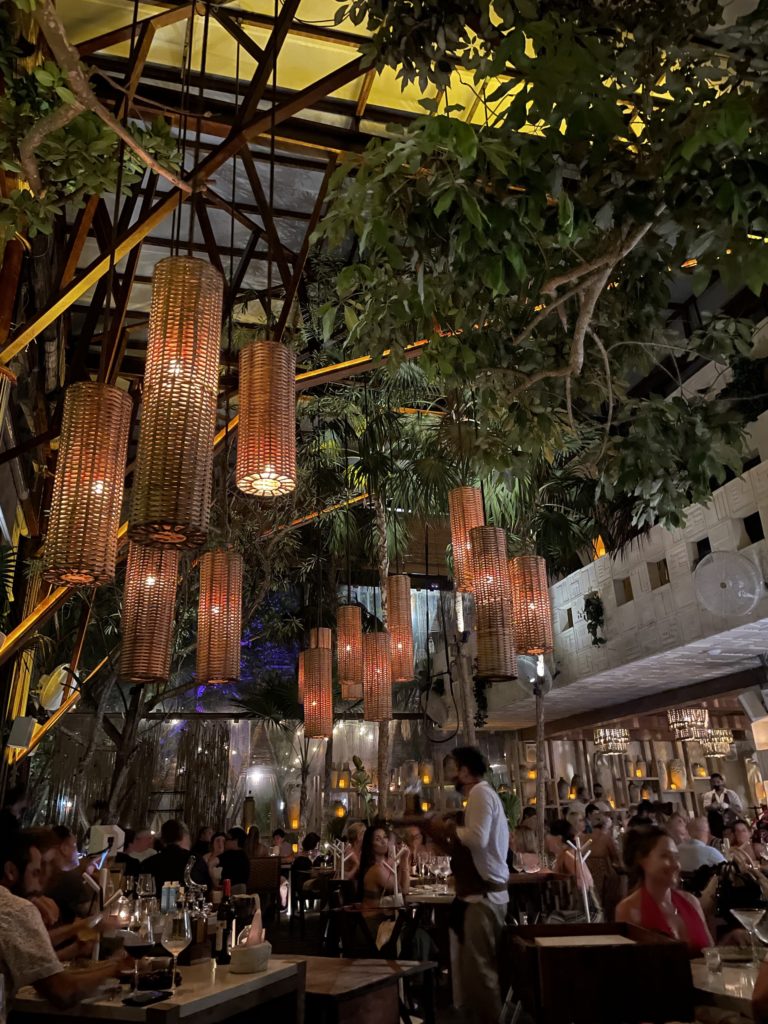 Illios has some unreal Greek food and the ambiance is absolutely perfect. It has a similar ambiance to Rosa Negra albeit a bit quieter, yet still has a DJ and turns into a party!

They also have terrific cocktails, a fire show and then experience Greece with an opportunity to smash plates and yell Opaaaaaaa!!!!
Honorable Mentions
If you have tried everywhere mentioned then also look at El Pez, Gitano, Loco Tulum, and the others mentioned earlier in Funky Geisha, Taboo & Tantra.
Regardless you really can't go wrong anywhere in Tulum so choose your own adventure but if you need any tips or help choosing somewhere, hope I was able to help 🙂