If you are looking for the best things to do near La Fortuna then you came to the right place for this La Fortuna Bucket List.
From relaxing in natural public hot springs to hiking and all of the best activities in La Fortuna Costa Rica, here you will find tips for the best vacation in La Fortuna!

La Fortuna is one of the best places to visit in the Americas if you are looking for an adventure. There are so many unique things to do in this gorgeous region centered around the stunning active Arenal Volcano.

While there are the basic things you can do in many tourist centric areas such as ATV and zipline etc, this article will give you some ideas that are more unique to this incredible area.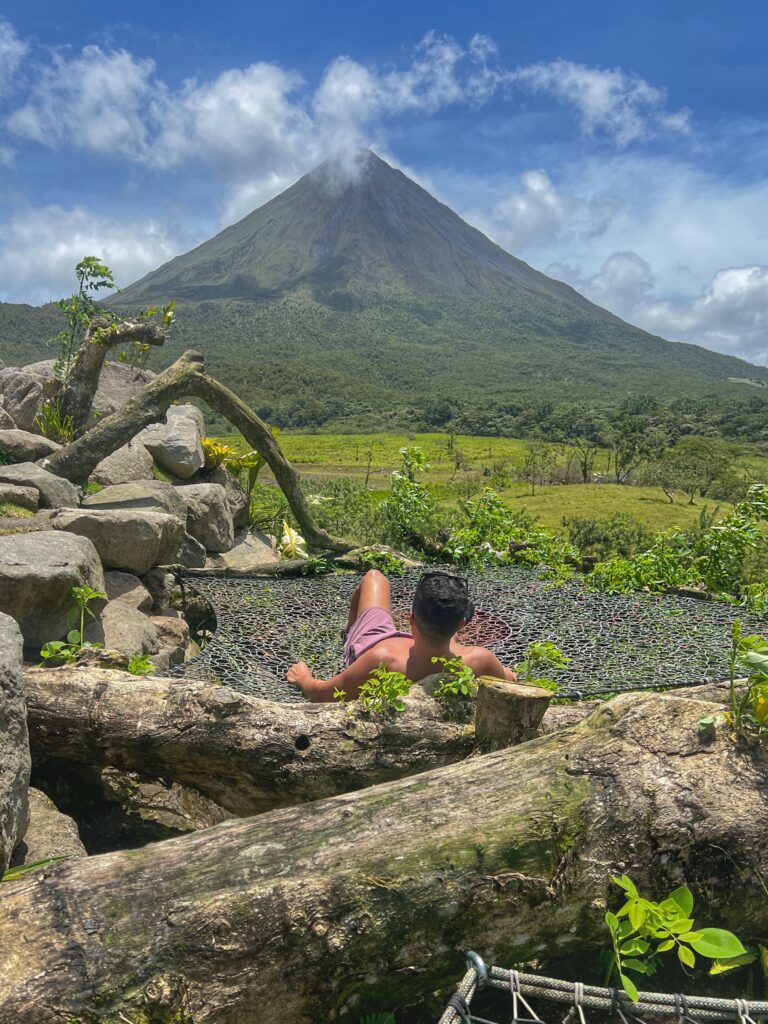 There will even be some secrets and lesser known things to do such as skipping the expensive resort hot springs, which everyone knows about, and visiting the public hot springs in the middle of the wild!
I would also highly suggest renting a car for at least 3 days on your visit as there is a ton you can go do on your own vs. going with a tour guide in a group with a shuttle.

I will warn you, La Fortuna is one of the more expensive Latin American places. From cost of goods & food to mostly everything having a cost or entry fee.
Everywhere you go is $15-25 per person to enter, which adds up if you have a family, on top of renting a car etc. I love it but if looking for a cheap vacation I might skip Costa Rica.
If you are coming to Costa Rica then you absolutely should come for 1.5-2 weeks minimum and split your time between La Fortuna and Manuel Antonio.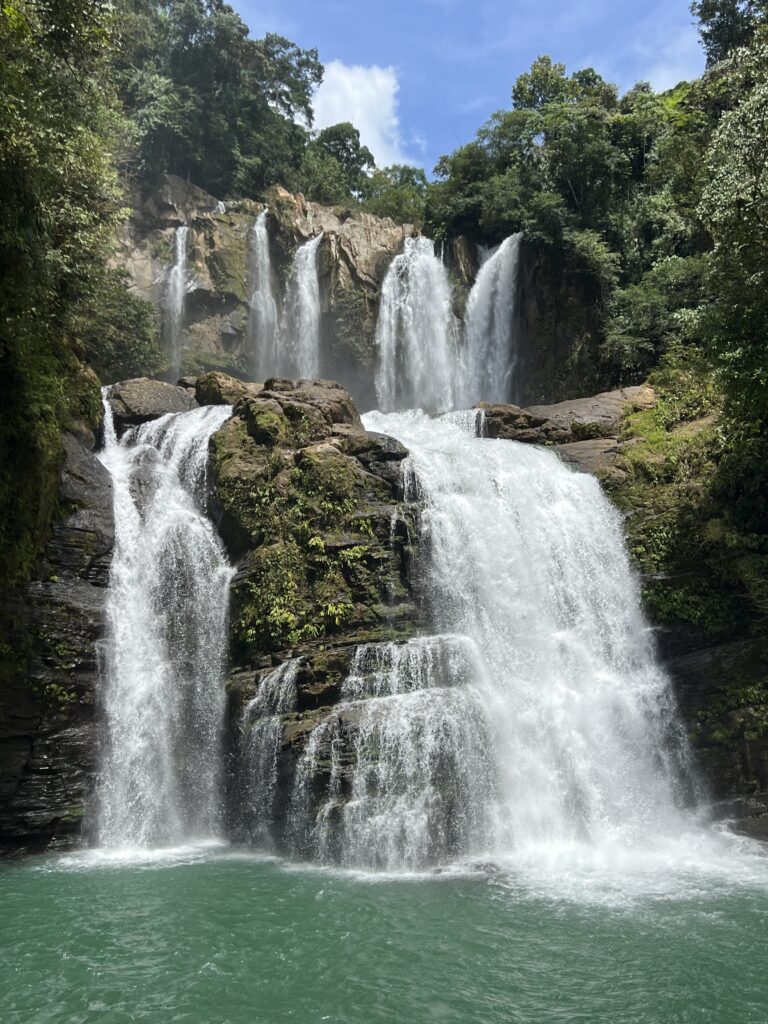 See here for the Manuel Antonio bucket list and best things to do.
With that said, let's countdown the best and more unique things to do around La Fortuna!
Best Thing To Do Near La Fortuna | Rio Celeste
Wow… Rio Celeste is one of the prettiest places on earth… not just in Costa Rica.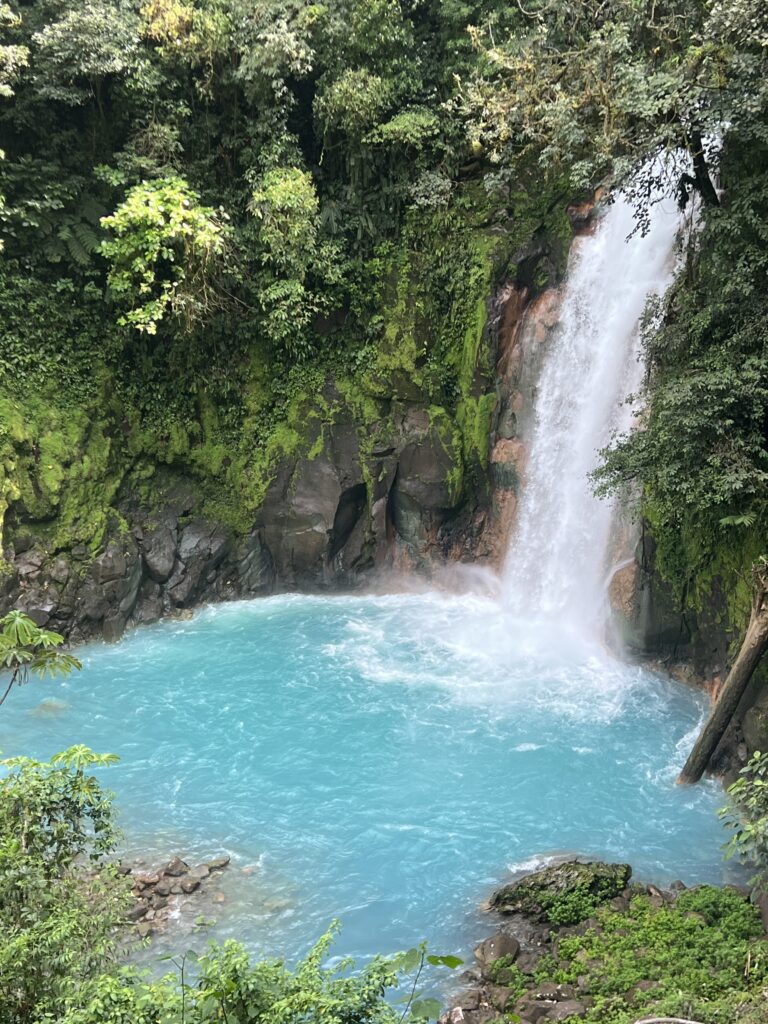 Not only is there the most amazing waterfall and view there are kilometers of this gorgeous water you walk along and see throughout the hike.
The hike is moderate in difficulty but so worth it as some of the sites along the trail are one in a million.
Aside from the waterfall you will come across the gurgling sulfur outlets, the blue lagoon, a photo opp worthy bridge, as well as where the clear river Rio Buenavista hits the mineral sediment and changes color into the blue of Rio Celeste.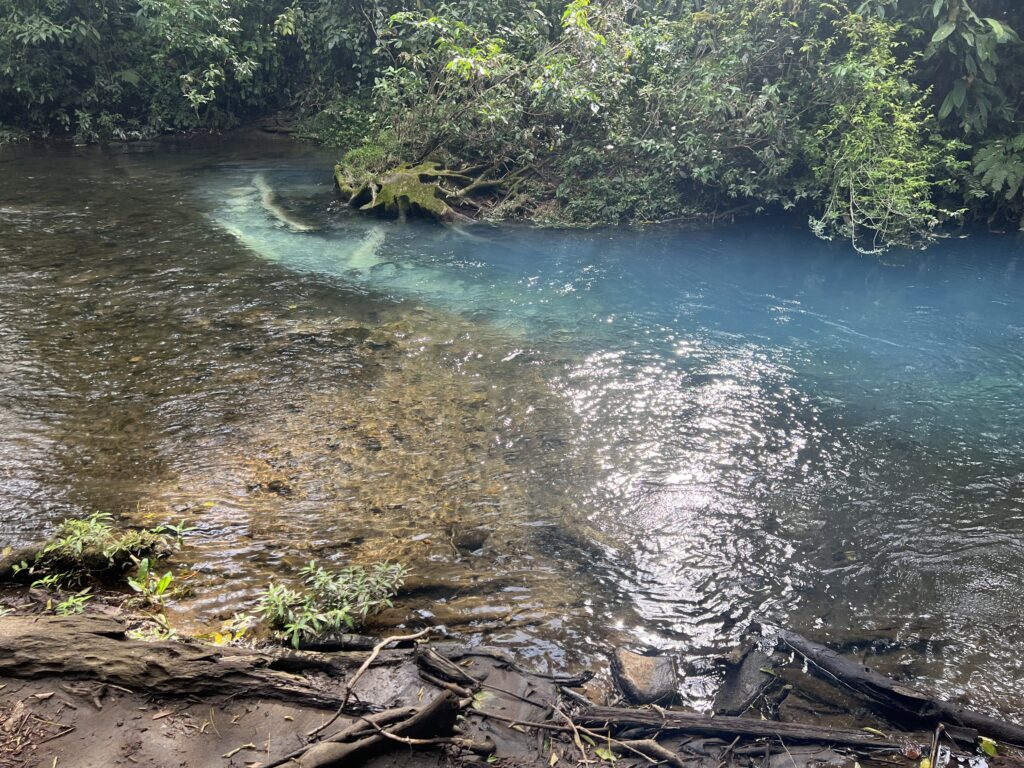 This short hike is one in a million and you must go visit it. You can go via a guided tour but the drive is not very bad at all if you rent a car and do it yourself.
The drive is down a pretty quiet highway and then through rural towns and is a pretty drive that takes a couple hours.

The entrance closes at 2pm so be sure to get out there before then or you went all that way for nothing! There also are a bunch of restaurants nearby for before or after your hike along with water taps to fill up before you start.
Is Rio Celeste Difficult to hike?
Rio Celeste is moderate in difficulty due to length and some steeper areas. It will take 1.5-3 hours pending your fitness level and how much time you take at the viewpoints.
It is a groomed trail the entire way with some being cement so it is impossible to get lost and is very safe.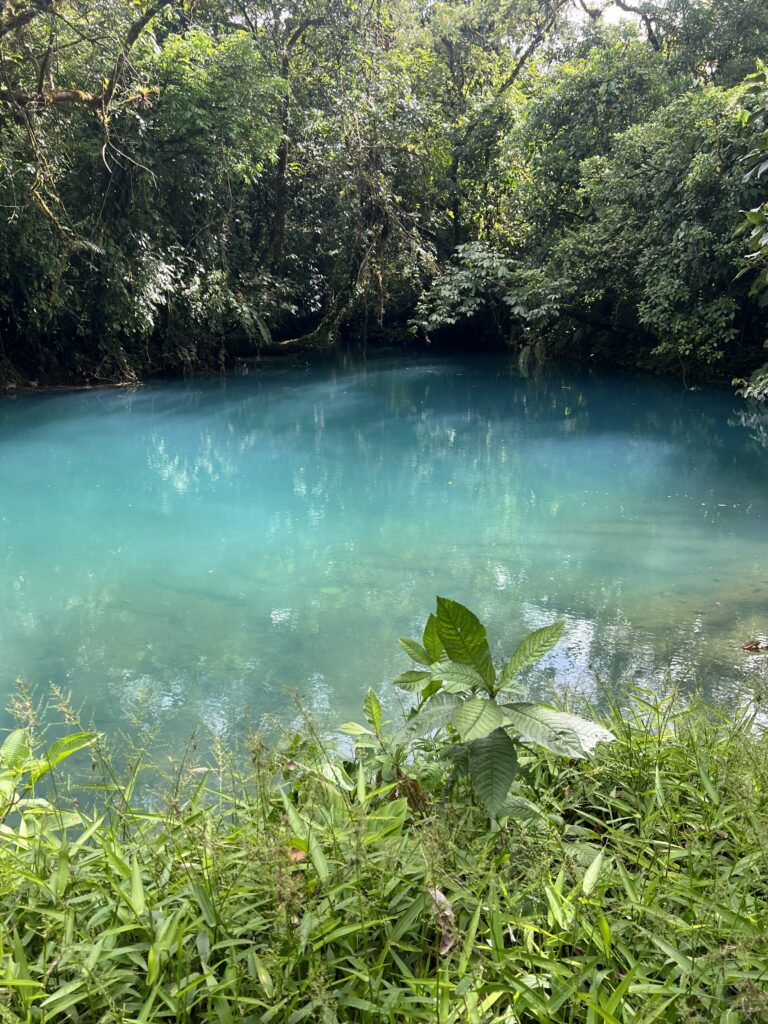 The hike is 3.5 miles roundtrip and about 700 feet of elevation. There are 2 parts that are steep and you will go down them first before you go back up.
I saw people of all ages and shapes doing it so unless you are really hindered in movement most anyone can do it. It is completely shaded the entire way as well.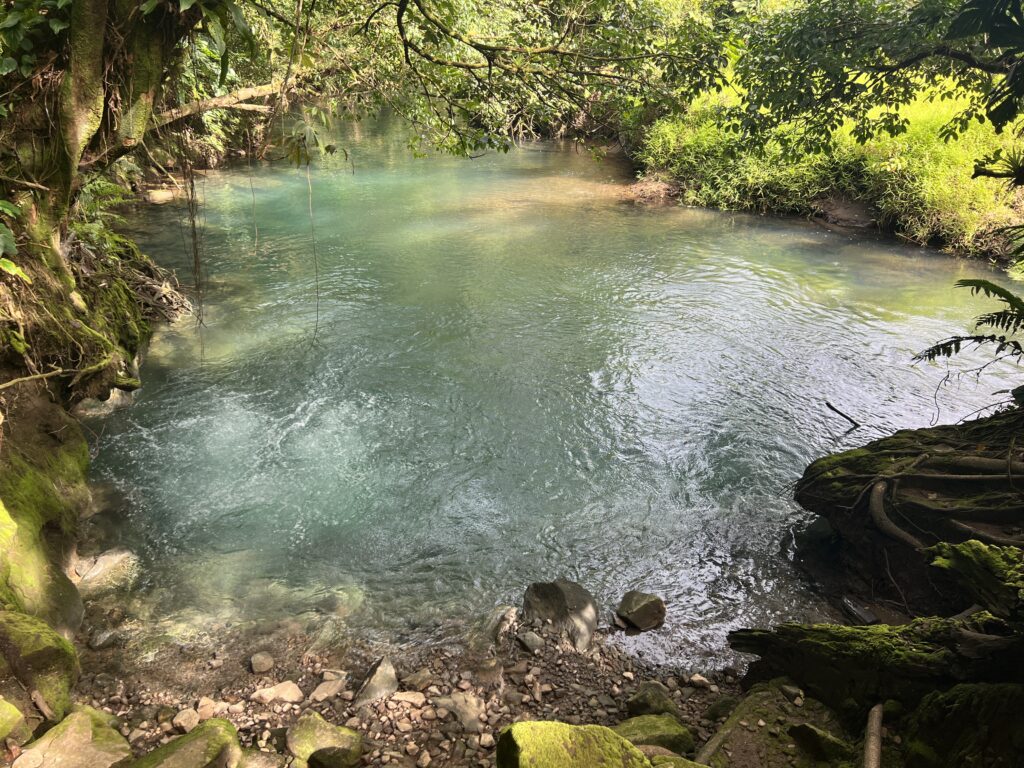 Canyoning Down Waterfalls
Easily the next best thing to do in La Fortuna is repelling down waterfalls. Speaking of once in a lifetime, I have never seen anything like this again in my life!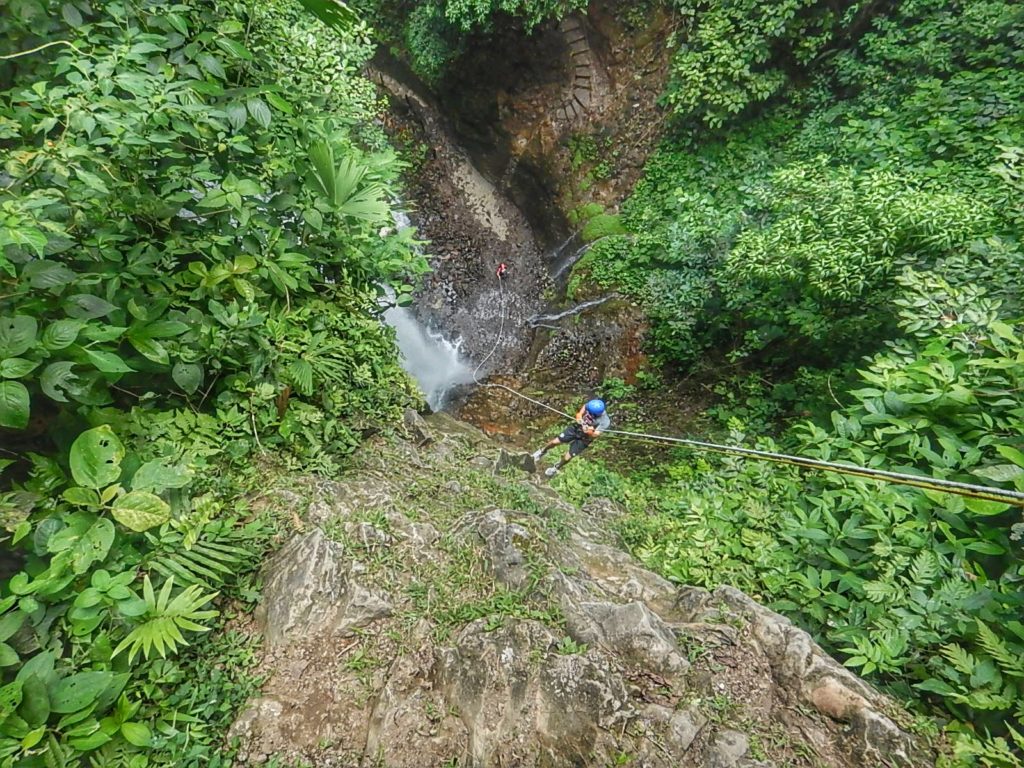 Repelling alone is an adventure but doing this beside and down waterfalls is absolutely breathtaking.
This is arguably one of the most amazing things I have ever done and you don't want to miss this unreal opportunity.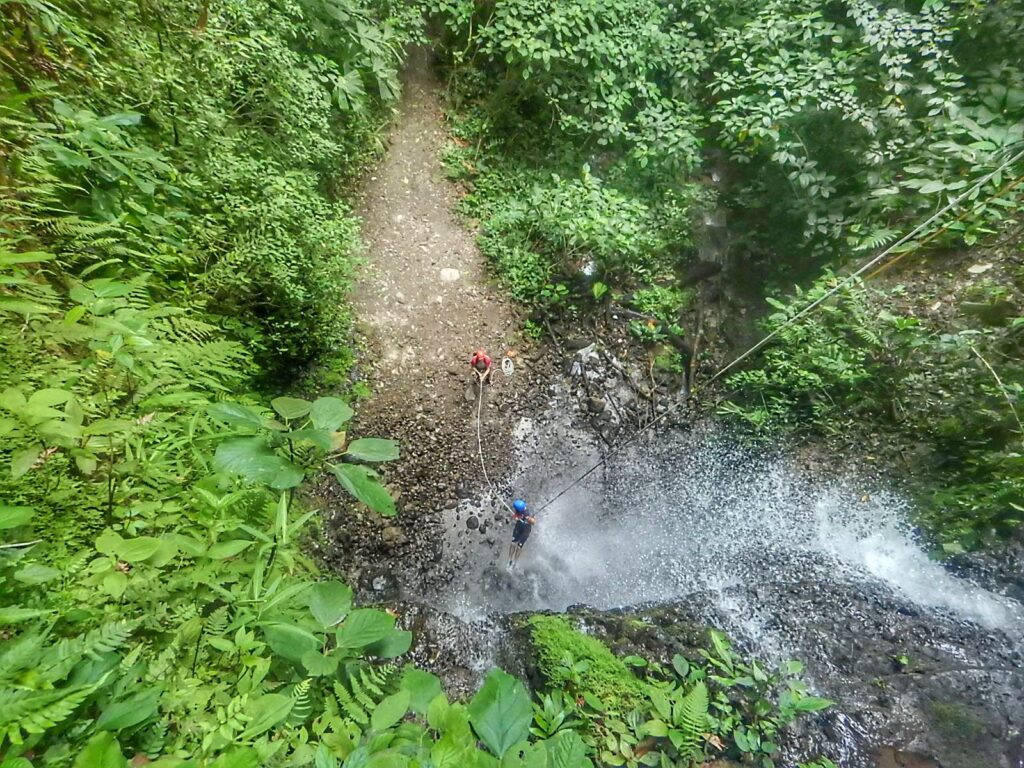 This is an amazing 3/4 day adventure that you will use a tour guide to go with and you repel down the mountainside multiple times with some of it down waterfalls.
It is one of the scarier things you can do, especially the first repel you do, but by the 3/4th one you are a pro ;).
Arenal Observatory Lodge Trails & Waterfall
If looking for the best hiking trails in La Fortuna then you need to head to the Arenal Observatory Lodge.

There are 5 trails in total and all take you through some spectacular flora and fauna as well as hanging bridges, streams & waterfalls.
They also have a observation tower, which is 92 feet high in the center of the forest. Here you get 360 degree views of the lake, volcano, mountain range and more!

You could spend a lot of time swimming and hanging out at the waterfall so I would suggest keeping that for the end to have a little R&R post trekking around the place.
They also have a great map system that shows you all the points of interest, lengths and everything.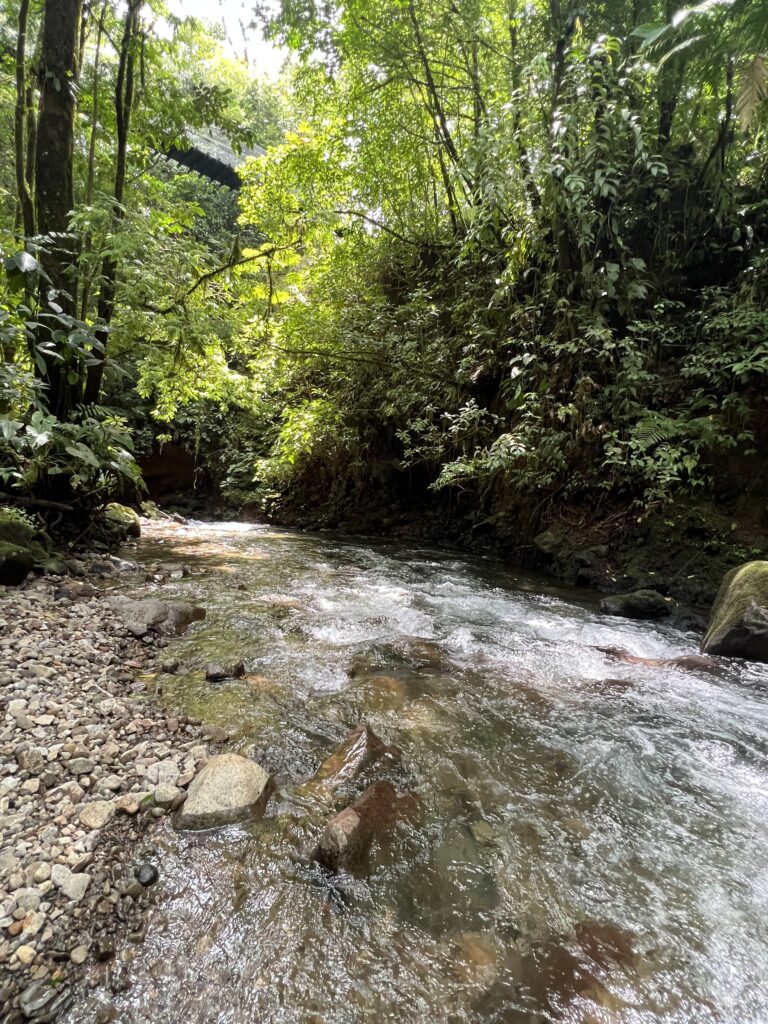 There are 11 kilometers of tails but it is broken up into multiple trails where you can have a great time and see a ton of sites in under 5-6 kilometers of relatively flat paths.
It is quote close to La Fortuna downtown just 14 kilometers away and it is open from 8am-4pm and you could spend 2-8 hours exploring. I would keep at least around 2-4 hours for your time there.

The entrance is $15 USD per person or $32 USD if you want to include lunch at their restaurant. You can do the restaurant without the upfront fee as well if just want to play it by ear.
Secret Free Public Hot Springs
While not so secret anymore these hot springs are a great way to escape the gaudy resort prices and go see some natural hot springs for just a small parking fee!
The hot springs are just 15 minutes from downtown La Fortuna and so cool to see if you stop by for just an hour or spend multiple hours adventuring up and down the stream.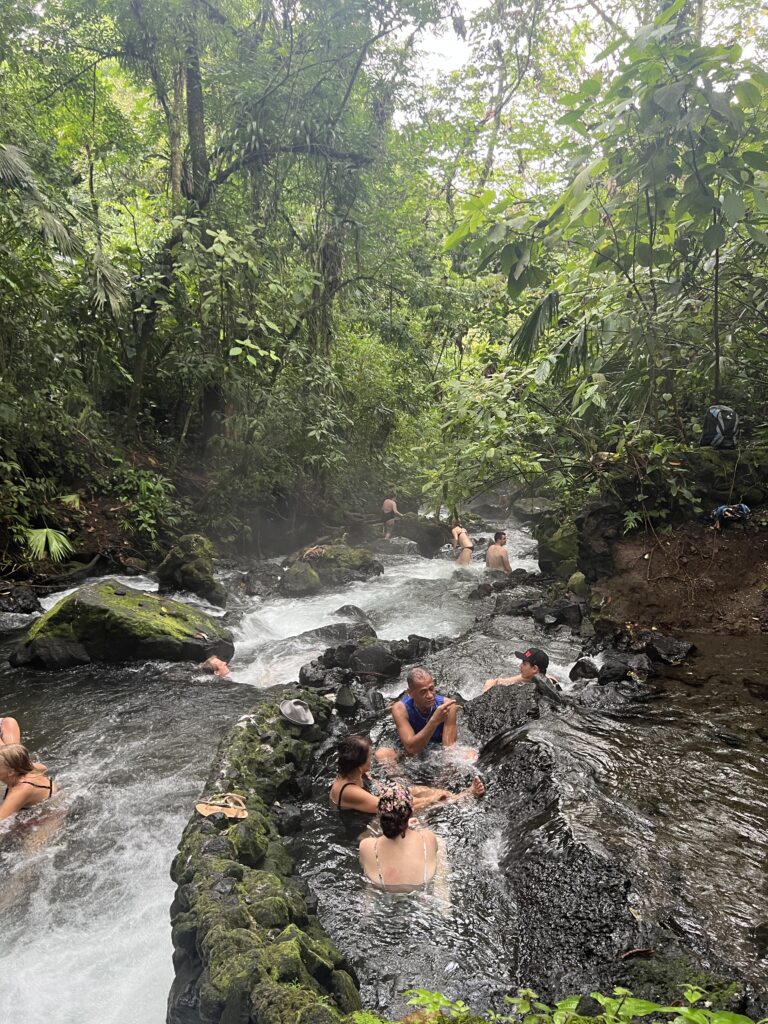 While it definitely has gotten overcrowded it actually stretches quite long so feel free to trek up and down it for something less busy than the main entrance area.
While busy it still is pretty cool to see and it is a great spot to visit with a few beverages after some hiking! This is a great way to finish a day if you are coming back from hikes like Arenal Observatory, Arenal 1968 or the Hanging Bridges.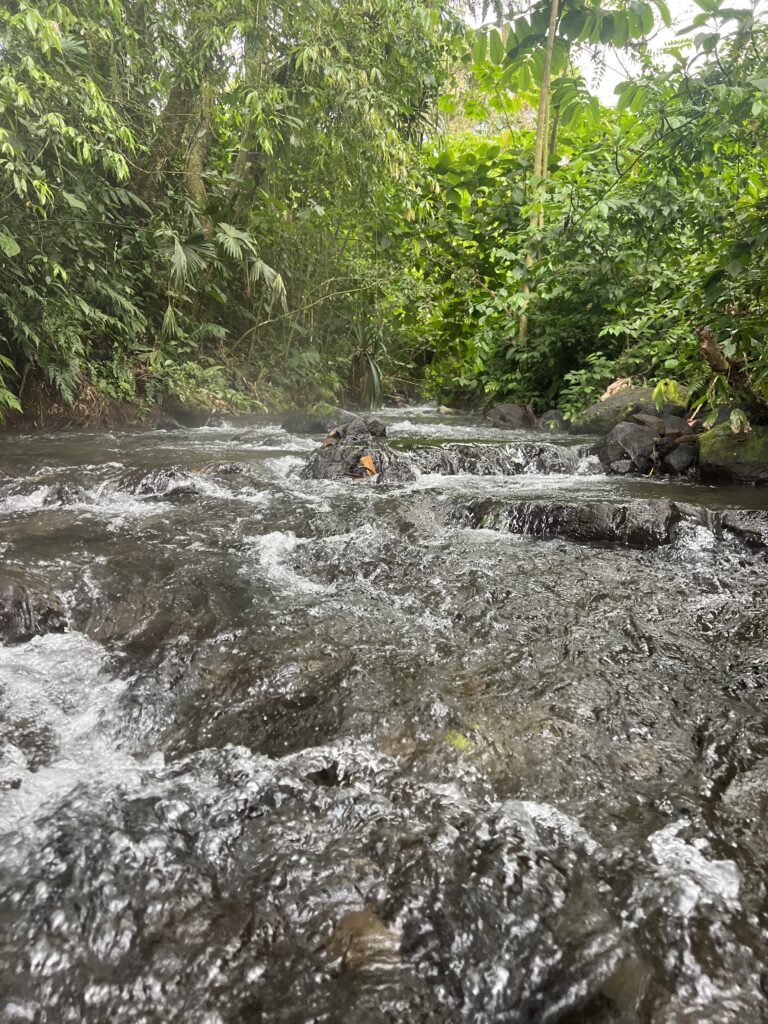 Tip: Bring drinks, water shoes and a waterproof bag. You might want to walk up or down the stream to find a more private piece of paradise. Pack out what you bring!
The water is lukewarm and it there are plenty of places to find and wade or sit in the stream.
Where Are the Local Free Hot Springs in La Fortuna?
The public hot springs in Arenal are just 15 minutes from town located just West past Tabacon Hot Springs if driving from town.
Right after Tabacon (and before) you will see a lot of locals encouraging you to park. You will want to drive a little past Tabacon to the main parking area to be closest to the entrance.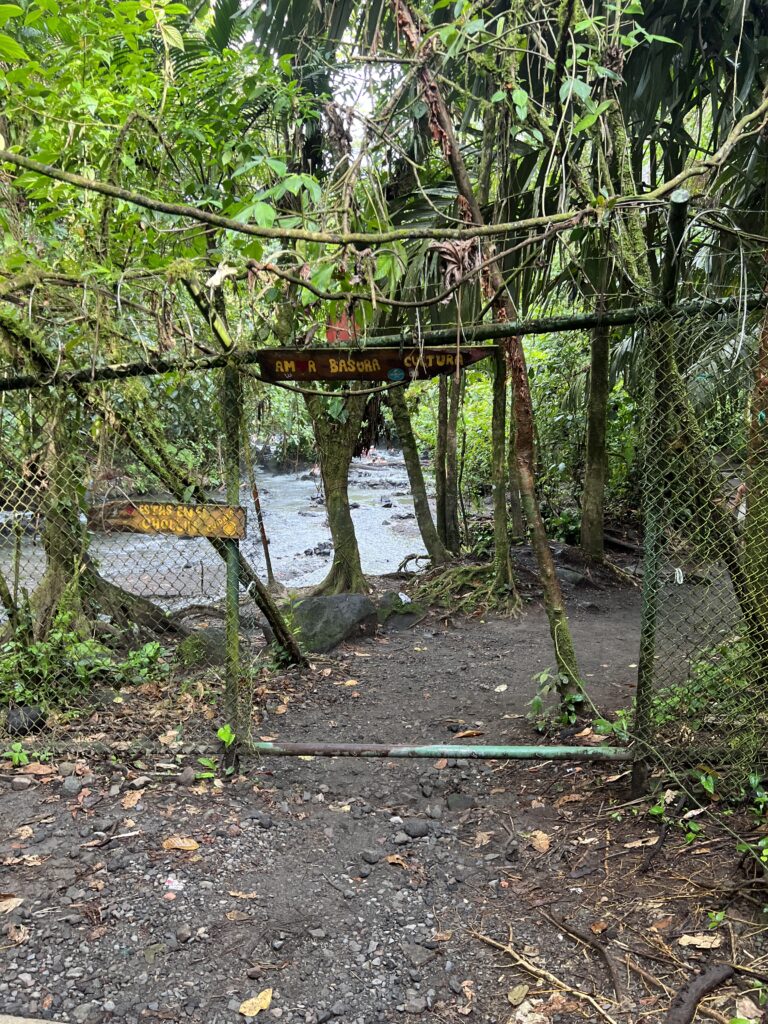 You will be asked to pay $5 USD to park and they will tell you where to go to find the entrance 10 seconds off the road.
From there you will pass through the fence and see the river flowing in front of you. You can go up or down to find your little piece of paradise in the jungle.
Arenal 1968 Volcano Views & Trails
This great hiking area is home to the closest views of the Arenal Volcano. It offers two trails, one short and one long but both reaching the main viewpoint of the volcano and the Arenal lake before branching off for the rest.

I highly suggest doing the longer hike as you get to hike through a bit of the jungle and then towards the end there are some amazing photo ops as you wrap around the pond.
Save some time to get lunch at their restaurant as well as the view is incredible and there are some hammocks and stunning outdoor viewing.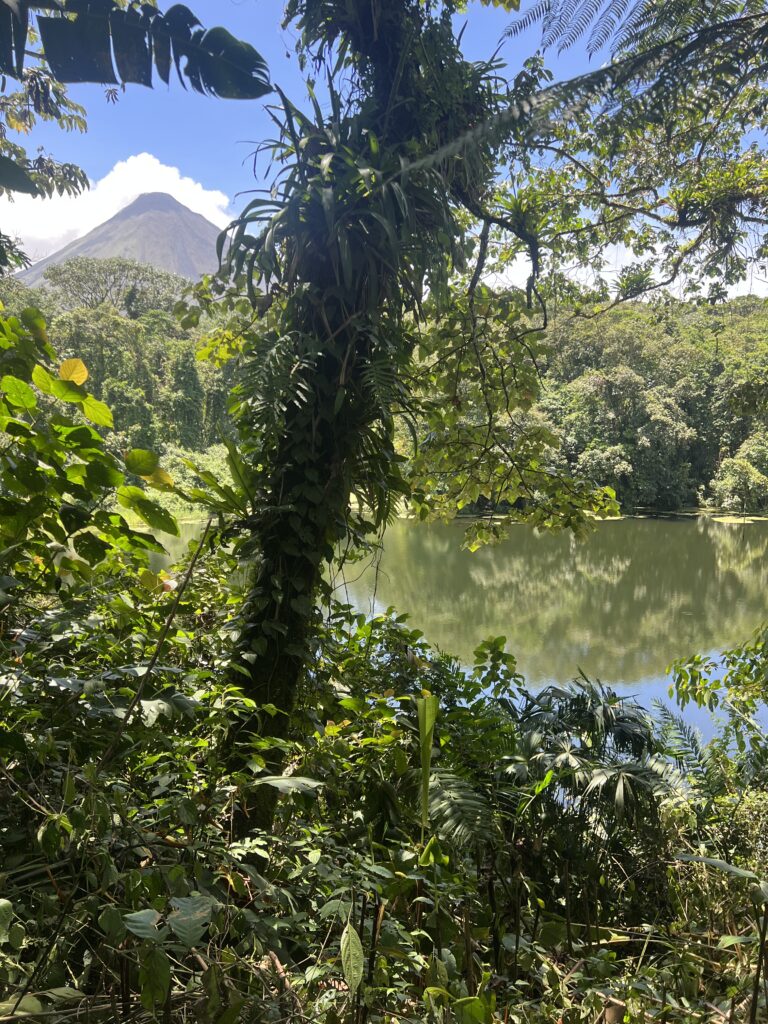 Tips: Can easily go by yourself via rental car, paved road and standard car is fine. A taxi could take you as well as it is only 20 minutes from the heart of downtown La Fortuna.
Cost: $19 USD per person
La Fortuna Waterfall
Of course La Fortuna waterfall is a must visit as it is a stunning waterfall right outside the town of La Fortuna!
Just a 500 step staircase you will see one of the prettiest waterfalls you might ever see. While the water is cold you can swim near the falls and adventure all the way down the stream.

It only takes 10-15 minutes to get to the bottom and 20-30 to get back up. At the bottom you could spend 30 minutes or 4+ hours hanging out with some drinks and playing in the water.
I would bring water, water shoes, waterproof bag & a swimsuit.
There is an entrance fee of $18 for adults and $5 for children and it is open 7:30am 4pm. Pack out what you pack in.
Eat At A Soda
If you are like me and one of your favorite things to do on vacation is try food then eating at a soda has to be on your list of things to do!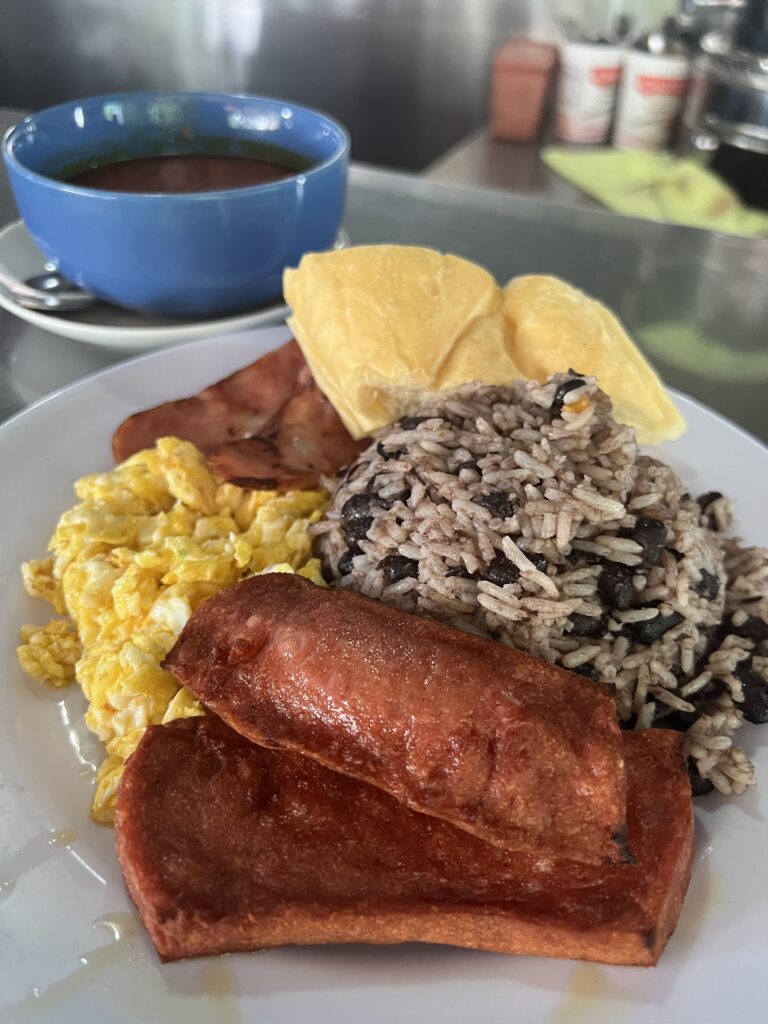 What Is a Soda?
A soda is what ticos call tier local Costa Rican restaurants. These are typically mom and pop restaurants, typically open-air and ideally there is a grandmother in the back making you some of the most amazing food ever!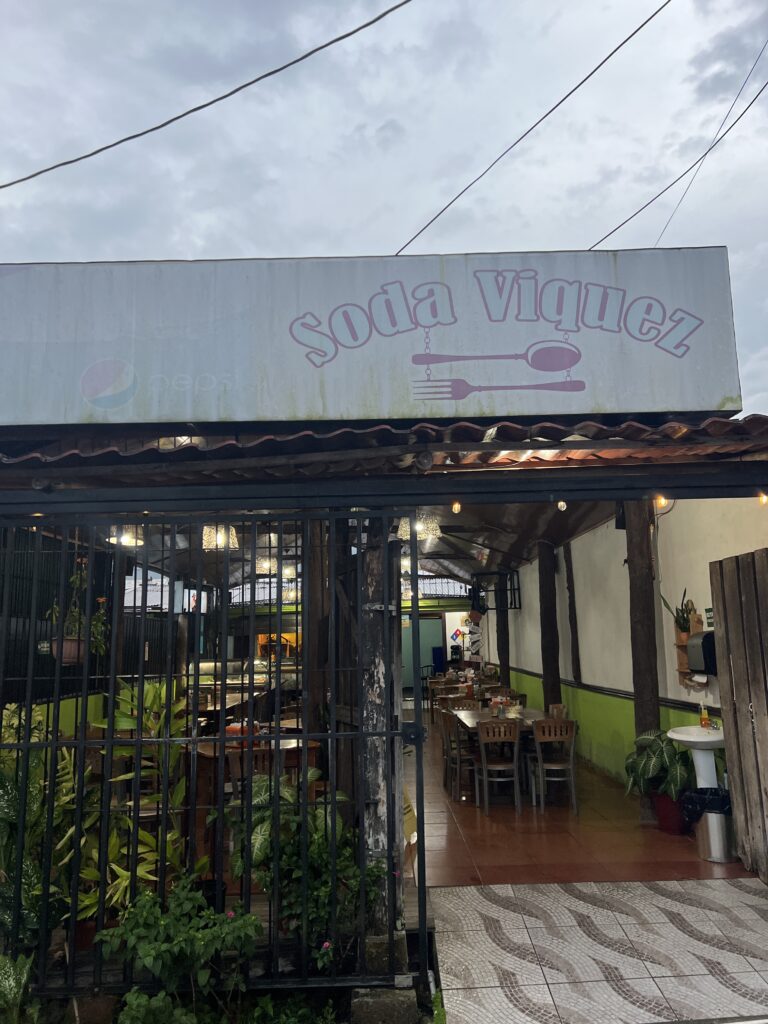 I promise you I ate at every restaurant in Manuel Antonio & a ton in La Fortuna and my favorite meal by far was their slow cooked chicken at pretty much any soda I went to.
My mouth is watering as we speak about it. Even while breakfast is different than your typical American type fare… it is worth trying as it is amazing!

El Salto Rope Swing
Another great free thing to do in La Fortuna is visit the El Salto rope swing and wade in the river that goes beyond it.
El Salto is a great swimming hole and a great spot to hangout if you want to bring some drinks and chill at a local spot.

It is just minutes from downtown La Fortuna so an easy must-see spot for one to a few hours of your leisure time!
It is easily found with Google Maps right off the road and parking is typically free but sometimes parking people will ask for tips or $5 similar to the public hot springs.
Mistico Hanging Bridges
The hanging bridges are another gem of La Fortuna!

Whether you want to do the long 3.2km walk or the short 1.9km walk you will be exposed to the beautiful Costa Rican rainforest.
There are 6 suspension bridges and 16 total bridges as well as a trail that guides you to a small waterfall.
There is a lot of flora & fauna, birds and if you are lucky enough you might even see monkeys!

Mistico is just 15-20 minutes from La Fortuna and the cost is $26 USD per adult.
White Water Rafting
If you have ever wanted to go white water rafting then Costa Rica is up there with one of the best places on earth to do it.

La Fortuna has a ton of companies who will take you out and this should definitely be on your La Fortuna bucket list!
Bogarin Trail Sloth Walk
Just 1km from downtown is the Bogarin Trail where you can take the La Fortuna sloth trail!
The trail is 2km long and are you go through the rainforest to see sloths, birds, frogs and lizards throughout your tour!

It is better to have a guide as they will definitely spot 75% more than you will by yourself as they typically know where all the animals hang around and of course have a trained eye!
The self-guided tour is $10 USD per person and with a guide typically is $35 USD per person with a group or $50+ for a private tour.
Where to stay in la Fortuna
There are so many options of places to stay. Of course there are the very expensive resorts but if want something in the average price range that is absolutely stunning and over delivers than check out my favorite hotel here!
La Fortuna Tips
Definitely rent a car. There is so much to do and see and in the end you will actually save money vs. paying for tour guides to take you everywhere. Driving is really easy & safe in Costa Rica.
Fly in to San Jose will be cheapest although Liberia airport is a similar distance away.
Come for 2 weeks & do half in La Fortuna & half in Manuel Antonio.