This is an absolute game changer recipe world hasn't seen since cows were found to produce milk! This sandwich is the sandwich of all sandwiches.
Tons of people love Bloody Mary's and Caesar's; tons of people love grilled cheese sandwiches; tons of people love dipping their grilled cheese sandwich into tomato soup… well the game just flipped on its head.
I am telling you that you can have all of these amazing things in one! Why has this not been a thing from the beginning of time!?!?! Move over every other sandwich and any food on earth cause this is going to break the world wide web. The caesar grilled cheese sandwich or the bloody mary grilled cheese sandwich might be my favorite food of all time!

I have had plenty of time to myself during Quarantine 2020 and this might be the best thing to ever come out of it! I love bloody mary's, especially the Canadian & Mexican versions called caesars (with Clamato juice).
I eat sandwiches every day… and now you are telling me I can have both in one!?!?! This is the best day ever! Truly this is called the caesar grilled cheese sandwich recipe but for easy of name association it got called the bloody mary grilled cheese.
The recipe itself is very simple, just like making a grilled cheese is simple. You take a few bloody mary ingredients, mix em together and make a grilled cheese on steroids.
This also just became the best Clamato juice recipe ever jumping over bloody marys/caesars and micheladas. Without further ado… let's get to this amazing sandwich.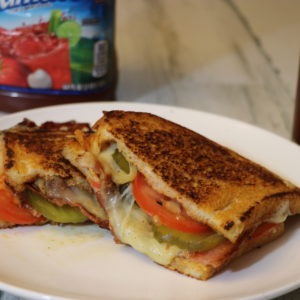 Caesar or Bloody Mary Grilled Cheese Sandwich Recipe
Caesar grilled cheese or bloody mary grilled cheese, this is the greatest thing on earth!
Print
Pin
Rate
Ingredients
Sandwich Ingredients
6-8

strips

bacon

Cheddar cheese

Enough for two layers in each sandwich.

Pickle slices

enough for one layer in each sandwich

Sliced roma tomatoes

enough for one layer in each sandwich

4

slices

sourdough bready

need sourdough so break doesn't fall apart
Bread Soak Ingredients
2/3

cup

clamato juice

sub tomato juice for bloody mary version

3

large eggs

3

oz

vodka

2

tbsp

butter

sub cooking oil

1

tbsp

Tabasco

1

tbsp

hot sauce

Tapatio, Cholula etc. Or just 2 tbsp Tabasco

1

tbsp

Worcestershire sauce

1/2

tsp

black pepper
Instructions
In a shallow bowl, mix together bread soaking ingredients. Soak both sides of break for 3-5 seconds on each side.

Brown both sides of bread per below;

On a large frying pan over low-medium heat, place two pieces of soaked bread onto pan and cook the side for 2-4 minutes until golden brown.

Flip one piece and then place down half the cheese, then tomato, pickles, bacon and then the rest of the cheese. Cheese both ends so it sticks to the bread on both sides.

Place the other piece of bread (cooked side down) on top of the sandwich.

Lower heat to low-medium so it heats up the inside of the sandwich without burning the outside instantly. Cook for 3-5 minutes on each side until bread golden brown.
Print Recipe