Chania is the best city in Greece… fact! Sure, Mykonos and Santorini are an incredible picture and a good time but won't transport you back in time like Chania. Not only that, I think it is right next to Rome as my favorite most photogenic city I have ever seen.
While I wrote my Chania articles on my patio, 1.5 bottles of wine deep along a picturesque Chania street, only one description of the city popped into my head. Chania: a place with perfect weather kissing your face, the sea air replenishing your heart and history grabbing your soul.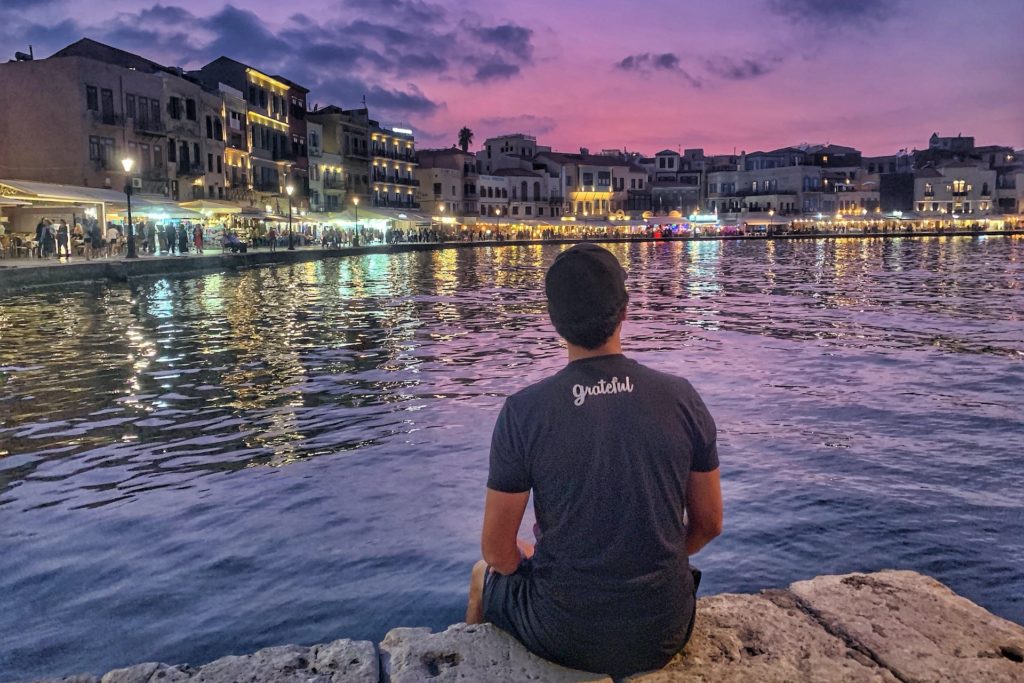 If you are visiting Greece you absolutely have to get to Chania, I'd say over almost any other Greek city. It is actually known as "Venice of the East." I have never been to Venice and don't know if you can compare the two but I will say Chania is one of the best cities I have ever visited. Chania truly encompassed every thing I would want to see in a European city. So if you are ever in Crete, do not miss Chania!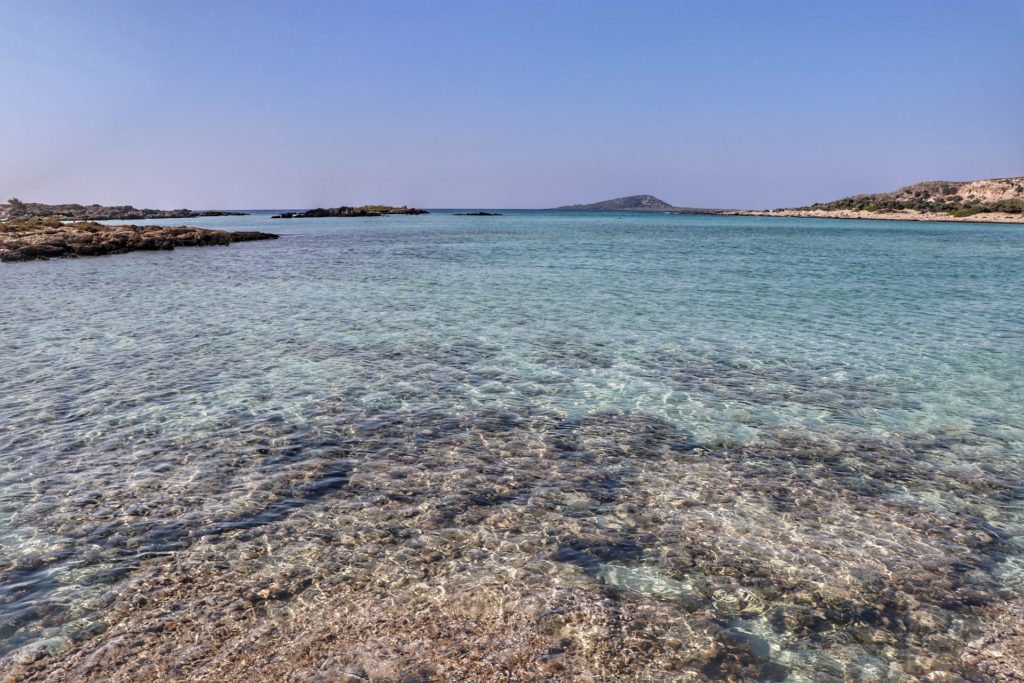 I was extremely harsh on Athens and Greece in general as it truly hadn't held up to its billing as you can see in my article about whether you should go to Rome or Athens here.
However, Chania itself is incredibly unique. It is extremely ancient feeling and mysterious with settlers dating back to 12th Century BC. The city has been destroyed more times than most others and multiple walls and fortresses have been built by different ruling parties over the centuries. While it has been destroyed and bombed countless times it is still considered one of the prettiest places in the Mediterranean Region. With all of that said… what are some amazing things to do in and around Chania?
Get Lost

I say this often in great cities… such as the only tip you need for visiting Rome, Italy article here. Before you set off on some walking tour of Chania… put down the map and just walk. Go enjoy what pops up out of nowhere or go where you heart tells you. You have time to check all the tourist spots off your list later but for now just put your phone & map down and soak in this cultural paradise. Chania is the perfect walking city with something new around every corner.

You will undoubtedly bump into some of the Chania bucket-list items along your stroll and get some nice surprises along the way. You will see throughout this article that I go on and on about how Chania is the best place for pictures and one of the prettiest cities I have ever visited. There is new beauty around every corner so be sure to take your time and enjoy strolling around this magical historic place.
Eat & Drink

This is a no-brainer as every second storefront in town will be a restaurant or a bar. Part of the charm of Greece and Europe in general is how seriously they take their food. I felt like on my trip it was impossible to escape eating and drinking way too much, my friend Hempstead wouldn't have liked it that's for sure.
The Greeks love to drink, which you will see each time you get an aperitif of either ouzo and raki. Speaking of ouzo and raki these drinks are what you will get served after most dinners at Greek restaurants. Often you don't get a choice and raki is just presented to you. If you have a choice go with ouzo because raki tastes like windshield wiper fluid mixed with paint thinner. Ouzo tastes like sambuca or black licorice and I hate both of those things… yet I will take that over raki. Both drinks are made from leftovers of wine production… so essentially you are drinking the scraps of wine… enjoy!

While that drink isn't ideal… the rest of the food and wine are terrific. Chania serves up fresh seafood and all of your Greek favorites like no other. While the food is good… the view from the restaurants on the harbor somehow beats that. At some of the quicker food little spots you have to try Zapastiti… it is sort of like a Greek pizza sandwich/calzone-ish type thing. Imagine how good the chicken pitas are and then add cheese and more into a baked sandiwichy pizza thing… If you are hungover then dive directly into one of those asap.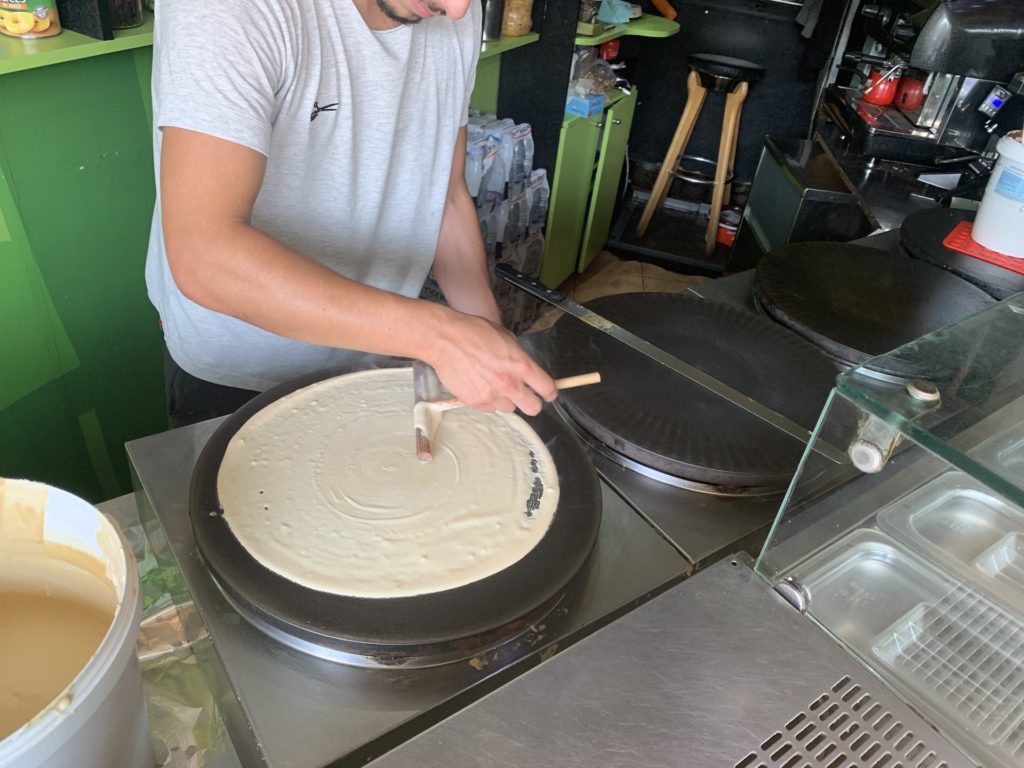 You absolutely have to eat breakfast or any meal at Oi Kpenes Tns Pweavns (Roxani Crepes On Foot), which is a crepe shop across from 1866 Square off Chalidon street. Every time I walked by this place day and night it was busy with locals. For 4.40€ I got a giant crepe that was stuffed with banana & nutella, a sexy looking iced mocha-latte drink and a water he gives you for free. It is cash only… the best places always are, they're not paying credit card fees for you to eat their food.
Walk The Seawall & Lighthouse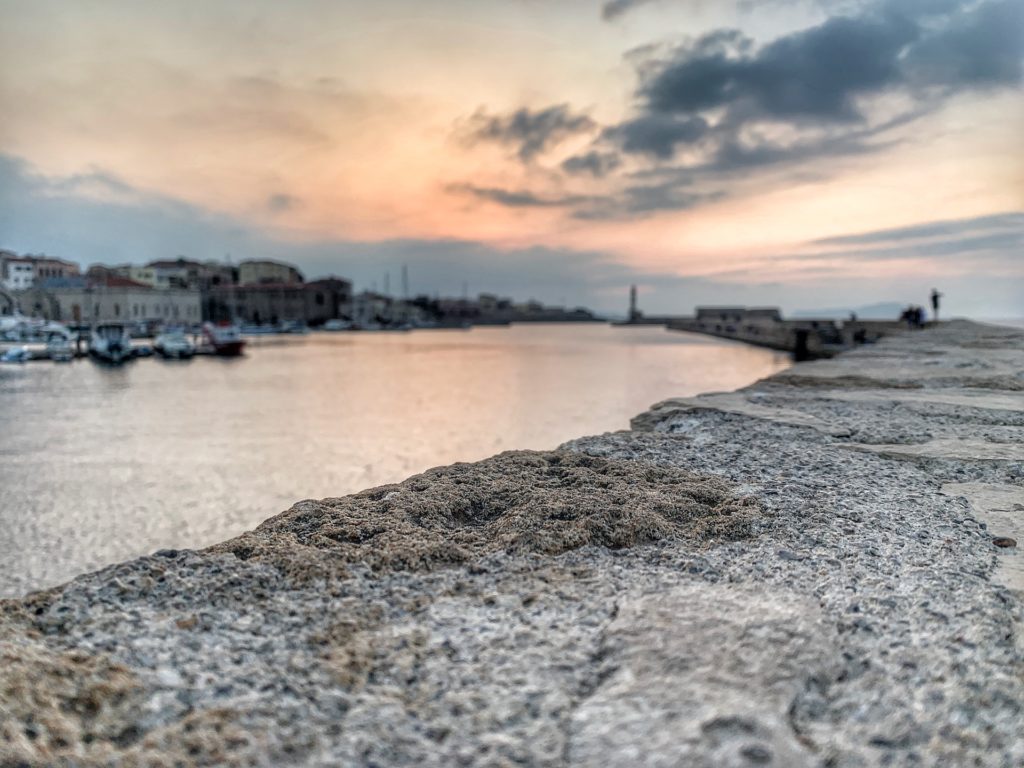 This is such a unique cool walk and you feel as if you are in history book. If you are a picture taker there are some incredible pictures you can take on your walk out to the lighthouse along the seawall. The lighthouse was constructed in the 16th Century and has been rebuilt a couple of times due to different wars throughout its history.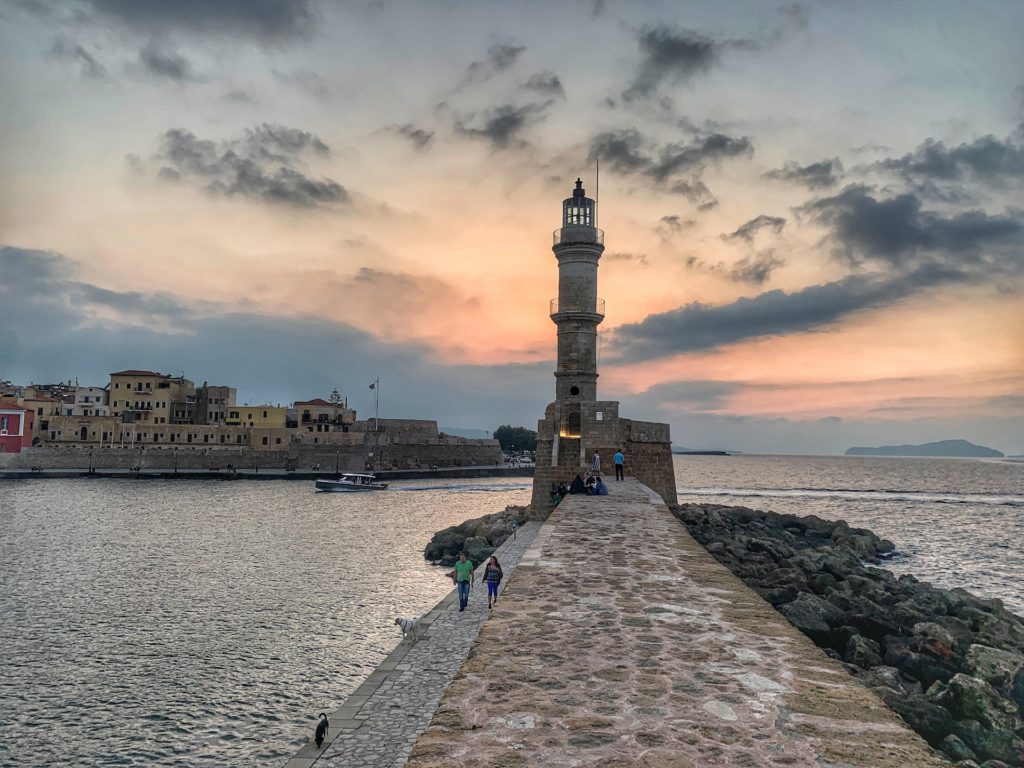 Be sure to walk all the way out to the lighthouse as the views from the edge are stunning. If you are looking for that perfect Instagram picture then you clearly found the right place. I thought the view of the seawall and lighthouse was breathtaking… only to see what an even better all around view you get near the lighthouse… truly perfection.
Find The Perfect Lookout View Over Chania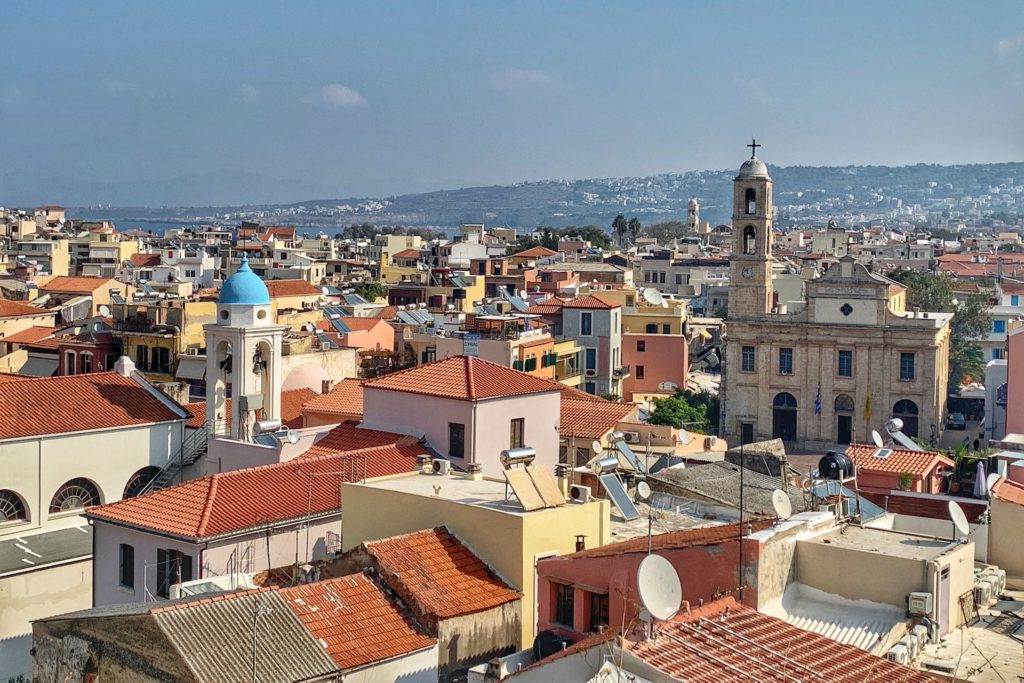 I stumbled upon an amazing lookout on a hill in Old Town about 3 minute walk from the SW tip of the old harbor. Per the picture above it is pretty close to the Trimartiri church. It is close to the West Venetian Walks or Kores Boutique Houses and is the only real natural looking hill. You will find it easy enough and there is a stop sign for vehicles as you got to walk up the 1 minute long walkway. From there you get an absolutely stunning view of the old town and harbor.
Take One Of Prettiest Drives You Will Ever Do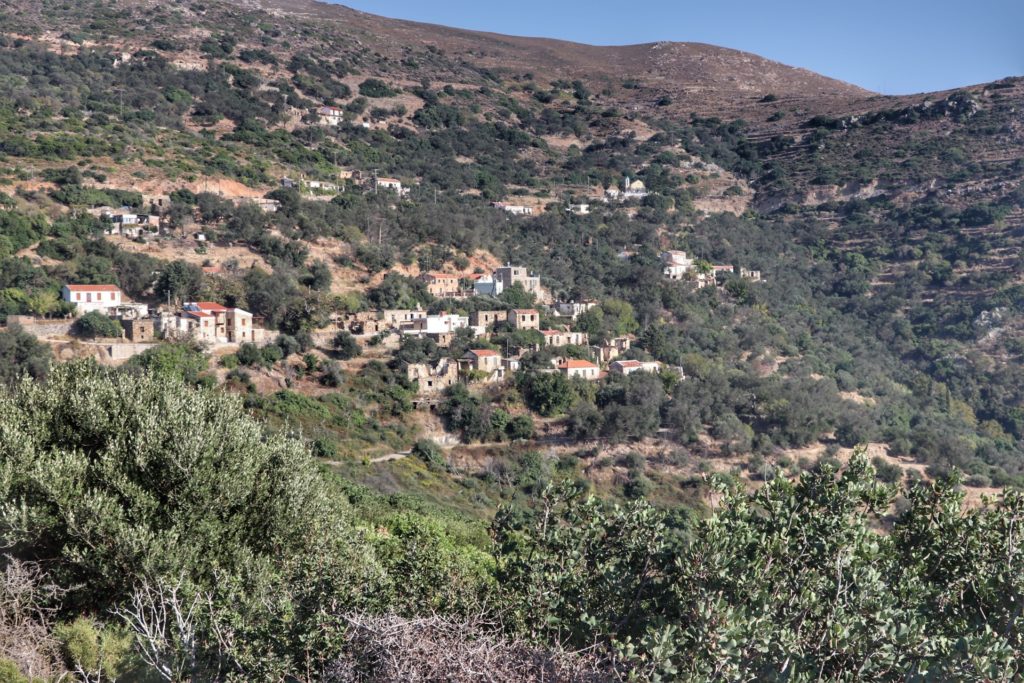 My mountain town pictures don't do this place justice whatsoever. I went on my own driving day trip from Chania to see some beaches and drive through the mountains. Wow… the mountain towns perched down the mountain were like out of a story book. I know I sound like a broken record about Chania but it truly just didn't seem real.

There are multiple towns embedded down the steep mountain side and it is a sight to behold. On top of that you will get stunning sea views, gorges and of course sheep on the road! The whole drive from Chania to Elafonisi Beach and then to Falasarna Beach and back again was one of the best, if not the best drive I have ever done. The drive isn't for the faint of heart but it is worth it.
Beach Hop Day Trip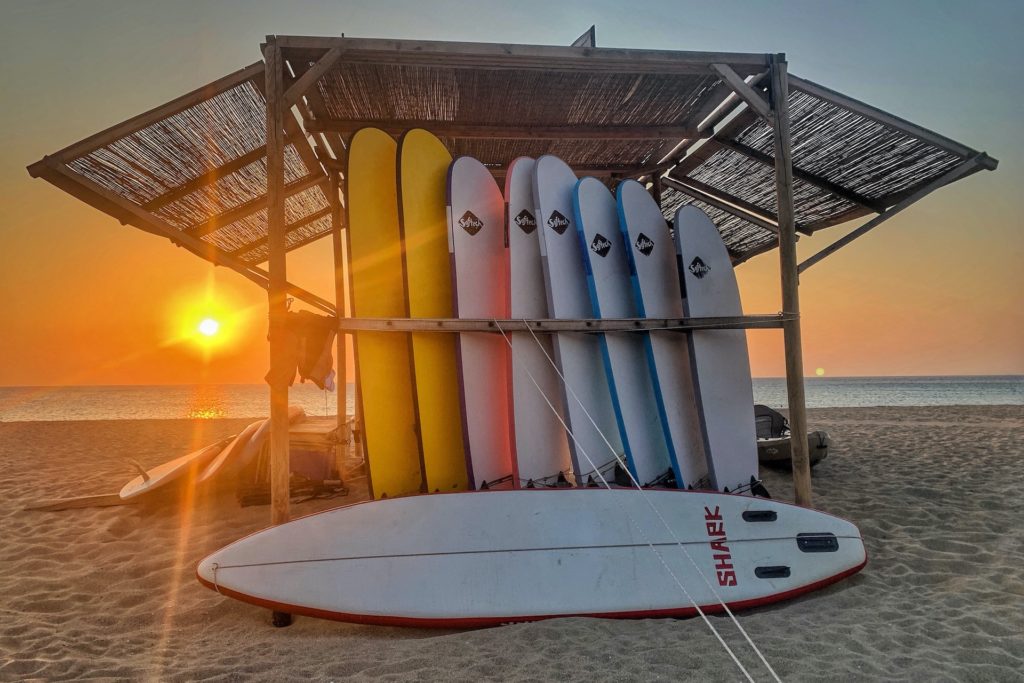 As mentioned Chania is the perfect gateway to some incredible beaches and the drive to them is unreal. Per above, I rented a car and went on a trip to Elafonisi, the "pink beach", and then to Falasarna Beach. They both were great beaches although don't be fooled about "the pink beach" as it truly isn't anything crazy but more of a touch of pink hue to the sand. It is worth it to go from Chania on a day trip but I wouldn't go out of your way from Heraklion or Rethymnon for it.
However, if you are in Chania then this truly is the best day trip to explore the east of Crete, beach hop, fall in love with the mountain towns and enjoy some of the coolest sights you might ever see. There is the perfect bar at Phalasarna to enjoy a couple drinks and late lunch or dinner right on the beach. Cruise by Playa Paraiso and tell them Inspire Travel Eat sent ya ;). It is the perfect setting for sunset as you can see below.

Balos Beach is arguably the #1 beach in Crete but is hard to get to from the road as you absolutely need a 4×4 car and it is a full day trip. However, if you have the time and money there are some great boat tours you can take to Balos and others, which would be a great day out on the water.
Walk The Venetian Harbor

This is clearly a no brainer. This Harbor is one of the most charming areas I have visited with restaurants and bars all there waiting for you to grab one of the best locations for a drink or food that I have come across. Hopefully you are starting to see a theme that there is so much to see in Chania that may not have ever come across before. I love to travel for unique sites and this is one of my favorite places for that.
Visit Incredible Religious Buildings
There are a few incredible old places of worship that you must see. Part of Chania's charm is the different ruling parties who took it over at some point in history. This in turn has created a vast array of old religious buildings.
The most iconic of course is the Kujk Hassan Mosque also known as the Mosque of the Janissaries and the Yali-Tzamisi Mosque. It is situated right in the harbor adding to the unparalleled charm of the Venetian Harbor. It is was constructed by the Turks in 1645 and is the oldest Ottoman building in Crete.

Two of the more visited and stunning churches are the Trimartiri, Chania's Cathedral Church and the Orthodox Church Of Agios Nikolaos in Splantzia. You won't miss Trimartiri as it is situated right on Chalidon street, which is one of the main touristy roads in Chania.
A couple of others to visit are the Venetian Church of St. Francis and the Kal Kadosh Etz Hayyim Synagogue. If you wish to travel a little of out Old Town you can also see the stunning Agia Tsagarolon. Definitely make sure to see a few from this list as they all are so unique and historic.

Stroll Old Town

Walking through Old Town is a walk through history and one of the reasons you travel to Europe. The skinny streets, brick, window shutters, the fortress walls, street cafes and everything about it is magical. This is the perfect place to get lost, take your time and just soak in the hard-to-match charm.
Hopefully you have a day with no plans and can just walk around without an agenda, hopping into a restaurant when you are hungry and grabbing a drink from one of the bars or cafes whenever you feel like it… this is the place to slow down and soak Europe life in.
Catch The Prettiest Sunset I have ever seen

This is not hyperbole when I tell you that the most epic sunset I have ever had was in Chania. I don't know if I was lucky or this is just commonplace but wow… The lighthouse of course makes pictures that much better and overall the water, old buildings and harbor just add to one of the most beautiful setting I have seen to this day.
Visit the Agora (Municipal Market)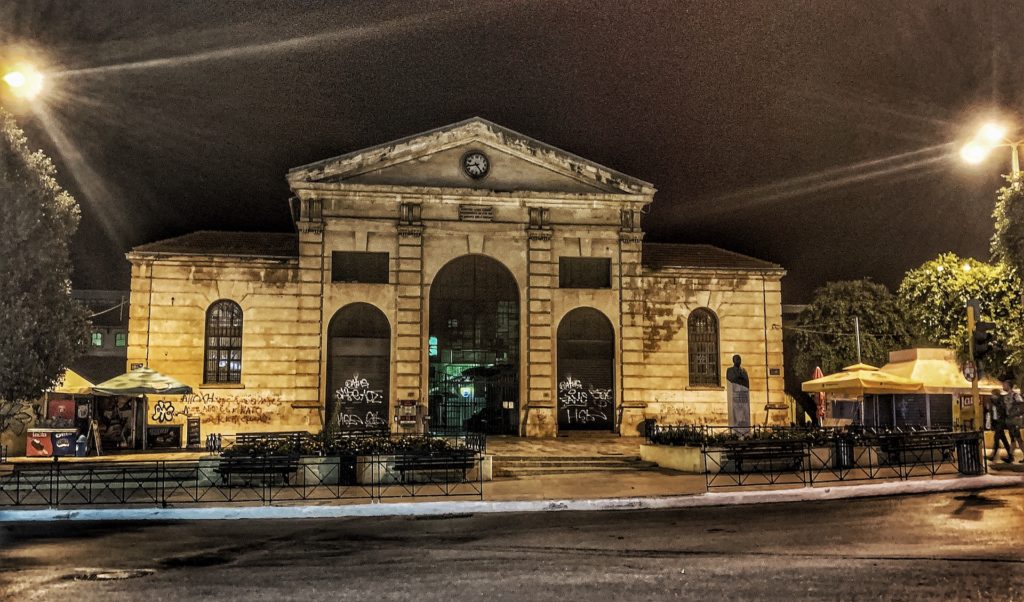 If you have read any of my other articles you know I love markets. The market hustle and bustle, smells, interesting sites and where the city comes alive is always the market. You interact with the people, try new food and see new wares that you might want to take home with you. The Agora in Chania is definitely a unique market with their butcher shops reminding you that you're not in the US or Canada anymore.
WARNING!
SCROLL PAST THE NEXT PICTURE IF YOU'RE SQUEAMISH
I apologize in advance for this picture but you need to see the real stuff so here it is… I always tell you to travel to see new things you can't see at home… and Peter Rabbit with its socks still on is just that…

Wonder At the Byzantine & Venetian Fortifications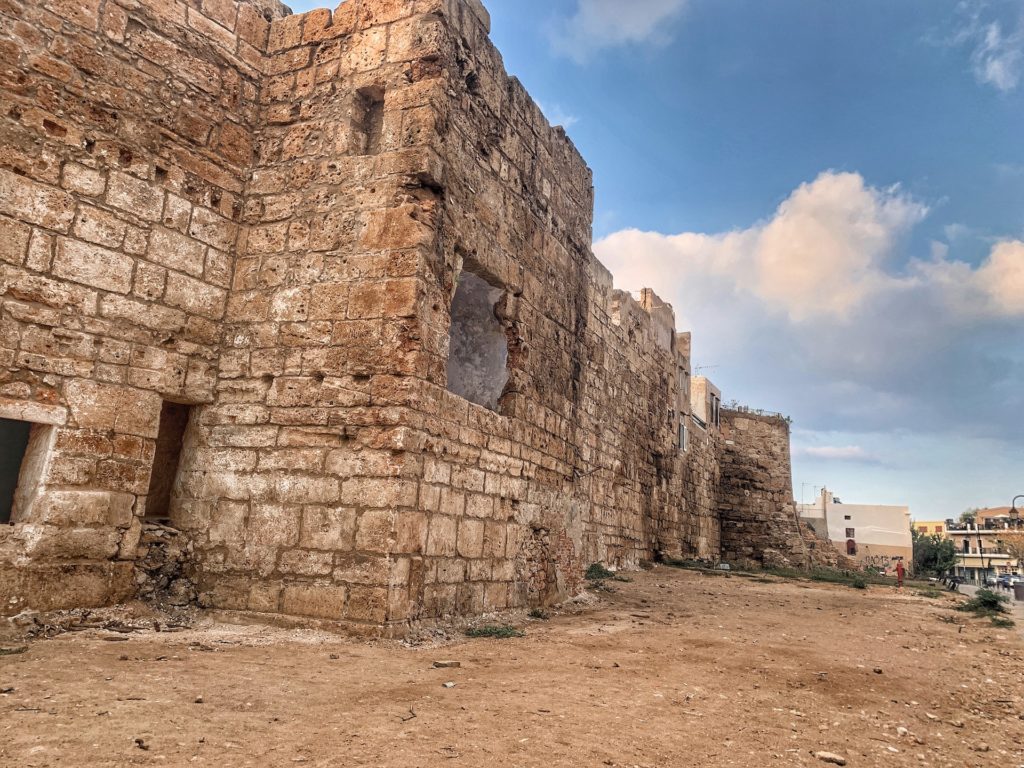 The fortress walls are one of the most unique and cool things I have ever seen. As with a lot of Chania you are transported back in time as you wonder at the walls and imagine what they have seen. My favorite part of the walls was how residents have built their homes into the walls, which is one of the most rare things you might ever witness.

The smaller Byzantine Wall was built in the 6th & 7th Century while the more encompassing Venetian Wall, which now houses Old Chania, was constructed in the 1500s. The Byzantine wall was to protect again Arab attacks and the Venetians built their wall to protect from the Ottoman Empire.
The Firka Fortress was added in the 1600s to guard the entrance of the harbour. It was equipped with six cannons of which you can still see the openings on the north side of the wall. It also could be closed by a chain connecting the Firka Fortress with the lighthouse.
Visit The East Old Harbor, Venetian Neoria,  Arsenals & Dockyards

The Venetian Neoria buildings and ancient shipyard are incredible similar to the rest of Chania. I'm not one to care too much about a shipyard but again this city just continues to offer more walks through time containing stories going back 400+ years. The Venetian fleet dominated the mediterranean and the location of Crete was an important harbor for trading and the navy.
Shop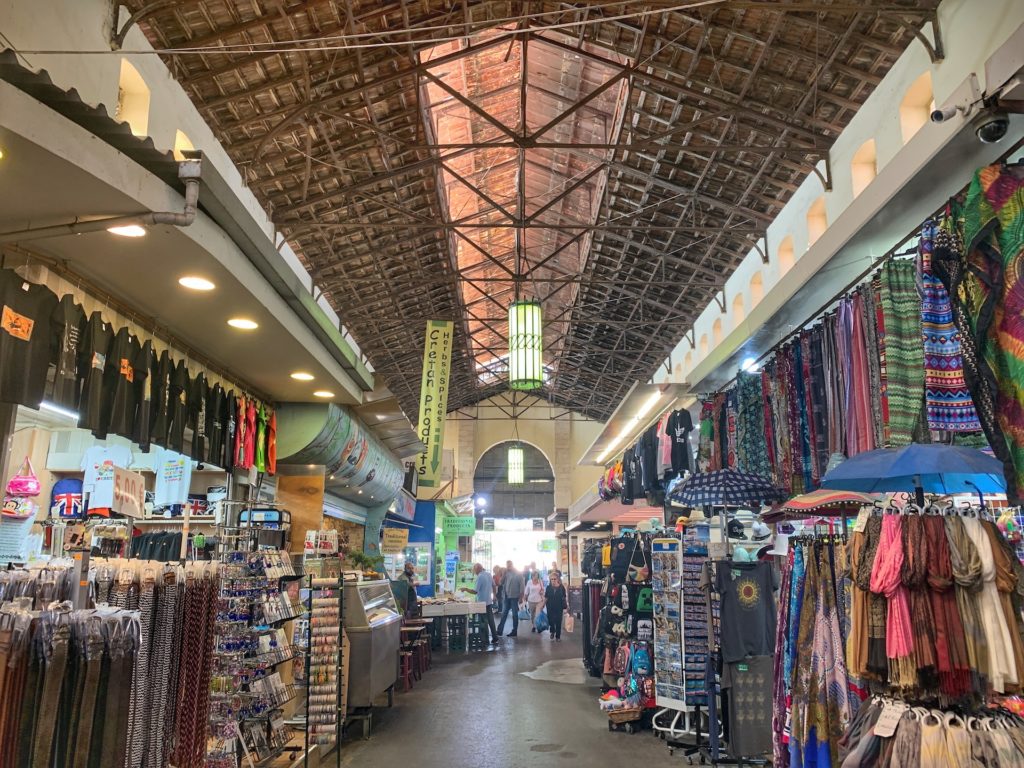 Leather, olive oil, wine, fake good, trinkets and souvenirs. Chania has no shortage of great shopping for all sorts of goods you might want while on vacation. If leather is your thing than Chania is the spot for you. I always love to buy jerseys and alcohol from different countries so my Antetokounmpo basketball jersey and my bottle of ouzo were a great addition.
Museums

If you are into museums then there are a ton here for you to visit. There is the Nautical Museum of Crete, the Archaeological Museum of Chania, Municipal Art Gallery, Minoan's World 3D museum & 9D, Folklore Museum of Chania and more!
As you can see I absolutely love Chania and you have to get there! If you were heading to Santorini or Mykonos be sure to stop in Chania for at least 2-3 full days on your trip… you can always go to a beach but to step inside history like this will leave you with more than just a suntan. I recommend one full day in Athens or two at the most then get to Chania and the islands.
When To Come and Where To Stay in Chania
I was lucky enough to come in October, which just at the end of high season. I would tell you to do all of Southern Europe just outside of the high season to be honest. It is 1/3 to 1/2 the price for hotels and so many cities are walking cities. With that said, walking in the summer heat here is miserable. If I was in Rome or Athens in the Summer I would have hated life. Thus, I would definitely come during this late Summer or early Fall time as it is still 25-30 degrees during the day and a perfect 15-20 at night. Not to mention that the prices on hotels and everything else drop along with the the temperature.
I stayed in a cute little spot called Ifigenia Suites for 35 € a night! It was a good hotel if wasn't for it being noisy and maybe a little old, however that was part of its charm and it was only 35€ a night!. I would say it was a 4-star quaint unique feel with 2-star accomodations and pricing. I stayed in the more budget room they offer and it still had a kitchen, large bed and to be fair my room had shutters that opened up to the street, which made me feel like I was in Beauty & The Beast.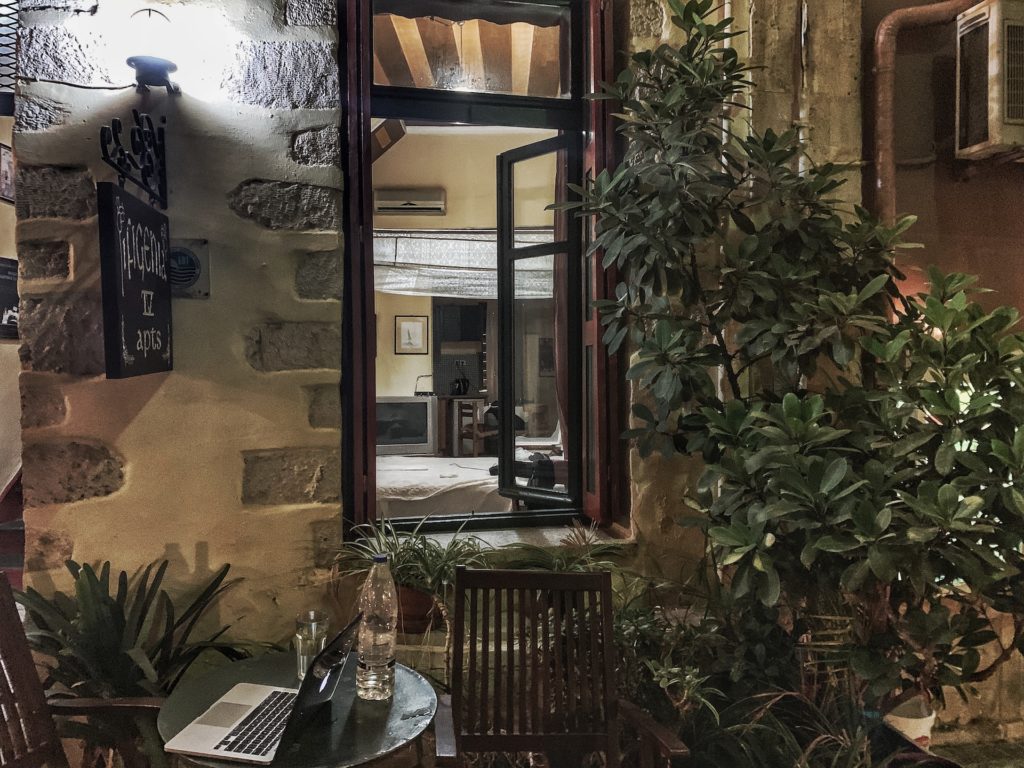 They also were very helpful and got me a car rental for the day. Not only that but when I asked about how to get to the airport early the next morning they talked to my car rental guy and he said I could just drop the car at the airport parking lot and they would pick it up. This saved me a 20€ cab, which was a nice hook-up since the car itself for the day was only 35€.
If you are wondering, I am still sitting outside of my room, drinking & writing on the street, while people pass by nonstop and do double-takes into my cute little room.
How To Get Around In Chania
Download Google Offline Maps! I know you are all scared of the bus… however, take the bus if you can. It is very cheap from the airport and will drop you off at the main station, which is an easy 10 minutes walking to the main center of town. The walk itself is great too after the first 4/10 sketchy couple of blocks but quickly you will walk into the main area with tourists and people abound. Walking in will also help you get your bearings so definitely do it!
If you want to cab from the bus station then it is about 7€. If you want to taxi from the airport it is about 20€. If you are renting a car for a day while in town, see if you can get the same deal I did on your last day and ask to drop it off in the morning at the airport.
Driving In Greece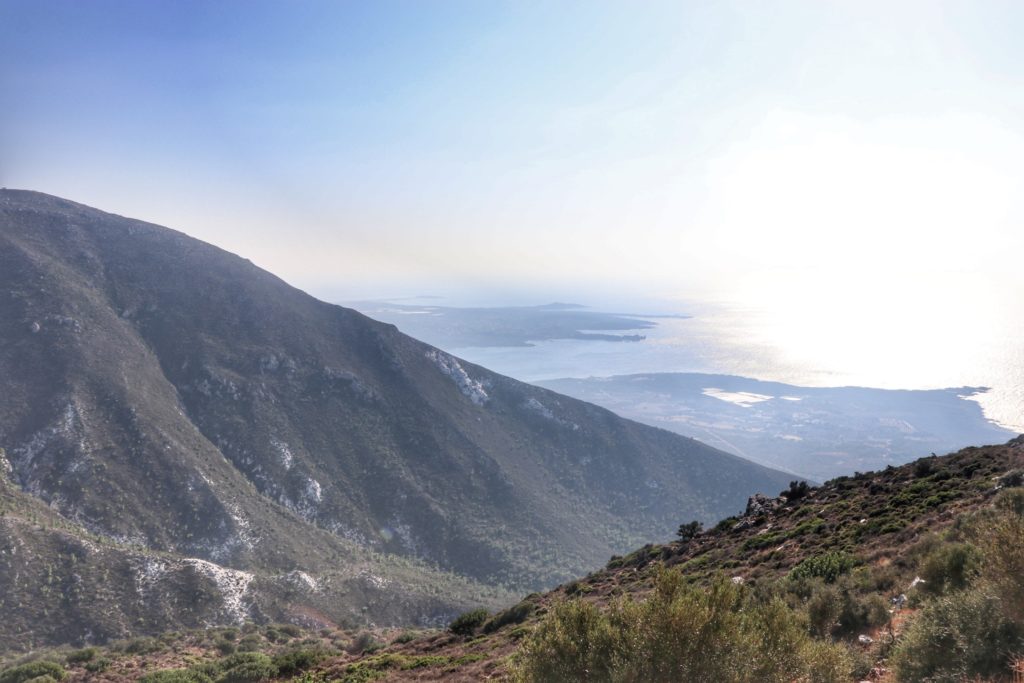 It can be scary but remember this; someone dies every minute in the USA from a car accident, you're fine. As you may know, I love driving in other countries, it is chaos but it is chaos that makes sense to me. It is lawless but common sense lawless… I never see police, I never see accidents *knock on wood* and everyone is happier for it. My friend Kenny said it best, "I think this was one of the levels in Gran Turismo."
In Greece it can be heart-stopping for some as when you drive in the mountains, as it is pretty intense… like top 3 worst/best roads I have ever driven. Imagine driving up to a ski hill but no trees, just cliffs and tight roads. They have this thing where people drive on the shoulder and you can just pass them, don't believe me? Here is a picture…

It is everywhere on the highways, like people just drive off the road the entire time so you can speed past. It can be a touch scary for new people driving in a different country for the first time but once you settle down… it is lovely, even if your heart skips a beat in the mountains a few times.
Leave a comment on your thoughts on Greece and Chania or any questions in the comments!