Cibecue Falls is another incredible adventure making Arizona arguably the best adventure state in the USA. It is a beautiful walk along the creek all while being in a stunning canyon. The canyon is almost as pretty as the waterfall itself.
While the waterfall by itself is terrific, the the canyons, streams and hike just add to the perfect adventure day. If you have ever hiked West Fork Trail in Sedona, it is almost as nice as that but then add in the waterfall at the end!
This is the perfect hike during an Arizona summer as you cross the creek 7 times keeping you cool on your hike. There is also a good amount of shade to keep you from being exposed for too long. Take your time and don't be afraid to get wet jumping into the little swimming holes along the way.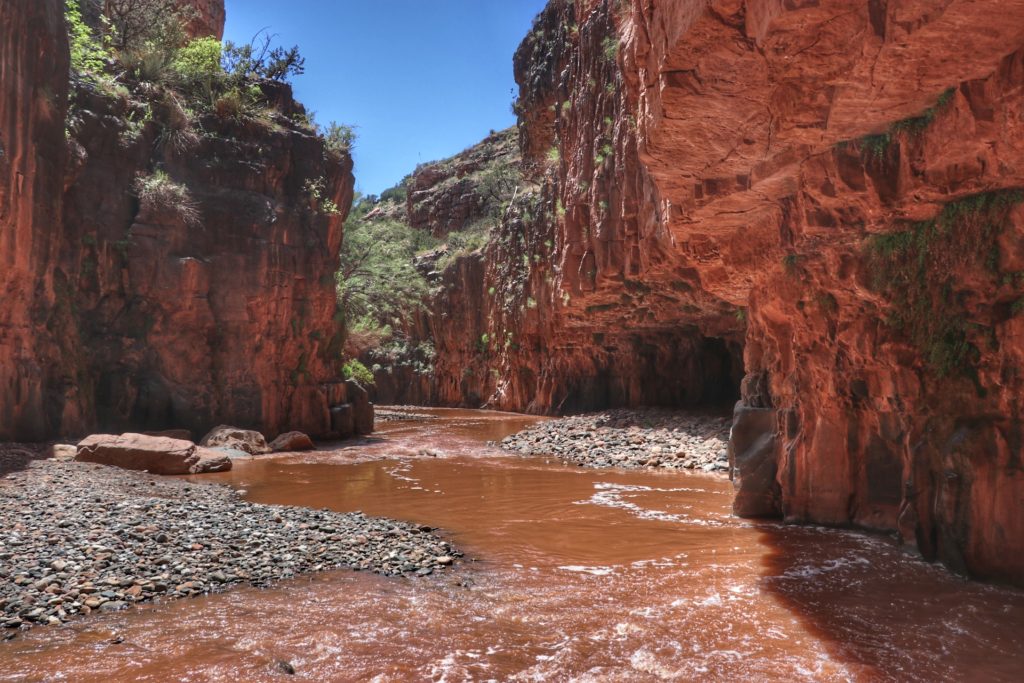 How do you get to Cibecue Creek?
The drive out as you get closer to the hike is beautiful as well. It is such a great all around day trip from the small town of Globe on to stop in, to the drive and even getting to the trailhead. After you turn off the highway you will be greeted by driving alongside the cliff as you can see people white water rafting in the water below.
Getting to the trail is a little tricky as you lose service and Google Maps can go haywire. I suggest downloading Google Offline maps before you go so service issues don't have you missing the turn.
We missed the turn so here is my failure being your success. The turn is the first turn to the left immediately after crossing the bridge. Then you hit the dirt road and there will most likely be rangers checking for your permits near the start.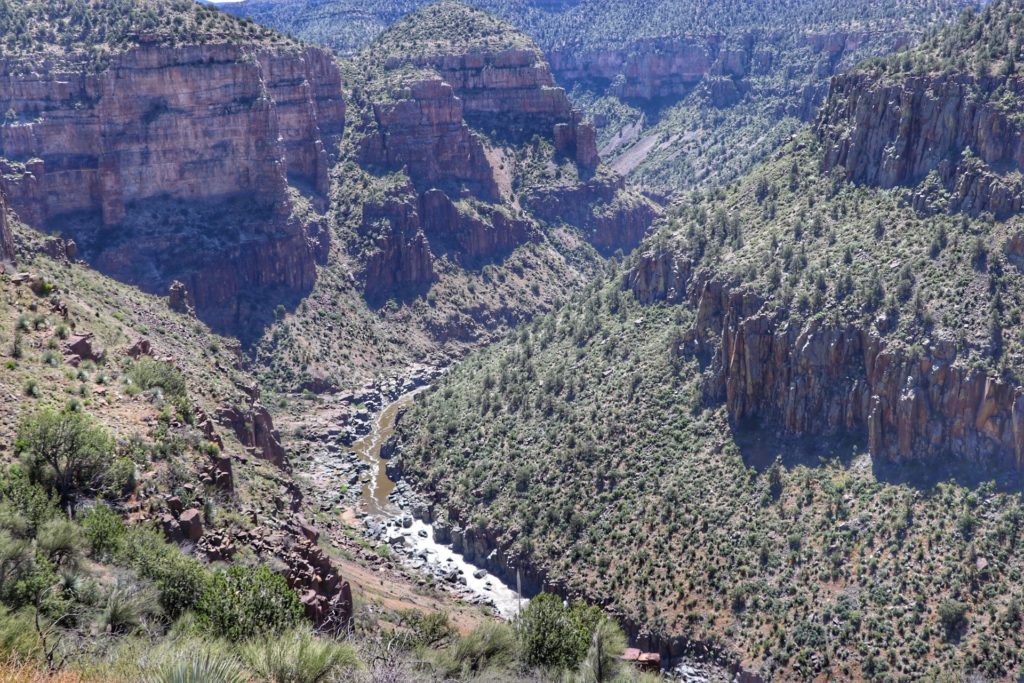 From there you go straight down the road to the falls for just 15 minutes. The road is a little sketchy as it turns into one lane and it is alongside a cliff that goes down a long ways.
You can park in two places, before the stream or if you have a SUV or Truck, drive through the stream and park at the trailhead immediately to the right after the stream. If you keep going straight after the stream for longer than 20 seconds you have missed the parking lot and might be driving to middle earth.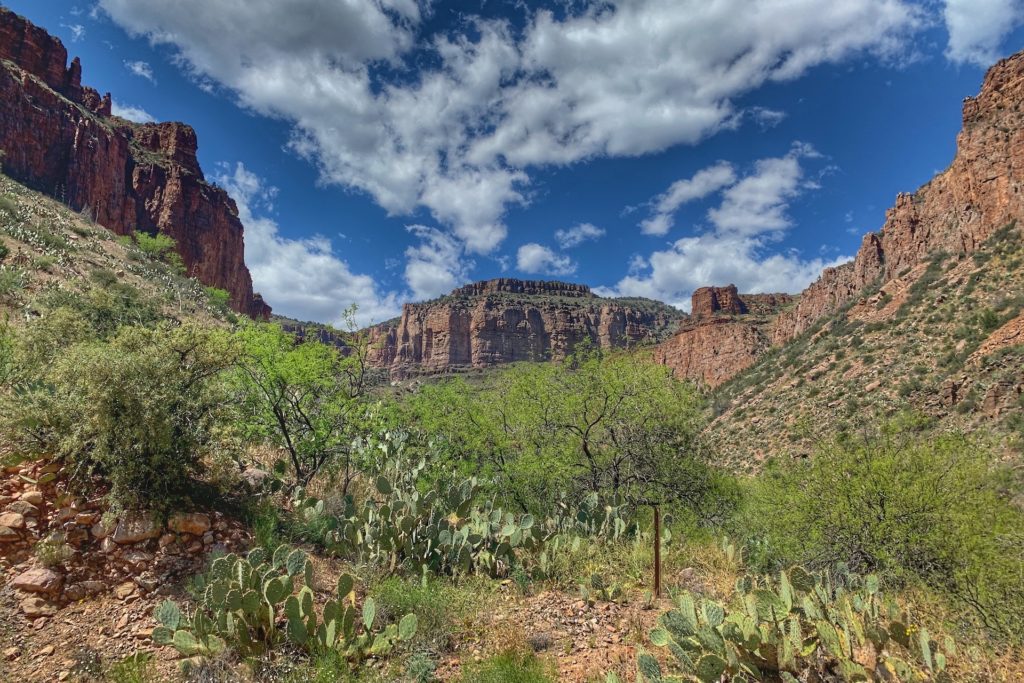 How do you get permits for Cibecue Creek?
Before you go make sure to get your $30 permits here wmatoutdoor.org. Getting the permits can be a little confusing on the website but I cover it more in "tips" below. You do have to get it though per my mention of passing the rangers before you start.
What Shoes Should You Wear For Cibecue Creek?
Do not wear standard hiking shoes that you have to take off. You cross the water seven times and I have seen people just turn around after a while from continuing to take their shoes on and off.
I go sockless in my trail running shoes for this hike, West Fork Trail, Havasupai to Beaver Creek and any hike that has water crossings. Of course tevas work or any shoes meant for water and hiking. Sockless in trail running shoes are the move though!
Where is Apache Falls?
Apache falls is the secret tip that some people don't know about when going to Cibecue Falls. Apache falls aren't that extremely impressive but worth stopping by to check them out.
They are right under the bridge that you cross before the Cibecue Falls turnoff. To get there, when you go back to the highway, go to the road to the right just before the highway. If coming off the highway, it will be your first left turn and wrap under the bridge.
Just a 2 minute drive from the highway turnoff, under the bridge and you are there. They are very wide and loud but it can be very peaceful if no one else is around. It is a known party spot though on weekend nights so be aware when you go.
Cibecue Falls via Cibecue Creek Trail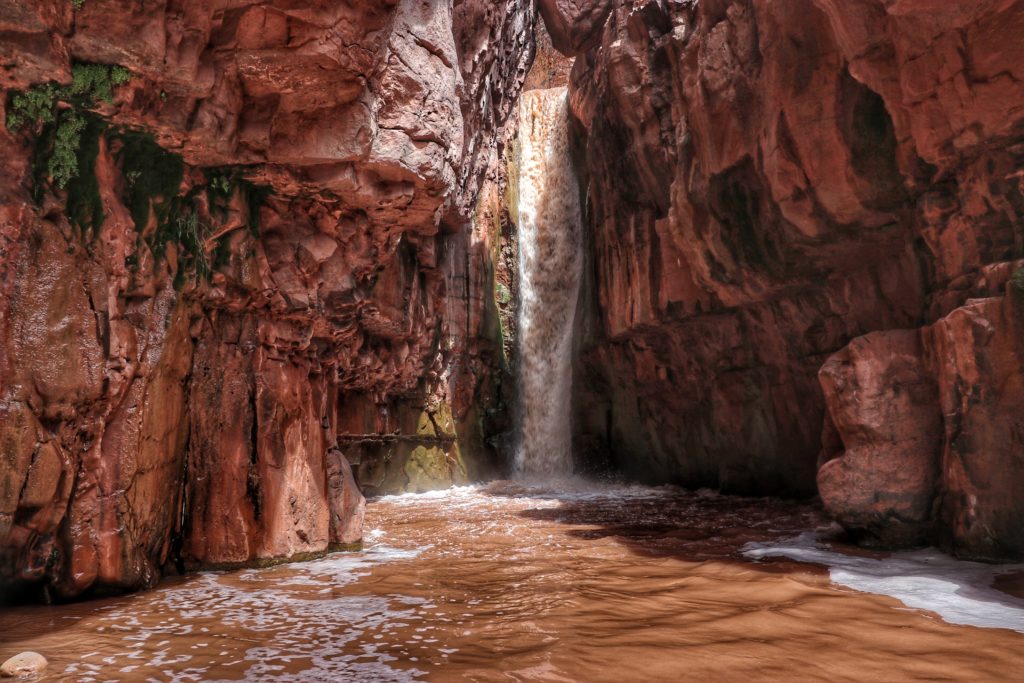 Length:
4 Miles Out And Back
The hike itself is terrific, it has some scrambling and some even say "canyoneering" but I think that is a little generous. Regardless, it is a ton of fun crossing the water and finding your trail all while being surrounded by stunning canyons.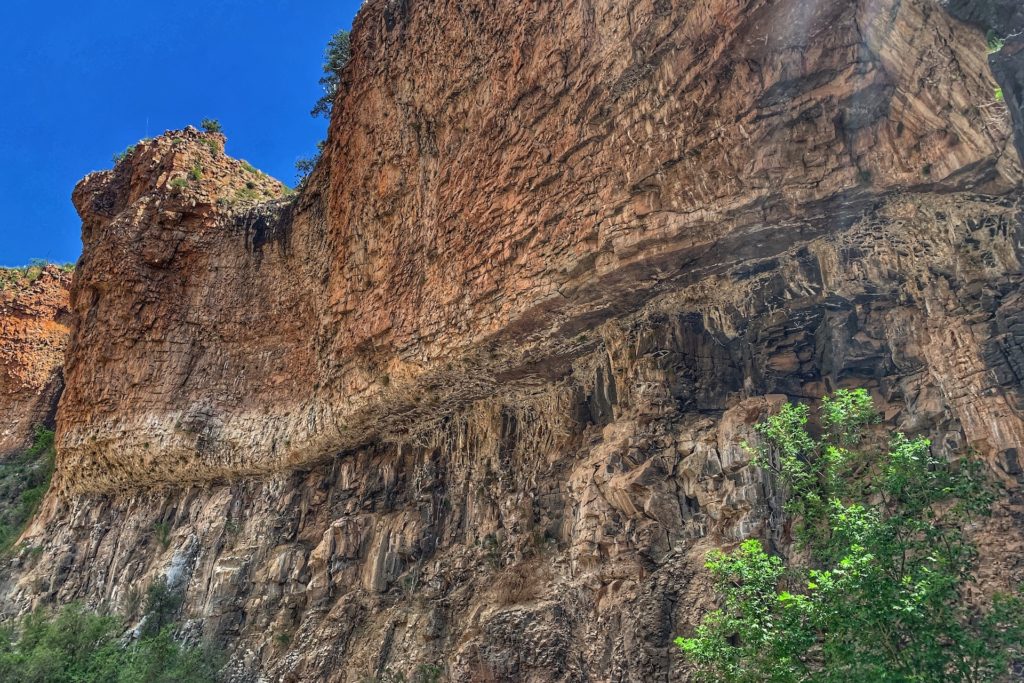 You start walking and within 10 minutes you will be crossing the water but it isn't too deep, normally around shin deep to start.
However, as you go there are some places that will be knee deep and almost hip deep. Good news is that the rocks are not slippery at all and quite safe to walk on whether you are in the water or trying to stay above and rock hop.
Within about 20-30 minutes you will come across a mini waterfall and open spring to swim in if you'd like. It truly is so peaceful and is a great spot for some pretty pictures.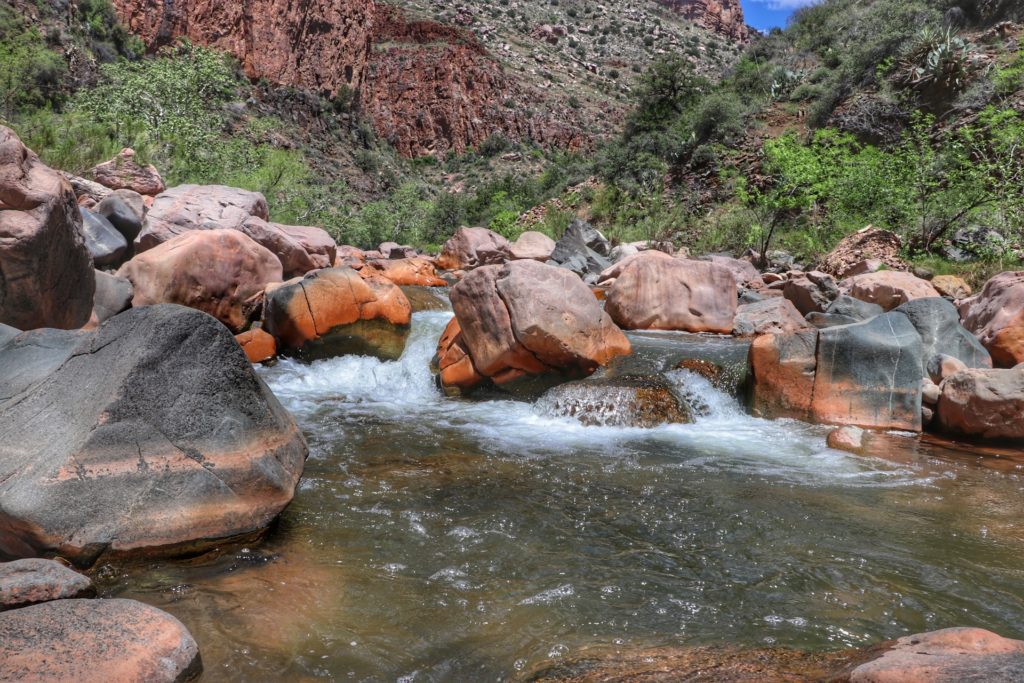 Throughout the hike be sure to look up and down as the canyon is just as pretty as the stream you walk beside. Take your time and take in all of the neature around you, that's why you left the house right?
Any age can do this hike but there is a good amount of scrambling over larger rocks thus it is not a flat easy walk in the park. If you do have poor mobility issues than this hike might not be for you due to the amount of deep water and larger rocks to scale over.
The hike is quite shaded and isn't that "hard" in terms of physical expenditure but more difficult from the rock scrambling end.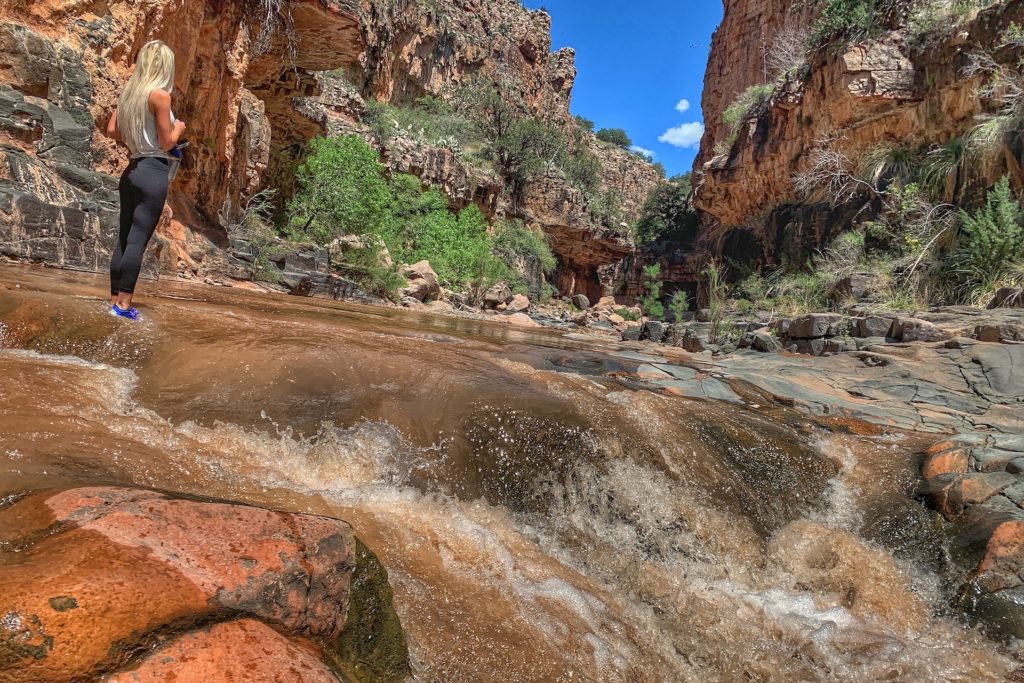 Once you get close to the waterfall you will definitely hear the roar of it. Depending if it rained or a spring runoff the water can be a beautiful blue/green or it will be chocolate brown.
Both are pretty in their own right and it's honestly the canyon coloring and setting that might make the waterfall look so good.
One of the best things about this hike is the fact a lot of it is shaded and you go in and out of the water making it a perfect Arizona summer hike. Be sure the trail is open as well as sometimes it has been closed due to it being fire season.
My secret bonus is for when you leave, be sure to stop at Apache Falls on the way back, I cover how to get there in the tips below.
Pros
A perfect way to escape the summer heat in Arizona. This hike gets you wet, has lots of shade and keeps you cool throughout.
Perfect length. Not too long and exhausting and long enough to make you feel like you got a good workout.
You are in a canyon the whole way, which is stunningly pretty.
Lots of great photo ops and mini waterfalls throughout.
Next to Apache Falls, which is covered below.
Cons
Getting a permit is as clear as mud but sign in and jump through the hoops here https://wmatoutdoor.org
To get a permit you need to sign-up. You also need to register any guests with their own names and registration within your registration. Sometimes it may take you to a site where you can't get back to the original so you'll have to go back to the link I have above… it can be a little frustrating but you'll figure it out.
Could be hard for people with bad joints. There is a lot of rock scrambling.
This isn't a "negative" per se but don't expect a perfect trail. There's lots of brush and branches to go through, water to walk through as well as up and down rocks.
I read reviews saying it wasn't great for dogs and I take my dog to all hikes… however I agree slightly. It's hard to explain but even large dogs would find the trail a bit of a nuisance since they have to be on a leash. If not on a leash it would be easier with them. While it is doable for dogs, it's not as leisurely with them as you would hope.
Watch to make sure there wasn't recent rainfall or snow run-off because if there is the water will be brown vs. the pretty blue/green.
Tips
Apache Falls! Under the bridge and up about .5 miles is Apache Falls. It isn't spectacular but considering it is only 30 seconds out of the way, definitely stop by. We were the only ones there and it was so peaceful to just lay on the rocks and listen to the water. The turn off to Apache Falls is the first left after you turn off the highway to go to Cibecue. Stop on the way back.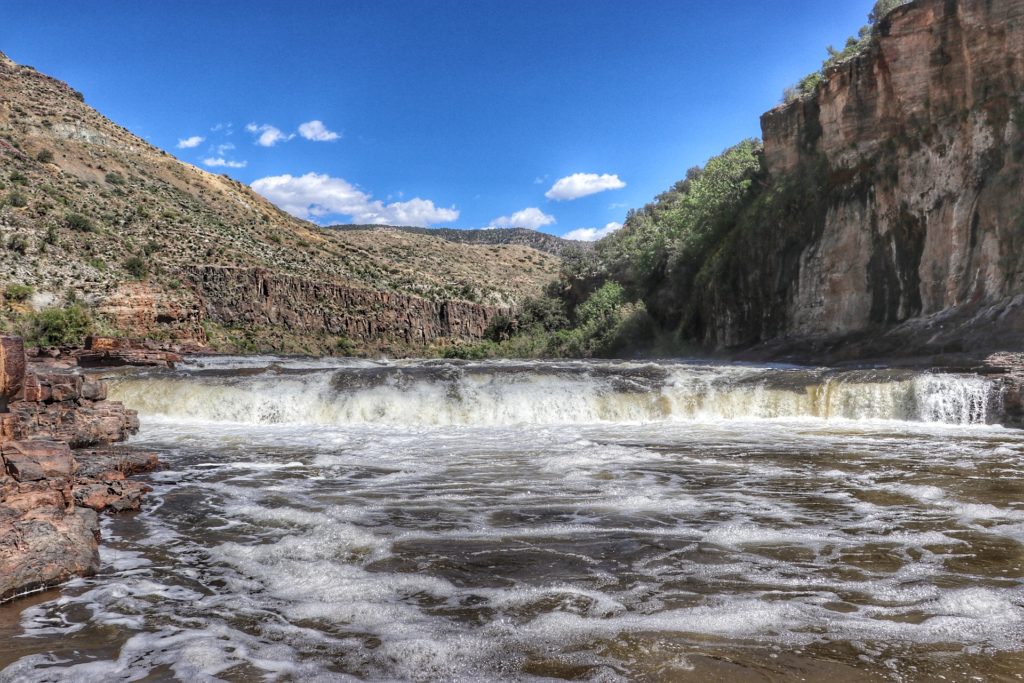 Drive slow on the final path. It is one vehicle width only and there are a couple pretty narrow areas.
Be sure to print out the permit.
There is no cell service as you get deeper into the hike.
Wear water shoes or hiking shoes that can be in the water. We saw a middle-aged couple wear actual hiking boots and they ended up giving up. I just wear my standard trail running shoes without socks for all water hikes.
Go early and during the week to avoid people.
For blue and green water don't go during snow run off or post rainfall.
Stop in globe and have fun in this little town. Pickle Trading Post is a quintessential gift shop and there are a few saloons and Mexican restaurants etc.
There's legit white water rafting right at the turnoff to Cibecue. You could do both things in one day if you wanted a fun adventure day.
Parking is located to the right after you drive through creek.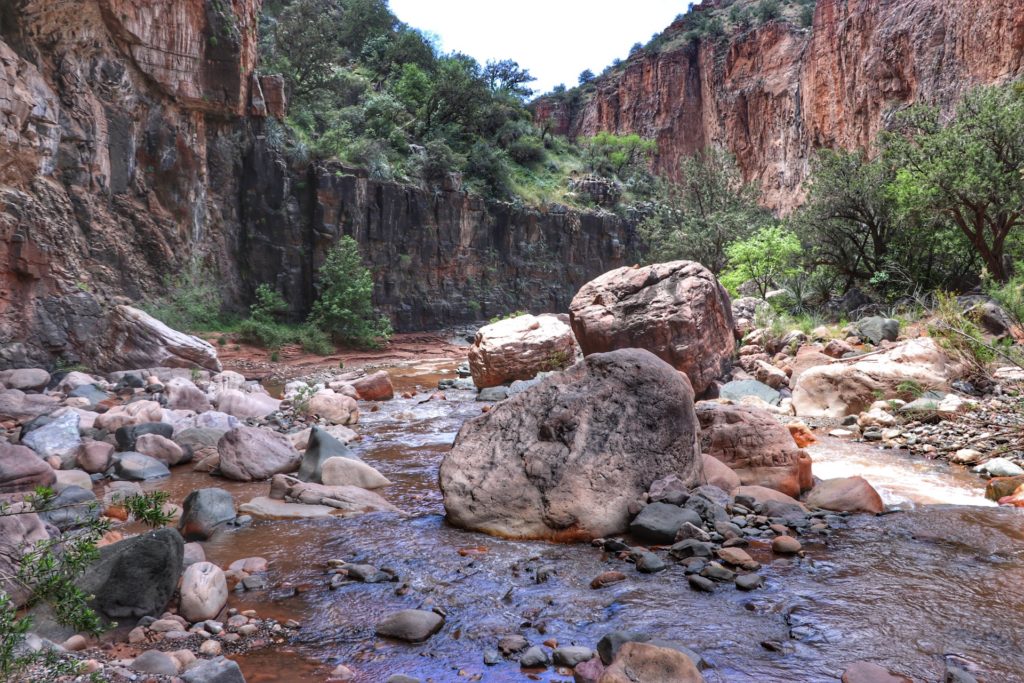 Getting There
I could give you directions on how to get to Cibecue but it's 2019 and hopefully you have GPS by now on your phone or vehicle. Apple Maps and Google Maps both bring you perfectly to the trailhead so don't fret.  For reference points, from Globe it is about 40 miles or around 45 minutes on Highway 60 to "the bridge" and the turn off is the first left directly after the bridge. The drive itself is beautiful as well as you will drive throughout the mountains with gorgeous cliffs and rivers below.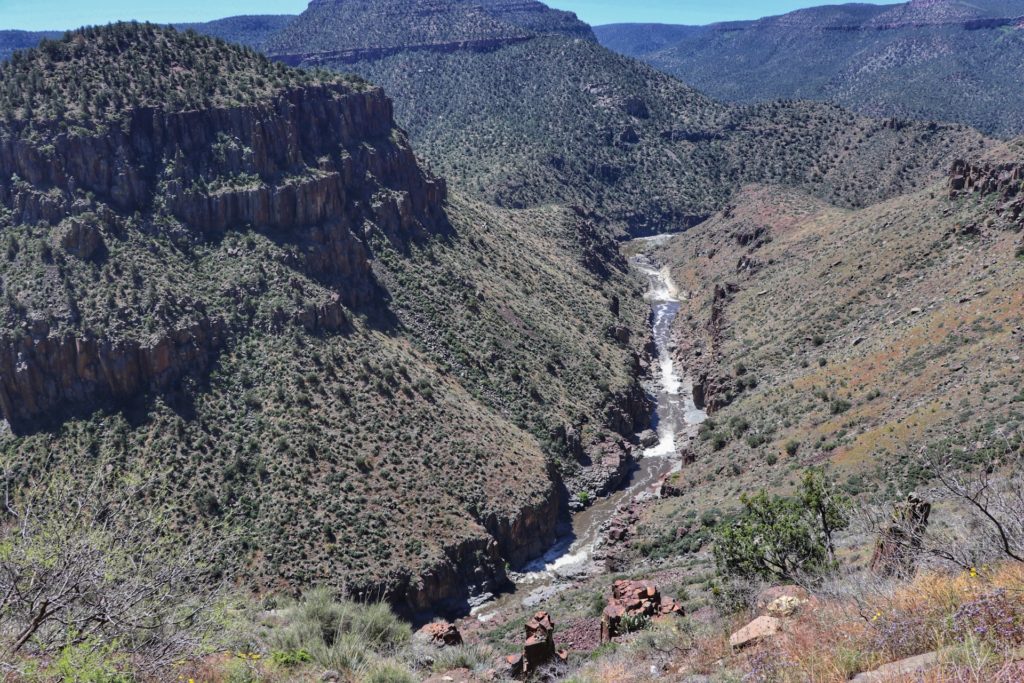 There are park rangers shortly after the turnoff so you will need the permit printed out and they will also tell you where to park if you don't have a high-profile vehicle or 4×4. If you do have a suitable vehicle you will park after you drive through the creek, if you don't then you'll park before and have to walk through it. Don't fret, you will be walking through the creek non-stop anyways so you are going to get wet sooner or later.
The drive from the highway turnoff to the trailhead is about 20 minutes. When driving towards the trail from the highway be sure to drive slow as it is one lane, a couple of the places are a little tight and it's a lonnnggg way down. Along the drive you can look down and see people white water rafting, of which I suggest you checkout if you have time to plan it in advance.
Reminder, parking and the trailhead are directly after you cross the creek to the right… it is easy to drive by it as you look at the views to the left… we almost did.
---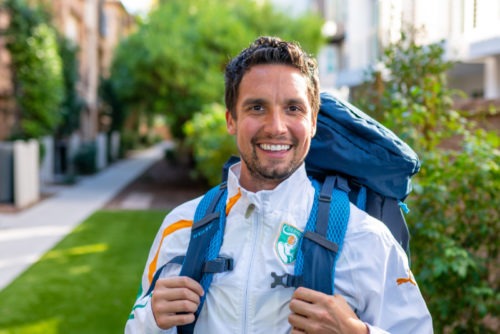 Hey I'm Fraser. My site is dedicated to the 22nd century person with a lust for travel and adventure, need for time efficient recipe ideas as well as anyone in need of self-help or a pick-me up! Thanks for visiting Inspire Travel Eat!