Havasupai Falls is arguably the nicest place on earth. There is a point when you walk up to the top of Mooney Falls and the Jurassic Park theme song starts playing, it's truly incredible.
The combination of the outdoors; being cut off completely from civilization; feeling of accomplishment from hiking in and out with a 50lb pack and not to mention the miles of unique beauty are unrivaled. I have been lucky enough to make the trip a few times and each day has been just as amazing as the one before. I have gotten into debates with people who travel and hike more than I do and they were at a loss when trying to name something better.
The hike itself isn't too bad but if you have a 40-50 pound bag you will definitely be tested, especially on the way out. Keep in mind that not only will you be hiking 10 miles in and out but you will also hike at least 10 miles while down there to explore Beaver falls or even 20 miles if you go all the way down to the Colorado river. Overall you will do 30-40 miles of hiking so be prepared!
We want to feature you!
If you have any pictures of this or other hikes tag us on Instagram @InspireTravelEat or hashtag #inspiretraveleat and we will feature you!
You can also follow us on Pinterest @InspireTravelEat
All of that said, the effort is worth it, the "main waterfall" the hike is known for might be the lesser of the 3 and is definitely #2 on the list. Not to mention that the entire area down there uncovers mile after mile of unique views and nature in all of its glory. I can't emphasize enough how around every turn I was more shocked.
Before Your Start Planning
MAKE SURE TO GET A PERMIT BEFORE GOING. These permits are probably North America's most sought after permit and they sell out instantly. Permits go on-sale on havasupaireservations.com February 1st at 8am Arizona time and once the website is done crashing they are pretty much gone with only a few weekends left by 10am. Tickets are now transferable online as well. You can also try calling down weekly to see if there are any cancellations like you use to but now with the transfer possibilities there will probably be less and less cancellations.
Passes are now $100 per person per weekday night or $125 per weekend night with a minimum of three nights / four days reservation. Camping Reservations also has a phone number of (928) 448-2111. Be prepared to not get any answer or the phones be disconnected. I literally have called over 100x before, seriously.
Be very sure you check the weather before going, not only on how to pack but also they will close it down due to potential flash flooding during monsoon season.
Day hiking is also not allowed.
The Lodge Option
The lodge sells out just as quickly and I don't recommend it as the lodge is two miles from the falls. Furthermore one of the best experiences is the camping part and getting back to nature.
The lodge is $145 per room for up to four people + $35 entrance fee + tax. Lodge Reservations: (928) 448-2111.
Options For Getting Down
Before you start packing, decide on how you will get down so you know if you should be packing lighter or not. If you are planning to hike your pack down yourself you will want to be as light as possible however if you are helicoptering or using the mules than you might not need to be as stingy.
Hiking your pack down
I'm normally not a major pusher of doing things the hard way but you should hike in and out with your pack vs. the helicopter or pack-mule options. Aside from animal cruelty issues, the feeling of accomplishment you will get from hiking your bag in and out is tough to match. I have had friends cry and collapse after coming out due to anguish but also happiness and the feeling of success.
Helicopter
Helicopters are offered daily starting at 10am, weather permitting at $85 per-person each way with one medium sized backpack 20-40 pounds. The helicopter is first-come first-serve and the way can be extremely long so I wouldn't always count on it.
The flight goes back and forth from Hualapai Hilltop dropping you off in Supai Village next to the check-in 2 miles from Havasu Falls Campground. The flight takes 10-15 minutes making helicopter takeoff times be about about every 30-45 minutes from each location. Keep in mind if your bag is too heavy you may also be made to pay $100 to put your bag on a mule on to of the helicopter fee. The helicopters continue flying until everyone is accommodated or it gets dark… in theory. Keep in mind it will be a long wait to get out. Lots of people wait 3-5 hours for the helicopter out. The good news is you can wait and eat lunch in Supai and that the hike will be a very rough 4+ hours anyways.
Mules
Queue the evil music… kidding. In 2018 members of the tribe were indicted on animal cruelty charges due to conditions of the animals. The good news from this is that there are new standards for the mules and horses meaning that it isn't nearly as poor of a choice as it once was. It is also $400 for one mule each way with a max of 4 bags meaning it's an additional $200 each essentially!
You can put yourself on the waitlist for mules on their website here havasupaireservations.com/
Getting to The Trailhead
I won't insult your intelligence as everyone in 2019+ should have some form of GPS to get them places. As you know in my overall travel tips & hacks article I also suggest downloading the Google maps offline so you can use it without data or wifi. I will give you some tips here and there though to make sure you are on the right track though.
Reminder… seriously download Google offline maps just in case you lose service… and check out my other travel tips already ;).
Travel From Phoenix – Directions & Tips
Go north… It's about 4.5 hours and be sure to go up the 17 to the 69, which goes past Prescott. Going through Flagstaff takes 30 minutes longer. You will pass through Ash Fork & Seligman on the way. From Seligman it is another 2 hours (90 mi) to the trailhead. It isn't that far but per what I mention below, driving on Indian Road 18 you have to drive slow.  Every time I have gone I have seen someone wreck their vehicle on an elk.
Tip: Stop in Seligman for a bite to eat or drinks if you go the night before. Some people will also spend the night there in a hotel, which isn't a terrible idea if you aren't the most outdoorsy since you will be spending 3 nights roughing it. Grand Canyon Caverns Inn is also close to the trailhead as another option.
Travel From Las Vegas – Directions & Tips
Go South, it is about 4 hours and take the 93 to Kingman. Kingman is about 2.5 hours (118 mi) from the trailhead so it could be a nice pit stop. You will then go through Peach Springs, which is just before you turn off down Indian Trail Road. As I mention below, driving on Indian Road 18, you have to drive slow as every time I have gone I have seen someone wreck their vehicle on an elk.
Tips: Grand Canyon Caverns Inn is also close to the trailhead if you wanted to sleep in a hotel before heading down, which isn't a bad idea if you aren't outdoorsy.
Stop in Kingman as it is the heart of Route 66! They also have Airbnbs as lows as $22, what could go wrong!
Drive Slow On Indian Road 18… seriously.
If you haven't seen an elk it's basically like a brontosaurus but with fur.Every single time I have gone I have seen one vehicle crushed by an elk. I was lucky as the elk I almost hit was just off the side of the road and he was looking down on my Jeep from above the trees… they're unreal!
Last time I actually was asked by a police officer to help strangers hitch-hike the rest of the way as their vehicle was totaled and being towed back. I always speed when I drive… this is the only place on earth I don't. I don't get it but this road is apparently the epicenter for wildlife in North America. One time there was 50 cattle on the road, deer everywhere and I have seen 55 rabbits… I hit one… I was so sad, let's not talk about it. Driving at night is obviously worse but either way stay within the speed limit, which coming from me says a lot.
Night 1 – To Hotel, Tent Or Sleep In Car
With the new rules you now have a 3 night/4 day pass to camp down there. Keep in mind if you plan to hike down early then you will be sleeping in your car or pitching your tent at the top of the trailhead making it a 4th night of uncomfortable sleeping. If you aren't outdoorsy then 3 or definitely 4 nights of sleeping on a hard ground with what fits in your backpack isn't easy.
I would rate myself a 8-9/10 outdoorsy person and my notes are for the people below that level. With my warnings coming below keep in mind that this experience is maybe once in a lifetime! Thus you can suck it up and sleep uncomfortably. You won't even notice or remember the little amounts of sleep you had due to the adrenaline and excitement about the awaiting adventure.
With that said I do want you to be as comfortable and happy as possible. Not to mention that if you are a light sleeper then sleeping at the trailhead isn't ideal due to a new car or people arriving non-stop throughout the night.
Anyways, I have slept in my car as well as in the tent at the top. If you are newish to the outdoors then these words are for you. The car succcckkkss if you don't have a comfy cushioned sleeping spot… I always end up sleeping in my jeep trunk with the back seats pulled down and it is hard af. If you aren't a huge camper than sleeping 4 nights on a sleeping mat in a tent isn't ideal. Not to mention you will be setting up your tent in the dark when you get to the trailhead more than likely. There also isn't really anywhere to camp around the trailhead due to the amount of cars so you will end up having to find a spot off the side of the road 2-5 miles up from the trailhead before you go down the final hill. You can camp right at the top of the trail but it will be hard getting in and out without a parking spot there, very busy and extremely loud.
If you had to choose something I would say to tent unless you have car sleeping figured out or lots of room. If you have the money then do the hotel… the benefits of a good sleep will probably be much better for your mood on the hike down, especially since you will be camping for 3 more nights and hiking more than you have ever hiked.
What Time Of Day To Travel to The Trailhead?
With the new 3 nights down there minimum this opens up your options a bit. Before, with only 2 nights, you really needed to drive to the trailhead the night before so you could hike down first thing in the morning. Now, you aren't as rushed so you could even drive from Phoenix/Vegas or wherever really early the morning of.
For instance I use to drive there leaving Phoenix around 3/4pm, stop in Seligman for food and drinks, trailhead by 10pm and trying to sleep by 11/2. You would then wake up around 6/7am as it is impossible to sleep in with the excitement you will have, all of the people driving in and making noise as well as maybe a rougher than usual sleep. We would wake up, get adjusted, re-pack our bags and get going. Normally I would hit the trail around 8am and there are a TON of people going at like 4/5am so you can do that too.
This next go around we are talking about sleeping in our own beds in Phoenix leaving at 4am to arrive by around 8:30am. We will have everything completely packed and able to just hop-out and go. That or sleep in a hotel and wake up at 6am but that just seems like a waste of money for an extra couple hours.
Hiking Itinerary!
Before we start I will stress two things.
No egos: It can be a grueling hike, many people who do this aren't tenured hikers or campers and be sure to just make everyone as happy as possible. Take stops and breaks and don't feel bad to tell your friends you need a water break. It isn't a race and the goal is to enjoy paradise… which leads me to #2.
Relax and take your time: You came here on this trip to unplug, connect to nature and you truly don't have a care in the world out here. Why leave early to make it to get a helicopter and leave? Just to avoid a lineup? When will you ever be back here again, take as much time as you can not the other way around. Don't sprint back to the campground each day to just sit around as it gets dark. Take your time and explore, lay in the water and take in as much of the area as you can!
Day 1 – The Hike Down
An exciting day! From the second you overlook the canyon you are about to descend you know it is going to be an amazing experience.
The hike overall wouldn't be too bad if it wasn't for packing in a 30-50lb backpack. While difficult, it truly is worth all of sweat and pain as you go along one of the prettiest hikes in the world. The hike is 8 miles to Supai village and then 2 more miles to the campground from there. The first 1-1.5 miles down is down a pretty steep decline just a bit less than Phoenix's Camelback Mountain. With that said you are already in love with the views as you peer across the gorgeous box canyon. While it is not part of the Grand Canyon you wouldn't know the difference as it is transcendent.
Once at the bottom it is pretty flat as you walk down the canyon along a loose gravel/sand path. It can be hot as there is not a shade so it is nice to get an early start. For 6-7 miles you'll walk through the canyon with plenty of photo-ops along the way. I would take your pictures on the way down because the mood will probably be much less upbeat on the way back.
As you walk into Supai there is a small convenience store on your left. You can stop there, or there is another convenience store and a cafeteria style restaurant in the middle of town. Walking into Supai you will see where to check-in on your left to get your camping info and tags. While you check-in for your group your group can always walk down to the convenience store and cafeteria just passed where the helicopter landing is. There's also a basketball court, worth taking a few shots in one of the prettier basketball locations I've ever seen.
Once fueled up in Supai head the last 2 miles down to the campground. As you get closer the creek will appear with your first glimpse of the gorgeus water. 1.5 miles down you will come up to 50 Foot Falls & Lower Navajo Falls on your left. There are some secret spots in the Falls as well if you can find them. With now having 3 nights I would come back to 50 Foot Falls the 2nd to last day to explore around and maybe get dinner in town.
As you come round the last stretch you will come up to breathtaking Havasu Falls and you've made it! Head down the trail to pick you campsite and get ready for one of the best experiences you'll ever have.
I would half setup your campsite and head to Mooney Falls to check it out for a little. If you have time you can walk back you Havasu Falls as well. Getting your pictures of Mooney the first night also help you save time the next morning to get your Beaver Falls & Confluence adventure on.
Day 2 – Hiking To Beaver Falls & Maybe The Confluence If You Choose
You can make this day 2 or Day 3. I recommend Day 2 since you still have the excitement and adrenaline high wanting to see as much as you can. Day 3 I recommend to do more of a relax day, go to Navajo Falls, eat in Supai and rest your legs for the journey out.
Before you head to Beaver Falls, pack your daypack with lunch, snacks and be well hydrated as I recommend not making it back to camp until nightfall. Heading to Beaver Falls I recommend getting an early start as the sun disappears behind the canyon walls quickly at Beaver Falls and the water isn't warm! Furthermore the later you go the longer the wait at the infamous "stairway" to Mooney. The way down to Mooney Falls is cool in its own right, walking down sketchy ladders and going through caves… it isn't for the faint of heart though.
From the campground it is 4-5 miles to Beaver Falls from the campground meaning it will be almost 10 miles roundtrip. You can hike on the trail the whole way or if you wanted to hike in the water the whole way you can actually do that too! Even going the backway from the "lone palm" is a fun option. The lone palm is closer to Beaver Falls and is next to a ladder going up the canyon. It's hard to miss and you can cut across the water to hike down the backside of Beaver Falls.
Also on your way you will be greeted by a patch of greenery unlike any other I have seen! It is absolutely incredible.
Once you get to Beaver Falls you can relax a little and take a dip. If you are going to the Confluence then I wouldn't stay too long as it is another 5 or so miles each way to continue down there. If you're staying at Beaver Falls, relax, do a little cliff jumping and explore. If you continue past Beaver Falls there is cliff jumping of all crazy heights as well! Tip: You can go underneath some of the falls, including a secret cave.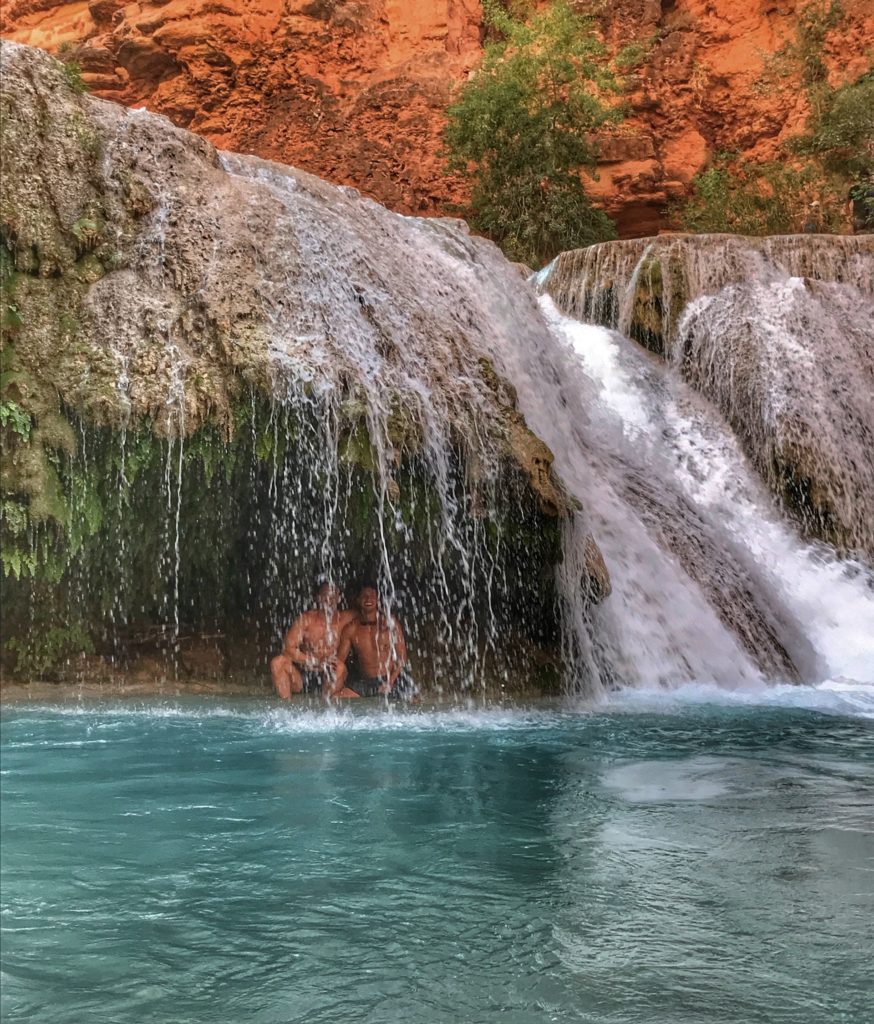 If you have time, or only did Beaver Falls, then be sure to go explore closer to Mooney Falls where some trails will lead you down to the secret shower or up into a different canyon that is so serene and appears as if it is something out of Asia.
As mentioned do not rush back to the campground as there isn't a whole lot to do there at night. Use as much time as you can exploring the area between Mooney Falls and Beaver Falls or The Confluence. When returning to camp if you go back towards Havasu Falls there are the food stands that have snacks and some simple food options, it runs out quick though. You can even go back to Havasu Falls and have a little picnic as the sun goes down.
Day 3 – Free Day – Play In The Water, Navajo Falls, explore and eat in Supai.
Today is a fun day to relax and explore a little more. As mentioned there are some hidden secrets on the way up to 50 Foot Falls & Navajo thus try to ask around and find out what you can do. To be honest there are a ton of hidden caves and more in the area that are only secret because they are… secrets.
Grab some food in Supai while you are up in the area since a warm meal not from a bag will taste amazing right about now. Overall relax or if you wanted to and have time you can always try to find the secret spots just past Mooney Falls as well. Overall, take your pictures, enjoy life and take in the amazing area around you. Getting down Mooney Falls is tough at the end of the day since it is somewhat one way traffic and most people are coming back up.
Day 4 – Relax Day 2 & Pack up & Hike To Your Car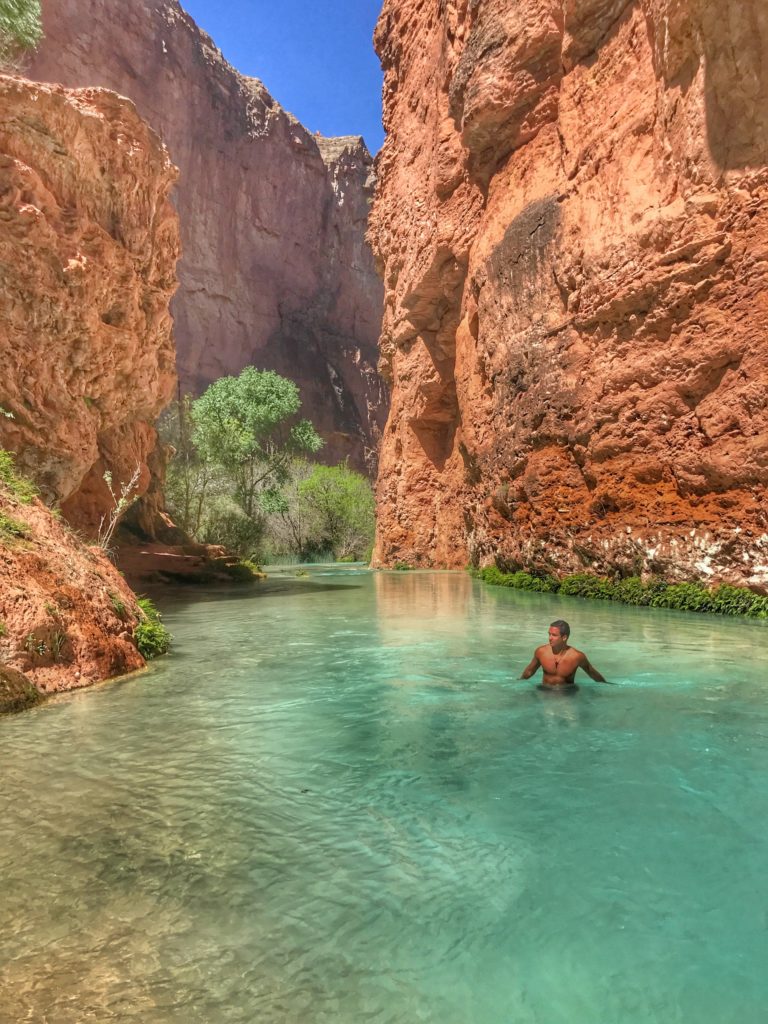 A sad and a rough day but don't rush to leave! When are you ever going to be back again? A good chance of never! I normally don't leave until the afternoon taking in another swim at the falls or overall just relaxing since you really could be at work right now!
Hiking back to the car will be rough and you might be tempted to helicopter out. As mentioned the Helicopter will be a long wait to get out as lots of people wait 3-5 hours for it. If you have to wait for the helicopter the good news is you can wait and eat lunch in Supai and that the hike will be a very rough 4+ hours anyways. Some people get up early just to not wait in a helicopter line but isn't taking things slow and being in nature the whole reason you came?
With that said, take your time and head back as the only thing waiting for you is a 4+ hour drive. Fuel up in Supai, have lunch and get ready for the trek out. Be sure to stop a lot and take care of everyone in the group as legs will be toast after hiking 30-40 miles over the last few days. Most people note it takes 20%+ longer to get out due to the inclines and overall fatigue so be mindful of your group. Furthermore, hiking later in the day is hotter so don't get mad at me if it's a touch brutal in the afternoon and night.
Hopefully when you make it to the top someone cries and your beers & gatorade are still cold. Enjoy the end to the trip, sit back and say goodbye to one of the most beautiful areas on earth.
Tips, Tricks & Hacks
No egos! This hike is tough, with a large backpack, so take your breaks and be happy. No need to be worried about asking for a break to make everyone feel better.
It often gets dark in the canyon early so be sure to be up early and get your hiking in.
Do not hurry back to your campsite each day. As  mentioned it gets dark early and there really isn't much to do at night since you can't have a fire and packed pretty lightly.
Creek fridge. I saw this idea on the survival show Alone and it is genius. Essentially you keep your things cool in the creek via building up a mini dam next to the shore to keep everything cooler than if it is out in the sun or in your tent.
No drugs or alcohol! I have seen people get told to lose their alcohol or they must go home, in a very stern and scary way.
Don't use brand new shoes. Make sure you are comfortable in and have walked a lot in the footwear you plan on bringing.
With that said, I packed a separate cooler with beer and gatorade for when we returned from the hike! It actually kept coldish.
I would take your pictures of the hike on the way down because the mood will probably be much less upbeat on the way back.
Remember! You must pack out whatever you pack in!
The water doesn't deviate a ton from 70 degrees year-round, in fact I found it warmer in March vs. August due to it being colder out of the water in March.
There is no phone service at the bottom
Watchout for the mules on the hike. They're like taxis in Elf, they don't stop.
There is often food for sale at the bottom but it can run out! I recommend still packing enough food to get by for all of your days just in case.
Native American discounts are available at check-in with valid reservation and identification.
Flash Flooding in monsoon season can happen in July & August so be sure to check as extremely poor weather will cancel your reservation.
The summer months can have temperatures over 100 degrees so bring lots of water, electrolytes and food.
Winter months are very cold so be sure to pack accordingly at night.
Reselling of reservations is strictly prohibited and can void your reservation.
December through February is probably the worst time to go due to pretty frigid temperatures especially if a cold front comes through.
Try to avoid hiking in and out in the hottest parts of the day. With that said, don't let it push you from spending more time down there enjoying your time.
Remember to lock your food up somehow or put it in your tent when you leave or else squirrels will get it all!
Did you like this? If so please comment below or give any tips and ideas you want to share!