Made with espresso and liquor, typically licor 43, brandy or rum, a carajillo is a perfect pick-me-up drink that packs a punch of caffeine and flavor.

I was traveling a lot in South & Central America and every time I asked for an espresso martini I was served this incredible concoction! After a while I just had to know what it was and ended up talking with bartenders and restaurants to learn how to make this drink and what all was in it.
If you want to keep the party going but are too old for vodka redbull then this has to be your new pre-game drink before you head out… or a nicer after-dinner drink.
In this article, we'll explore the history of carajillo, its ingredients, its flavor profile and provide you with a recipe and some tips for making the perfect cocktail at home. So, grab your coffee maker, liquor of choice, and let's get started!
What Does Carajillo Taste Like?
Carajillo has a rich and complex flavor profile, combining the bitterness of espresso with the sweetness of liquor.

The alcohol adds a warm, spicy flavor that balances well with the coffee's acidity. The result is a smooth and indulgent drink that is perfect for sipping… or if you're canadian stick a straw in it and make it into an impromptu shaft shot!
What Are Some Tips For The Best Tasting Carajillo
Use freshly brewed espresso for the best flavor. If you don't have an espresso machine, you can use strong coffee instead or worst case store bought cold brew will work too as long as you aren't a coffee snob of course.
Experiment with different types of liquor to find your favorite combination although licor 43 seems to be the predominant liquor used when I have gotten the drink in Peru, Costa Rica, Mexico etc.

For a sweeter carajillo, add sugar or honey to taste. You can also use flavored syrups like vanilla or caramel to add extra sweetness. If you don't have lemon zest, you can also use orange zest or cinnamon for a different flavor profile.
What Is The History of Carajillo
The origins of carajillo are unclear, but it is believed to have originated Spain but some do say Cuba. In Cuba, it was common to mix rum with coffee as a pick-me-up during the day. In Spain, the drink became popular in the 1920s when soldiers would mix brandy with coffee to give them courage before battle.
Today, carajillo is enjoyed all over the world, with variations in different countries. In Spain, it's often made with brandy and is a popular after-dinner cocktail. In Mexico, it's made with tequila, and in Italy, it's made with grappa.
How many ingredients are in a Carajillo?
You can make a carajillo with literally just 2 ingredients. All you need is espresso or strong coffee and Licor 43… that's it!
Ingredients In A Carajillo
Espresso: Espresso is a concentrated form of coffee that is made by forcing hot water through finely ground coffee beans. Its strong flavor and high caffeine content make it the perfect base for a carajillo.
Licor 43, Brandy or Rum: The liquor used in a carajillo can vary depending on personal preference, but Licor 43, brandy and rum are two of the most common options. Brandy has a smooth, slightly sweet taste with hints of fruit and vanilla, while rum is more complex and can have notes of caramel, spice, and oak.
Optional Sweetener: Some recipes for carajillo call for a sweetener like sugar or honey to balance out the bitterness of the espresso and the alcohol. This can also add a hint of flavor, such as the caramel notes of brown sugar.

Optional Spices: Depending on the recipe, carajillo can also incorporate spices like cinnamon, nutmeg, or vanilla to enhance the flavor of the espresso and liquor. These spices can add warmth and complexity to the drink, making it a comforting and indulgent treat.
Can I Make an Espresso Martini or Carajillo without an espresso maker or coffee maker?
Yes, absolutely as long as you aren't a coffee snob. Before I had an espresso machine I always just bought iced mocha coffee cartons from the grocery store or even things like those Starbucks espresso shots in the can.
If you want to make it easy just buy those or some premade cold brew and you are good to go!
What is Licor 43?
Licor 43 is a Spanish liqueur with a sweet and complex flavor profile that includes notes of vanilla, citrus, and spices. It is made from a secret recipe of ingredients that include a blend of fruit juices, herbs, and spices, which are then aged in oak barrels for at least one year.

The origin of Licor 43 can be traced back to the early 20th century, when a group of Spanish farmers began producing a liqueur made from a recipe passed down through generations. The liqueur became popular in the local area and eventually spread throughout Spain.
Today, Licor 43 is a popular liqueur enjoyed around the world, often served as a digestif after a meal or used as a cocktail ingredient.
Licor 43 is easy to find at larger liquor stores like Bevmo or Total Wine etc… but harder to find at smaller grocery stores.

Can You Make A Carajillo With Tequila?
Yes, in Mexico it is common to make a carajillo with tequila and it is an incredible drink.
With all of that history, flavor profile and tips here is a simple recipe that you can use to make the perfect carajillo!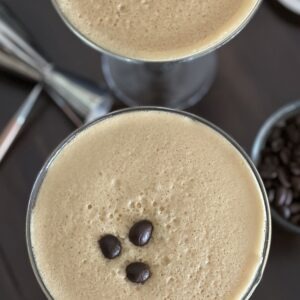 Easy Carajillo Recipe
If you're a coffee and liquor enthusiast looking for a new way to enjoy a fusion of you favorite beverages, then you'll definitely want to try a carajillo. This delicious and easy-to-make cocktail originated in Spain and has since become popular all over the world.
Print
Pin
Rate
Ingredients
1-2

shots

espresso

sub strong coffee or cold brew

2

oz

liquor

Licor 43, brandy, rum or tequila

Ice
Optional
Sugar or sweetener to taste

Dash of cinnamon or nutmeg
Garnish
Lemon or orange zest

Cinnamon stick or 3 coffee beans
Instructions
Brew a shot of espresso and pour it into a cup or shaker over ice.

Add the liquor of your choice and stir intensely or shake to combine.
If you prefer your coffee sweet, add sugar or sweetener of your choice to taste. Can be creative with mocha or vanilla syrup as well as an example.
Finally, garnish with a twist of lemon or orange zest for an extra burst of flavor. You can also add 3 coffee beans for an aesthetic garnish.
Print Recipe