The coconut margarita is my favorite margarita on earth! It has everything from its tropical flavor to being extra refreshing and probably the most amazing smelling cocktail on earth!
I was in Miami and was made this coconut mojito that instantly was my favorite drink. I am more a margarita person so of course had to switch it up and wow, the coconut margarita is the best smelling, aromatic and best tasting drink ever created.

I don't even know if I even like coconut flavor, like it isn't something I seek out or care for but this margarita and flavor is next level. The fresh taste, tropical smells and creamy texture just butters my biscuits.
If you are heading to the beach or the pool then make an entire coconut margarita pitcher or two and you are set. This is a no brainer for a summer or vacation drink, this I promise you, like a 98 Degrees song.

How to Make A Healthy Coconut Margarita
You can even keep it pretty healthy as well with using coconut milk vs. cream of coconut. I honestly prefer it that way as it is a bit lighter and you still get that amazing coconut and lime flavor.
Of course anything cream always tastes better but I promise if you have never had it, you wouldn't notice the difference by substituting in coconut milk.
Be sure to always use fresh lime juice. Do not use mixer or bottled lime juice, fresh is best and healthiest of course. Even if you don't care about keeping it healthy using fresh lime juice is a must.
Tips To Making Coconut Margarita
Do not use coconut cream or anything from a can as that will come out as a thick almost solid texture. You want to use either cream of coconut like the Coco Lopez cream of coconut cocktail mixer, which you can find in liquor stores, or coconut milk from a carton.
Use Los Sundays Coconut Tequila. This stuff is amazing and you can even just drink it on the rocks. It also helps if you want to skip on the cream of coconut and just use coconut milk yet still get that flavor.
Toasted coconut glass rim is definitely the way to go. Toast your coconut shavings per the instructions on the bag but careful as they can burn easily. If you are making a frozen marg even throw a couple tbsp into the blender.
As mentioned you really must use fresh lime juice. The aroma you will get before you even have a drink will let you know why, the flavors and smells from this margarita is amazing.

What Tequila Is Best For a Coconut Margarita?
You definitely will want to use something mild like blanco or silver tequila. Of course as mentioned if you can get Los Sundays Coconut Tequila then please do it, it will make this drink the best you've ever had!
Do not use mezcal and while reposado will work, best to stick with blanco or silver.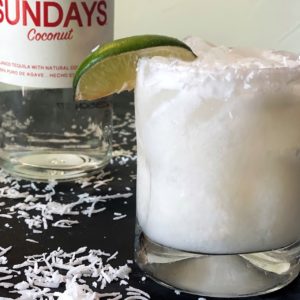 Best Easy Coconut Margarita Recipe
This easy coconut margarita recipe will make you feel like you are on a tropical island. It is the perfect summer drink and will be your new favorite margarita ever!
Print
Pin
Rate
Ingredients
2

oz

Los Sundays Coconut Tequila

Silver or blanco tequila works too

1.5

limes squeezed

3

oz

cream of coconut from carton not can

For healthy less sweet substitute coconut milk from carton not can (can is thick)

1

oz

triple sec

shredded or toasted coconut rim
Instructions
Rim glass with toasted or shredded coconut

Put all ingredients in cocktail shaker & shake then serve over ice.

You can also use a cup of ice and put it in a blender if you want it frozen as well.
Print Recipe