There are two things in life that are certain, everyone gets sick and everyone likes chicken noodle soup. Come to think about it I have never met one person who doesn't like CNS as we call it in the biz. So with that said it's about time we all grow up and start making some homemade deliciousness vs. just pouring it out of the can.
Watch the video here! Tips/Hacks & date night thoughts!
This recipe is great as it is pretty simple and quick enough if you are feeling deathly sick with no energy and are debating between using the canned stuff with it ready in 5 minutes vs. putting in a little extra effort for something healthier and better for you.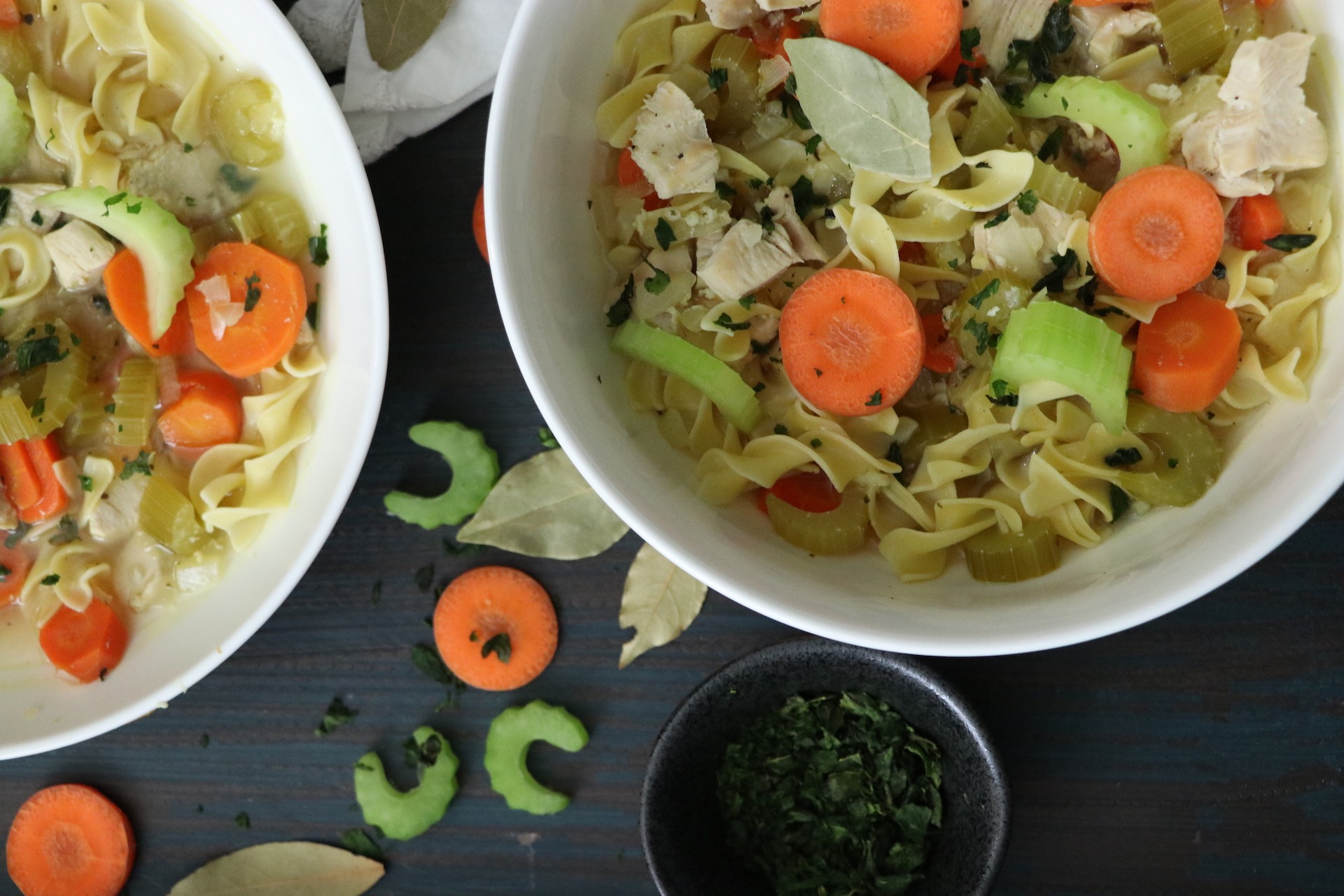 If you ever in your life want to get some brownie points this is the way… your new love says "i'm sick, can we reschedule, I don't want you to see me like this." Friends… this is where you separate yourself from all the terrible people they used to date and you give them ol' "honey no, if I can't see you at your worst I don't deserve you at your best…" *dramatic pause and wink. So next you say, let me bring you over some tea and chicken noodle soup tonight, we can stay in and watch Sleepless in Seattle or The Notebook. Well you're already rounding 3rd base but it's time to go from a potential home-run to a grand slam. Go by your local grocery, pick-up a few ingredients and make this easy quick homemade chicken noodle soup recipe that will make you seem like some sort of over considerate, angel perfect super-human of which she will proudly instagram you and maybe you make for your first IG story… who knows… either way love is in the air.
This recipe is huge in flavor, healthy and everything you want in homemade chicken noodle soup for a cold winter night or to help that sick love or family member. Chicken thighs are ideal for this recipe as breasts will dry out but either work. I prefer to cook the noodles separately as well.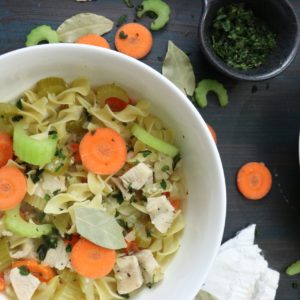 Easy Homemade Chicken Noodle Soup Recipe
There are two things in life that are certain, everyone gets sick and everyone likes chicken noodle soup.
Print
Pin
Rate
Ingredients
2

tbsp

olive oil

4

cups

egg noodles

standard bag or box

1

lb

diced chicken thighs

breast works as well but dark meat is normally better for this

2

large carrots chopped

2

celery stalks chopped

1/2

white or yellow onion chopped

1

tbsp

Italian seasoning

or 1/2 tsp dried basil & 1/2 tsried oreganop d

3

minced garlic cloves

or 2 tsp pre-minced garlic

salt & pepper to taste
Optional
2

bay leaves

2

tbsp

fresh parsley chopped
Instructions
Game changer for chicken, brining your chicken in salt water for 15-30 minutes is huge and can increase juiciness and satisfaction by 20%+.

Dice and chop all ingredients.

Add 1 tbsp olive oil, onions, carrots, garlic and celery to large pot over medium heat for 5 minutes until vegetables soften.

Pour in chicken stock and seasonings with salt and pepper ready to taste bringing to a medium boil.

NOTE! Now is the time to make sure the broth tastes good before adding in raw chicken ;).

Submerge chicken into soup so that broth fully covers them bringing to a low simmer. Cover and stir for 20-25 minutes until chicken is cooked.

Cook noodles per instructions in a separate pot.
Print Recipe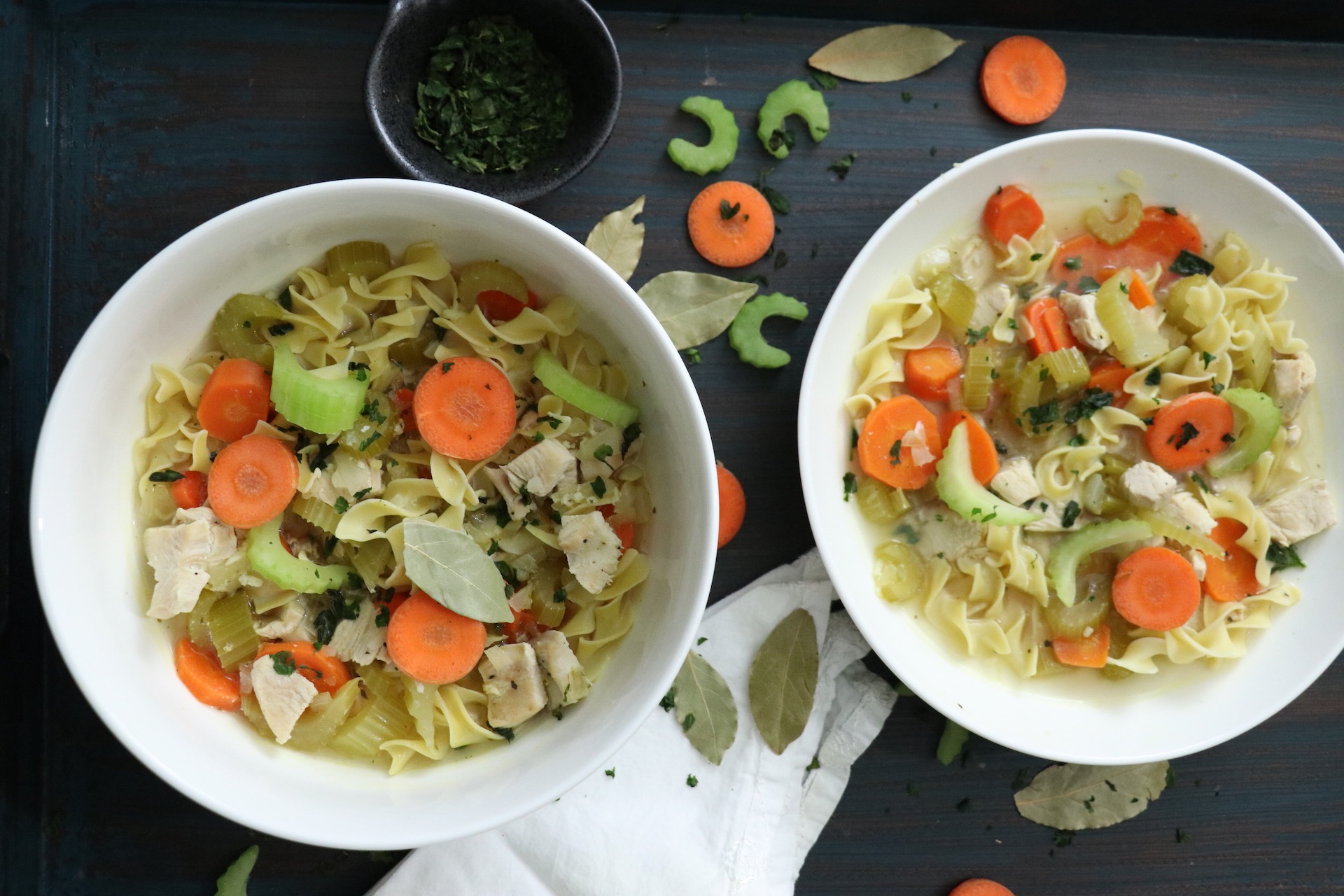 If you liked this article please leave a comment:).
Do you want to add something to it for version 2.0? Let me know!