DIY pupsicles are so easy to make and should be something you start doing asap for your puppy. If you like cooking and spoiling your pet then making your own frozen dog treats is the logical next step for your dog.
Not only are these healthy and great for your dog, they will also love them more than any treat they have ever had! What makes these even better is that they are so easy to make and you probably already have all the ingredients in your house!
Below you will find the two best pupsicle frozen dog treat recipes with flavors your dog will go peanut butter and bananas for.
They all have natural healthy ingredients and take just a couple of minutes to make. You can literally makes pupsicles with just 2 or 3 ingredients if you want, every so quick & simple.

Furthermore, with them being frozen it will help them cool off in the summer as well as give them something to chew and lick for a little while like a fun game. Anything I can do to keep my pug from following me around each second is a win.
Dogs already love ice cubes, and this just takes it to the next level! Your pup will be so happy with their new healthy treat and time consuming play toy.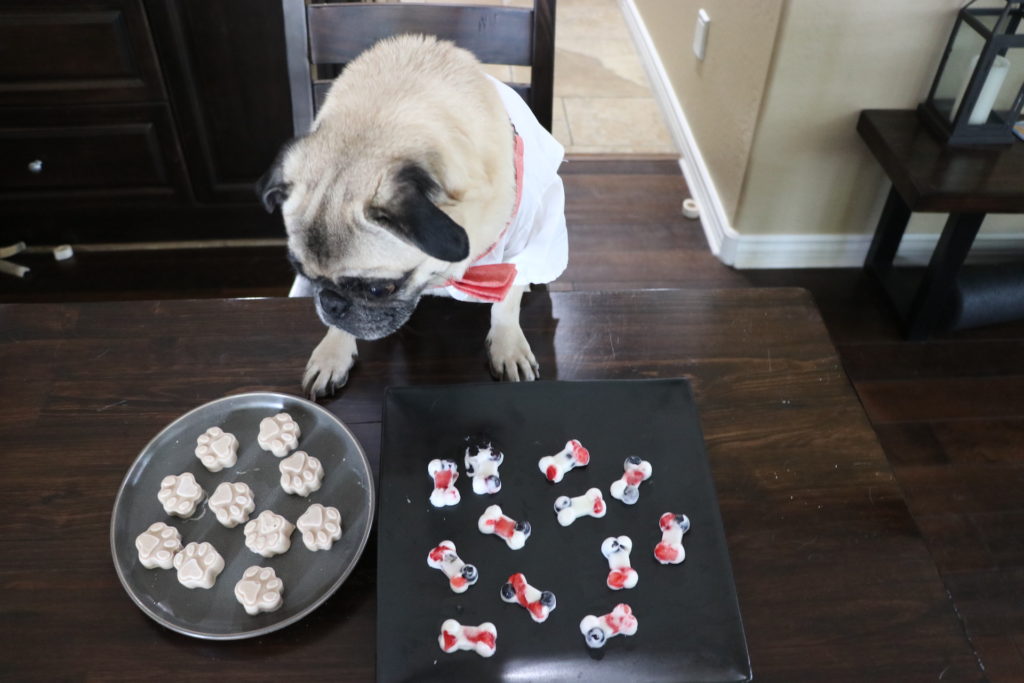 These are tasty healthy treats with all natural ingredients packed with antioxidants and healthy benefits for your puppy.
Organic ingredients and more fresh the better to protect your pup since this might be a new type of food for them and you of course want it as natural as possible.
As mentioned the recipes below contain most everything you might have in your home. Use as many or as little as you want from peanut butter, bananas, blueberries, yogurt and strawberries per the recipes below.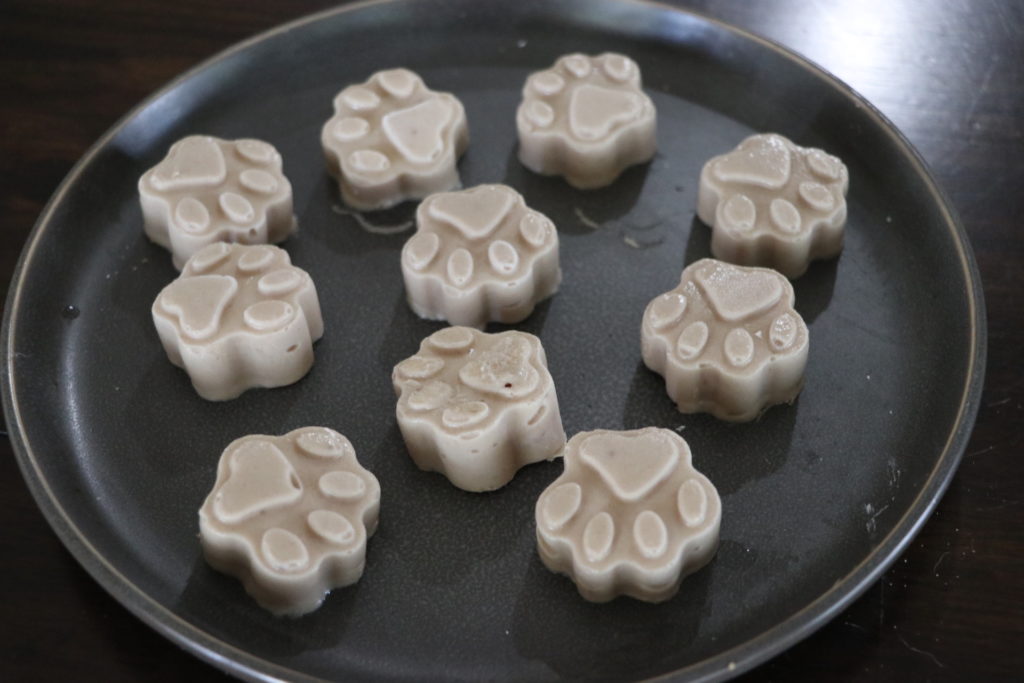 DIY Dog Treat Recipe Safety
Test your treats with just a small piece or two of the treat before letting them chow down. Your dog may have allergies or even be lactose intolerant and you don't know it. As with all new food for your pets testing is important with just a little first and see how their stomach does.
Of course make sure your ingredients don't have added sweeteners or salts and nothing that contains xylitol, which is toxic to dogs. Most standard ingredients from this recipe should be totally fine but be as health conscious and such as you can. Never an issue to be extra safe for your pet and it just takes 10 seconds to google the ingredients.
Dairy milk is not great for your dog. While a little is fine, better not to risk it due to the lactose and fat in milk so use oat milk or almond milk for your pups.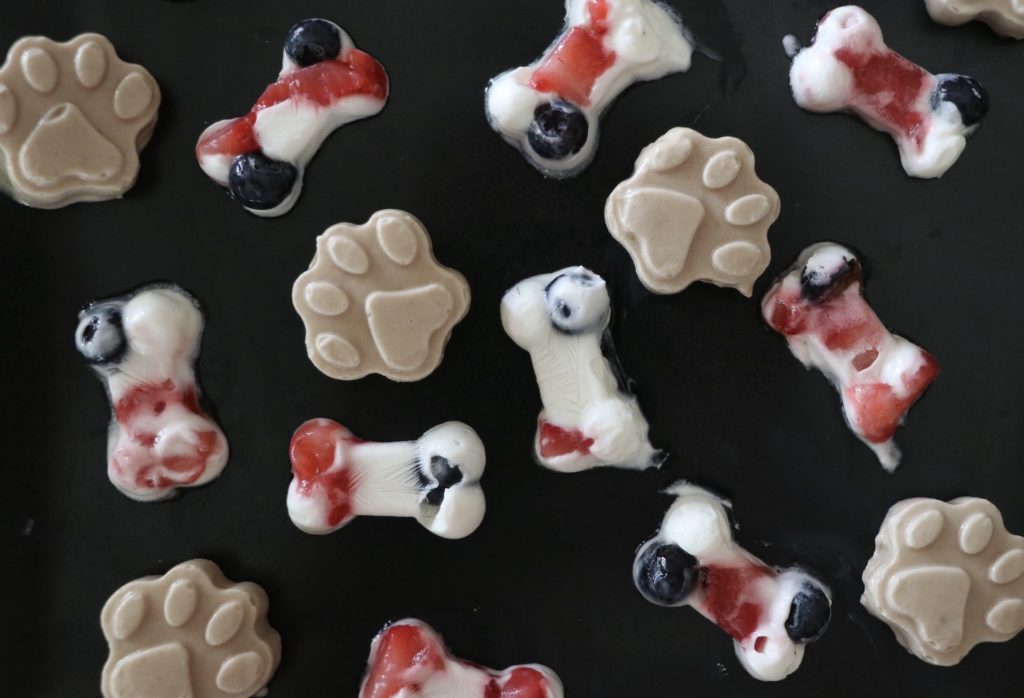 DIY Dog Treat Recipe Tips
Since these can be messy it is best to give them outside or somewhere on a floor that is easy to clean up. You don't want them grabbing the treat and jumping up on the couch that's for sure.
As with all treats, don't overdo it. These treats are healthy but they also do contain fats and sugars so make sure this is just a treat per usual and not something you give them a ton of each day.
You can purchase adorable little doggy molded ice trays in all shapes! Not really necessary but something nice if you want to go the extra mile. I don't think pup is going to care either way! However, if you have a smaller dog these are nice vs. them trying to gnaw a large ice cube.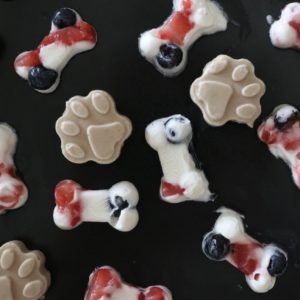 2 Healthy & Easy Frozen DIY Dog Treat Pupsicle Recipes
Dogs need tasty healthy treats and these treats all come with natural ingredients packed with antioxidants and healthy benefits for your puppy.
Print
Pin
Rate
Ingredients
Banana & Peanut Butter Dog Treats
2

bananas

1/2

cup

peanut butter

1/4

cup

dairy free milk

Oat or almond milk ideal.

1/2

cup

plain unsweetened greek yogurt

or dairy free ideal
Yogurt & Fruit DIY Dog Treats
1

cup

plain unsweetened greek yogurt

5-10

diced strawberries

15-20

blueberries

ideally smaller ones
Instructions
Banana & Peanut Butter Dog Treats
Mix all ingredients in a blender and blend altogether

Pour mixture into your ice trays

Freeze for 4-5 hours. You can keep them in a freezer bag to keep them fresh too.
Fruit & Yogurt DIY Dog Treats
Put the berries in the ice tray scattered about

Gently spoon the yogurt over the berries making sure it is smooth on the top.

Freeze for 4-5 hours. You can keep them in a freezer bag to keep them fresh too.
Print Recipe