This recipe is so tasty and simple for those on a time crunch. Grilled chicken with some sauce or spice rub is easy and healthy, which can be used for a plethora of dishes.
I put a great simple marinade list below for the tastiest grilled chicken recipe and also gave options to customize and make it yours! Whatever flavors you have or dishes you are serving chicken is versatile for all dishes.
Chicken can be cooked multiple ways and I have a few options like a easy simple baked chicken recipe here or recipe to saute chicken here. What's great about this recipe is it is so simple and anyone can do it quickly and easily. Not only that, while it is grilling you can use that 20 minutes to prepare your sides such as the asparagus or schezwan stir fried green beans.
This recipe yields absolutely succulent tasty chicken that will go good with salads, fajitas, asian, mexican or whatever meal you are cooking.
Furthermore, if you want to take it to the next level I have a list of marinades and spices if you wanted to try something new! Click here for 5 amazing protein marinades.

Tip
Brine the chicken if you didn't marinate it. This is a game changer even if you can just do it for 15-30 minutes it will make your chicken 25% more juicy and cook more evenly. To brine just fill a bowl with lukewarm water (not hot), put in a handful of salt and let it sit for 15-20 minutes with a maximum of 5 hours. If brining for longer than 15-30 mins I suggest covering it with plastic wrap. After brining give it a quick rinse in cold water to get the salt off and dry it with paper towels.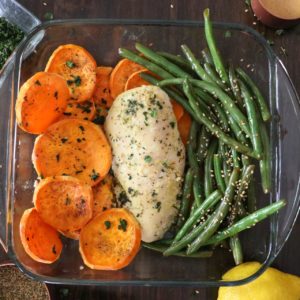 Easy Perfect Grilled Chicken Breast Recipe In 23 Minutes
Grilled chicken with some sauce or spice rub is easy and healthy, which can be used for a plethora of dishes.
Print
Pin
Rate
Ingredients
2

Boneless, skinless chicken breast.

The preference is fresh chicken or you can purchase frozen of which you will have to completely thaw before using.

2

tbsp

chicken or all-purpose seasoning

1

tsp

garlic powder

1

tsp

onion powder

1

tsp

salt

1

tsp

pepper
Optional
Your favorite seasoning or sauce for the style of chicken you are creating. Add some BBQ or teriyaki sauce or a taco seasoning packet?

The marinades can also be used as ideas for spices to use if you don't have time to marinade.
Instructions
Preheat grill to 400-425 degrees.


Clean grill and then oil grill with a brush ideally.

Rub your chicken in oil so it doesn't stick to the foil.

Rub your chicken with your seasoning or sauce.

Lightly re-drizzle with oil to help from sticking and sprinkle a little more seasoning.

Cook on each side for 5-8 minutes brushing with your sauce before and after flip.

If you have a meat thermometer be sure to check for an internal temperature of 165 degrees.

Rest. Remove the chicken from the heat and ideally cover loosely with foil for 5 minutes so the juices redistribute throughout the chicken and not run out when you cut into it.
Notes
See here for for my favorite 5 marinades
Did you like this recipe? What are your preferences or favorite additions? Let me know in the comments :).
Print Recipe