Acai bowls are one of the healthiest, freshest tasting and best meals ever! Making Them is like driving for the first time. It looks awesome and you want to do, however it looks like a lot of effort to learn and it's intimidating… Yet, it is soooo easy and just takes a few steps!
Here is a quick video guide with tips!
Acai bowls are the perfect meal as they are extremely healthy, tasty, filling, full of antioxidants and you can add super-foods so you can fly probably after eating it. It also extremely versatile as you can make it however you'd like whether you like certain fruits, nuts, granolas, seeds or anything. The beauty of acai bowls is you can craft it to your taste and get as artistic as you want! Or, just throw everything together and chow down with no need to make it look like something out of pinterest.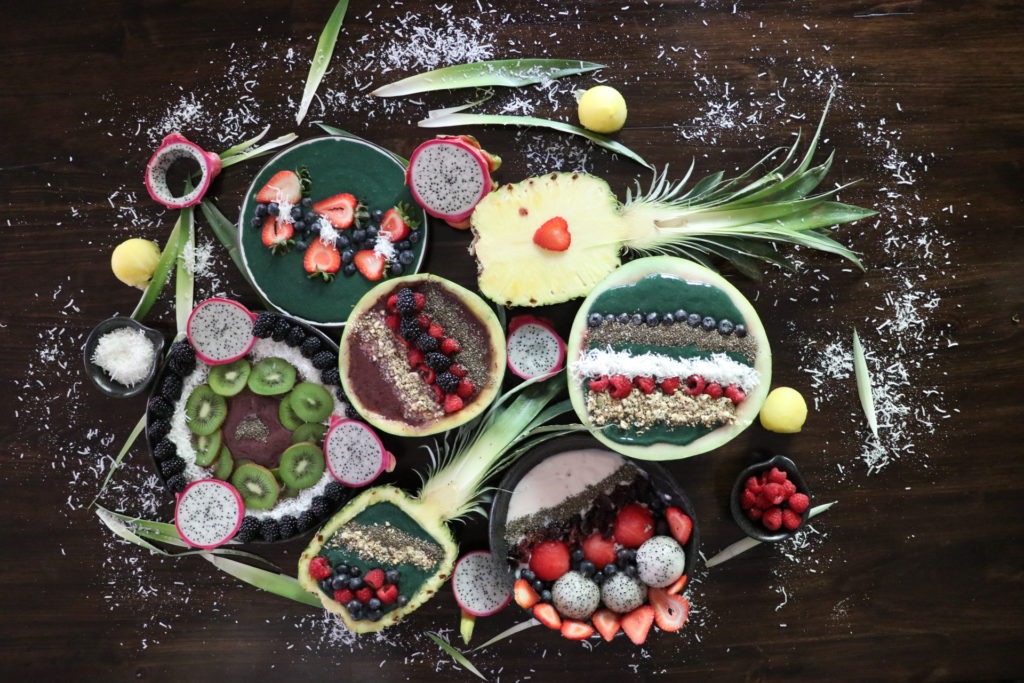 What's better is to make an an acai bowl you literally only need to buy a few simple ingredients, throw a couple in a blender and that's it… it can take 3 minutes at most if you want to breeze through it. So don't worry, we will get through this and you will now be cranking out acai bowls for anyone who comes over.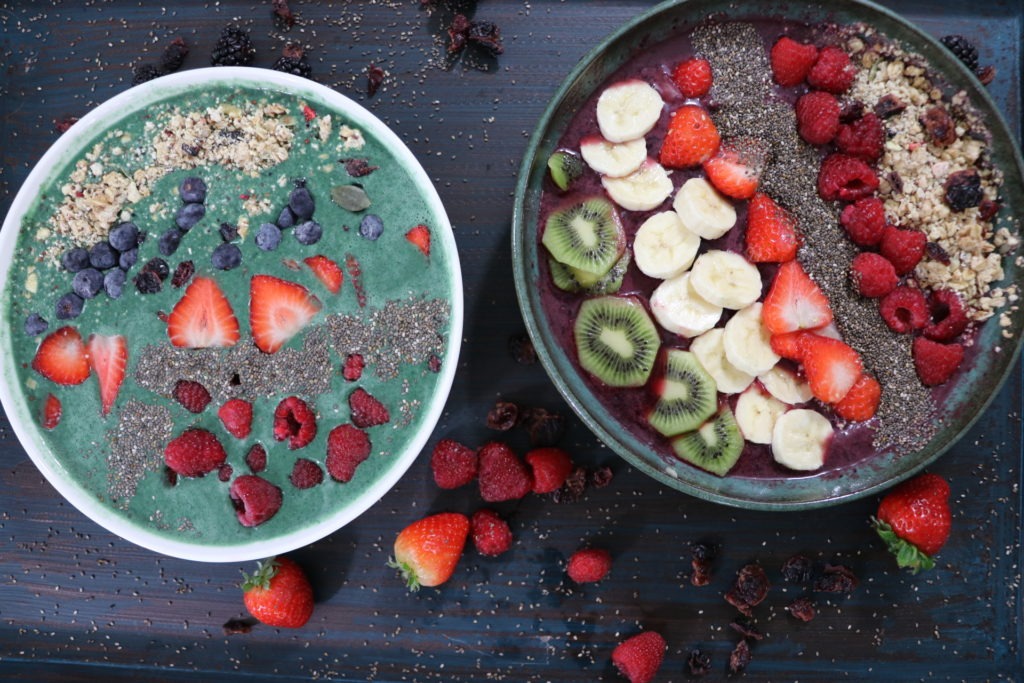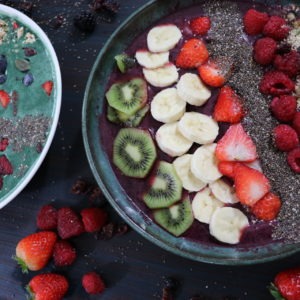 Easy Quick Healthy Acai Bowl
Acai bowls are like driving for the first time. It looks awesome, you want to do it but it looks like a lot of effort to learn and intimidating… however, then you do it and it's easy… for most.
Print
Pin
Rate
Ingredients
1

package

frozen acai berry puree.

Trader Joe's is a great spot.

1/4

cup

juice.

I used mix of orange and mixed berry. Apple works great too.

1/4

cup

almond milk.

Can sub any milk.

1

full

sliced banana.

1

tbsp

honey.
Assorted toppings, my suggestions below.
1/3

cup

frozen or fresh pomegranate seeds.

1/3

cup

fresh blackberries.

1/3

cup

fresh blueberries.

1/3

cup

fresh raspberries.

1/3

cup

granola.

3

tbsp

chia seeds.
Optional
1

tbsp

spirulina

mixed into acai puree.

1/2

cup

greek yogurt

mixed into acai puree.

1

tbsp

vegan or vanilla protein powder

mixed into acai puree.

shredded coconut.

sliced almonds.
Instructions
VERY IMPORTANT. Get everything prepped before you blend your acai puree so that it doesn't start melting as you do everything else.

Cut banana, wash and prep all topping so they are ready to go before acai step.

Blend together juice, milk and acai puree. Add in spirulina and greek yogurt as well if you use it. If needed add more juice but better to start with less than more.

Pour smoothie contents into bowls.

Add your toppings as pinteresty as possible.

Take a picture and make everyone think you're better than you are.

Next time dress it up… serve it in a carved out pineapple or melon!
Print Recipe