The Flaming Dr. Pepper shot recipe is one of the best shots on earth. People love Dr. Pepper, people love drop shots, people love beer and people love things on fire… what else do you need? This actually probably is the best shot on earth.
This shot is delightful as it tastes like Dr. Pepper and it's a drop shot, which adds to the cachè. Everyone typically likes drop shots as it creates a fun atmosphere and is more excitement vs. just putting back a standard shot. It's why people like saki bombs or other unique shots that are more involved.
This shot is already great and then you add the fact it is on FIRE! Surely any shot that is one fire has to jump to the top of the best shots of all time list? Anything on fire is better, NBA Jam, works, places, flies, trucks… really adding "fire" in front of most things makes it instantly better.
How to make a Flaming Dr. Pepper is easy but finding the correct ingredient is a little tougher. Amaretto and beer are easy to find of course but then you need to find overproof rum or even absinthe.

The most common overproof rum is Bacardi 151. 151 is called 151 because it is 151 proof, which is 75.5% abv. There are many overproof rums at the larger liquor stores but if you are anywhere smaller it could be tough to find.
Do you need overproof rum for a Flaming Dr. Pepper shot? Yes, or else the alcohol won't catch fire and that's the whole point to a Flaming Dr. Pepper isn't it? For the best 6 shots for hosting checkout our article here.

There are two safety rules for taking a Flaming Dr. Pepper and one is a safety rule for all drop shots in general. #1 be sure the flame goes out in the beer before you take it down your throat. #2 cover your teeth with your lip when you take the shot just in case the shot glass comes down the glass at your exposed teeth.
Two things are certain, you don't want to be chipping a tooth and you also don't want to have a flame go on your tongue or down your throat. I assume the lack of oxygen would put the fire out near instantly but it just doesn't seem worth the risk I guess…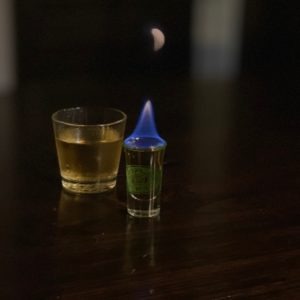 Flaming Dr. Pepper Shot Recipe
People love Dr. Pepper, people love alcohol and people love things on fire... what else do you need? How to make a Flaming Dr. Pepper is easy but the correct ingredients are what is hard!
Print
Pin
Rate
Ingredients
1/5

oz

overproof rum or absinthe

alcohol % must be over 100 proof to catch fire typically.

3/4

oz

amaretto

1/2

glass

beer
Instructions
Add 1/2 oz of amaretto to a shot glass

Top with rum, slowly. Can use a spoon to help layer it a little

Put half a beer in a rocks or tall glass

Drop shot into the beer glass... ideally make sure flame goes out.
Print Recipe
Check out the Irish Car Bomb for another unique shot. Three odd ingredients that taste amazing combined together.