The Flatiron hike via Siphon Trail is truly the most unique and best overall hike in Phoenix. It is just 40 minutes from downtown yet it transports you to multiple different worlds with ever changing landscapes and what feels like unique totally different ecosystems.
What makes this hike even better is that it will kick your ass. This isn't a walk in the park and is not for any casual person who isn't prepared. On top of the changing sites you get the reward of an absolutely gorgeous peak and views as you get to the top. Flatiron itself is truly majestic and gives you that pay-off feeling at the end. If there was recent rain you may even be graced with some little waterfalls along the way.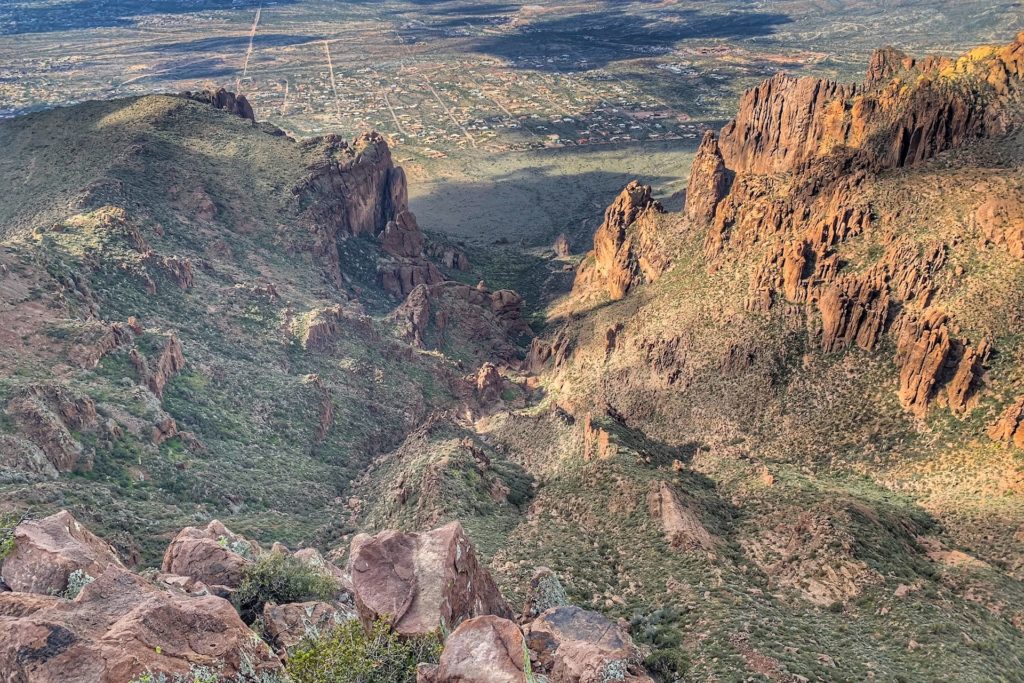 Flatiron via Siphon Draw Trail is located new Apache Junction beginning at Lost Dutchman State Park. From Phoenix you would take the 202 East exiting on Brown Road. The trailhead is easy enough to find with any map apps or Google.
There is a $7 parking fee and there are restrooms before you start.
Flatiron Via Siphon Draw Trail - Superstition Mountains
Length:
6.5 mile round-trip - 4-5 hours - Out & Back
The hike begins from the parking lot where you will start by going through a desert meadow for a mile without much of a slope.
Once the meadow ends the hike really begins as you start hiking up as you meet the rock basin, that truly is something I have never seen before. It is just a flat solid rock face that was smoothed by water, making it feel as if you are on a different planet.
There is another area that makes you feel you are in the rainforest with lush trees and vines hanging down before you get to a hiking area similar to the other hikes in town with switchbacks to the top. You will even be graced with a touch of rock climbing as you need to scale a 10 foot rock wall along the way.
It will always keep you interested the entire way  up with the unique views and vegetation. From meadow, to rockface to rainforest to desert it truly is a gorgeous hike to the top as you are met with sweeping 360 views of the valley.
Pros
Ever changing landscape.
Close to Phoenix.
Great workout and difficult hike for those looking for a challenge.
Beautiful views with incredible scenery throughout.
Dog friendly.
Cons
No major cons.
In the summer it can be extremely hot so prepare accordingly.
Tips
Definitely bring a picnic lunch for the top.
Don't take this hike lightly, especially if in the summer.
The summer is extremely hot so bring lots of water.
Dog friendly on leash.
---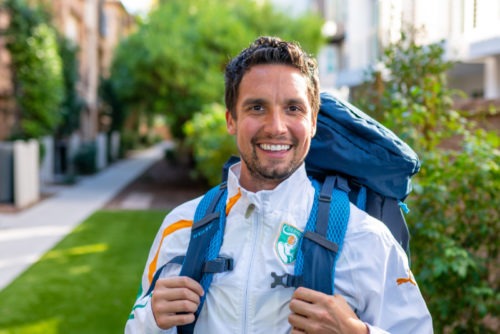 Hey I'm Fraser. My site is dedicated to the 22nd century person with a lust for travel and adventure, need for time efficient recipe ideas as well as anyone in need of self-help or a pick-me up! Thanks for visiting Inspire Travel Eat!