This is one of the most accessible and beautiful places in all of Arizona. You may have never known that just two hours from Phoenix you can easily walk up to a stunning waterfall and see water that you would never think existed in this country.
While it is not Havasupai falls, it still offers a little glimpse of the stunning blue water meandering through the valley. While the "hike" is really short you can make it longer by taking your time along the creek walk and climbing up past the waterfalls and hike up the stream beyond the falls.
It truly is something you must see as there is a ton of fun at the falls. Whether you want to just lay in the water, rope swing, cliff jump, hike up past the falls or even go into the grotto behind the waterfalls! It is truly an oasis in the desert that you have to see.
If you want a challenging hike with an even better payoff you need to hike this trail here, which is my favorite day-hike in AZ! It is spectacular with so many unique things including a swim in cave!
Be sure to drive via Campe Verde and not Strawberry. Permits sell out fast! Permits are $6 to park and required from April 1st to October 1st. You don't need a permit for the other months. You can get permits here – https://www.recreation.gov/permits/251863
To get there a 4×4 or high profile vehicle is ideal. I did it the first time in an Audi A6 and it was miserable. It can be done though with a 2 wheel drive car though! Just it isn't a whole lot of fun and you will bottom out as well as could mess up a bumper.
Fossil Creek Waterfall Trail Hike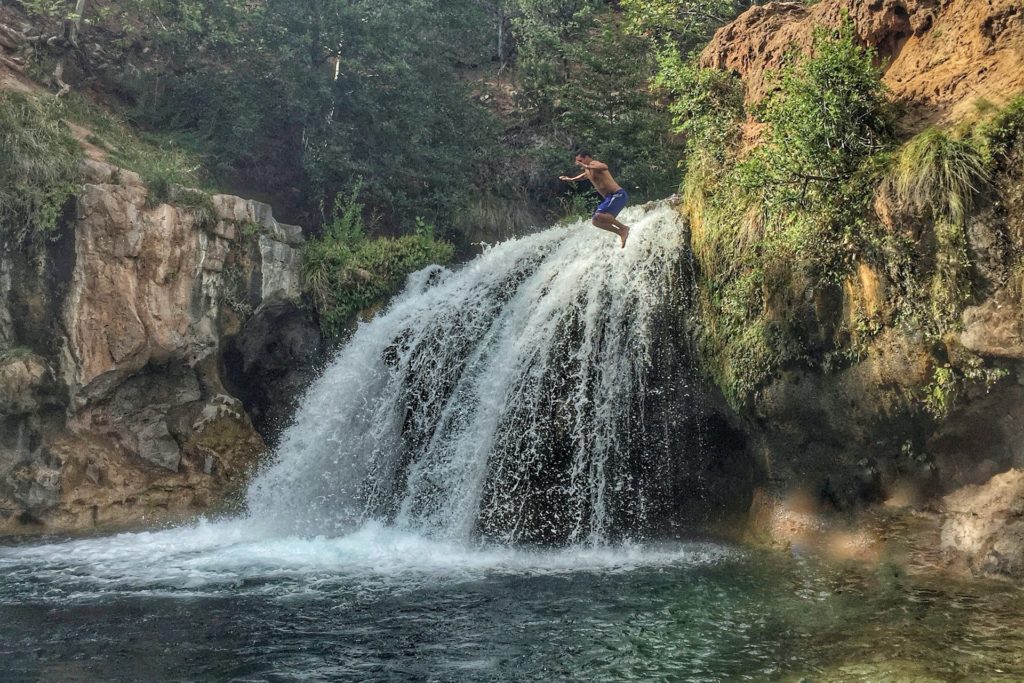 Length:
2.5 miles - Out & Back
To access Fossil Creek you will want to do so via Camp Verde and NOT Strawberry. Strawberry gives you access to Bob Bear/Fossil Springs, which is completely different.
To get to Fossil Creek Trailhead you will come through Camp Verde off the 17 highway.
After turning off at Camp Verde you will then find the dirt/large rock road that will take you to the trail. The road is only about 15 miles but it is extremely rocky so it will take you 1 hour to drive down pending your vehicle.
Download Google Maps offline maps just in case you lose service.
If your permit is for the Waterfall Parking Area, drive past the bridge until the road ends, and you will find the spaces. It is 30 minutes or so to the waterfalls from here however the walk is amazing.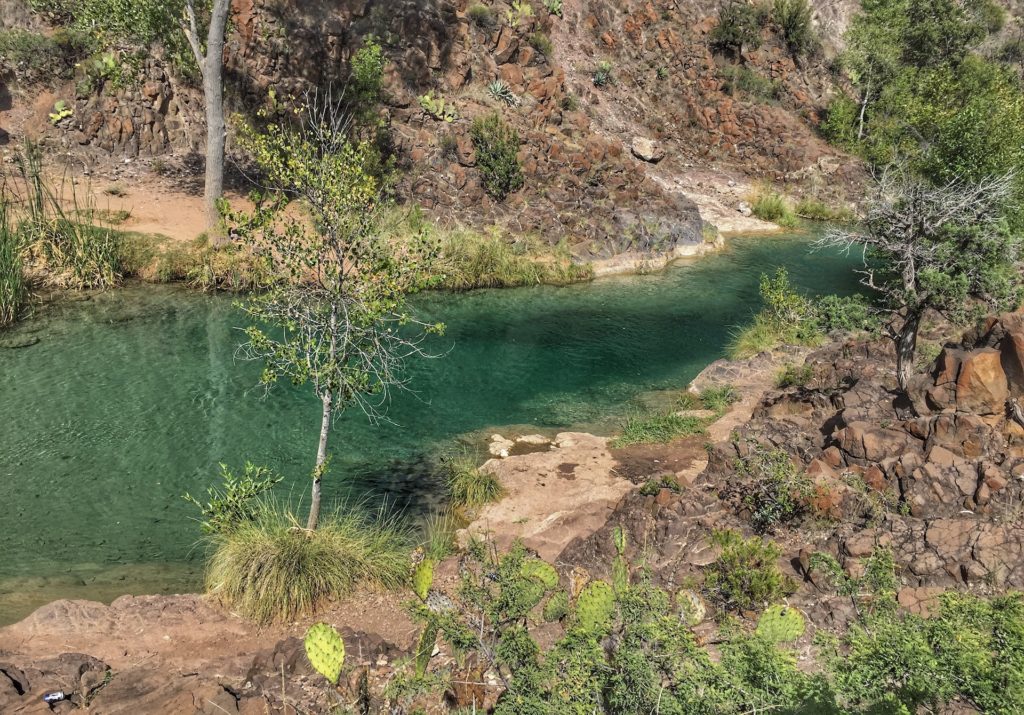 The first time you see the pretty water is such a site. There are tiny little falls along the stream the whole way to the main falls and it truly is such a serene walk. Soon enough you will arrive at the falls and setup your little picnic area.
I highly suggest hiking up past the falls if you want to get more steps in. There are some beautiful springs and a trail that goes on for miles if you wish.
Back at the falls you can rope swing, cliff jump, go behind the waterfalls, snorkel to see fish and more! It definitely is a great spot, just wish it wasn't so busy at times. With that said, going during the weekday isn't a bad idea and easier to get passes.
Pros
Stunning water
Easy hike
Beautiful waterfall
Grotto behind the falls
Can cliff jump for adventure
Fun atmosphere with people hanging out having drinks and music etc
You can hike beyond the falls if want to get your steps in
You can snorkel and see fish
Cons
Can be crowded
While drinks and music can be fun, if it isn't your scene the people might put you off
Not much of a hike or exercise
Tips
Do not confuse this with Bob Bear/Fossil Springs Trail
Walk up past the waterfall to see some incredible springs and do more of a hike
Be courteous of all groups present
Do the cliff jump!
Checkout the grotto in behind the falls!
Bring a picnic for the day
Bring a snorkel to see the fish
---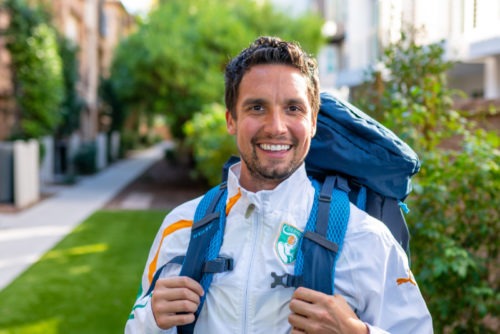 Hey I'm Fraser. My site is dedicated to the 22nd century person with a lust for travel and adventure, need for time efficient recipe ideas as well as anyone in need of self-help or a pick-me up! Thanks for visiting Inspire Travel Eat!
This error message is only visible to WordPress admins
There has been a problem with your Instagram Feed.