In my humble opinion Fossil Springs, now called Bob Bear Trail, is the best day hike in Arizona. Bob Bear trail offers some things that no other hikes in the US even offers!
Where else in the US can you hike to a beautiful turquoise waterfall, multiple caves & grottos, find swimming holes, cliff jump stop along at beautiful springs along the way and of course… the toilet bowl!
There is so much beauty along the Bob Bear hike with stunning water and a ton of different adventures! I have seen people give this hike lower ratings because they must just see the waterfall and that's it…
I assume they never find the cave, toilet bowl swim into the grottos or springs along the way. I don't know if there is any day hike on earth with so many things to do with payoffs as unique and beautiful.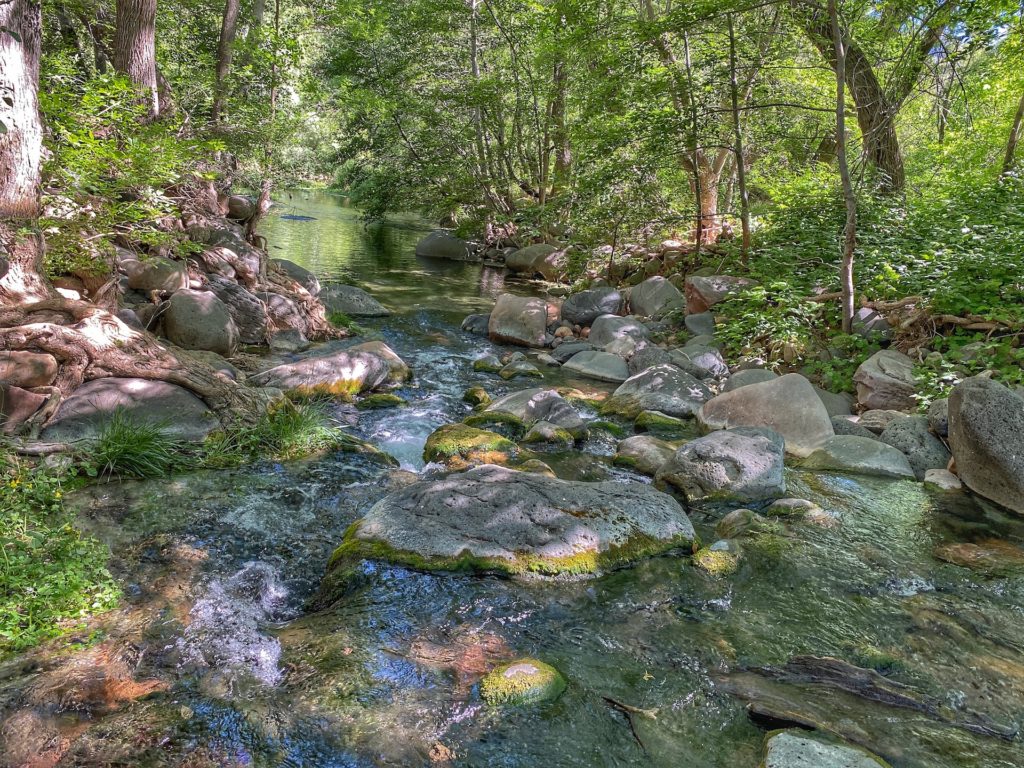 This hike often gets confused with is Fossil Creek, which is pretty but only a 30 minute walk after driving down a dirt road for an hour, thus I would definitely do this one if looking for a challenging hike with amazing rewards at the end.
Warning, this hike is definitely long and strenuous thus make sure to pack food and bring a lot of water. Do not do this hike unless you can hike 10 miles in the heat and the parks department asks you leave your dogs at home due to the heat and length.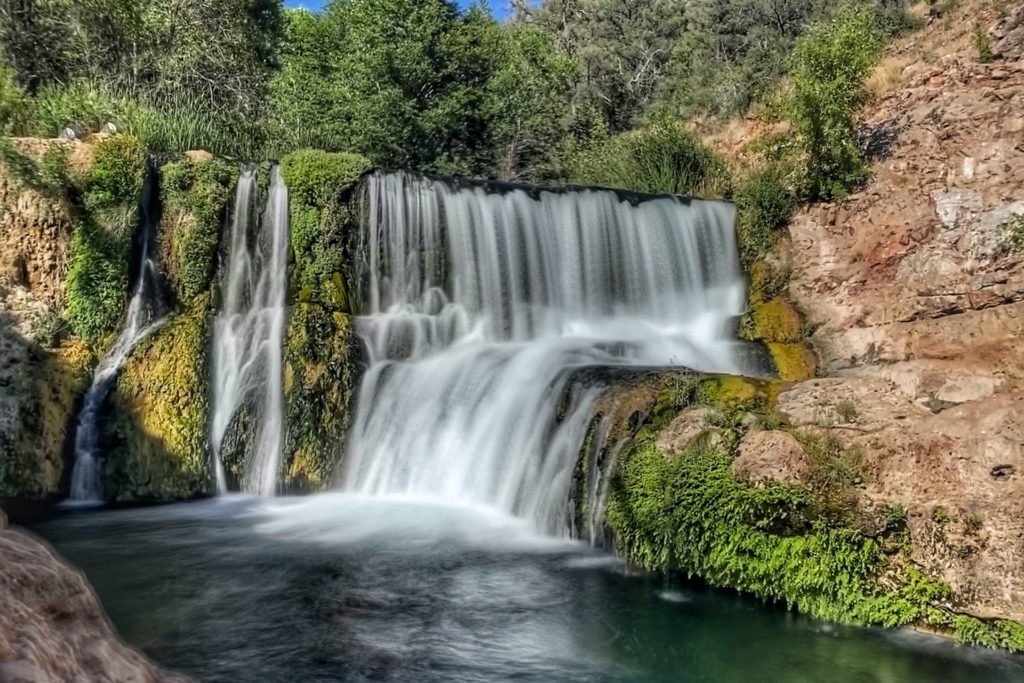 If you want some other Must Do swimming hole and waterfall hikes near Phoenix check out my list here! Or you can see a lot of my Sedona Top 6 Things To Do or Phoenix Best 18 Things To Do As Well!
Be sure to come here from Strawberry, AZ as that is where you will find the hike, not via Camp Verde, where Fossil Creek is located. Google maps will lead you to the Fossil Springs Trailhead 15 minutes from Strawberry, AZ.
You must have a permit to hike here from April 1st to October 1st and often weekend permits are sold out a month in advance. Click here to get permits.
Bob Bear (formerly Fossil Springs) Trail Hike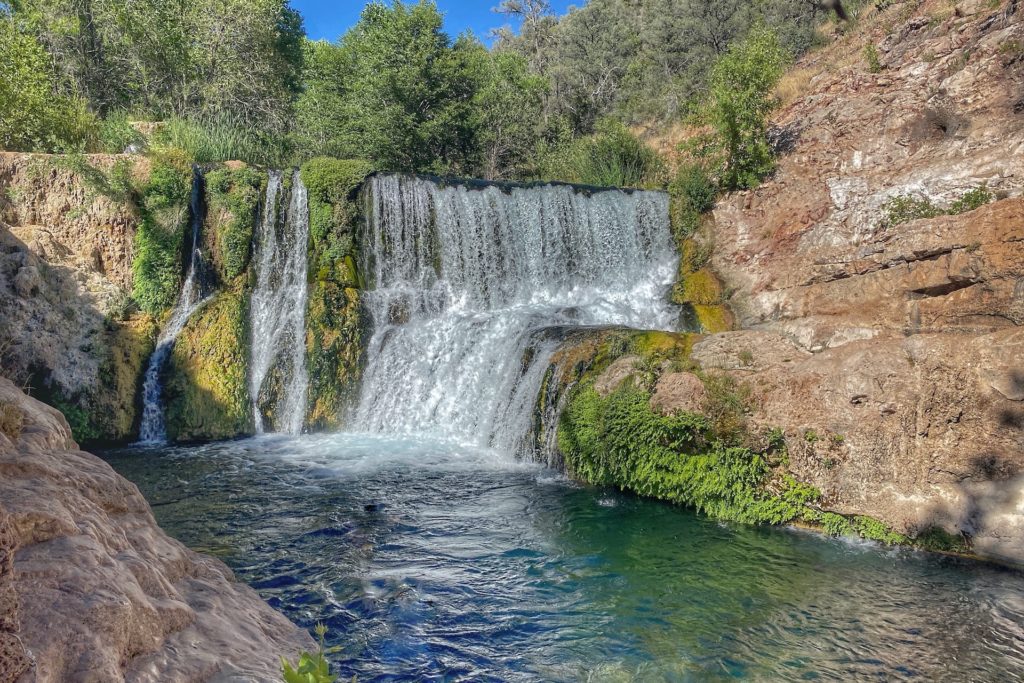 Length:
9 mile round trip - 3-5 hours - Out & Back
Located just two hours from Phoenix it is a strenuous hike  with the best payoffs in AZ at the end. It is located at the Bob Bear Trailhead via Fossil Creek rd from the town of Strawberry.
You start the hike at the parking lot descending into the valley of the deep canyon with beautiful landscape views along the way. There are a plethora of pictures you can take during the hike with the trees, flowers, springs and stunning views of the valley.
As you reach the valley floor is when the real fun begins. You will start to walk around the water with a ton of build your own adventure paths to come.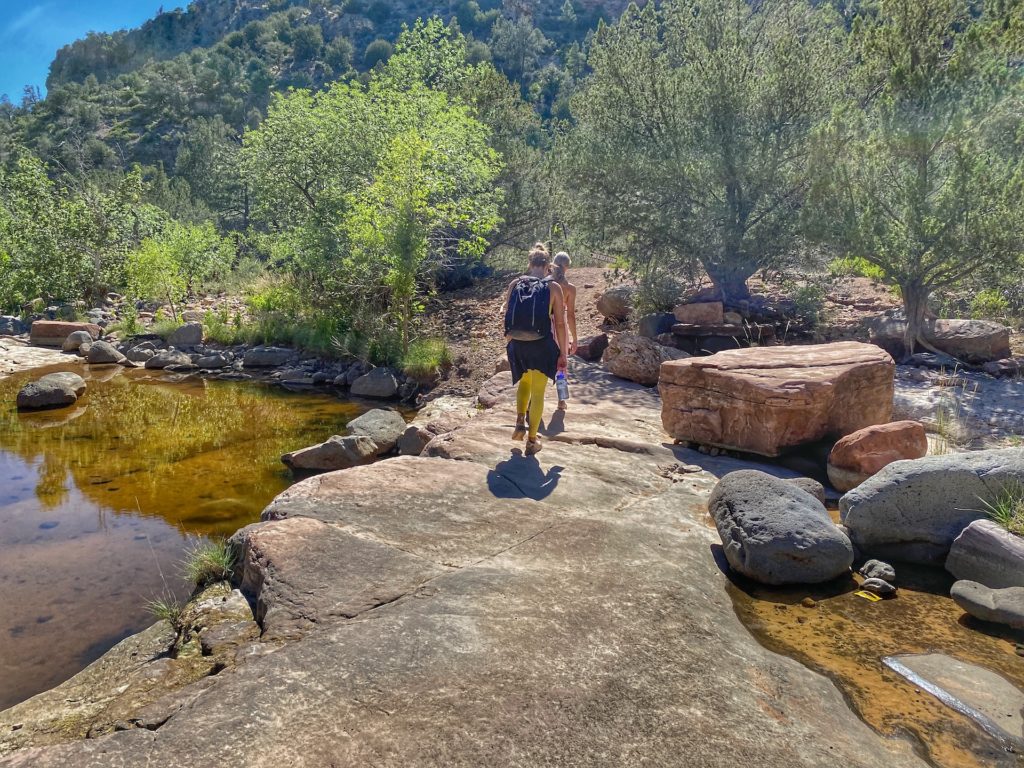 You can also take some trails off the main one that lead to beautiful springs and mini swimming holes, which are well worth it. Take your time as when will you be back here again! There will be a fork in the road with a sign saying Springs to the left and Dam to the right. Definitely take the extra 30 minutes to go see the springs.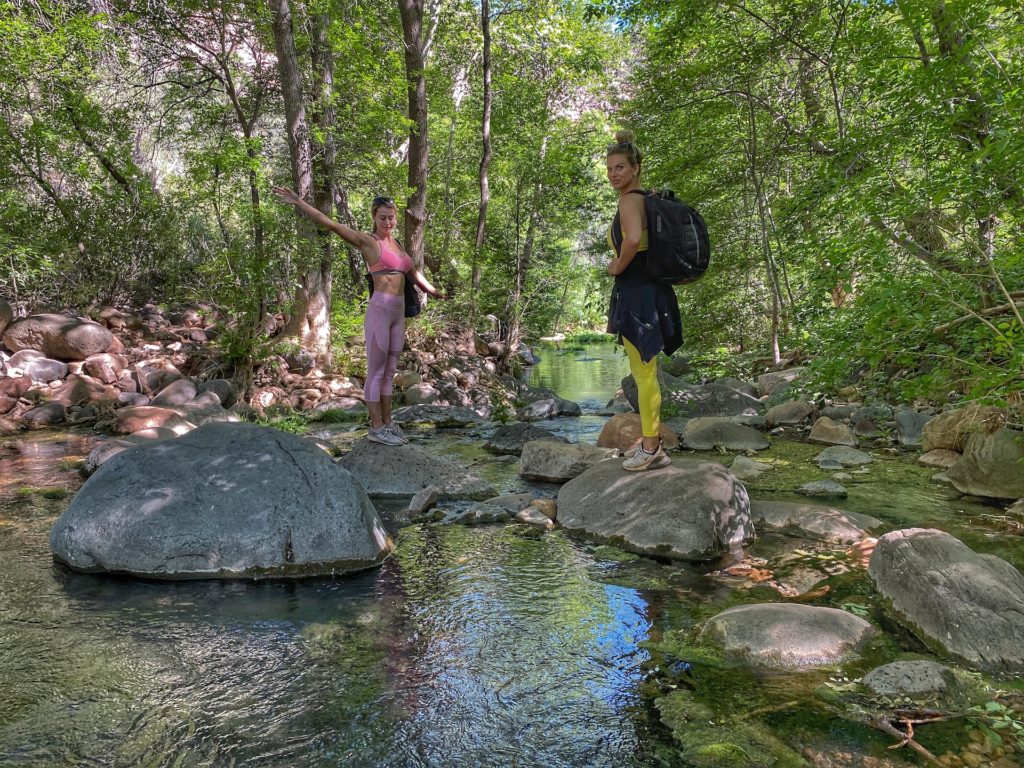 After crossing the creek over the stones and about .5 miles into the springs direction is where you will find the perfect little swimming hole and spring spot on your right, there will be a tiny stream waterfall into a beautiful pool of water.
There are fish in the streams, frogs and more stuff to see as you are immersed in the springs and neature. This is all before you even get to the best part of the entire hike! Also keep an eye open for crayfish in the stream under rocks.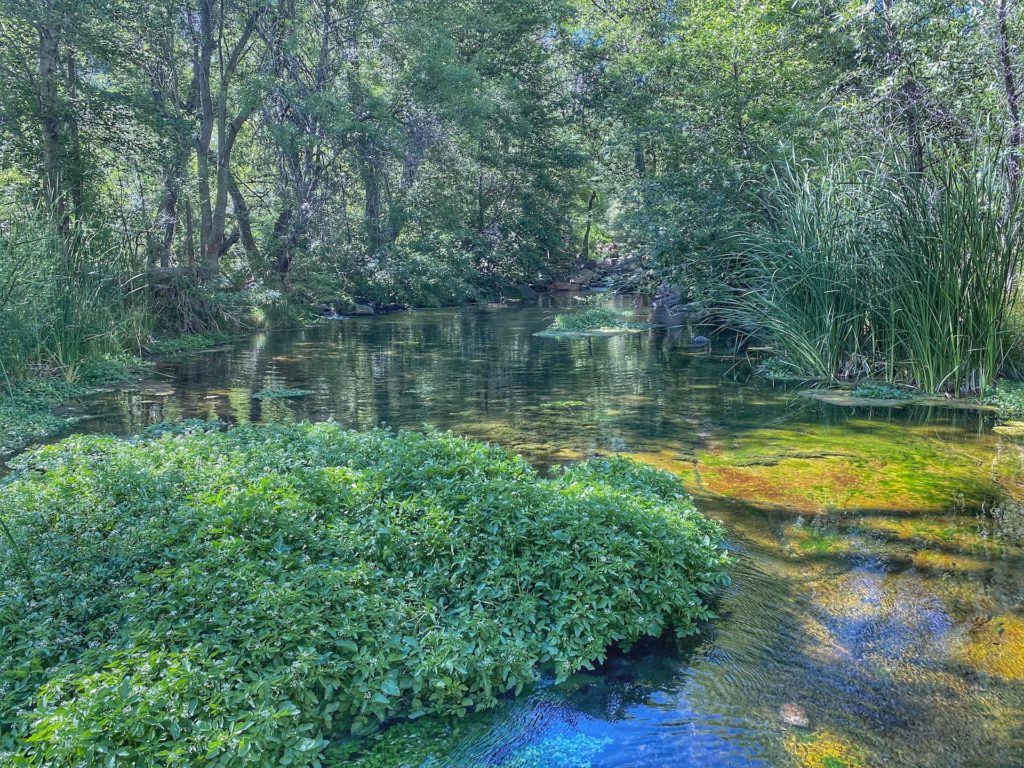 Once you have had your fun in the springs, and probably not have even seen a soul while relaxing there, it is on to the waterfalls, cave and toilet bowl! Another .5 mile hike from the fork in the road you will get to the waterfall.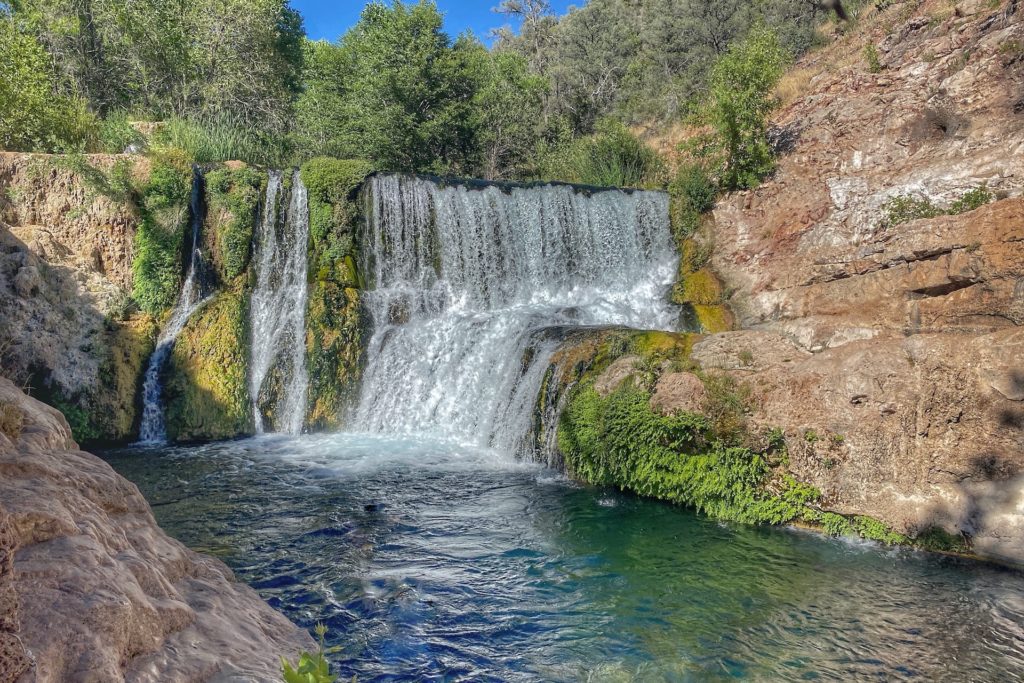 There are caves and grottos all around so definitely take your time around the area. Make sure you swim inside the main cave down the stream, swim in the grotto to the left of the falls, climb up to the waterfall and if you are a good swimmer, test the toilet bowl…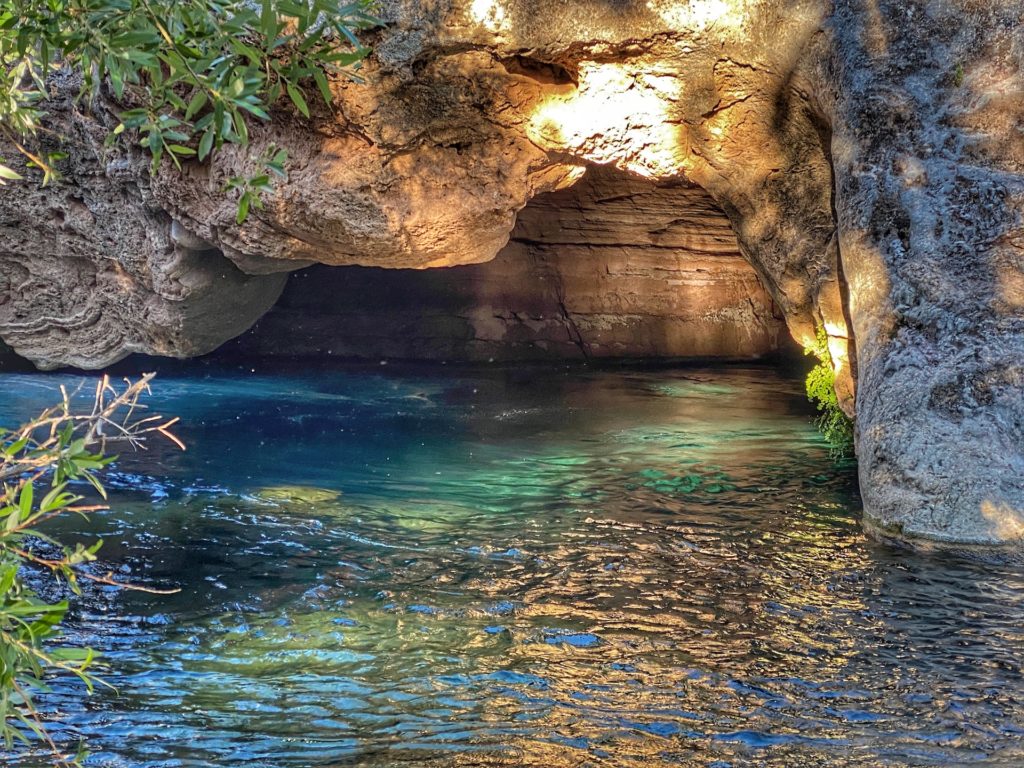 I will say, if you want to attempt jumping in the toilet bowl you need to be a strong swimmer. There is now a sign saying no entering the toilet bowl and they took away the tree that used to get you into it. It is a petrifying 11 seconds under water as you are being pulled around by the current. The small underwater cave opening isn't that big either and visibility is non-existant with all of the bubbles, you essentially just swim to the light. I almost had to save someone who didn't take it seriously and he hit his head.
The cave is located just down around the corner from the waterfall and across the water. You will swim across the stream into it and will be rewarded with one of the prettiest caves I have ever seen, probably thee prettiest.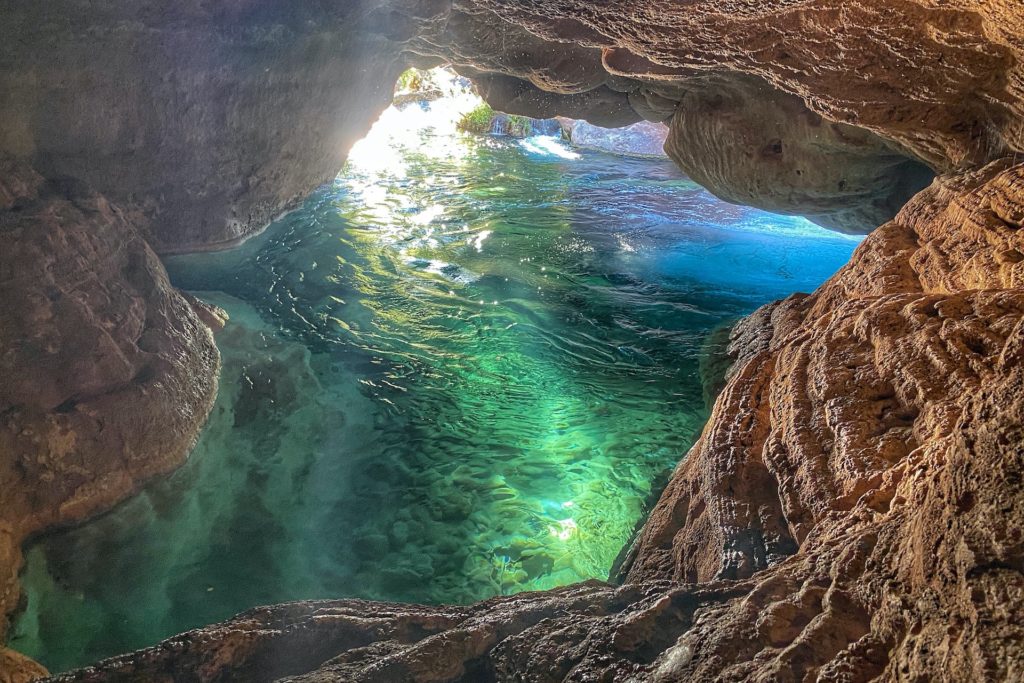 Pros
The most "payoffs" of any day hike in Arizona or that I have ever seen.

Great for kids if they are fit enough for the hike.

Amazing pictures throughout the hike.

On the drive there or back you can do a pit-stop in the adorable quaint towns of Strawberry or Payson.
Cons
I really don't have any… it can get a little busy but the pass system has curbed that a little.

You need to purchase a pass in advance, which isn't really a con as it keeps it from being overcrowded.

It can get pretty hot so you should be fit to attempt this as you are exposed in the sun for a lot of it.
Tips
Permits are only required April 1 to October 1 and are $6 per vehicle.
If you plan on doing the toilet bowl make sure others are around and you need to be a strong swimmer, it isn't a joke. In fact there is now a sign saying you cannot enter the toilet bowl.
Permits are made available on the first of the month one month ahead of time. For example, permits for the month of April are available beginning March 1.
Take your time. When will you be back? Go checkout the springs and the entire area.
Bring a picnic. It is a long hike and you will want to stay down there and hangout for a while.
Bring extra water as even if you don't need it maybe another hiker will be struggling.
Check out Payson and Strawberry. There are lots of quaint shops and places to get dinner before the drive back.
The water is 70 degrees year-round so it actually might feel warmer in cooler months, meaning don't hesitate to get in.
To avoid confusion make sure you go to the right Bob Bear Trailhead, which is just outside of Strawberry, AZ. Do not go to Fossil Creek.
It is very hot in the summer months so be prepared with plenty of water and snacks.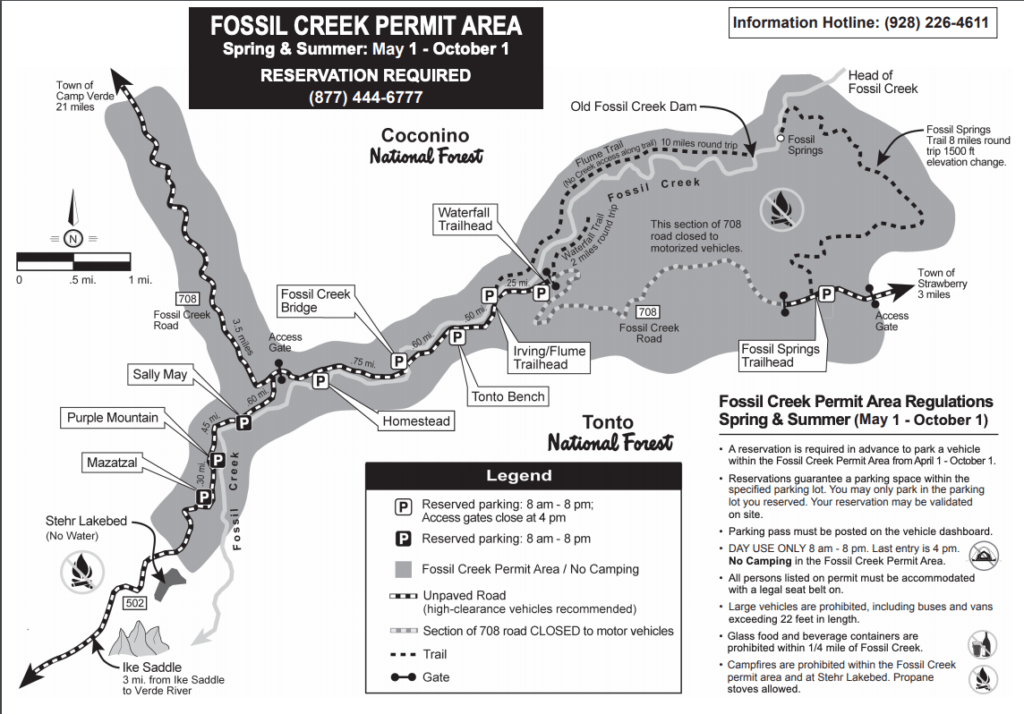 ---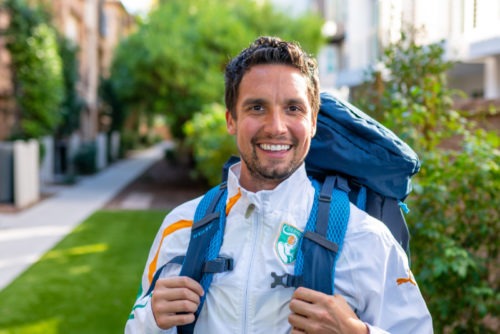 Hey I'm Fraser. My site is dedicated to the 22nd century person with a lust for travel and adventure, need for time efficient recipe ideas as well as anyone in need of self-help or a pick-me up! Thanks for visiting Inspire Travel Eat!