Soldier's Pass is in the top 3 hikes in Sedona as it has secret caves that are amazing! I had the hike outside of the top 3 but after seeing the Soldier's Pass caves I absolutely have changed my tune. I always say I love hikes with a payoff and this hike has 3 unique sites to see along with the typical beautiful landscape along the way.
Here is the Soldier's Pass Video Guide
If you have not seen the Soldier's Pass cave you need to go now. If you are a photographer then it might be the best spot to go in Sedona and gives off a touch of an Antelope Canyon feel. It truly is one of the prettiest and most serene settings in all of Arizona. If you are lucky enough to be here alone this might be one of my favorite hangouts of all time and definitely a favorite shorter hike.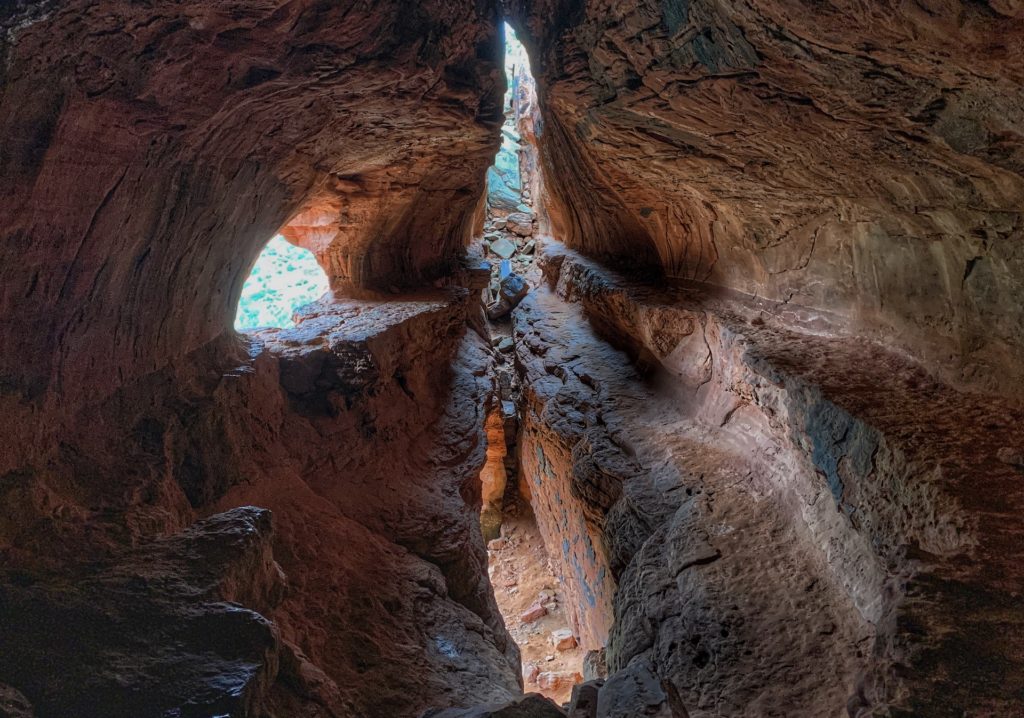 The hike itself is easy until the last 2/3rds of a mile where you descend up the hill to go to the caves, which goes to moderate/hard. A lot of the hike you are in and out of trees offering a lot of shade, which is nice if you are there in the summer. It is the best length of a hike to get in your exercise but it's also not a killer and I have seen all ages do it.
This hike is also a perfect length being under 5 miles and less than 900 feet in elevation gain. It definitely can be done by anyone and I would say it is on par with Devil's Bridge or Cathedral Rock in terms of difficulty. It is even easier if you aren't going to the caves. However, you should do the caves… wow they are stunning! Getting up into the main cave and views from there are probably the best sites in Sedona, which says a lot!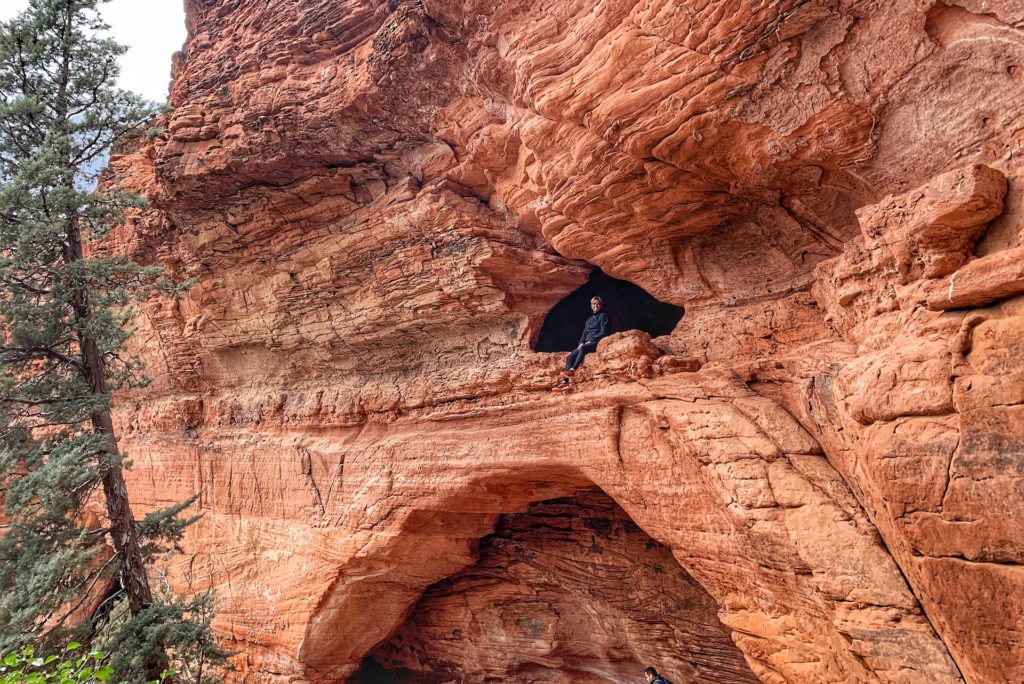 Soldier's Pass Caves might be the most picturesque place in Sedona! Photographers and Instagrammers will absolutely love it.
Hike To Soldier's Pass Cave, Seven Sacred Pools & Devil's Kitchen
Difficulty:
Moderate - Easy Until Going Up To Caves
Length:
4.5 Miles - 2-3 Hours - Out & Back
The hike starts from the parking lot where you get onto the trail next to a map that shows lots of information about the area… however it doesn't show the location of the secret caves!
Be sure not to get onto the ATV trail and that you go down the walking trail. Follow the trail and you will instantly cross a little stream or dry creek bed pending time of year.
Then it is up a little hill and then right away you get your first treat. Within half a mile you will see Devil's Kitchen. Devil's Kitchen is the largest sinkhole in Sedona. It is 150 ft wide and 50 ft deep, which was created in the late 1800s.
After taking in Devil's Kitchen it is on to the Seven Sacred Pools. The Seven Sacred Pools are less than a mile away and another great bucket list spot in Sedona.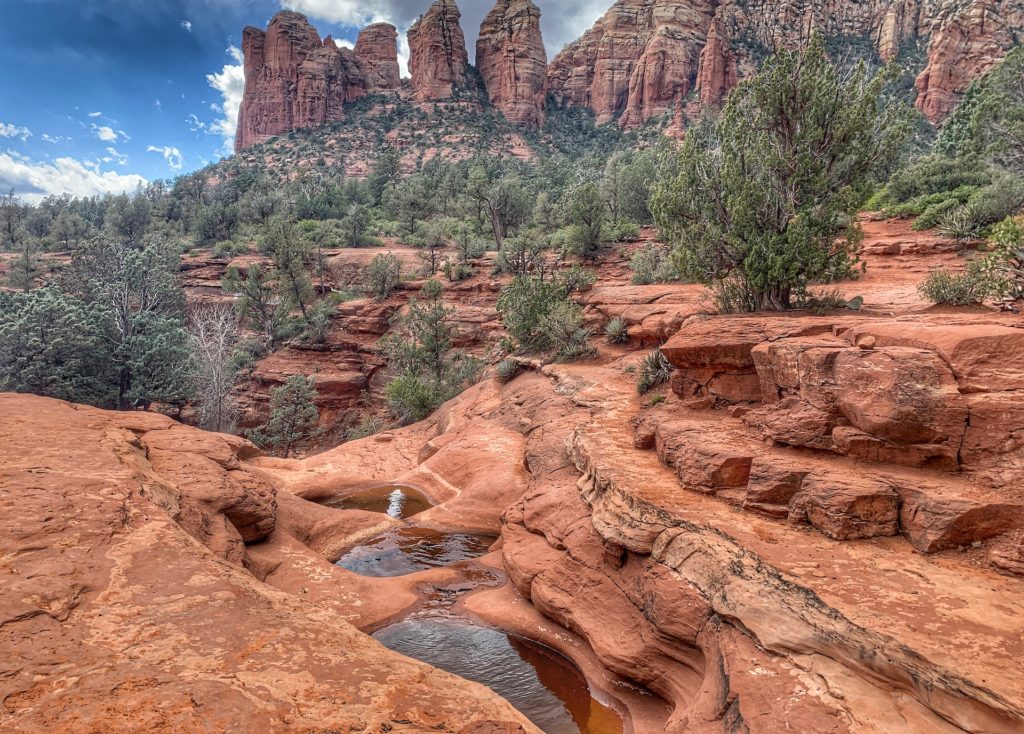 What are the Seven Sacred Pools? The Seven Sacred Pools were naturally created cut from the sandstone canyon and are filled via a natural stream. Some of their beauty comes from the reflection of the blue skies and surrounding red rock. Be sure to spot the tadpoles living within them during the right season!
After seeing the the Seven Sacred Pools, get back on the path and get going to the caves. The Caves are a little hard to find and are 3/4 miles from the seven sacred pools.
You will come to a fork in the road (above), which the right side of it now has a little log and some sticks placed in front of it, which pushes people to the left. Walk over those sticks and carry on for less than 1/4 a mile up to the rock table mesa.
From there looking up you might be able to see where the caves are. At the end of the Mesa in the far right corner (NW corner) you will see the path to start going up (pictured below). There might even be a cactus arrow still there for you.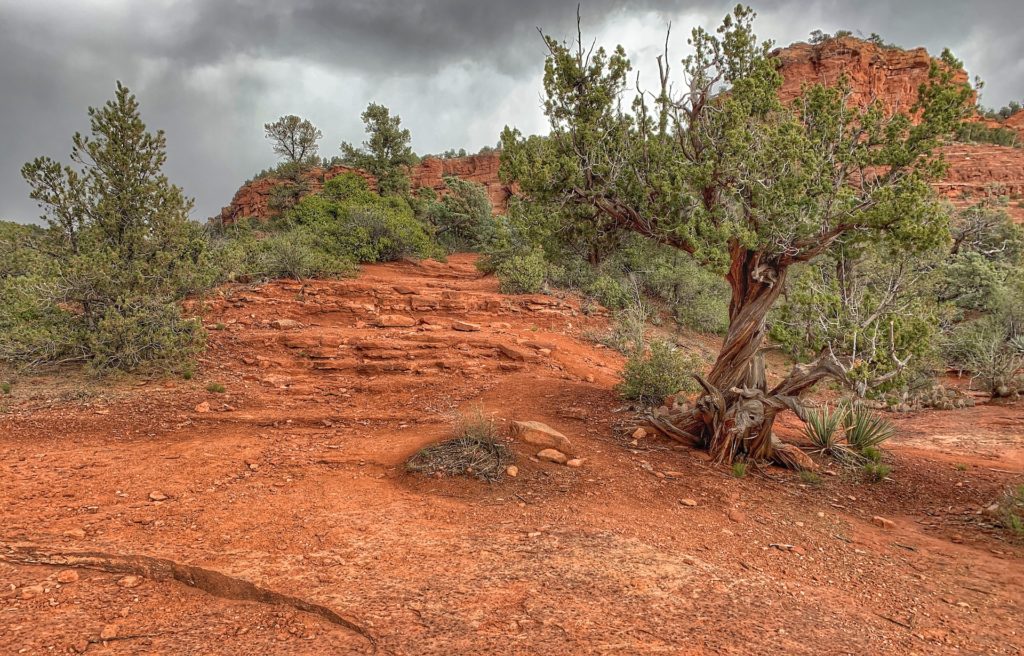 Less than a mile more you will get up close and personal to the caves. Be sure to take your time and explore them all as they all have their own unique vantage points and pictures. Using Pano on your iphone is a great feature to use if you can't get the whole cave entrance when taking a picture from within.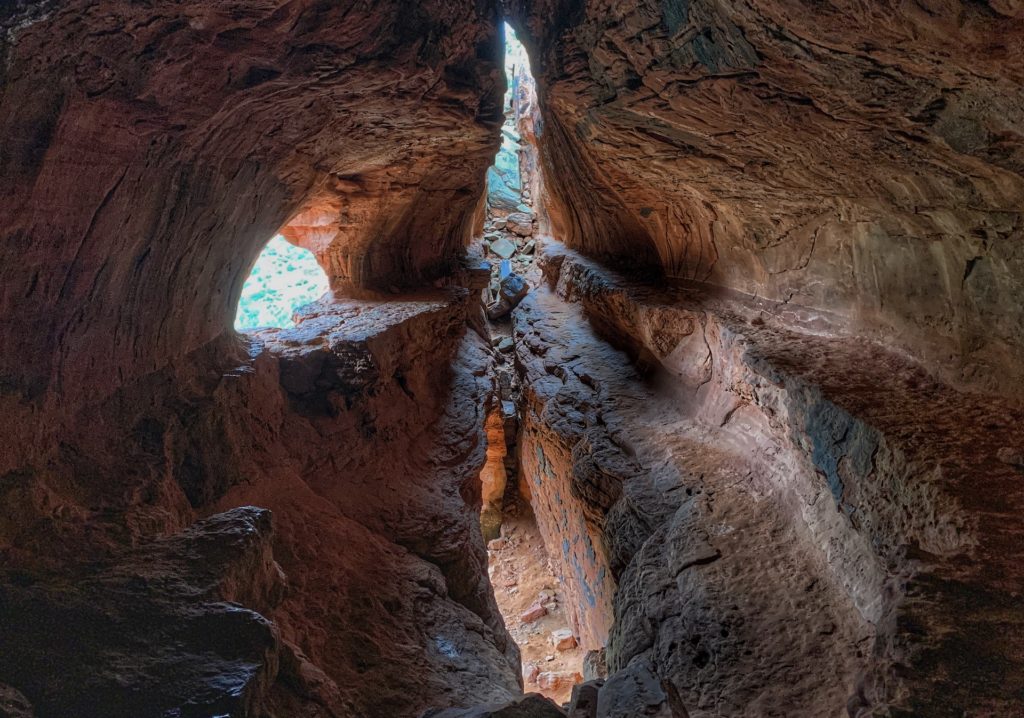 Be sure to climb up into the main cave. There are two different ways to do it, one from the outside and one from the inside. Both are not easy and shouldn't be attempted by those that aren't fairly athletic. Again, the pictures within the cave are unreal! Definitely my new favorite picture in Sedona! Plus everyone has a Devil's Bridge picture these days, go explore something new!
Pros
Three unique things to see on this hike
Not too difficult of a hike
Perfect length of a hike, not too long and not too short.
Stunning picturesque cave
The 7 Sacred Pools offer a really pretty picture contrasted with the hills behind it
Devil's Kitchen sinkhole is a fun addition
Cons
Parking is way too limited. Additional parking at Jordan Road Trailhead but it adds another mile to the hike
They put sticks across the fork in the road where you go to the caves
The caves can get very busy during peak times and on weekends
The main cave is hard to get up into and shouldn't be done by people who are not pretty athletic
Tips
Additional Soldier's Pass parking at Jordan Road Trailhead
Use the iPhone Pano setting when inside the cave if you can't get the whole cave entrance
Go during the weekday to avoid crowds
Don't hog too much time in the cave as others want to take pictures as well
Definitely get up into the main cave for the best area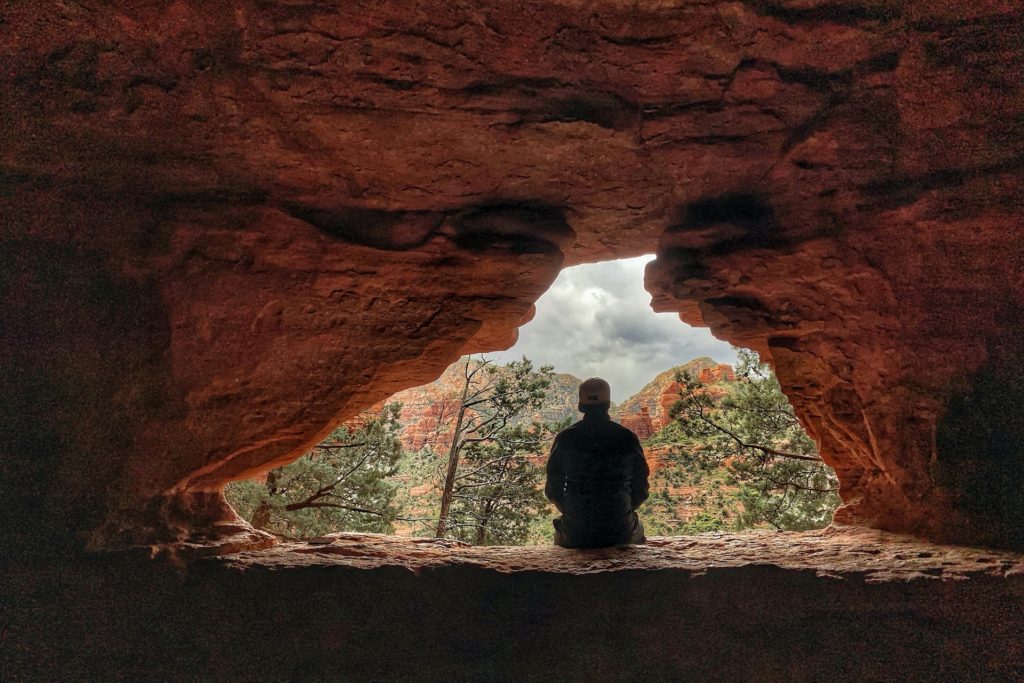 ---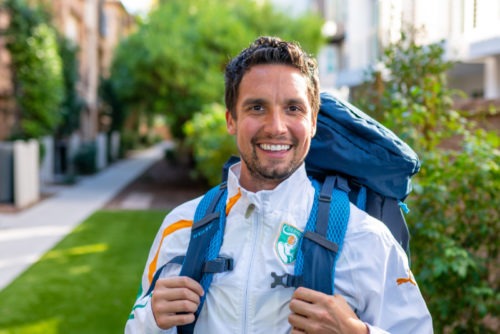 Hey I'm Fraser. My site is dedicated to the 22nd century person with a lust for travel and adventure, need for time efficient recipe ideas as well as anyone in need of self-help or a pick-me up! Thanks for visiting Inspire Travel Eat!