Hiking Beaver Falls from Havasupai Campground With Secret Tips
Rome, Siem Reap, Rio De Janeiro and Havasupai Falls… that's the list of my favorite places on earth with Havasupai Falls probably being #1. I have yet to see anywhere on earth that has miles of ever-changing unparalleled beauty. Havasupai Falls is the only hike I have ranked with 5 stars rating as it truly will blow you away when you see it.
The hike from Havasupai Campground to Beaver Falls truly might be one of the prettiest 4 mile stretches on earth. I also have some info in the TIPS below of where to find some little secret spots and ideas to make your adventure even more fun on your way to or back from Beaver Falls.
If you would like a complete guide to Havasupai Falls with tips & itinerary than see here.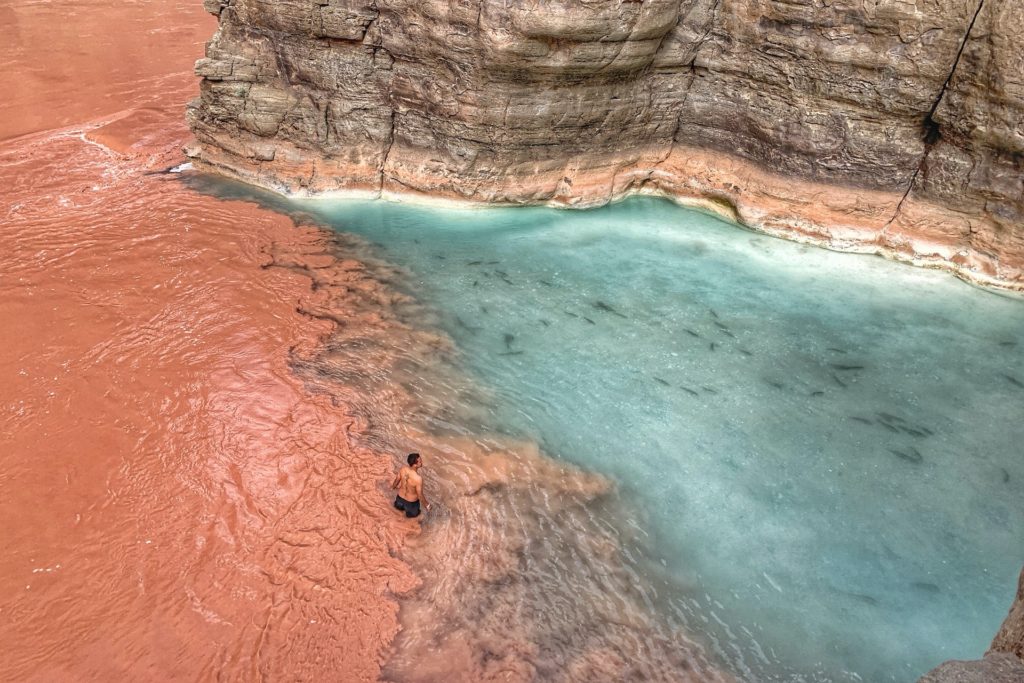 This article is just a quick one to give you info on how to get to Beaver Falls from Havasupai Campground, what to expect and give you some pictures of why you definitely need to make the hike when you are down there. Beaver Falls is 8 miles round-trip from the Havasupai Campground aside from "Stairway To Mooney Falls" and walk down to Beaver Falls, it is relatively flat.
Be sure to pack a lunch and also wear shoes you don't mind walking in when wet. You won't want to keep taking your shoes off and on everytime you cross the water. You will cross the water 3x and if you end up hiking all the way to The Confluence you will cross the water 10 total times. See my article on The Confluence if you wanted more info on that.
Hiking Beaver Falls from Havasupai Campground With Secret Tips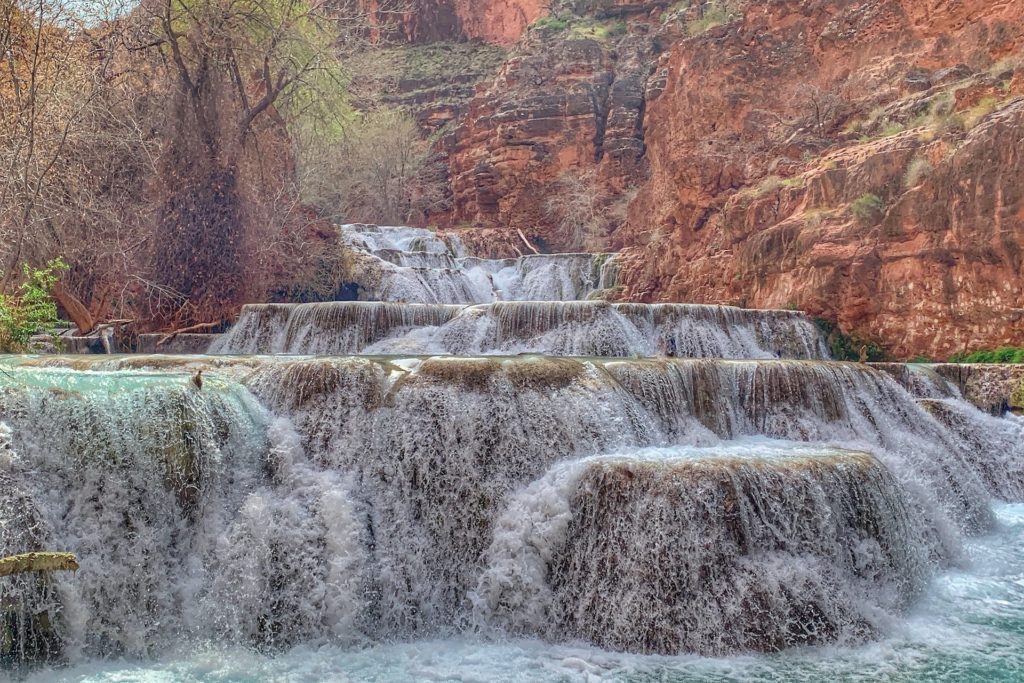 Difficulty:
Moderate (Stairway to Mooney is Difficult)
Length:
8 miles round trip - out & back
As mentioned the hike to Beaver Falls is absolutely unreal. Due to the canyon walls the sun also disappears quickly leaving the falls in the shadow so get there earlier than later. The water is cold enough when you have the sun let alone without!
You will start the hike from Havasupai Campground and I suggest packing a lunch so you can frolic at the falls for a while soaking in paradise. Right from the start you meet your largest obstacle via the Stairway Down To Heaven as you go through the caves and climb down ladders to Mooney Falls.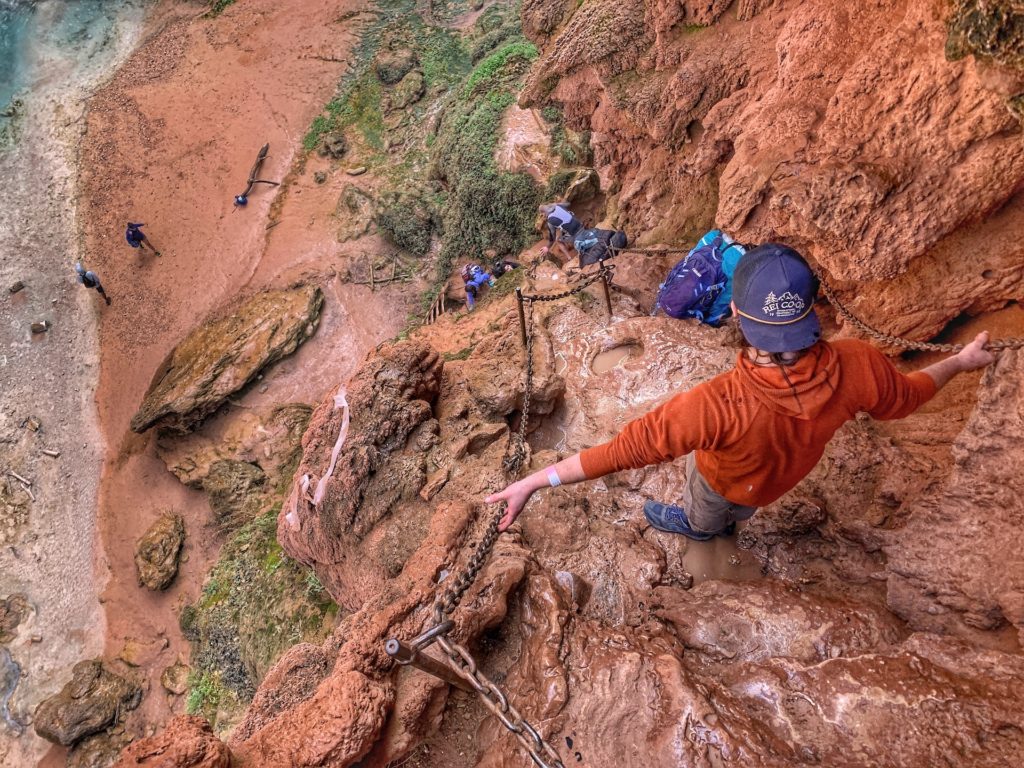 If you are terrified of heights, do not hike down to Mooney as I have seen a ton of people freeze and get stuck for 30+ minutes all while holding everyone up since it is 1 person up and down. There are slippery ladders, you hold onto chains to keep you from slipping and it isn't an easy feat.
Once you made it down this harrowing experience there is actually a to do right out of the gates. However, I would save it for the way back so you don't miss the sun down at Beaver Falls. When you are around Mooney you can of course take pictures on the log, swim in the water and if you go left of the falls there is a rope swing and a cave behind the little falls underneath that!
Once you snap some pictures at Mooney Falls then head to the left of the stream to Beaver Falls. Within a mile there are two other points of interest for the way back or can stop on the way there. Near the mini stream crossing there is a trail to the left (when walking away from Mooney) and that will take you into this tight canyon that goes back half a mile. It is such a pretty walk and honestly you'd think you were in some beautiful asian garden or forest.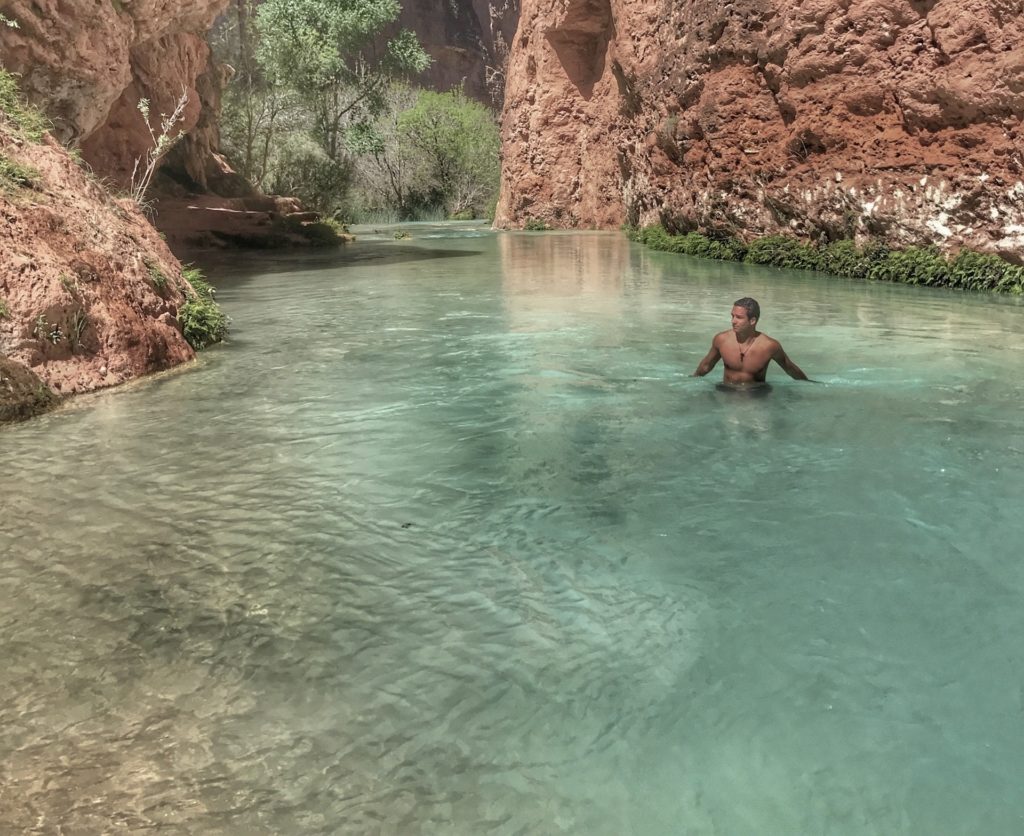 Back on the trail, you will notice to the right there is an incredible view of the water as you stand high on the little cliff above. That mini stream you cross also turns into the perfect shower waterfall down below. To get down there keep walking and in about 5 minutes there will be a trail to wrap around to down below. You HAVE to go into that water as there is a pool of blue water that is breathtaking. You can even walk and wade down the stream to this point straight from Mooney Falls.
Just beyond this is when you will cross the water for the first of three times. It is always around knee height and not much of any current. You can try to walk down the stream too if you want to have some fun and enjoy all the different views of the beautiful water, it never really gets too deep aside from a couple of places.
Around mile 2.5 you will come across the ivy patch, which is again one of the most beautiful sites. It isn't in bloom for a few months but when it is , wow. People may think of Havasupai Falls as just a couple of waterfalls but it truly us mile after mile of surprises and beauty. You also may be lucky enough to see some bighorn sheep along the way.
Past the ivy patch and across the water is a rope swing to play around in but that's not all. Here again comes another treat, the Lone Palm. Just like the name says, it is a random beautiful palm tree next to the water. The pool of water next to the tree is an amazing picture taking spot as well. It is also a place where you can cross the water and walk down the backside of Beaver Falls. I would suggest walking that way on the way back vs. the way there as it can be an adventure on its own getting up/down Beaver Falls.
After the lone palm you will go up some ladders and you are every so close to Beaver Falls with much less than half a mile to go. This walk again is breathtaking as the cliff views are some of my favorite of the entire hike. Another prime picture taking place and stunning view, you will be truly blown away of the beauty of the water contrasted with the canyon walls.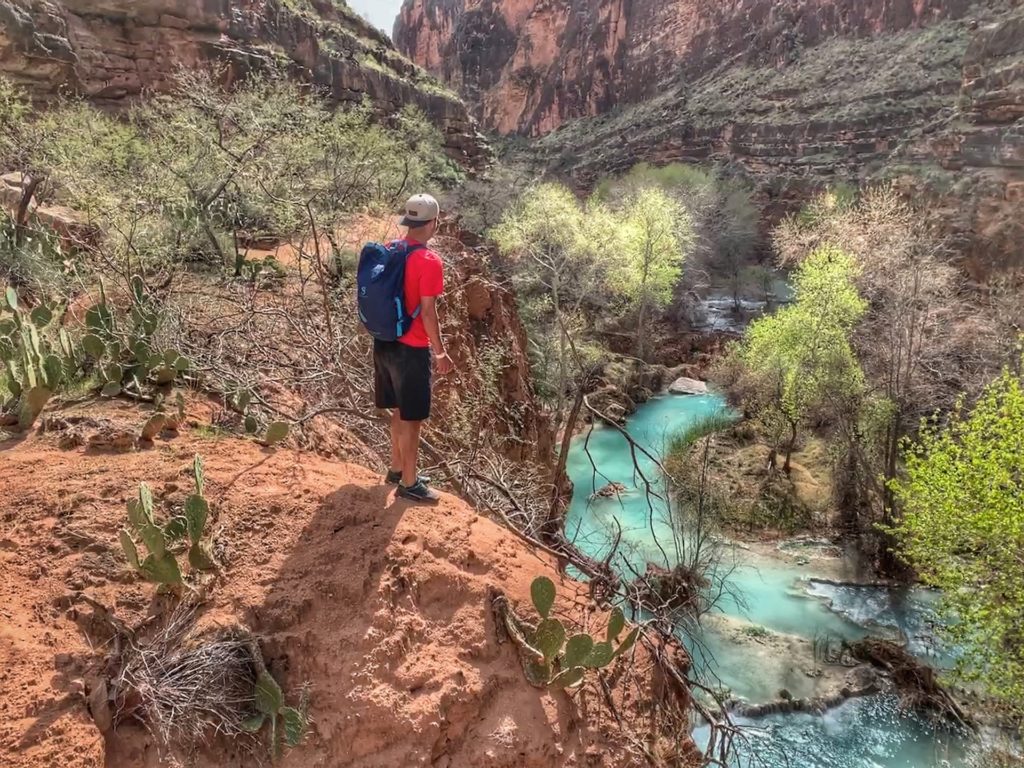 Just a little bit further from the walls you will see the way down, which is again a little walk down dirt paths and down some ladders… the ladders are significantly less imposing here than the ones at Mooney Falls. And finally… you've made it! Enjoy your time, seek out the grotto, the underwater caves, the little jumping area, ropes on the other side to go up behind the falls and more.
There is even giant cliff jumping if you go just past Beaver Falls with drops of all sizes. The pools beyond beaver falls are also some of the prettiest views around. Be sure to check it out just past Beaver Falls when you are exploring.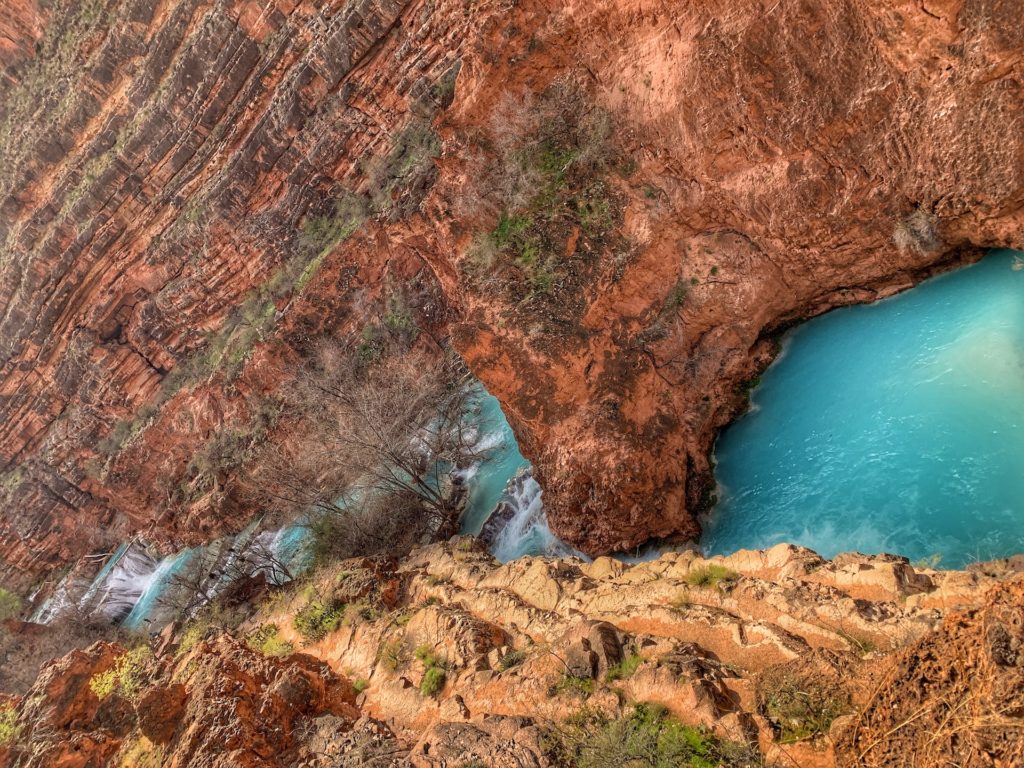 Pros
Maybe the most beautiful stretch 4 mile stretch in the world.
Has a waterfall shower
Caves
Grottos
Rope Swings
Side hikes
Bighorn sheep sightings
Cons
Cross the water 3x. This isn't a con for me but maybe those who didn't pack shoes that can get wet like I told them…
The Stairway To Mooney Falls is extremely imposing if you have a fear of heights
Tips
Walk down the water where you can for unique views
Rope swings near Mooney and before the Lone Palm
Hike behind Beaver Falls on the way back, you must cross the falls to do this and water is chest deep
Shower in the mini waterfall near Mooney Falls
Go under the Beaver Falls waterfall
Go up the canyon, which feeds the mini waterfall near Mooney Falls
Go early to avoid missing sunlight, which goes away early in that part of the canyon
Hike passed Beaver Falls to see incredible pools and a spot for cliff jumping
Hike 9.5 miles past Beaver Falls to see The Confluence
---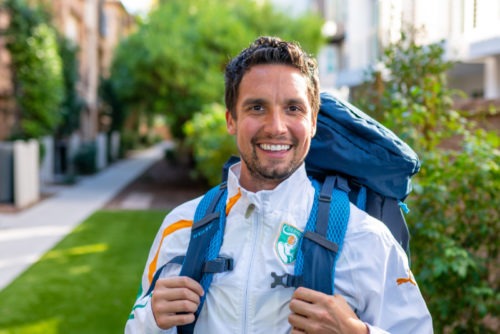 Hey I'm Fraser. My site is dedicated to the 22nd century person with a lust for travel and adventure, need for time efficient recipe ideas as well as anyone in need of self-help or a pick-me up! Thanks for visiting Inspire Travel Eat!