Hiking The Confluence From Havasu Falls
I have been to Havasupai multiple times and had not hiked to the confluence yet as the first times I really wanted to see as much as I could of the main areas before making the additional 17.5 mile hike to the Confluence. The hike is an extra 17.5 miles but only 9 more from Beaver Falls.
It isn't necessarily a tough hike, but when is the last time you hiked 17.5 miles? Then when is the last time you hiked 17.5 miles the day after backpacking 10 miles? With all that said it is worth it! If it is your first time visiting Havasupai Falls it is a tough call whether to go or not. There is SO much to see that you will have enough fun exploring around the trail and water to Beaver Falls that adding an extra 17.5 miles losing a whole day might not be worth it.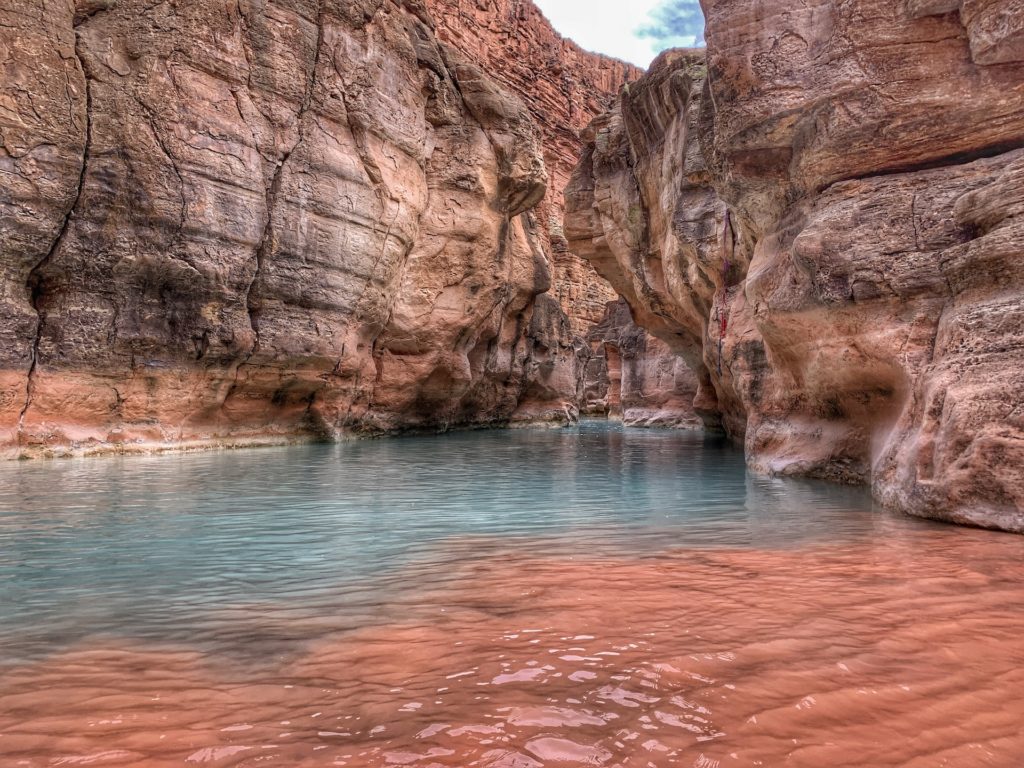 If it is your 2nd time there then you absolutely have to go. Even if it is your first time there, if you want a challenge and to see this spectacular site then make the trip! The hike is a long one but there are some stunning sites along the way.
Hiking The Confluence From Havasupai Campground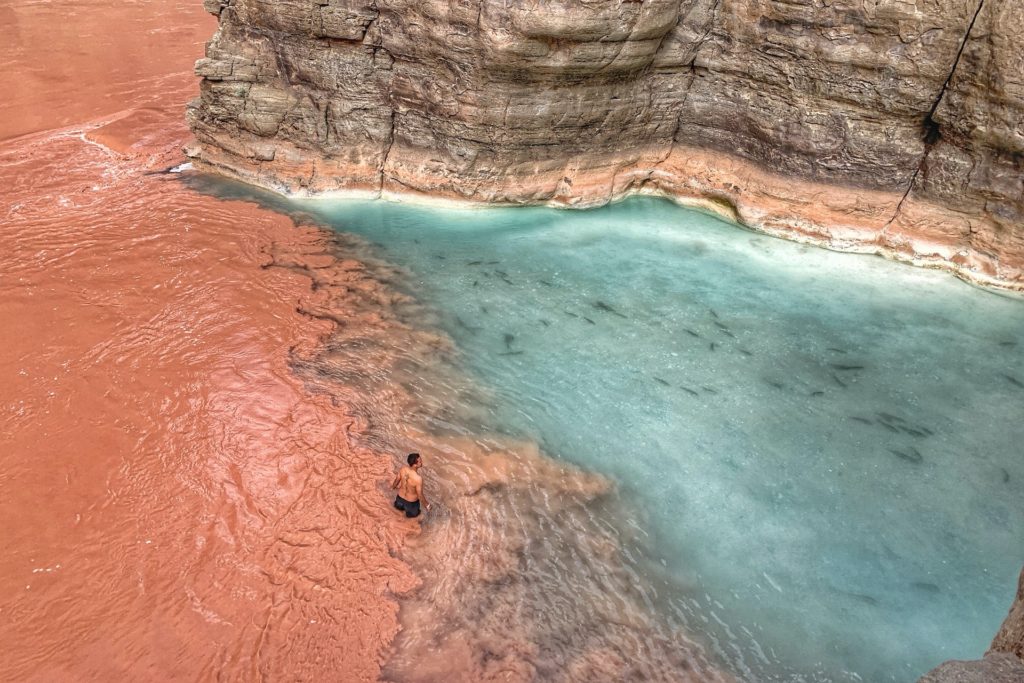 Difficulty:
Difficult (long)
As mentioned the hike isn't grueling but 17.5 miles isn't exactly easy no matter how you slice it. You will want to leave around 7-9am to make sure you are back before nightfall. I also really stress wearing shoes you are okay with being wet and hiking with. You will cross the water 10x and don't want to have to take shoes on and off each time.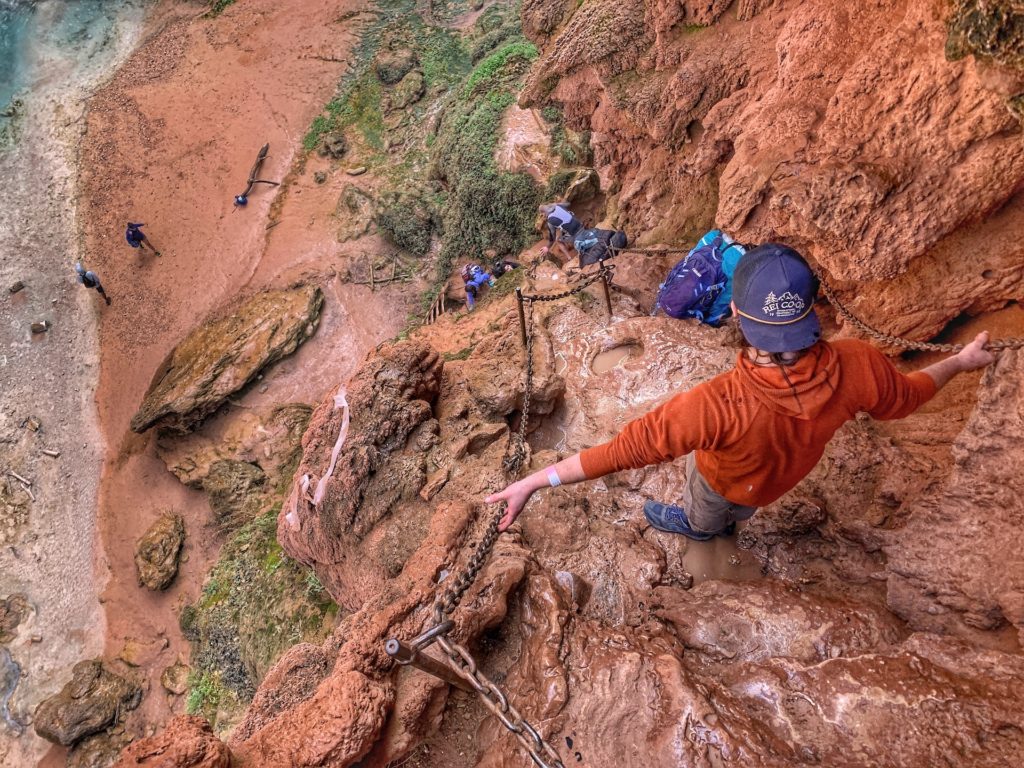 Beginning at the campground you will go towards Mooney Falls, head down the fun Mooney Steps and head towards Beaver Falls. The 4 mile hike to Beaver Falls is full of spectacular views, a shower waterfall off to the right, some canyons to venture into and tons of fun things to explore. With that said, if heading to The Confluence then you really won't be able to partake in too much exploring since you need to bust it to get there.
Once you have made it to Beaver Falls, instead of going down the falls to the left you will continue past the walkway down and go straight. There are some incredible pools past Beaver Falls, of which you can do some cliff jumping if you have the time.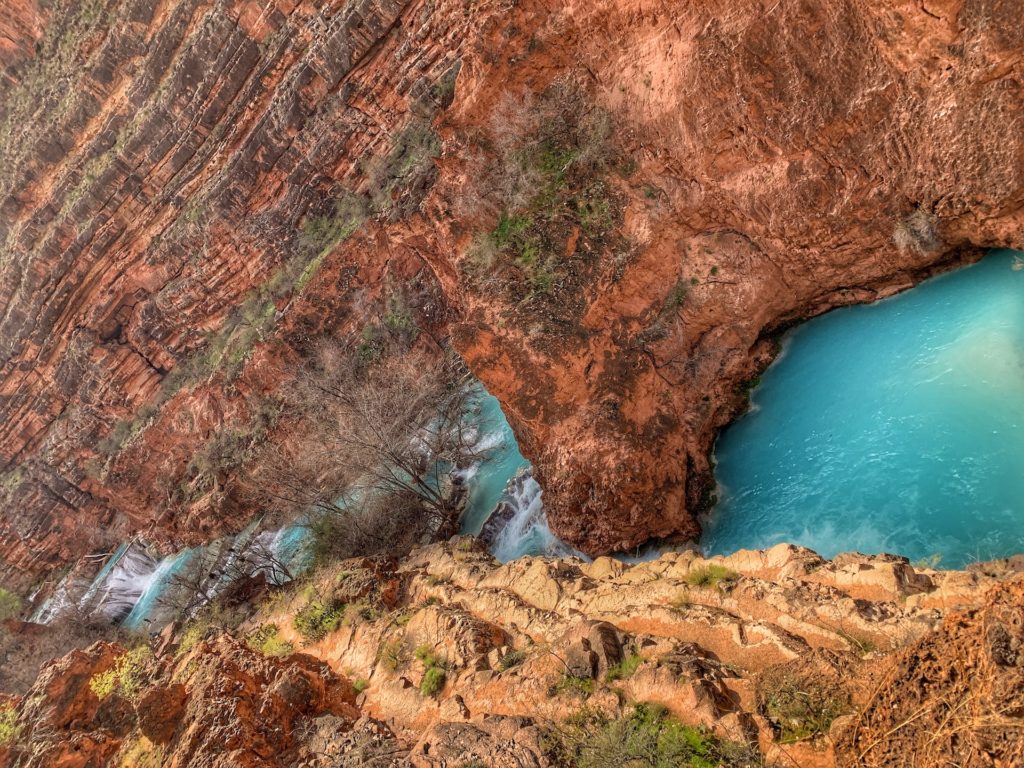 About 15 minutes passed Beaver Falls you will descend and come to your first of seven crossings over the water. REMEMBER THIS SPOT! As on your way back if you pass it you will come to a way up that is only via a rope and it truly is not for 90% of this world to do.
Crossing the first time also be sure to keep your eyes open for bighorn sheep. They aren't aggressive and seem really used to people.. however don't press your luck as any animal protecting young can quickly turn on you.
The hike will be relatively flat the whole way, similar to your hike to Beaver Falls. As mentioned you will cross the water 7x before getting to The Confluence and be sure to bring lots of water, especially if it is hot. There are a few caves along the way and a ton of beautiful views and pictures.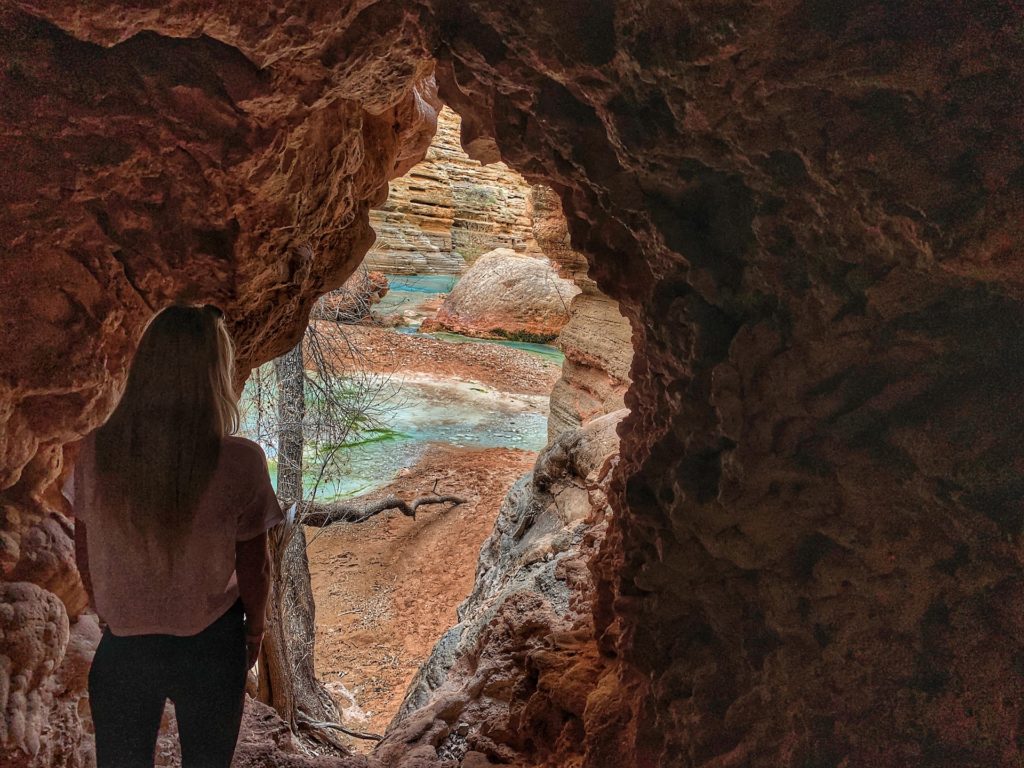 You will know when you are close as the canyong starts to shrink and there is a stunning view with a mini waterfall leading into a tight canyon. You will cross the water one more time and then you are just a minute from one of the most unique sites you will ever see.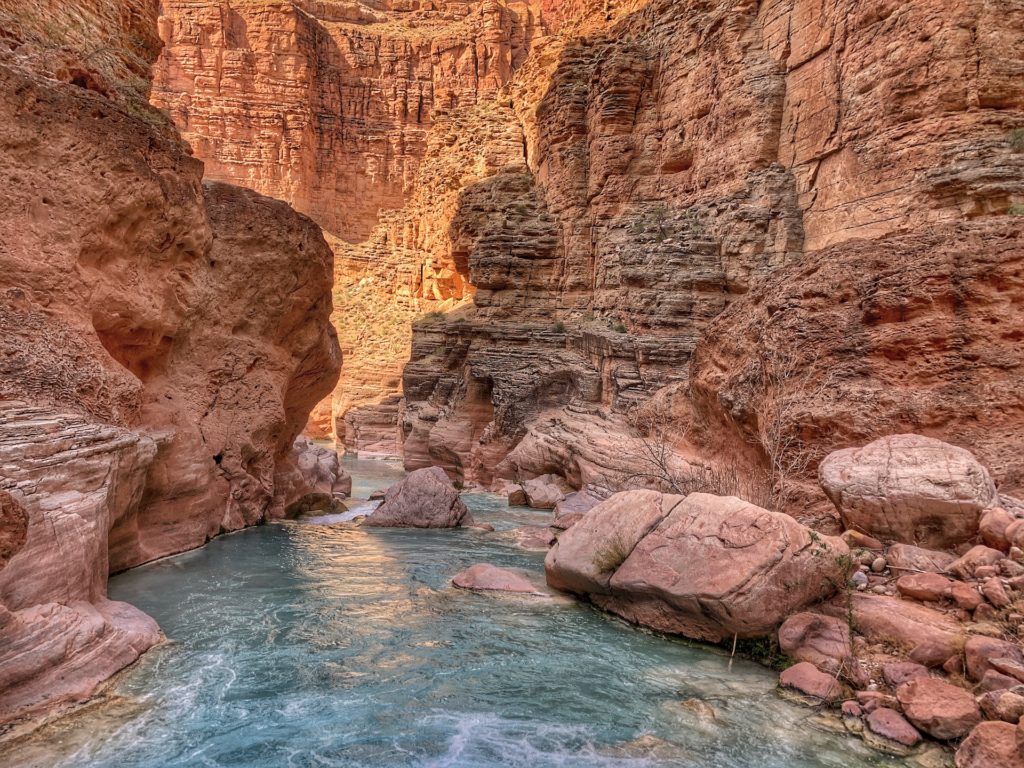 As you get closer you will hear the roar of the Colorado river and be opened up to the Grand Canyon. The fusion of the two colors is a site to behold along with the giant fish wading in the turquoise water.
Even just the Colorado river with the Grand Canyon is a site to behold let alone adding in this mixing of the two waters. Be sure to walk down to the bottom and take a dip in this incredible phenomenon. The Colorado is significantly colder than the turquoise waters so you might want to submerge there first.
Pros
One of the prettiest most unique sites I have ever seen
Stunning views along the way
Keep eyes open for bighorn sheep
Cons
It is long!
I am torn recommending first-time visitors to use a whole day to get here, especially when there is so much to see while also relaxing at the main waterfalls
Tips
Wear shoes you can get wet often and won't need to take off
Leave early
Bring lots of water and lunch
Stay at Hualapai Lodge the night before if you'd like a hotel nearest to the trailhead.
Watchout for the bighorn sheep
Definitely get in the water so you can snag this beautiful picture and view!
---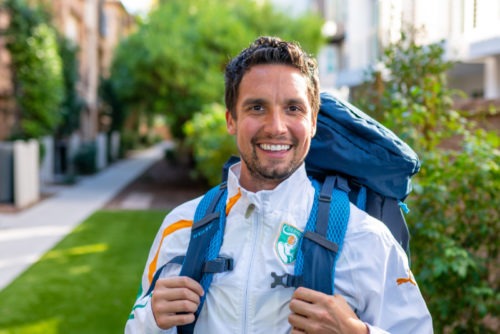 Hey I'm Fraser. My site is dedicated to the 22nd century person with a lust for travel and adventure, need for time efficient recipe ideas as well as anyone in need of self-help or a pick-me up! Thanks for visiting Inspire Travel Eat!
This error message is only visible to WordPress admins
There has been a problem with your Instagram Feed.