Horseshoe Bend Arizona is one of the prettiest sites Arizona, the USA and even the world. This stunning viewpoint is in pretty much every screen saver you have ever seen from TVs to computers.
Horseshoe Bend AZ is a bucket list item for USA travel and there is so much more to do in the Page Arizona area making it one of the best places to visit in the United States. You could spend two-weeks in Northern AZ & Southern Utah as within 2 hours of Horseshoe Bend there are some of the most amazing places.

Horseshoe Bend itself is a great site and is extremely easy and accessible for anyone who wants to see it. People think it is a hike but it is truly just a 1.4 mile round-trip walk from the parking lot on a paved walkway with a very minimal elevation change.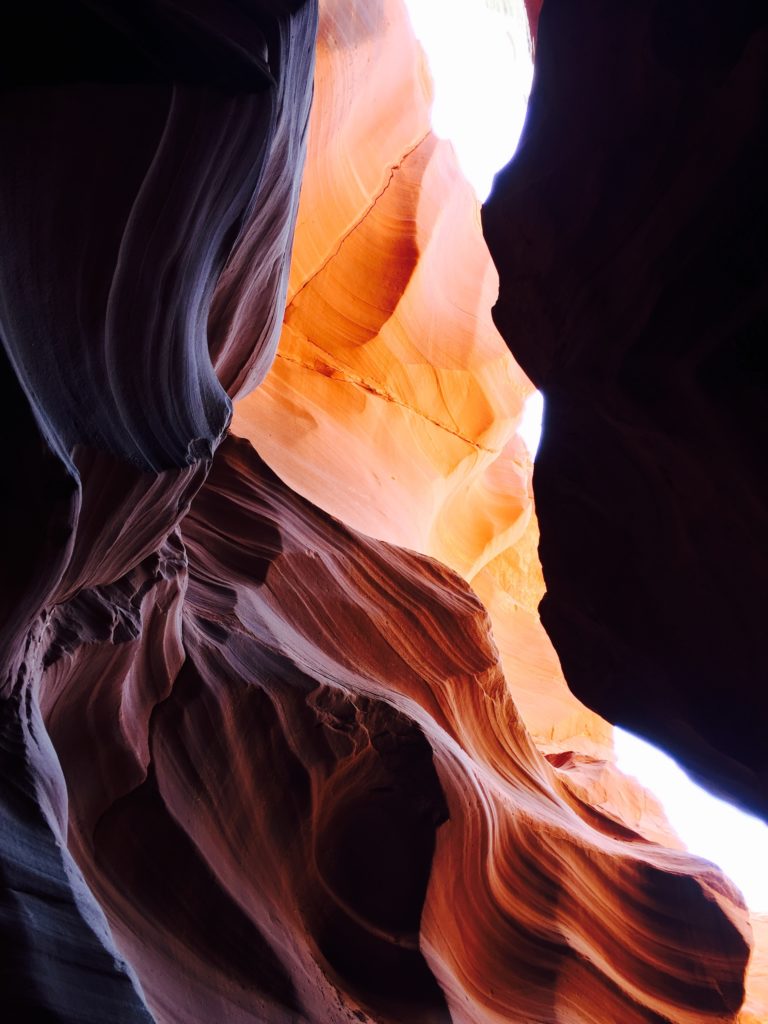 What are the best things to do around Horseshoe Bend & Page Arizona?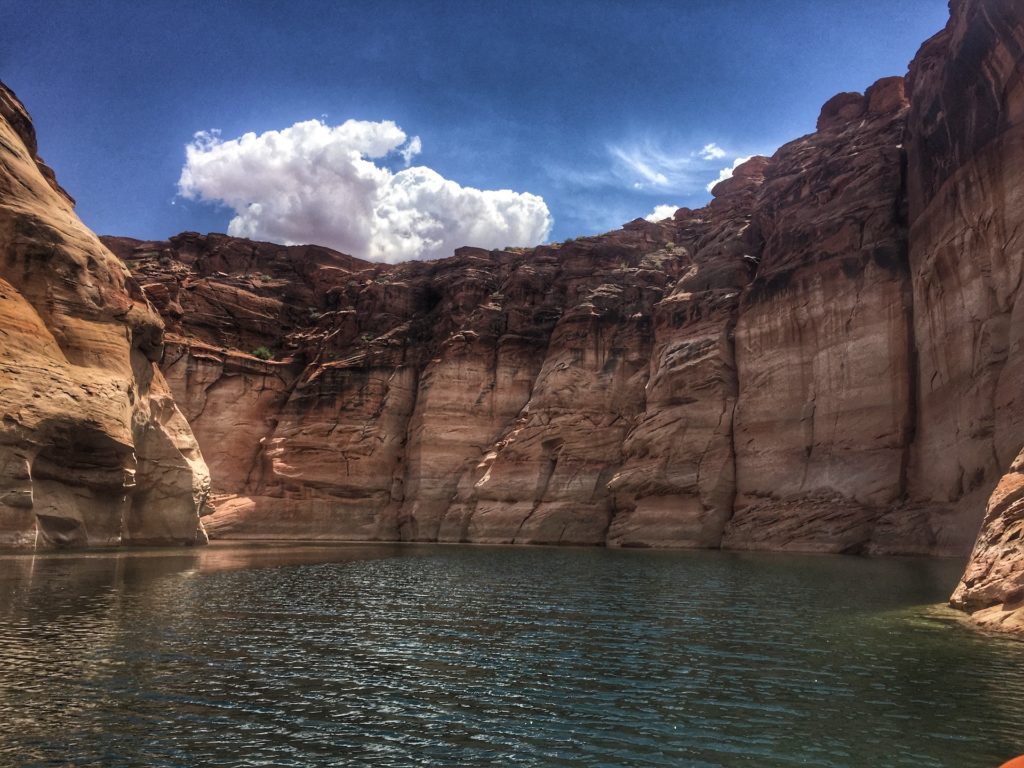 There are a ton of places you have to visit when visiting Horseshoe Bend. The area is swarming with great places to see and things to do from sites to food to activities!
You definitely should visit Antelope Canyon, Lake Powell, Big Lake Trading Trading Post for candy & their famous pickles, Big John's Texas Barbeque and then if you have multiple days try to get to the Grand Canyon or even Zion National Park.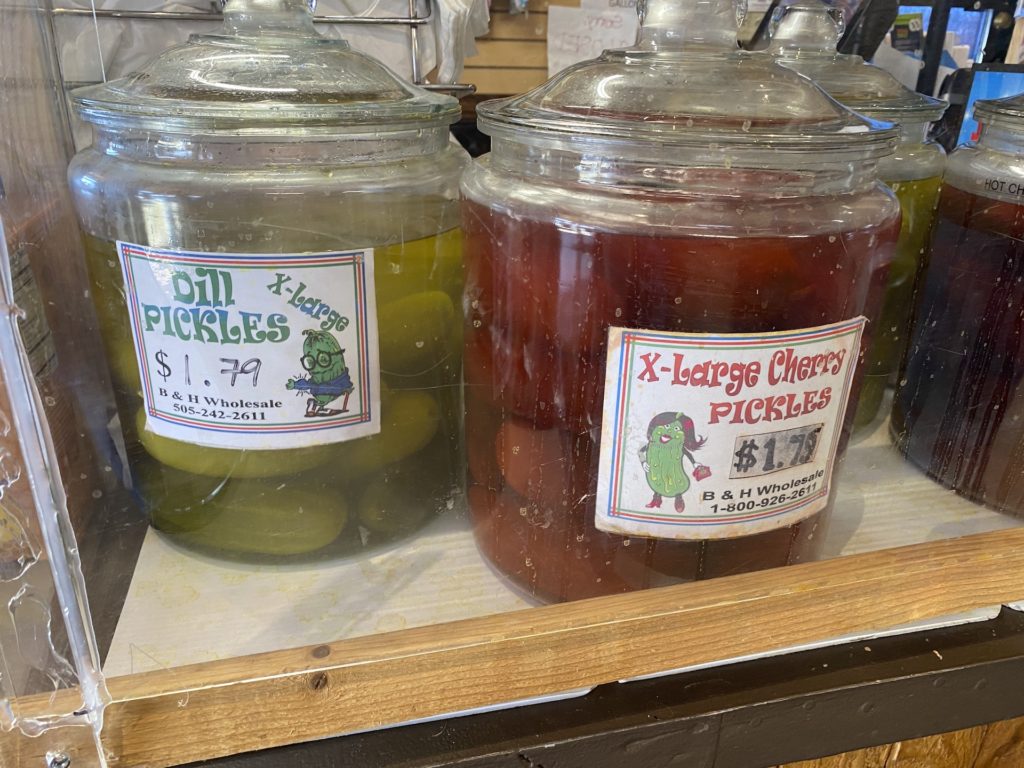 Can You Go Horseshoe Bend to Antelope Canyon?
Yes, you absolutely can as they are very close to each other. Antelope Canyon to Horseshoe bend is less than 10 miles and takes only 15 minutes! With that said, the best part of Antelope Canyon is only available via a guided tour, of which you start from in town in Page.

Horseshoe Bend to the Antelope Canyon tour guides are less than 10 minutes from each other. Horseshoe Bend & the Antelope Canyon make for the best day and are both bucket list items you have to see.
Antelope Canyon is the most photographed place in the USA and Horseshoe Bend is one of the most photographed places as well. Spending 2+ days in Page is well worth it as you can also visit Lake Powell, which is stunning and has a ton of activities.

When time should you do Antelope Canyon & Horseshoe Bend?
You have to book Antelope Canyon in advance so you can plan when to go to Horseshoe Bend based off the timing of your visit or tour to Antelope Canyon. Ideally you could go to Antelope Canyon in the morning, Horseshoe Bend later morning and then the lake for the rest of the day.
Another option to avoid the Horseshoe Bend crowds is to go right at sunrise and then Antelope Canyon in the late morning if you can get a tour reservation then.
What Is The Best Restaurant near Horseshoe Bend & Page Arizona?
The best restaurant in Page Arizona hands down is Big John's Texas Barbeque. Big John's is one of the best restaurants in all of Arizona, not just Page!

Not only is the food some of the best barbeque you might ever have, it is the ambiance that sets this place apart from anywhere else. Big John's Barbeque is family style seating on picnic tables outside & inside.
You go to the window, order your food and drinks, then sit down at the picnic tables next to other travellers and locals. They also have a stage with live music playing at night! It truly is the best ambiance for a meal you can have.
Is Horseshoe Bend Close to the Grand Canyon?

It seems like it should be much closer but it is just under 2 hours to the East Entrance, over 2 hours to the North Rim and 3 hours to the South Rim. With that said, it is more than worth it to visit the Grand Canyon if you are not from the area.

Page can be a perfect place to start an adventure with Antelope Canyon, Horseshoe Bend & Lake Powell for 1-2 days then a day or 2-day trip to the Grand Canyon. You can do some easy & moderate hikes at the Grand Canyon in a day trip as well as walk around to different viewpoints. This is absolutely worth it!
Is the Horseshoe Bend Hike Hard?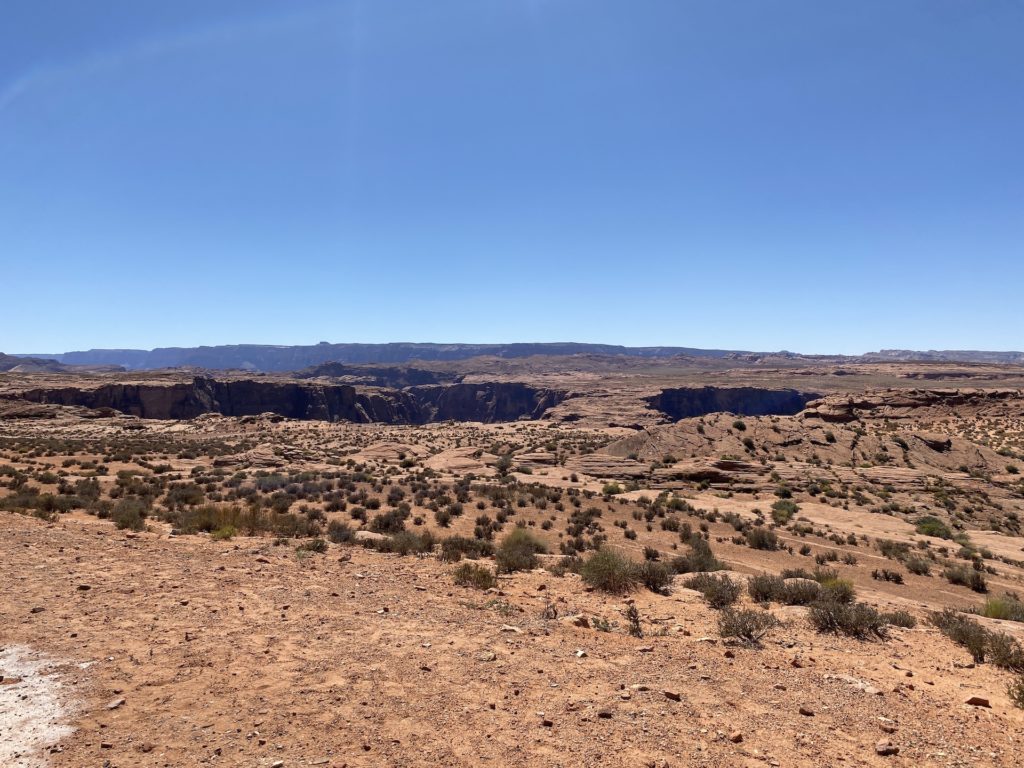 The Horseshoe Bend hike isn't really a hike and is more just a 1.4 round-trip walk from the parking lot to the viewpoint. What will make it more difficult is if you do it in an Arizona Summer so be sure to bring lots of water if you aren't in the best of shape.
The Horseshoe Bend "hike" is pretty flat the entire way with just a slight downgrade and upgrade near the viewpoint. It could take you 45 minutes or 2 hours depending on your walking and how long you spend taking pictures.
Is Horseshoe Bend Open from Covid 19?
Yes, Horseshoe Bend never closed due to COVID 19.
Do you need a pass & how much is a permit for Horseshoe Bend?
Yes, you need a pass to visit Horseshoe Bend. With the influx of visitors Horseshoe Bend has now started charging fees. It is $10 per vehicle, $5 for motorcycles and buses are $35-140 based on numbers of passengers.
They have also made an accessible pathway for all visitors along a cement walkway to the viewpoint. There is also a rest stop area with shade halfway as well.
What Time Does Horseshoe Bend Open & Close?
Horseshoe Bend is open from sunrise to sunset. The best time to visit Horseshoe Bend is within a couple hours of sunrise before all of the tour busses and influx of tourists show-up.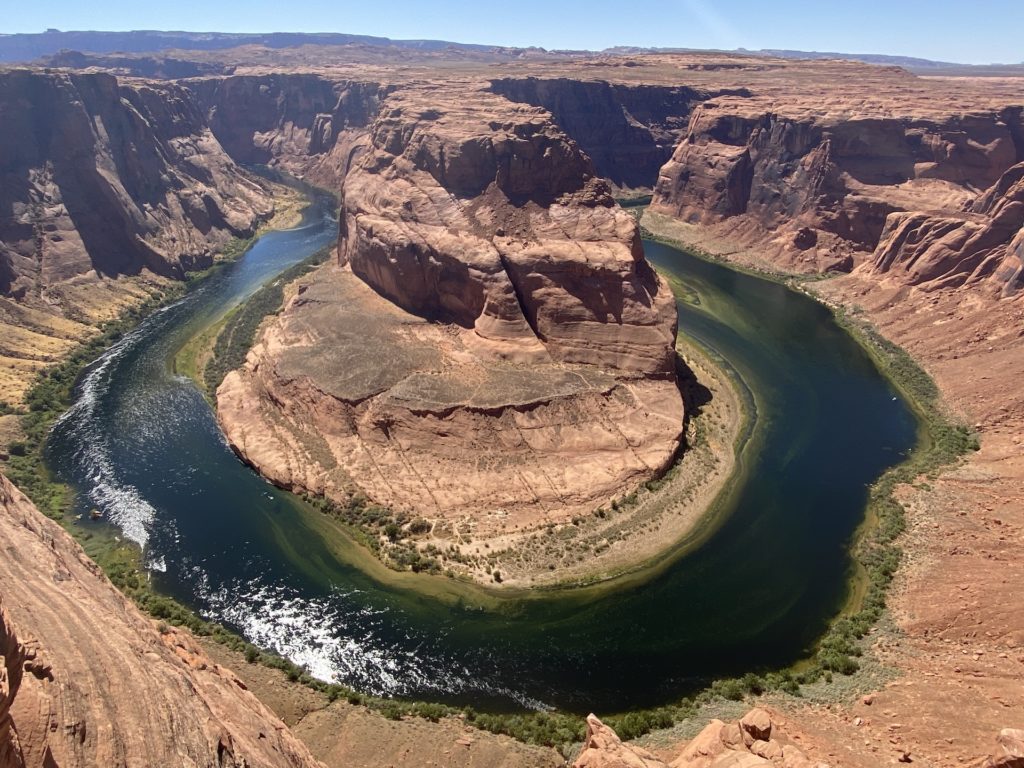 Is Horseshoe Bend Safe?
Can you fall at Horseshoe Bend? Yes, you should be extremely careful when visiting Horseshoe Bend. There are places with guard rails but most of the cliff face is wide open and people have fallen before trying to take an Instagram picture.
In 2018 there was a tragic fall and since then they have added a safety platform and guard rails to make sure people with less sure footing can view Horseshoe Bend. There is no reason to be worried about going as it is safe but of course don't be silly and play around the edge of this or any cliff.
Are Pets Allowed At Horseshoe Bend?
Yes, pets are allowed at Horseshoe Bend but must be on a leash. Keep in mind that the summer months in Arizona are extremely hot and the walk will be on pavement and hot sand with only one shaded area.
It is probably advised to keep your pet at home for this if you are able to. It is also an extremely busy area so you might want to consider people who are nervous around dogs in general adding to the fact of being next to a cliff. I have and love dogs but just always good to consider others.
Can You Get Married At Horseshoe Bend?
Yes, you can get married at Horseshoe Bend. There is a lot of permitting and red tape to go through to make this happen though. There are professional wedding planners in the area and one in particular that work with the local tribe & National Park Service. www.horseshoebendwedding.com

Can you fly over Horseshoe Bend?
Yes, there are a ton of guides that will take you on a stunning trip over Horseshoe Bend. You can do cheaper trips that take just 15 minutes to see Horseshoe Bend, Lake Powell and the Glen Canyon Dam.
How much is it it take an air tour over Horseshoe Bend? It will cost anywhere from $130-200 pending your trip and who you book with. There are also trips that will take you over Horseshoe Bend Butte Landing.
Can you hike our tour the bottom of Horseshoe Bend?
You can't hike down to the bottom of Horseshoe Bend but you can take boat tours that will bring you into Horseshoe Bend for a view from the ground up. The cruise is typically a half-day cruise. While it sounds great, the view from the standard view-point is much more breathtaking then being at the bottom, if you had to choose one.
How Long Is the Horseshoe Bend Hike?
The horseshoe Bend walk is just 1.4 miles round-trip and is relatively flat. It will take anywhere from 45 minute to 2 hours depending how fast you move and how long you stay taking pictures at the viewpoint.