How do you cook the best steak? Growing up we always thought the grill was the best way to cook your meat but this is not the case. It is not in the oven or on the grill.
If it's not grilling then what is the best way? The answer is by pan searing it on the stove in a skillet or pan! This is how tons of "fancy" restaurants cook their amazing meat and you would never know how easy it is until you try.
You will sear in all the juices cooking the best piece of meath in no time. Stovetop steak is the way to go!
Cooking with a skillet with medium-high heat on the stove with a little black pepper and kosher salt will bring out so much of the natural flavor and offers the best tasting meat and the best control of internal temperature.
If you thought grilling it on the BBQ was the only or best way well… you're in for a treat. The good news is that after this recipe you will be making the best meat you've ever had just, like the pros.
To get the juicy steak you want cook your meat using a cast iron skillet on the stove with some garlic butter. You can try to use a high-heat pan but you definitely want to use a cast iron skillet if you can, they are very cheap too so just go get one!

Not only does it have the most flavor, it's quick and it is so much easier to cook in terms of controlling the temperature and cooks more evenly than on the grill. This recipe is great as well especially if you have to cook indoors due to it being too cold outside!
I know it is sad to think about being inside during grilling season but do you want to eat better or cook outside? You can always grill your vegetables or ribs or whatever else so you can still be outside grilling feeling yourself.
The happiest news is for those of you who don't have a grill and live in an apartment or you in Canada where maybe grilling outside isn't for you 6 months of the year.

The three best parts about pan searing are that 1. you instantly seal all the juices in due to the high heat vs. the juices running out like they do on the grill 2. it takes 8 minutes to make the perfect medium rare meat 3. it cooks so much easier and evenly than grilling where you can control the temperature better and cook it right down the last minute.
This recipe is great for meal prepping as well. You can cook a few pieces of meat and have them all ready for the week. If you are meal prepping cook it one level under your preferred doneness since you will be reheating it again thus it will get more well done.
Use a Cast Iron Skillet
In terms of the cooking pan, due to the high heat you really should use a cast iron skillet. I tried using one of my really good uncoated higher heat frying pans and it still worked out okay.
You can get a skillet at a grocery store for cheap so why not? Definitely do not use non-stick cookware as the heat is too high and will ruin the pan.
Dry Steak Before Cooking
Pat dry your meat with paper towel as much as you can. Water and moisture are not good for cooking it so make sure it is very dry. You can even leave it on a paper towel in the fridge while you prep everything else, flip it once if you remember as well.
Season Steak?
Do not season the it as it will burn. Just use pepper and salt.
Cooking Steak Time & Heat Levels
Cook at medium-high heat. Normally 6 minutes of cooking gets me to medium rare. Here is a good chart for temperatures of your beef to check doneness – https://www.charbroil.com/learn/grilling-steak-temperature-chart/
Garlic Butter For Perfect Steak
Cook with butter vs. oil to bring out the flavor. Be sure to add the garlic near the end to make sure the garlic doesn't burn.
For a Juicy Steak Let It Rest
Always let it rest 5 minutes if you can so that the juice redistributes through the meat. This makes sure the juices don't just spill out onto your plate when you cut into it.
Method Tips
Do not flip the meat more than once as that will help cook it the best and evenly.
Meal Prep Tips
If meal prepping, do one cooking "doneness level" more rare since you will reheat it and it will get more well done when you do that.
This meat goes great with so many side dishes as well! If looking for ideas here are recipes for stir fried green beans, the world's best chopped salad and a quick delicious asparagus recipe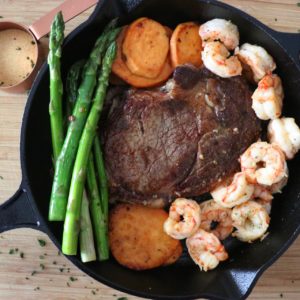 Best Way To Cook A Steak Recipe
How do you cook the best steak? Growing up we always thought the grill was the best way to cook a steak but this is not the case!
The answer is by pan searing! This is how tons of "fancy" restaurants cook theirs and you would never know how easy it is until you try.
Print
Pin
Rate
Ingredients
Quality 1 1/4+ inches thick steak

Ribeye, New York Strip or filet. Make sure not one with a bone.

1

tbsp

vegetable oil

Canola oil or grapeseed oil also work. Don't do just butter as it adds too much of a butter taste. Olive oil can be used but not as ideal.

1

tbsp

butter

1

tsp

salt

1

tsp

pepper
Optional
2

cloves

garlic chopped

added near the end of cooking so doesn't burn

Do not use any steak seasoning as will burn
Instructions
Preheat the pan with the largest burner on the stove.

Brush or evenly distribute the oil on the pan to prevent splattering with the high heat.

Make sure the pan is extremely hot to where the oil is shimmering and almost smoking.

Season both sides of steak with salt and pepper generously.

Use tongs ideally and place steak in pan for 3 minutes per side pending how well you want it done. 6 minutes normally gets me to medium-rare. You want the bottom brown but not charred.

Flip and cook the other side for 3 minutes.

Reduce heat to medium, add butter and garlic. Do not add garlic until the end or it will burn.

Tilt the pan so the butter helps cook and coat the sides of your meat. I also like to spoon the garlic butter on while it is cooking until desired doneness.

Let it rest for 5 minutes. It will help redistribute the juices.
Print Recipe

For another great dinner date recipe idea go check out the Seafood Boil in a Bag Recipe.