Looking for a guide on what do in Lima and get some tips on exploring this enormous Latin American city? Lima is the 4th largest city in South America making it a little overwhelming when looking at what to do.
To be honest I did not spend a ton of time in Lima, and unless you are doing a backpacking trip or plan to stay in Peru for 3+ weeks I would only stop by for 2-3 days.

I researched it a ton, talked to a lot of people and at the end of the day it reminded me of a more developing country version of Los Angeles. It has all the potential to be an amazing place but just don't think it is there yet.
However, it is pretty, there are beaches, some of the best restaurants in the world actually and incredible nightlife. While it maybe it isn't the most incredible city, it is still a cool place to visit and sightsee.

A lot of people say Lima is just a stop over on the way to Cusco and I somewhat agree. A lot of blogs fluffed up Lima as some great place to visit with tons to do but I won't do that to you.
If you don't have two weeks or more in your Peru trip I would skip it. Staying in the Cusco region for 7-10 days and visiting the Amazon are some of the most breathtaking places to visit on earth let alone just in Peru.

So while Lima is a nice place to visit, it is hard to hold a candle to the Cusco region and the Amazon if you only have so much time. With that said, if you have a couple of days, definitely checkout Lima as it has a lot of charm and some cool stuff to do!
Tips For What To Do In Lima Peru
As mentioned, Lima is a pretty Latin American city but everyone I have talked to agrees that after seeing a few of the sites we would much rather spend more time in the Cusco area or the Amazon.
There is some cool stuff to do but if you are tight on time you would be good with just a couple of days in Lima.

Below are some things to do in certain areas but also be sure to check out the Bioferia market, the catacombs and overall just walk around and soak in the street art and architecture of the city.
Beach Activities
The beach isn't amazing but it isn't bad either! There is some amazing surfing along the Peru coast and a ton right in the middle of Lima. It is also a hub for paragliding as well. Or just grab a cooler and plunk down on the sand and play in the water.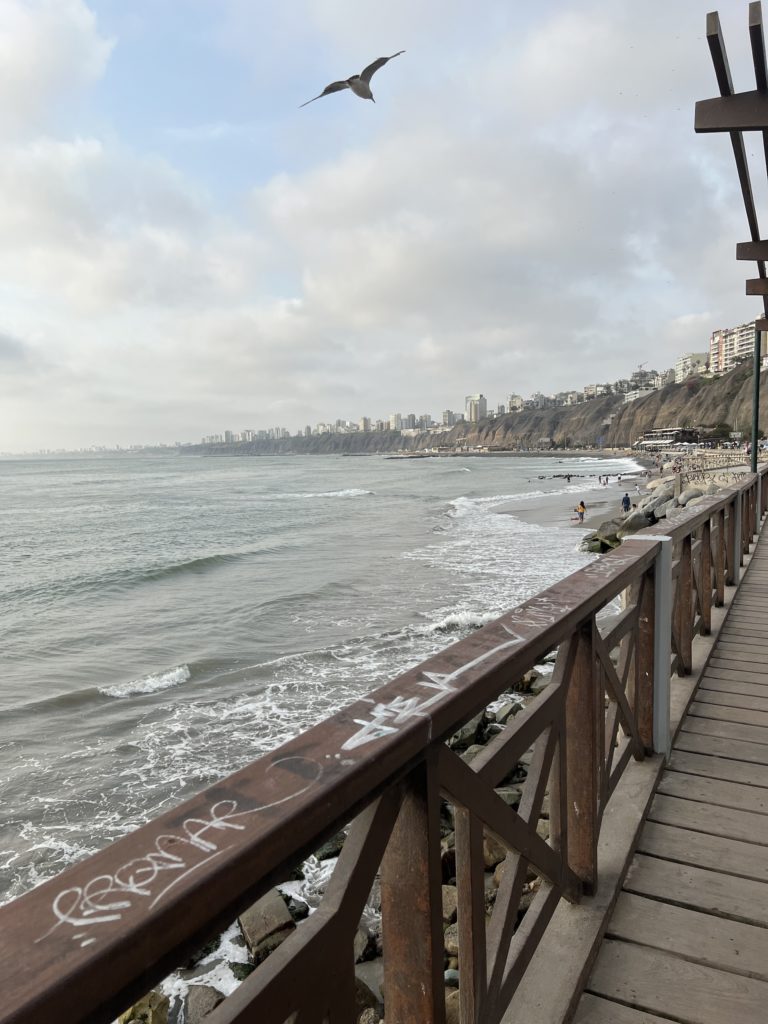 Historic Center
Lima has their Historic Center, which is a UNESCO Heritage Site and you can walk around to check out The Government Palace, Plaza de Armas and a bunch of cool colonial architecture.
Barranco
Barranco is my favorite as the architecture, vibe and access to the beach has everything you could want in a quick visit to Lima. There are incredible restaurants, bars, cafes and restaurants on the beach as well as overlooking the beach.

With lots of cute shops, art shops you can just spend a day wandering around with a nice walk down to the beach as well.
MiraFlores
Miraflores is the main touristy spot in town and is a lot more of an urban feel than the quaint charm of Barranco. They have the Larcomar outdoor mall, with most of the Americanized stores vs. being a Peru centric type place.

There are a ton of great restaurants as bars as well as the main strip of stores down Av. Jose Larco. You will find breweries, museums including the chocolate museum where you need to pick-up a bottle of chocolate or coffee flavored piscu!
San Isidro
This is the higher-end neighborhood in town where you will some of the ritziest restaurants, bars and stores. They have some incredible parks and is worth a visit for a walk around the area before going to a nice dinner.
Where to Eat in Lima?
As you may already know, Lima is actually a foodie paradise and randomly has some of the best restaurants in the world. Peru in general is such a great spot for food just because everything is so cheap!

I had a tomahawk steak for $25 USD overlooking all of Cusco, the entire country is just amazing for food.
In Lima there are no shortage of amazing restaurants and actually two of the rated best restaurants in the world are in Lima. Central is infamous as the cities #1 fine dining restaurant. Astrid y Gaston is another fine dining staple in Lima if you want to go the fine dining route.

Malabar is known to to seek out the best ingredients from the Amazon to the Andes and actually spent time at my favorite Amazon hotel going through tons of different species of mushrooms.
If you are looking for something more moderately priced with a view then I loved Ca La. It is perched right alongside the ocean with a giant patio and perfect atmosphere for dinner or drinks!

If wanting a cool pub with some comfort food Garrison Bar & Beer garden had one of the best burgers I have ever had and incredible flatbread pizza. It is located in Barranco and is a perfect pre-game spot to get your night started as well for some drinks.
One of my favorite places, especially if you are out shopping and want something quick, is the Mercado San Martin. It's a cool little food market with tons of amazing options! Whatever food you are looking for, two bars and a team spot.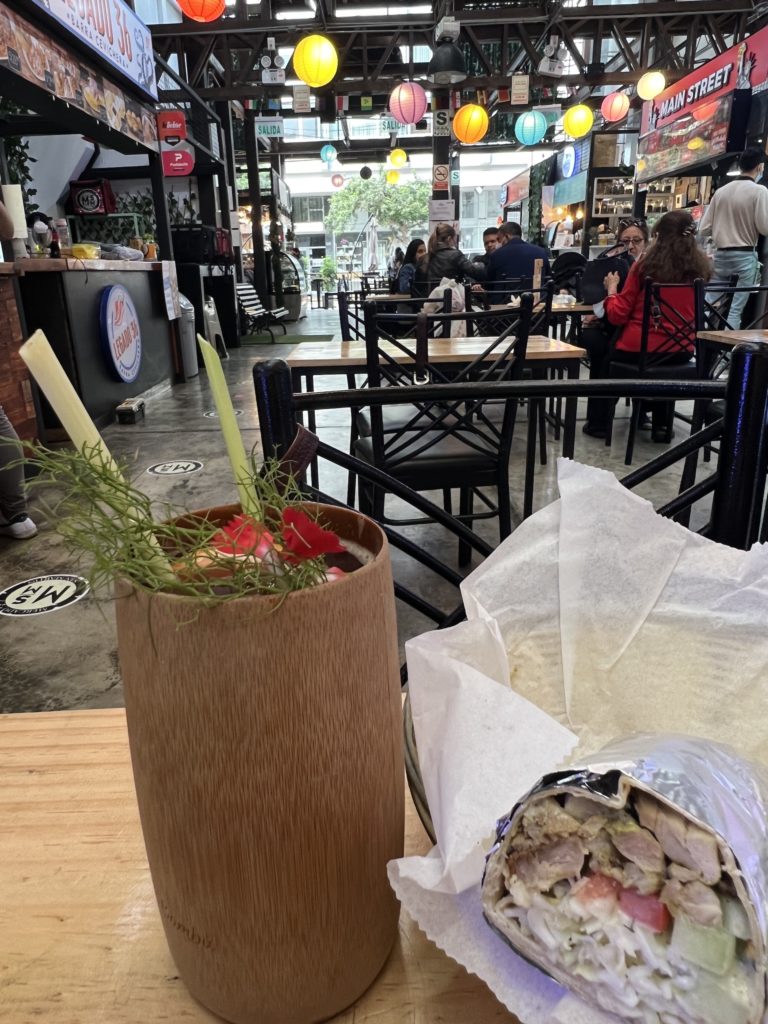 This is a must stop for a quick lunch when walking around. It has music and is just a cool vibe. Wouldn't call it fast food or like a mall food court but more a trendy eatery with a bunch of unique and tasty food trucks.
There is Middle Eastern food, Venezuelan, Peruvian, Mexican, burgers, sushi, ceviche, pizza, Chinese food, wings and more!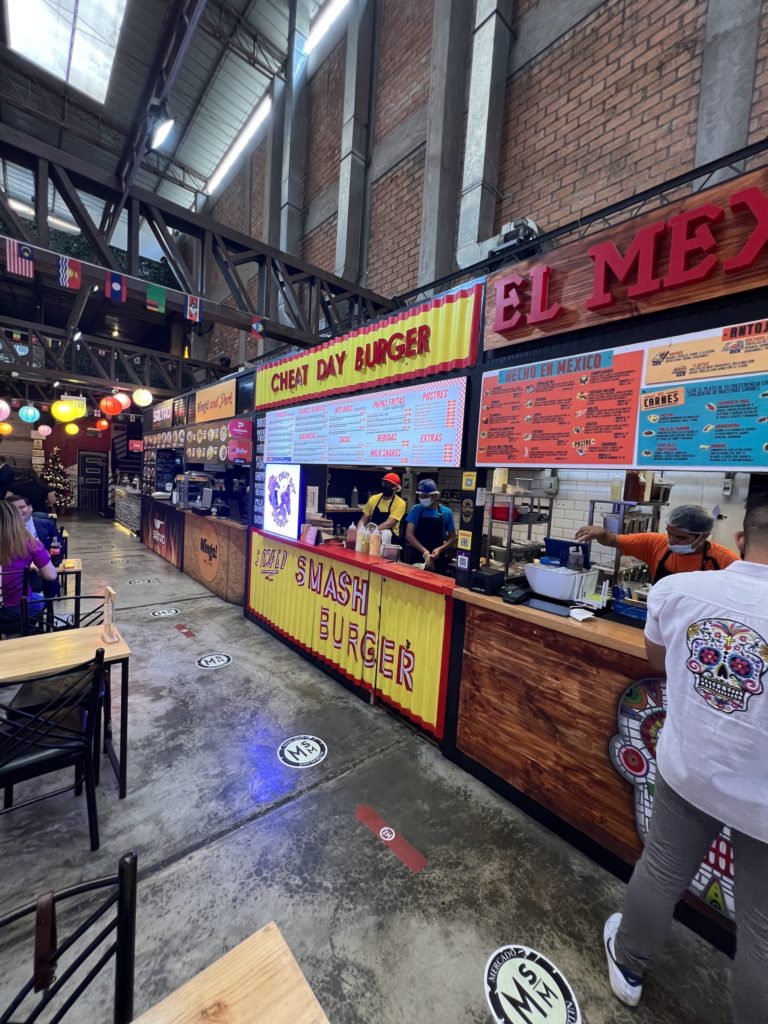 The medicinal tea bar is next level and a must try! Not only good for what ails you but also so tasty. I don't even drink tea unless it was tea parties with my late grandma.
Some other restaurants suggested to me by many were Mo Cafe for brunch, Merito for dinner and El Mercado for dinner.
Where you must go to get a Cocktail in Lima

As mentioned earlier Ca La as well as Garrison are some great options if you want something nice and trendy on the water or a pub feel.
With that said there are bars on every corner in Lima as it is known for being a big nightlife hotspot. One of best bars in the entire country is right in Barranco and you must visit it.

The bar is aptly named Ayahuasca and is one of the best looking bars you will ever come across. It has a ton of rooms from outside patio feels, to bar to lounge, this is a must stop on your visit to Lima!

What Neighborhood To Stay In Lima
When visiting Lima there really are only two areas you should stay in if you are a tourist. The best places to stay in Lima are Barranco & MiraFlores.
A couple of other options are San Isidro & the Historic Centre. I wouldn't stay in the Historic Center as it can be dangerous at night, however it is a good place to visit during the day.

Barranco is my favorite as it seems much more cultural & historic then the somewhat more urban Miraflores. I actually was not impressed by Miraflores where Barranco felt like you were in cool Latin American city vs. just another busy city.
Barranco's architecture, restaurants and easy walk down to the beach was much more of what I think you want in a trip vs. the Miraflores mall and main street.

Miraflores is still a spot to visit though and checkout the shops, restaurants & mall.
San Isidro is another nice upscale area of Lima with lots of great restaurants & nightlife. They also have some very nice parks and high-end shopping however you will be hard-pressed to find affordable places to stay there vs. Miraflores or Barranco.
Best Hotel In Lima

The best hotel in Lima you have to stay at is Villa Barranco. It is this beautiful old republican house built in the 1920s and is in the perfect location with ocean views!
I could go on about this amazing hotel, and I do in this article link here, from the perfect location to best decor to one of the best breakfasts on earth!

You definitely need to stay at Villa Barranco on your trip and read all about this amazing hotel here!
How To Get Around In Lima
Lima has Uber and that seems to be the safest and often the cheapest. From the airport Uber was 40 Soles vs. taxis being 50-60 soles.
There are a lot of reputable taxis so make sure you use them and not just hop into any vehicle claiming to be a taxi.