It's crazy but there are literally multiple storybook oases in the desert just outside of Phoenix, Arizona. It's incredible the amount of places within 2 hours of Phoenix where you can take a day trip to play in a waterfall or have a drink at an astonishing swimming hole. Whether you want to challenge yourself with something difficult or just drive up to something, there are water adventures abound at your toe-tips… is toe-tips a word? Can we use it more if not?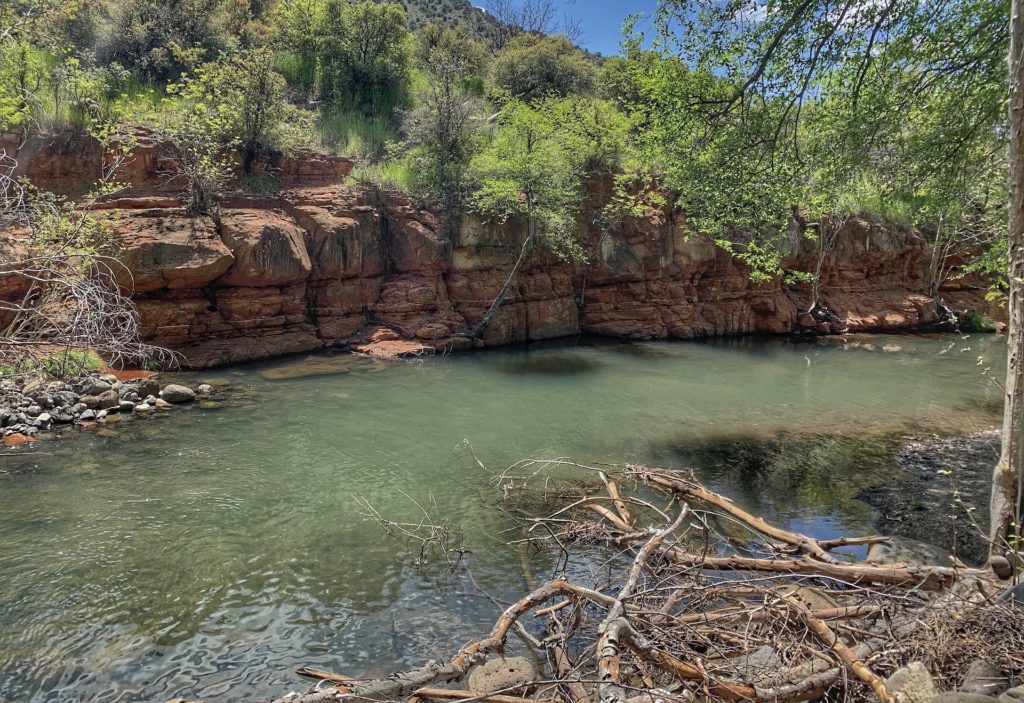 Some people have no ideas that Arizona has the most beautiful colored water in the country at our "toe-tips" with multiple cascading waterfalls adding to the beauty. Due to the advent of social media many of the best places are getting busy thus make sure to see if any permits are needed before planning your trip. In no particular, below is a list of some absolutely stunning areas near Phoenix that you must visit. Some of the best spots are around 2 hours away but that just means you should pack a picnic and have the best day trip of your year!
Tonto Natural Bridge State Park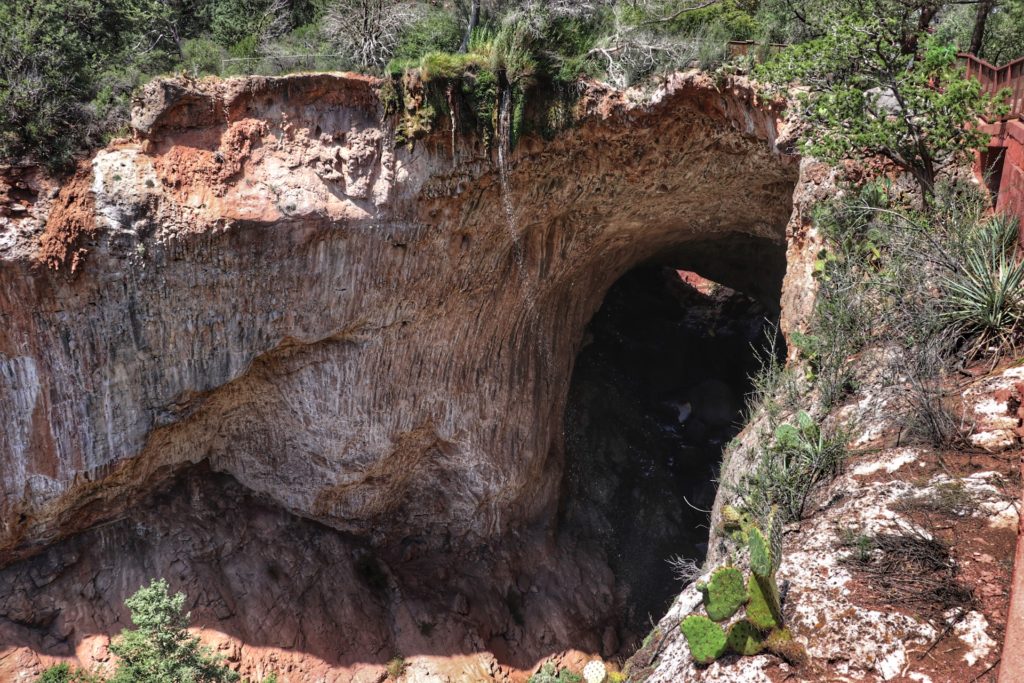 The Mogollon Rim and Payson area are packed with absolutely amazing things to see. Tonto Natural Bridge is a terrific spot right off the highway where you can get a hike in, go into the huge cave, dip in the water as well as enjoy a beautiful little waterfall. It's extremely serene and you can choose whether to walk for an hour or do the longer hike and enjoy half a day here. With picnic tables and site-seeing ledges this spot is great for families and adventurers alike. The only downside is it's not dog friendly… I mean it's 2019, how do these racist rules still exist.
Not to be confused with Fossil Creek, Bob Bear/Fossil Springs is my favorite hike in Arizona (aside from Havasupai) and it has the best water activities to spend a full day hanging out. I have seen children under 10 do the hike, although it definitely isn't easy. I could go on about this place as it offers the most payoffs of any hike in Arizona (aside from Havasupai) with a waterfall, cave, swimming hole and the infamous toilet bowl.
Permit needed. 2 hours from Phoenix.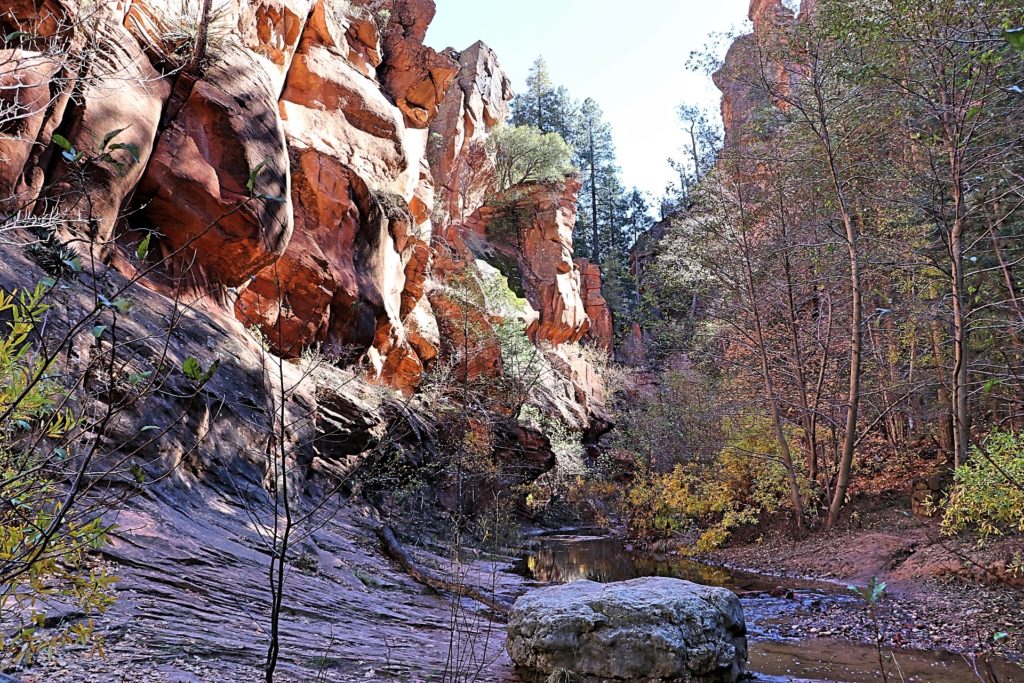 One of the most popular hikes in Sedona and for good reason. It is an easy hike of which you can turn around at any time meaning any fitness level can do this one. It is consistently shaded by trees and you cross the water every half mile or less making it constantly refreshing and cool. For a more fun unique adventure you can just walk in the water the whole way up as long as it isn't going to fast when you go.
Parking pass purchased on site but sometimes there is a long wait. 2 hours and 15 mins from Phoenix.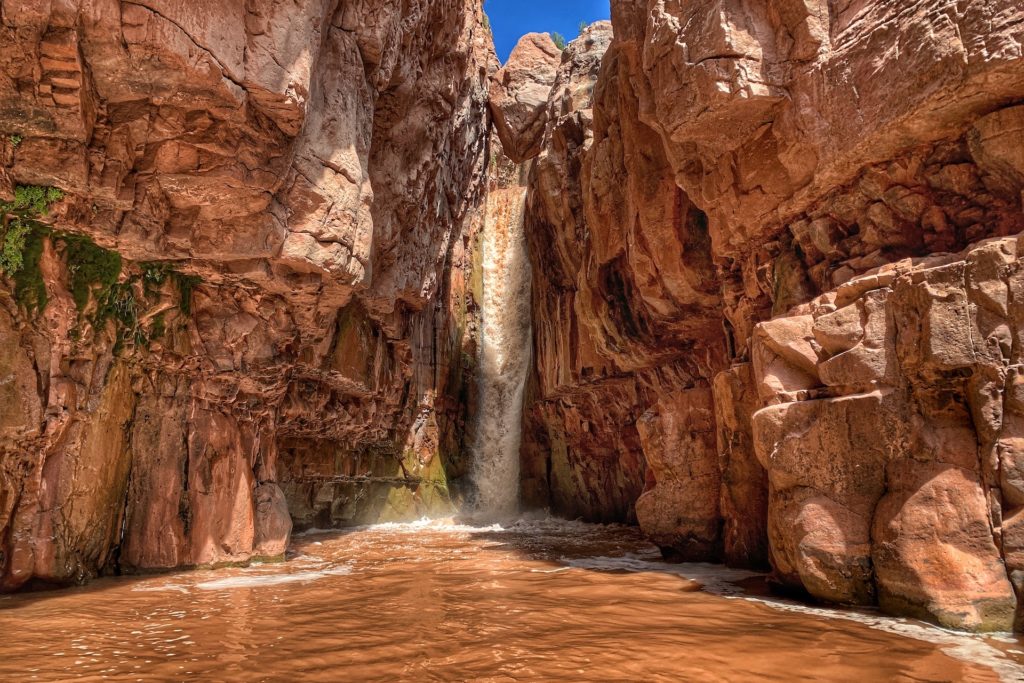 This might be the best hike to escape the heat as you are constantly in and around the water leading up to the falls. Is a nice little hike that is often shaded and gets you in the water plenty throughout the hike so you will surely be cooled down, which is the point of this article now isn't it… There is also a little cliff jumping if you're into that so make Cibecue a priority for your summer. Depending when you go the water will be murky or can be a beautiful blue/green. However, any water color is amazing a it is really the canyon that makes this ares so beautiful.
Permit needed. 2.5 hours from Phoenix.
Seven Falls Trail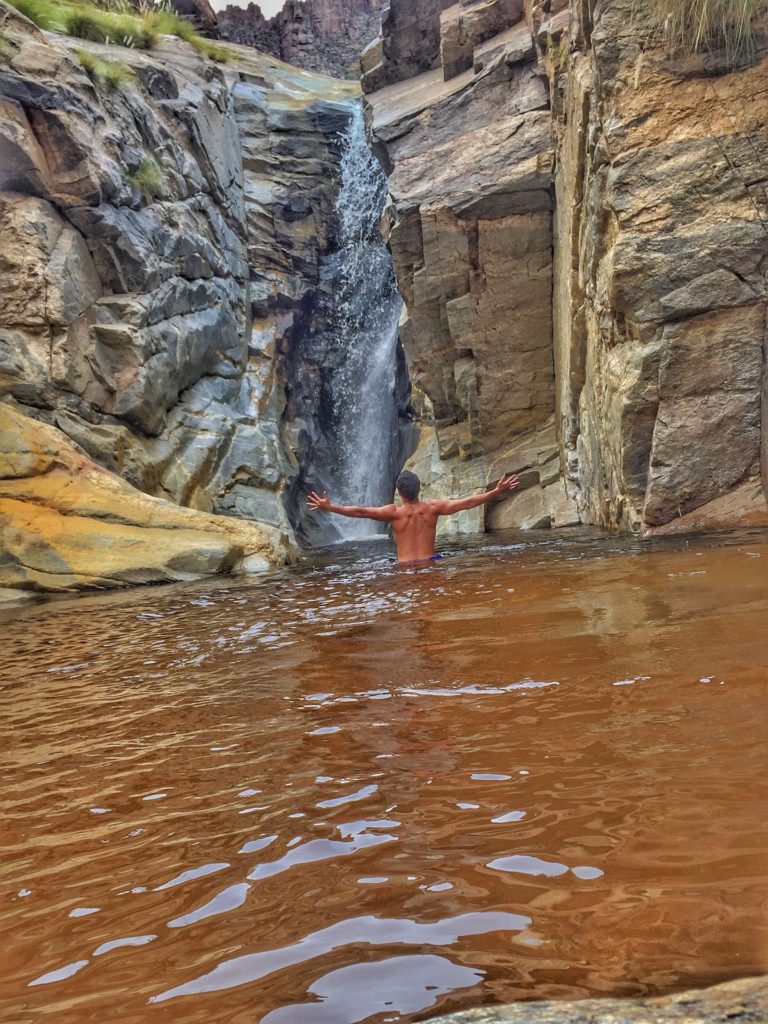 There's nothing better or more relaxing than a waterfall, let alone seven of them. Two hours from Phoenix and within Tucson city limits is another waterfall gem. This hike takes you criss-crossing seven times over the pretty Sabino Creek with some great fauna displaying nature at its finest along the way. The hike itself is long but pretty flat and it is very cool for kids if they can make it.
Parking pass purchased there and it is 2 hours from Phoenix.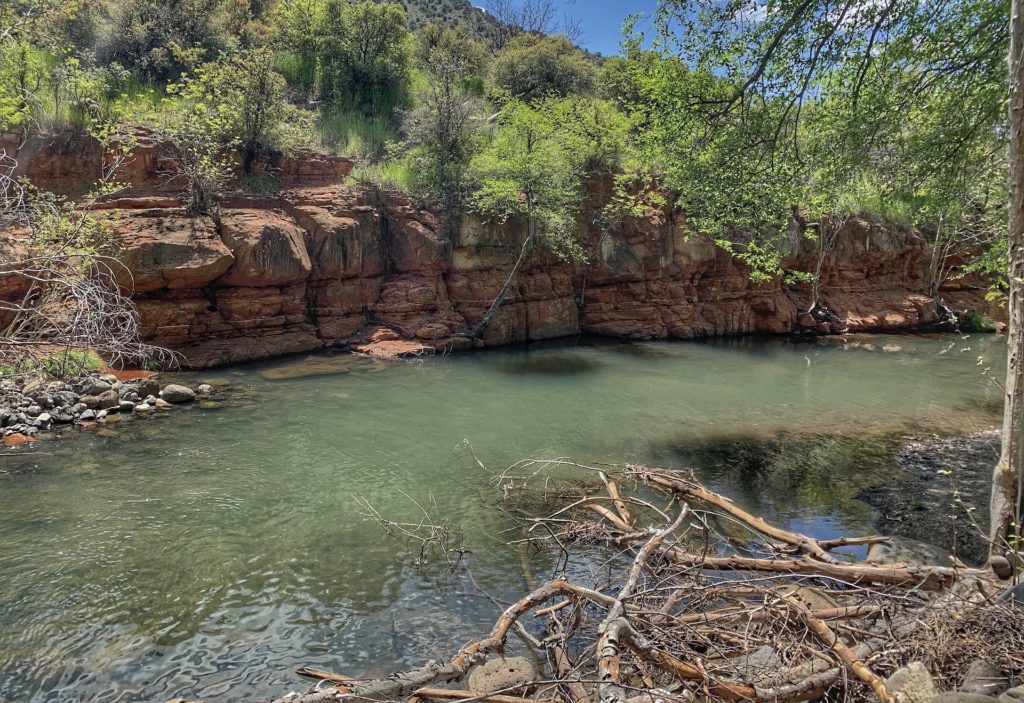 An awesome hike with the best swimming hole in the area. There are also some great springs at the beginning that you can cool off in instantly to start your trip off right. Definitely take your time and enjoy yourself as when will you be back again? The hike itself is pretty flat and good for all ages although beware the heat of course as a lot of it is in the open.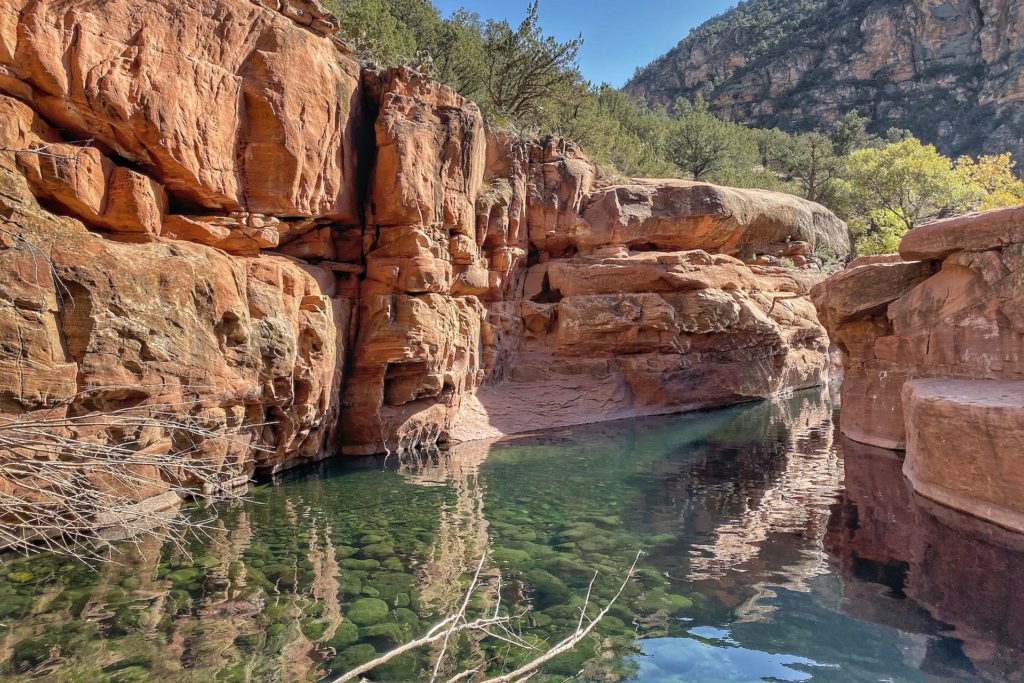 No permit needed. 1.5 hours from Phoenix.
Water Wheel Falls
True story, on the way there I played Darius Rucker's Wagon Wheel on repeat for an hour driving my li'l lady crazy only to find out it isn't called Wagon Wheel. Dumb story… anyways this is a cool spot where you can hike all the way up the smaller falls leading to the larger one at the end. The hike itself is a great distance for all fitness levels and it is definitely best for families out of any of the options in this article. The water is far from crystal clear but go for a mud bath and cool off in the swimming hole at the top. You can also do mini cliff jumping at the end from the random log. It normally is pretty busy so try to go during the week to avoid crowds.
Parking pass purchased there. 1.5-2 hours from Phoenix.
Fossil Creek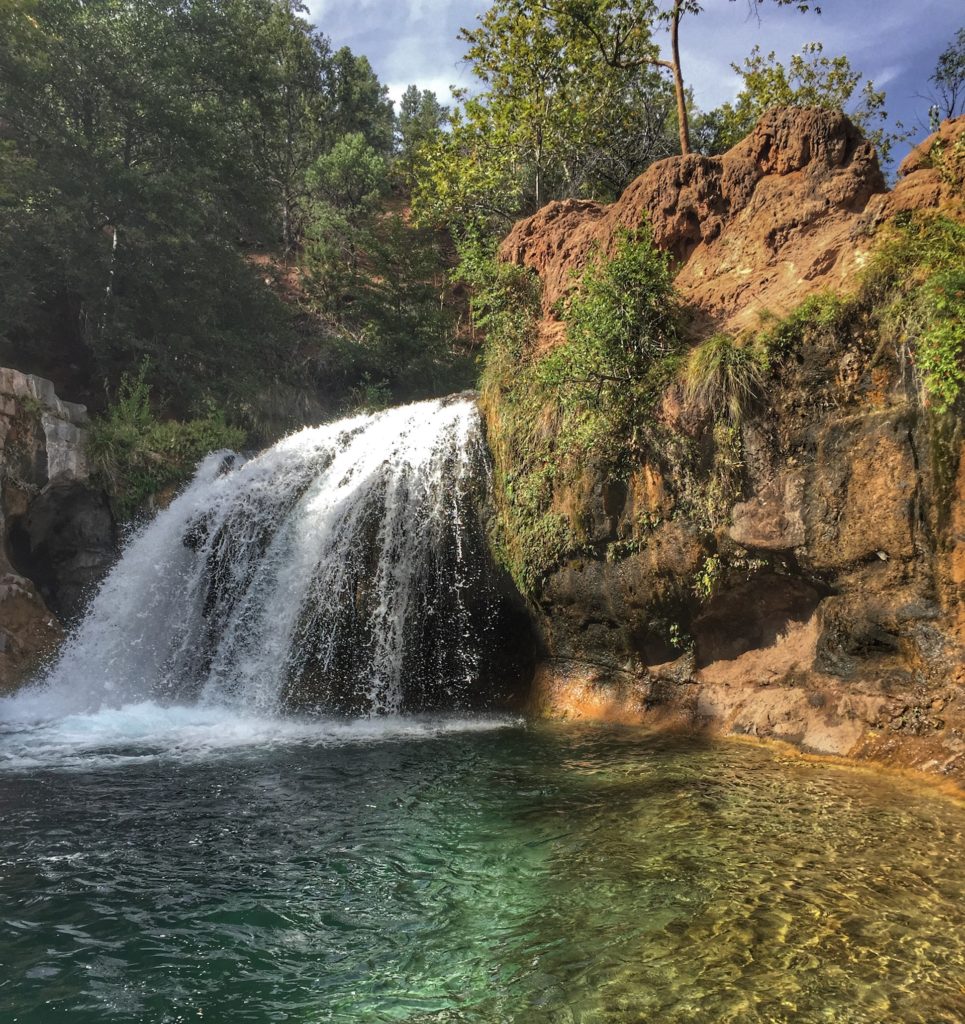 Maybe the most well known waterfall in the area and it is absolutely stunning from the falls itself to the water and creeks all around it. Not to mention, if you have ever wanted to go behind a waterfall then you can check that off your bucket list because there is a little cave behind the falls. There is also amazing cliff jumping and you can go for a hike up past the falls if you wish to some pretty springs. It isn't much of a hike to the falls and the hour of driving on the awful road from Camp Verde isn't ideal for lower profile cars. Bring a cooler, some friends and go enjoy this real life desert oasis.
Permit needed. 2 – 2.5 hours from Phoenix.
Want to improve this list for version 2.0?
Let me know in the comments and can improve for next time!