I love food… always have… I'm sure most people do so I don't know why I even wrote that… anyway… in my life and travels there have been some meals that have always stuck out in my mind as a food experience like I have never had before.
The most important part of these meals wasn't just the food but more the entire setting, environment and feel… sure you can have a great tasting steak at a fine dining restaurant but this article takes into account the atmosphere, ambiance and timing of the meal as what has set them apart from all others.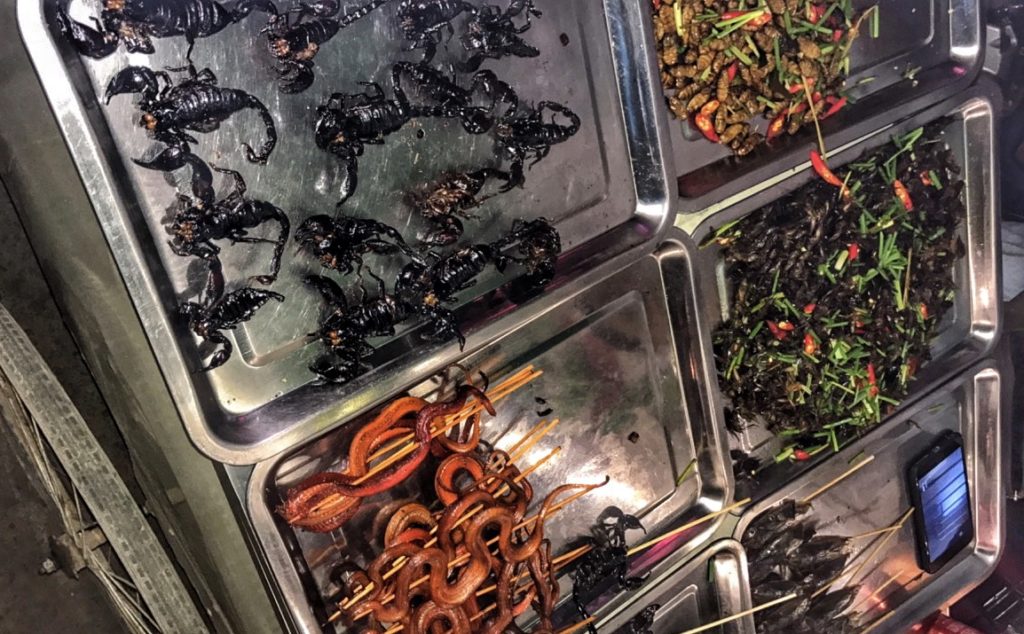 No this meal pictured above wasn't a favorite but wanted to include it to let you know I will try anything once! Back to the meals, you will find meals below from Asia, Europe, South America, Central America, the USA and Canada!
These meals stretch back to 2003 and all have stuck out in my mind as hands down above the rest. Some meals were amazing tasting, some were unmatched ambiance, some were better due to a series of events leading up to the meal and some were just a few of the coolest experiences I have ever had.
Jungle starvation, cheap seafood feats, night markets and more as you will see! please also excuse some of the terrible old pictures as many of these pictures were taken well before I even thought of having a website.
17. $40 4-Person Seafood Feast – San Juan Del Sur, Nicaragua

It was 2010 and this meal is one of the first meals I can ever remember where I was like… wow, how am I here? We felt like we were at the king's table as a huge plate covered in seafood was put in front of us like I had never seen before… and it was right on the beach!
It was $10 per person, basically all you can eat, and we got a drink included. Legitimately this plate in the US or Canada would be $250+ and of course the seafood was so fresh being right on the ocean.
Something else that made this meal memorable was it was the first time I had ever had grilled octopus. We didn't even know what it was on the plate and it was one of the best things I had ever tasted.
The way they grilled this meat I first thought it was some tender steak filet but with 2x the taste, it truly was incredible. The bad news is I forget what exact restaurant this was, the good news is that you'll probably be in SJDS for longer than a couple days thus you can restaurant hop easily until you find it. There were a couple of places that offered this plate and only a handful of beach restaurants so surely you can narrow it down.
16. Chicken Fingers at Wet Republic – Las Vegas, USA
This sounds ridiculous… unless you have had them. I actually just talked to a friend who is a server at Wet Republic that said they are still their best seller! I had these in 2012 and will never forget as they are the best, juiciest, most perfectly breaded and incredible chicken fingers on earth.
I am not even a chicken finger lover or anything either, I probably have had them like once since 2012 but that is how good they are! It probably helps that if you are at Wet Republic you might be hammered drunk and anything tastes amazing but I guess that just leads to my point at the start of this article now doesn't it.
15. 1 De Junio Street Food Stands – Puerto Penasco, Mexico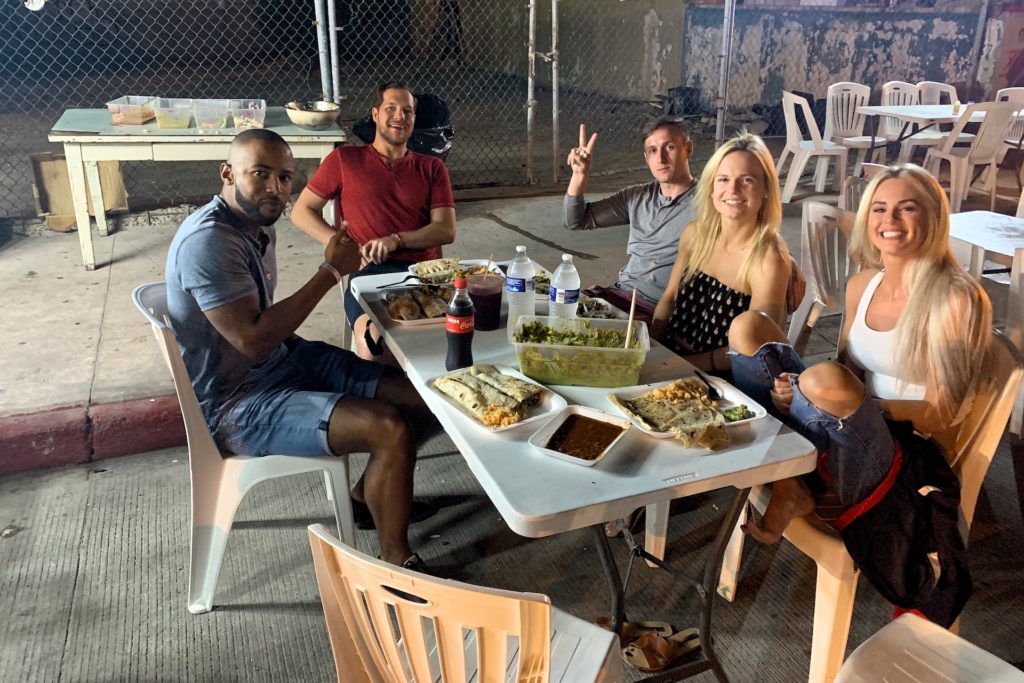 There are tons of off the beaten track food stand areas in Mexico that I LOVE including Parquet De La Palapas in Cancun. What makes Parquet even better is that you normally will be the only English as a first language people there. If you have never been, go check it out, it is only 10 mins from the touristy area of Cancun. With that said, just check out my Best Day Trips In The Mayan Riviera and Cancun HERE.
Anyways, back to Puerto Penasco of which if you read any of my articles you know I love it due to the bang for buck and its proximity to Phoenix, AZ. I tell everyone in AZ to go there over San Diego and SD is one of my favorite cities in the US!
Furthermore, this street just made me love the place even more as you see since it made this list! It turns out most places at the downtown port in Rocky Point stop serving food at 10pm. We were struggling to find a place to eat until we came across this street meat utopia a block up from the main port road on street 1 De Junio.
The street opens up to 10+ pop-up street vendors with little plastic chairs and tables set-up on the street to give you one of the coolest most authentic dinner settings I've had in some time.
Everyone in our group LOVED the food and had so much fun just sitting down outside with basically an all-you-can-eat feast for about $40 total between the 6+ of us. It was such a great time and cool experience so you absolutely have to go. If you need the best 11 things to do in Rocky Point / Puerto Penasco, check it out HERE!
14. Random San Diego Chargers v New England Patriots Tailgate – San Diego USA
This sneaks in here as it was the most random amazing meal. A group of us were in SD for the football game and my brother/uncle (different story don't ask) is a Patriots fan who was befriended by these Patriot fans that had one of the most insane tailgates I have ever seen.
These guys flew into from Boston and brought seafood with them! Here they are cooking giant pots of lobster, crab and other shellfish, which was all covered in this incredible sauce.
Not only that, they were grilling filets as well, so here we are with better than restaurant quality surf and turf outside of a football stadium… while they handed us beers, in San Diego 80 degree weather… doesn't get much better than that. The only thing that ruined the day was when Auntie Tara gave us this herbal hangover helper / apparent laxative and from there we have the infamous "sock story."
13. Galitos Grill Ipanema & Any Acai Spot Nearby – Rio De Janeiro, Brazil

I spent 2.5 weeks in Rio for the World Cup in 2014 and after 1.5 weeks of trying everything I pretty much fell in love with two things, which I lived on until I left. Galitos Grill is a chain with 3 locations and it is that perfect mix of something quick but also amazing. I literally lived on their chicken, rice and hot sauce.
Their chicken was incredible and only one other place in my life have I remembered chicken as good as theirs (that chicken spot is to come in this list!).
I don't think I ever had acai before, let alone acai bowls and as you probably know by now it is one of the best things on earth. Acai is also apparently one of the greatest superfoods while it also tastes amazing!
It is so good I brought the recipes back home and started making it myself into one of the healthiest meals you can have! Get the easy & quick acai bowl recipe here! Pictured below are some fun I had with all of the ideas you can do, or just make a simple one of course :).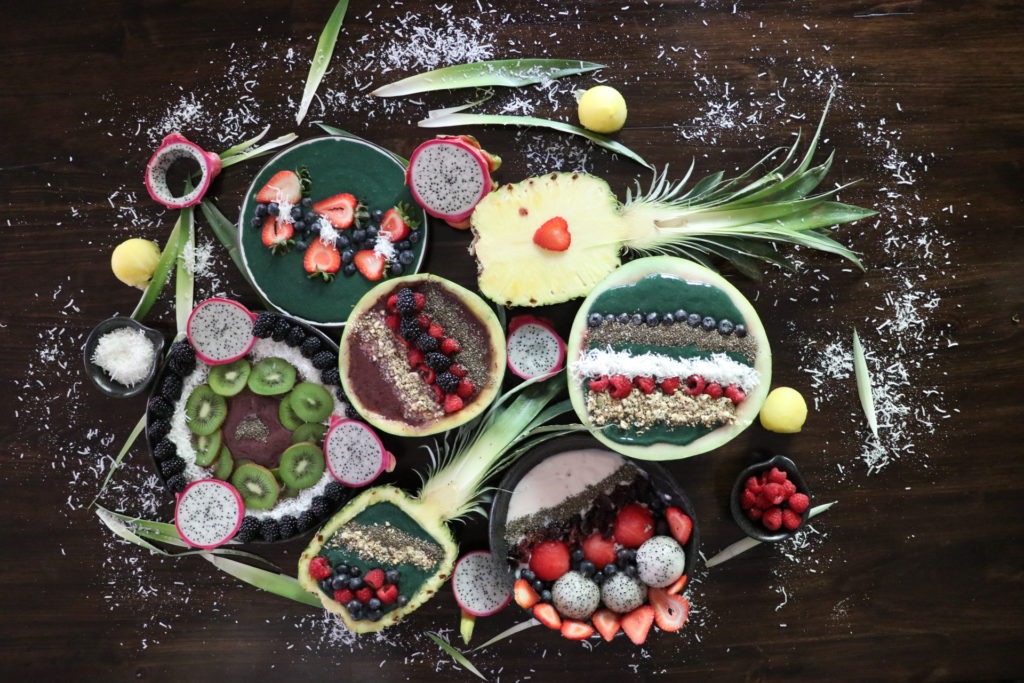 12. Etouffee at Yats – Indianapolis
Yats is one of those places you walk in hungover or just standard hungry is fine too… and say "F**k me up." This place is so good that in the last 10 years it went for 2-3 locations in Indianapolis to 14 across the midwest! I don't know what it is but Indianapolis is probably my favorite place for low-middle priced food in all of the USA.
Well… I know partially why as Indiana isn't known as the health capital of the US but… it literally has the best options of ton of my favorite foods. If you Google Yats in the news you will see it has been published in pretty much every newspaper/website/magazine in the midwest… as I alluded to above, Indy knows their food.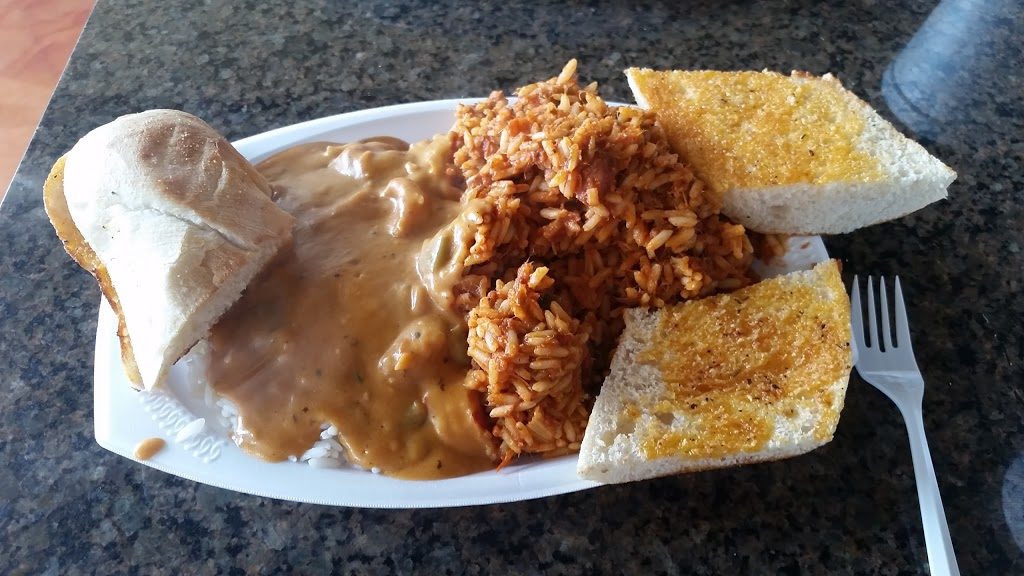 Like some of the meals on his list Yats is another where I had never really had cajun food before and WOW. Now, I am sure New Orleans has better cajun food and when I get there I will try it and maybe update this list. However, Yats is good for a few reasons more than just how good the food tastes. 1. It is quick. 2.
They have multiple different daily etouffees to pick from and you can even mix and match. 3. It is $8 for a pick from their daily Etouffees as well as some garlic bread. 4. Said garlic bread is out of this world! 5. Even people from cajun country say this as good or better than Louisiana. 6. It is dog friendly. Simple, quick, likes dogs and tastes amazing… everything I want in a meal.
11. Meat Pies – Tauranga, New Zealand; Sydney, Australia; or Big White Ski Resort, Canada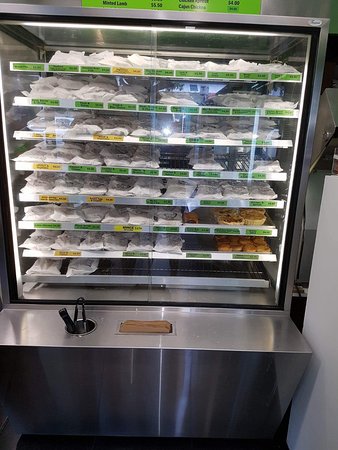 Anyone who has had meat pies knows what's up. Such a great concept and the best part is all of the flavors it comes in! I was introduced to meat pies at Big White Ski Resort in Kelowna, Canada in the early 2000s and have never looked back.
There is a large Aussie presence at Big White and they have a post-bar stand outside of Snowshoe Sams with a few different filling options, which is clearly the perfect late night meal. From there I tried them in Australia and then found a utopia in Tauranga, New Zealand where they had like 25 different options!
If ever in Tauranga, NZ, One Tree Bakery is the spot. It is on Maunganui Rd and is heaven, plus they are so cheap at like $2-$3 each… I'll take 5. If you don't know what meat pies are, they are this pastry crust filled with tons of meat options, spices, cheeses and vegetables.
There is chicken cheese, pepper steak, lamb cornish pasty, pork & puha, bacon egg, chicken curry… and it goes on. This is definitely next on my list for making them at home, especially if hosting a party!
10. Catch NYC – USA

OH MY GOD. If you are ever going to go all out and spend on a meal… this is the place. Top 2 best surf & turf I have ever had, best lobster mac n cheese and really anything and everything on this menu is top 3 of its kind ever.
Whatever sauce or marinade they have their steak in is the best thing on earth and the meat is beyond melt in your mouth. Not to mention the ambiance is also at the very top of the list for places to visit. While the restaurant is one of the best on earth it also is a perfect cocktail bar with a rooftop with incredible decor.
If you want to impress someone or just have one of the best meals of your life… get here. It is so good it actually is one of the favorite restaurants of one of the famous foodie duo @blondeswhoeat.
9. Caribbean or Jamaican Brown Stewed Chicken – Belize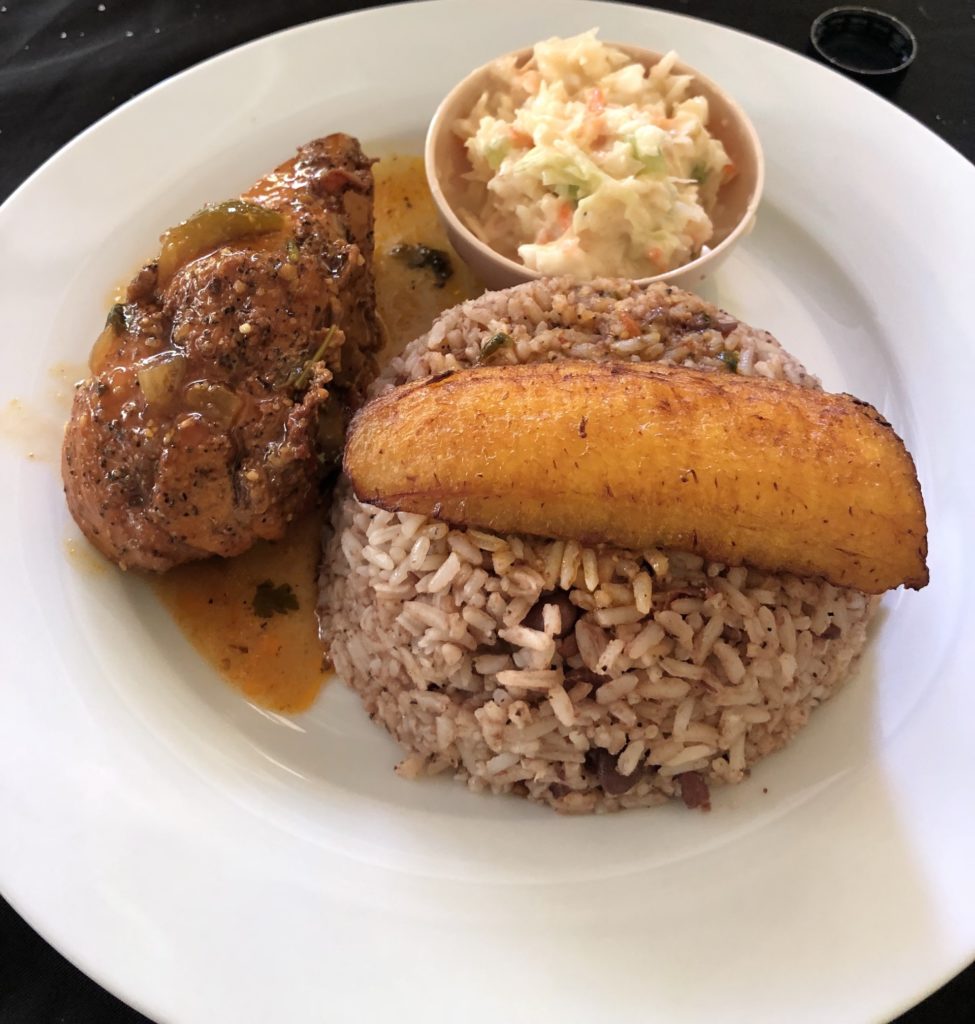 One of my new favorite dishes is stewed chicken as it is incredible! Ironically in Canada we have something similar but it has a lot more special sauce (ketchup) than anything else.
I guess through the game of telephone going South to North a few items got left out and more ketchup got added. Anyways… this stewed chicken is next level and the addition of the caribbean pepper sauce makes it even better. On our 2 week trip I probably ate stewed chicken 27 times.
If you are in Belize, Jamaica or anywhere with some Jamaican influence then be sure to find this! The stew itself is so tasty but then you add in this tender chicken that has been marinating and cooked in the stew… wow.
8. Our Family Christmas Dinner – At Any Grandparent's House

I am sure this goes for any European family holiday dinner but if you get a chance to marry an Eastern European, or just invited to a holiday dinner… make sure you do it. When my Canadian/German grandparents and Ukrainian grandparents got together it was always the meal of all meals.
The long story short is that it is always a dinner for 35 people, even if there is just 6 of you. Pierogies, 2 types of chicken, ham, roast beef, 6 types of potatoes, dampfnudles (google it), cabbage rolls, bread, 7 desserts and of course the meal of meats/cheese/pickles etc before you sit down for dinner.
They both also made their own homemade pickles and of course to me that is beyond the clincher. I know this is more of a personal anecdote but I had to let you know all my favorite meals and here is one…
7. Mercado de La Boqueria – Barcelona, Spain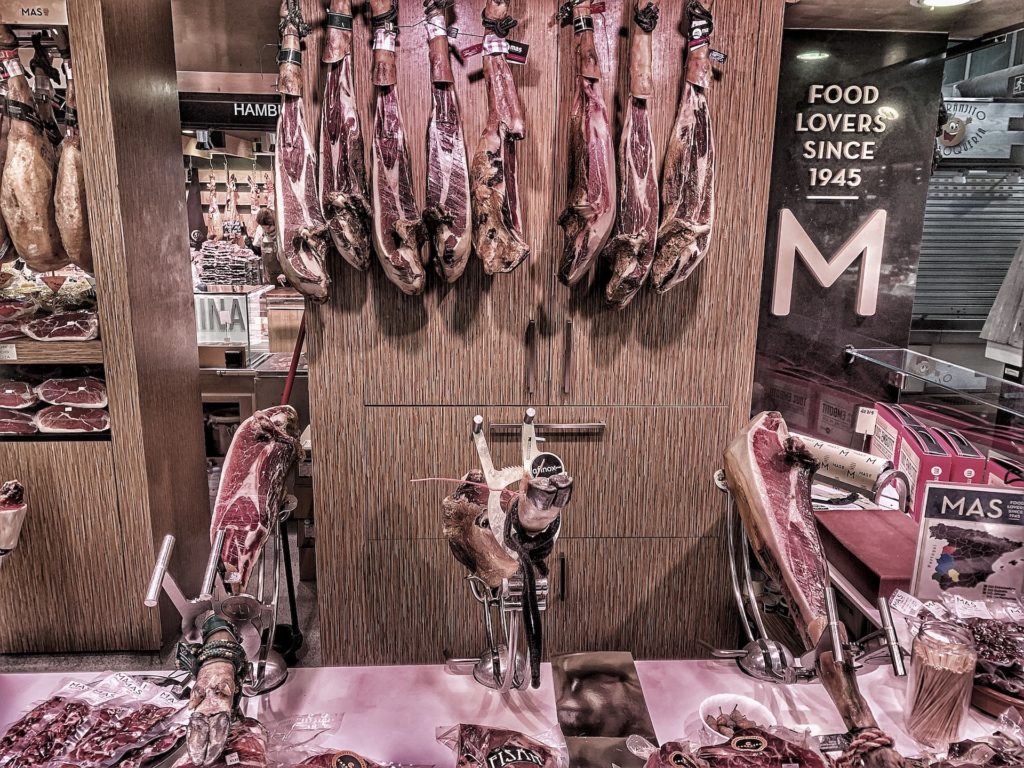 This is probably one of the coolest and most unique meals coupled with a great experience you can ever get. Head here with $10 and enjoy one of the best meals you will ever have.
Imagine an enormous warehouse that is full of tons of different food stands offering meats, fresh oysters, tropical fruit, pizza, nuts, raw sea urchin, gelato, wine, empanadas, sushi, smoothies, cheeses, fresh juice, olives, salads, bars, fried seafood baskets and dried ham or Jamon trimmed off the bone right in front of you.
Yes I listed those all just so you could have it ingrained in your brain that it is worth it and offers so much stuff! It is truly a culinary melting pot offering dishes from all nationalities under one roof.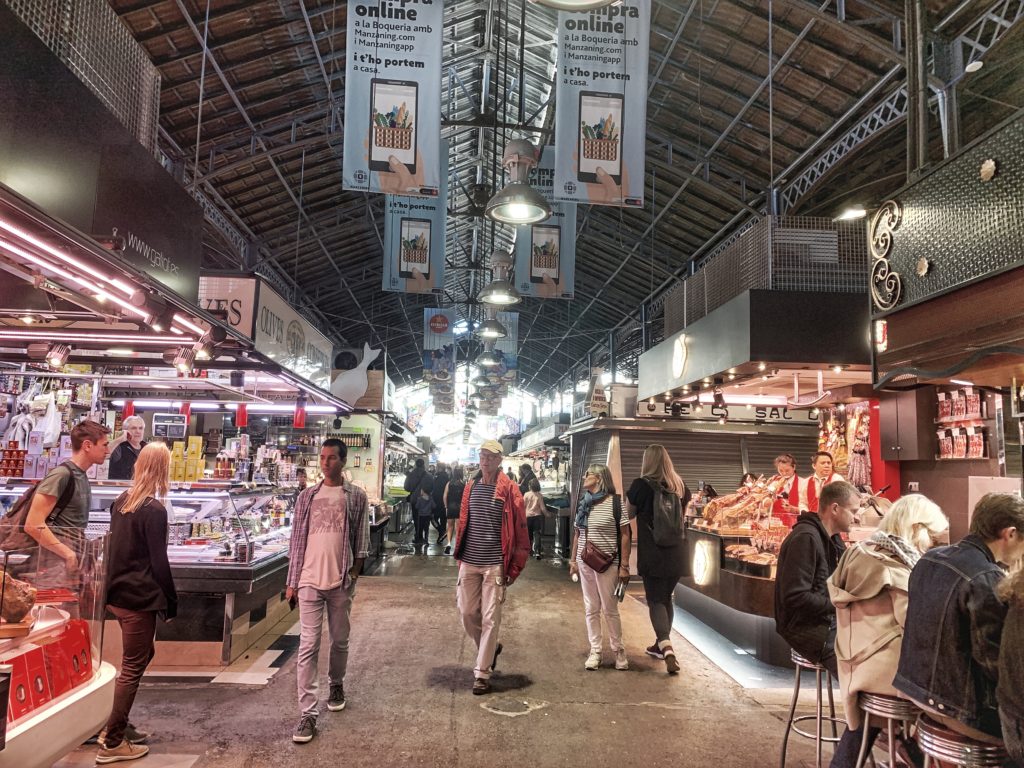 Everything about La Boqueria is enthralling from the hustle & bustle of the market, the unique smells and the new sights you see around every corner.
It was named Best Market in The World at one time and when you walk in you will understand why. It is definitely one of those places that just gives you "a feeling" and takes you back in time giving you an experience you can't get at home. As you know my whole site is about giving you unique experiences you can't get anywhere else… and this is one of those perfect places.
8. Salt Lick – Austin, TX USA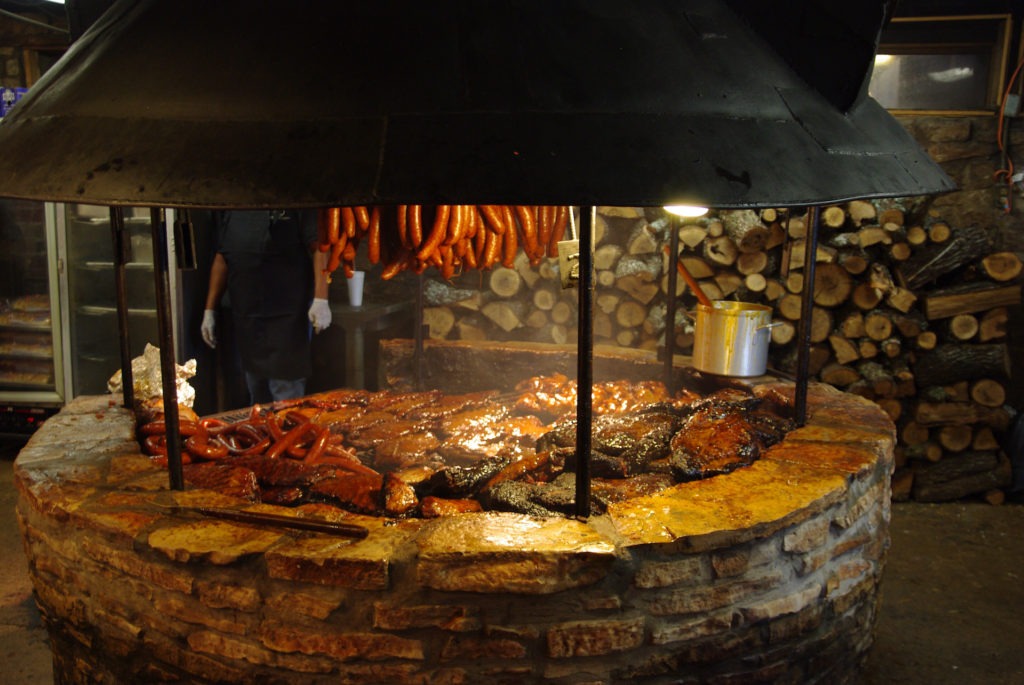 This meal almost killed me. I was worried eating too much meat could lead to death but thankfully that only happens if you just eat lots of red meat every day, which down the road could lead to heart disease.
Well… anyways, I had meat sweats, meat pains, meat tears, meat flashes and really everything you could imagine… but fuck was it worth it. Hands down the best BBQ I have ever had and you have to go there. There is also one in the Houston Airport, spoiler alert, it's not as good obviously as it doesn't have the atmosphere or taste.
As with most places on this list, it isn't just the food that makes it special but really the entire ambiance and vibe of Salt Lick, which is technically in Driftwood, Texas. First of all it's BYOB, which any place like this is incredible in its own right. Second, as you can see above… the meat pit when you walk in already sets the tone for what is about to happen to your mouth.
, it was like $17 for all-you-can eat, they just kept bringing more and more and more food. Add this to the "F**k me up" list of restaurants where you know you're going to be rolling out of the restaurant. I am not even a big sausage lover… make your jokes (ideally in the comments so I get a better Google ranking)… and their sausage flipped me on my head, it might have been my favorite thing!
Thus, get to Austin, put on sweatpants, bring a cooler of beer and cancel all plans that night aside from rolling on your floor moaning in a painful ecstasy… weird that sounds like my friend Mitchell's Tuesday night… but you get it.
5. Kevin Backer's Dads Farm – 100 Mile House
This one sneaks in there and is random af but I have to stay true to my favorites and I am not just going to throw in some exotic meal in Fiji just to sound more travelled and mysterious. This meal was 100% because of the series of events leading up to meal but also how fresh the steaks were. Let me set the stage for you as to why this meal was extra good with a little trip back in time.
We had just played in the roughest soccer tournament in the history of soccer tournaments. The tournament was in Prince George, BC, which is basically the arctic. If you have never been to PG; get in your shower, turn on cold water, poor an ice tray on our head, pee down your leg… and boom you've got Prince George (kidding, it isn't that bad and I loved it as a kid skating on outdoor rinks).
The tournament was a futsol style in the middle of the winter on a cement floor with knee-high sideboards, which were a perfect level to fall over or tear an ACL. However, do not fret, as they decided to have this inch thick chain dangling from rusty poles around chest height so when you fell you could either take rusty chain link to the throat or get impaled on said poles.
Add in that you play against mostly a bunch of mountain men and Native Americans who just want to kick the shit out of any player with a lick of skill. Long story short… you end up going home freezing cold, black & blue all over you body and probably in at least one fight.
There's also a good chance you went out hard drinking every single night chasing PG trim (oxymoron) thus your body really hates you on the long drive home.
So there's the lead-up to the meal. We have a 7 hour drive ahead of us and are a mixture of starving/hungover/sore/dying. Kevin suggests that we have to stop by his dad's place on the way back home and all I can think is "fuck, here we go."
The last thing I want to do is talk to people as I just want Mcdonald's and sleep as much as I can… but he is one of my best friends so of course we all have to stop and see his pops. Similar to the aforementioned Ukrainian meal, this is right there with where we had food for 28 people and there was only 5 of us. He had garlic shrimp, baked potatoes smothered, asparagus and all the other fixxxxins for this feast.
Then out comes the trophy piece… steak that I am pretty sure he just cut off the cow as we drove up to the house. The meat was so incredible, fresh, luscious, palatable and every other adjective you can find for meat. It was so good I ranked it above Catch NYC, which is arguably one of the best restaurants on earth!
Unfortunately they sold the farm a few years ago so you can't stop in on him and demand this dish but let me see what I can do!
4. Jungle Rat & Chicken Stand – Chiang Mai, Thailand

Thailand… what can you say really. Sure it has lost some of its luster in the last 15 years since everyone on earth is going but it is still a great place for a first time traveller to Asia. Chiang Mai is one of my favorite cities on earth for tons of reasons as it is such a cultural epicenter, one of my favorite experiences was there and of course a couple of my favorite meals.
The rat, pictured above, wasn't my favorite meal from Thailand but I included it as it is less grotesque than the chicken coop pictures I have (thanks a lot everyone who is offended by anything)… you know what fuck it, I'm posting it, this site is for real shit and you're gonna get real shit.

There… take that millennials or overly sensitive vegans… it's real life from a different culture, deal with it. Back to the the story… the scene is Thailand 2005 and I am with one of my best friend's Andrew Rose.
We go to Chiang Mai and signup for a jungle trek for 3-4 days. As this being our first time in Thailand we didn't know what to expect for a jungle trek but it sounded exciting. Well, it was something I will tell you that.
We slept in stilt tree type houses, bathed in ponds, rode elephants, found biggest spiders on earth INSIDE of our bug netting, slept on a hard floor, I picked fresh lychee daily from trees, had leatherbound books for pillows and literally ate the exact same thin/spicy/bathroom inducing curry for every single fucking meal.
I hated curry for like 10 years after this trip as it was all we ate over and over and over… imagine eating something that sent you right to the bathroom/behind jungle bushes for 3+ straight days and hiking through the jungle on top of it.
The food hurt so much that when our guide cooked up the rat above… you can bet I was eating it. Not only did I eat it, it was amazing, it tasted like teriyaki chicken! Keep in mind this was jungle rat that ate food out there and not NYC subway rat eating garbage and wading in sewers. Yes, I really liked the rat!
After 3-4 days of eating thai flavored ex-lax and enjoying rat we were beyond starving looking forward to the first bit of sustenance we could get our hands on. The bus drops us off at our hotel and we sprint across the street to this little hut that just served chicken and sticky rice.
As you can tell from the picture above, the chicken was fresh… What also made this meal so good is that we paid like $5 each and it was enough food for 15 people.
Furthermore, as you may know eating sticky rice with your hands is common so imagine being starving, depleted, running on fumes and literally shoving handfuls or rice down your throat followed by the best chicken ever, then rice, then more chicken, then drinking coke from a bag, more chicken… and so on.
This was another "extra good due to a series of events" scenarios but damnnnn that shit will stick in my memory forever.
3. Cappuccino or Anything in Rome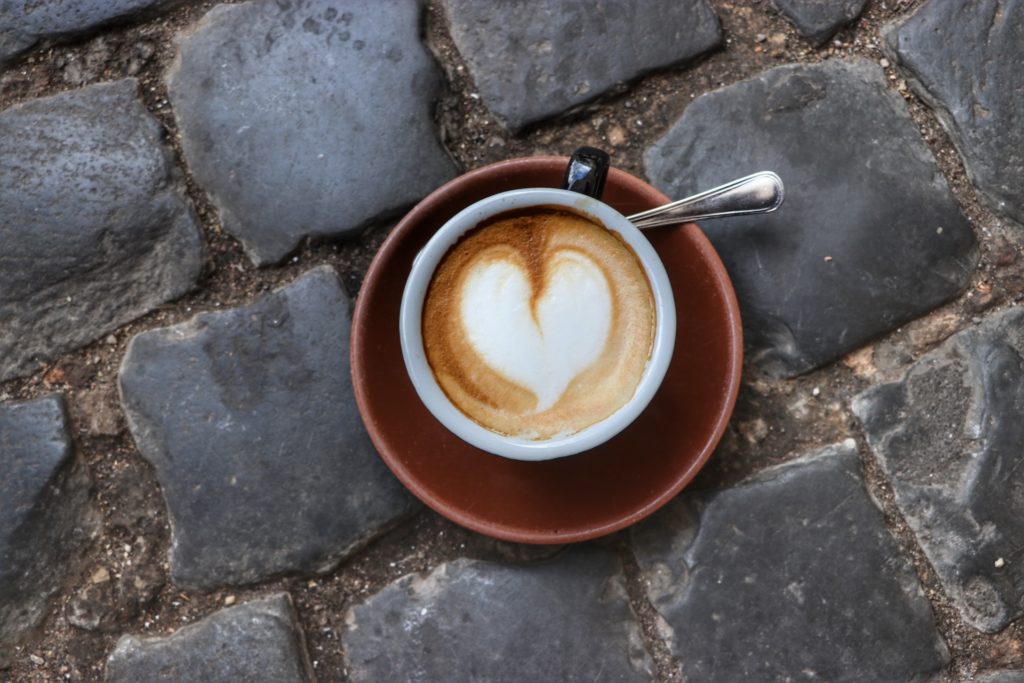 If you haven't read any of my Rome articles then you need to get on that ASAP here. You will soon find out it is one of the most amazing cities on earth and is in my top 3.
The thing about Rome is that you literally cannot go wrong… sure there are some more well reviewed restaurants or places featured on a show or website… however you can walk anywhere in Rome, sit down on a patio and be served one of the best meals you'll ever eat.

Whether you want pizza, pasta, fruit gelato or cappuccino there is a good chance it will be the best you have ever had. True story I don't like coffee at all… I just started drinking a form of coffee for the first time last year. My drink of choice is an iced mocha latte with almond milk, essentially a chocolate milk.
With that said, the cappuccino in Italy is like nothing I have ever tasted before, it is absolutely ridiculous. I talked to a friend from Italy and he mentioned (biasedly) how literally every other cup of coffee he had is shit compared to Italy… and I don't disagree.
What adds to the perfection is that lots of places in rome will throw tons of bread, oil and snacks at you if you order a beer or drink, it's the best! Italians love their food and all you can do is keep eating as you walk around Rome viewing the gorgeous sites.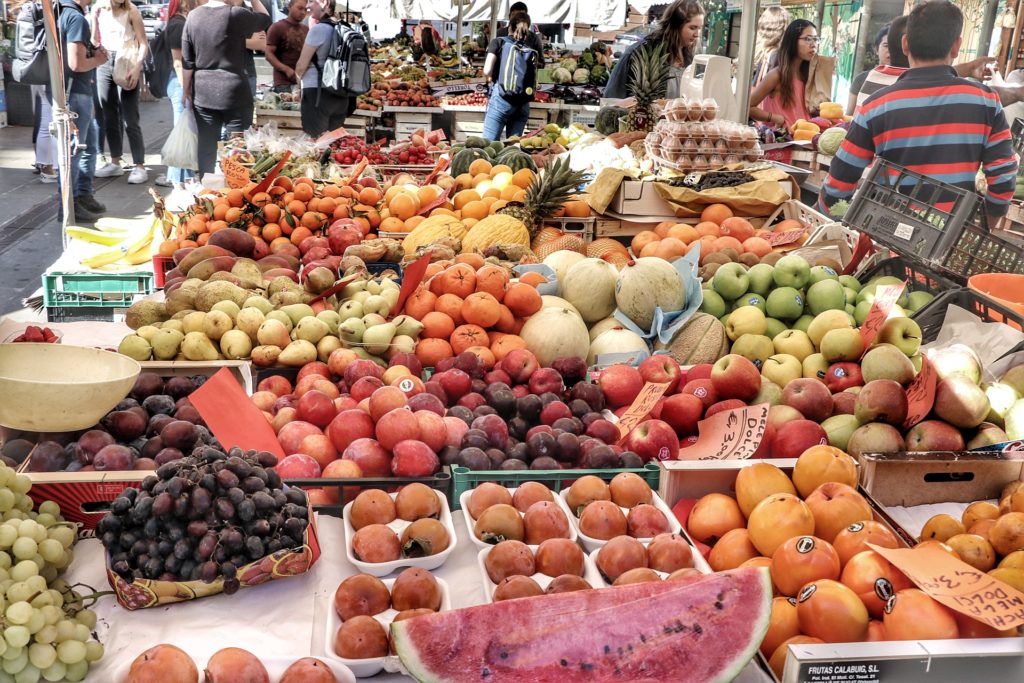 2b. Night Market Street Food 2a.Riverside BBQ – Luang Prabang, Laos
If we are going straight taste, authenticity and bang for your buck then Luang Prabang wins! The two meals myself and a best friend, Trae Holthouse, had were hands down in both of our top 5 meals of all time.
Of course everything was on point with both of these meals as both were so unique and the experience as well as vibe were like nothing we had ever seen before. While I have your attention, go to Luang Prabang asap, it is easy and cheap to fly into from anywhere Asia, it is so cheap and another one of those cultural epicenters you will fall in love with.
Back to the food, let's start with #2b, the Night Market. The Night Market, as with all markets, is just cool to visit in its own right. I will go down on record saying markets in general are some of my favorite places to visit.
The hustle and bustle, the sites, shopping, culture and the food all just make me happy to visit all the markets when I travel. This market, like many in Asia, is amazing with hundreds of vendors selling clothes, jewelry, bracelets, souvenirs, snake & scorpions bottled in alcohol, towels, bags, trinkets and all of that good stuff.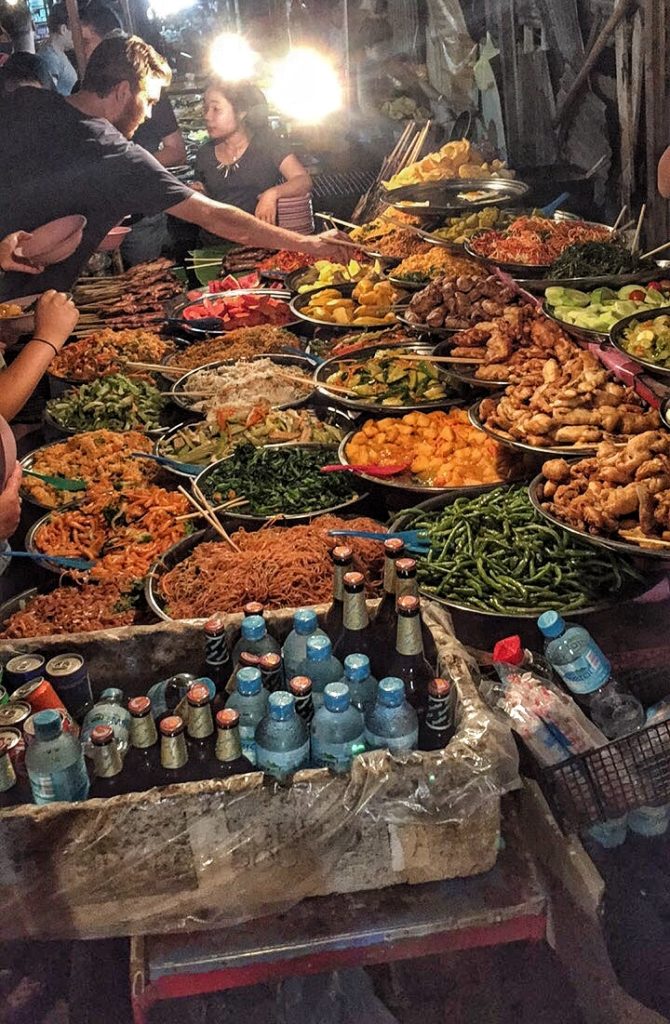 However, this market has one slight difference from any market in Asia I had visited. Down a strip you will find the $1 food buffet!
Imagine eating at a mongolian style grill but add in the extreme authenticity, freshness along with it being located in an tight alley filled with tons of people covered by tarps plus the typical chaos of people wanting you to try their food.
Then you see the buffets where it is legit $1 to fill your plate as much as you want with their plethora of options to get the best stir fry I have ever had! Grab your bowl and start piling it up with anything and everything!
Your hosts will stir fry it up for ya and you'll be on the the way to pleasure town. Adding the experience is sitting on the little tables and adding chicken cooked on a stick to your plate… it truly is a once in a lifetime experience… getting chills thinking about Asia as I write this.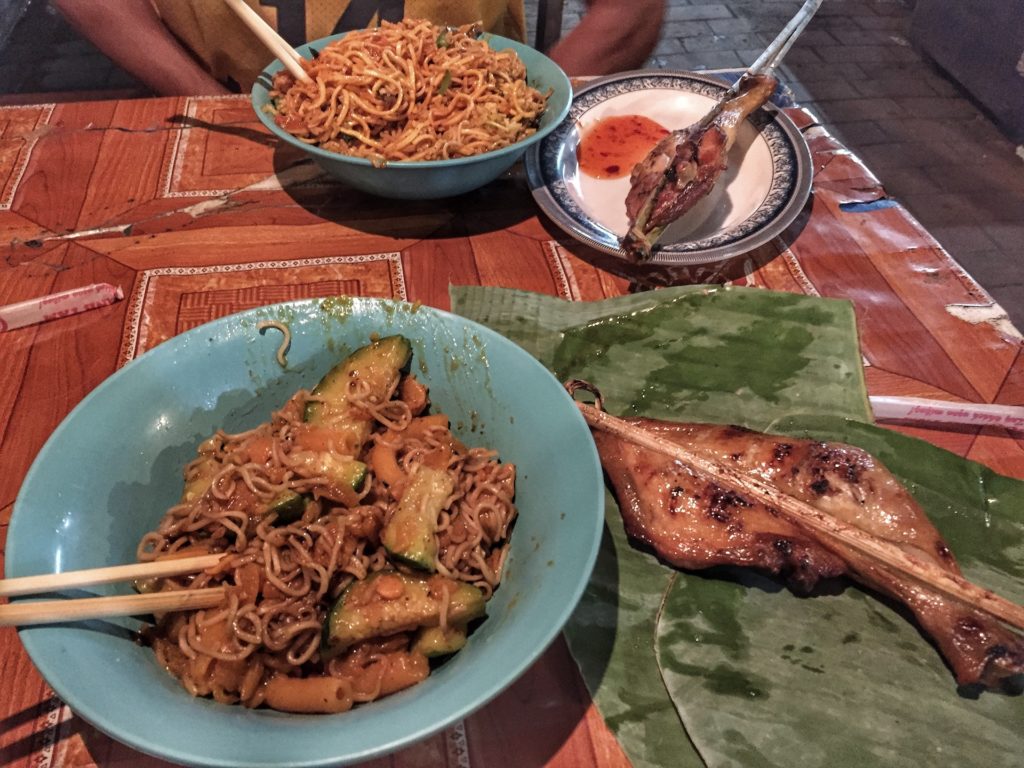 Now it is time for 2a, which is probably #1 overall for best tasting most unique meal I have ever had. Riverside Barbeque in Luang Prabang is the best tasting meal on earth…. it truly is mine and Trae's favorite tasting meal ever and it was ridiculously cheap as well.
We had an entire feast that we couldn't finish for less than $10 each, including a couple drinks. What added to this experience was you crossed this man-made wooden bridge that is only there for 1/2 of the year as it gets washed away during the rainy season.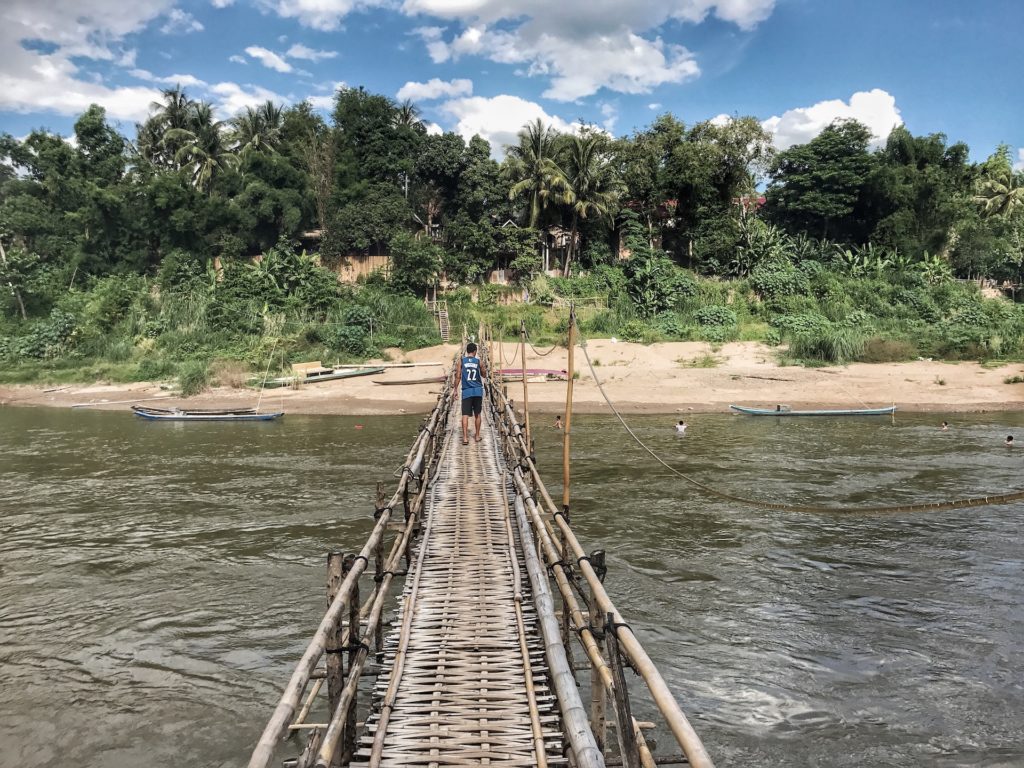 The food is similar to Korean BBQ but better… and maybe what made this meal special was that we had no idea what Korean BBQ was and really the restaurants hadn't ever popped up back then like they do now.
Already you walked across this incredible bridge, with temples in the background, Asian style boats floating underneath you as fisherman caught dinner for their family and are about to sit down on the floor to eat along the river.
However, it is not just any river, it is the infamous, mysterious and historical Mekong River. One side note about Laos is there are no predators in the water as the people already ate them… like actually. Most all predators have been cleaned out by the people trying to eat whatever they can find.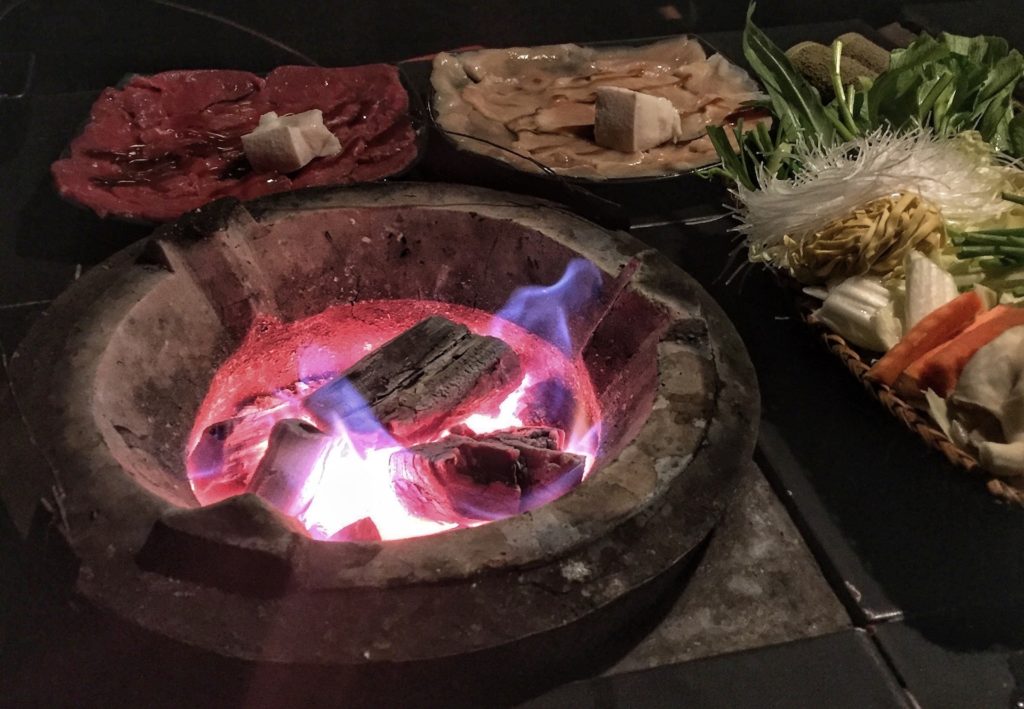 Again back to the food… you sit down and pick your meat option, or just buy a plate of all of them like we did since it is so cheap. There is a big hole in your table, which seemed a little odd… and then someone brings out a cauldron from the 1200s and sets the cauldron inside said hole.
On top of that they put your cooking surface and the fun begins. You get presented with your raw meat, a gorgeous plate of colorful vegetables, noodles, eggs and a broth to make soup. The whole meal is you making your own food, cooking everything on the cooking surface.
They give you butter/lard to oil the cooktop all of which drains into your soup at the bottom and is the best soup in the world, hands down, no joke. You cook the meat on the cooking part and lay all of your vegetables and eggs into the soup to boil in there, adding more flavor to the soup as the meat juices drip into it as well. As hopefully you can tell this was an experience… the best experience… and was like $7.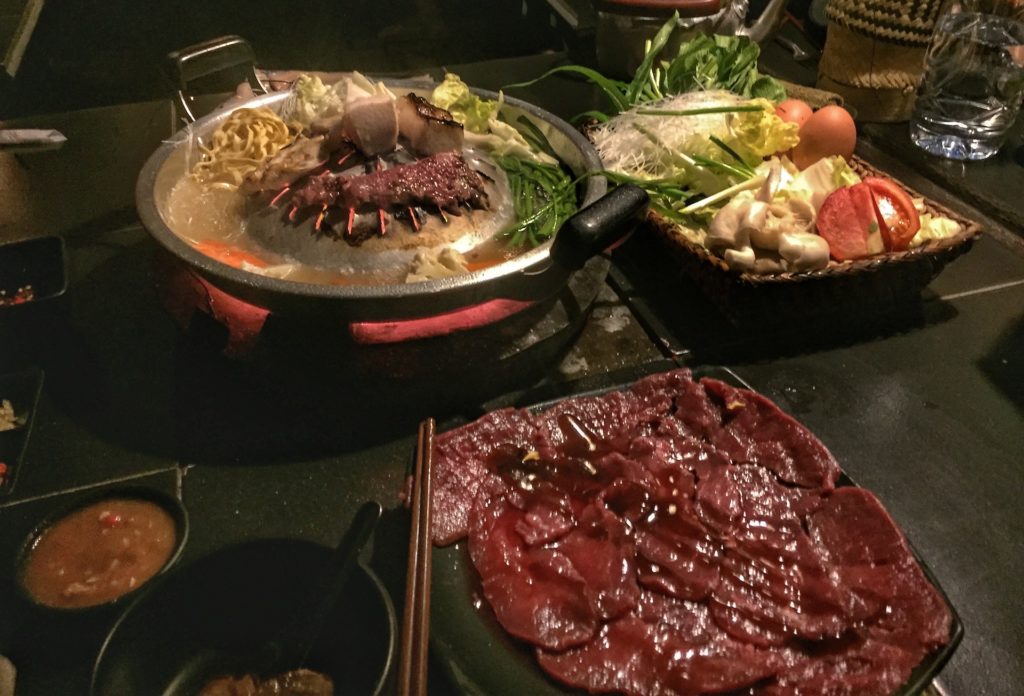 There you have it… get to Luang Prabang on your next trip to Asia, even if just for 3-4 days. I still need to write more Asia Articles but if you have two weeks in Asia, go here, Siem Reap in Cambodia, Chiang Mai in Thailand, Sapa & Halong Bay in Vietnam and end it with some time at the beach in Bali.
Luang Prabang is also a UNESCO World Heritage site with more than 30 temples or wats throughout the small town.
1. Street Banquet – Da Nang, Vietnam
My #1 is much more anecdotal from my experience than the #2 on this list but it is an incredible story and top 3 experiences of my life. With that said, you can go to Da Nang and eat a meal just like this and it will be one of the best meals you ever have, so keep that in mind and definitely visit!
You can order food from fish tanks and they cook it right up for you. Literally some of the larger restaurants are borderline aquariums with fish and shellfish of all types and sizes. You pick what you want, they charge you by the pound, as you what sauce or method to have it cooked and boom… one of the best meals ever.
The reason this is my #1 comes with a bit of a story though if you want to keep reading. It involves me playing with a team that went on to be Vietnam Pro Beach soccer champs and then on to being the Asian champs! No joke, I have pics.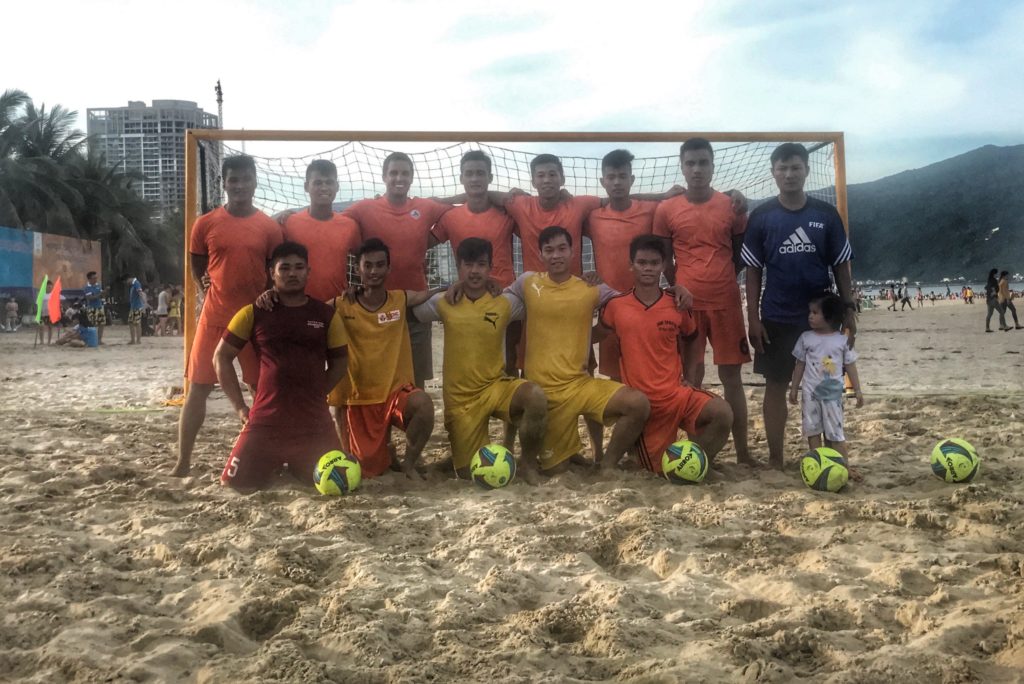 I was going for a run on the beach in Da Nang and nearing the end I came upon this legit beach soccer field. I start messing around and in comes this legit beach soccer team in jerseys and all. They don't speak one word of English but at one point one of them kicks a ball over to me.
We start playing some pre-practice games like "neighbor" and other games you'd play back in North America. Before you know it I am invited to practice with the Da Nang Pro Beach Soccer team. It was amazing, we couldn't understand each others words but we understood the game.
The rest of the week I am invited back to practice and I go every time from 4-6pm! Another great reason to travel solo as if I was with anyone else there is no way they let me leave our day-trips every day to get back for practice.

So throughout the week I keep practicing and at night even get invited as a VIP with them to this huge concert where the Vietnam version of Celine Dion was performing.
Free drinks, music and overall such a crazy experience to fall into. Another thing from my Top Travel Hacks & Tips article, is to be friendly, outgoing and get outside your comfort zone as you never know what might happen.
At the end of the week I get invited to play in their friendly match and it was clearly an amazing experience. After that they invite me to this dinner and that is where the best meal ever comes in. The coach tells me he wanted to have a goodbye dinner for me and that was one of the most amazing things in my life.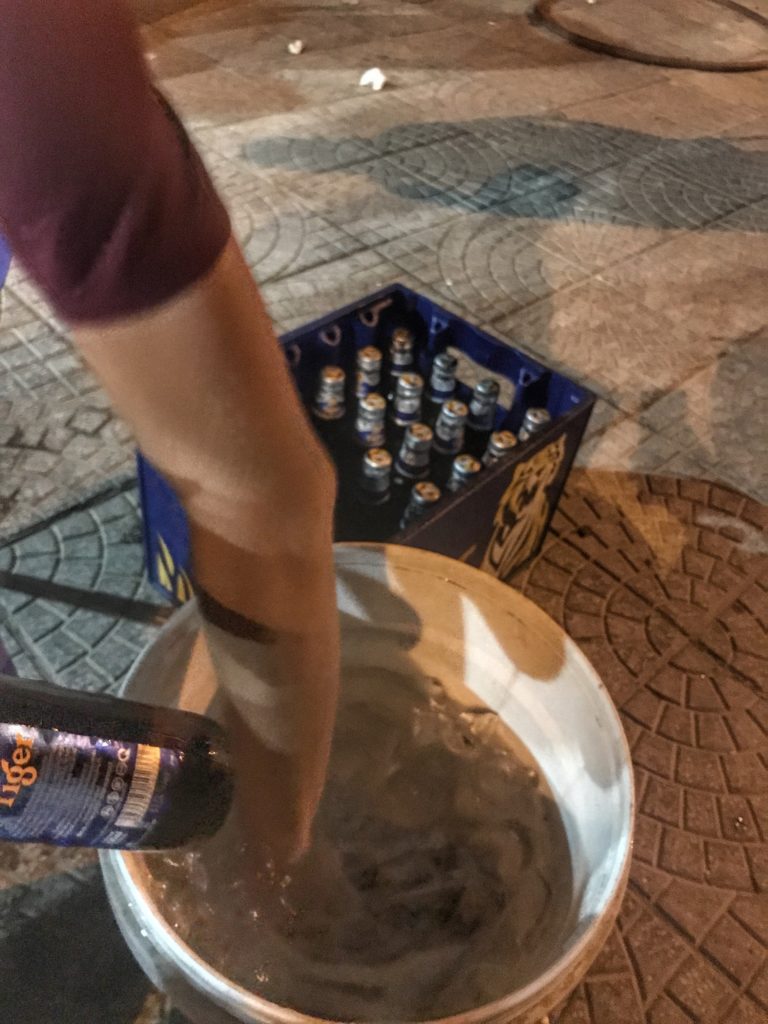 I get invited to this random street miles from the tourist area and there in the street are some plastic tables all setup with the whole team waiting for me. I sit down and they hand me a beer from their ice bucket and one opens it up with chopsticks for me! He then shows me how to open a beer with chopsticks…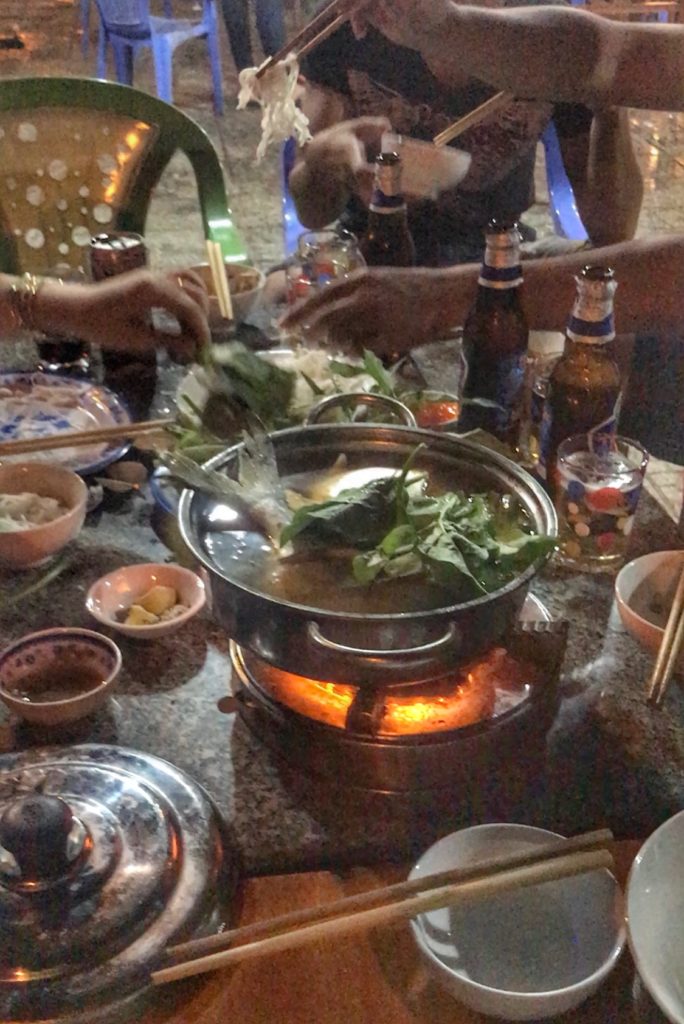 From there I get invited inside to pick out our meal! Here I am picking fish out of a tank for the team to eat at this cool little banquet and farewell dinner… all the feels. I pick some fish and they cook it in this little burner pot that each person rips herbs and leaves up throwing into the pot to cook it with.
We have an absolute feast with fish, shrimp, rice, noodles, beer and more. It was such a touching experience I literally paid for the whole thing as I was in such a happy state… it was only like $100 too, which was crazy! We ended up going to a Karaoke bar afterwards and the rest is history.
We still keep in touch on Facebook and many of them are pro futsol and beach soccer players to this day!

There you have it… if you read it all I hope you enjoyed but there are my favorite meals of all time!