Making homemade chicken gyros is very fast and easy. If you want something different for dinner than homemade chicken pitas are perfect idea and everyone loves them as they are so versatile. A gyro recipe is simple, tasty and just takes you 20 minutes!
A mediterranean diet is the healthiest diet out there as well so make this one of your staples for your healthy meal goals. You can whip up a few batches of these recipes meal prepping for 3-5 days. It is incredible simple and something easy to pack for lunch or have ready for dinner.
This is an authentic recipe and learned even more about gyros when I was in Greece and lived off them! They cost 4€ and were incredible. I think I ate around 35 chicken gyros and missed them dearly when I came back home.
As usual here at Inspire Travel Eat we try to bring back food from travels so you can have all the tastes of a culinary vacation at home! We have panang curry recipe from Thailand, Jamaican brown stewed chicken and so much more!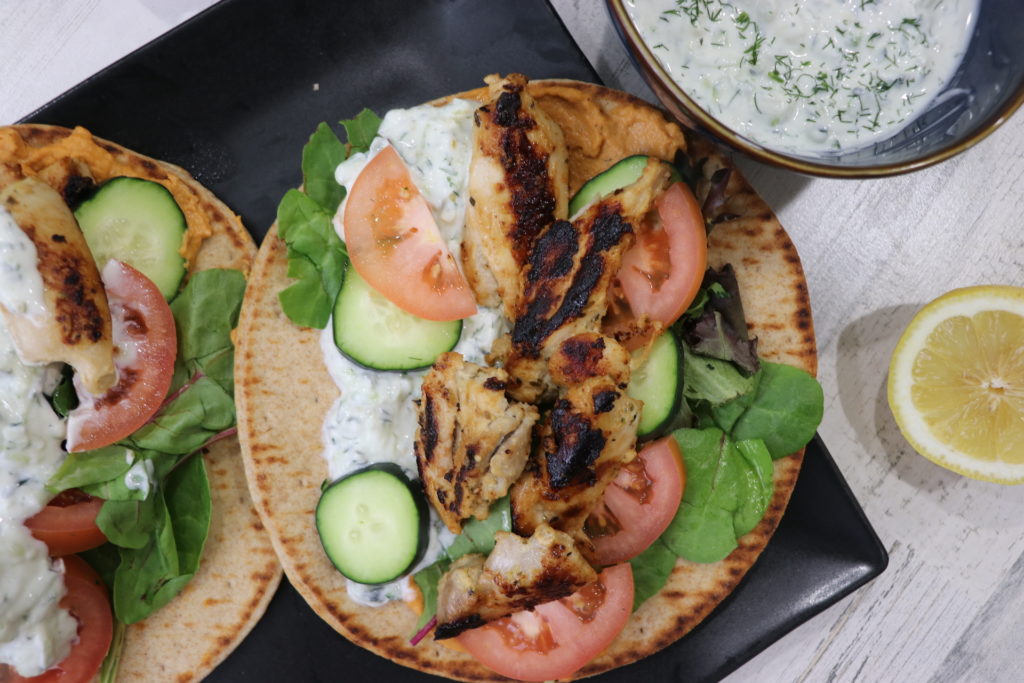 A traditional gyro is very few ingredients. Typically a tzatziki sauce, chicken, onion and tomatoes. Sometimes there is lettuce or a pickled vegetable but it is mostly just the basics to make it affordable for everyone. With that said, you can go next level at home and make it with all your favorite fixins if you want!
Gyros are like a sandwich in that you are able to add whatever fixins and toppings you want to customize it your way. If you want lots of vegetables, hummus, tahini, garlic sauce, hot sauce or really whatever you like that tastes good!
I kept trying new greek places and they just didn't level up to what I remembered in Greece. Thus, I decided I would try to make my own homemade chicken gyros and see how authentic tasting I could get them! Thankfully I was able to test out lots of ways and came up with the perfect way to make chicken gyros.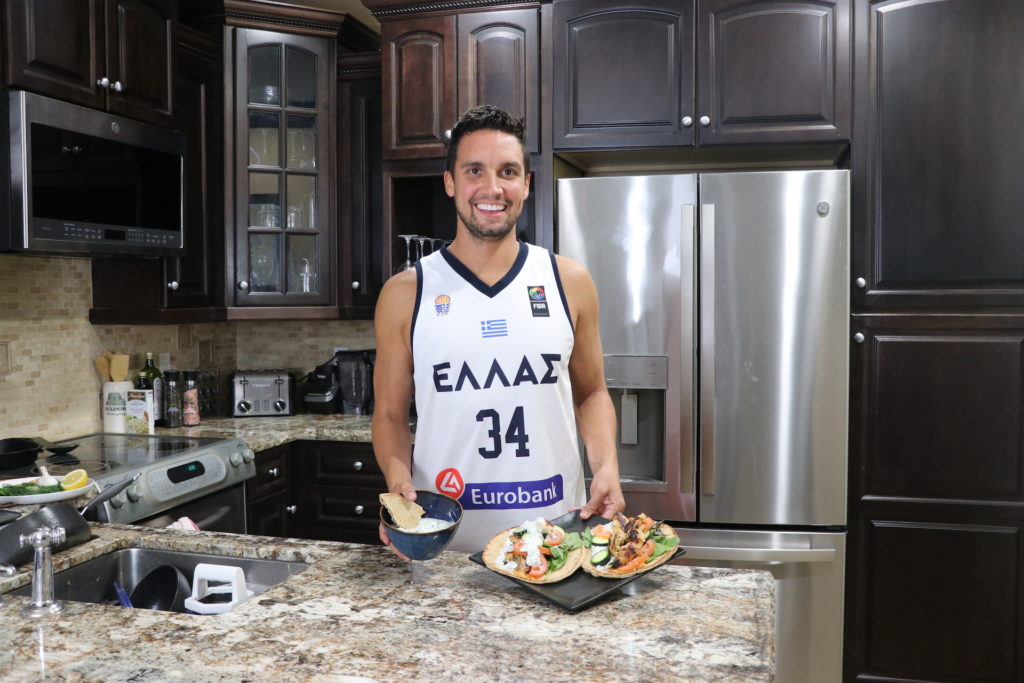 What is The Best Cook Chicken Gyro Chicken?
You can cook chicken on a non-stick pan, cast-iron skillet or even bake the chicken. None of us have the rotating spit like they do at gyro places thus we have to make do with what we have. On the stove in a pan or a cast iron skillet is the easiest way to cook the chicken so you can always do that.
If you want to bake the chicken that works as well but it is quicker to just cook it up on the pan and call it a day. See here for how to perfectly cook chicken on a pan or here for the perfect length & temperature to bake chicken.
Do You Need to Marinade The Gyro Chicken?
No… ideally brine the chicken if you can for 30-60 minutes. Brining the chicken is where you put the chicken in water with a lot of salt. It is a game changer for chicken and will make it much more tender and better.
If you are a beginner cook or just in a rush… I will cook the chicken in a pan and add in balsamic vinaigrette or italian marinade or dressing for the last half of cooking the chicken so it is nicely coated when done cooking. This of course makes it much less healthy but oh so tasty.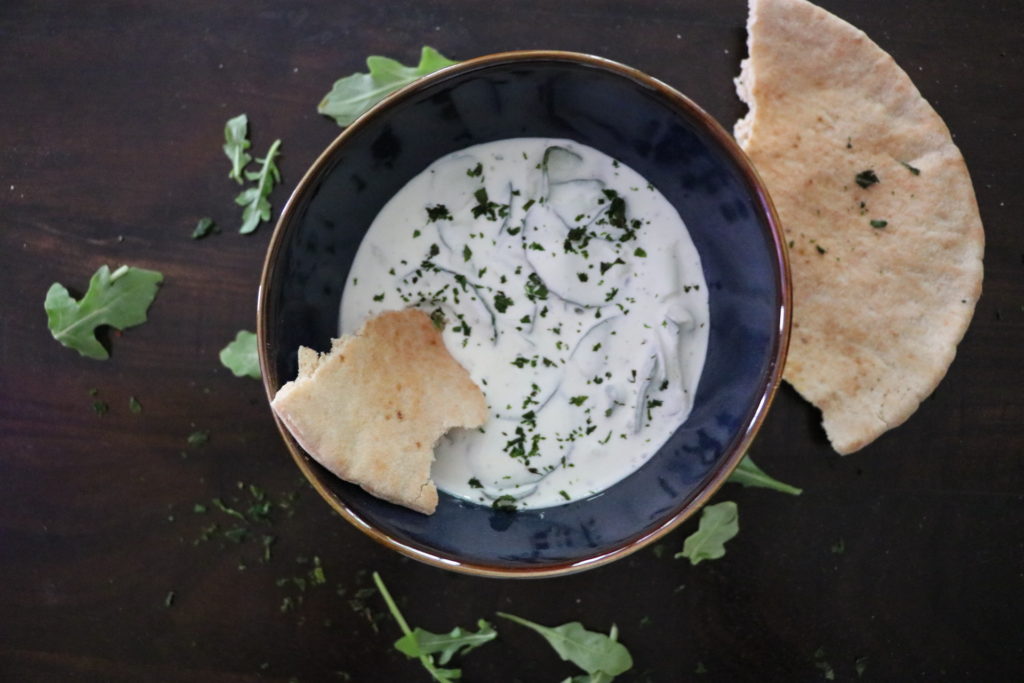 How Do You Make Tzatziki Dip?
Making tzatziki dip is incredibly easy and you are in luck as this article includes a simple tzatziki dip recipe as well! It really is just 5 ingredients and takes 3 minutes to make!
As with the chicken gyro recipe the tzatziki dip is very simple and takes no time at all. This is one of my favorite dips on earth and you really have to make it! It will be a flavor explosion when you taste your homemade tzatziki dip recipe vs. what you buy pre-made at the store!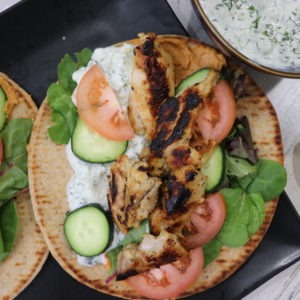 Easy And Quick Homemade Chicken Gyros Recipe
How do you make easy gyros? This recipe is great to make quick homemade tasty gyros that everyone will love.
You can make gyros however you want with all types of fixins to add into your gyro. Gyros really are a perfect greek food staple and you can
Print
Pin
Rate
Ingredients
4

pita bread pieces

that can be rolled

2

lbs

chicken thigh cut into 3-4 smaller pieces

sub breast cut into chicken tender sizes

1/2

cup

greek yogurt

1/2

cup

olive oil

1/4

cup

lemon juice

half a lemon

2

cloves

garlic

1 tbsp

2

tbsp

italian seasoning

or mediterranean mix

1

tbsp

salt
Gyro Fixins
1

cup

tzatziki sauce per recipe below

Fixins | roma tomatoes, hummus, cucumbers, red onion, pickles, tahini, pickled cabbage, pepperoncinis, feta cheese and anything else you like!

Optional sauces | garlic sauce, hot sauce, sweet & sour sauce, lemon pepper sauce, parmesan sauce, dill sauce.
Tzatziki Dip
1/2

regular cucumber with seeds removed.

cut lengthwise in half to remove seeds easily

3/4

cup

low-fat plain greek yogurt

3

cloves

garlic, minced

I over garlic

2

tbsp

lemon juice

1

tbsp

fresh dill

I love dill and add a second tbsp after tasting

minimal salt & pepper to taste

Optional | 1 tbsp red wine vinegar | 1 tbsp fresh parsley
Instructions
Chicken Marinade
In a large bowl, mix together yogurt, lemon juice and italian seasoning. Add chicken and let marinade for 30 minutes to 12 hours.

You don't need to marinade the chicken but ideally brine it in salt water for 30-60 minutes if you have time.
Tzatziki Dip - Make at least 30 minutes before meal
After taking out the seeds, grate the cucumber. Put cucumber shreds into a paper towel and squeeze the moisture out.

Then place into a bowl.

Add all other ingredients into bowl and mix together.

Ideally let it sit in fridge for at least 30 minutes but this isn't really necessary.
Cook Chicken
Shake marinade off chicken to avoid burning if using cast-iron-skillet. Cook either all chicken at once or in two batches if not enough room.

Cook chicken on a skillet or pan at med-high heat in olive oil. Cook on each side 5-6 minutes or until cooked through.
Meal Prep
Cut up fixins. Heat pita bread in ideally a toaster oven or if not then the oven or microwave.

Add all desired fixins & chicken to pita bread and roll it on up!
Print Recipe