I love Moscow mules and I love the holidays… so here is how this recipe came to fruition. Moscow mules are my main go-to drinks and the holidays are my go-to time to drink.
Moscow mules are a perfect mix of something tastier than a vodka soda but also not so sweet like 7-up or juice in your drink. Ginger beer also has that perfect little kick so it gives you a great combo to tantalize your taste buds.
Here is our Youtube Channel with great shot ideas for hosting during the holidays!
The worst thing about Moscow mules is that they charge you an arm and a leg for them at bars so here is a way to make them cheap at home. I also have some amazing tips below for you can take your drinks and specifically moscow mules to the next level!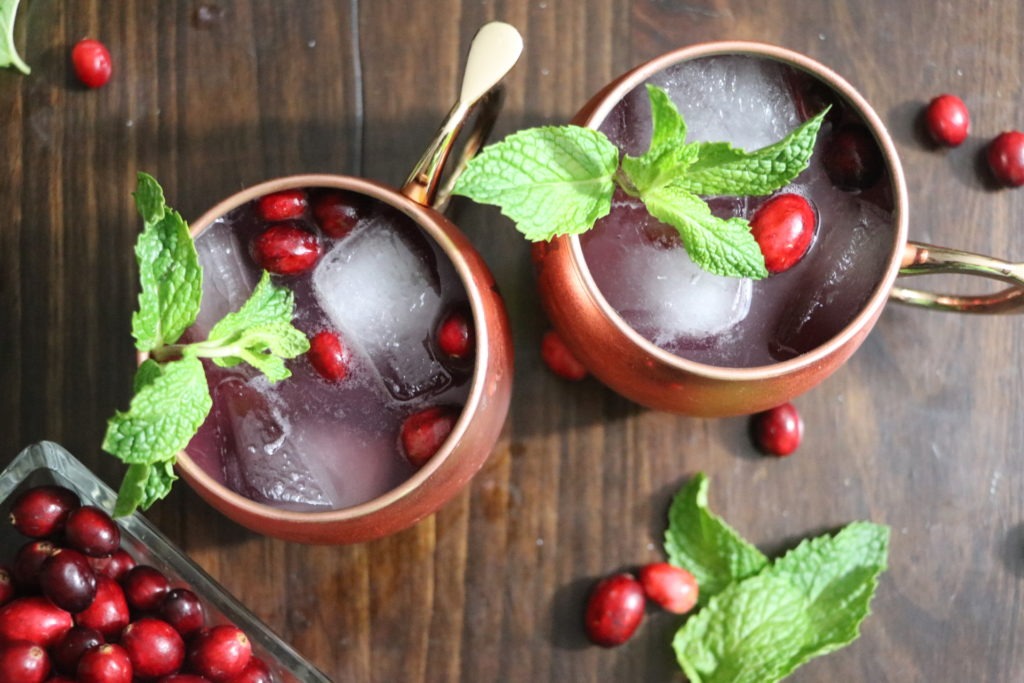 THERE ARE THREE HUGE IMPORTANT TAKEAWAYS OR RULES YOU NEED TO KNOW WHEN MAKING MOSCOW MULES!
When making a drink for people and you want them to love the experience you need to appeal to 4 senses. You must make it taste good of course, it needs to have a pleasant aroma thus sometimes adding a herb garnish helps, it should look beautiful clearly and then they must feel a nice ambiance and setting when trying the drink. I can help you with the first 3 but the ambiance is on you… music, clean up, give them a shot so they are already getting drunk and everything is fun… up to you :).
One AMAZING way to add to your drink ambiance and appeal to all senses is infuse your liquor. Infusing liquor is the greatest lie in drink creation as what sounds extremely impressive is really just you pouring liquor into a jar and adding 1-2 ingredients then letting it sit for 1-7 days… or even 1 hour and just lying to your guests. Infused liquor makes you look like some planned, smart super-hero that would do anything to host people. It will impress them and has you already 5 steps ahead on appealing to all of the senses.
Ginger beer is the key… at the end of the day the only thing that matters is the ginger beer as some will just have it tasting flat and meh…I love Q Spectacular Ginger Beer, Fever Tree and Trader Joe's Triple Ginger Brew especially because it comes in a cool bottle that adds to the cache. I really dislike the stuff the bronze can Gosling's Ginger Beer as it literally has no taste or much if any of that nice ginger kick.
Follow my instructions below as you want to make sure you do things in the correct order as well as not do a couple screw ups some people out there tell you to do.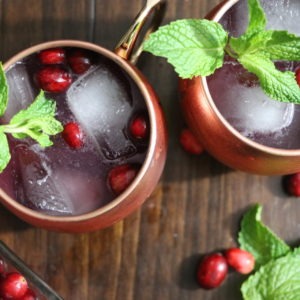 Simple Mistletoe Moscow Mule Holiday Recipe
The best holiday Moscow mule in the world!
Print
Pin
Rate
Ingredients
2

oz

vodka

1

tbsp

fresh lime juice

or lime cordial

Ginger beer

Q or Fever Tree

Garnish

cranberries, lime & mint or rosemary

1/2 tsp fresh ginger

Optional
Instructions
1. Add ice, vodka, lime juice & ginger to shaker. Shake and pour over ice.

2. Add in ginger beer at the end so you don't shake and lose the carbonation. Add garnish and serve!
Print Recipe
Another holiday heavy hitter you might like is the Irish Car Bomb Drink. Three odd ingredients that taste amazing combined together.