Panang curry is one of the tastiest dishes on earth and easily one of my favorite meals ever. If you read my blog you know I try to make dishes from places I have visited to bring the food back home with me so I can share with you! The goal is to get you trying some new tasty recipes without needing to be a super chef or spend 2 hours trying to cook something. The helpful thing about this recipe vs. others is that I provide a lot of substitutes for the things you might not be able to get at a standard grocery store.
I will preface this article by saying that it is no easy feat to make a curry taste as good as something you'd get in Thailand or even as incredible as an authentic restaurant from people who have made this food their entire life. But! There are a few things you can do to make it as close as possible, which I will let you know with some added tips. However, if you want to make it quick and easy then you might skip driving around town to asian food stores and just getting the basics at your local grocery store around the corner. I went to Whole Foods, Trader Joe's, Safeway, Sprouts, Safeway and Sprouts and could not find kefir lime leaves, galangal, tamarind paste or Panang curry paste. With that said, as mentioned the goal of this is to make it easy for you to create so I have solid easy substitutes for each of these ingredients if you can't find them at a standard grocery story. Yet, if you want to go to asian stores for the real thing, be my guest as it will definitely help the taste!

My version is easy and so good to anyone who isn't a Thai food aficionado. Your friends will try your tasty dish and never know the difference between this and one you'd get at a good Thai restaurant. I just wanted to give you a heads up about how to make it more authentic so that someone isn't in my DM's blaming me that the recipe isn't exactly like when they were in Bangkok blah blah blah. Yet, do not fret, this recipe is very tasty, great for hosting and is so much easier and quicker than you'd think!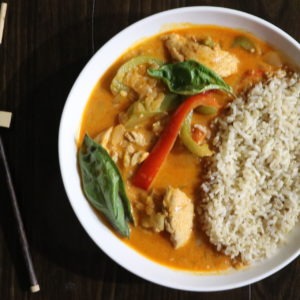 Simple & Quick Panang Curry Recipe in 20 Minutes
A perfect easy recipe to make authentic Thai panang curry at home in no time at all!
Print
Pin
Rate
Ingredients
1 1/2

lbs

chicken thigh or breast

Cut into 2-3 inch pieces

1 1/2

can (14 ounce)

coconut milk (not boxed coconut milk)

Do not shake, you will see why

1

4oz jar

Thai Panang curry paste

Substitute red curry paste

1

red bell pepper chopped

1

green bell pepper chopped

1

white onion chopped

6

cloves of garlic minced

1/4

cup

fresh basil leaves

1

inch

lemongrass finely chopped

3

kefir lime, leaves

Substitute 1 bay leaf and 1/4 tsp of lime zest. Or not 100% necessary if in a pinch.

2

tbsp

brown sugar or palm sugar

1

tbsp

Galangal grated or minced

Substitute ginger

1

tbsp

creamy peanut butter

Ideally unsweetened

1

tbsp

fish sauce

Substitute 1 tbsp soy sauce & 1 tbsp worcestershire sauce

1

tsp

tamarind paste

Substitute 1 tsp lime juice
Instructions
Chicken, Paste and Secret Tip
Heat up the curry paste at a medium heat for 2-3 minutes.

If you notice there was no oil in the ingredient list. That's because you will scoop 2 tbsp of the oily cream from the top of the can to use for cooking oil. Add chicken & garlic then cook for 3-4 minutes until chicken is almost cooked through.
The Rest
Add in 1 cup of coconut milk, all other ingredients, and let come to a simmer
The Finish
Lower the heat to simmer and let simmer for 3-4 minutes until chicken is cooked and peppers are tender.

Taste the curry and here is where you add more of the coconut milk if needed; to add more salt add more fish sauce (worcestershire & soy sauce); to add a little more citrus you can do a little more of the tamarind or lime juice if you wanted.
Serve
Serve with any of your favorite rice. Of course sticky rice, basmati or white rice are ideal. I used whole wheat rice to add a touch of healthiness to the meal.
Print Recipe